A few weeks ago, I created this bracelet for a contest, organized on Finnabair Open Studio Facebook page.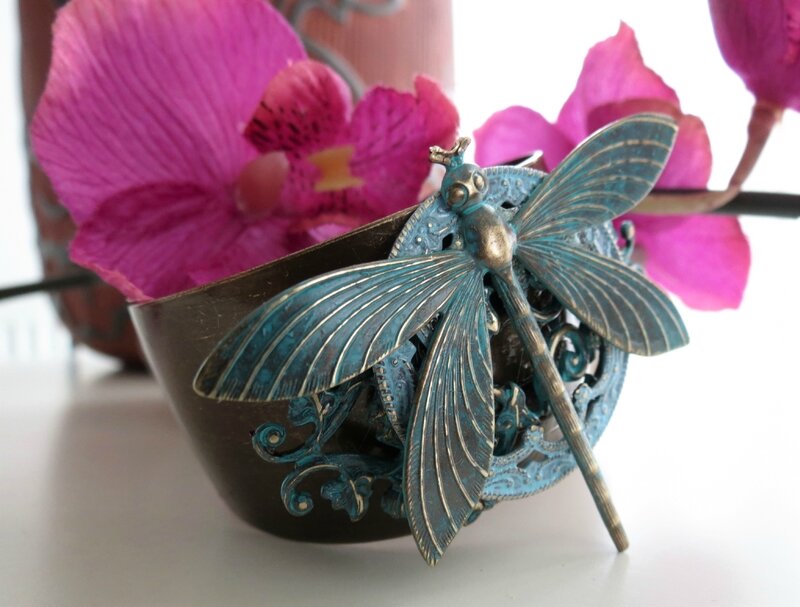 I didn't win (so many competition with amazing pieces ! :)) but I wanted for a long time to make this kind of bracelet.
I used only Vintaj supplies for this piece. I cannot tell you how much I LOVE Vintaj supplies: they fit perfectly the kind of jewelry I like to create: vintage, feminine and delicate.
I used the following supplies: the oval layering bangle, the natural brass dragonfly pendant, the framed scrollwork pendant, the natural brass Deco Vines filigree, two patinas : marine blue (a very light baby blue) and verdigris (my favorite color so far : it really gives a grungy vintage look to everyhting!).
I layered them all together (first the Deco Vines filigree, the second layer is the scrollwork pendant and finally comes the dragonfly) on the bracelet base.
This bracelet is pretty heavy to wear, but I really like it. You can find below more details :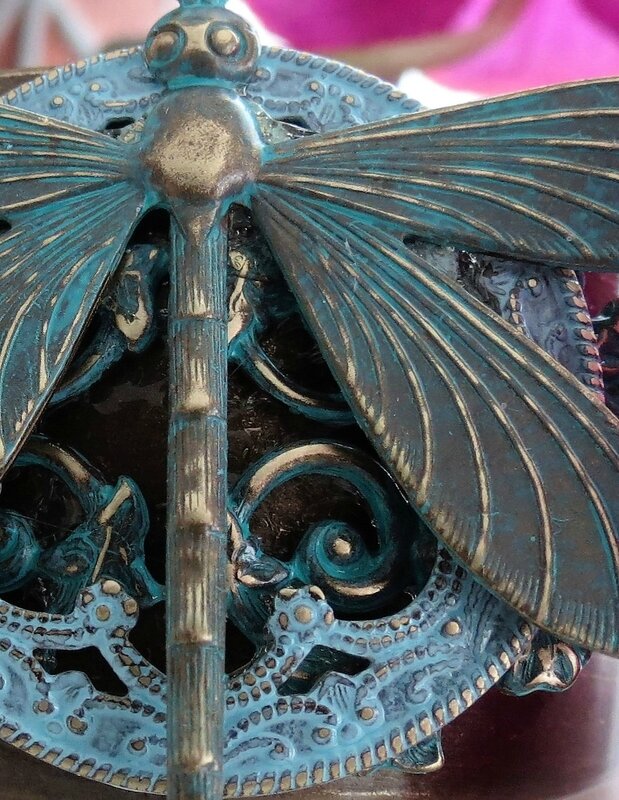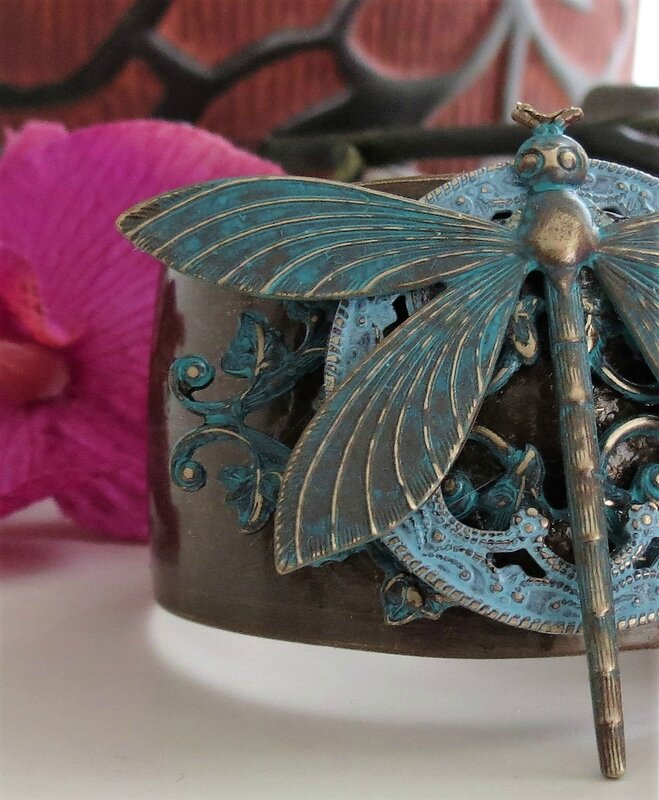 ***********************************************************************************************
Il y a quelques semaines, j'ai réalisé ce bracelet pour un concours organisé sur la page Facebook Finnabair Open Studios.
Je n'ai pas gagné (la compétition était rude :)) mais j'avais envie depuis longtemps de réaliser ce type de bijou.
J'ai utilisé des fournitures de la marque Vintaj (j'adore cette marque, elle correspond tout à fait au style de bijoux que j'aime fabriquer: délicat, féminin et vintage, bien sûr).
J'ai utiliser le pendentif libellule, le pendentif Scrollwork, l'estampe Deco Vines, la base bangle ovale, et deux patines: la marine blue (un bleu ciel très très pâle absolument adorable) et ma couleur favorite : le verdigris, qui donne un vrai côté vieilli aux objets.
J'ai tout d'abord collé ensemble l'estampe, le pendentif scrollwork et la libellule, puis j'ai collé le tout sur la base.
Ce bracelet est un peu lourd à porter, mais je l'aime beaucoup. Voyez plutôt les photos ci-dessus.
Qu'en pensez-vous?
Enregistrer