Hello everyone !
My boyfriend celebrated is 30st birthday last week, and we decided to organize a photo booth as a nice activity for our guests.
Besides all the other accessories, I got inspired by Venetian mask and thought I would create myself for this photo booth.
I bought a blank mask, got my favorite paints, and the mask was done very quickly.
For this piece, I used Finnabair Art Alchemy Metallic Emerald Green and Opal Magic Violet-Green.
First, I painted two layers of the lightest color (Violet Green) and then painted the right half of the mask with the metallic emerald green.
With a dotting tool, I added dots and swirls here and there, around the eyes, with both colors.
When the paint was dry, I glued some Prima Paper flowers on one side of the mask.
Here you can see more details: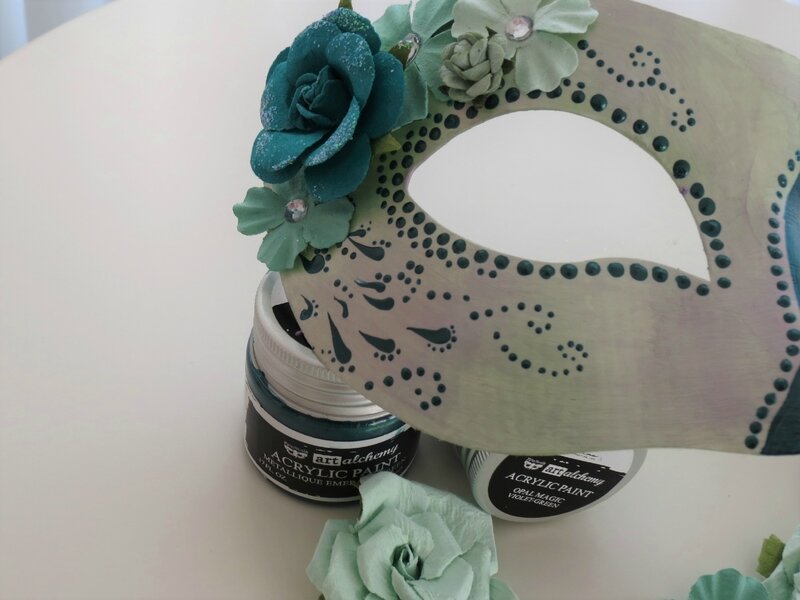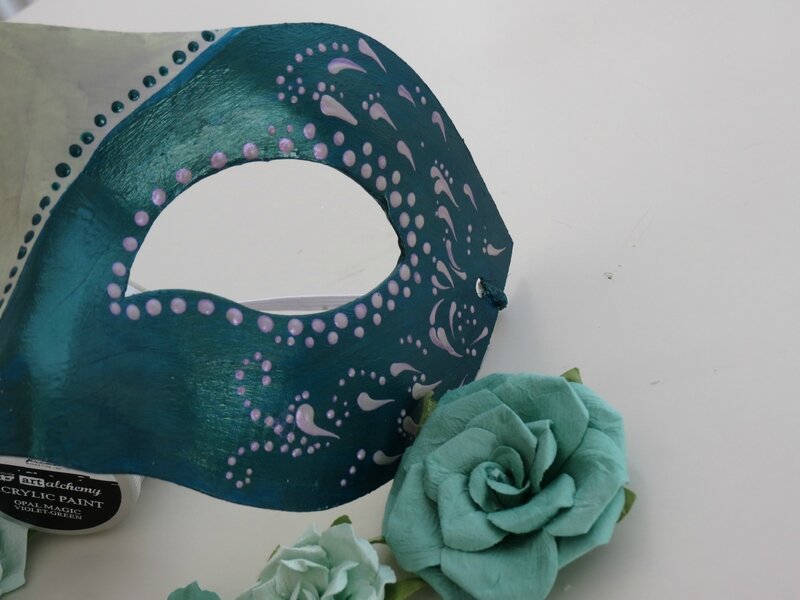 Do you like it?
Thank you for reading and see you soon!
************************************************************************************************
Bonjour tout le monde !
Mon conjoint a fêté son trentième anniversaire la semaine dernière, et nous avions organisé un Photo Booth pour nos invités.
Parmi les accessoires, ce joli masque (voir ci-dessus), inspiré par les célèbres masques du carnaval de Venise, que j'ai réalisé moi-même.
Pour ce faire, j'ai acheté un masque en carton vierge, réuni mes peintures préférées, mes pinceaux, et je me suis attelée à la tâche.
J'ai choisi les peintures acryliques de Finnabair, Art Alchemy Metallic Emerald Green et Art Alchemy Opal Magic Green Violet.
J'ai d'abord peint deux couches de la peinture la plus claire (violet green), puis une couche d'emerald green sur la moitié du masque, en laissant bien sécher à chaque fois.
J'ai ensuite sorti un dotting tool et réalisé de petits pois et des volutes un peu partout autour des yeux avec chacune des deux couleurs.
Pour finir, j'ai collé de fleurs en papier Prima Marketing sur des côtés du masque. Et voilà !
Voyez les photos, au-dessus, et n'hésitez pas à me dire ce que vous en pensez.
J'espère que cet article vous aura plu !