03 juin 2018
Hello all,
Today again, I am posting a second article. I know I won't have much time this month, so I got to be organized to manage to do everything :) !
I am participating to the Mixed Media World challenge for June, Anything Mixed Media goes.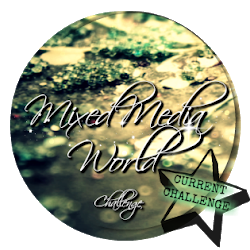 I just finished a canvas for my mom (her last year Christmas present... Am I late ? Just a bit :). She has to wait but I think it's worth it and I hope she'll like it). I got some Fantasy inspiration, as you can see :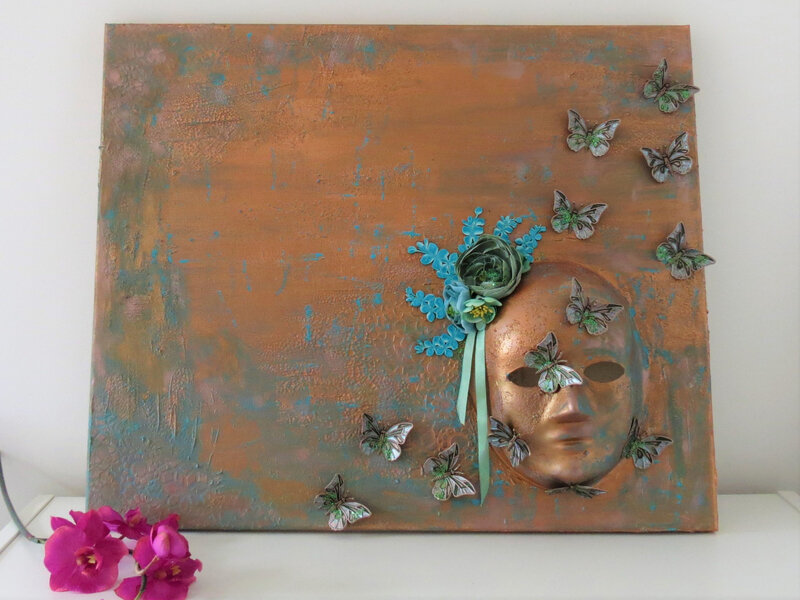 I glued a blank mask on the canvas, and then I decorated everything using Ranger's crackled paint, Finnabair's texture paste (through the doily flowers stencil by Heidi Swapp), sand texture paste and patina set (I just used the teal patina and the copper paste). I also used Finnabair's Art Alchemy Dark Forrest and Sparks Magical Pond to paint the metal butterflies.
The chipboard on the left top of the mask is from SnipArt, and I heat-embossed it with Wow!'s Topaz regular embossing powder.
Of course, I had to add glitter, flowers... And some highlights with Rose gold wax from Finnabair.
See here more details :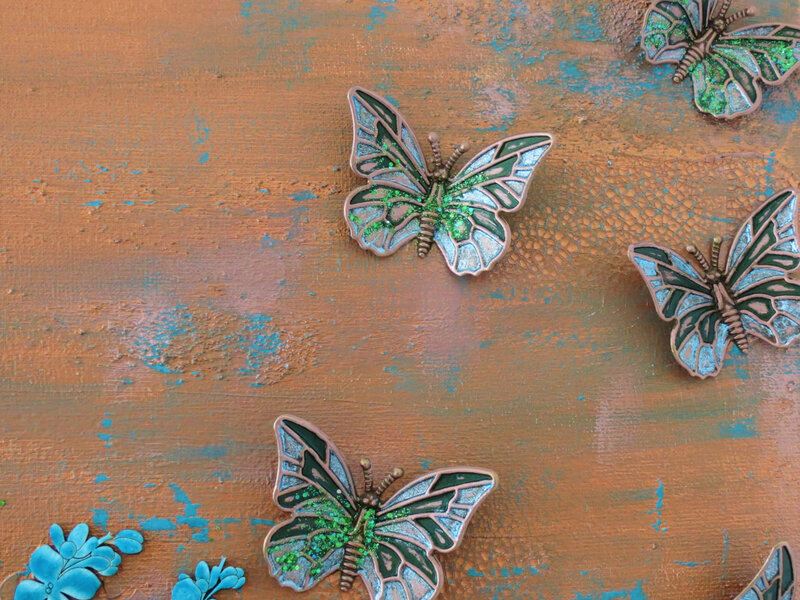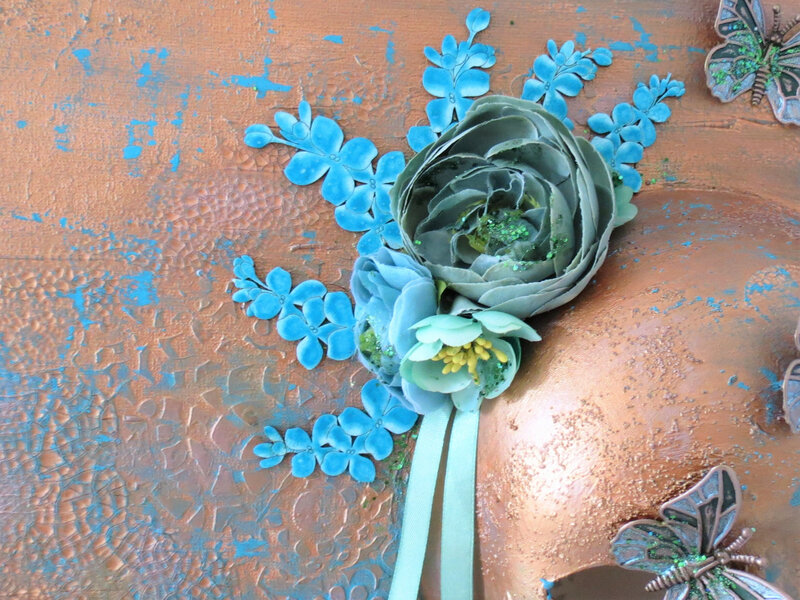 What do you guys think ? Do you like it ?
I will try to come back as soon as I can with another post !
Hello Mixed Media friends !
I will share with you today my entry for the Mixed Media place challenge. The moodboard of this month is so inspiring, with soft tones of brown, grey and pink... I love it.
I let myself get inspired by these smooth colors and the balloons... I just loved the balloons theme...
So here it comes :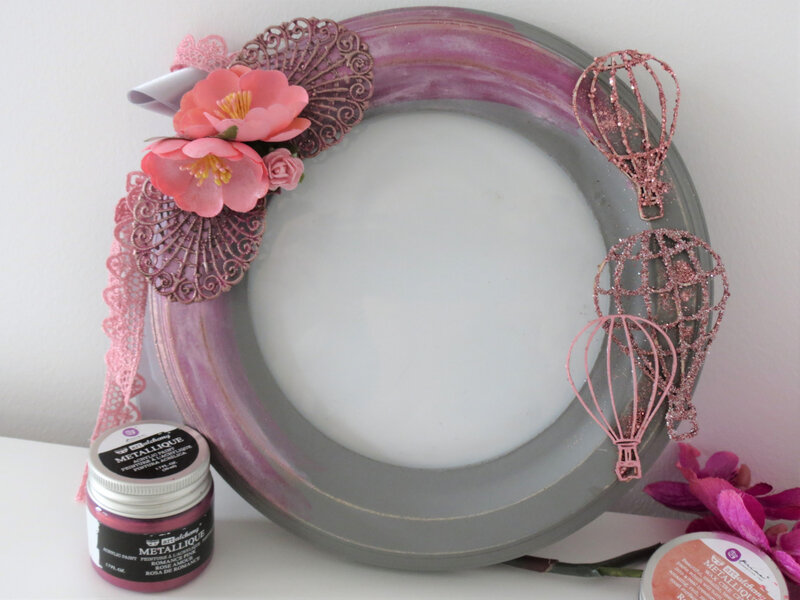 For this project, I used a grey picture frame I had in my stash. I left it as is. Well, I mean, I didn't really change the color, I just altered it. Is that clear ? Not sure about that, ah ah. Please let me know if you don't understand what I mean. I'll explain better.
I added a bit of color on the top left side with Finnabair's Romance Pink acrylic paint, to which I added a patined effect with a bit of Venitian pink by Amsterdam Talens.
I painted some flowers with Daler-Rowney Pearlescent Platinum Pink and Venitian pink, and some metal embellishments with Romance pink. I glued those elements on the top left. At the back, I added some trims (sliver satin and old-rose lace).
On the right side of the frame, I added three chipboard balloons from SnipArt. I glued glitter (two different shades of pink) on two of them and I painted the third one with Venitian pink.
I made my first order with SnipArt about two weeks ago and I am really happy. My parcel arrived super quickly and their designs are really intricate and pretty.
To finish the project, I highlighted some details with Finnabair's wax Rose gold (I LOVE this color so MUCH) !
You can find here more details of my picture frame :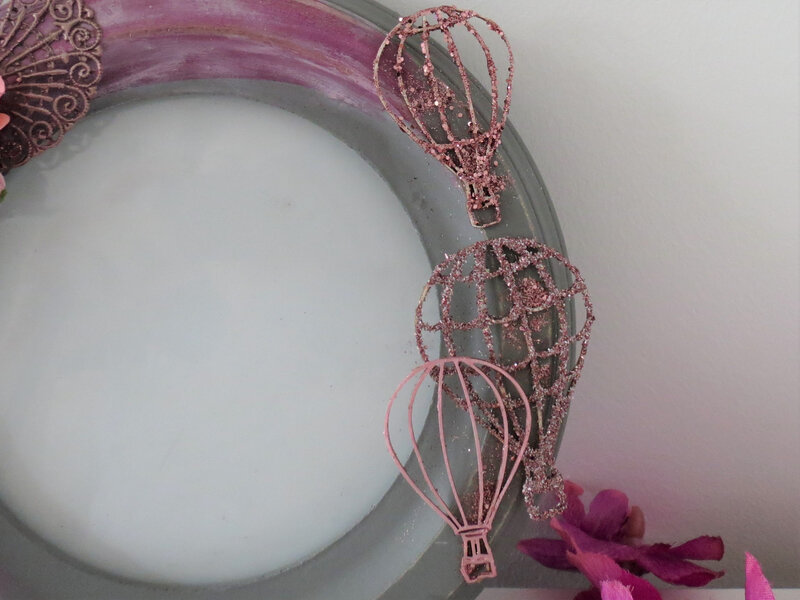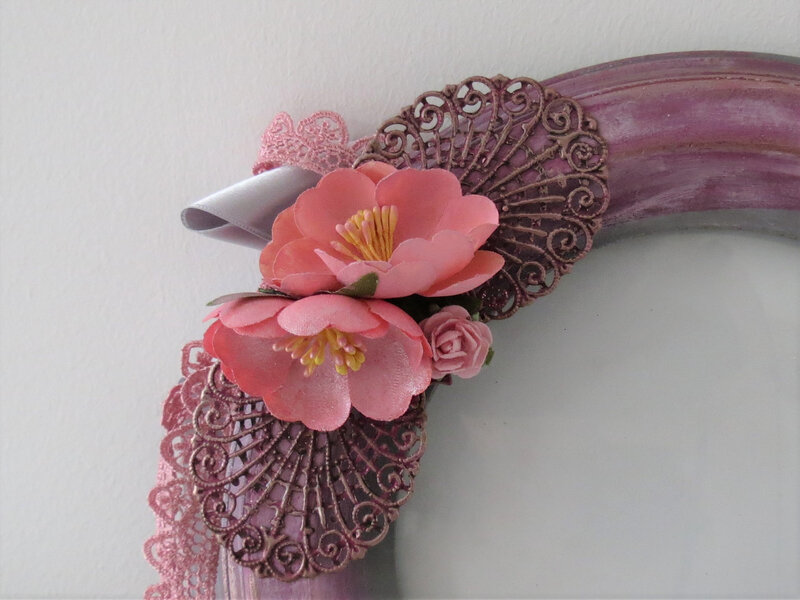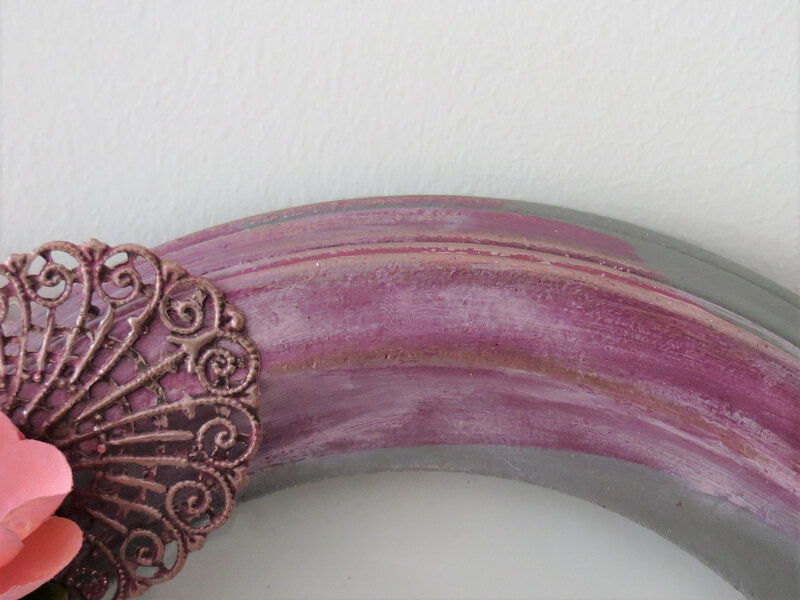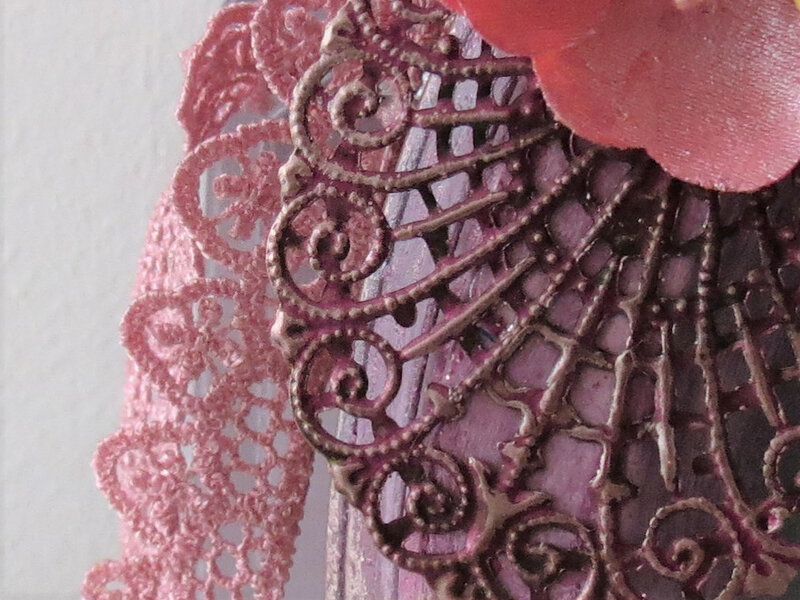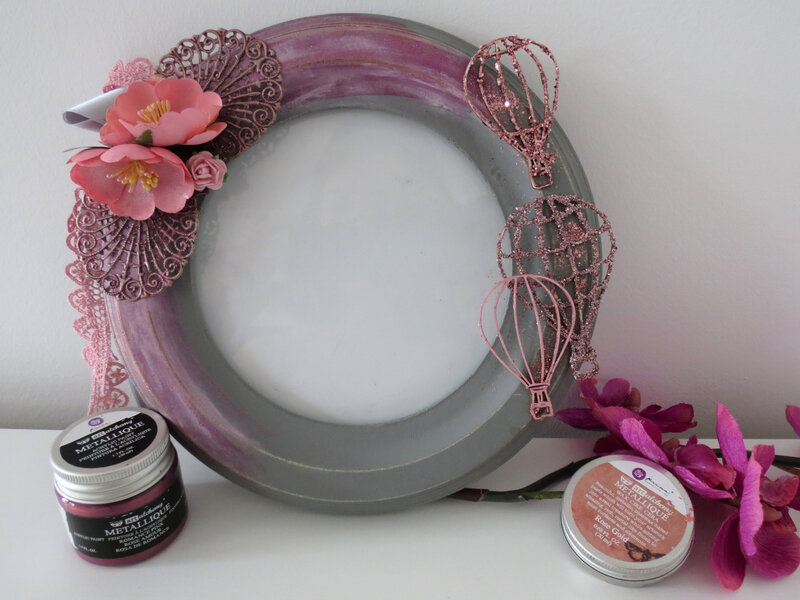 Let me know what you think !
See you soon with another post !
27 mai 2018
Hello again Mixed Media lovers !
Today is a special day : I write two posts in a row ! My creativity is at its top at the moment ! Wow ! I love that, I love to create !
This month, I am participating to the Mixed Media Warriors challenge.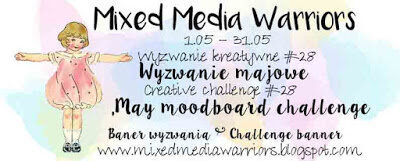 They have a moodboard with nice inspiration here. This month is very particular : they are having a DT call !
That's exciting, right ?
I will now tell you about my project. I have been inspired by the colors of the moodboard, even though I chose bolder shades.
I made a small square canvas, using a variety of supplies :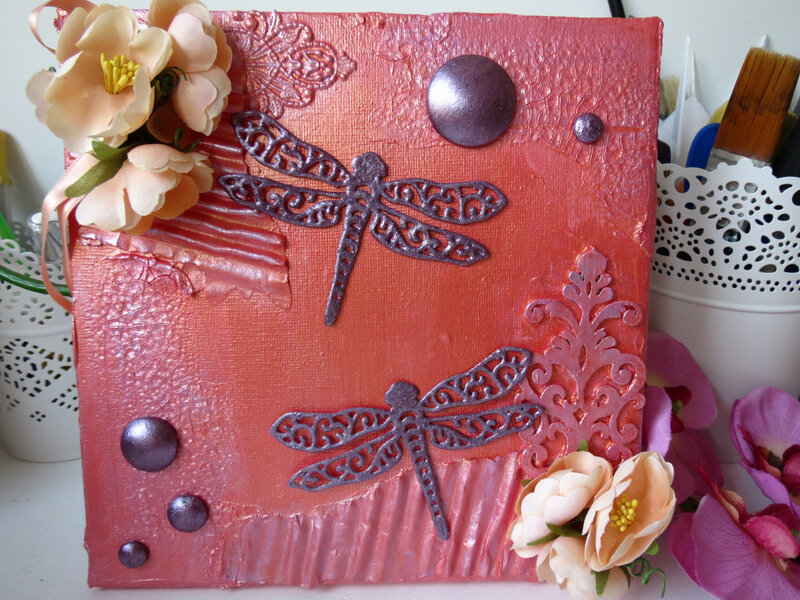 I added crackle paste and cardboard for texture. I covered everything with white gesso and then added a piece of chipboard from Dusty attic and a metal embellishment. I painted the canvas with Coral Reef from Finnabair and when everything was dry, I slightly rubbed so lilac inka gold patina from Viva Decor. I added glass cabochons that I previously covered with the Sparks Art Alchemy acrylic paint from Finnabair, Iris Potion, and three flowers in the top left corner and bottom right corner.
I die cutted 4 dragonflies (using a die from Spellbinders), I glue them together so I got a pair of thick dragonflies. I embossed it twice with embossing powder from Wow ! for more thickness and then added them to my canvas ! And here it was ! What do you think ?
Here come some more details :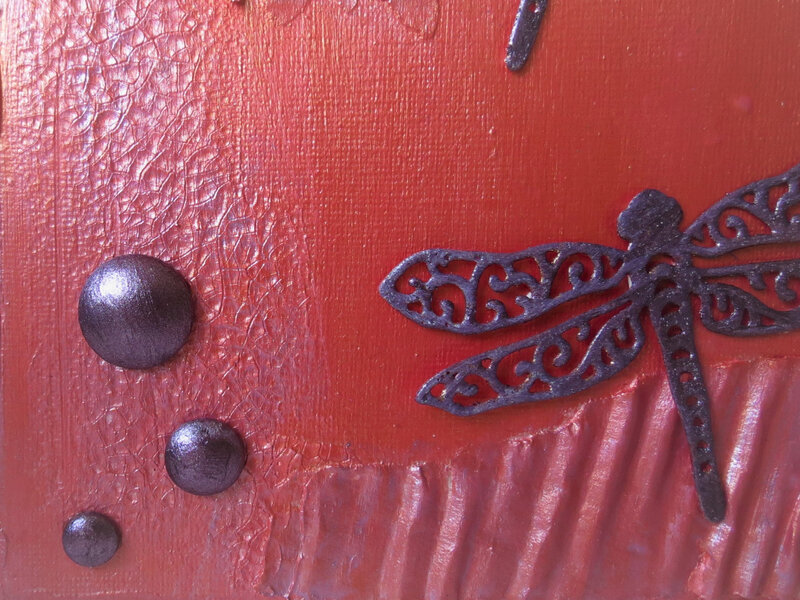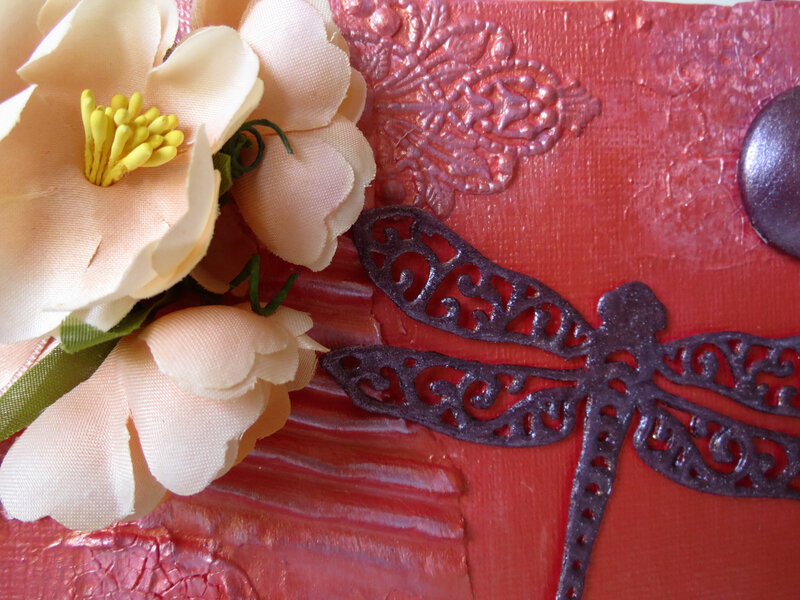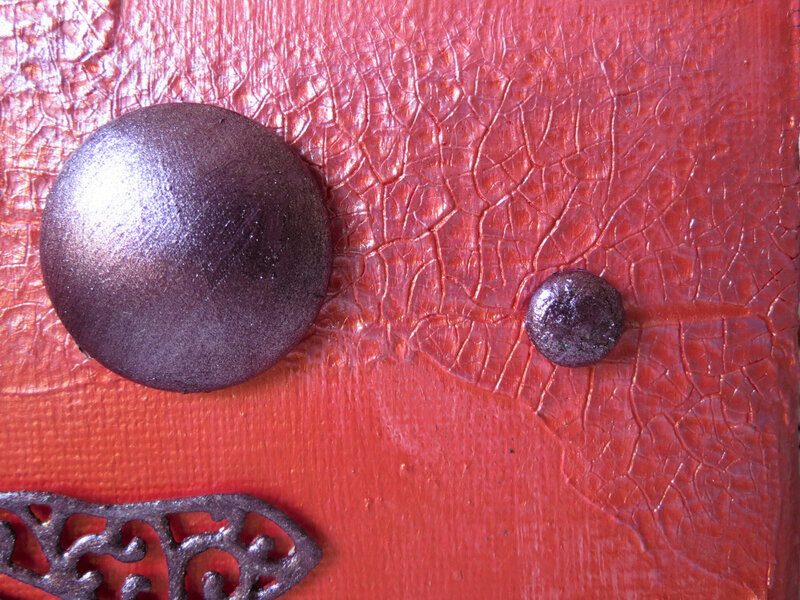 Don't hesitate to let me know if you like it (or not) in the comments !
See you soon with another post (another challenge, probably !)
Dear crafty friends,
I am so excited !
For two reasons : first, because I am participating to another challenge. For the firt time, I am playing along for Creative Artiste blog. You can find here a link to their current challenge. Hurry up, it closes in 17h !
The second reason is my project. Oh my god ! I think it is my favorite project so far, I LOVE IT. Well, at least, it is one of my fav. It is quite different from what I usually do, darker, but I had so much fun and I really like the result. I hope you'll like it too.
The subject of the challenge is "Anything Mixed Media goes". For my birthday, I received a bunch of flowers. In between the flowers, there were two polystyrene apples and back then, I thought I could do something with them and decided to save them. I was right.
I have been inspired by Snow White (I love fairy tales, I love Disney, and relate the apple to Snow White was easy... Ah ah, too easy ?), and also by the perfume brand Lolita Lempicka. Most of the times, the bottles are apple-shaped and they are lovely. So I decided I would make a poisoned apple.
But I will start showing you my project :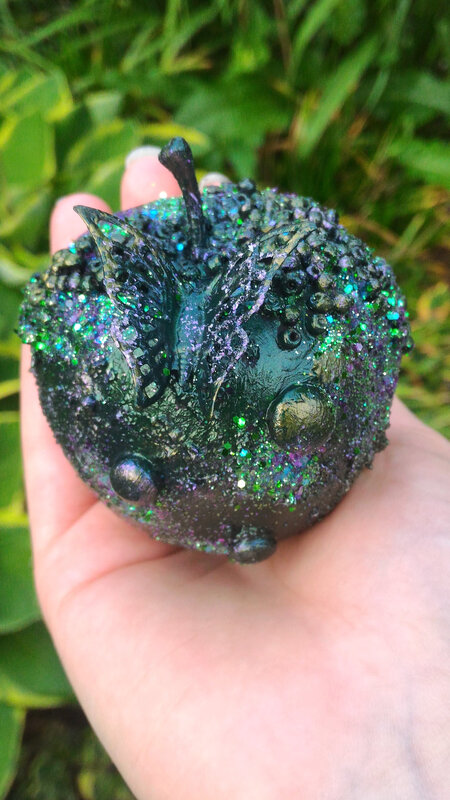 I used a lot of product from Finnabair, the gesso, paste and paste are from her.
First, I covered the original apple with black gesso. Once it was dry, I added sand paste for texture. With 3D Matte gel, I added beads on top. I covered everything with gesso again. Then I added glass cabochons and a metal butterfly. Which means : another coat of gesso.
Then it was time to add some color. I used two Metallic Art Alchemy: Dark Forest and Golden Moss. I completely painted the apple with Dark forest and added some Golden Moss here and there. For more depth, I added some touches of the Opal Magic paint Violet Green. Then more Dark Forrest and Golden Moss again, and my color was built up. But I was not done yet. I needed one more step : sparkles... I added purple and green glitter for an extra-shine, extra-depth and extra-texture.
I will now stop chit-chatting and show you more details. For the pictures, I wanted to do something different than simple white background and decided to use my garden to "stage" my apple. I thought an outdoor background was perfect to show my apple.
Before and after :
And more details :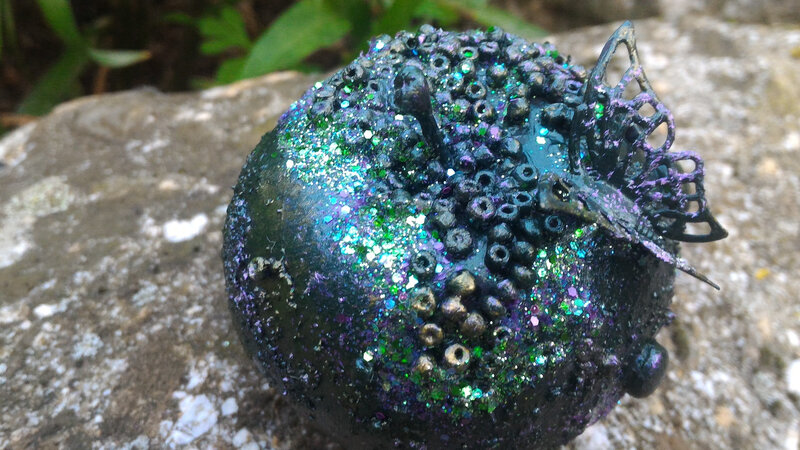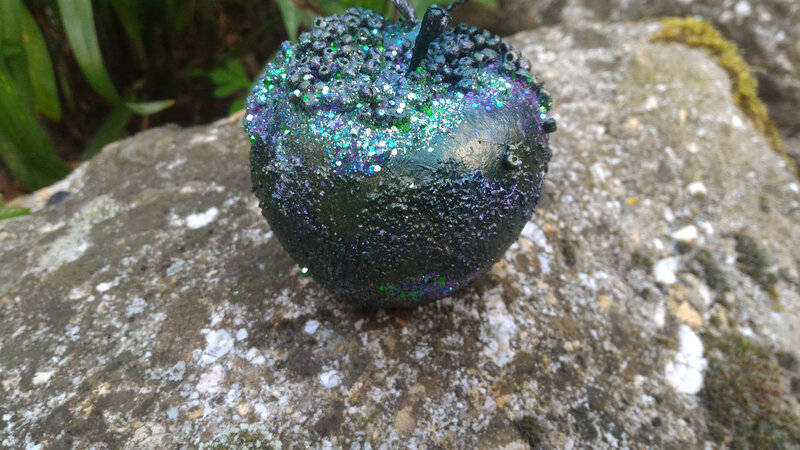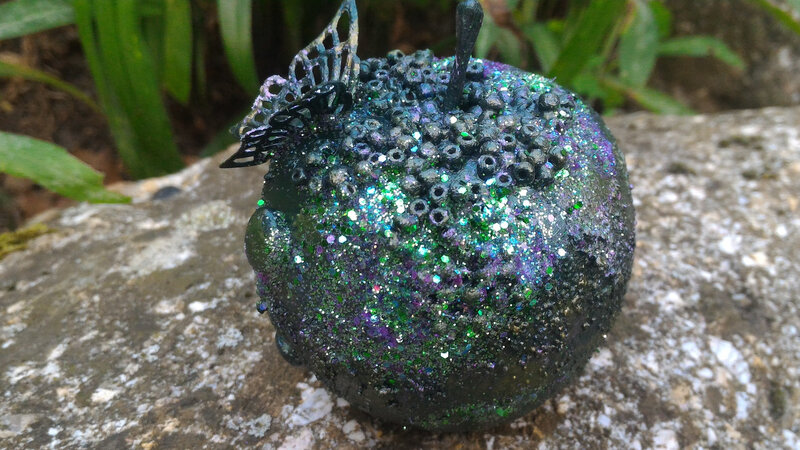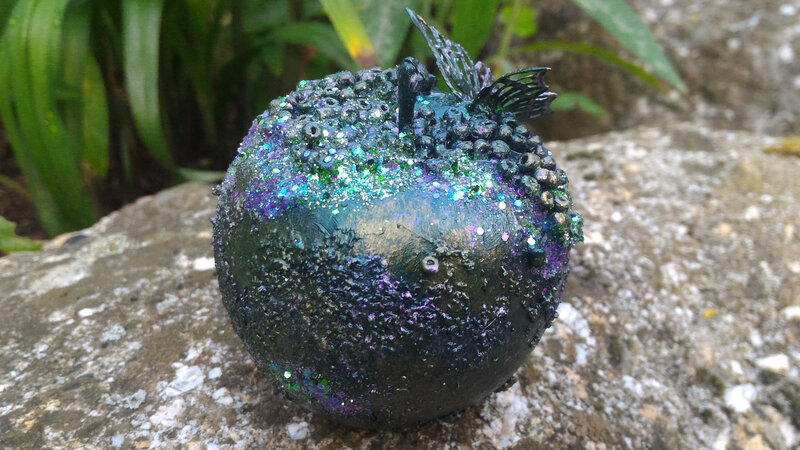 So, what do you think ? Don't hesitate to share your opinion with me in the comments !
See you right away for another post !
13 mai 2018
Hello everyone !
The trend in the Mixed Media world at the moment is to alter paintprushes. So I decided I would a) follow the trend, b) try new things and c) get out of my comfort zone.
I created this paintbrush for the challenge on the blog "Mixed Media World". The challenge of this month has a very nice moodboard with pretty colours in pinks and blue tones for inspiration. Follow the link !
This has been a while I didn't participate to a challenge, and this is my first one with them, I am pretty excited ! I got inspired by the gate of the moodboard, the stones and the colours, obviously.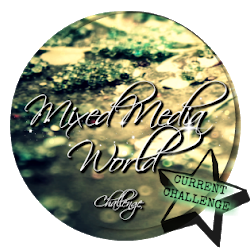 So I am gonna share with you today a very short pictures tutorial (this has been a while, right ?). Here it comes :
First step :
I assembled all my elements together and took a picture on how it was gonna look in order to glue everything in place.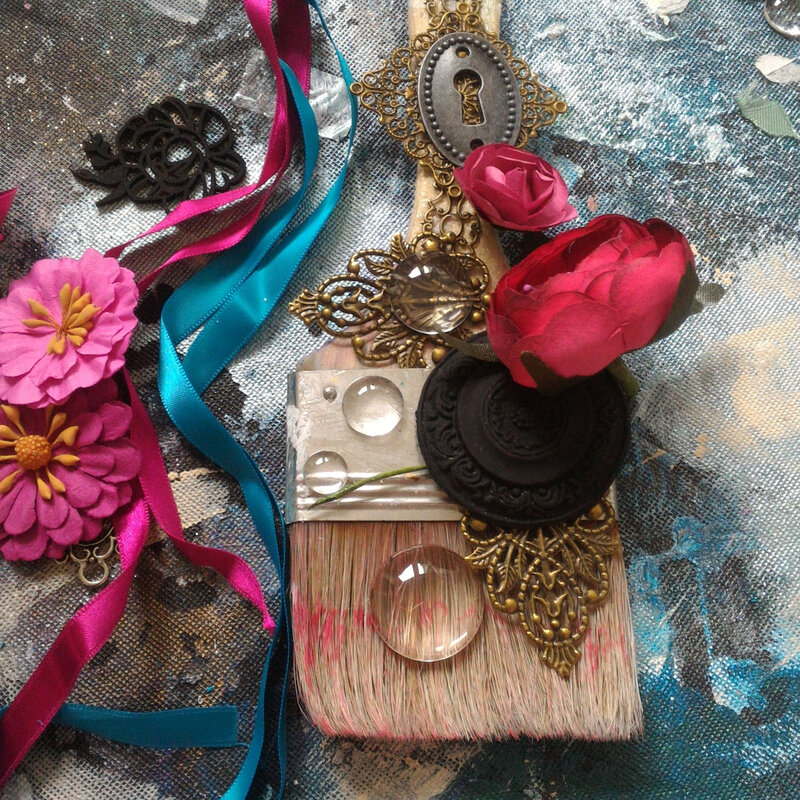 You will see that some elements are gonna disappear in the end. Which ones, in your opinion ?
Second step :
I added some sand texture paste (Finnabair), glued everything (except the cabochons, because I needed to paint them) and painted everything with heavy black gesso from Finnabair. A few coats where necessary.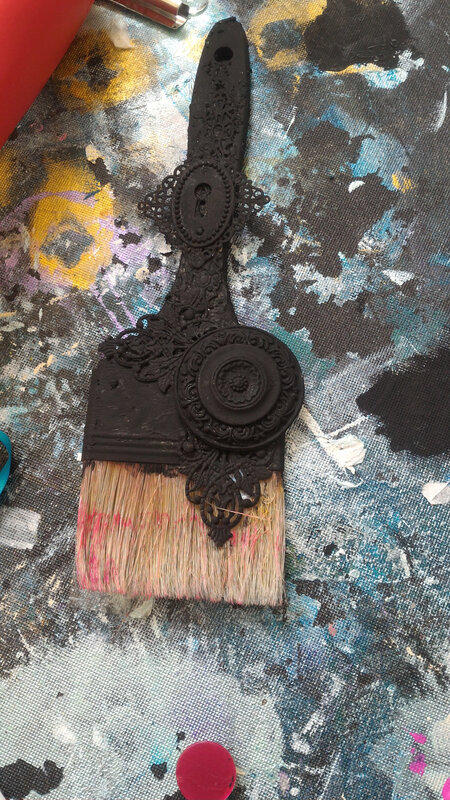 Thirds step :
I added some colour with Finnabair's wax Opal Magic in Turquoise satin. It was my first try with it, this is such a wonderful colour !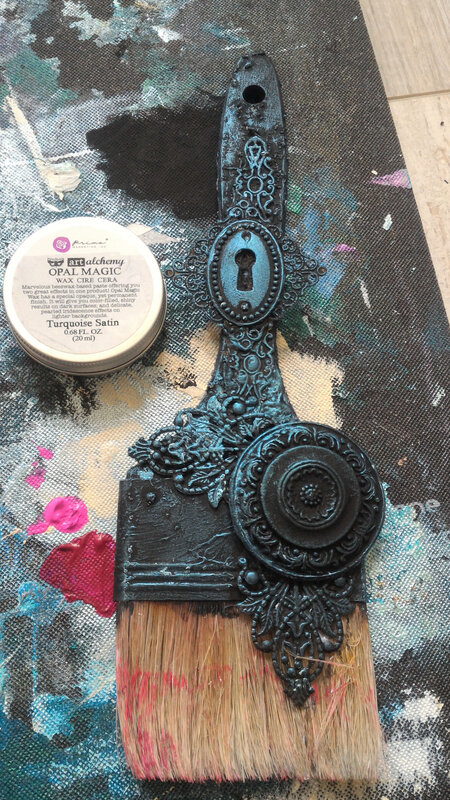 Fourth step :
I glued the painted cabochons.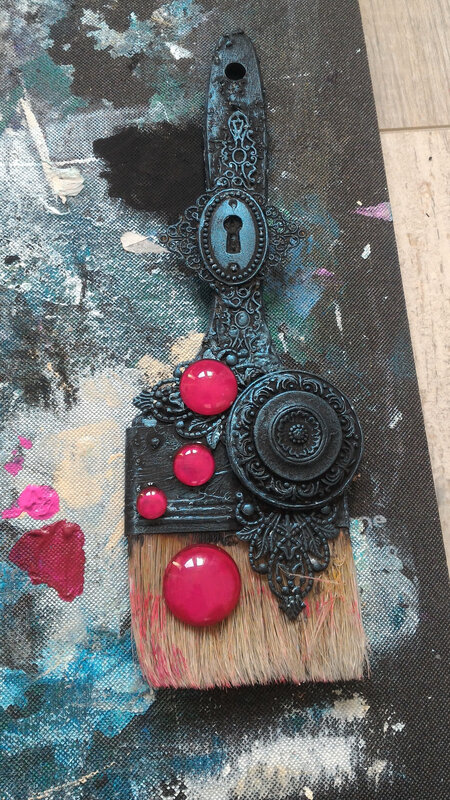 I painted them on top as well, with some "Ice Queen" acrylic paint by Finnabair (I added some on the brushes too) :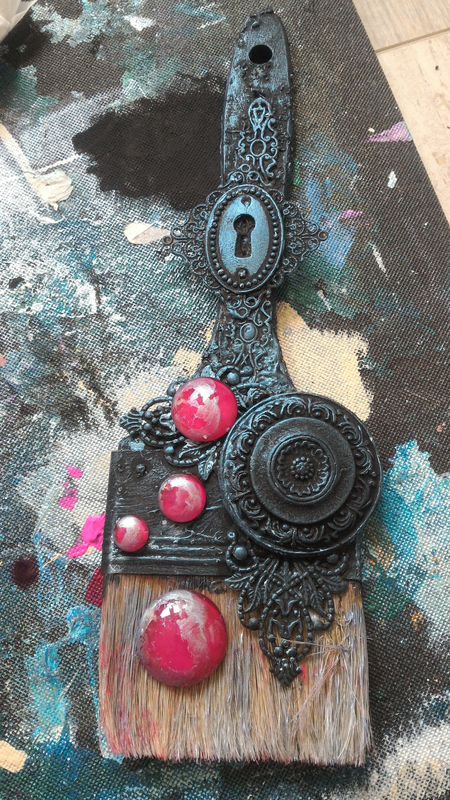 Fifth step, the extra-step that wasn't needed :
I decided I would add glitter, so I first dipped my brush in Heavy gloss gel, then in glitter (pink and blue) and I added the glitter where I wanted. Wrong. It was waaaayyyyy too much.
What do you think ?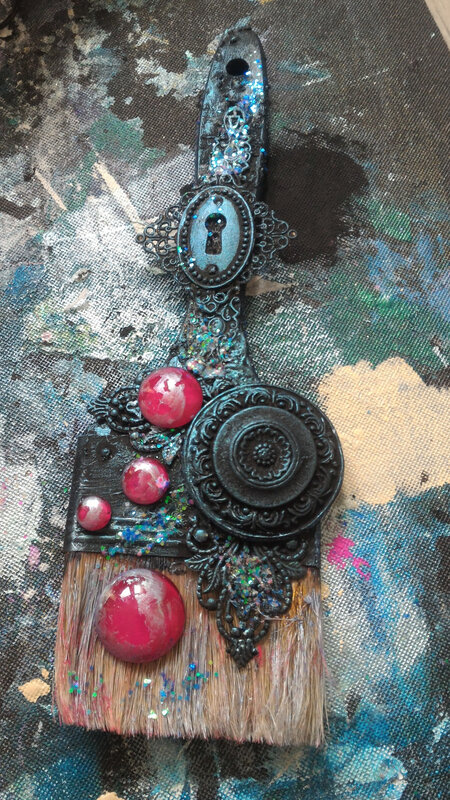 Sixth step, the step to fix everything back :
Because I thought the glitter was too much, I added (and this was my very first time with this product too, that's a lot of first times for a single project, right ?) some Prima Artisan Powder in Mesdames Merlot colour. I felt in love with this products. It adheres perfectly with the surface, and added kinda a rusty look to my embellishments...
Soooo...verdict time ? What do you guys think ? Don't hesitate to leave a comment !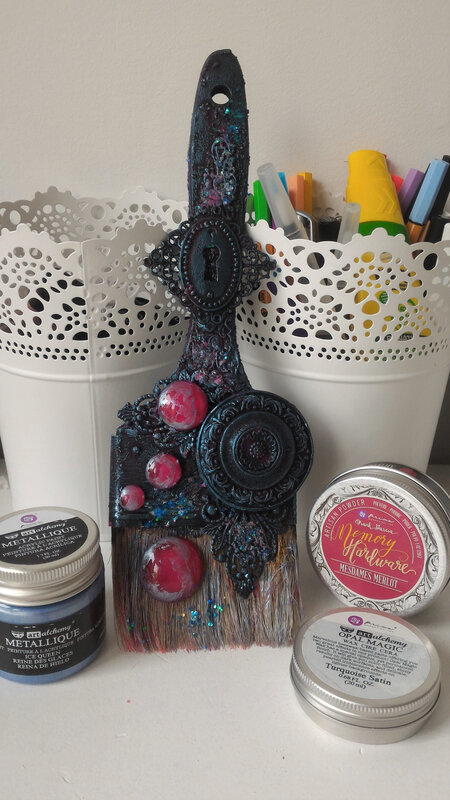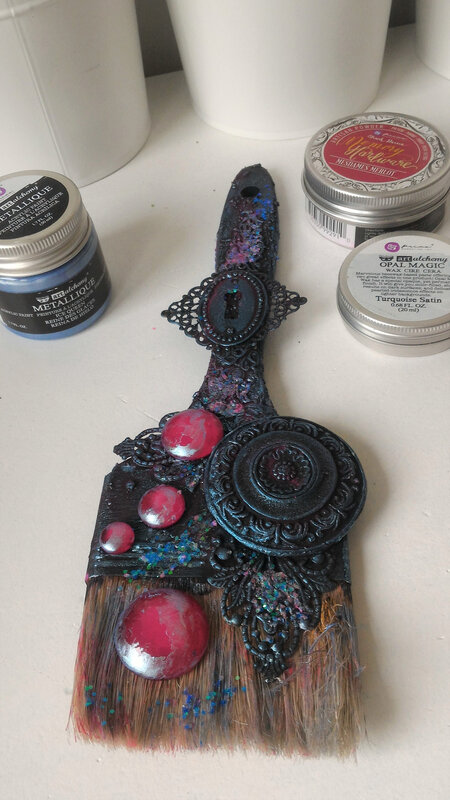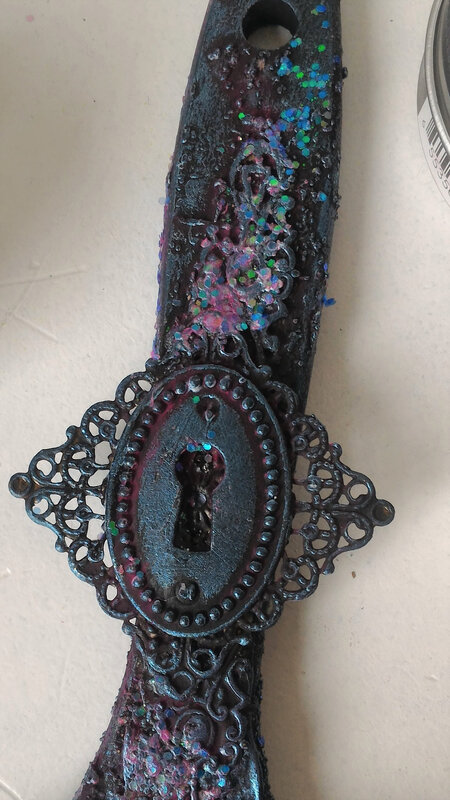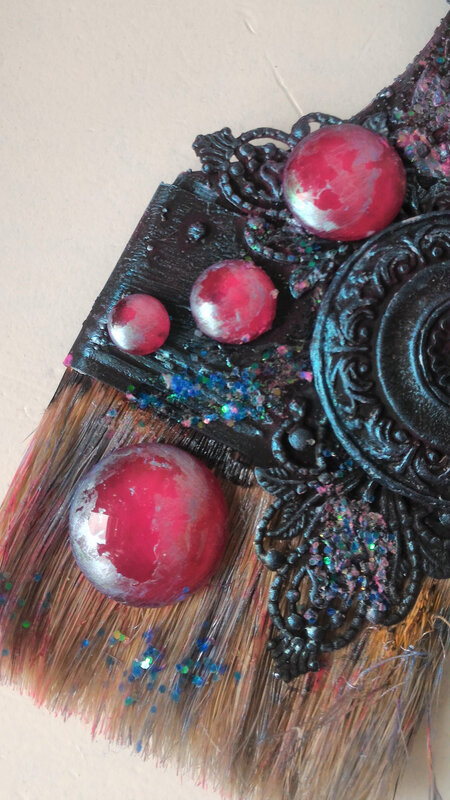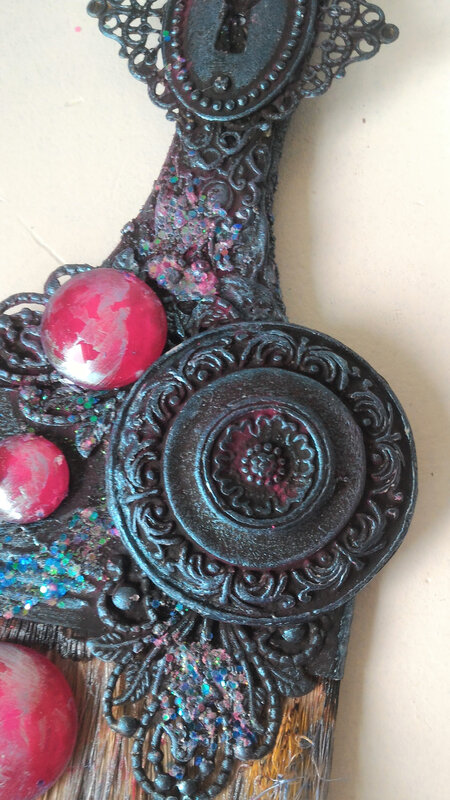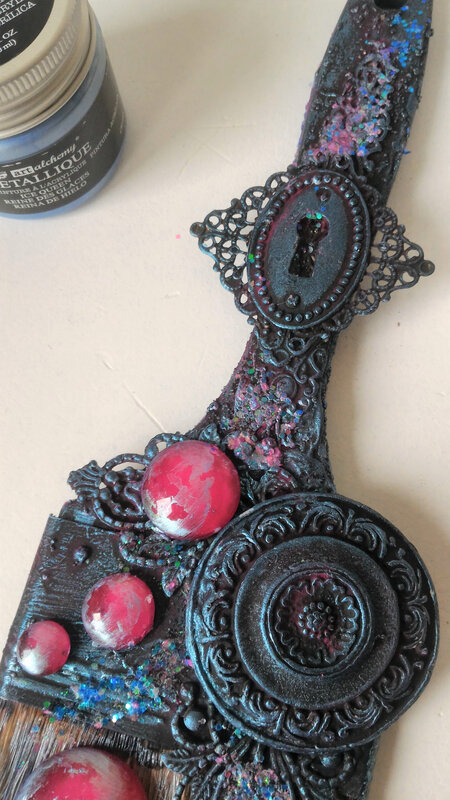 See you soon with another project !
Audrey
11 mai 2018
Hello Mixed Media lovers !
I will share with you my last project. In my stash, I had a round canvas that I started last year but didn't like : I painted the canvas with some violet-green opal magic paint by Finnabair, added a big flower through a Donna Downey stencil with modelling paste and paintend this one in lilac. After that, I got stuck, didn't really like the result and didn't know where I was going. So I left it aside and didn't touch it for almost a year. Until I saw an Insta post from Lemoncraft, sharing a very nice paper project by Ewa Szynczak. This project had very nice papers, lace and trims with flowers. I also saw a video from Keren Tamir on her youtube chanel. She was also creating a round canvas using a paper towel for texture. I got inspired by both projects and decided I would (finally) finish my round canvas. It was over within 6 days. Sometimes, you just got to let the inspiration flow.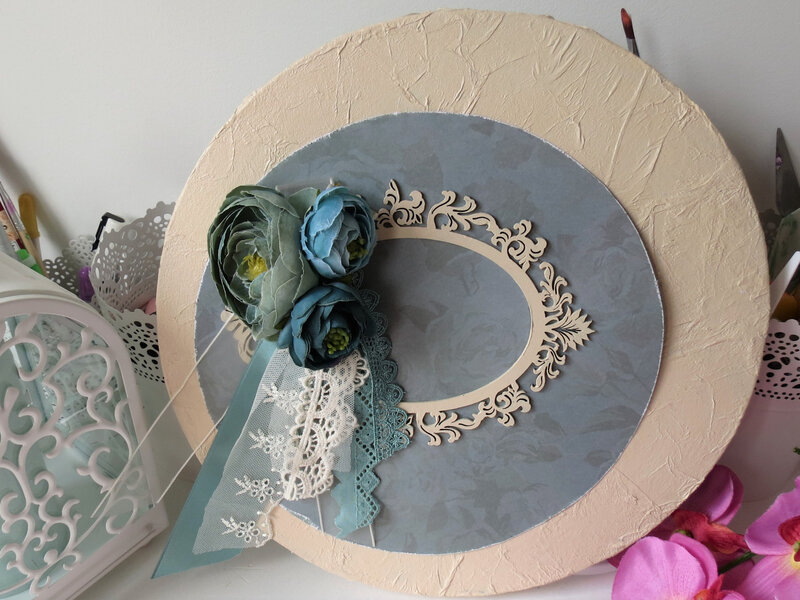 My project doesn't look like I had in mind (I thought about another paper first, and also I was thinking about adding more paper layers), but I really like the way it turns out.
I used the same technique as Keren Tamir in her video for the texture (the flower with modelling paste is still there, but you cannot see it as it is hidden by the paper), I painted the background in beige. I added a paper circle (I distressed the edges with my scissors), a chipboard frame from Dusty attic (painted in the same shade of beige than the background) and then I created my focal point : three fabric peonies in the same tones as the paper that I used, with trims of lace, organza, satin and different kinds of ribbons.
See here for more details :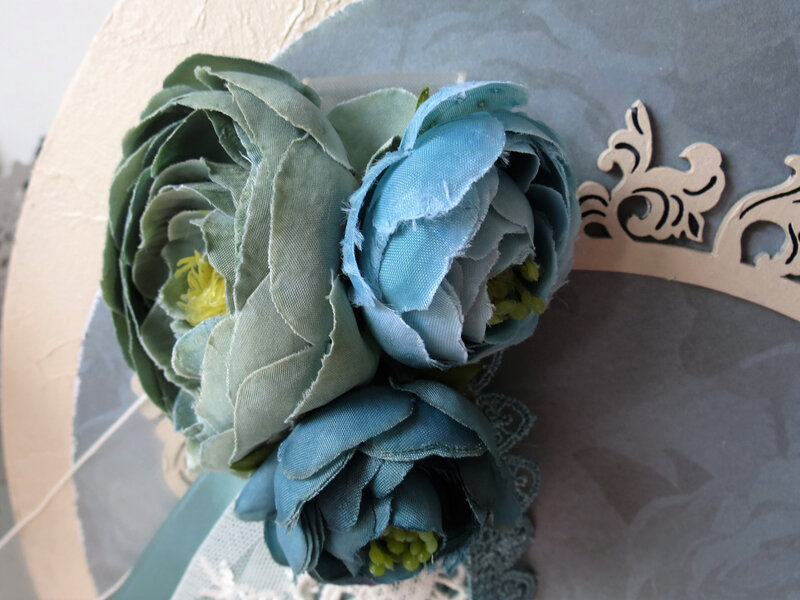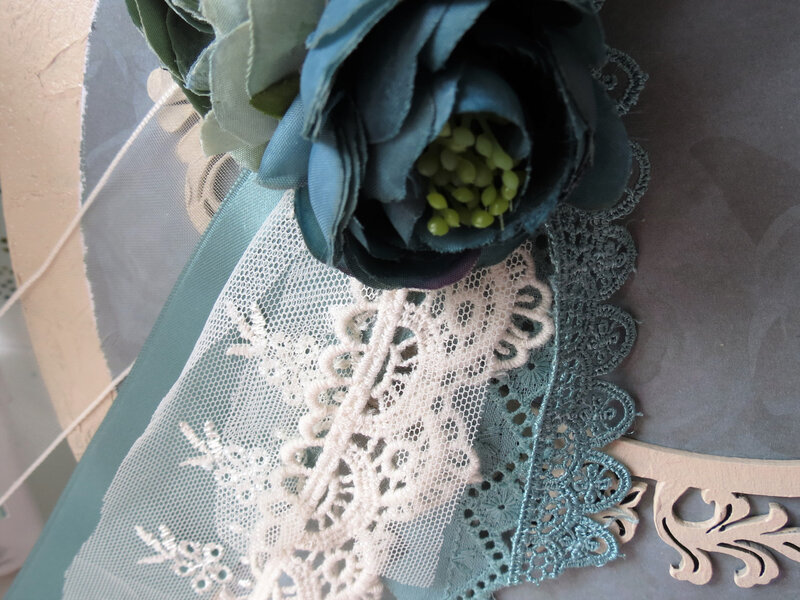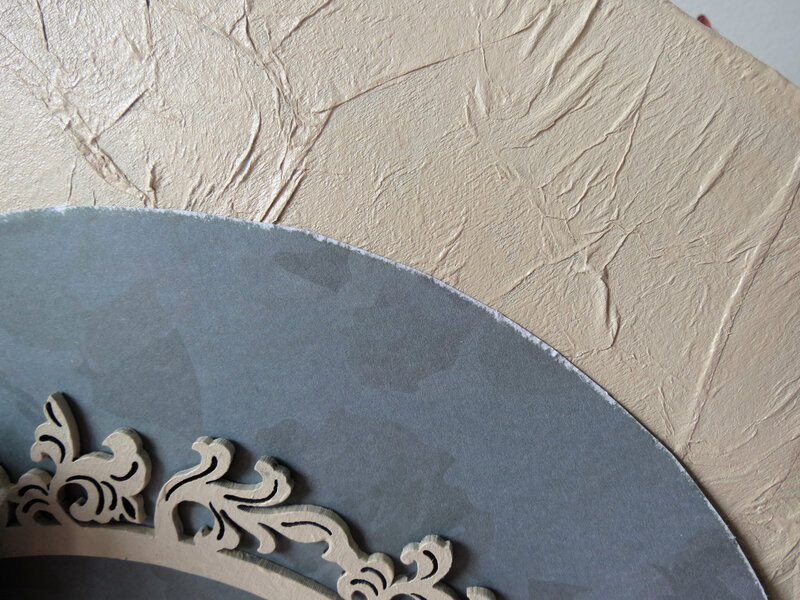 I like those vintage colours and the paper has very discret roses. So shabby !
I think this canvas will go in my craft room, as the shabby look and the colours match perfectly !
And you, do you like it ? Do not hesitate to leave your comments below !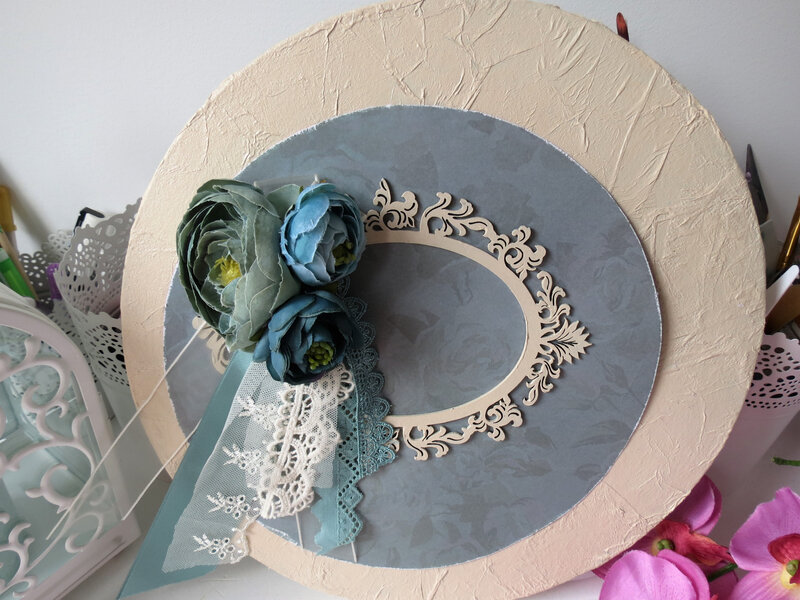 I am really inspired right now, so I hope I can share other projects with you very soon !
Thanks for stopping by !
***********************************************************************************************************
Bonjour, amoureux du Mixed Media,
Hello Mixed Media lovers !
Aujourd'hui, je partage avec vous mon tout dernier project. J'avais mis de côté une toile ronde que j'avais commencée il y a un an mais que je n'avais pas aimée. Je l'avais peinte en vert irisé (peinture acrylique violet green opal magic de Finnabair), j'avais ajouté une énorme fleur avec de la modelling paste et un pochoir Donna Downey, que j'avais peinte en violet. Mais là, j'étais coincée : je n'aimais pas le résultat, je ne savais pas où aller. Je l'ai donc laissée de côté et je n'y ai plus touché pendant un an à peu près, jusqu'à ce que je voie un post Instagram de Lemoncraft. C'était un joli projet papier de Ewa Szynczak, comportant différentes couches et sortes de papiers, de la dentelle, des rubans et des fleurs. J'ai aussi regardé une vidéo de Keren Tamir sur sa chaîne Youtube. Elle créait une toile ronde aussi, utilisant une serviette en papier pour donner de la texture à l'arrière-plan. J'ai été inspirée par ces deux projets et j'ai (enfin) fini ma toile. Elle était terminée en 6 jours. Comme quoi, il faut parfois laisser l'inspiration venir.
Voyez l'image ci-dessus.
Mon projet ne ressemble pas à ce que j'avais en tête (je pensais ajouter plusieurs couches de papier, et j'avais d'autres teintes de bleu en tête) mais j'aime beaucoup le résultat définitif.
J'ai utilisé la même technique que Keren Tamir dans sa vidéo pour la texture (la fleur en modelling paste est toujours là mais on ne peut pas la voir car elle est cachée par le papier), j'ai peint l'arrière-plan en beige, ajouté un cercle de papier à roses dont j'ai "vieilli" les bords aux ciseaux, un cadre en chipboard de chez Dusty attic (j'ai utilisé le même beige que pour le fond) et j'ai ensuite créé mon "point de mire" : trois fleurs de pivoine en tissu -dans les mêmes tons que le papier- auxquelles j'ai ajouté des rubans de satin, d'organza, de dentelles, bref, de différentes sortes.
Voyez ci-dessus les détails.
J'aime beaucoup les couleurs un peu passées et vintage de cette toile, ainsi que les roses du papier. C'est tellement shabby !
Je pense qu'elle ira dans ma pièce à patouille, les couleurs et le style se marient parfaitement avec mon idée de déco pour cette pièce !
Et vous, aimez-vous cette toile ? N'hésitez pas à partager votre avis en commentaires ci-dessous !
Je suis très inspirée en ce moment. J'espère donc partager avec vous de nouveaux projets très vite.
A très bientôt !
23 avril 2018
Hello Mixed Media friends !
Today I am gonna share with you a very special project...
I love hats. I love them. I love fascinators too. And Friday is Koningsdag (Kingsday, the birthday of the King) in the Nederlands, the occasion for all Dutch people to go on the street wearing orange to celebrate. We are going to celebrate it on Thursday at work with a Kingsday contest. The goal : come as dress up as possible.
But orange is DEFINITELY not my color. I don't have the right skintone for that. So my outfit cannot be completely orange, or I'll look sick. So only my accessories will be orange. My plan : a hat, a brooch, a necklace and eventually stockings. They will be combined with a black dress. So instead of looking sick, I'll be a bumblebee.
That's why I wanted to buy a fascinator. As we find many funny accessories for kingsday, it wouldn't be that difficult. Then a friend told me how easy it was to make one myself. And it is, really. A couple of tutorials later, I was ready to go.
All you need is felt (or some fabric of your choice), glue, an empty cereal box-you should have seen me sending a message to Honey in a hurry asking him to not throw away his box. Yes, believe me. Or, if you want it to be sturdy, you can use interfacing and wire, thread and needle, ruler, scissors and the embellishments of your choice. For me : modelling paste -to apply through a stencil-, black and glittering embossing powder plus a feather.
A bit of cutting, sewing, glueing and embellishing and my fascinator was ready :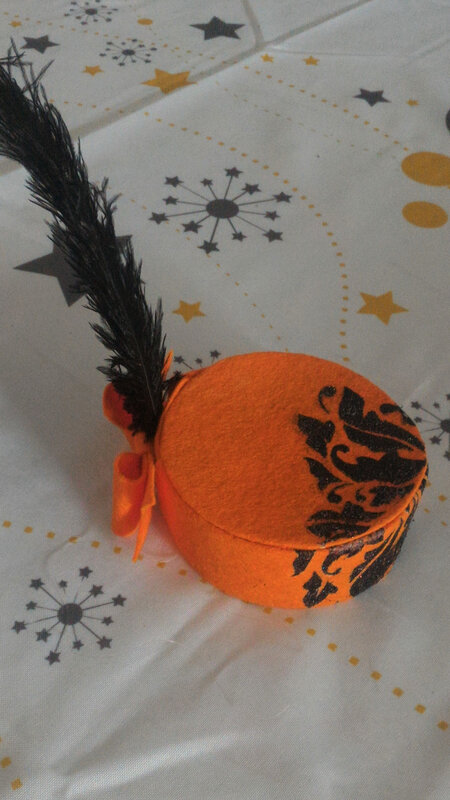 Quite orange, isn't it ? What do you think ?
Personally I really like it, and I am pretty proud of myself as this is my first one (but certainly not the last one). However, there are things I will do differently next time. As you can see on the picture, we can see that the top and the bottom of the fascinator are to different pieces. What I will do next time is sew the two parts together with a first layer of two pieces of felt and then add a second layer of felt but in one single piece (I am not sure this is super clear,if not, leave a comment, I'll try to be clearer :)). Oh, and embossing powder on felt. To avoid. It sticks by itself on the fabric (I should have thought about that), so there is some all over the hat. But it's not as bad as we could think, so it's fine to me ;).
Don't hesitate to let me know what you think of it !
See you soon with another post !
***********************************************************************************************************
Hello, amis du Mixed Media !
Aujourd'hui, je partage un projet très spécial...
J'aime les chapeaux. Je les adore. J'aime les bibis. Et vendredi, c'est le jour du roi (l'anniversaire du roi aux Pays-Bas). L'occasion pour tous les Hollandais de sortir, porter du orange et de faire la fête. Nous allons fêter ce jour ensemble au travail jeudi avec un concours. Le but : arriver costumé le plus possible.
Cependant, le orange n'est pas couleur. DU TOUT. Je n'ai pas la bonne carnation pour en porter, ça me donne l'air malade. Donc seuls mes accessoires seront orange. Je ressemblerai donc plutôt à un bourdon car je porterai du noir. Mon plan : un chapeau, une broche, un collier et éventuellement des collants.
C'est pour ça que je voulais acheter un bibi. On trouve tout un tas d'accessoires rigolos pour le jour du roi,ça n'aurait pas été très difficile. Puis une amie m'a dit que c'était ultra-facile d'en faire un soi-même. Et ça l'est. Vraiment. Deux ou trois tutos plus tard, j'étais fin prête.
Tout ce dont vous avez besoin, c'est de feutre (ou le tissu de votre choix), de colle, d'une boîte de cérérales vide (vous auriez dû me voir envoyer un message en catastrophe à Chéri pour lui demander de ne surtout pas jeter sa boîte). Oui. Je vous jure. Mais, si vous voulez le faire plus résistant, il vous faudra de l'entretoile et du fil d'aluminium. Vous aurez aussi besoin de fil et d'une aiguille, d'une règle, de ciseaux, et des ornements de votre choix. Pour moi,une plume, de la modelling paste -à appliquer à travers un pochoir- et de la poudre d'embossage noire à paillettes.
Il m'a fallu un peu de découpage, de collage, de couture et de déco pour que mon bibi soit prêt. Voyez plutôt un peu plus haut.
Plutôt...orange, n'est-ce pas ? Qu'en pensez-vous ?
Personnellement, je l'aime beaucoup et j'en suis plutôt fière. C'est mon premier et je le trouve plutôt réussi. Il y a des choses que je ferai cependant différemment la prochaine fois : sur la photo, on voit très bien que le haut et le bas du chapeau sont deux pièces différentes. La prochaine fois, j'assemblerai ensemble les deux pièces avec une première couche de feutre pour ensuite recouvrir le tout d'une deuxième couche de tissu décoré en une seule pièce, pour que ça ne fasse qu'un ensemble, plus uniforme. Suis-je claire ? Si non, n'hésitez pas à laisser un commentaire, j'essayerai de mieux expliquer. Oh. Et la poudre d'embossage sur la feutrine. Évitons. La poudre adhère d'elle-même au tissu (j'aurais dû y penser) et il y en a donc là où j'aurais préféré qu'il n'y en ait pas (entre les éléments du motif par exemple). Cela dit, ça pourrait être pire. Vraiment pire. Donc ça me va ;).
N'hésitez pas non plus à me faire savoir ce que vous en pensez !
Au revoir et à bientôt avec un nouveau post !
24 mars 2018
Hello !
Today I am going to share with you another type of jewelry that I really enjoy to make and to wear... I think they are really vintage and elegant... fabric flowers, made out of organza and/or satin... This is going to be a short post, mainly pictures...
They are really easy to make : just cut out circles of different sizes out of satin and organza, burn the edges with a tea light candle, sew them all together. Add a brooch pin onto a piece of flet at the back, done ! The longest step is to cut out the circles. I prepared myself patterns in light cardboard that I pin onto one or two pieces of fabric. And I cut, and I cut, and I cut...
But I stop talking (I said it would be short), and I show you my flowers now.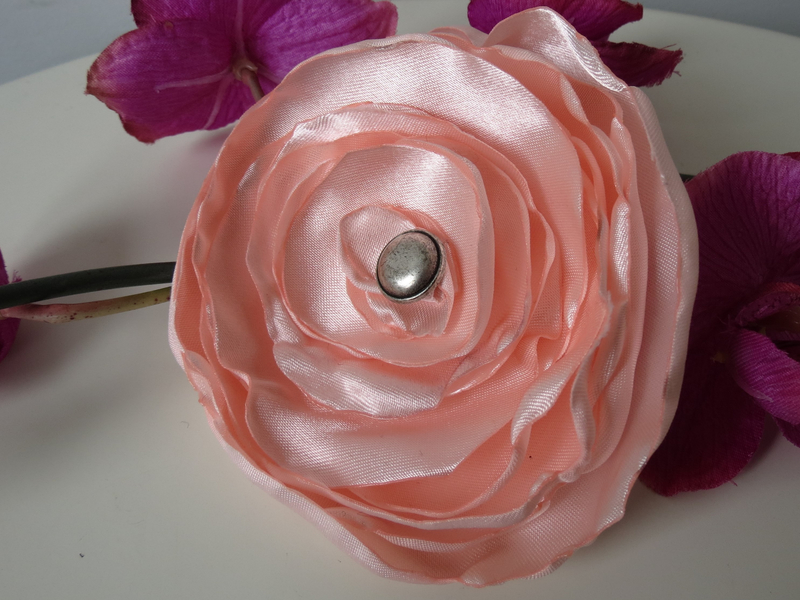 I really like the colour of this one, made out of peach satin. I think this is a smooth and elegant colour.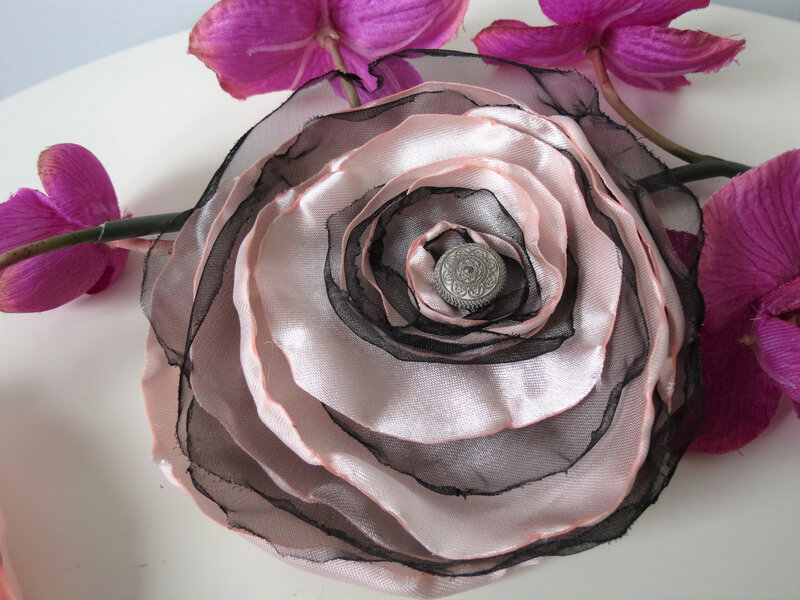 I combined peach satin to black organza for this one.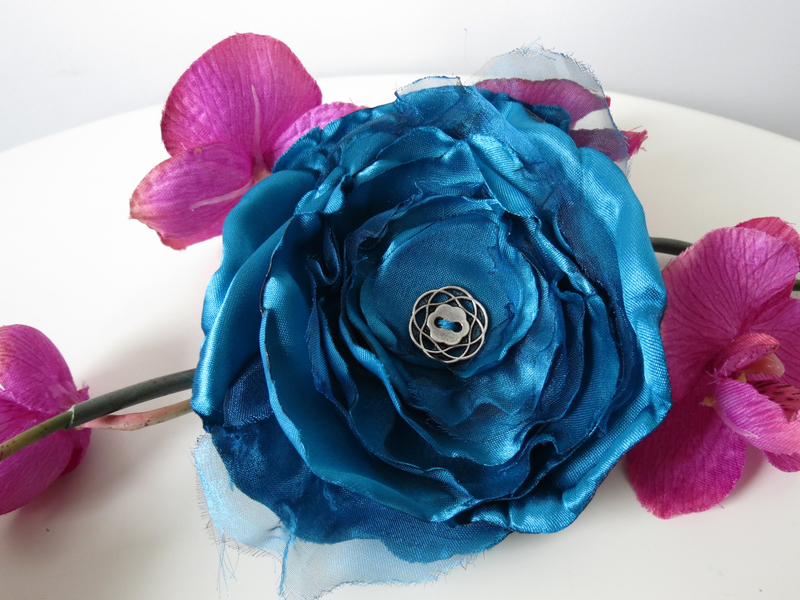 This ones combines teal satin and teal organza. One of my favorite colours.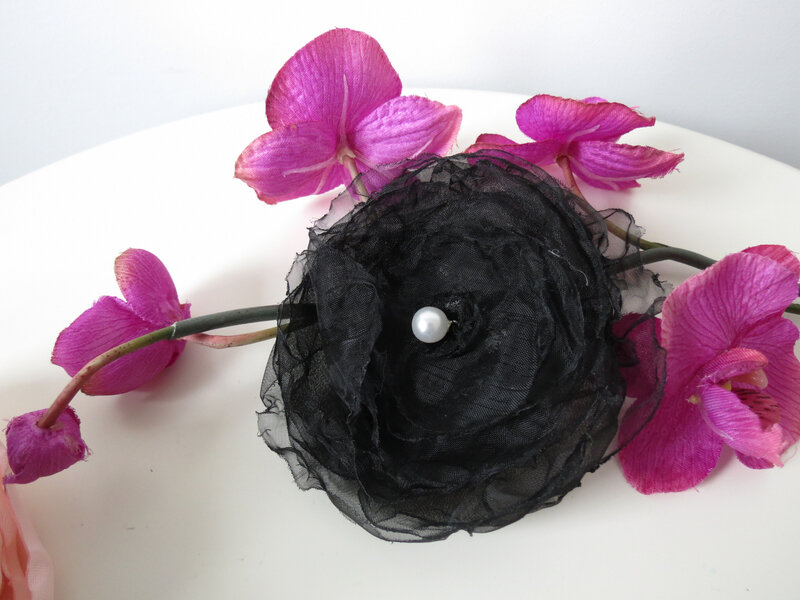 Only black organza for this one. With the white button in the center, very elegant and sober !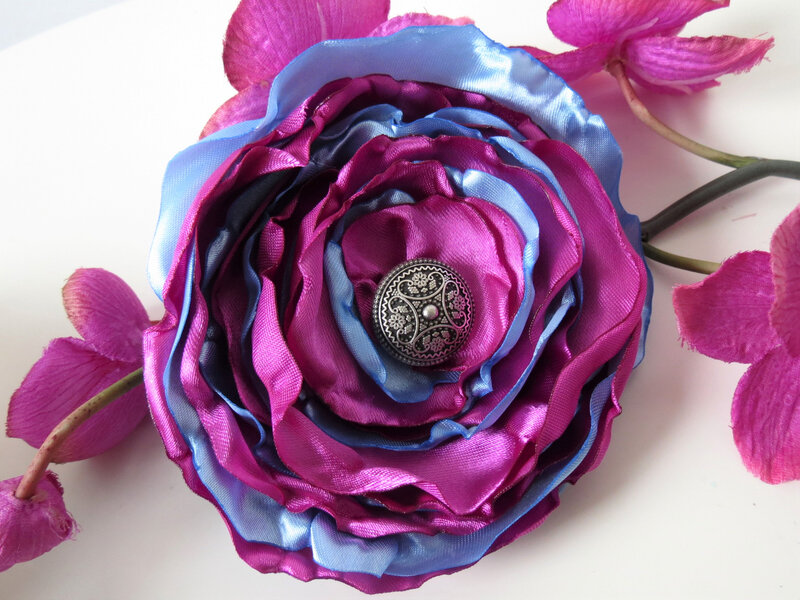 My favorite : fuschsia and light blue satin. I love it because of the colour combo and also because of the number of layers !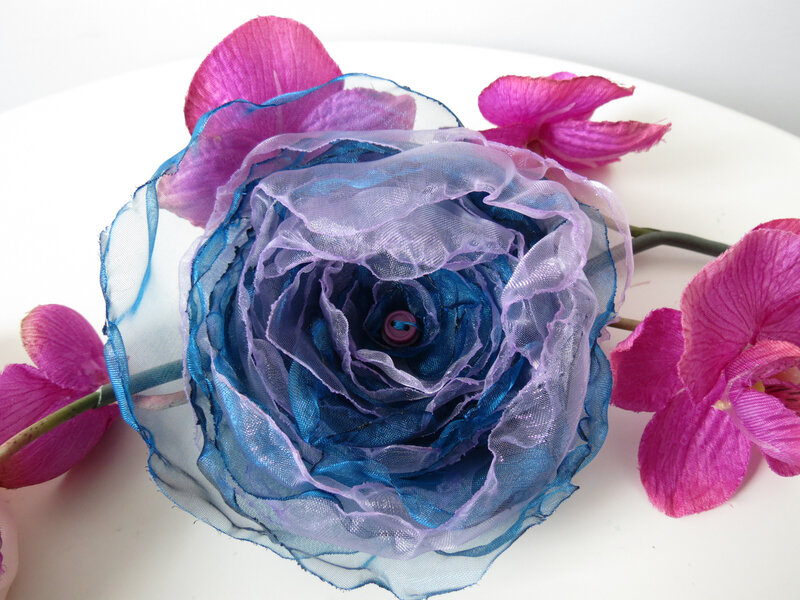 My second favorite so far : teal and lilac organza with tiny purple buttons.
What do you think ?
I have other brooches in progress, with satin in other colours (orange, dark purple, lilac and ...green ? Blue ? I don't even know what this colour is. All I know is that I LOVE IT ):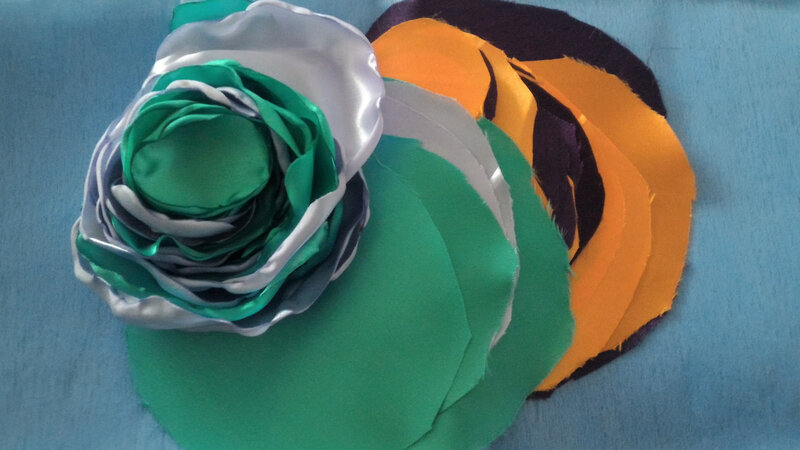 I will show them to you when they're completely finished. But as you can see, you don't even need to be super precise when you cut out the circles. Mine barely are circles. I am left-handed, and my scissors aren't for lefties (sometimes being leftie sucks). That plus the fact that I am SUPER BAD at cutting, even with nice scissors. So no worries. When you burn the edges of the circles, the small flaws will disappear, and the irregular shape of the circles will give more interest to your flowers.
Don't hesitate to tell me which one is your fav in the comments. Thank you for passing by and see you soon !
***********************************************************************************************************
Hello !
Aujourd'hui je vais partager avec vous un autre de mes projets préférés... J'aime les faire et les porter, car je les trouve très élégantes et très vintage : les broches fleurs en satin et/ou en organza. Ce sera un post court, principalement des photos.
Ces fleurs sont très simples à réaliser : il suffit de couper des cercles de différentes tailles dans du satin et de l'organza, d'en brûler les bords avec une bougie chauffe-plat. On coud ensuite le tout, on ajoute une épingle de broche sur une pièce de feutre. Tadaa ! C'est aussi simple que ça. Pour mes cercles, je me suis fabriqué des patrons dans du carton léger. Je les épingle sur des pièces de tissu et je coupe, je coupe, je coupe...
Mais les images ne valent-elles mieux que des mots ? J'arrête donc de parler et je vous montre mes broches, maintenant (j'ai dit que ce serait court, non ?).
Voyez plutôt les photos plus haut.
J'aime beaucoup la couleur de la première, réalisée à partir de satin pêche. Je pense que c'est une couleur très douce et très élégante.
Pour la deuxième, j'ai associé le même satin pêche à de l'organza noir.
La troisième est constituée de satin et d'organza teal, une de mes couleurs préférées.
La quatrième n'est constituée que d'organza noir. Avec le bouton blanc au milieu, je la trouve très sobre et très élégante !
La cinquième est ma pièce chouchou : ses pétales sont de satin fuchsia et bleu ciel. Je l'adore, j'adore l'association de couleurs et l'épaisseur !
La dernière, constituée d'organza teal et lilas est ma deuxième préférée. Son coeur a été réalisé à partir de petits boutons violets.
Que pensez-vous de ces broches ?
D'autres sont en cours de réalisation(voir dernière image ci-dessus), dans d'autres couleurs (orange, violet foncé, lilas et... vert ? Bleu ? Je ne suis même pas sûre de cette couleur, mais JE L'ADORE !).
Je vais vous les montrer quand je les aurai terminées. Mais comme vous pouvez le voir, vous n'avez même pas besoin d'être très précis-e quand vous coupez les cercles. Les miens sont d'ailleurs à peine des cercles. Je suis gauchère, et mes ciseaux ne sont pas conçus pour les gauchers (parfois, être gaucher, c'est de la m****). Cela, plus le fait que suis NULLE, ARCHINULLE, UN ZÉRO quand il s'agit de couper, même avec des ciseaux pour gauchers. Donc pas de soucis. Quand vous brûlerez les bords de vos cercles, le petites imperfections disparaîtront et l'irrégularité de vos cercles rendra les pétales encore plus intéressants.
N'hésitez pas à me faire savoir laquelle à votre préférence dans les commentaires. Merci de me lire et à bientôt !
18 mars 2018
Hello everyone !
Today I am going to tell you about something that I am really fond of... Concrete jewelry !
I discovered this technique about one year ago and now, I can't stop molding concrete !
I am in love with the industrial aspect of the concrete that I like to combine with gemstones (and I plan to combine it with Swarovski cristals, I think this can work very well too... I can't wait to find out!).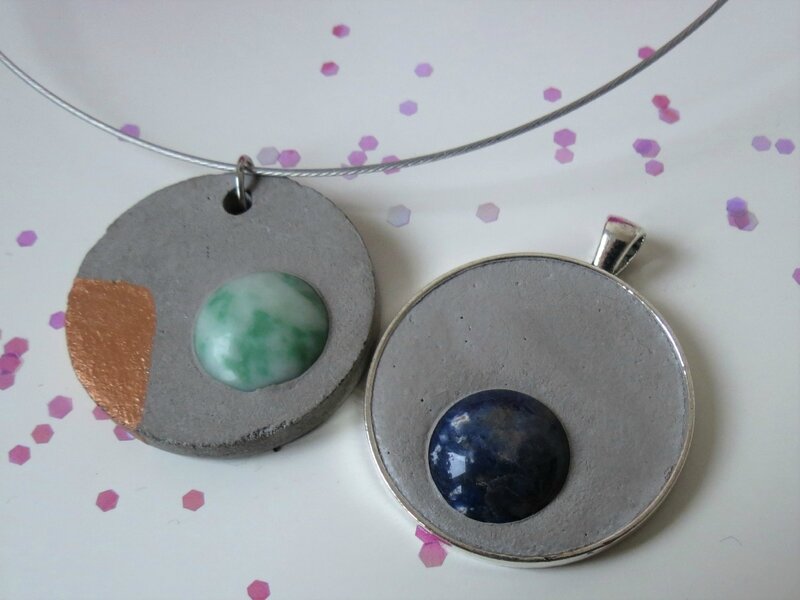 The one on the left is the very first model I created with a stone. This cabochon is made out of jade, and I really love its organic effect. I painted with gold acrylic paint the left side of the pendant. For the pendant on the right, I molded concrete right into a bezel and I added a sodalite cabochon. Simple but efficient, don't you think ?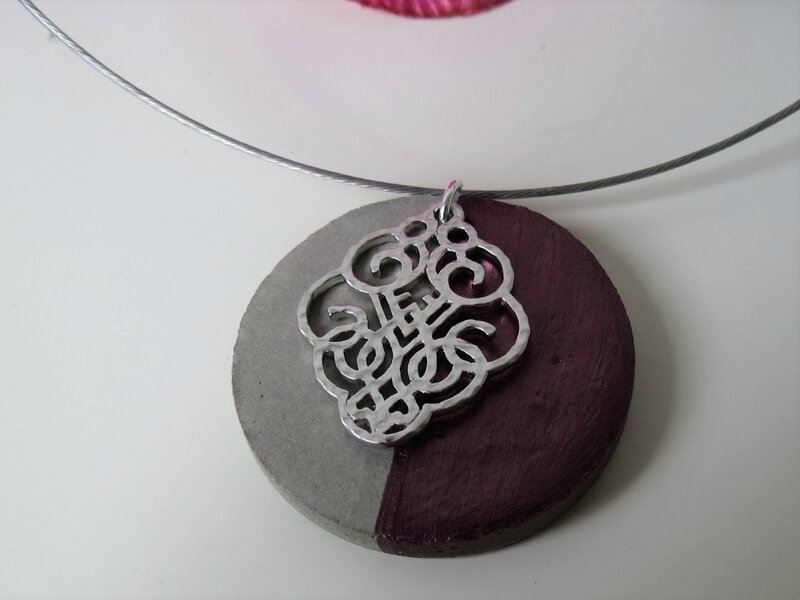 I simply painted half of this pendant with Finnabair's Plum preserves paint and added a silver filigree on top. I like it a lot too... And you ?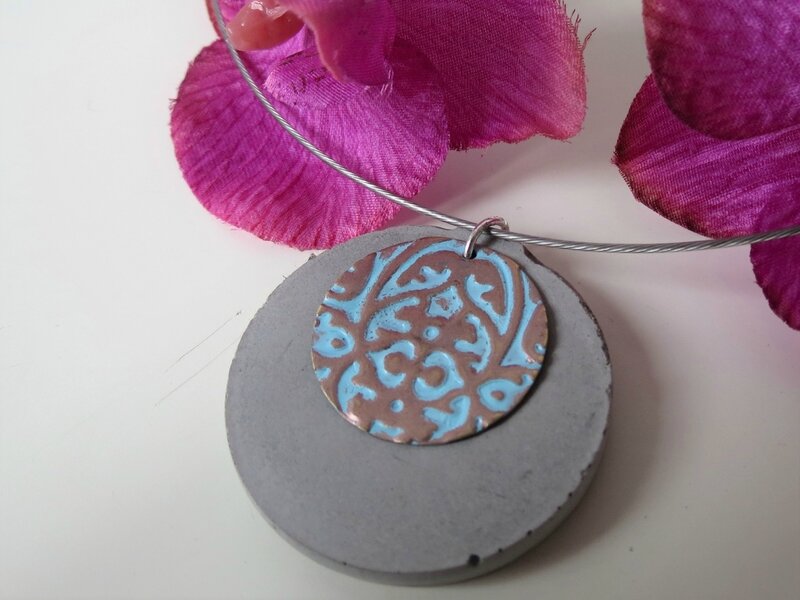 How nice is this one ? I molded the pendant, and embossed a blank pendant from one of my favorite brands, Vintaj. I added some light blue patina (Vintaj) and rose gold wax (Finnabair) to colour the pendant. Do you like it too ? Personally, I love the color combo !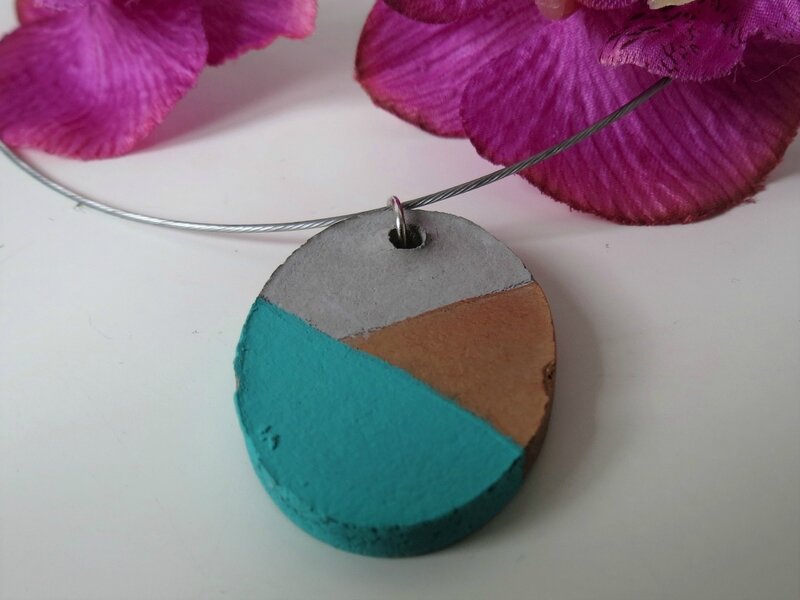 This one is the last necklace, even though I have one more jewel to show you after. I simply painted an oval molded pendant with turquoise and gold paint. I like the geometric aspect of it. What do you think ?
And last but not least :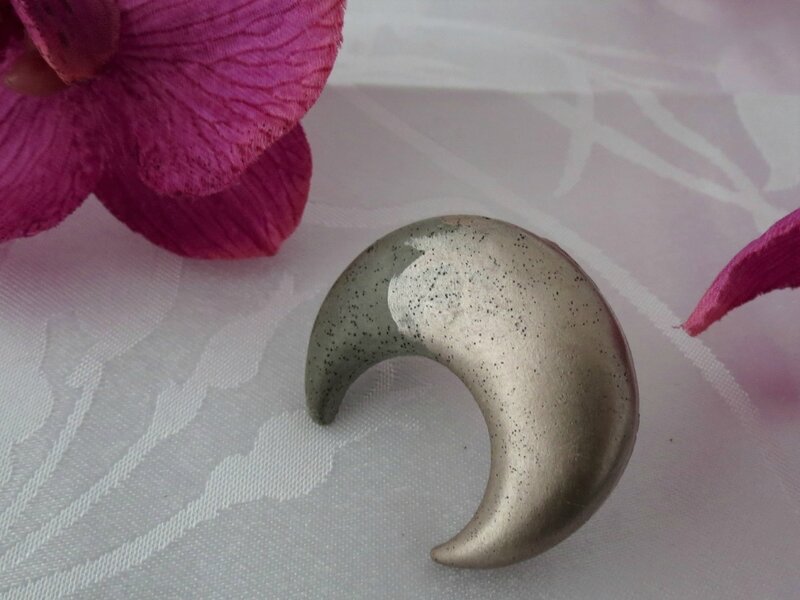 I created this fabulous ring molding concrete into a crecent moon mold and I LOVE IT !!! It is gorgeous, isn't it ? I painted it with Vintaj rose gold patina... More and more in different colours are to come !
Would you like to see more concrete jewelry as well ? I'll show you in another post my next creations then !!
See you soon !!!
PS : the concrete I use is designed especially for jewelry.
**********************************************************************************************************
Bonjour tout le monde,
Je vais partager aujourd'hui quelque chose que j'adore faire... des bijoux en béton.
J'ai découvert cette technique il y a environ un an et maintenant, je ne peux pas m'arrêter de mouler du béton !
Je suis tombée folle amoureuse du côté industriel du béton que j'aime combiner à des pierres semi-précieuses (j'ai aussi dans l'idée que combiner le béton aux cristaux de Swarovski peut fonctionner, j'ai hâte d'essayer ! ).
Sur la première image (voir ci-dessus), le collier sur la gauche est le tout premier modèle que j'ai créé avec une pierre, un cabochon de jade, pour être précise, dont j'adore l'aspect organique (s'opposant au côté industriel du béton. Sympa non ?). J'ai peint avec de la peinture acrylique dorée le côté gauche du pendentif. Pour celui de droite, j'ai moulé le béton directement dans un support à cabochon, puis j'y ai serti un cabochon en sodalite. Encore une pierre à l'aspect organique que j'affectionne particulièrement. Ce pendentif est simple mais efficace, vous ne trouvez pas ?
Deuxième image : j'ai tout simplement peint le pendentif en béton avec de la peinture acrylique de Finnabair (Plum preserves) et j'ai ajouté par-dessus une estampe argentée. Je l'aime bien aussi, celui-ci. Pas vous ?
Et le trosième pendentif, n'est-il pas super joli ? Pour celui-ci, j'ai ajouté au béton une estampe que j'ai gauffrée puis peinte avec de la patine bleu ciel de Vintaj et de la cire or rose de Finnabair. L'aimez-vous aussi ? Moi j'aime beaucoup l'association de couleurs !
Et le dernier collier pour aujourd'hui (j'ai un autre bijou à vous montrer après celui-ci) : j'ai tout simplement peint un pendentif en béton ovale (on change de forme ! ) avec de la peinture turquoise et dorée. J'aime son côté géométrique. Qu'en pensez-vous ?
Et enfin le dernier bijou, mais pas des mondres : sur la dernière photo, vous pouvez voir cette superbe bague réalisée à partir d'un moule en silicone en forme de croissant de lune. JE L'ADORE !!! Elle est magnifique, vous ne trouvez pas ? J'ai ensuite peint le cabochon-lune avec de la patine or rose de Vintaj. J'en ferai encore plus, et dans d'autres couleurs.
Vous voulez plus de bijoux en béton ? Je vous montrerai mes prochaines créations alors !
à bientôt !
PS : le béton que j'utilise est spécialement conçu pour la bijouterie !
04 mars 2018
Hi everyone,
I am back after a long moment of silence...
Lately I haven't been making Mixed Media. I made jewelry. I started to make bubble rings :
For the first one on the left, I used black microbeads ans white glitter (which turns out blue) into a circle of glass.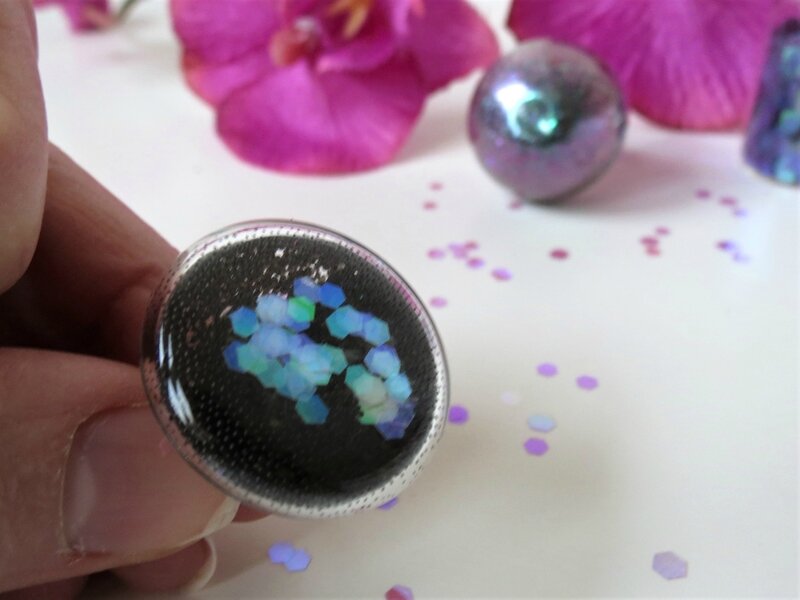 For the second one, I used only nail glitter. I don't know if this is because of that, or because of the Chrome effect of the glitter, but it got stuck onto the glass, inside the dome. It is really pretty, but we cannot really see the movement of the glitter inside.
The glitter is purple and green, the picture does'nt show the colours properly but I can assure you the ring is really pretty.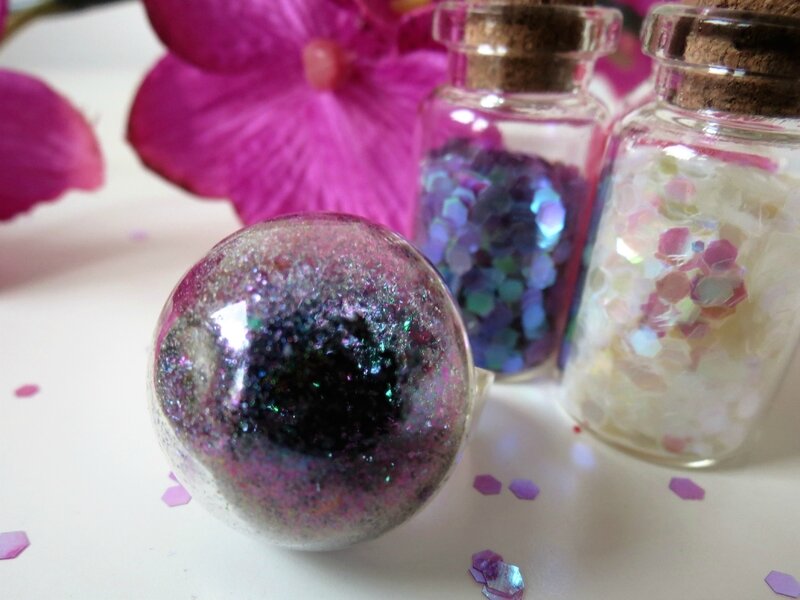 I also made this one, with turquoise Miyuki beads :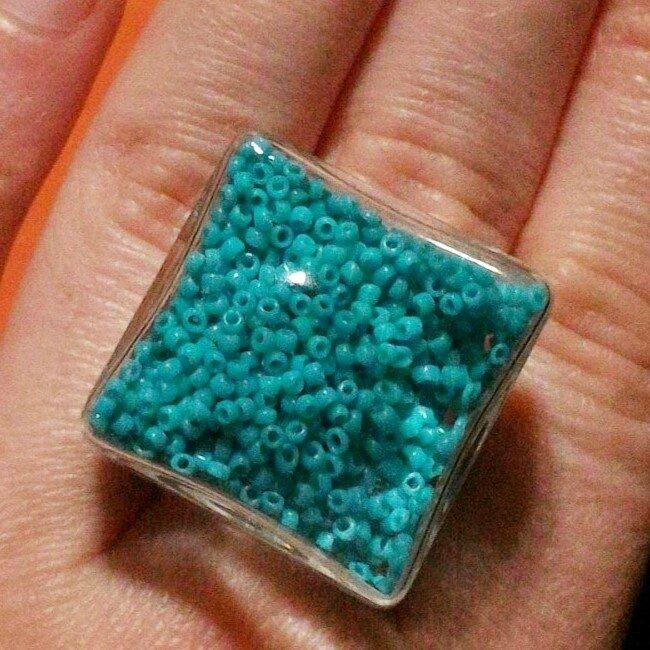 This one is mine. I wore it for one day and I was maltreating it in order to test the glue. Well I shouldn't have. At the end of the day, one last shock has been fatal to the ring, the cube with the beads felt down and broke.
Those three rings didn't work out. I sent the two first ones to my sister and they arrived broken. The domes were gone. She can glue them back, but that's a bummer.
However, I don't want to call it a try : I made another bunch yesterday with another glue. I am now trying epoxy glue. It's really really chemical but I hope it works. I will wait for it to be dry and try one of the rings. I'll let you know !
What do you think of those bubble rings ?
I ordered some globes on AliExpress, they are cloud-shaped and I CANNOT WAIT to receive them.
See you soon with another post !
***********************************************************************************************************
Bonjour tout le monde !
Je reviens après un long moment de silence...
Dernièrement, je n'ai pas fait beaucoup de Mixed Media, mais plutôt de nouvelles expériences bijoux.
Je me suis en effet essayée aux bagues à dômes remplies de perles etc... Des bagues bubulles.
J'en ai fait deux que j'ai envoyées à ma soeur : l'une avec des microbilles noires et des paillettes hexagonales blanches -devenues bleues au milieu des microbilles- dans un palet plat et l'autre avec des paillettes pour nail art violettes et vertes dans un dôme.
Je ne sais pas si c'est parce que les paillettes pour nail art sont très très légères ou si c'est dû à leur effet chromé, mais certaines d'entre elles sont restées collées sur l'intérieur du dôme et on ne voit pas le mouvement des autres paillettes qui, elles, ne sont pas collées. Les photos ne mettent d'ailleurs pas en valeur les couleurs, mais je peux vous assurer que les reflets des paillettes sont superbes !
J'ai aussi fait une troisième bague, carrée cette fois, avec des perles Miyuki turquoise. Je l'ai portée une fois, je l'ai maltraitée toute la journée pour tester la colle et je n'aurais pas dû. A la fin de la journée, un dernier choc a eu raison de cube qui s'est décroché et s'est cassé. Tristesse et calamité...
Les deux autres bagues n'ont pas non plus supporté le voyage Pays-Bas/France. Quand ma soeur a reçu le petit colis, les dômes s'étaient décrochés. Elle pourra les recoller, mais c'est dommage.
Je ne veux cependant pas m'avouer vaincue. Hier, j'ai fait trois autres bagues avec de la colle epoxy cette fois, et j'attends maintenant qu'elle sèche pour essayer l'une d'entre elles. Je vous tiendrais au courant !
Que pensez-vous de ces bagues ?
J'ai aussi commandé des dômes en forme de nuage sur AliExpress et j'ai VRAIMENT HÂTE de les recevoir :)...
A bientôt !!!!