Hello crafty friends !
Today I am sharing with you my entry to the February Art PlayGround Challenge, "Shape of my art".
We have to use at least one colour of the scheme below :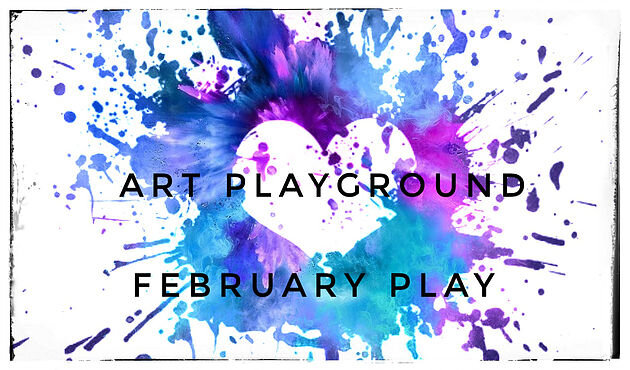 I used a midnight blue and the pinkish-purplish shade to alter a tiny wooden box which was containing wood embellishments :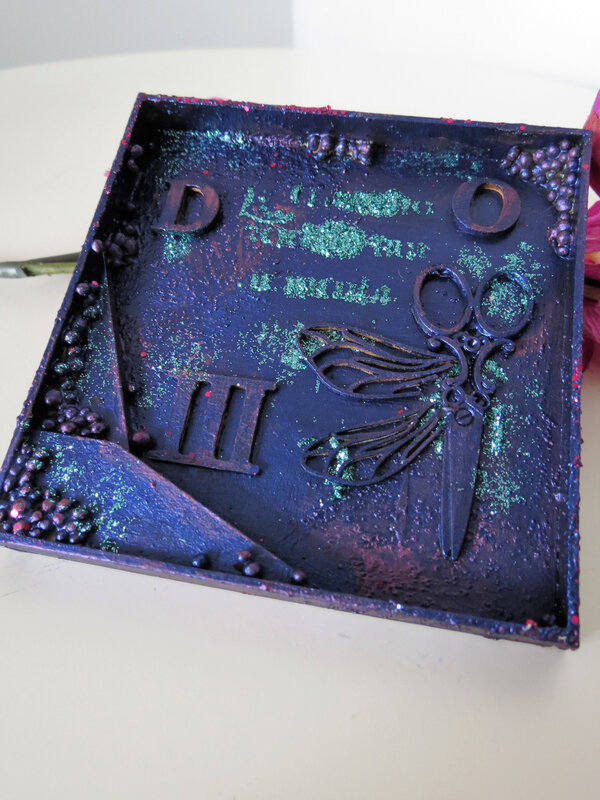 The tip of the month got me quite inspired. I added some embellishments trying to get a nice harmony between curves (wings near the scissors, handle of the scissors, the letter "o" and the art stones) and straight lines (I used the wood pieces we normally put at the back of canvases, a roman digit chipboard...) and everything was fitting perfectly within a small wooden square-straight lines again! - box I recycled (it was containing some wooden embellishments before).
I covered everything with black gesso, one layer of Midnight blue acrylic paint by Finnaibair, a bit of stenciling (I used my beloved "Manuscript" stencil from Finnabair) with sparkle paste in turquoise from Cosmic shimmer. Then, I highlighted some highlights with Finnabair's wax Amethyst magic...
I had some glitter on my work surface that got stuck all around the edges of my box... Happy accident I would say, its colour matches perfectly the colour scheme of this month...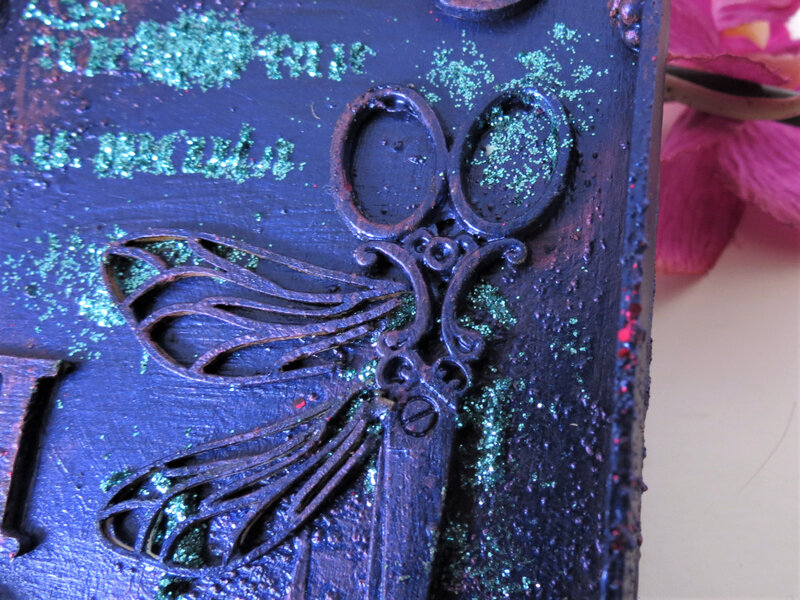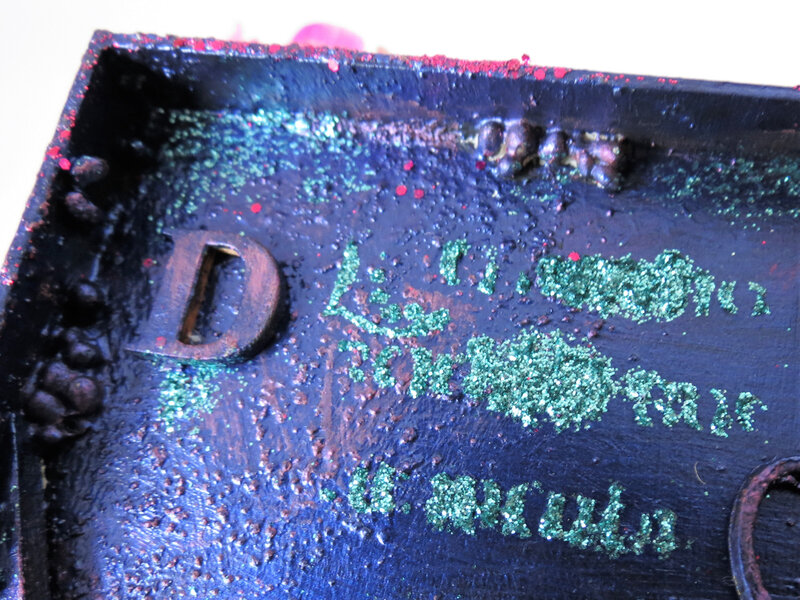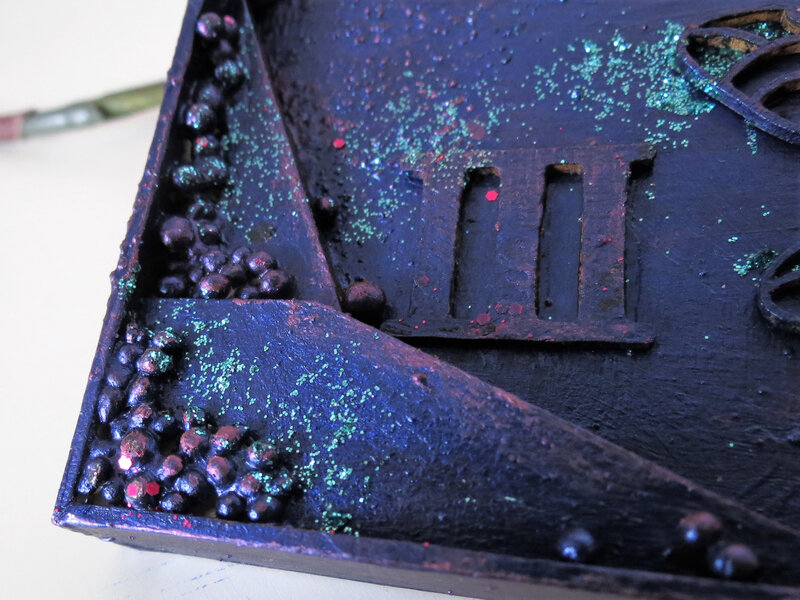 What do you think ?
I will come back very soon with my entry to this month Art Daily's challenge... A blue project, once again :).
Hi all!
This weekend I am one of the two sponsors at Connie can crop blog hop "Pawprint in my heart".
Come and play along with us. Check the sweet and cute projects of the blog hop, comment and follow our blogs to try to win my beautiful mixed media tag below or an amazing stamp set.
You can start at Connie's blog: https://conniecancrop.blogspot.com/2019/02/pawprints-on-my-heart-blog-hop.html and follow the line up.
You have until tomorrow, hurry up:)!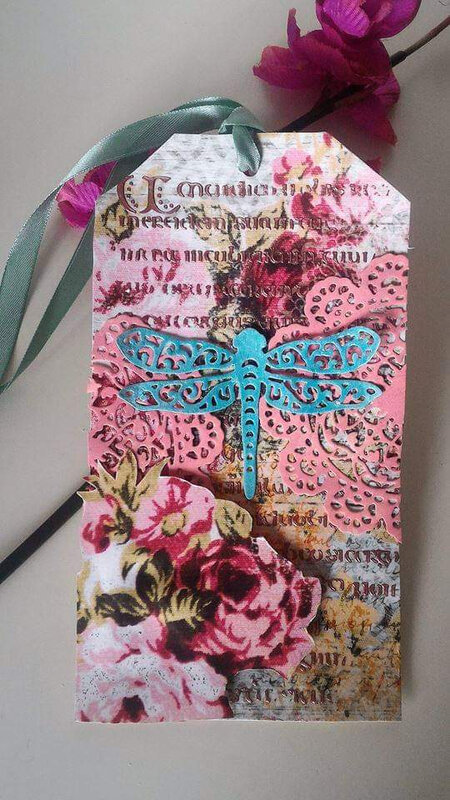 Have fun and see you soon!
Hello Mixed Media friends,
Today I am sharing with you my first project for February. This is a project I have been working on for a few weeks, but I was a bit lacking of inspiration...
Before Christmas, one of my coworkers brought two huge mason jars full of candies at work. Once they were empty, I asked him if I could take them home to create something with it. These jars are going to be chocolate jars. A chocolate jar ? What's that ?
These will be jars where people can put some money in order to buy chocolate for the whole company (my company is still a quite small one, so it is possible). I made two, because the working floor is divided in two, both with their own coffee corner/cantine. One will go for Customer service, the other one to Marketing and Technology.
I created a blue one and a purple one, and I used different mediums and embellishments for both.
Let's start with the purple one !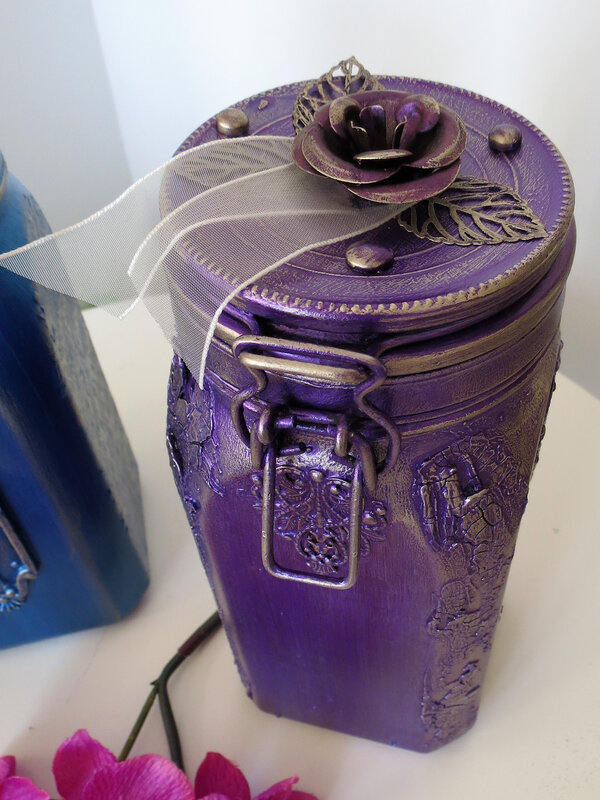 I covered the full jar with black gesso. Then, I glued four metal embellishments ("flourishing" filigrees) on each side of the jar. At every corner, I added some crackle paste on the full height of the jar.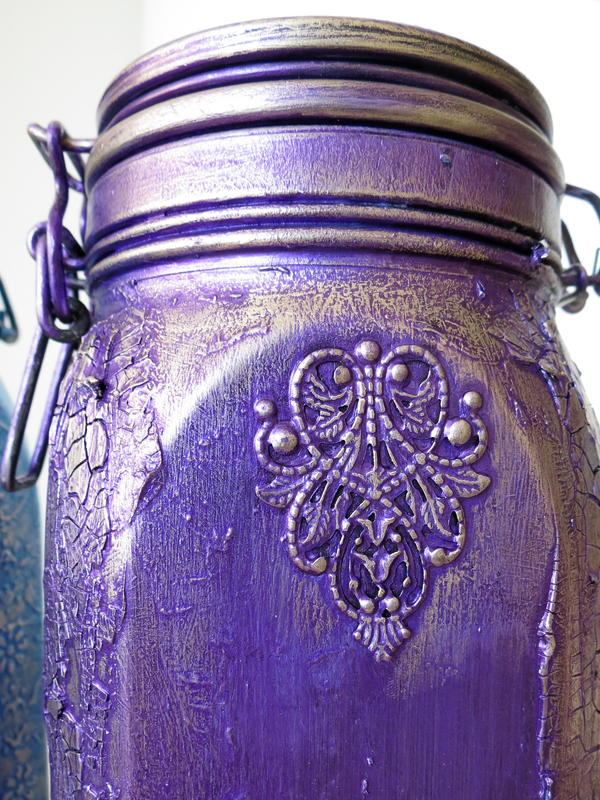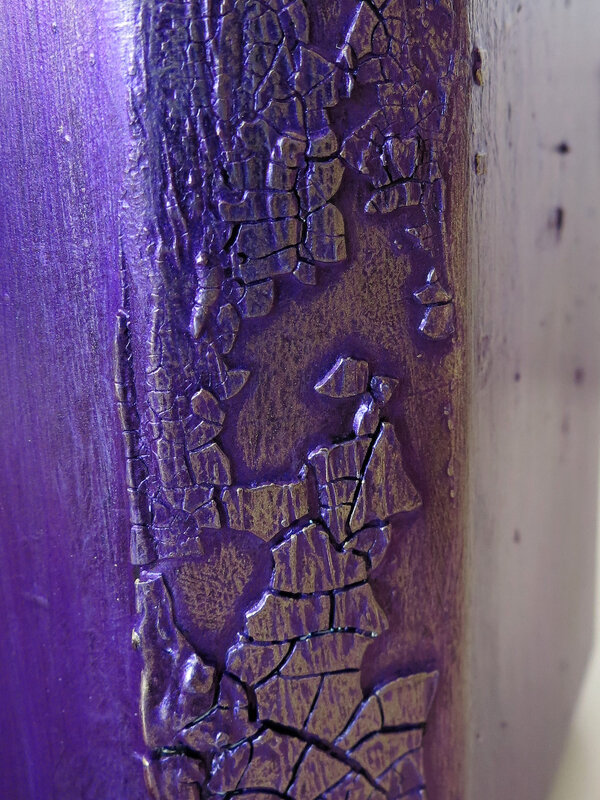 Once everything was dry, I covered everything with black gesso again (except the lid, as nothing has been added there). After this, I added two coats of Finnabair's Crocus fields (such a beautiful colour). I applied a bit of Finnabair's wax in white gold to highlight the details and all was left to do was take care of the lid.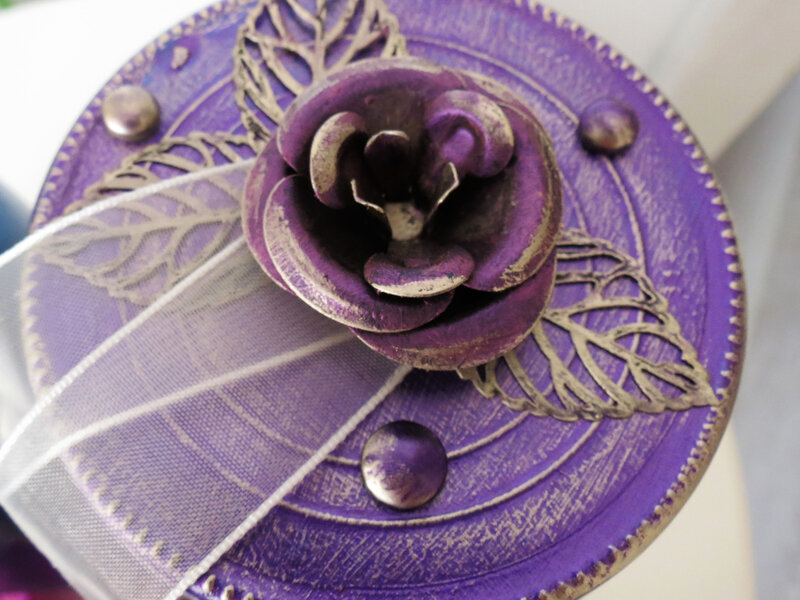 I covered with black gesso three metal leaves and one rose. Then, I covered them with Amethyst magic wax and after this, with white gold wax. I glued everything together in the center of the lid, adding two trims of delicate organza, which colour was close to the white gold. I found it was still a bit empty, so I added three tiny cabochons (I think 2 of 6 mm and one of 8 mm), coloured the exact same way as the other embellishments, except I didn't use amethyst magic but crocus fields again.
I followod basically the same principle for the blue one, but with different colors and embelishments :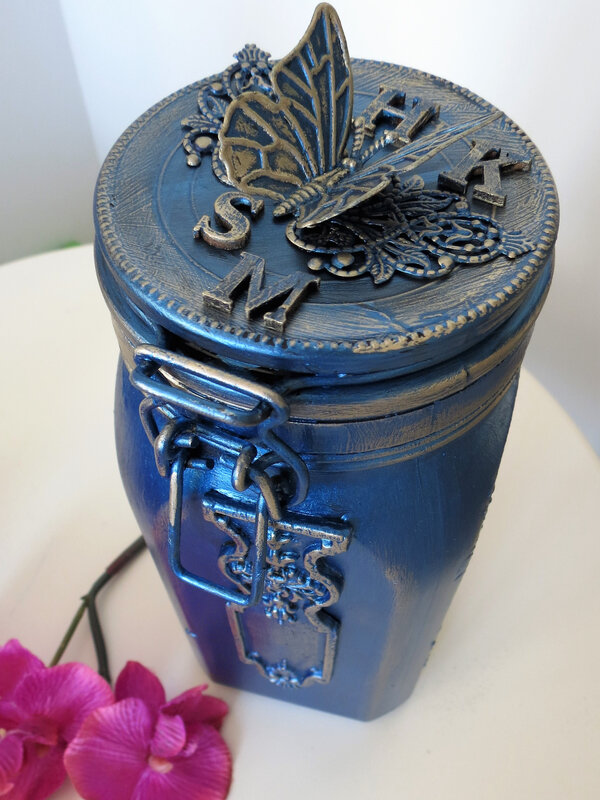 Once the black gesso was dry, I added some plaster paste by Finnabair through my Prima Marketing's Tile stencil on three sides of the jar and on the front one, I glued a piece of paper clay that I molded in my Escucheons 1 mold by Iron Orchid Designs (I love to add molded pieces to my artwork! It gives such a nice textured look!). Again, I covered everything with black gesso. Then, I added two layers of Finnabair's deep waters. After a short drying period, I highlighted some details with my white gold wax (so far, this is one of my favorite wax, with the rose gold one, but I can't wait to try the now release!).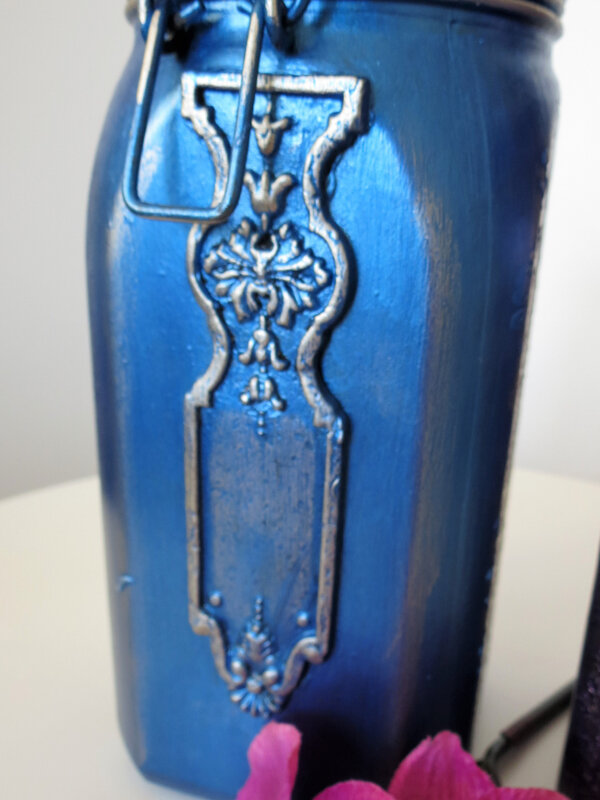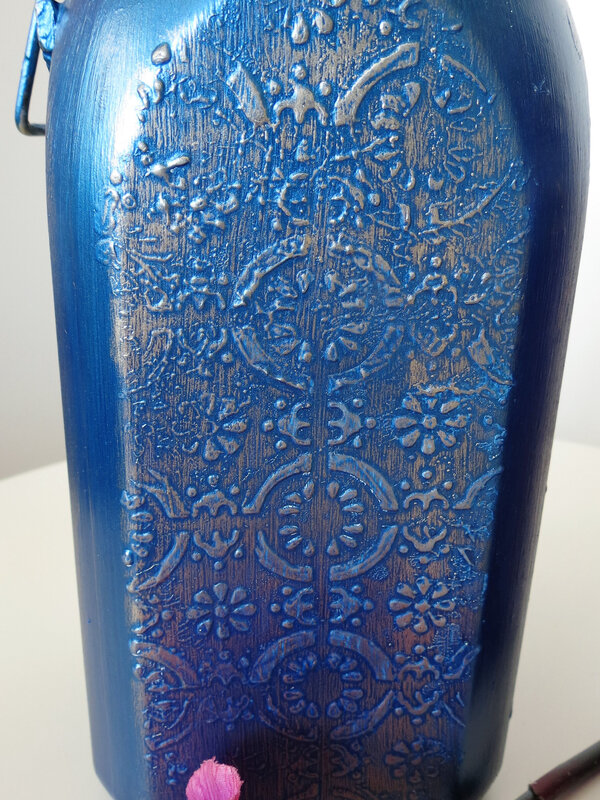 For the lid, I used a butterfly, some wooden letters and the same metal filigrees I used for the purple jar. I covered everything with black gesso, added one layer of Deep waters and some wax.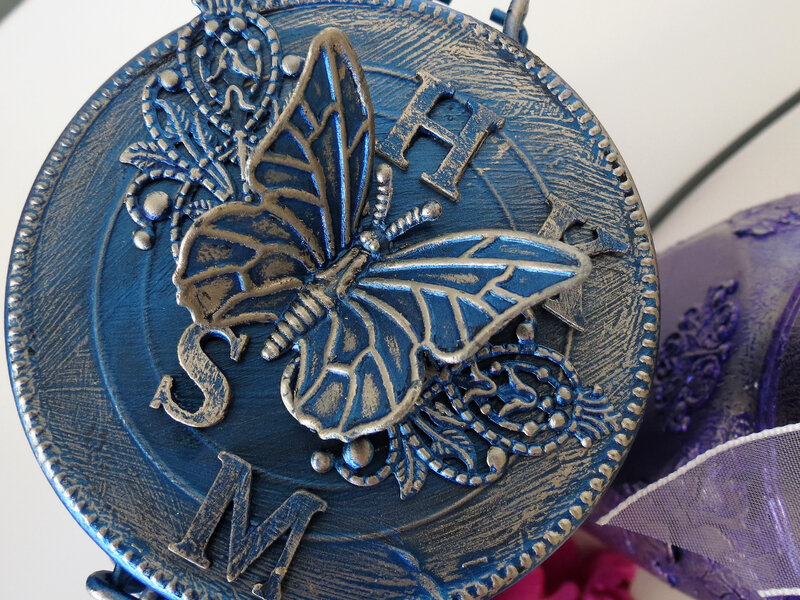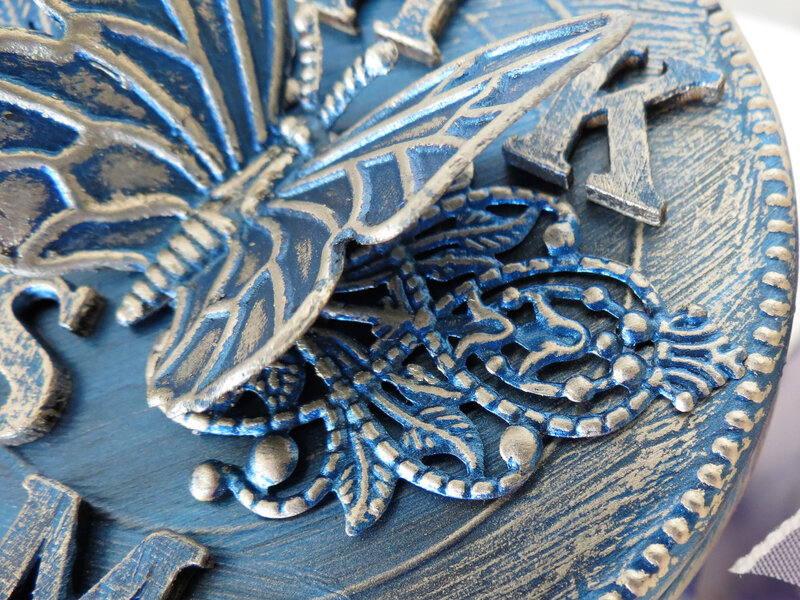 My project was then done !
Do you like these jars ? I do, and I hope my corworkers will like them too !
These jars are my entry to this month Creative Artiste Mixed Media Challenge and of this week's Wednesday Challenge at Simon Says Stamp. Both are "Anything goes" (you have a few more rules, though, go and check them!).
See you soon with another project !
Hello Crafty friends !
This year, one of my resolution is to create more... A way to create more for me is also to participate to more monthly challenges... Starting with Bleeding Art and Art Playground.
This month, Bleeding Art Challenge is Anything goes and for Art Playground, it is "Wind of Change", with a beautiful color scheme.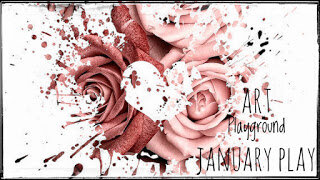 I had in my stash a cork table mat that I started to work with a few month ago and then... I got stuck. I didn't know how I would keep going with it! And a wind of change came through my craft room and I decided to actually change my project.
Here comes my first version :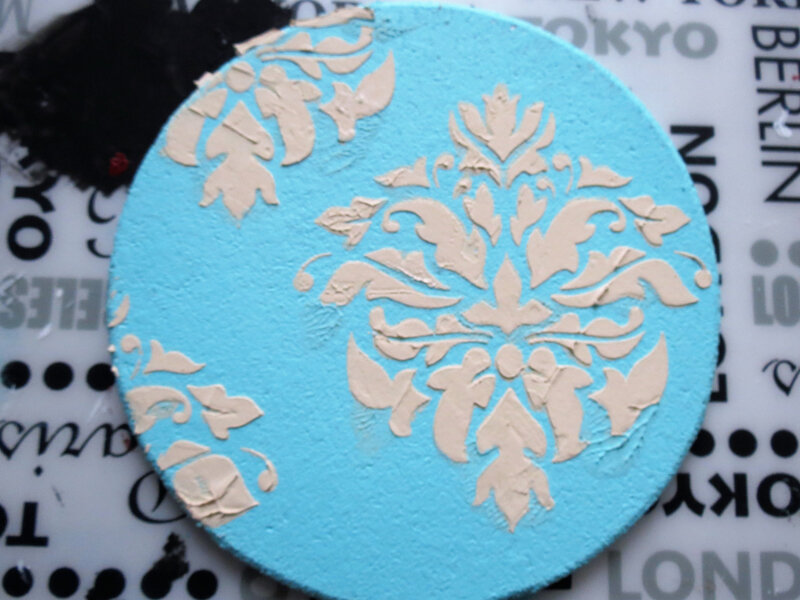 I liked the damask stenciling I did with modelling paste (fortunately, because this couldn't be undone :)), but I didn't like the colors, I didn't know what else to do. After a layer of black gesso, a bit of Romance pink and metallique vintage rose acrylic paints and white gold wax by Finnabair, a few cabochons, some handmade clay embellishments, trims and flowers (of course) ... There we go, I had a complete new project :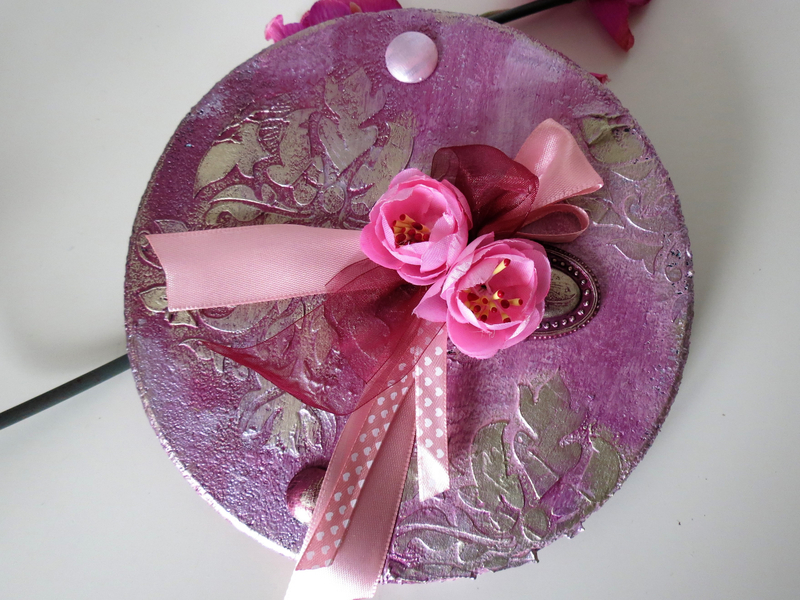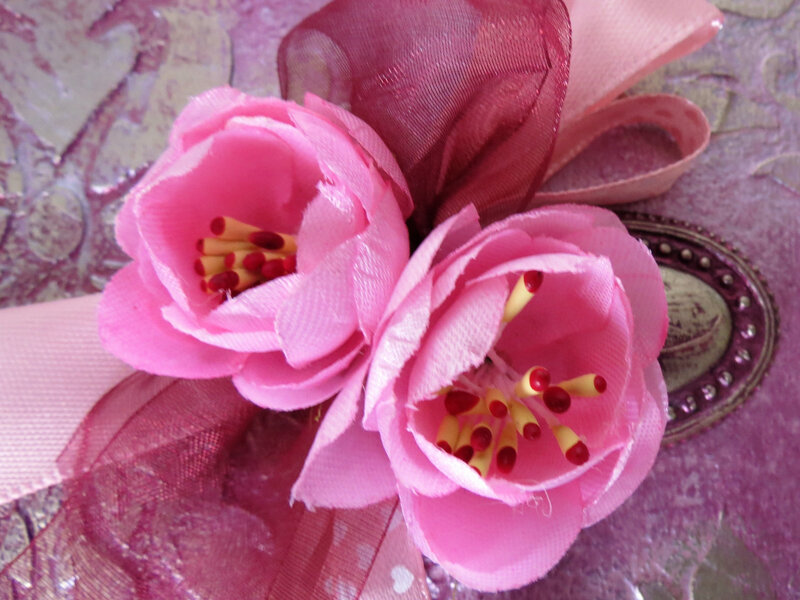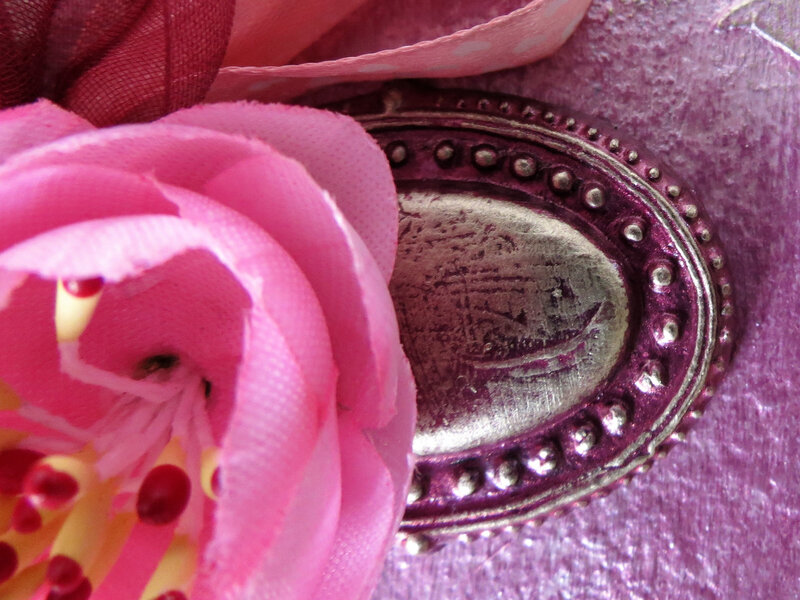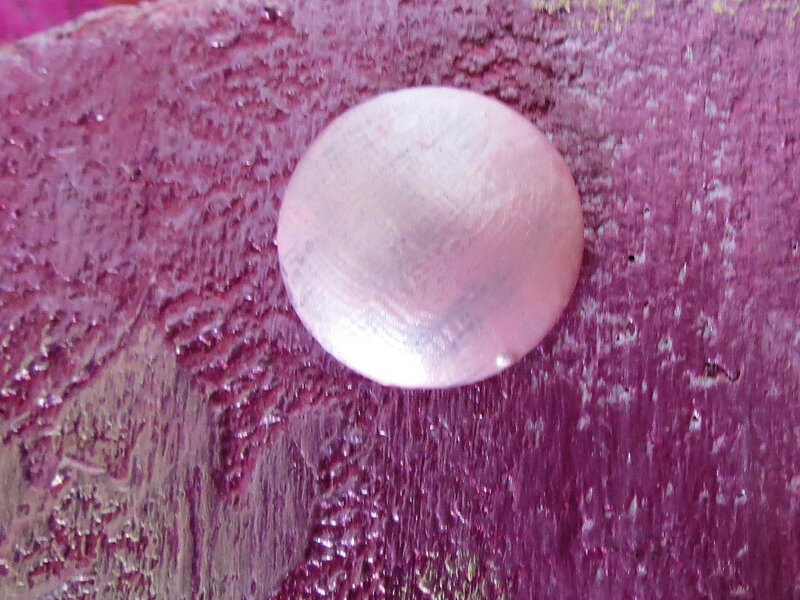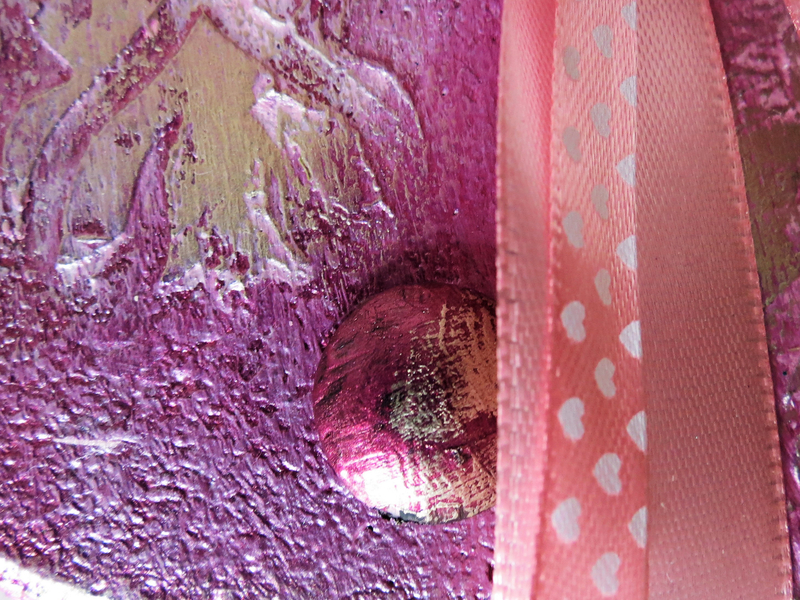 What do you think ? Don't hesitate to let me know in the comments !
Hello crafty friends !
Today I am sharing something very special with you : my very first blog hop !
The theme is Mickey or anything Disney, and I created a lovely card :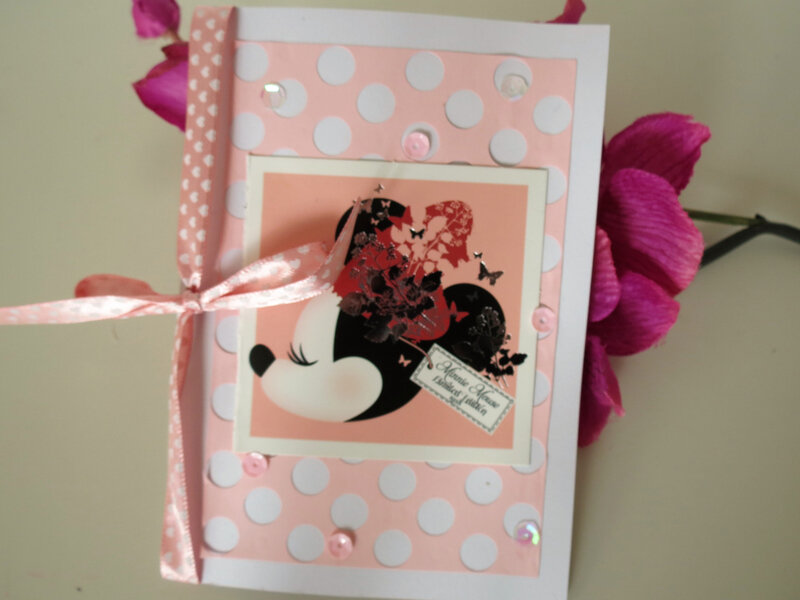 I cut an A4 sheet of paper un half and then folded one half in two: this was my card base. After that, I die cut a rectangle with polka dots as a background out of a pink piece of paper and glued it on the front of my card base. On top of it, I used a mini card with Minnie Mouse (I got rid of the back of it) and glued it on top on my dotty background. I added a ribbon, a few sequins here and there, and that was it!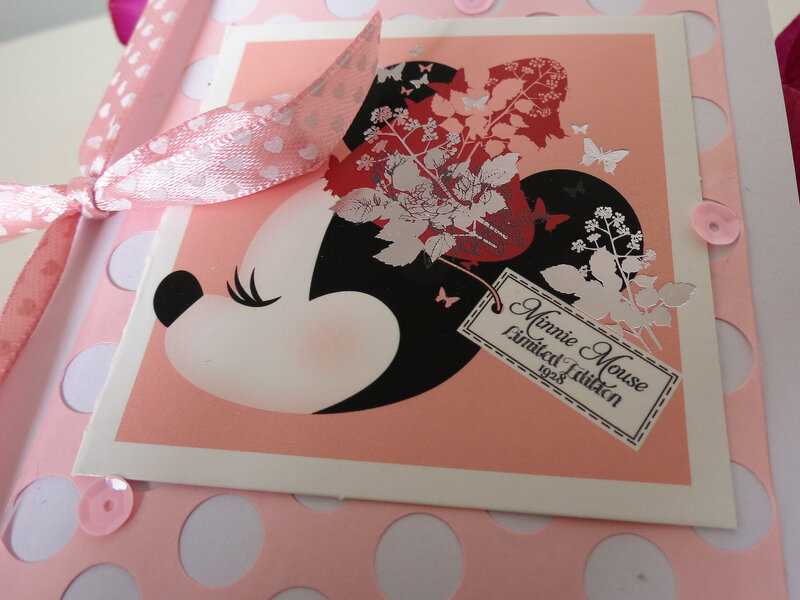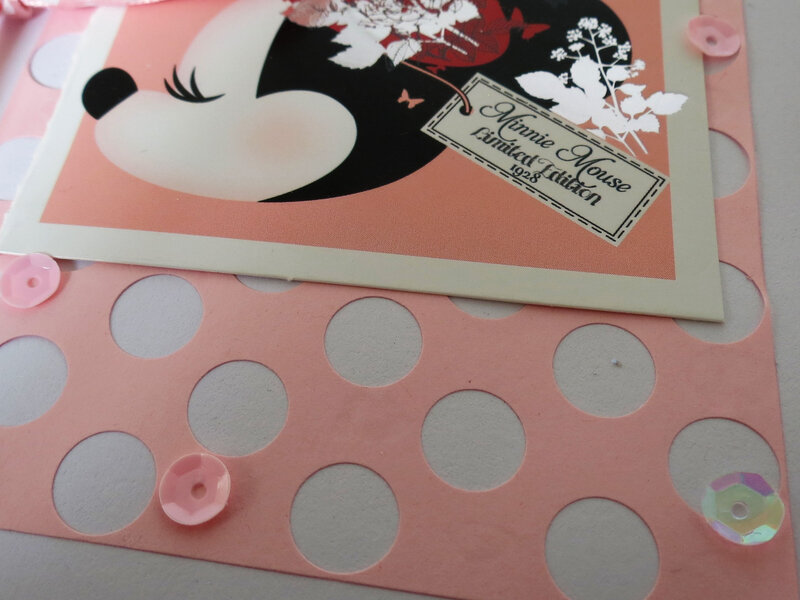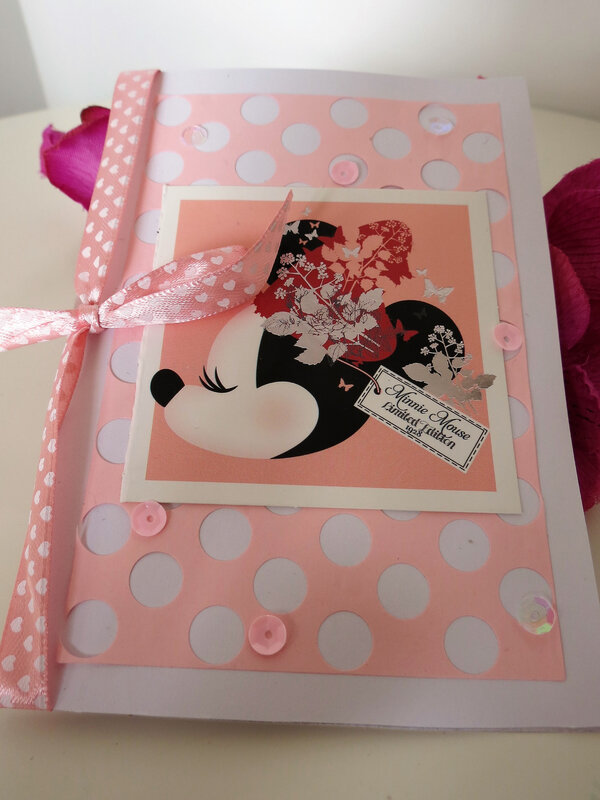 What do you think ?
Don't hesitate to enter our blog hop to discover all the wonderful entries and nice prizes from our sponsors !
Thank you for joining us for
This Magical Moment Blog Hop!
Who doesn't love Disney? We sure do!!
This is a blog hop featuring projects inspired by Disney Characters or the Mouse himself!
This is a one day blog hop, but you have until Sunday at 10pm to finish hopping and leaving your love for all of these talented crafters.
We have two awesome sponsors for this hop!!
M.A.H. Stamp Set 4x4
Frame Punch Board and Embellishments
What do you need to do to win? Easy... become a follower of each of the fabulous blogs in this hop and leave each of them a comment letting them know what you like best about their projects. Free Shipping to our USA friends but Worldwide will be asked to pay shipping if they win.
You will have until 10 pm Sunday to finish the hop and leave your comments on every blog to be eligible to win.
Be sure to follow everyone and leave a comment along the way!
Be sure to hop over to Tristan, next step of your journey
Here's our line up in case you get lost along the way.
Be sure to join us next month for our
Pawprints on my Heart Themed Blog hop!
Hello Mixed Media friends !
Today, I would like to share with you a project I really love. Soon, it will be one of my friends' birthday and I altered a notebook for her. I have been inspired by the Disney Movie "Tangled".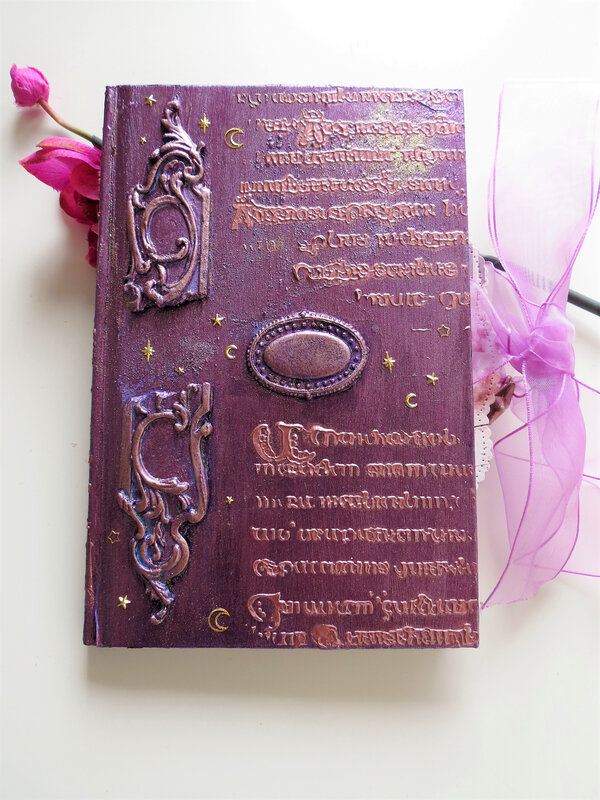 For the cover, I used some paper clay pieces that I made with my Prima mold. I covered them with black gesso and then glued them on the front cover.
I started by applying a layer of Finnabair's Opal Magic violet blue, but ended up covering everything with Art Alchemy Sparks Iris Potion. Then I applied Icing paste (rose gold) through Finnabair's stencil "Manuscript". After that, I glued some moons and stars from a nail art set of studs.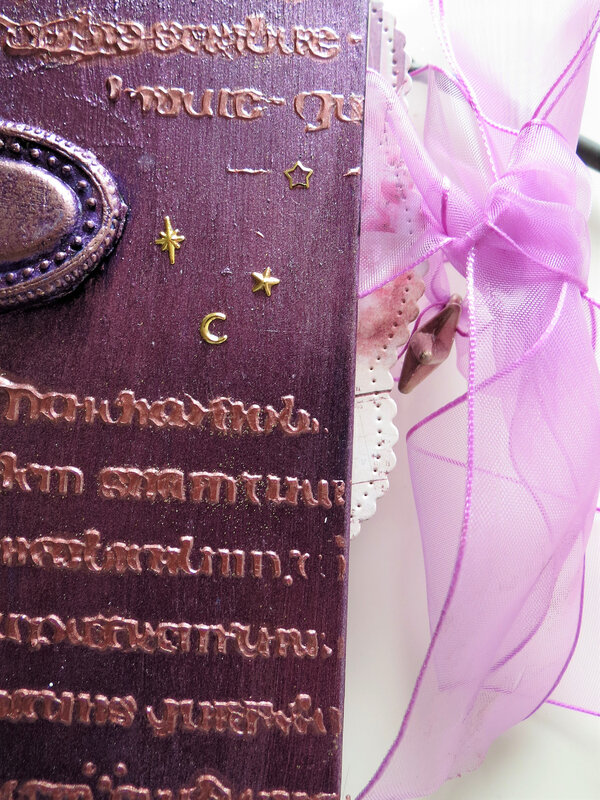 Inside, I used paper from the Prima Marketing collectiong called "Moon Child". This collection is so gorgeous ! It is so celestial and shiny !
I glued one piece of organza ribbon inside the front cover and covered it with a piece of Moon child paper. On the right, I created a shaker with the mention "Light it up". In full light, it reveals its hidden stars and shine. So amazing. I added some moons, butterflies and regular glitter.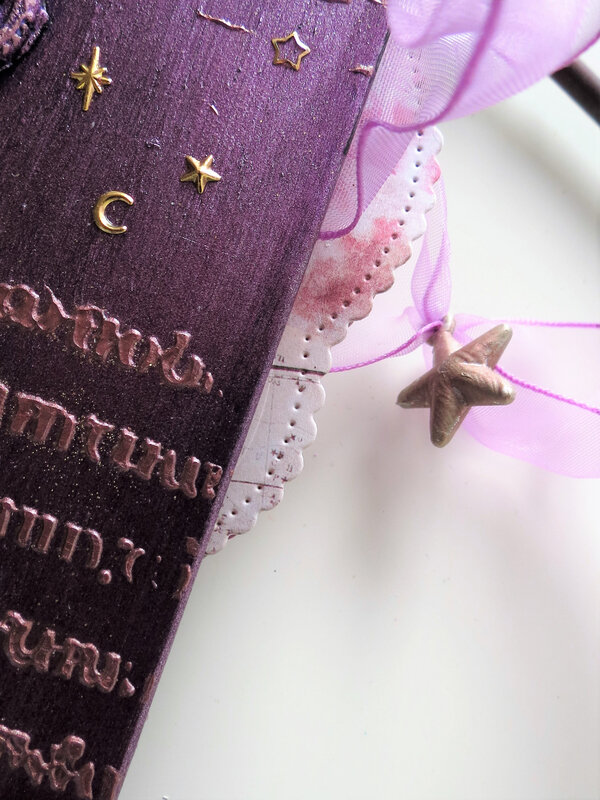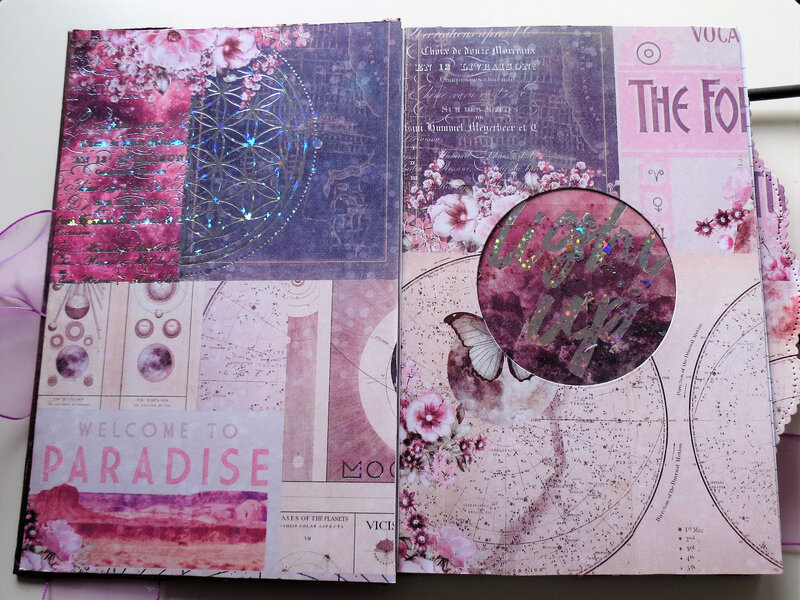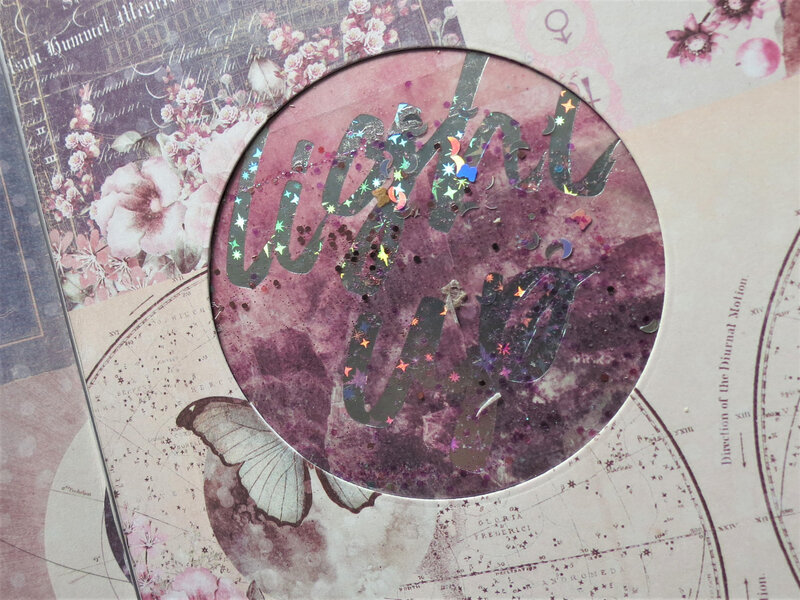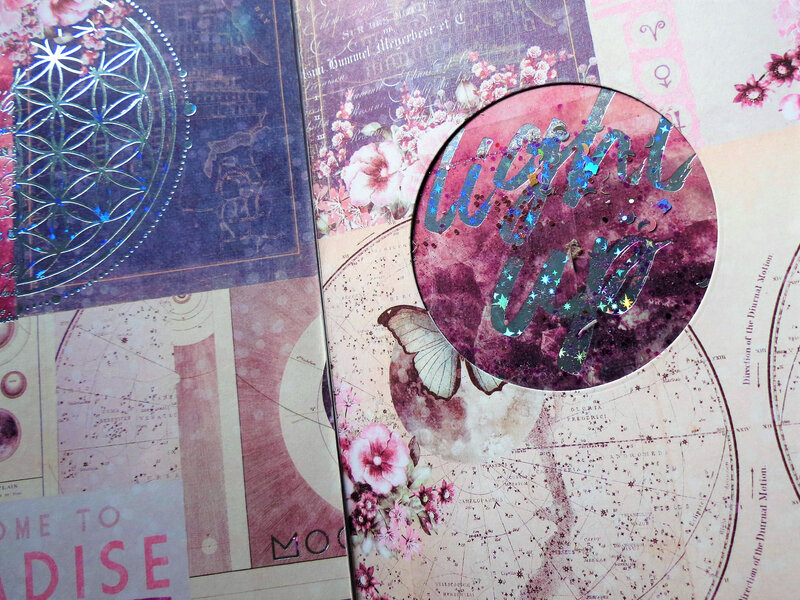 Inside the notebook, I glued some pieces of paper that I fussy-cut or die cut with my Spellbinders border dies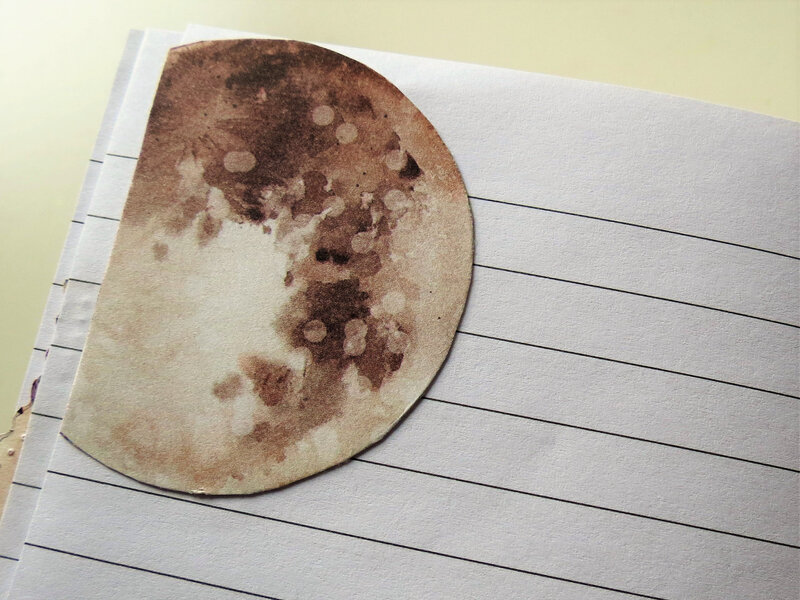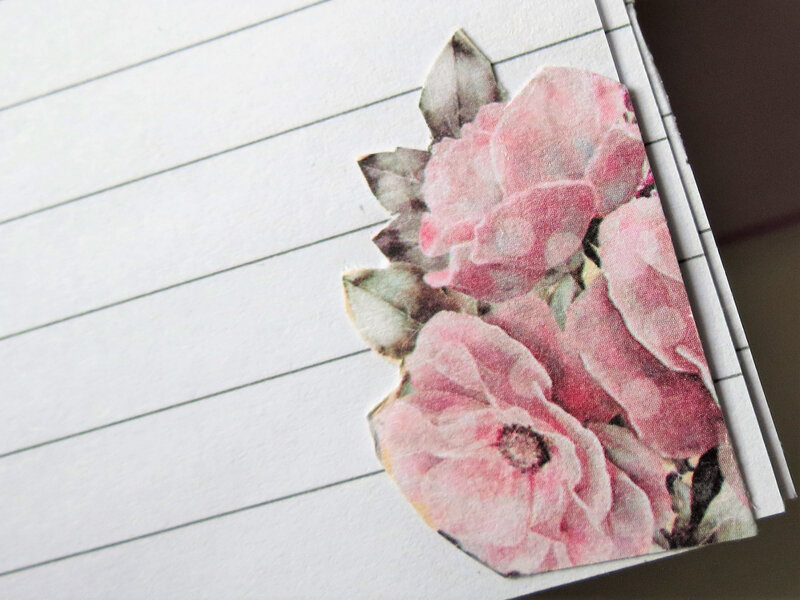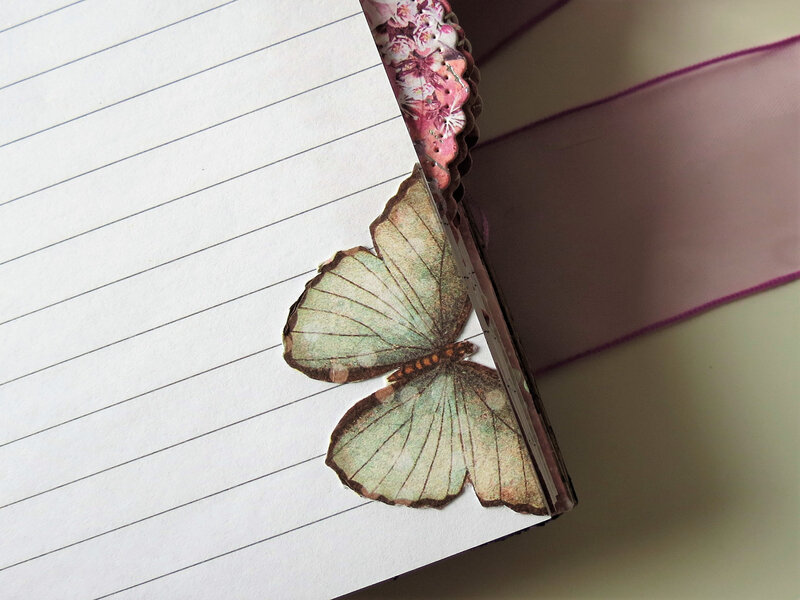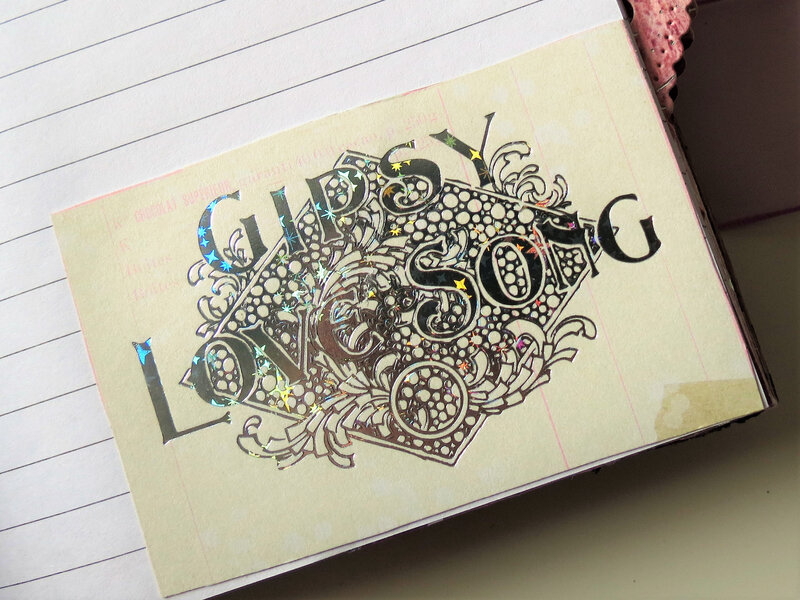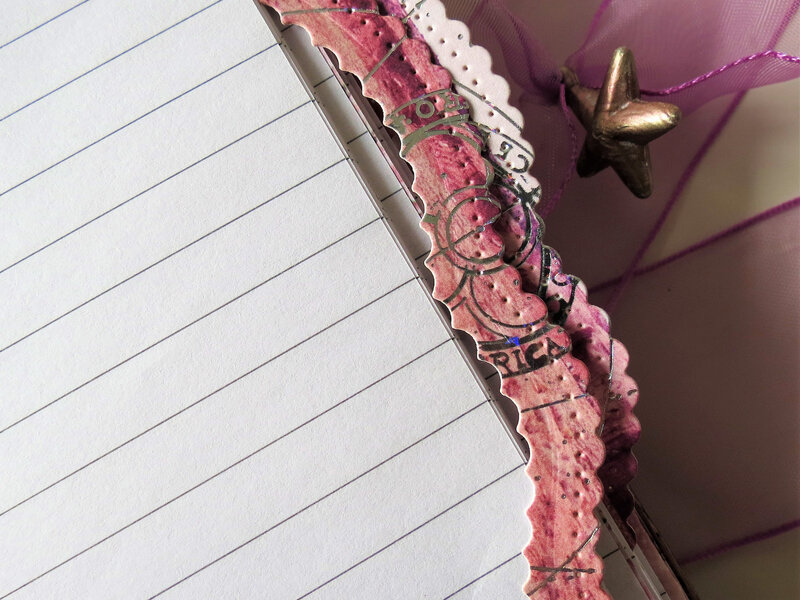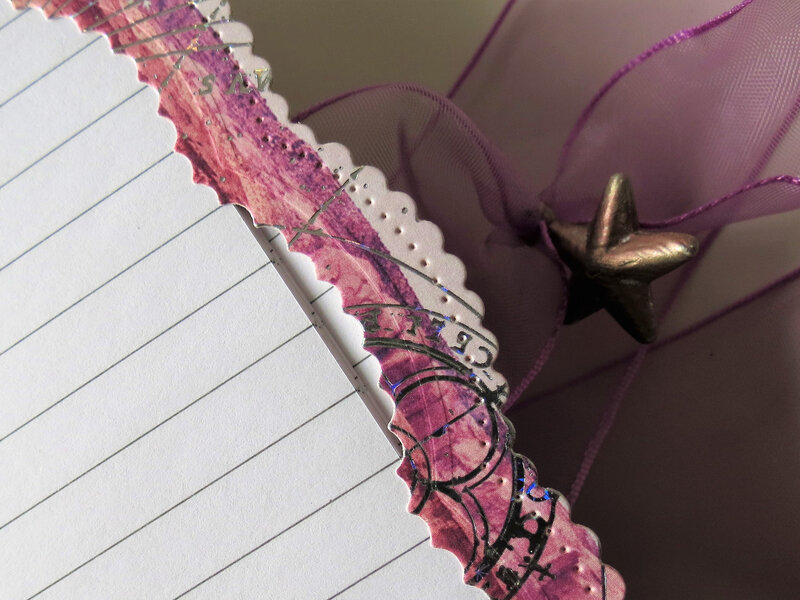 Then, inside of the back cover, I glued another piece of organza (to which I added a little star embellishment that I painted with gold and rose gold wax) and some other paper from Monn Child. I also added a tiny handmade envelop :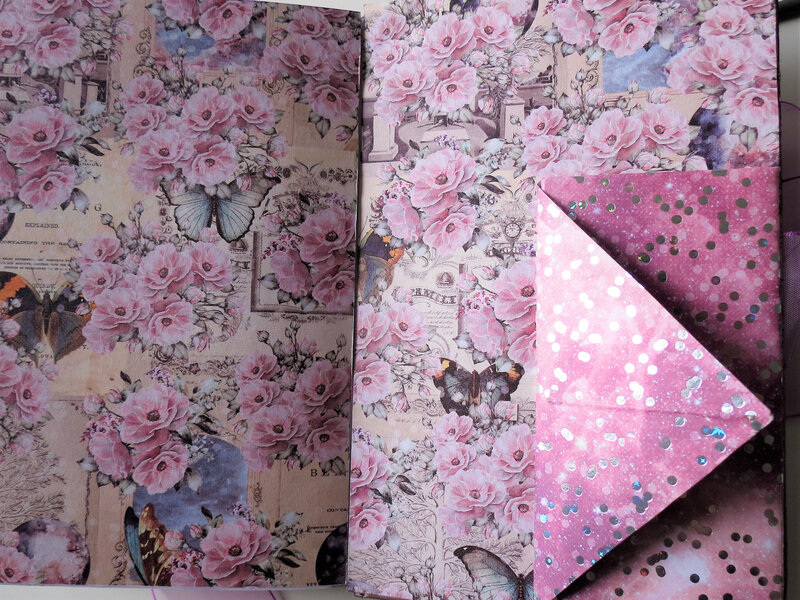 For the back cover, same as the front : balck gesso, Iris potion plus a bit of Icing paste through the same stencil. There is nothing glued there, it is just a flat back cover
This notebook is my entry to the Bleeding Challenge Shiny and Sparkly.
I hope you like it as much as I do !
I will see you soon with my very first blog hop :)... Lots of surprises for you... Don't hesitate to suscribe to my blog if you don't want to miss any of them !
Hello crafty friends!
Happy new year to you all.
My first post this year is also my first DT of the year for Simply create too. This month theme is «anything goes»!
Because of the holidays, I didn't have much time, so I prepared something really quick and simple: two new shabby jars.
You can find them below: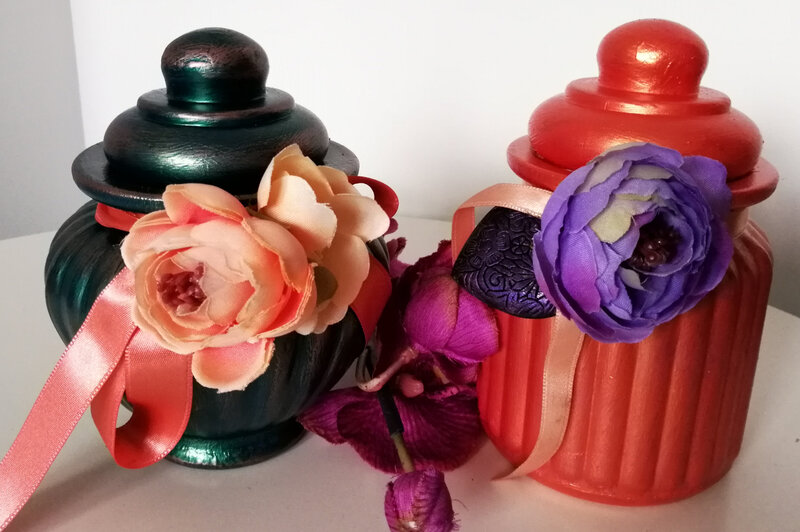 One is green and apricot, the second one is orange and purple. I painted them with the Metallic emerald green and coral reef art alchemy paints by Finnabair.
I added some rose gold wax on the green one, then tied a ribbon and added flowers on both plus a heart embellishment (that I covered with gesso and then purple wax) to the orange jar.
And that was it! See more details: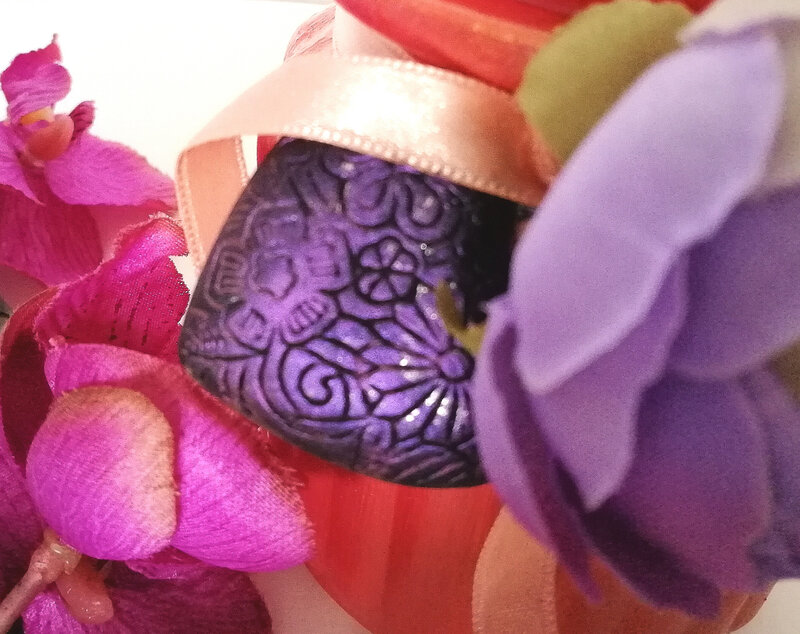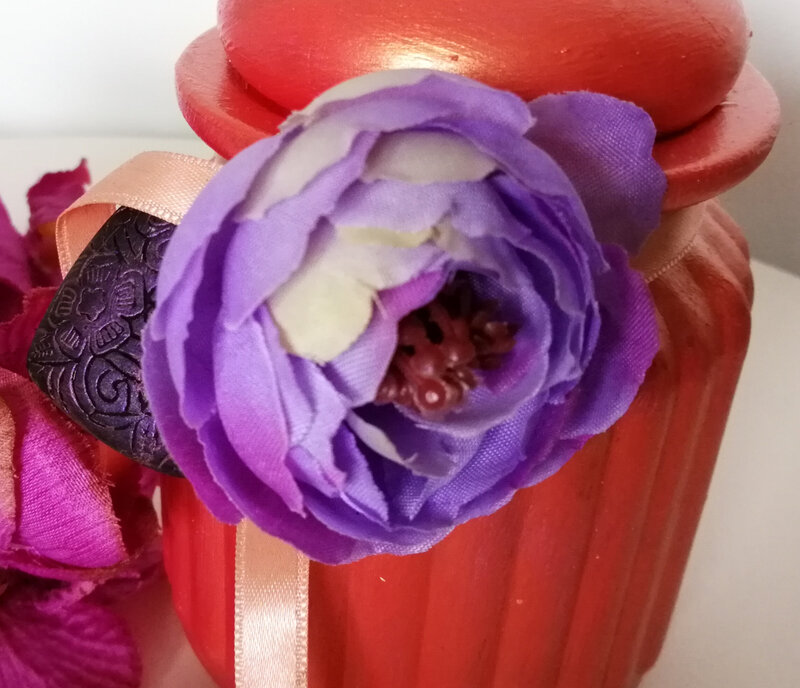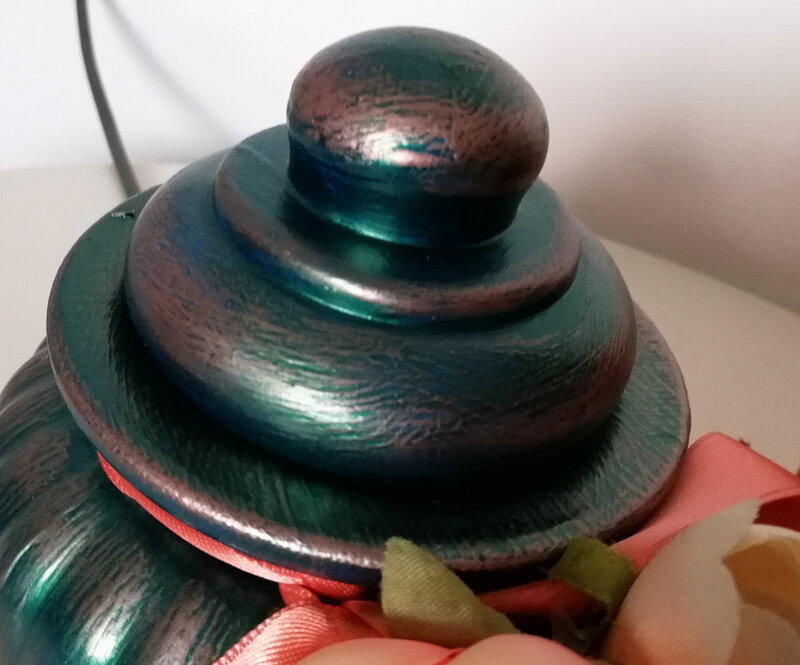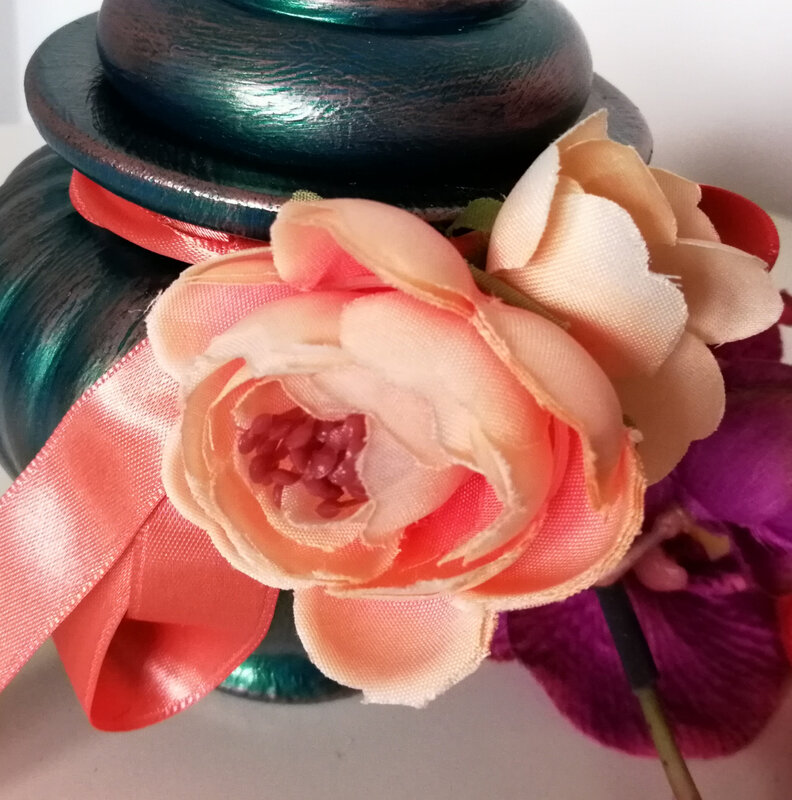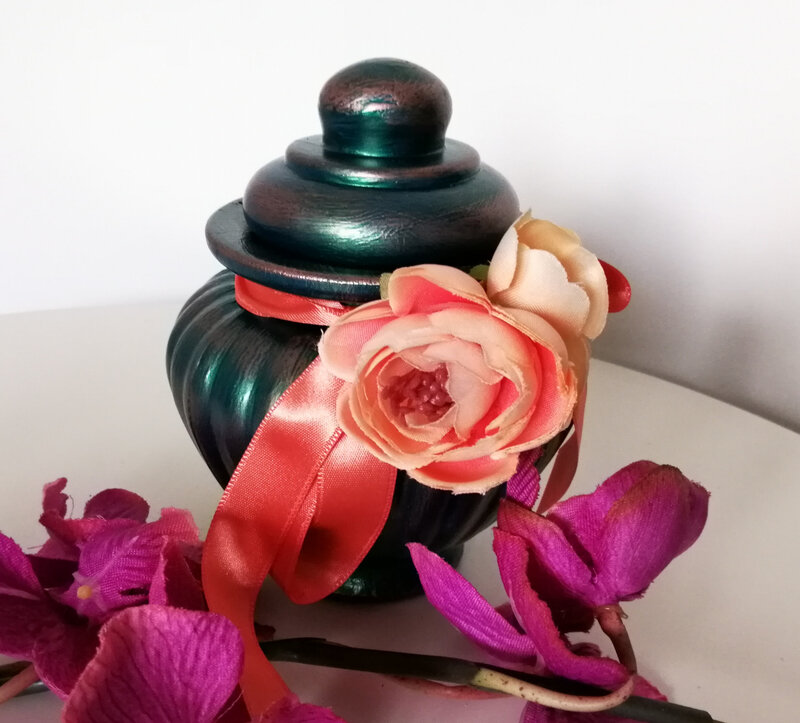 What do you think? Let me know in the comments!
Hello crafty friends !
Today, I am sharing with you a very quick post about some jars I altered for my friends. These were very cute glass jars that I altered to give them a shabby look. Each of them has a different color combination, and I like each model.
I started by painting each jar with white gesso and then added two layers of the first color.
The first one is rose gold (Finnabair's Art Alchemy Sparks "Butterfly spells"). I added a bit of patina paste by Finnabair in turquoise here and there and tied a ribbon in a close shade of rose gold, to which a heart pendant. I finished by gluing a turquoise flower.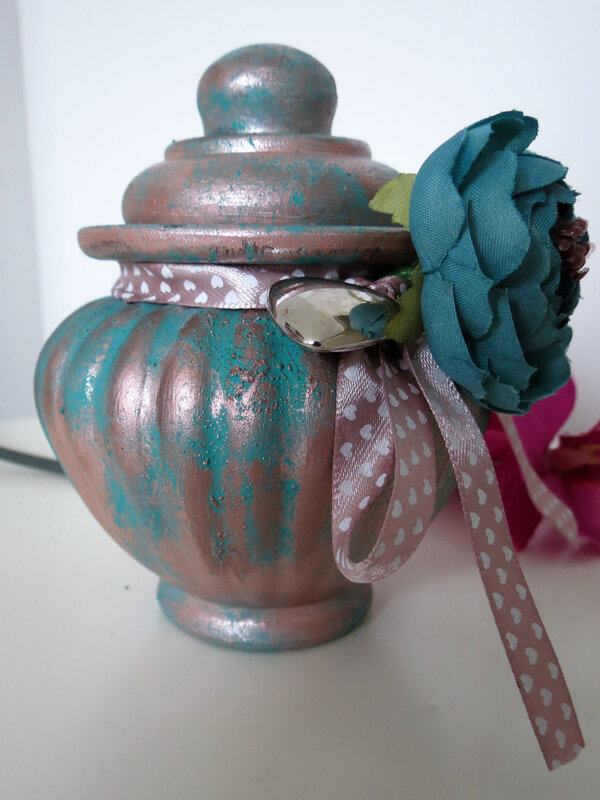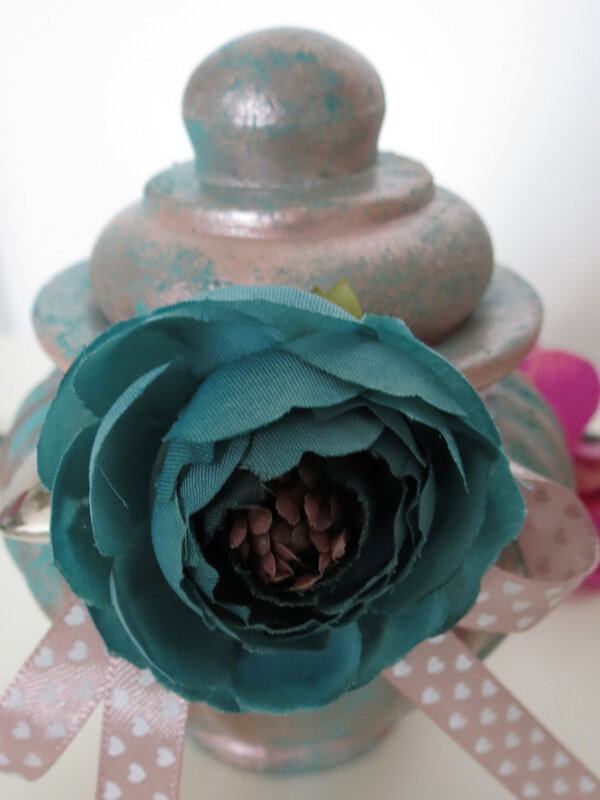 I painted the second one in purple (Art Alchemy Metallique Crocus Fields) and then rubbed Art Alchemy white gold wax from Finnabair with my fingers. I also added a ribbon, a pendant and a flower.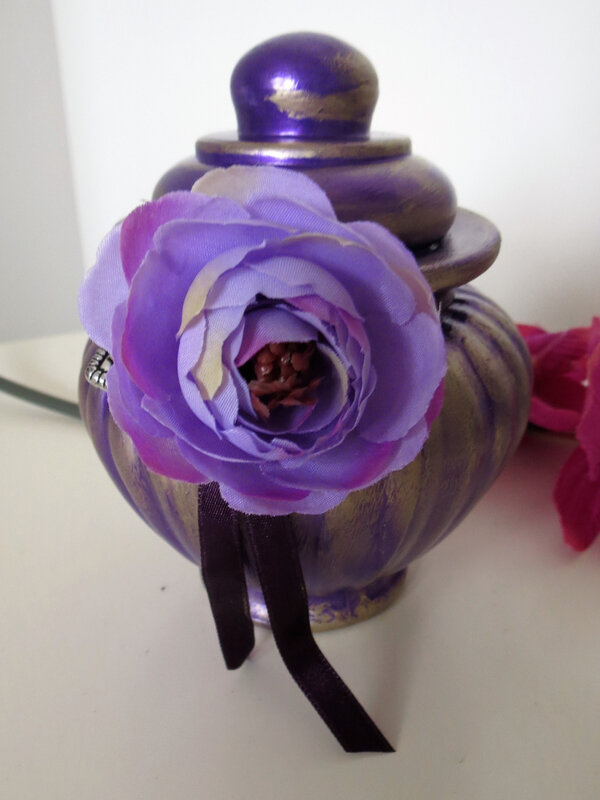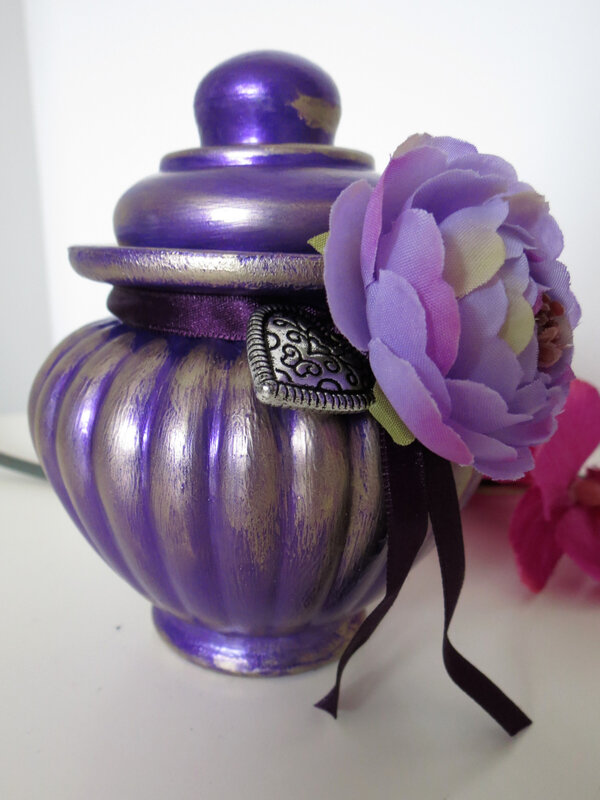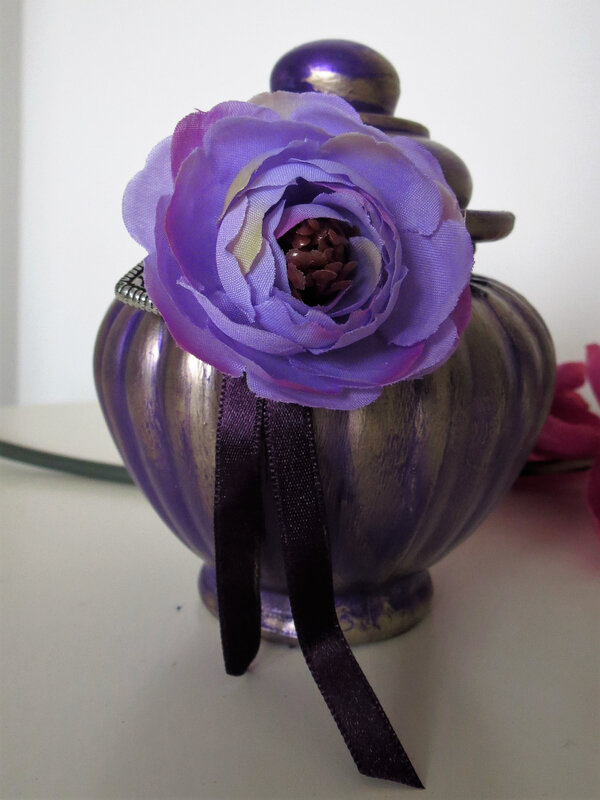 For the third one, I chose Midnight blue acrylic paint by Finnabair and rubbed White gold wax again. I tied a huge bow with a beige satin ribbon. As I didn't have a pendant big enough to go along with the bow, I decided to glue a die cut butterfly out of my "Midnight Blues" sheet of paper, from Georgia Blues collection by Prima Marketing I used a Tim Holtz die for this. I, of course, added a dark blue flower.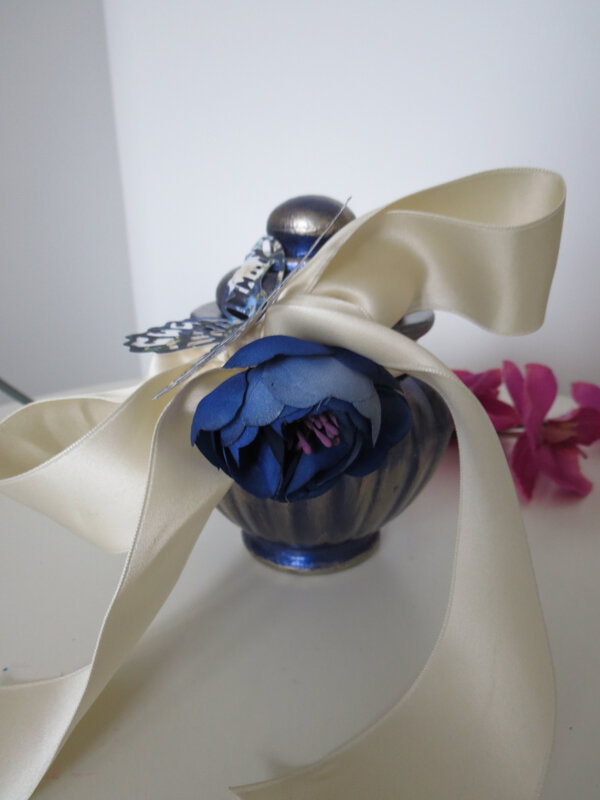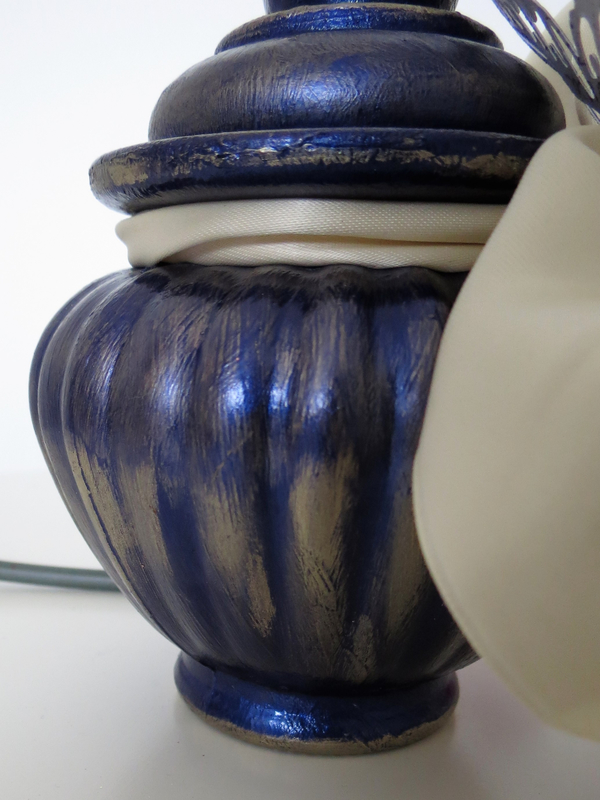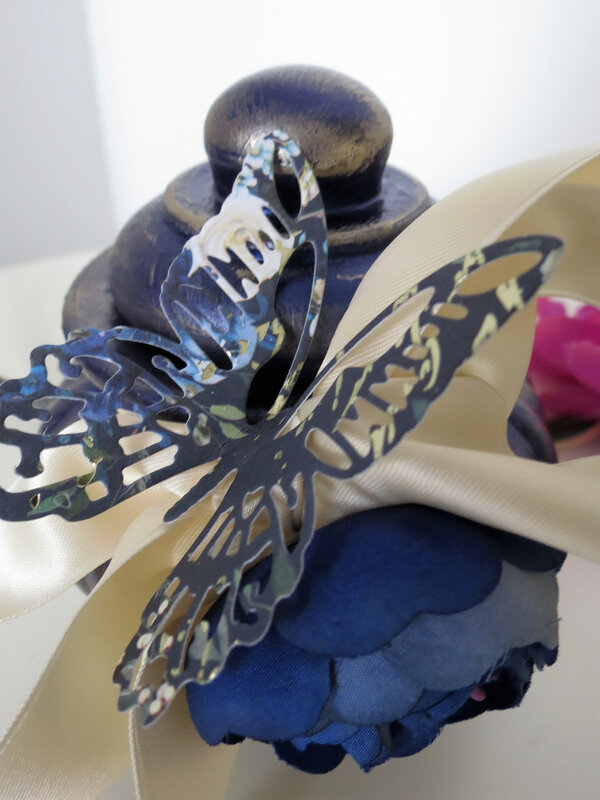 What do you guys think ? I find them absolutely lovely, but don't hesitate to let me know what you think in the comments !
Christmas is coming soon and I probably be busy, so I won't probably be back before the holidays, but let see !
Hello Mixed Media lovers !
Do you remember ? In my last article I told you I used a chipboard background from SnipArt to alter a blackboard. Well today, I am featuring the second part of the background.
I used it to create a tiny canvas, using the chipboard as my base and I painted it with Finnabair's art alchemy acrylic paint Romance pink. This colour is absolutely gorgeous !
I also used die cut pieces of paper (leaves, flowers) that I cut out of some brown packaging and painted with white gesso or with Finnabair's acrylic paint metallique vintage rose or romance pink. I used some unbranded dies from Ali Express but also (and I love this die so so much!) the Couture Creations Orchid Die from the Bohemian Bouquet collection. I also die cut some feathers (unbranded die again) and a butterfly (Tom Holtz die) from Moon Child collection papers by Prima Marketing (it was love at first sight with this collection, I love all the papers, so cosmic, absolutely lovely!).
I used other embelishements : a beaded string and sme strasses here and there.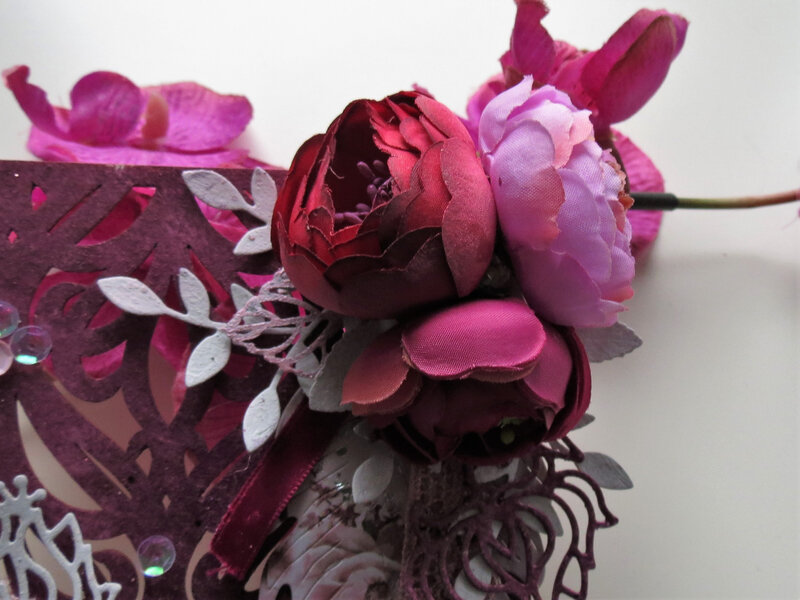 This is actually the first time that I tried layering. Usually my style is a bit more sobber, but I like the effect. And you ? Don't hesitate to let me know in the comments !
See you soon with another post !
Hello Mixed Media lovers !
Today I am sharing something I created for myself, to hang in my craft room.
Two years ago, I received a blackboard for my birthday. It was a goodie from Tim Burton's Alice in Wonderland and I really liked it. There was one thing I disliked, though : the "A" dropcap and its arabesques at the top of the blackboard. I decided to keep it anyways and a few weeks ago, the muse of art just hit me : I would remove the blackboard and just use the frame which is lovely.
And here it comes :
I removed the blackboard and painted the frame with some metallic mint acrylic paint.
I had in my stash this gorgeous chipboard "secesja" from SnipArt. I took the bottom part and set it aside as I wouldn't use it for this project and kept the top background (the thinner) and cut it in two diagonally. I glued one part on the top left corner and the second one on the bottom right corner of the frame.
I love the wrought iron/ broken window effect of it !
I glued some green and white flowers on the others opposite corners and and as a last step, die cut some butterflies out of polka dots patterned paper and glued them on the bottom left corner.
I removed the black ribbon that was originally meant to be used to hang the board and attached to trims of white satin ribbon instead. It is now ready to be hung !
Do you want to see more details ? Here they come :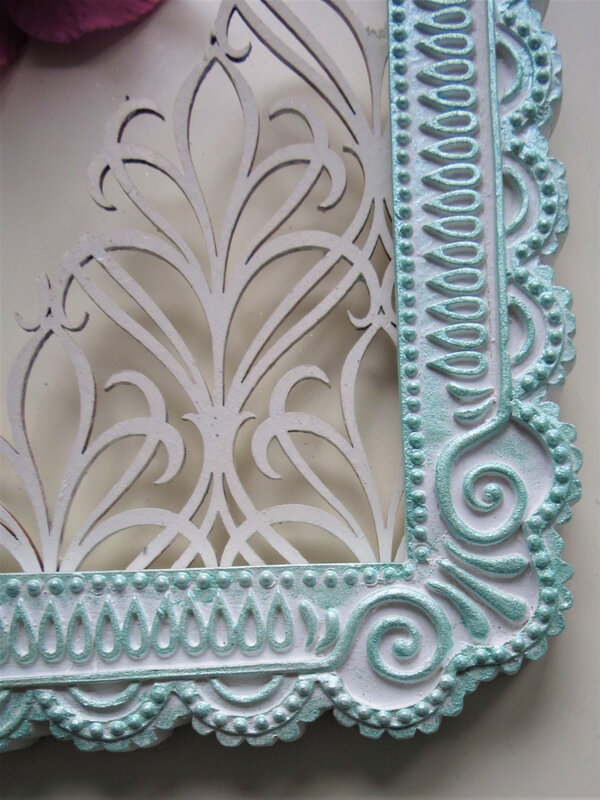 See how gorgeous is the combo background chipboard /intricate frame ?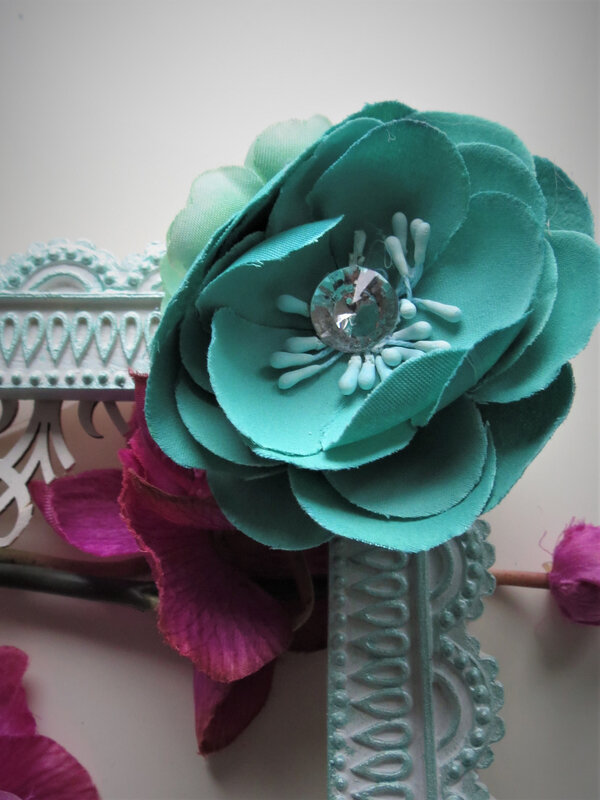 What do you think ? Don't hesitate to let me know in the comments !