Hello friends!
Today, I would like to share with you my second entry to this month's the flower challenge. There are still a few days to enter, join us in the fun and check out their beautiful inspiration.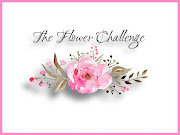 Before I show you my card, here comes the supplies list:
*Blue shimmery card base and coordinated envelope (Action)
*Cosmo die from Simon Says Stamp
*Duckling and Lemon chiffon ink cubes/pads, also from SSS
*White cardstock (Hema)
*Cosmo background stamp from SSS
*Unicorn pigment ink FROM Hero Arts
*A little note stamp (SSS)
*Faded jeans Distress oxide ink pad
*Nested circle dies
And now, right to the point: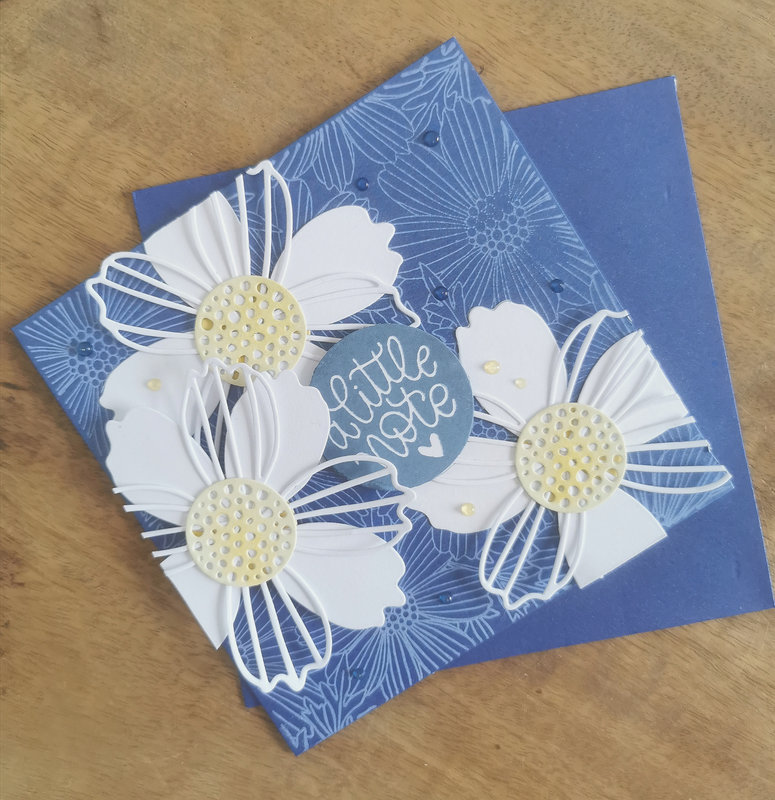 I started by stamping my background onto the cardbase with my unicorn ink. As it is a pigment ink, it takes longer to dry, so I did all my die cutting in the meantime. At the beginning, I had planned to create 3 daisies with 6 layered petals each with my cosmo die set, so I die cut 6 of each petals and 3 times the two layers of the Cosmo centers.
I did a little bit of ink blending onto my centers (lemon chiffon with a tiny bit of duckling in the middle for the pierced ones and duckling for the bottom layer).
This was at this stage when I changed my mind and thought to create the flowers a bit differently than I see them on Internet. I ended up alternating between full and dainty petals, randomly arranging the different petals shapes for a more natural look.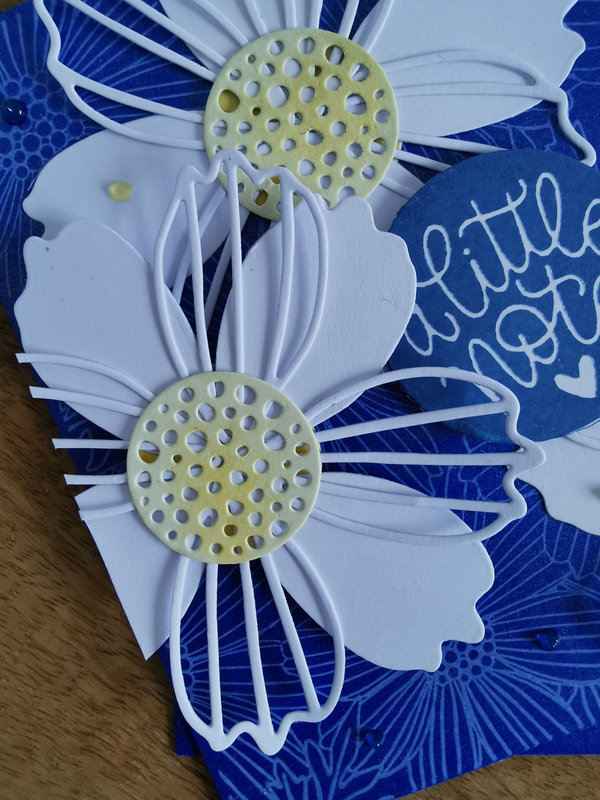 I love the result, I think these flowers are very original, although they still look like daisies - a bit 😁. I placed my petals in between the two layers of the flower centers. The duckling doesn't show up much, but it does sometimes.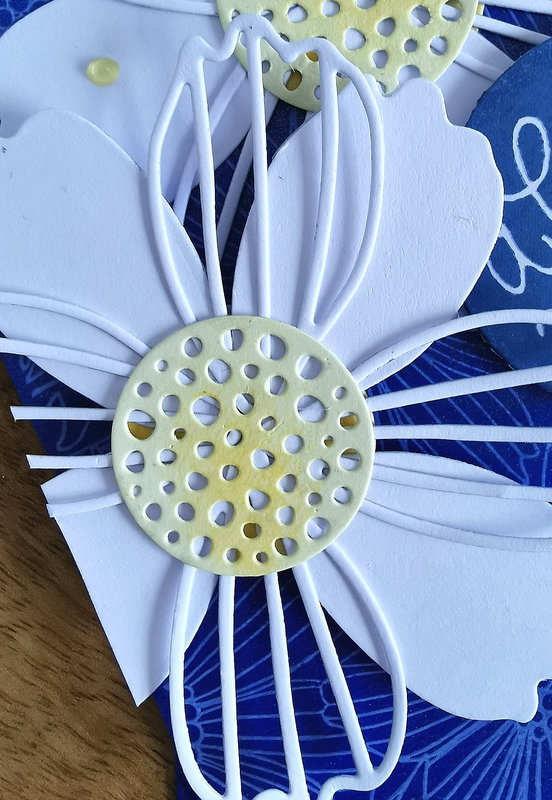 Then I stamped the sentiment with Faded Jean Distress Oxide and die cut it with a circle die which was smaller than the full sentiment. I don't have a die that fits exactly this sentiment, and I did not want to end up with a white border all around it. I created my arrangement, gluing two of my flowers directly onto the base. I added a bit of foam tape behind my sentiment, but I still wanted my flowers to be the focal point of my card, so I added two layers of foam tape behind the last one to tuck the sentiment under it.
I cut the excess of the daisies and added some Nuvo drops (Limon cello color, although the ones on the background end up just transparent).
What do you think? I am really happy with this card. It is a very unusual color scheme for me. I do love blue, but yellow not that much, although it starts making its way towards my heart.
I would love to hear your opinion, don't forget to comment.
See you soon with another post!!
Hello crafty friends,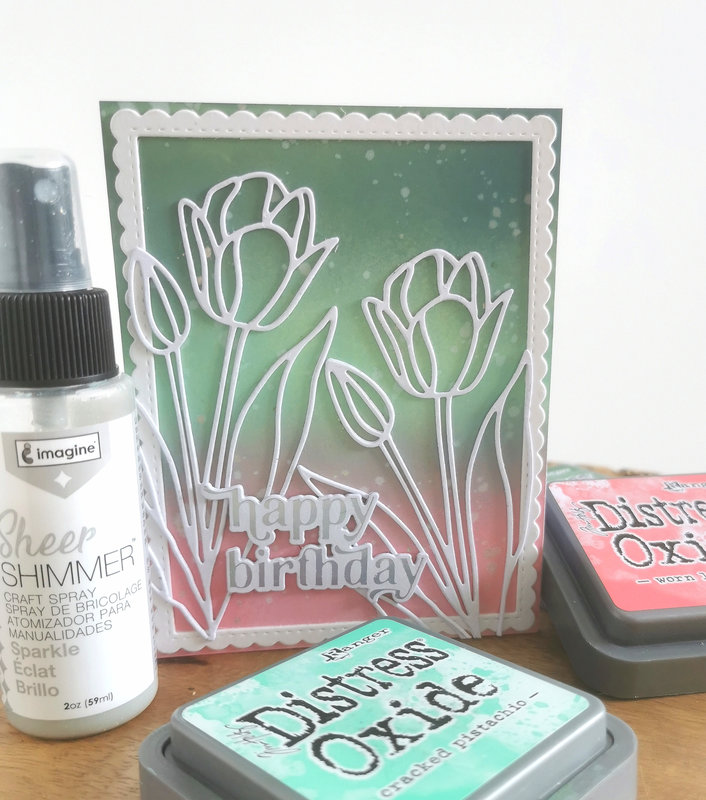 I am back with a birthday card I created for my mother in law. She loves tulips and last year, I bought the stylized tulip wafer die by Simon Says Stamp especially for her. But I actually forgot to create a card with it. So this year is the year!!!
For this card, I got inspired by SLDCreations.
I ink blended a background with 3 distress oxide inks (Rustic wilderness, Cracked pistachio and worn lipstick) and I sprinkled it with sheer shimmer spray by Imagine. I love the delicate and discreet touches of sparkle it adds.
Then I die cut 6 tulips from white cardstock and stacked them together 3 times, to create to flower groups. I also die cut à white scalloped frame with the scallop rectangle frame essential die by Pinkfresh studio, which I also stacked together to add texture and dimension.
I glued the frame in the middle of my background and added the tulips.
For the sentiment I went with a foiled "happy birthday" in iridescent foil ("prism" by Spellbinders).
Isn't this card lovely?
You can see more details below: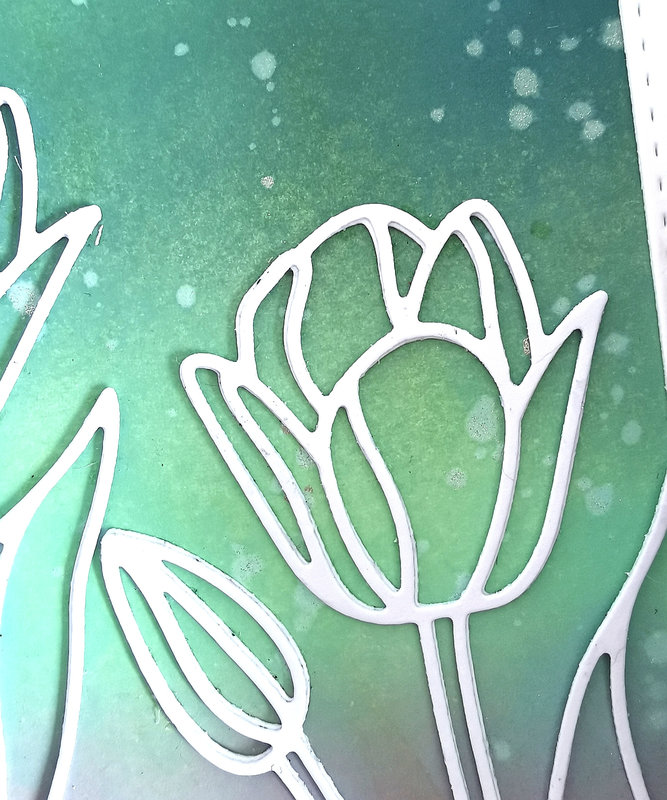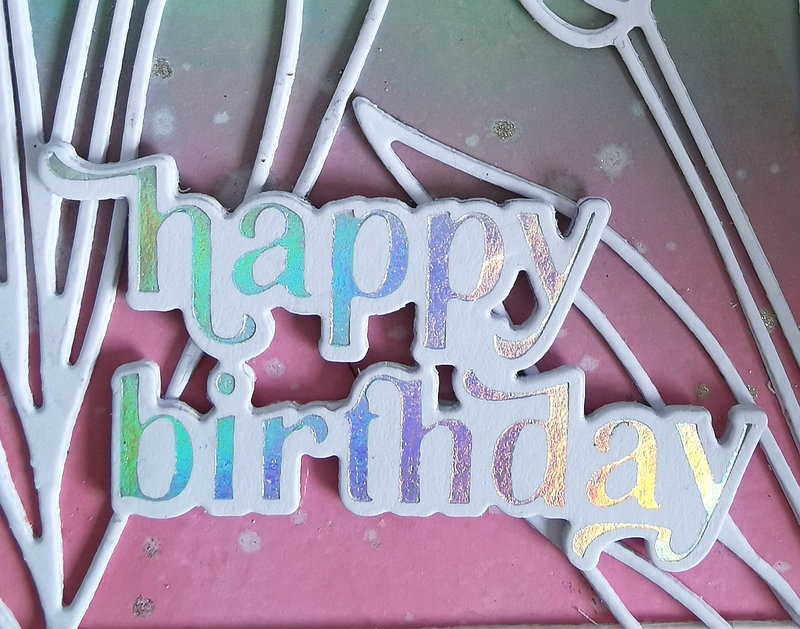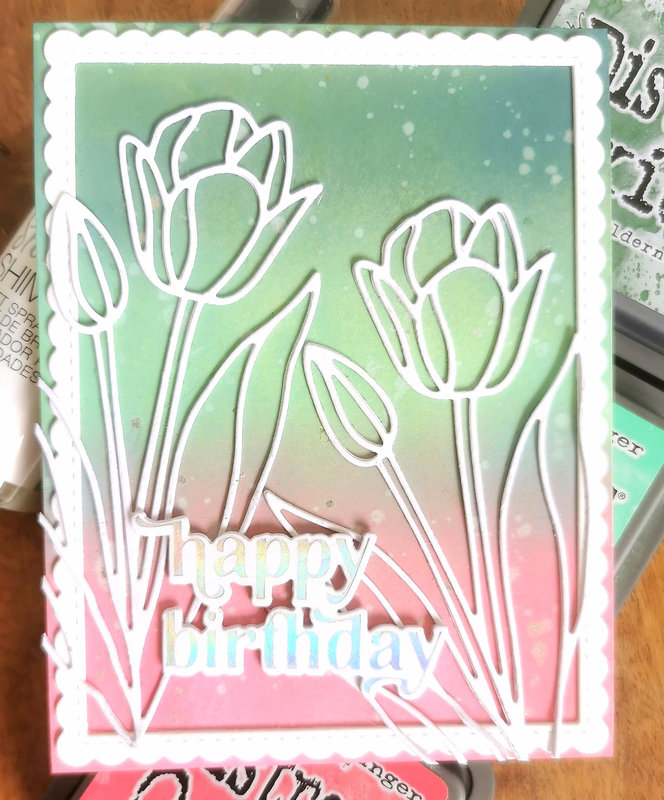 This month, I decided to participate to the flower challenge. I have been following them on Instagram for a while but I never tried. Why not, since flowers is my favorite theme?
This month is the challenge #59 and the theme is "use a die", with a slimline option.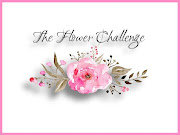 What do you think of my card? Please let me know in the comments!!
I have another idea for the flower challenge, so I hope I'll have time to create it today and share it later this week with you guys!
See you soon
Hello crafty friends!
Long time no see... I guess I have been more busy creating than sharing here.
But I am back today with a fun project which I created for Pinkfresh Studio July Challenge. It is full of colors and butterflies. I had to participate!
Here is my card: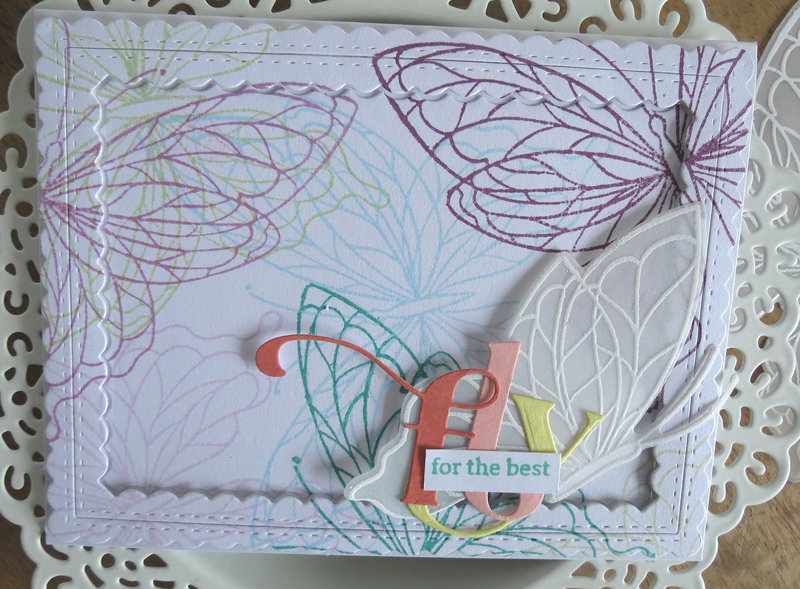 For this challenge, I chose to use the Butterflies die and stamp set. I started by stamping a few butterflies onto some smooth cardstock. I used quite a few of the Pinkfresh inks: Aquamarine, Sky blue, Fresh pear, Candy violet, Soft lilac and Regal kiss. The original format of my background was 15 x 15 cm, but I cut it to about 13 x 10,5 cm so it could fit onto my card base. I used the essential stitched scallop rectangle dies to cut the background to the correct format.
I adhered the part of the design that was inside the frame directly onto the card base with double sided adhesive. I mounted the frame onto the base with thin strips of adhesive foam tape to give some dimension.
After this, it was time to work on my focal point. I had previously stamped the butterflies onto some vellum with Simon Says Stamp watermark ink and heat embossed them with Ranger detail white embossing powder. I only used the side butterfly for this card. For my sentiment, I die cut the letters "F" and "L" from white cardstock which I colored (I went direct ink to paper) with Coral reef and Passion fruit as I didn't have cardstock in similar colors. For the "Y", I used Gina K design cardstock in Lemon Drop. The alphabet die set I used is the Lea's Ornate. I love these arabesques !
I decided to keep the focal point of the center as I didn't want the attention to be too driven away from the beautiful background I had created. I glued my letters to the butterfly and added some thin strips of foam Adhesive right behind them. Then I glued the butterfly onto the bottom right corner of my card with teeny tiny dots of liquid glue. I wanted a nice and unusual encouragement message on my card, so I chose the "For the best" sentiment from the "Choose hope" stamp set.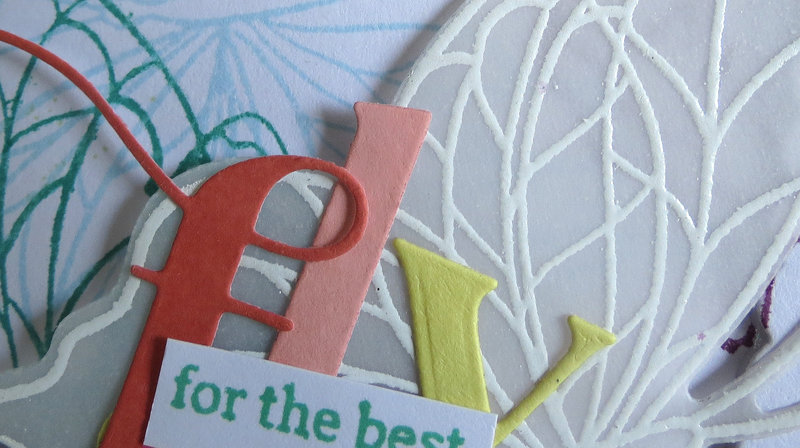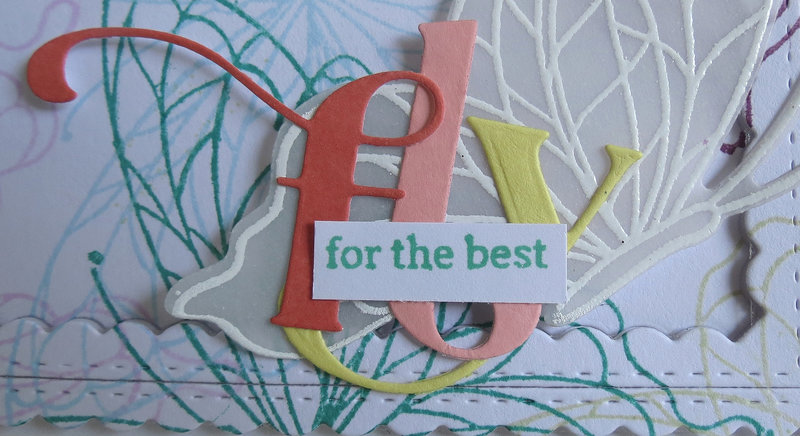 I really like this card, it is really colorful and quite simple at the same time.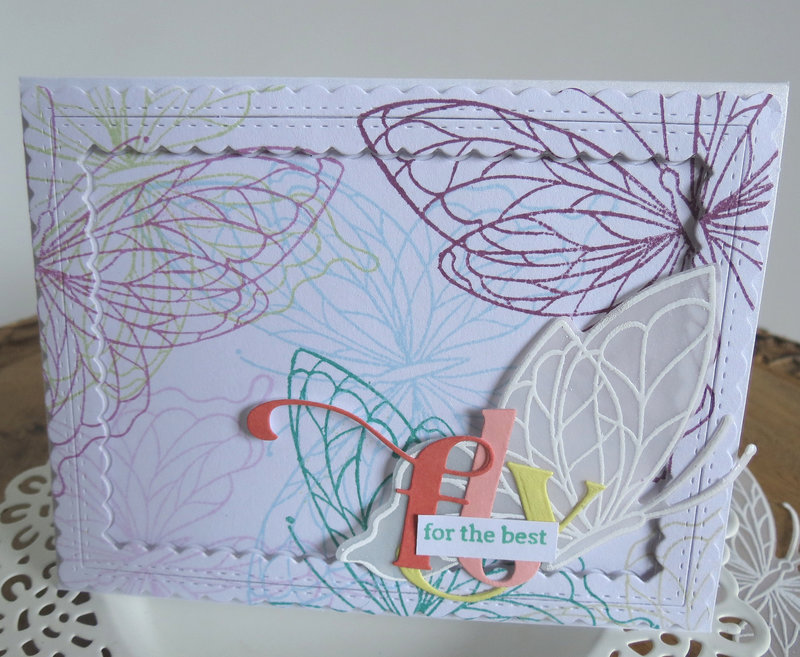 And you, what do you think?
See you soon with another post!
Hello Mixed Media lovers,
Today is the day for a new Challenge at Bleeding Art Challenge. It has been a while and I am excited to share with you my creation. But don't forget to visit Bleeding Art's blog to check everyone's inspiration!!
The little Mermaid is one of my favorite Disney movies and it always inspires me. My project for this Month challenge has also been inspired by the Little mermaid.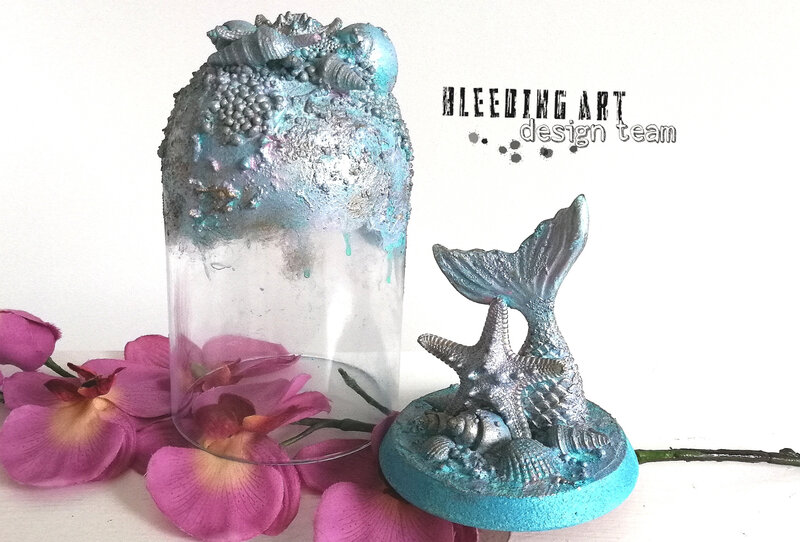 I altered this piece of Home Decor.
I started with the base, which I covered with white gesso by Amsterdam Talens. When I ran out of Finnabair's white gesso, I got a cheap one which was really poor quality. I ran to my local art store and decided to give a try to the Amsterdam one. And I really like it. It is as thick as I like it and has great opacity.
Once the gesso was dry, I added some crackle paste from Golden and built my composition before it had dried. I stuck a starfish, a clay mermaid tail and some shells. To fill in the gaps, I added Finnabair's art stone (medium size) and beads.I covered everything with white gesso and let everything dry.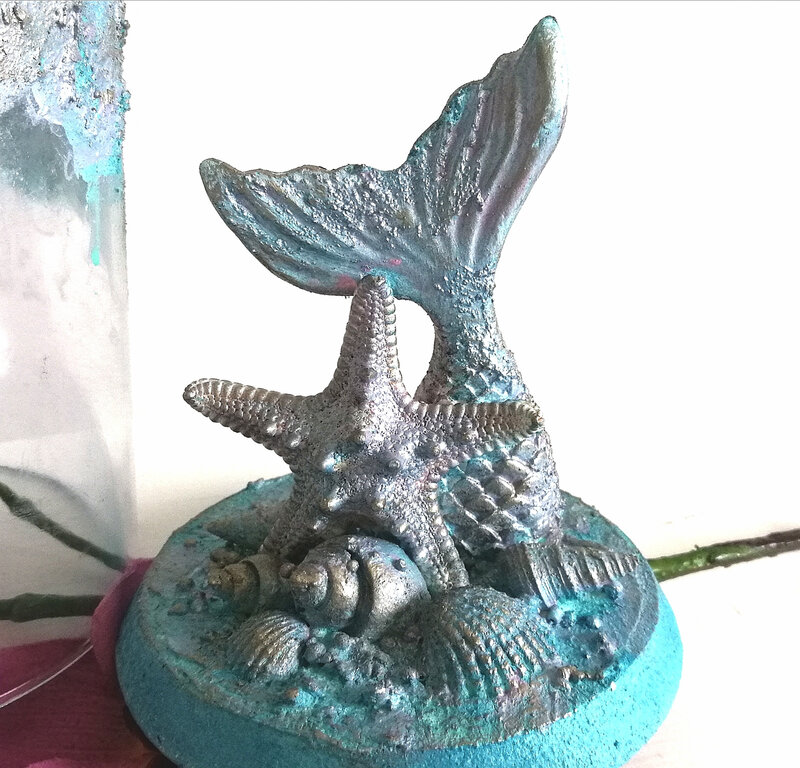 In the meanwhile, I morked on the dome. I covered only the top with white gesso as I wanted the inside base to be visible. I added sand paste and glued other elements : another starfish, some shells and more art stones.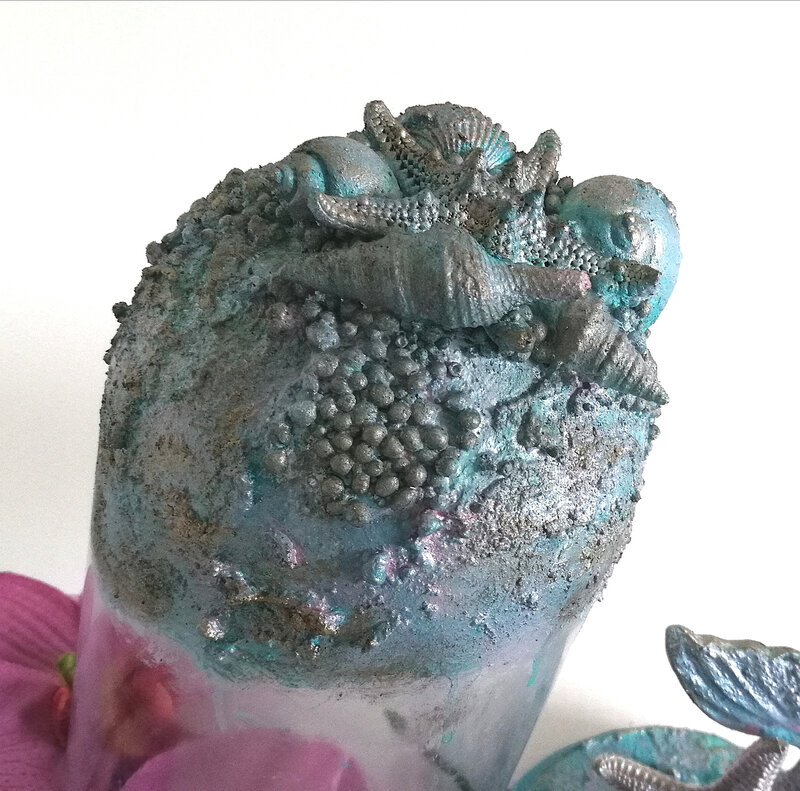 Once everything was dry, I could start to paint. I started by adding Finnabair's acrylic paint in Blue patina and vintage rose. I used paint because I wanted to create drips onto the dome. But I didn't like them and made them disappear. Since I wanted a less bold look, I covered everything with metallic waxes (Blue Lagoon and Heather hills).
I added some highlights with the white gold wax. And that was it!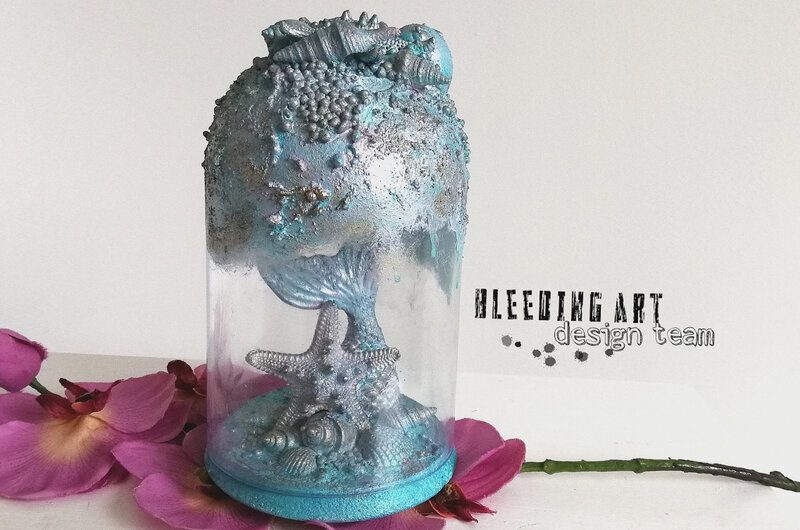 What do you think? Don't hesitate to let me know in the comments and join us in the fun at Bleeding Art Challenge!
See you soon with more creations!
Hello all!
I hope everyone is safe and healthy.
Today is the day for a new challenge at Simply create too and I will share with you my latest creation.
The theme is "Purple and black only".
I created this canvas :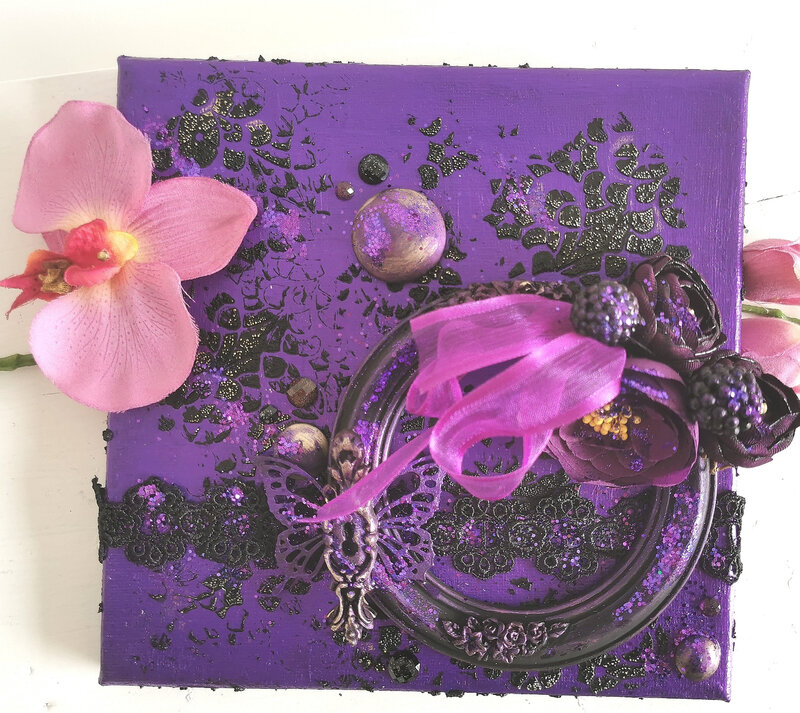 As you can see, I added some detailing with gold, but in very light touches. So we'll say I respected the theme 100%.
First I started by covering my canvas with Black Gesso and then painted it with Finnabair's crocus fields acrylic paint. Such a gorgeous color.
Then I mixed some sand texture paste (Finnabair) and black gesso (also Finnabair). I spread my mixture onto my lace stencil from Dusty Attic and let it air dry.

Once it was dry, I built my composition :
I glued black lace all along the width of my canvas and created my focus point. I glued a resin frame from Prima Marketing which I had painted with black gesso and Finnabair's Amethyst Magic Antique Brilliance wax. I glued three flowers, a few artificial blackberries an organza handmade bow, a butterfly chipboard from SnipArt and a molded piece of paper clay. I added some glass cabochons and purple glitter here and there.
Then I thought that some light was missing and therefore added some white gold wax touches onto the texture to highlight it a little bit.
See below more details: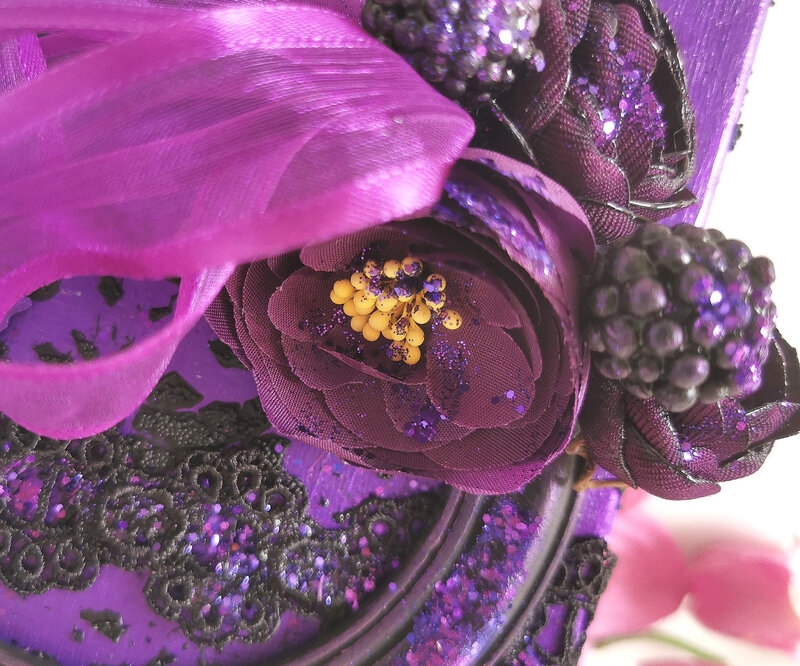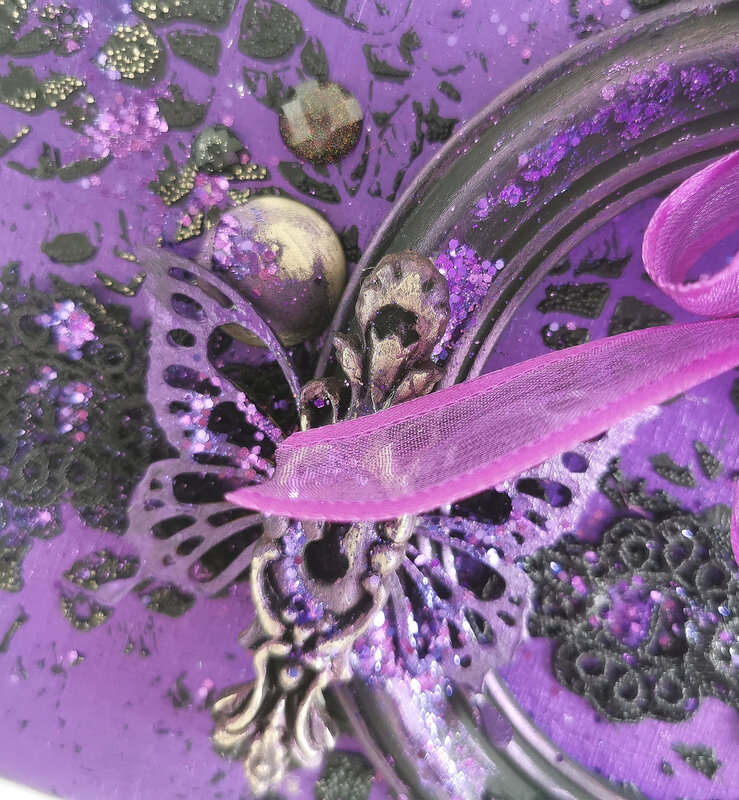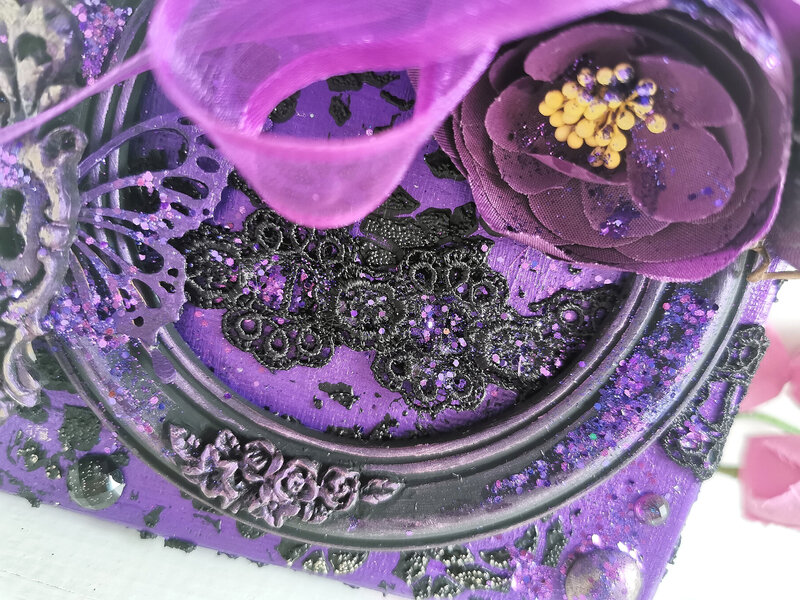 What do you think?
Don't hesitate to let me know in the comments.i
Vsit Simply create too as well to know everything about our current challenge and check out the DT's wonderful inspiration!
See you soon!
Hello crafty friends,
It has been a while since my last post and I apologize. I haven't stopped creating, I just haven't found the time to share my creations here. I have shared some of them on Instagram, but not here. But here I am, starting to fix this today 😊.
Today I am showing you my latest Mixed Media creation.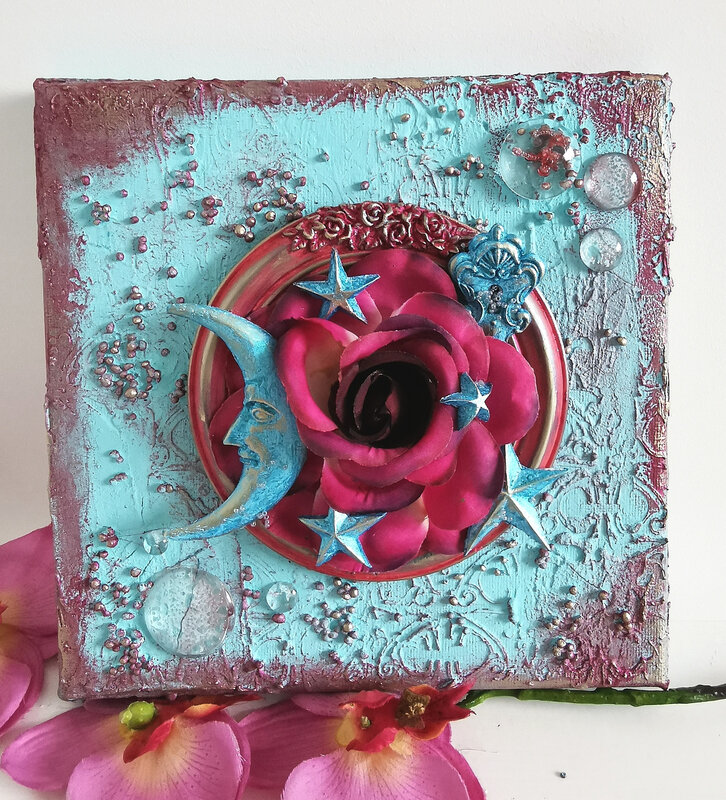 It did not turn out the way I wanted it to, but still, I want to share it with you.
I spread some plaster paste from Finnabair onto my Swirly Florals stencil. I added some crackle paste (Golden) onto the edges to frame my creation. I added Finnabair's art stones in medium size here and there.
When everything was drmy canvas with Finnabair's Blue patina acrylic paint and highlighted the texture with Finnabair's metallic wax in Indian pink.
After that, I built my composition with some clay pieces, a resin frame from. Prima Marketing, and a big flower, which I wanted to be my focal point. I had painted the frame with the same Indian pink wax and I must say, I have been disappointed. I wanted the color to be more fuchsia, but it looked more redto me than pink and that's not what I wanted. But I need to try it onto darker colors.The clay pieces have been painted with the same patina color I used for the canvas.
I added glass cabochons, some beads onto my focal point and I highlighted some details with white gold wax.
See more details below :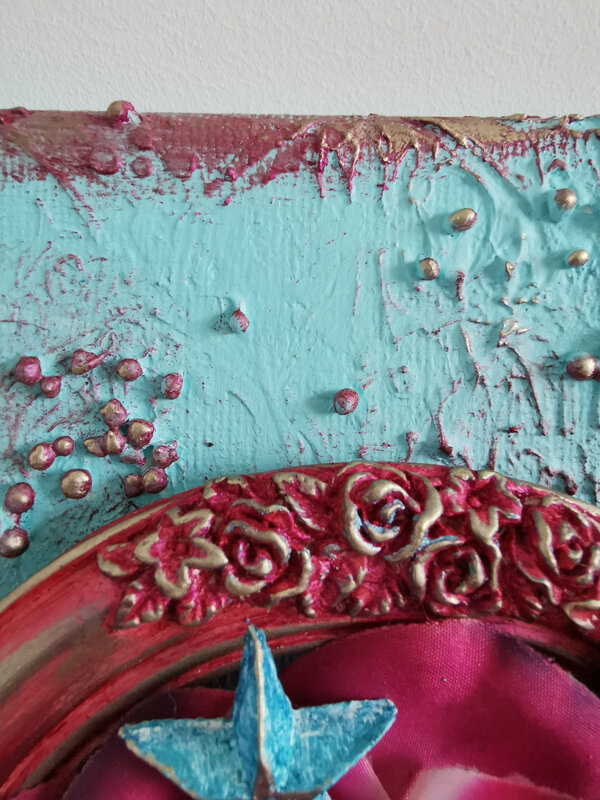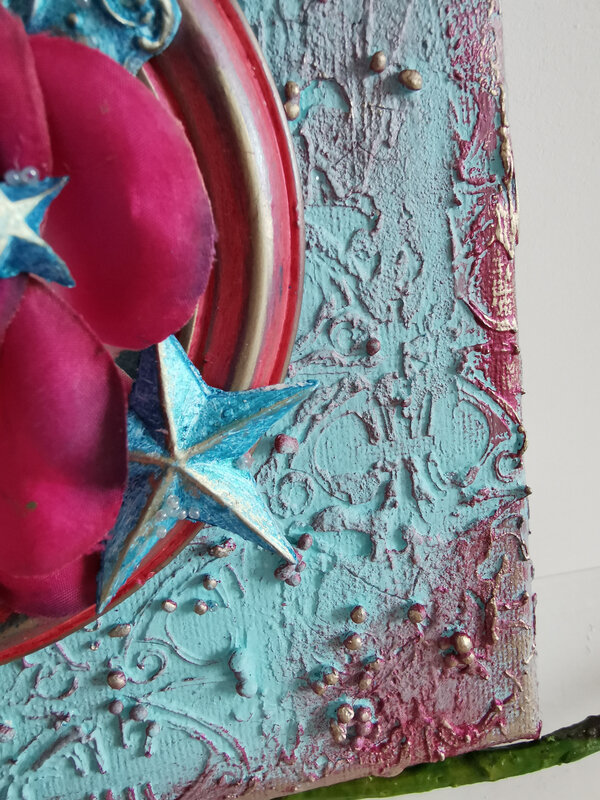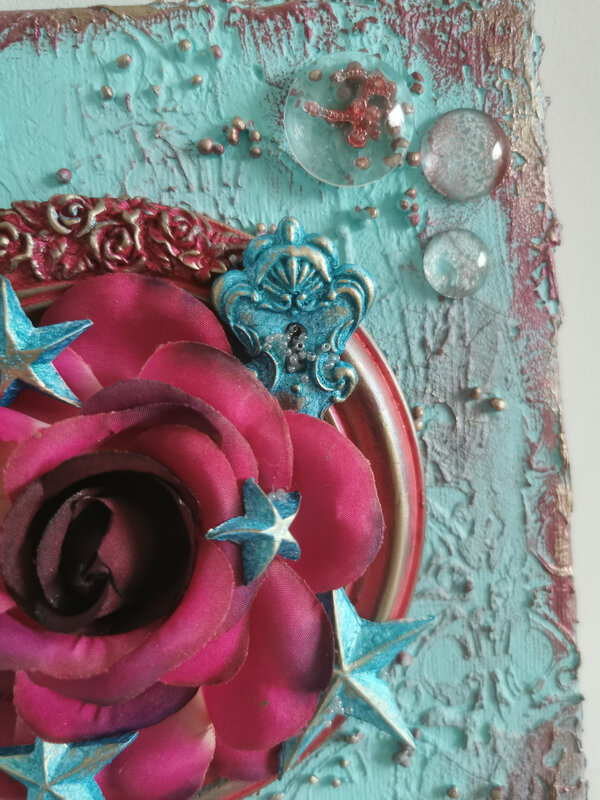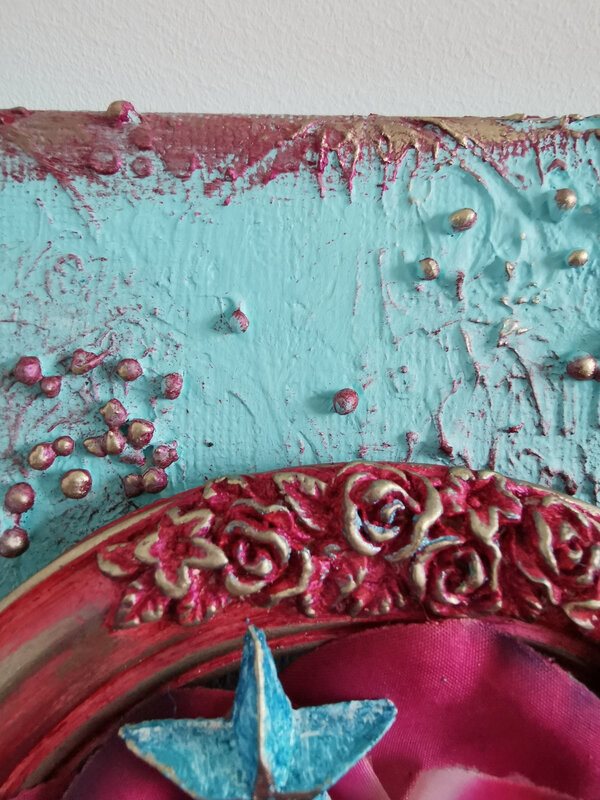 What do you think? Let me know in the comments!
Hi everyone!
Today is a new challenge day at Simply create too!
The theme is white, Black and another color, and I decided to make a card with layering dies and gold foil.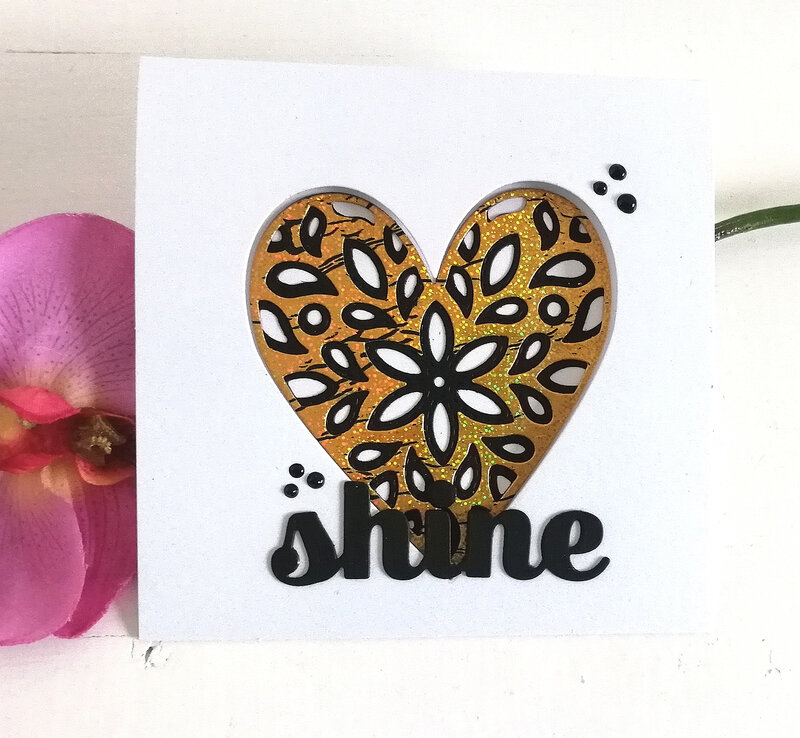 I created a window card.
I used one of my 3 heart layering dies to create a window on the top flap of my Card. I used two of them to die cut the bottom layer from black cardstock and the top layer from Thermoweb toner paper, which I foiled with Couture creations foil.
I closed my card and glued the two hearts stacked together inside the window.
That's it!
I hope this card gives you some Ideas. So go and check our inspiration this month and join us in the fun!
Good luck!
Hello crafty friends!
Today I am sharing with you my entry to the Nomadic Soul Diaries June Challenge. I know, I am a bit behind...
I altered a piggy bank. This piggy bank was one of the first gift my boyfriend gave me and I wanted to do something nice with it.
I started by covering it with white gesso and then I added crackle paste (Ranger) and Art Stones (Finnabair).
Then I sprayed some Lindy's gang Starburst in Tibetan Poppy Teal.
After it was dry, I added a coat of Finnabair wax in Blue Lagoon. I didn't like the look of it so I covered it with Fabrika Decoru in Indigo. To highlight some details, I used Finnabair's white gold wax. Then I glued my embellishments : molded paper clay pieces and glass cabochons ((which I painted with Fabrika Decoru's Shimmer paint in Fuchsia. I also highlighted the details on the paperclay volutes with Finnabair's white gold wax). Some stars which I die cut from bright yellow glitter cardstock and a navy blue flower.
Here are more details :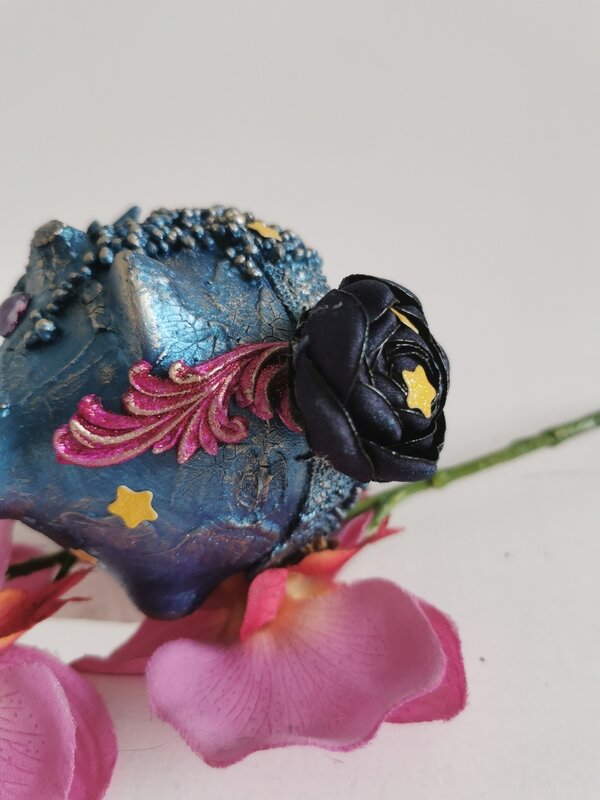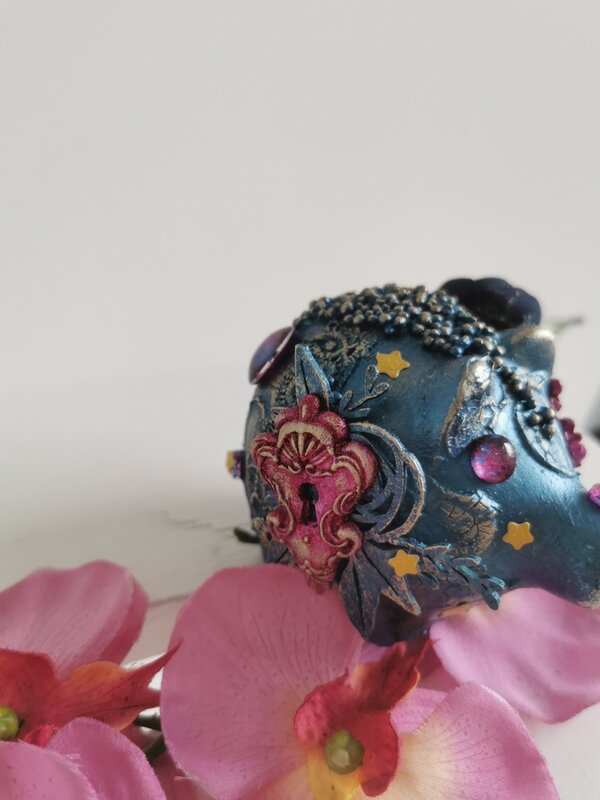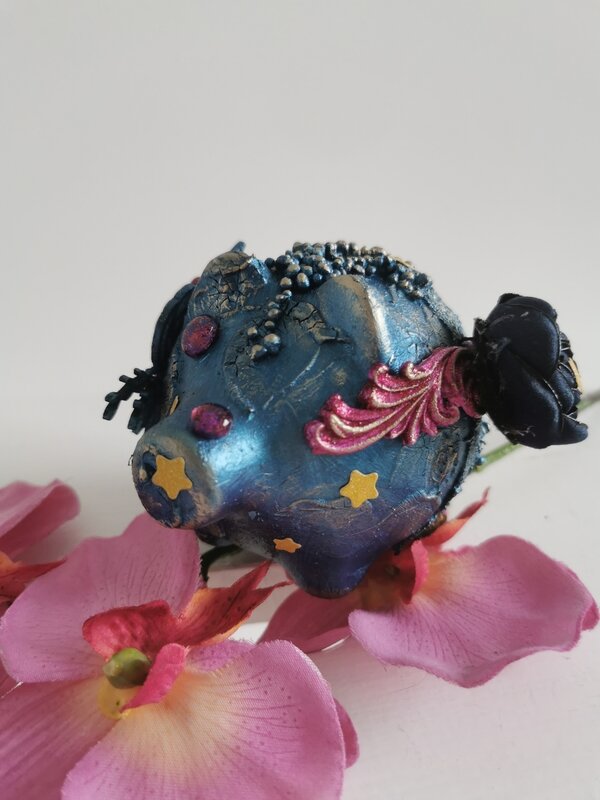 What do you think?
Today is the day where I share with you something which made me go waaayyy out of my comfort zone. Something rusty, something grungy... You got it, something really unusual for me. Something steampunk.
I would like to thank Cathy for inviting me to this Steampunk blog hop. We have amazing inspiration and sponsors and I'll share all the information you need below. But without further ado, let me show you my creation.
I am not really equipped for steampunk projects as it is not my usual style. I had to steal screws and nuts from my boyfriend but I also had to use supplies I bought at least two years ago and didn't use. Which is good, obviously. And I had fun.
For the base, I chose a MDF banner à friend gave me some time ago. I already had started working on it with sand paste and chipboard, but it was not turning out as I wanted so I put it aside for a (very long) while.
I also chose some elements for my composition: chipboard from Dusty attic (the roses) and SnipArt (gears I cut out from a clock), some filigrees and spacer beads I had in my stash, Brad's, nuts, screws. I filled in a small bottle with orange microbeads.
Once I had decided my composition, I painted everything with black gesso and glued everything as I wanted onto the banner.
I covered everything with Rust effect paint from Finnabair in red and brown, and added some touches of oxide paint by Fabrika Decoru. I painted some elements with Finnabair metallic wax in copper but I didn't get as much contrast as I wished, so I changed my mind and went to White gold.
I added nuvo drops onto the edges of the banner which remained visible and covered them with white gold wax.
See more details below.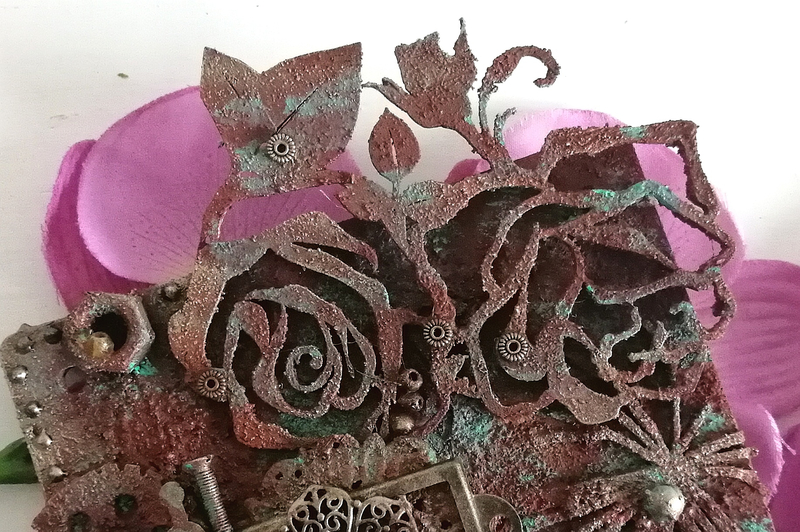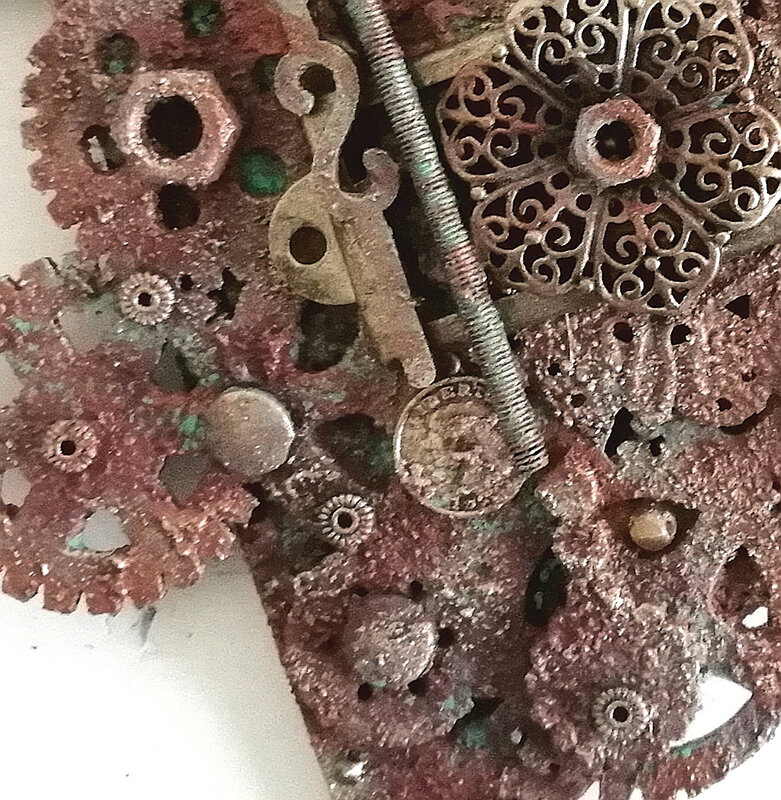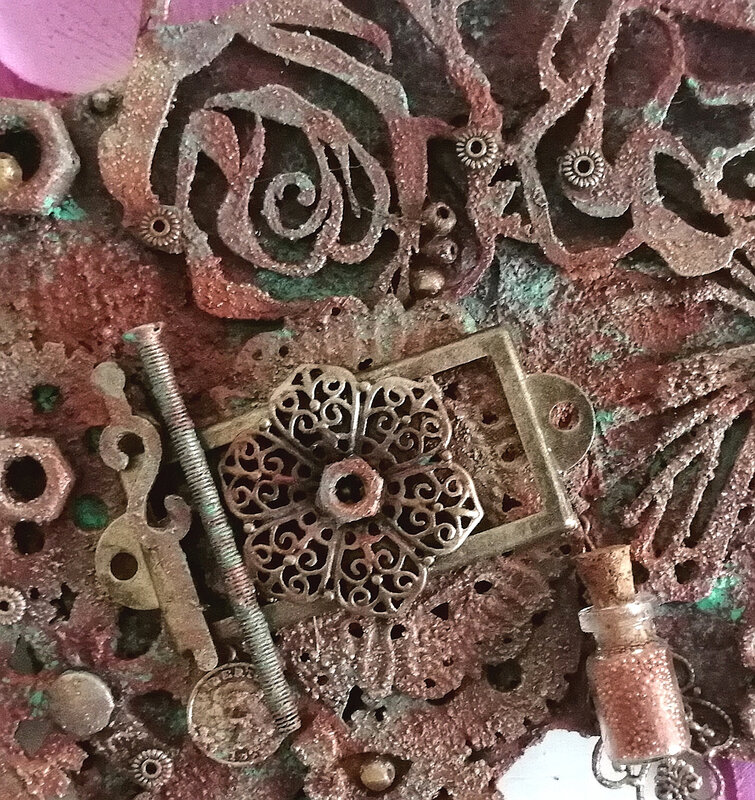 I really like the texture of the rust paste.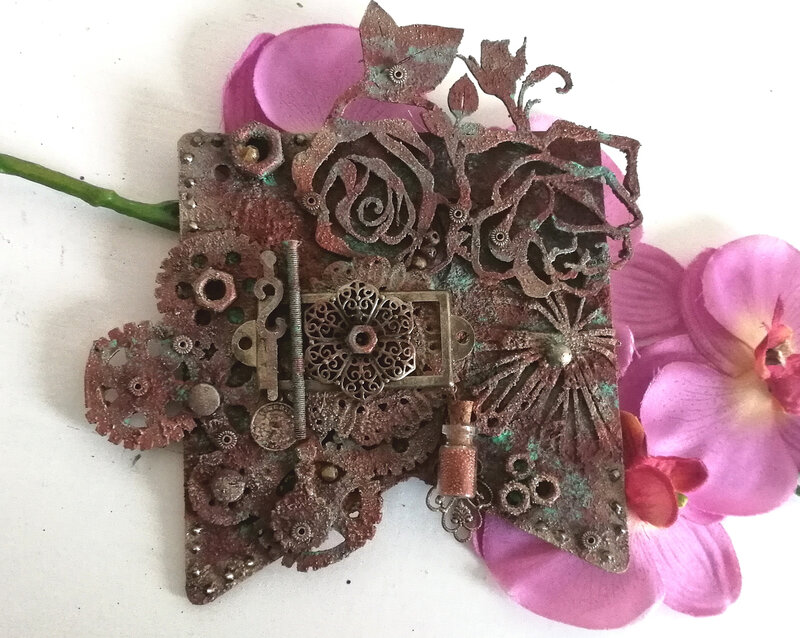 Read below for all the information about the blog hop and our sponsors.
We have 13 prize sponsors for our Steampunk Hop - we're proud to say these are small businesses run by artists. Let's show them some love!
1) A Vintage Girl - $20 prize package
2) Angel Dream Crafts - $20 gift certificate (shipping not included)
3) Linda Israel Art - $50 gift certificate (shipping not included)
4) A Matter of Crafts - $20 gift certificate (shipping not included)
5) Expressions Craft - $25 gift certificate (shipping not included)
6) Nellys Artistic Creations - original artwork (see link for examples of her work)
7) Gecko Galz - $25 in digital products
8) Creative Embellishments - $50 (shipping not included)
9) Emerald Creek - $25 gift certificate
10) Electric Pandemonium - choose a $45 original artwork piece (shipping not included)
11) Thompson's Craft Supplies - £20 (approx $25) (shipping not included)
12) It's Oddly Appealing - original artwork (see link for examples of her work)
13) The Funkie Junkie Boutique - $25 gift certificate
14) Hobbilicious - £25 (approximately $19) (UK shipping free)
15) ITD - Price package worth £25
16) Stamperia - A pizza box prize pack
To have a chance of winning one of the 13 coveted prizes, leave a comment on this post, along with your email address or social media contact (IG, FB, etc...) and what country you're from, from now through Monday, 22 June. Sixteen winners will be picked randomly from all comments left from all of the artist's participating! The winners will be contacted via email/social media contact so it's important you leave your address/social media contact! Good luck and enjoy the hop!
See below the next stop :
Cassandra - Scrap Savvy Creations
Monica Longard - MonDo Creations
Orquide'art >> You are here!!!
A vintage girl - https://www.candyscrap.typepad.com/scraps/2020/05/steampunk-blog-hop.html
Hello crafty friends!
Today starts a new challenge at Bleeding Art Challenge and just like every months, it is "Anything goes". So don't hesitate to join us, we have amazing inspiration for you and great prizes !
To inspire you, I created this altered box :
I changed my color scheme and went for a combination I wanted to try for a whie but didn't have a chance too : chocolate and teal. I really like this combination and I love how my box turned out !
I used a cardboard heart shaped box and covered it with white gesso. Then I added some sand paste onto the body of thebox, although I knew I was going to use textured paint, I also knew the texture would not be sufficient for what I had in mind.
Once it was dry, I added more gesso and painted the lid and the inside of the box in Blackberry metallic acrylic paint by Finnabair.
I painted the body with Rustic paint in Copper Oxide by Fabrika Decoru and added some white gold wax by Finnabair to highlight the texture.
Onto the lid, I stenciled some damask with the same Copper oxide paint. I embellished it with some ornaments I had previously prepare : fabric and paper flowers in blue, molded pieces of paper clay I painted in the same shades as the box, xhipboard pieces from SnipArt and I glued everything with 3D Matte gel.
I highlighted details and the edges of the lid with white gold wax and as finishing touches, I added some gold crystals from Prima Marketing and an organza bow. Then I was done !
See below more details :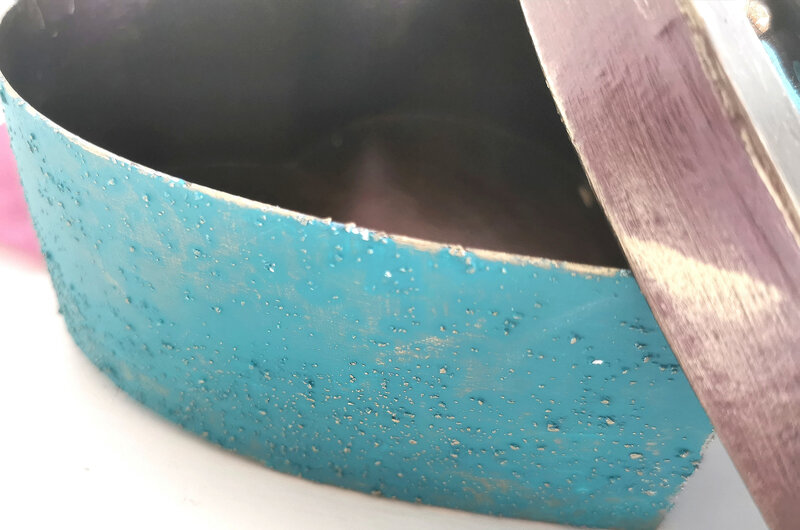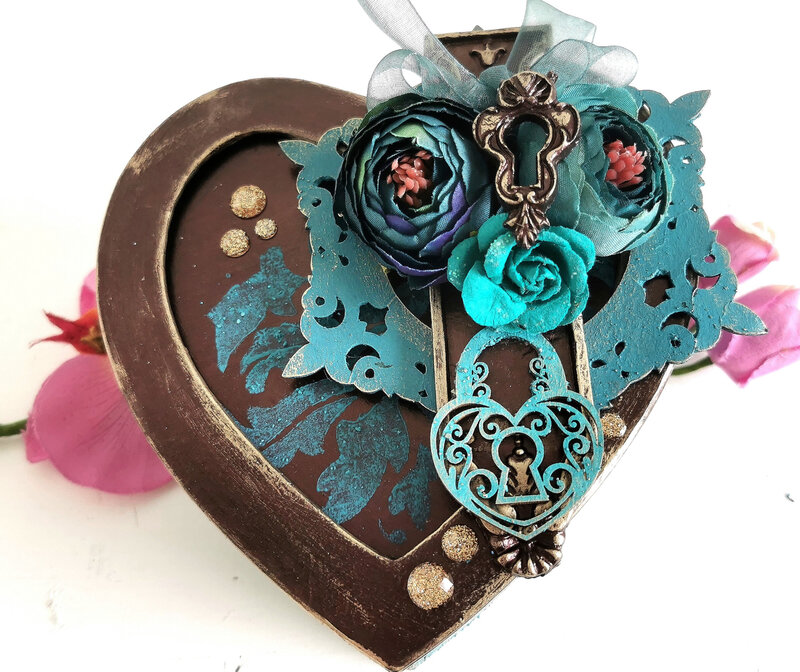 What do you think ? Don't hesitate to share your thoughts in the comments section !
In a few days, something big is coming up, so stay tuned !