Hi all,
Simon Says Stamp launched a new challenge on IG! This month, the theme is 'summer'.
I created two mini canvases (10x10 cm).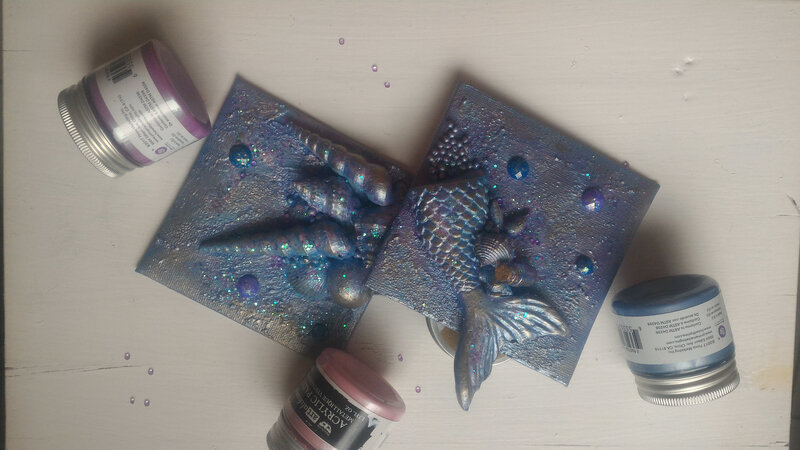 For texture, I used sand paste and pearls, and as embellishments, I used shells of different sizes, and a molded mermaid tail.
I painted everything with white gesso and then a few layers of different Art Alchemy paints from Finnabair (I used Ice Queen, Opal Magic Blue-Violet and Frozen Berries). Then I added a few touches of Metallique Vintage rose and Light Patina.
To finish my canvases, I glued some crystals from the Prima Marketing collection 'Moon Child' and glitter.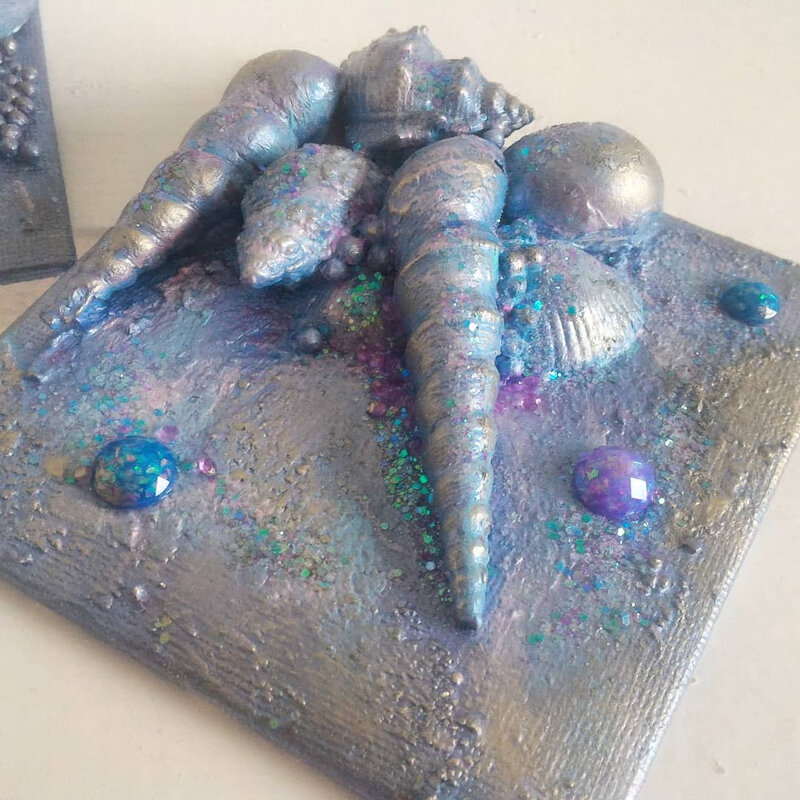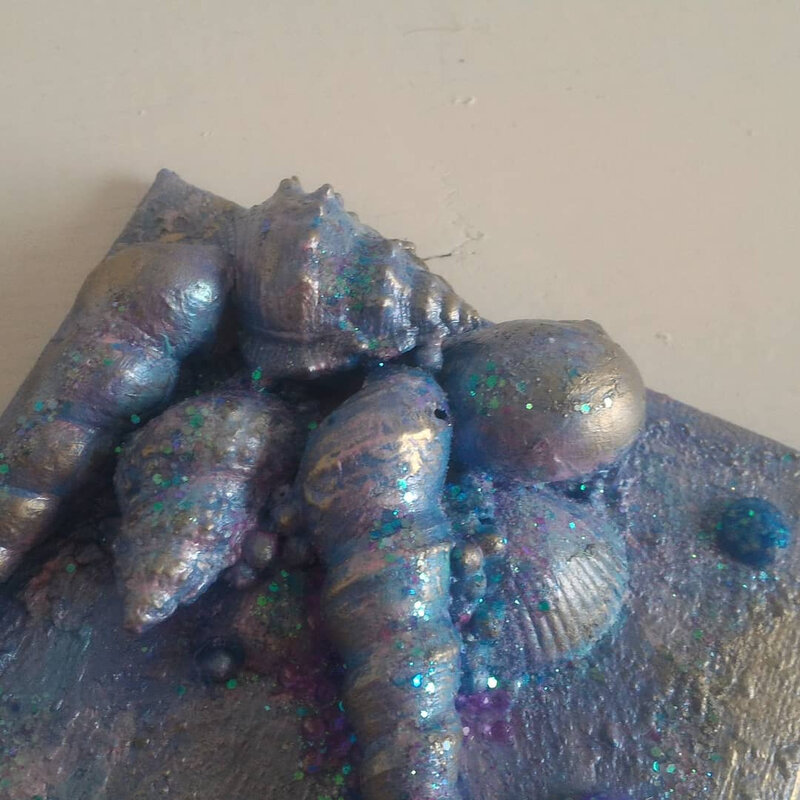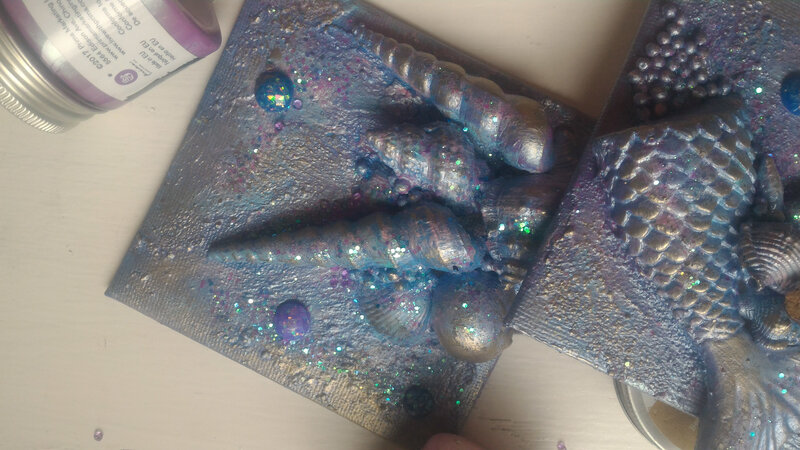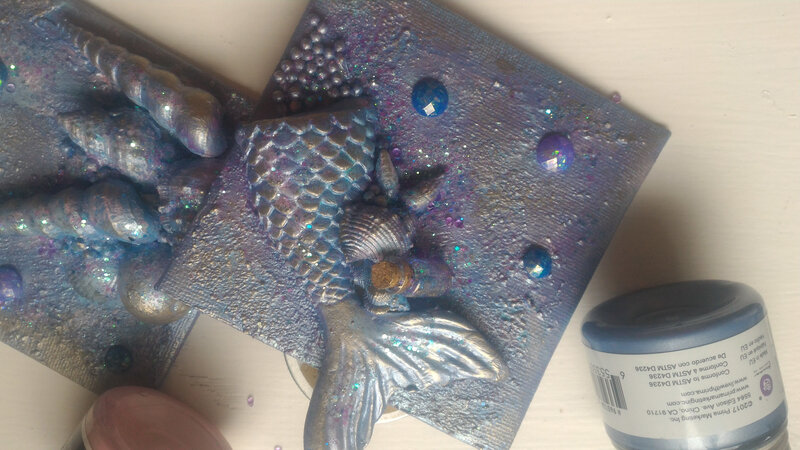 What do you think?
Hello crafty friends...
Today I am sharing with you my entry to the Simon Says Stamp Monday Challenge of this week: Frame it.
I created a small canvas(20x20cm), using a variety of products from Finnabair: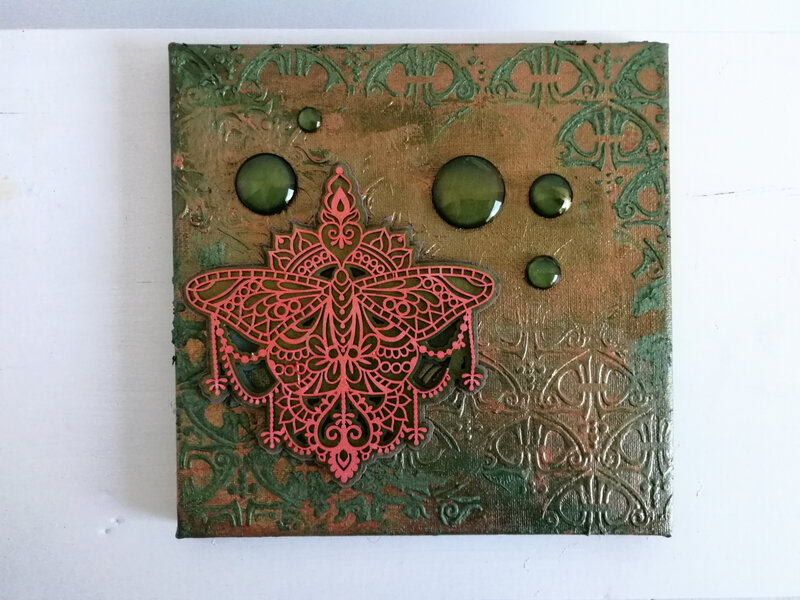 I started by painting my canvas with Black Gesso and then added some plaster paste on the diagonal of the canvas through my Swirly Florals stencil. I love this stencil very much, I can't stop using it! Then, I added a second layer of black gesso.
While this was drying, I prepared the different pieces of my mandala butterfly 3D chipboard. I found this chipboard at SnipArt and it is really gorgeous. I was waiting for the perfect occasion to use it. I added some Rust Paste in Moss (from the Old Walls collection) on the bottom piece, some Golden Moss Art Alchemy Metallique acrylic paint on the middle layer and I covered the actual butterfly with Coral Reef.
Then, I painted my background with some Golden moss paint, some Lucky Emerald Art Alchemy Antique Brilliance wax and added some Coral Reef on top of everything. I took my stencil again and removed some of the coral paint with a baby wipe, but this is barely visible on the picture.
I glued the different layers of the butterfly together. At the beginning , I wanted to glue my chipboard in the middle of the canvas because I had a different idea in mind, but the circumstances decided differently. I wanted to frame partially my chipboard using the lucky emerald wax as texture paste through the same stencil on the top right corner and bottom left corners. And I tried to heat set it... because I forgot it was wax and would melt instead of harden... So I messed up my framing, and to fix the mess (well hide it😁), I had to glue the chipboard on the bottom left corner of the canvas.
The framing is still there though... Kinda metaphorical.
To complete my composition I added some glass cabochons in different sizes painted with Golden Moss at the back.
And my canvas was done. You can see more details below: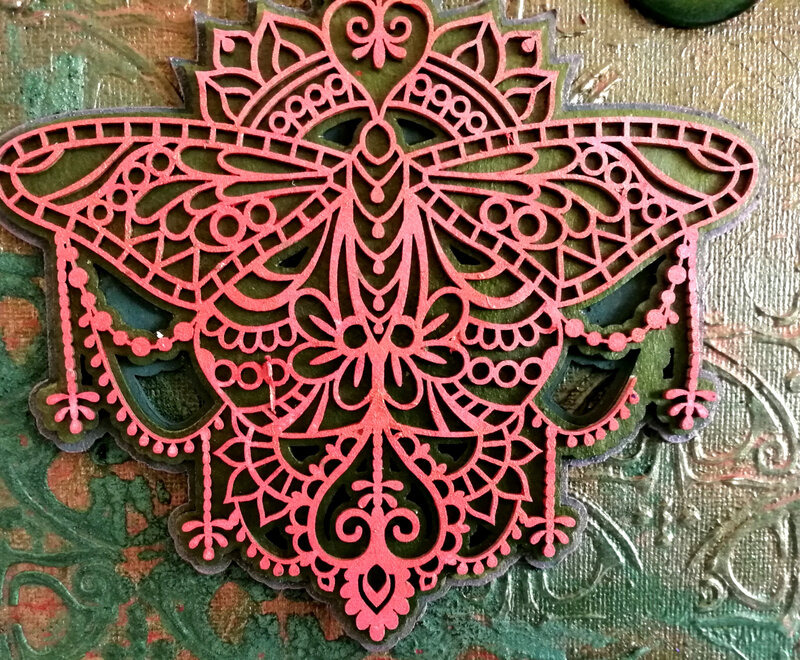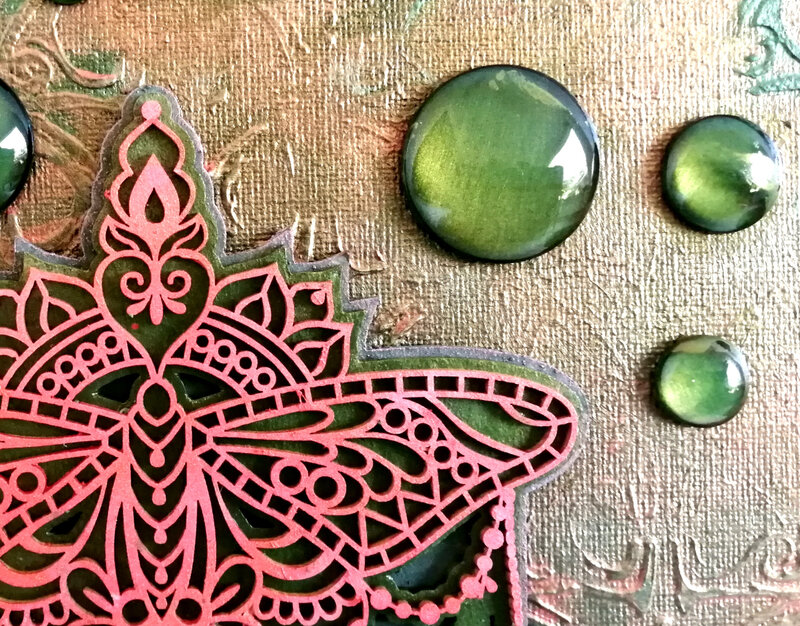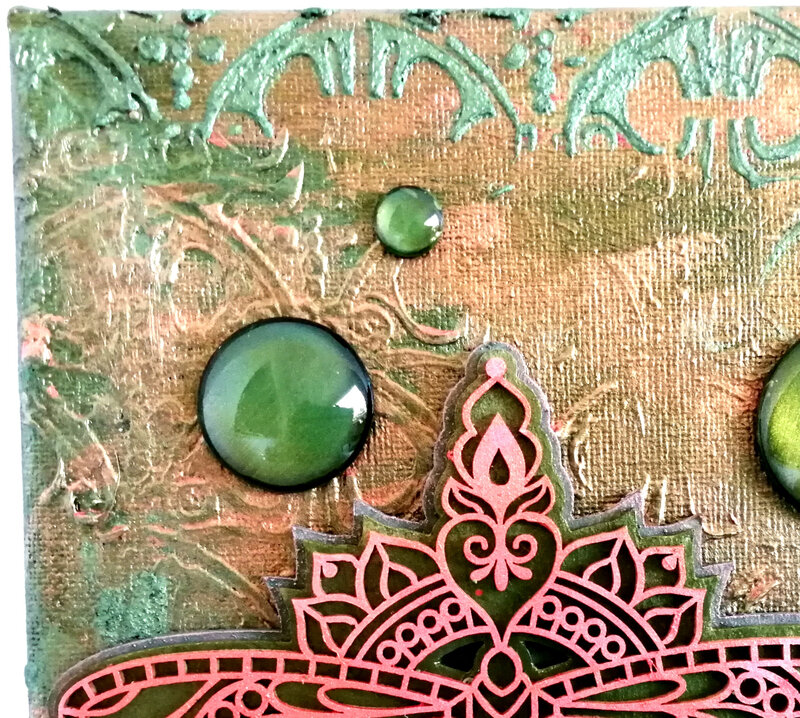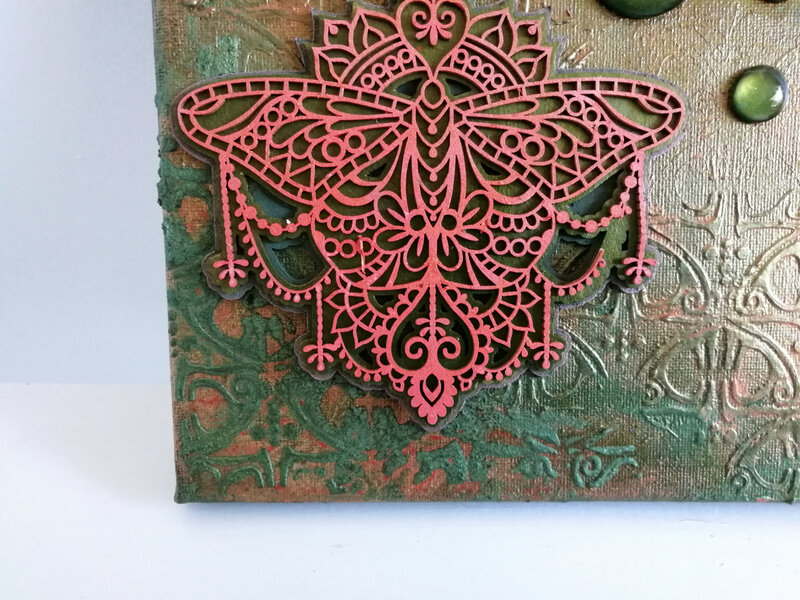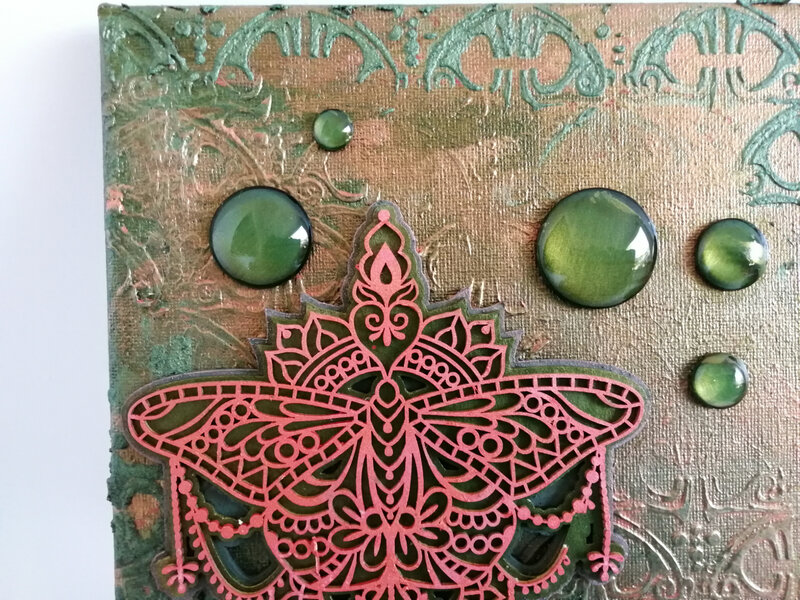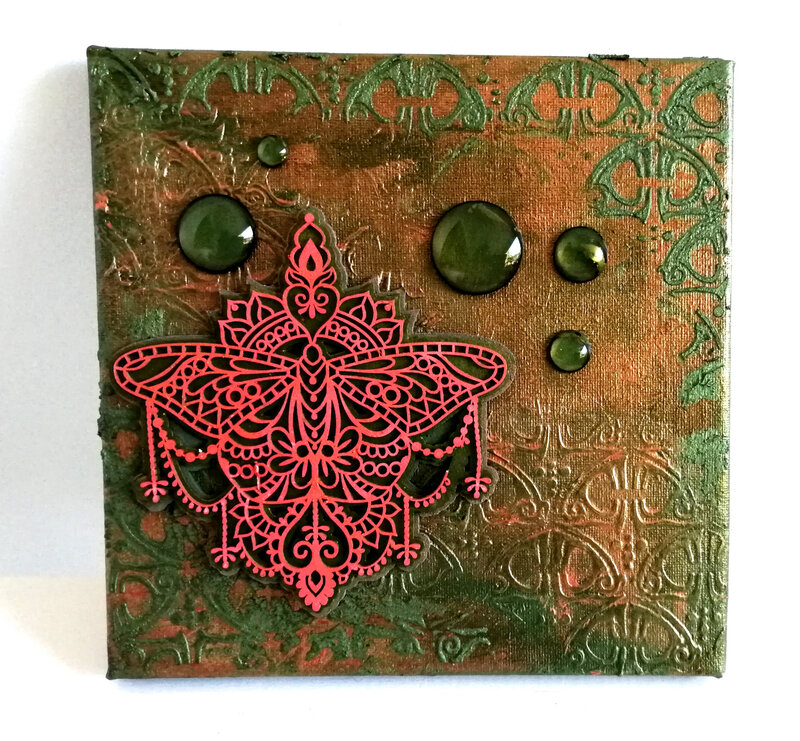 What do you think? Don't hesitate to let me know in the comments!
Hello Mixed Media friends...
It has been a long time I haven't published a full photo tutorial... So today, I will show you how to create this mini canvas "Peach Bloom":
But before I show you all the steps, I would like to tell you a bit more about the story of this canvas. I suscribed to many Mixed Media artists accounts on Instagram, and one of the is Stacey Young Designs. One or two weeks ago, she published this canvas. And I fell in love with her gorgeous pink tones... It reminded me I had some Prima flowers in my stash I could use to create a similar canvas... And the idea for "Peach Bloom" was born.
Here are the supplies you will need :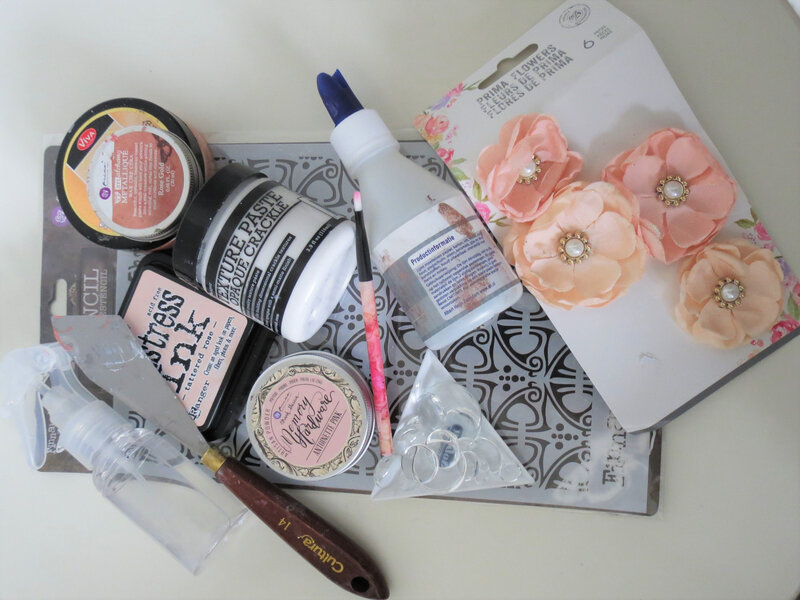 -a small canvas. Mine measures 20x20 cm (you can't see it on the above picture, but this is my base :))
-a stencil (I used Finnabair's swirly florals),
-crackle paste (ranger for me),
-Viva decor inka gold patina (I chose apricot),
-Prima Marketing artisan powder (my color : Antoinette Pink)
-faux flowers (Mine are from Prima, "Aubree" flowers from the Love story collection)
-glass cabochons in different sizes,
- a piece of wide lace, slightly longer than your canvas
-a distress ink pad (I chose tattered rose - this item is totally not mandatory)
-a small brush (I used a make-up one),
-a spray (I got mine from Prima Marketing, they are very handy and totally inexpensive),
-some glue (I used liquid glue for everything, but you can choose some medium gel for the heavier elements, such as the cabochons)
-a palette knife
-a heat gun (not mandatory)
They are not on the picture, but I also used white gesso from Pebeo and a hand molded frame.
I chose light pinks, peach and apricot tones for my canvas, but you can choose any other color depending on your tastes.
You gathered all the supplies you need, it is now time to start !
Step 1: Apply the crackle paste
Use your palette knif to apply the crackle paste through your stencil. I love Finnabair's Swirly florals, because of the design but also because this is a full background pattern that you can choose to apply only here and there. If you want to, you can use your palette knife to "spread" the paste here and there, "breaking" the stencil pattern which gives a grungy effect to the design.
After you applied the paste, you can remove the stencil, cleane it up (it is important to do it right away, otherwise the paste will dry on your stencil and damage the design) and set the canvas to dry. I like to let my artwork dry naturally but you can speed up the process with a heat gun. You know the paste is dry when the crackled effect is fully visible.
Step 2: Glue the lace
Glue the lace at the bottom of the canvas and set it to dry.
Step 3: Add some color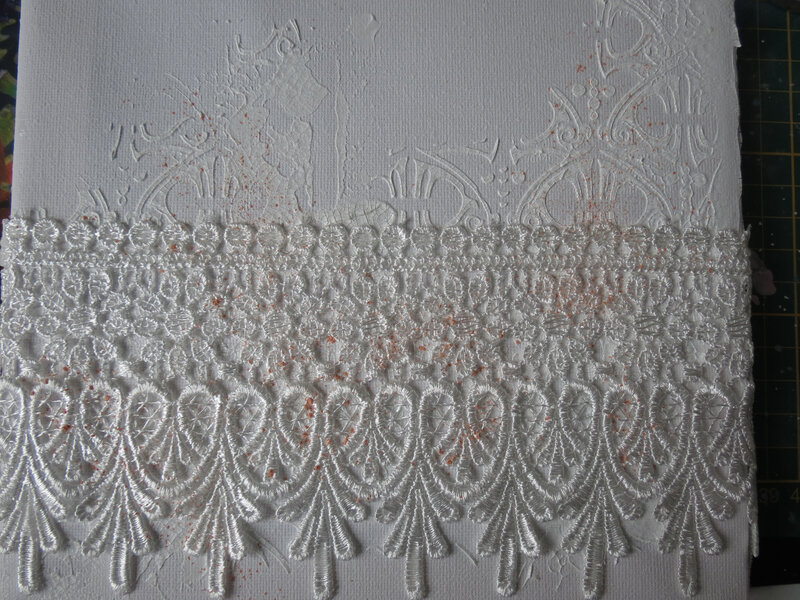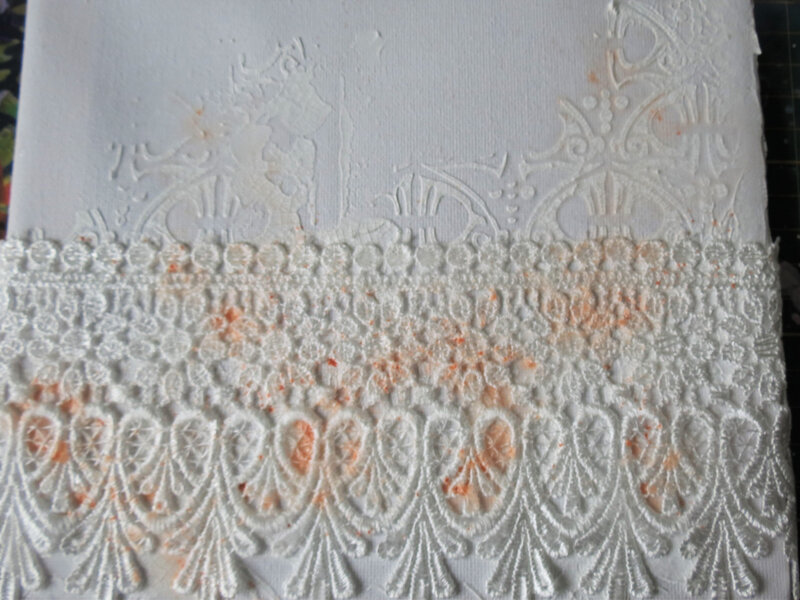 Use your brush to sprinkle some Artisan Powder. I recommend you use a mask to protect your lungs as the powder is extremely volatile. You can then spray it generously with water and let it run through on the canvas. Add powder until you are happy.
Step 4: Build up the composition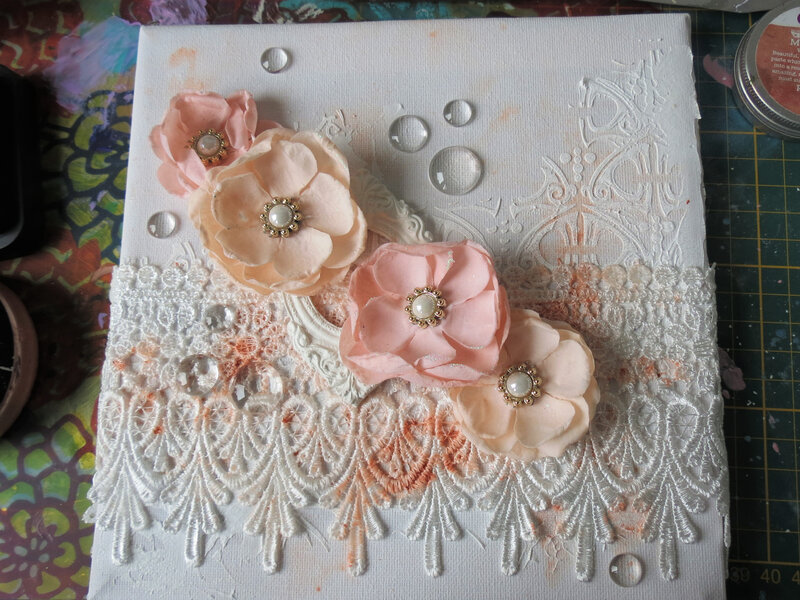 Start to build your composition adding all your embellishments onto the canvas, take a picture if needed to remember where you placed them.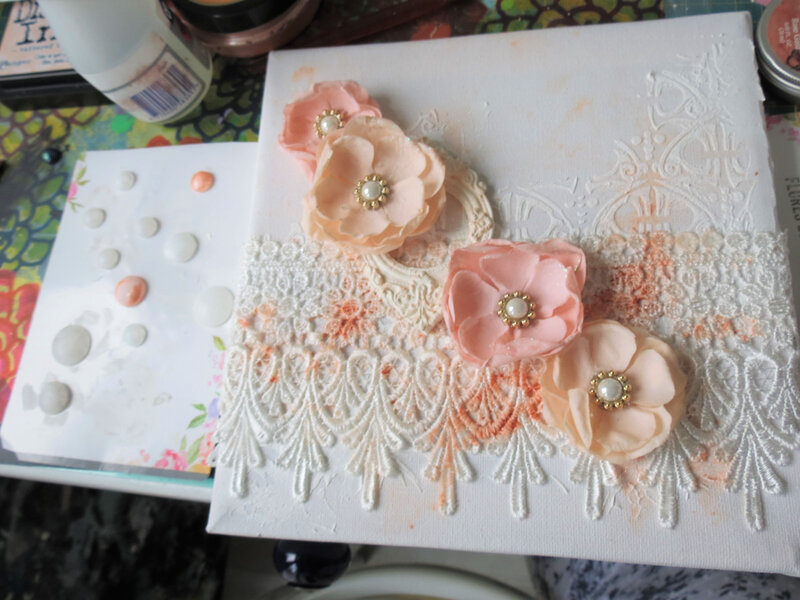 Paint the cabochons with some gesso and, while the gesso is drying, glue the other embellishments (in my case : the frame and the flowers).
Once the gesso is dry, paint the cabochons with the patina. My patina was really dry, so I had to spray it with water to be able to use it. I also added a bit of patina here and there onto the canvas, around the cabochons and I made some splatters.
Last step, if you want it : slightly distress the edges rubbing your distress ink pad all around the canvas.
See below more details :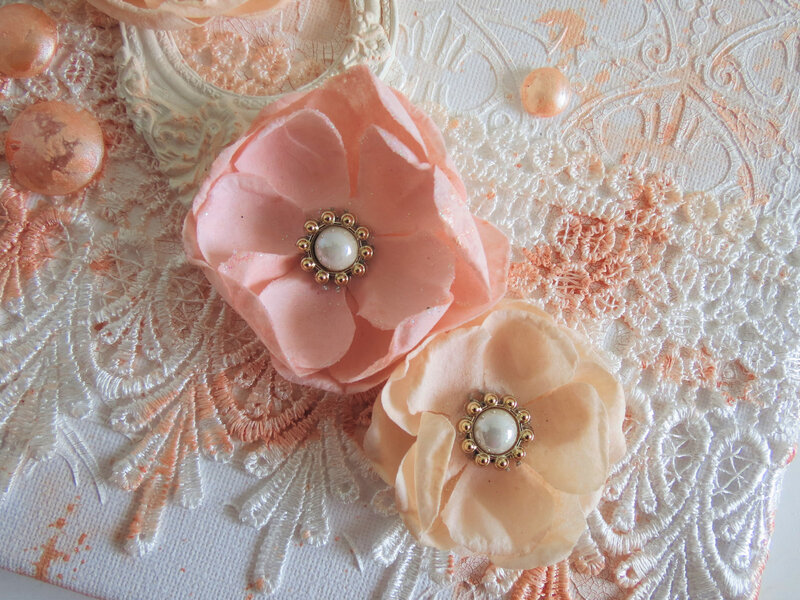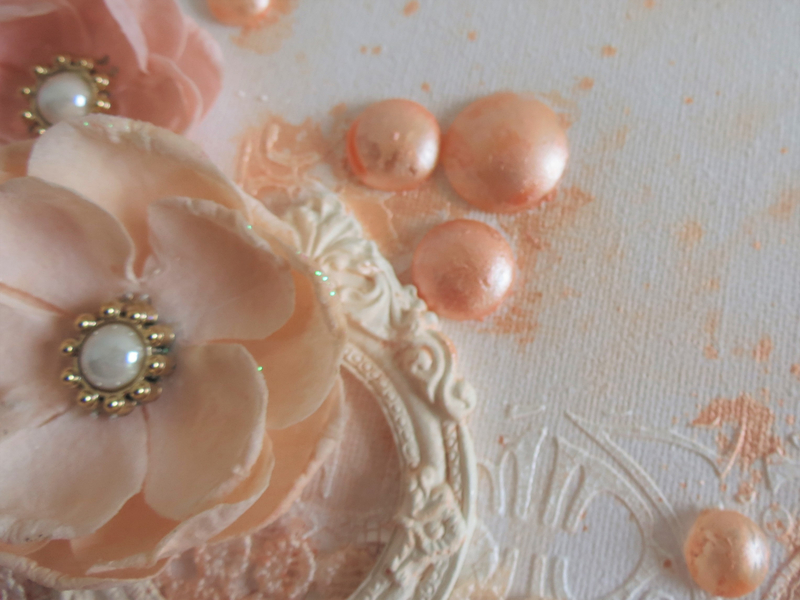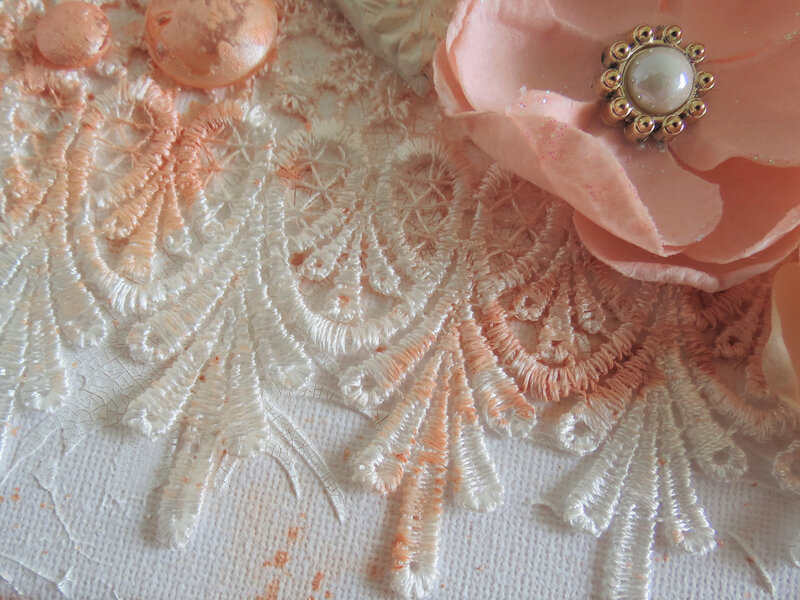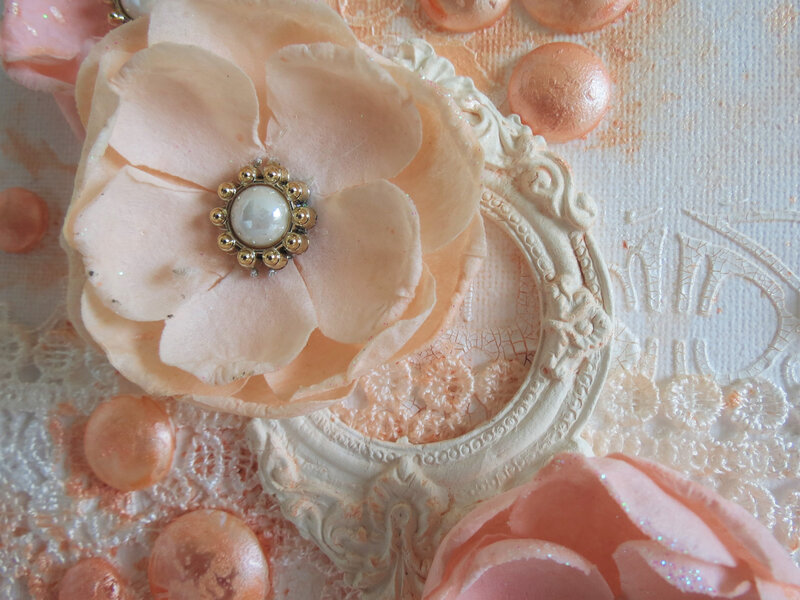 This canvas is also my entry to the Anything goes challenges for Bleeding Art Challenge, Creative Ariste Mixed Media Challenge and Simon Says Stamp weekly challenge.
Don't forget to check them out.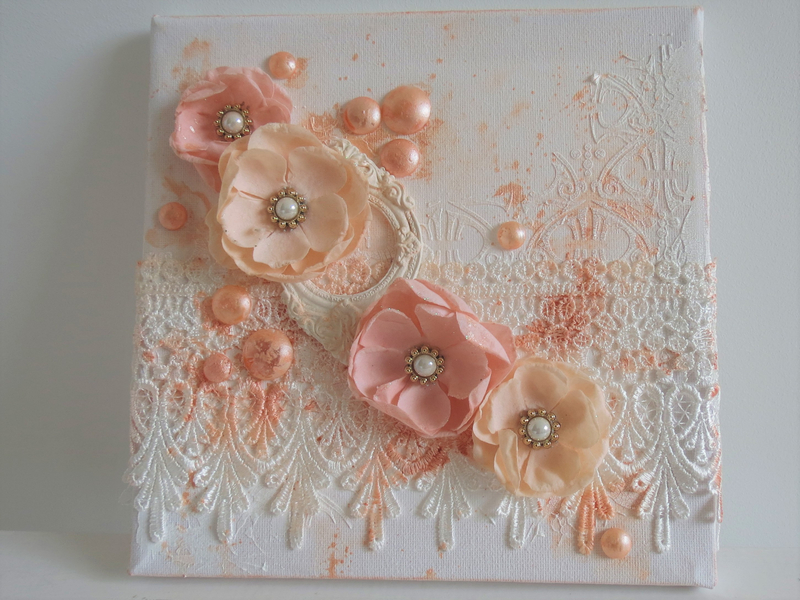 What do you think of this canvas ? And this tutorial ? Shall I write more photo tutorials ? What do you guys would like to read about ? Let me know in the comment, they are really much appreciated !
Hello crafty friends !
Today starts the new Simply Create too Challenge for the month of May and here is my inspirational post.
One of my friends is getting married today and I prepared for her and her husband a canvas as a wedding gift.
For this canvas, I have been really inspired by Sharon Ziv Noomish. Her style is absolutely lovely and I love her combinations of flowers, frames and papers, as well as the very soft tones she usually uses. Have a look at her youtube channel!
I used a sheet of paper of te "Be Gentle" collection, from A.B. Studio. I love those purple watercolor roses in combination with the greys ! I cut the paper in half and glued both part on the top right and bottom left corners. I removed a bit of paper on both parts.
I diluted a bit of my Lavender Impasto paint into water and added it underneath the paper. Then I sprayed a little bit of water and moved the canvas around to let the paint flow its own way towards the center of the canvas.
Once everything was dry, I took my "Swirly Florals" by Finnabair and spread some Ranger Crackle paste onto the paper and here and there on the other corners.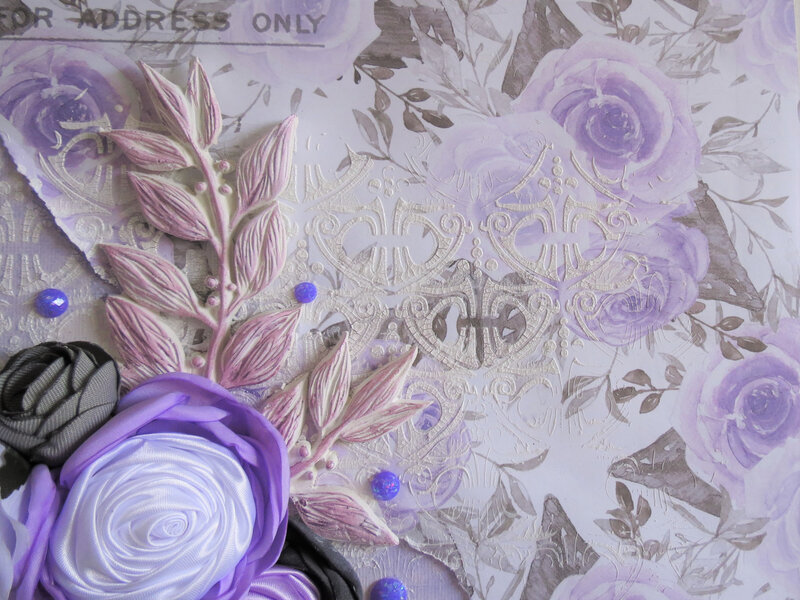 After that, I started to build up my composition : I glued a picture of my friend and her husband, glued a hand molded frame that I painted with Finnabair's wax "Heather hills" and glued some flowers in lavender, grey and white on top. Then I added some hand molded leaves (also painted with the wax) on the top right corner, and ribbons of lace and fabric on the bottom left, together with some hand molded swirls (I used molds from Art-prosvet for these). Everything converge then towards the frame. For the frame and the leaves, I used molds from Ali Express.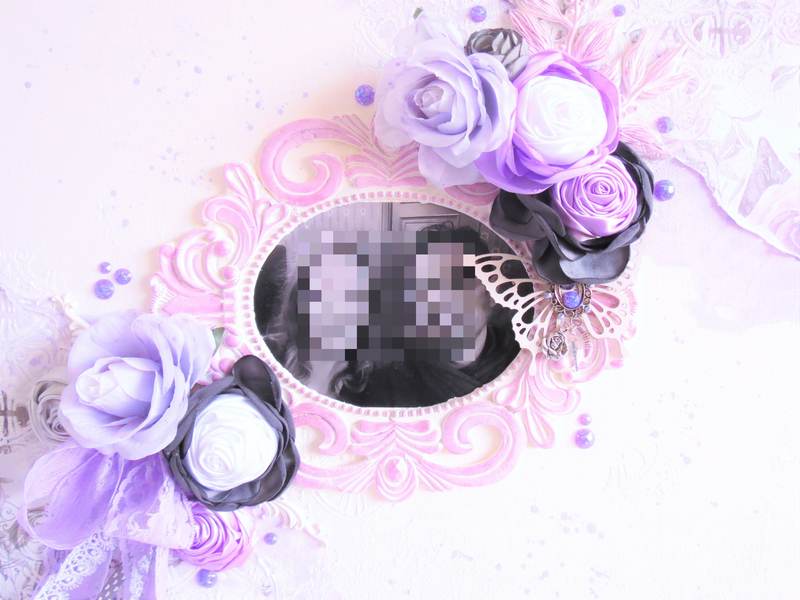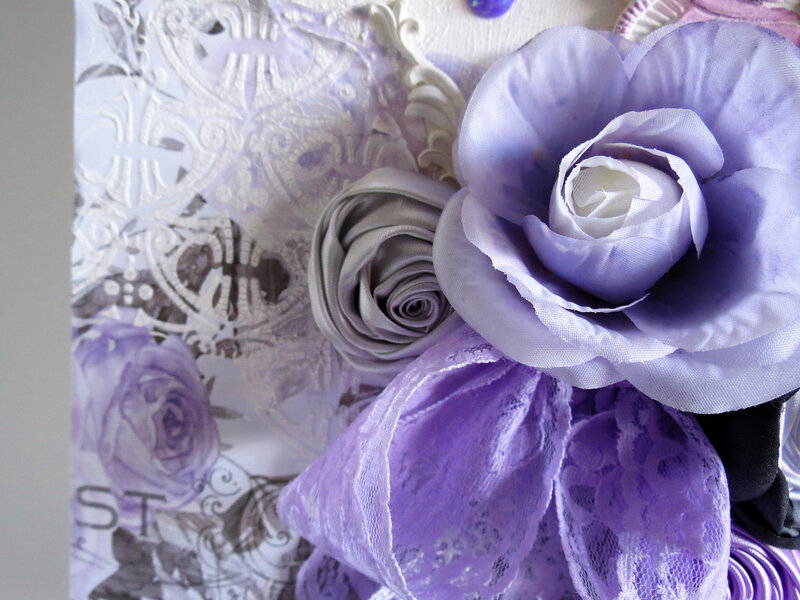 On the right of the frame, right underneath the flowers, I glued a chipboard butterfly from SnipArt that I decorated with a small metal frame, a strass and a Moon Child crystal from Prima. I glued a few of these crystals here and there around my composition.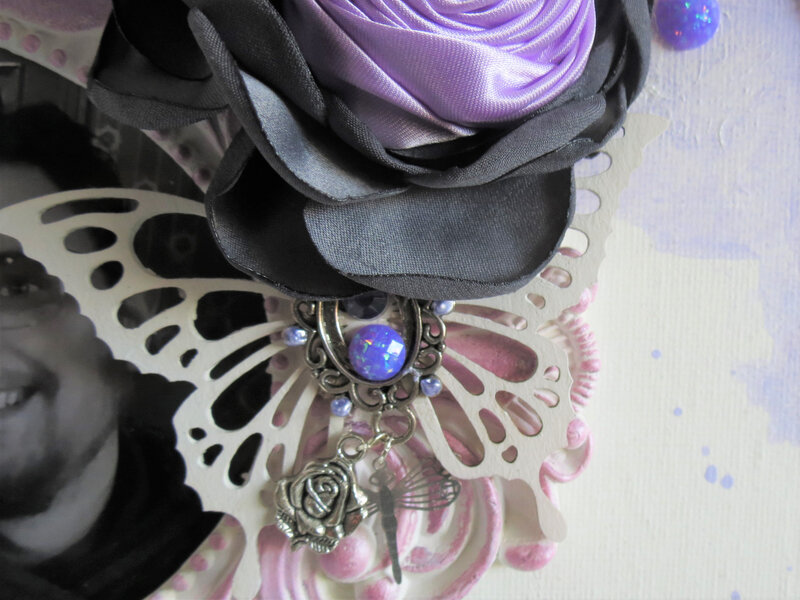 What do you think ? Isn't it a lovely canvas ?
You have until the 31st of May to play with us at Simply Create Too. Join us and good luck !
Hello crafty friends !
Happy Easter to you all !
Today I am sharing with you my entry to the Daily Art Café challenge of April. The moodboard was all about Burgundy and the theme was Art Masters...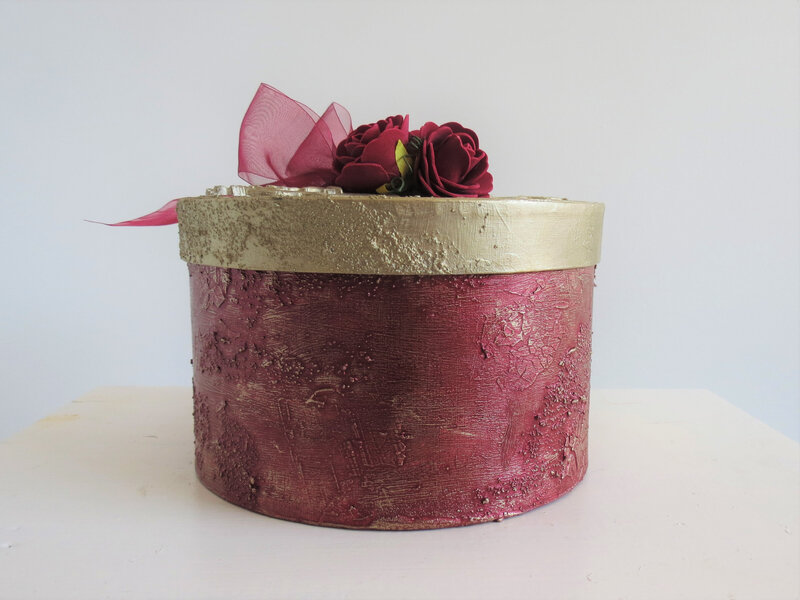 I have been really inspired by the colour and the flowers of the moodboard :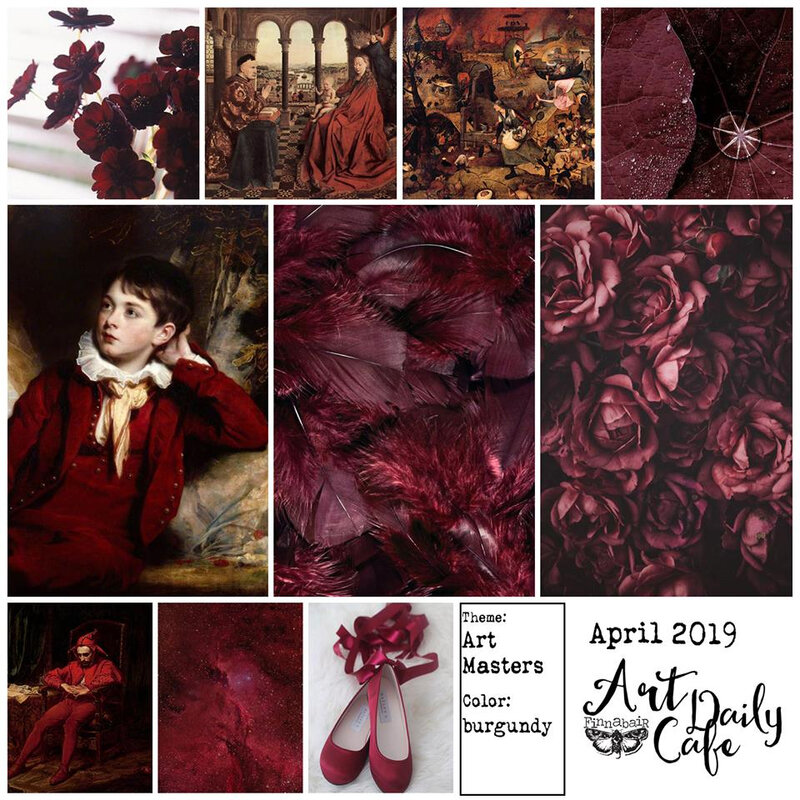 I started to alter this box a while ago, I added some sand paste (Finnabair), some Crackle paste (ranger) and I glued some tiny chipboard butterflies to the lid. I covered everything with white gesso and then I got stuck and didn't know how to continue. So I put the box aside for a few months and got it out again for my challenge. At the beginning, I thought I would use it for some transfer from Prima, but I can't find any of those big flowery ones here in the Netherlands and furthermore, the texture wouldn't help.
Therefore, I decided the Art Daily Café Challenge of this month would be the perfect occasion to finish this box.
I didn't have any burgundy in my Finnabair stash, so I mixed a bit of Art Alchemy Royal Red and a bit of Plum preserves. Isn't this shade of burgundy absolutely gorgeous ?
I covered the box itself with it and covered the lid with my White Gold wax. This one of the most perfect colour combination, isn't it ? I also highlighted a bit of the texture of the box with the same wax. I molded a piece of modelling clay in my Escucheon 1 Prima Mold and covered it with white gold wax. I cut it in half and adhered to the lid with some 3D Gloss gel. Finally, I glued three foam roses and a handmade bow with burgundy organza. See more details below :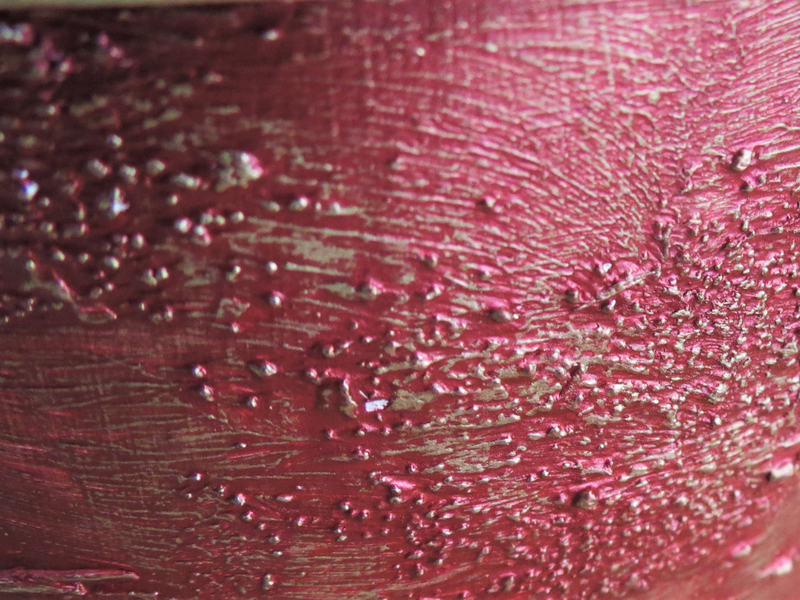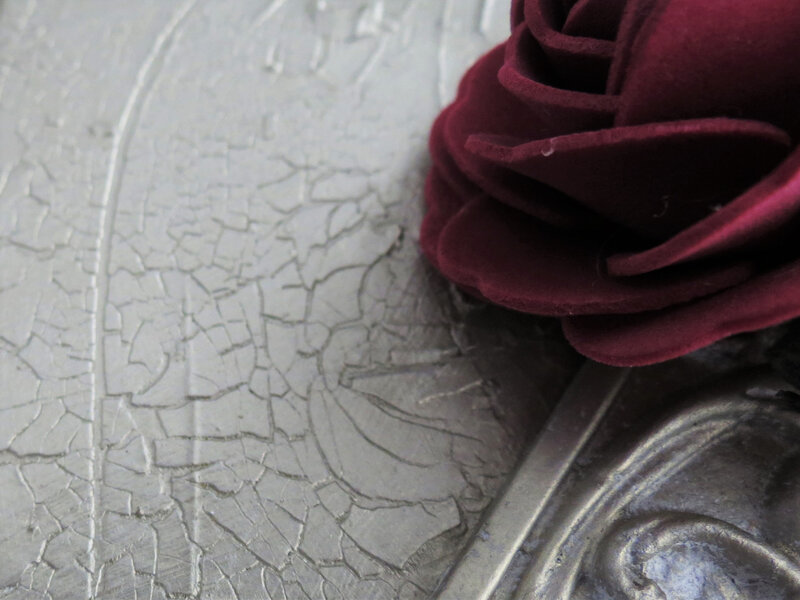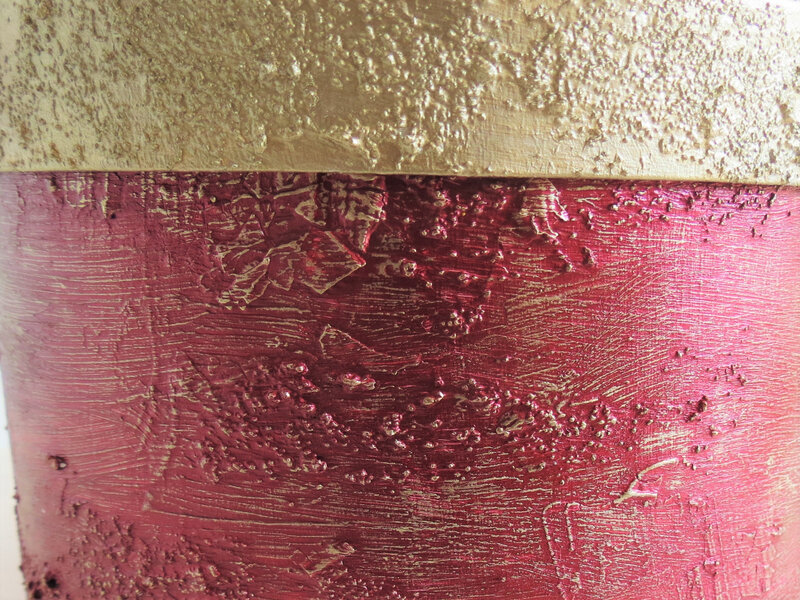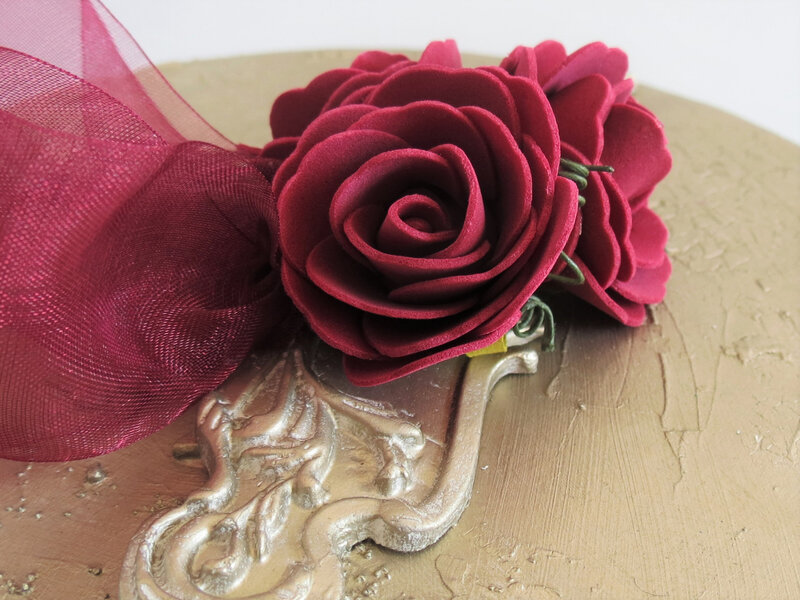 What do you think ? It is a quite simple project, but sometimes less is more...
Hello Mixed Media friends !
After a few weeks of absence, I am coming back with a new altered object: an altered fan.
In my opinion, fans are the most delicate and feminine accessories there can be. They have a very special place in my heart.
One of the very first object I altered was a fan. And I loved it. Last year, inspired by Frank Garcia, I made a shabby chic pink altered fan. I gave it to a friend of mine who basolutely loved it and asked me to make a similar one, in mint/blue.
Therefore, I came up with this one :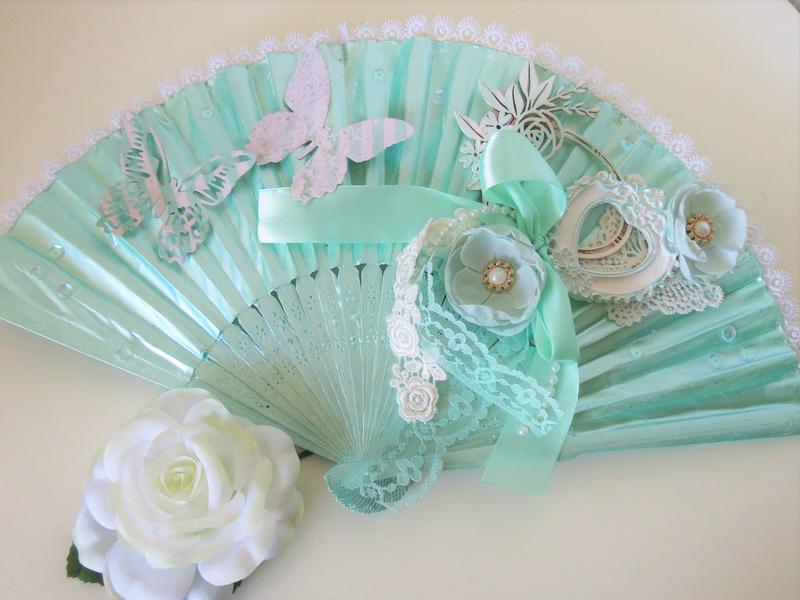 I used white gesso, mint paint, an hand-molded heart frame, a bit of mint gilding paste, Prima flowers, a chipboard piece, butterflies die cuts and lots of ribbons and trims (lace, satin...), and of course, some 3D gel to keep everything in place.
I think it is absolutely adorable. What do you think ? You can see below more details.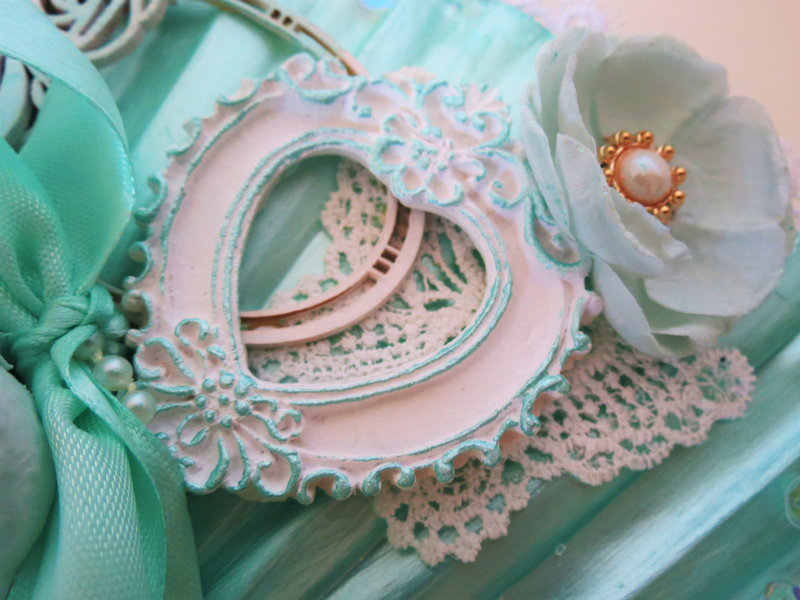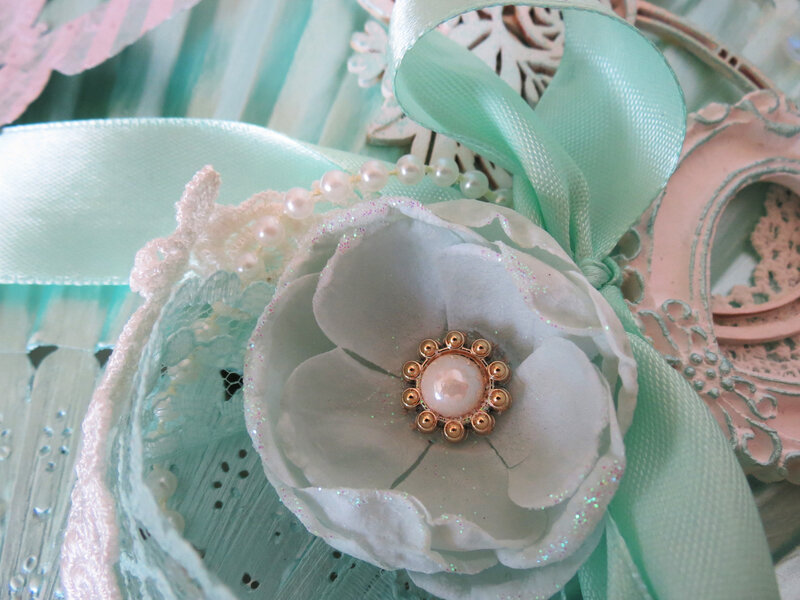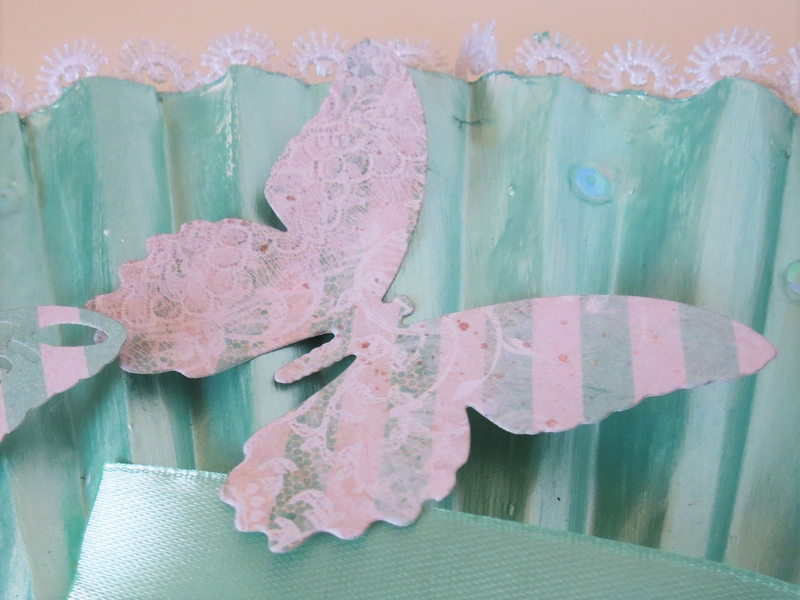 This fan is my entry to the Creative Artiste Mixed Media Challenge 48. Come an play along with us, you still have time (9 days)!
Also, don't hesitate to comment below, I am always happy to hear from you!
Hello Everyone !
Today I am sharing with you my entry to the March Bleeding Art Challenge.
I had an old jewelry holder in my stash for a while, and when I saw Cathy's little fairies, I knew what I had to do...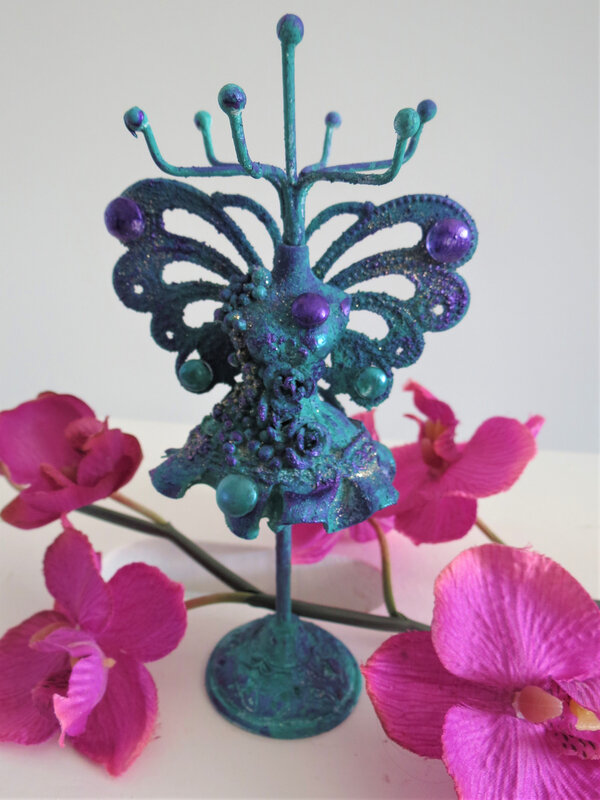 For this project, I added wings to my jewelry holder together with tiny metal roses, glass cabochons and art stones. I also used white gesso, rust effect paste from Finnabair in purple and turquoise, some embossing powder for the glitter and I painted the cabochons with Finnabair's metallic acrylic paint Crocus Field and Mermaid teal.
What do you think ? Here come some details :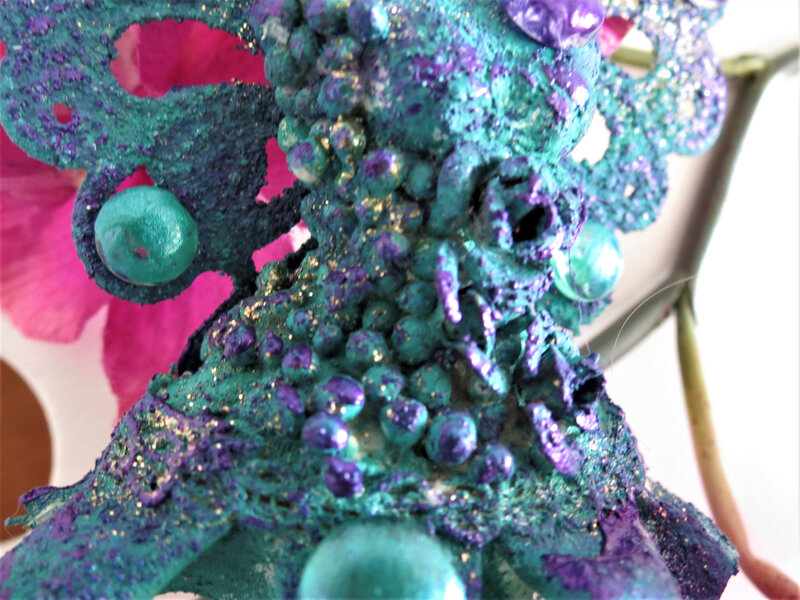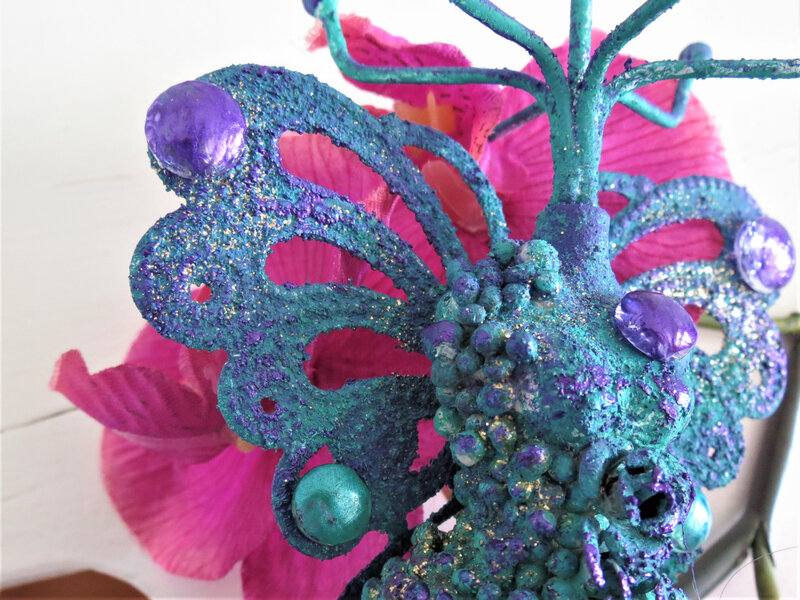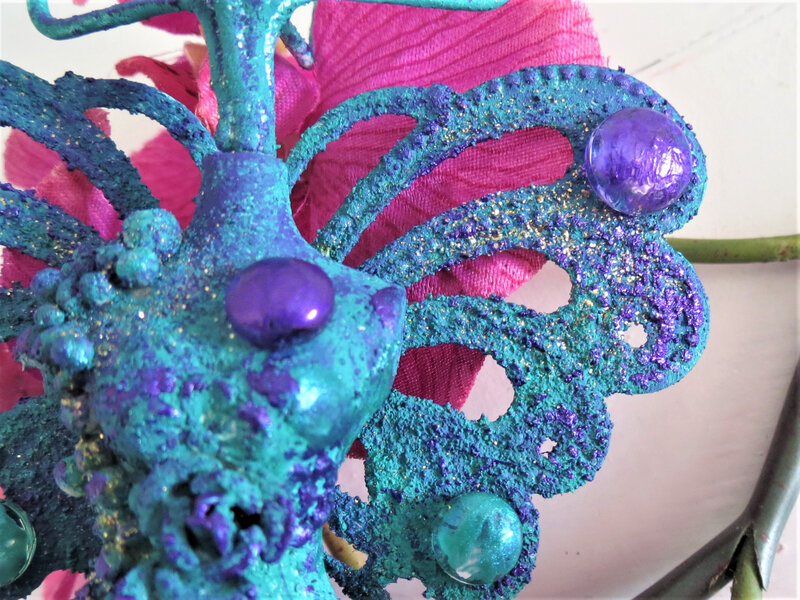 I love to hear from you so don't hesitate to comment !
See you soon with another post !
Hello, Mixed Media lovers !
Today, I am sharing my entry to the Simon Says Stamp Monday challenge "Miniature/Tiny things".
A few months ago, I ordered from a bead shop and received a tiny heart shaped tin box full of peppermint candies...
I decided to keep it and to do something with it...
Originally, this tiny box looks like this :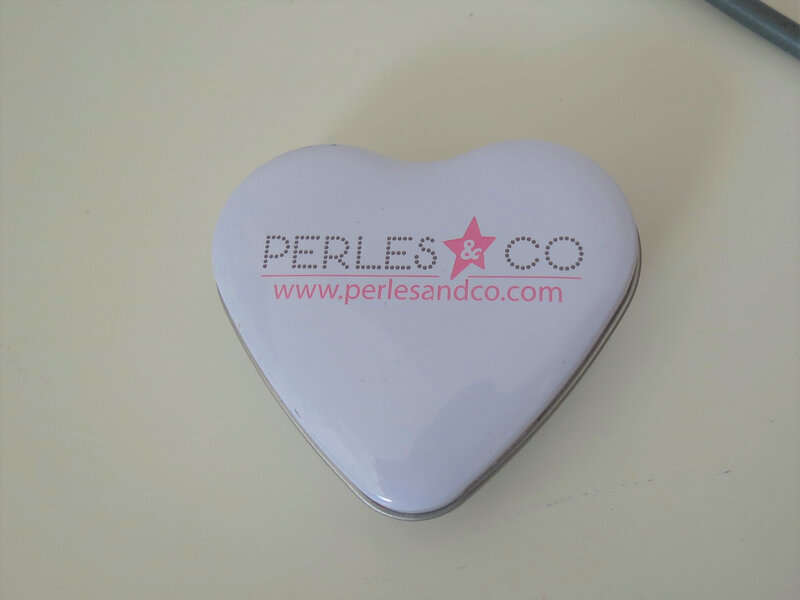 Here is the final result :
To alter this box, I started by sanding it so my mediums would adhere better. I applied one coat of black gesso on the box and on my embellishments (except for the cabochons). Then I glued all my embellishments and covered the whole box with Finnabair's Art Extravagance rust paste in Cool Grey ("Old walls" set) and in Lavender ("Junkyard treasures"set). I added two coats of the rust pastes, trying to get a nice balance between the two shades.
Once everything was dry, I added a bit of Art Alchemy wax in white gold to highlight the tiniest details. And that was it, it was a super quick project, and very easy too.
What do you think ? See more details below and let me know in the comments !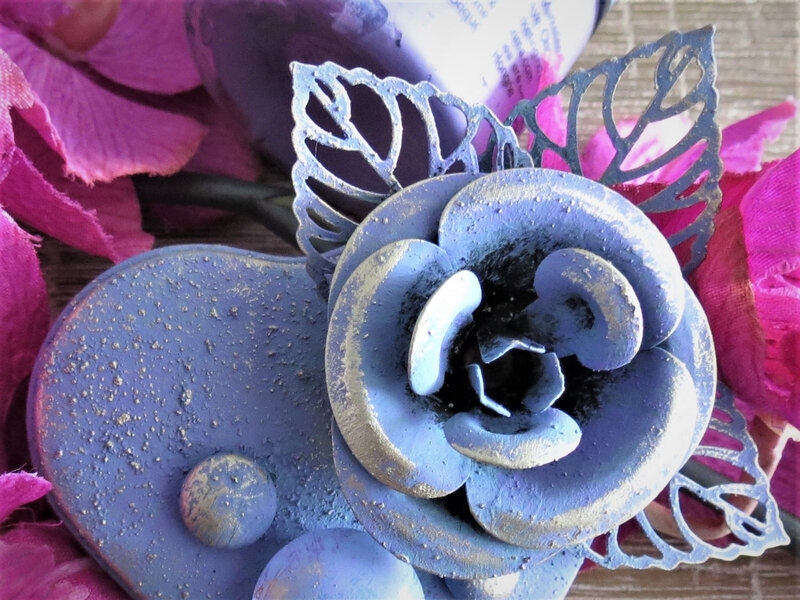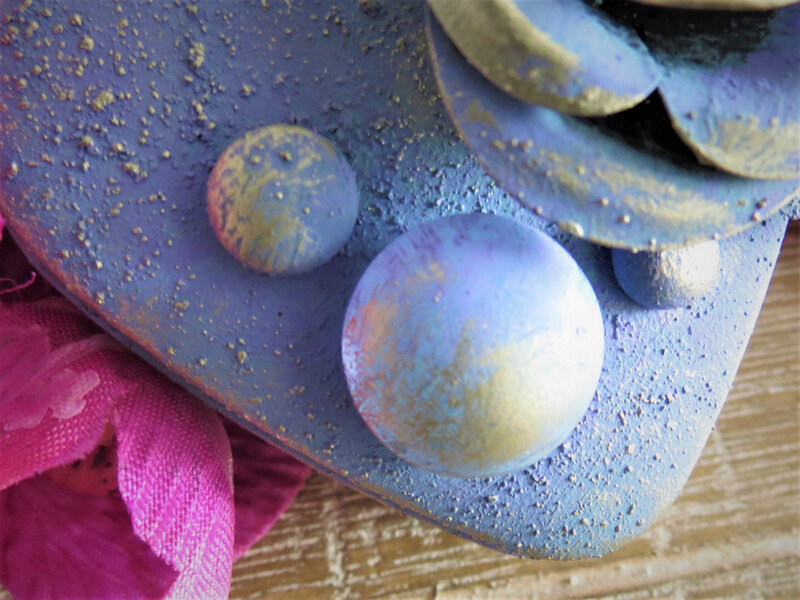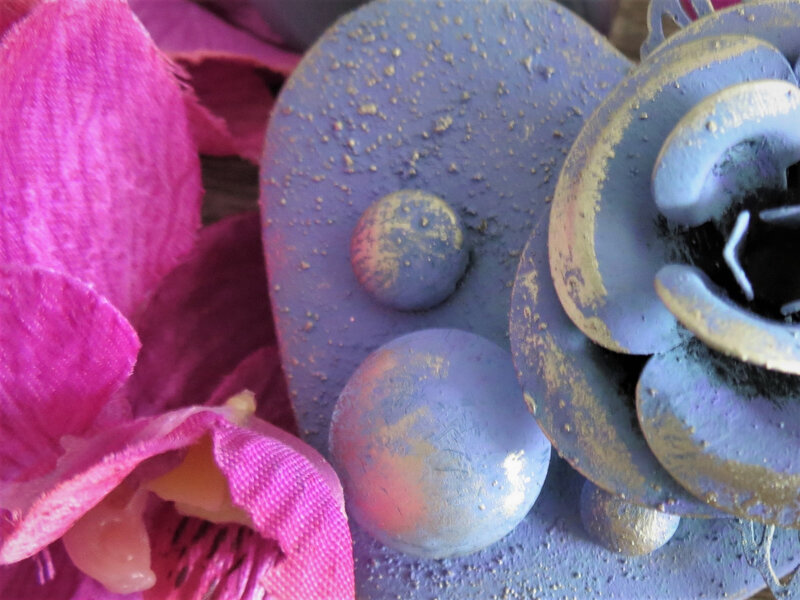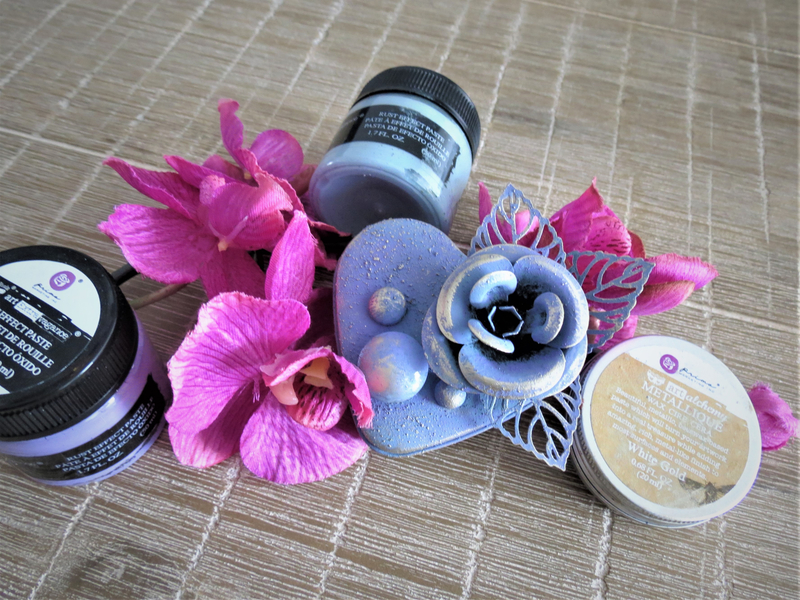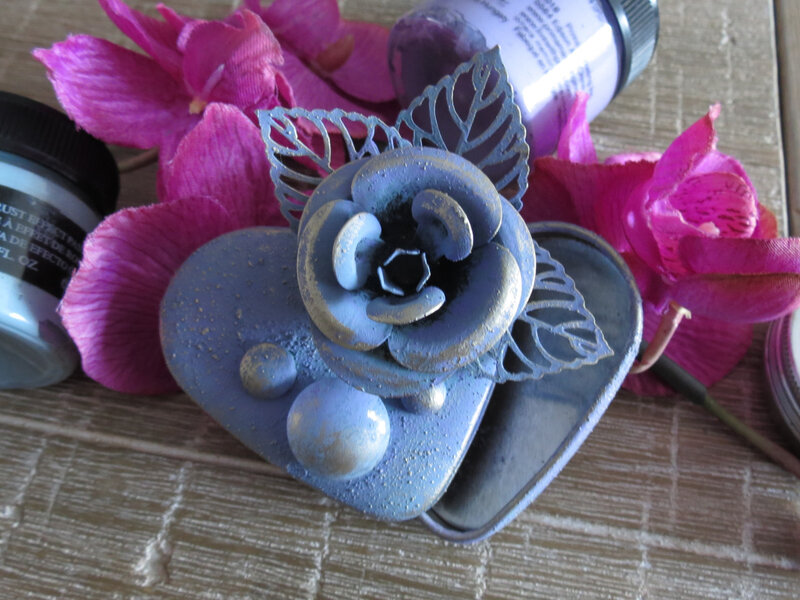 See you soon with another altered object (a jewelry holder this time).
Hi crafty friends !
Today I am sharing with you my entry for the Creative Artiste Mixed Media and Daily Art Cafe challenges. There is fabulous inspirational pictures on the CAMM blog, don't hesitate to go and check ! But what inspired me the most this month has been the moodboard from Art Daily Café and also the jar Ani Blumenthal created a few weeks ago. Everything was so green ! Green is one of my favorite colours, together with blue and purple and I was really happy to use green again. I love Ani's jar, it is gorgeous and I made one similar.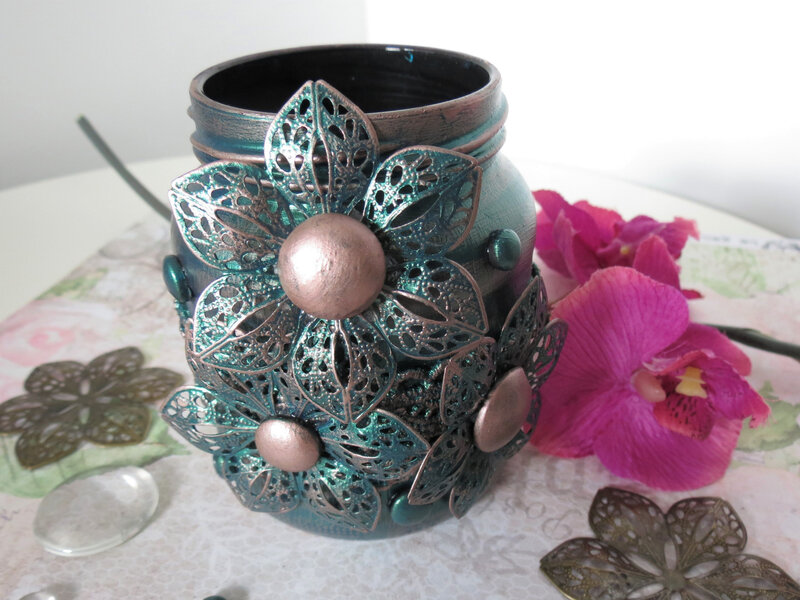 I covered my jar with black gesso, glued a trim of lace and covered everything with black gesso again. I painted my embellishements (metal flowers and glass cabochons) with black gesso.
Once everything was dry, I added two coats of Art Alchemy metallic acrylic paint in Emerald green by Finnabair.
Then I added some rose gold wax (art alchemy, Finnabair forever :)) here and there on the jar and the lace, on the cabochons that constitue the center of the flowers and I glued all my embellishments with glue (for the cabochons) and with 3D gel for the full flowers.
And it was done ! Here come more details :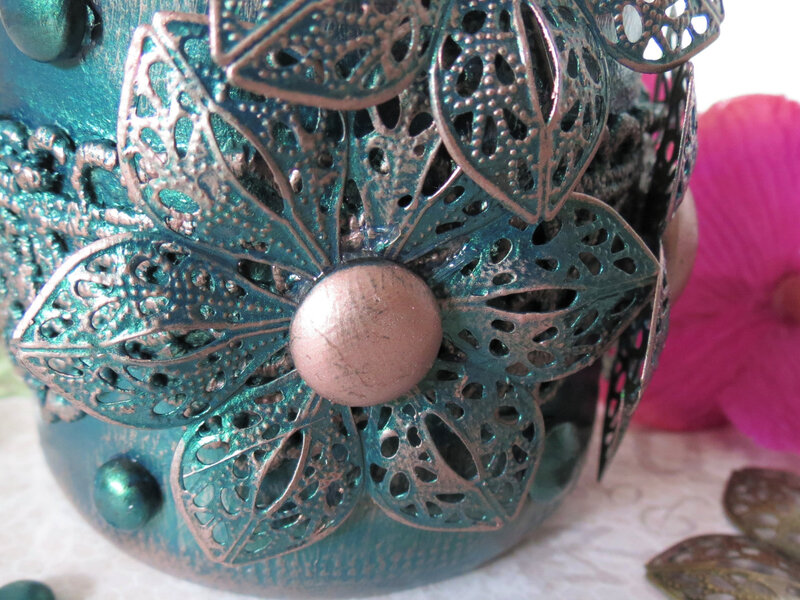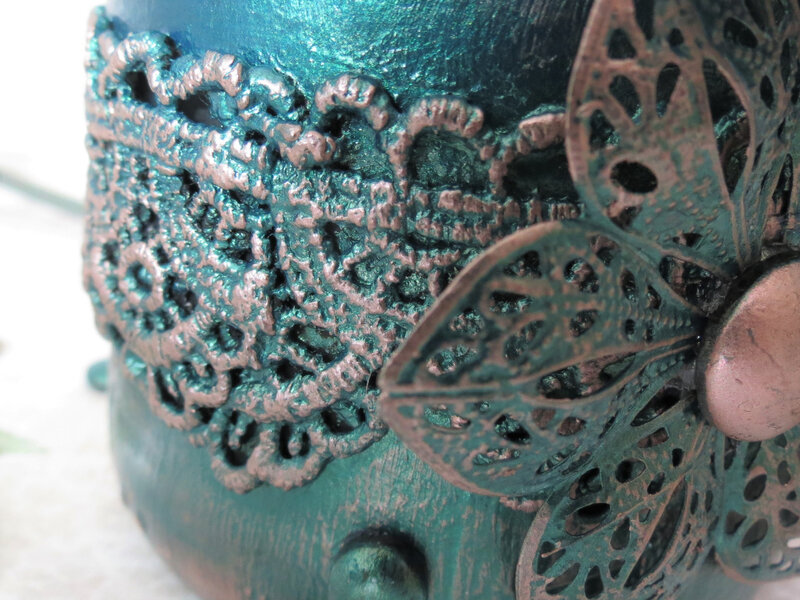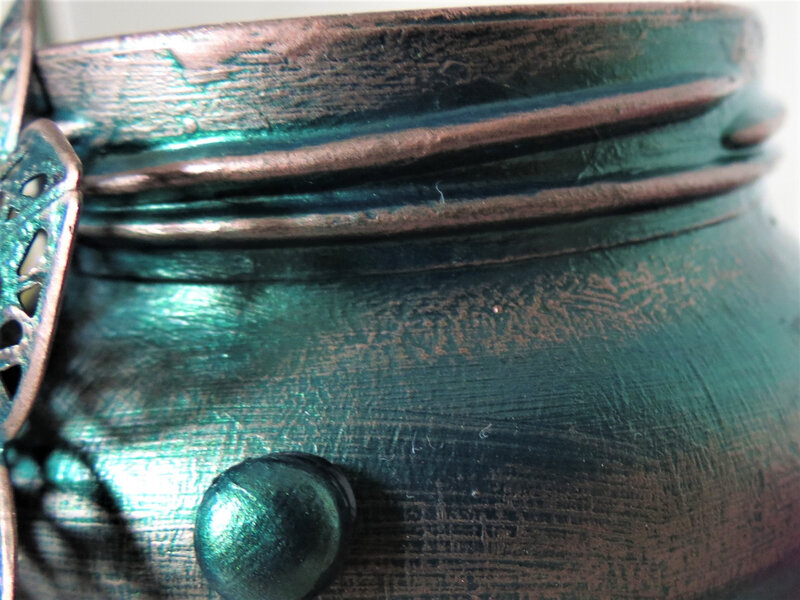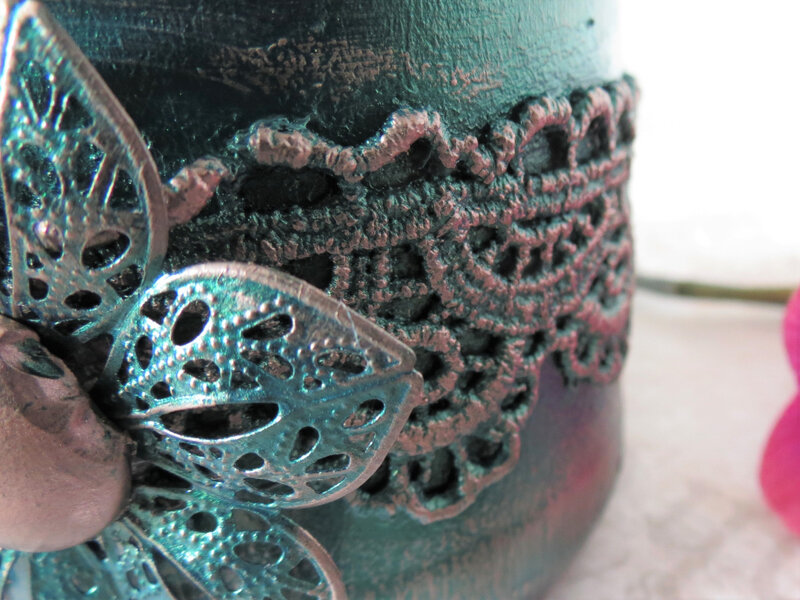 What do you think ? Please let me know in the comments, I would love to hear from you !
See you soon with another post !
Today is the day ! The day of our second blog hop together with Connie can crop !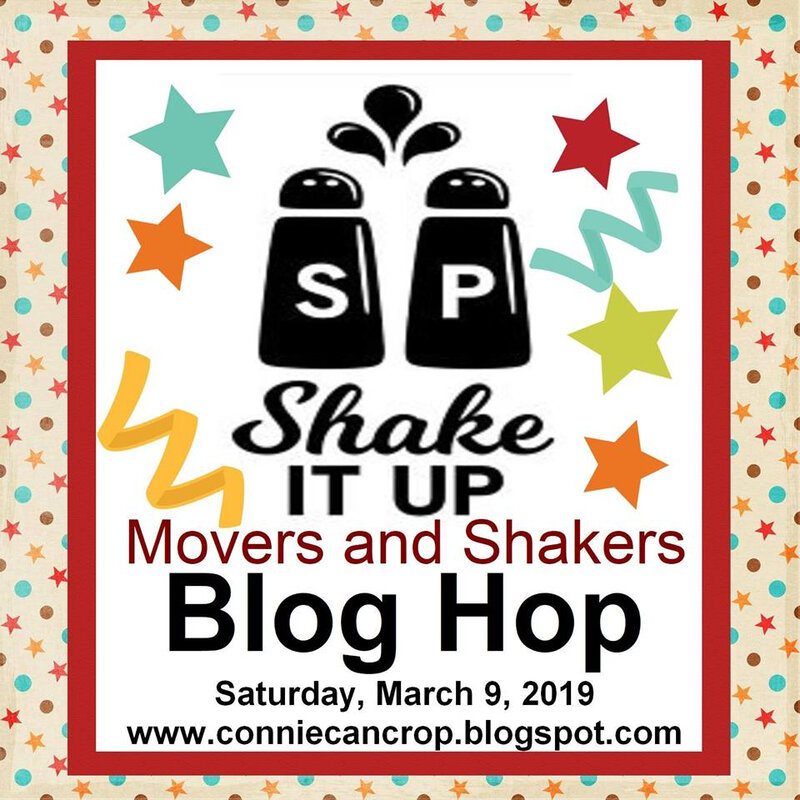 And it's also Connie's birthday, so Happy birthday, girl ! Enjoy it to the fullest !
This is a blog hop featuring projects with parts that either move or shake.
You should have arrived from

Amanda

but if you didn't head over to
This is a one day blog hop, but you have until Sunday at 10pm to finish hopping and leaving your love for all of these talented crafters.
We have three awesome sponsors for this hop!!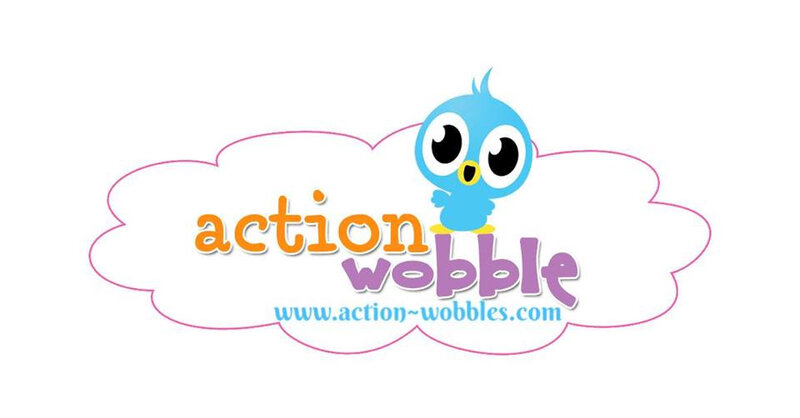 Action Wobbles is giving away a 13 pack of Wobbles!!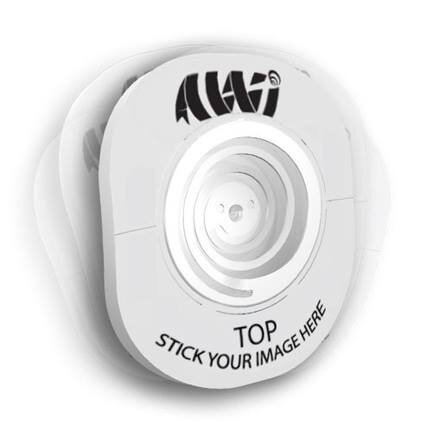 And
Wendy Bellino

is giving away

Two (2) Club Scrap page formulas. Each includes thirteen PAGE FORMULAS with cutting instructions (12x12 scrapbook format). Delivered as printable .pdf files.

What do you need to do to win? Easy... become a follower of each of the fabulous blogs in this hop and leave each of them a comment letting them know what you like best about their projects. Free Shipping to our USA friends but Worldwide will be asked to pay shipping if they win.

You will have until 10 pm Sunday to finish the hop and leave your comments on every blog to be eligible to win.
Be sure to follow everyone and leave a comment along the way!
I didn't have any inspiration to make a card for this blog hop, so I decided to make some fun shaker rings (or bubble rings as I like to call them)! These are colorful and so much fun to make and to wear ! You only need some ring bases, some empty cabochons, and some stuff to fill them in with
.
I made a few examples that you can see below :
The first one is one of my fav, rectangle filled in with a mix of Miyuki and seed beads in green, purple and gold tones :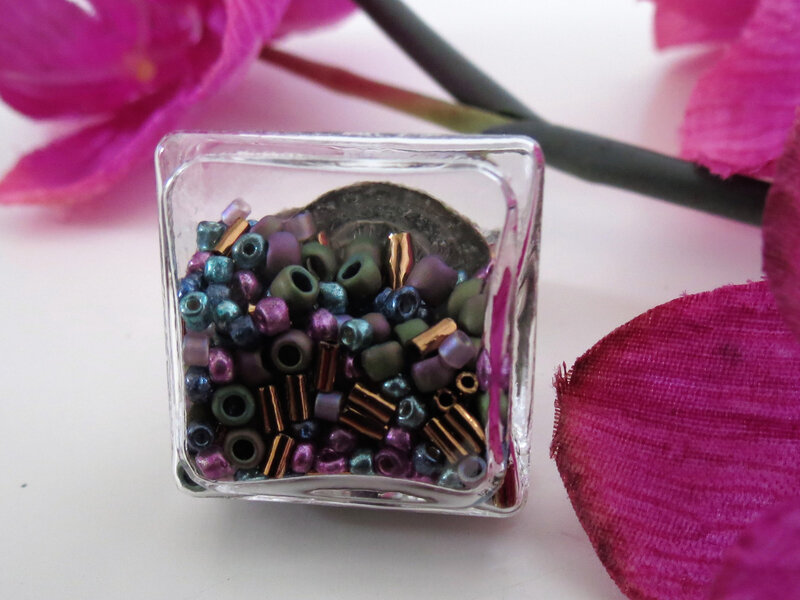 The second one is an adorable cloud with holo star glitter :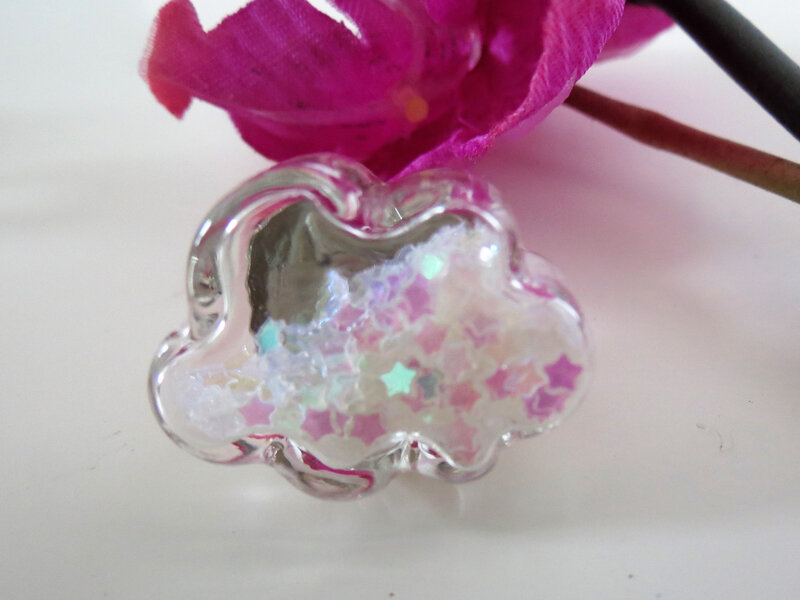 The two following ones are domes, filled in with some lovely polymer clay fruit miniatures a friend gave to me, peaches and oranges. Aren't they super cool ?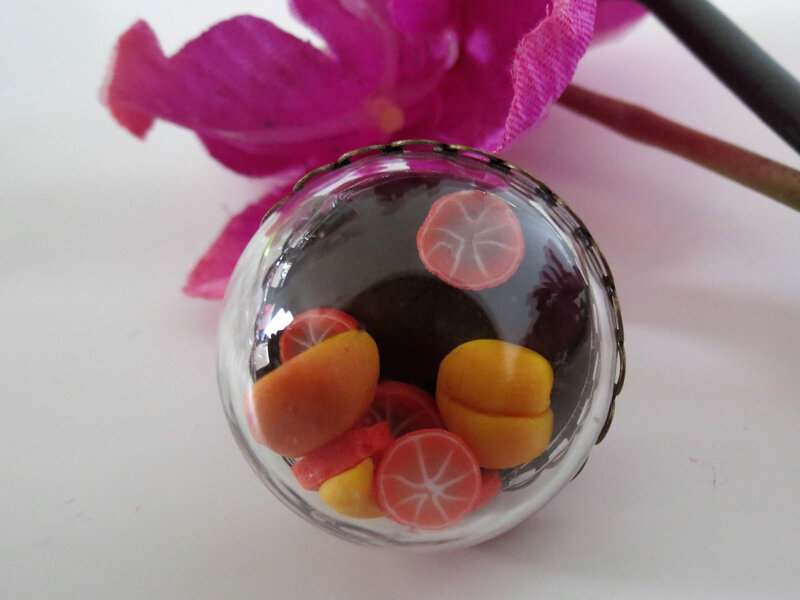 The next one is a round, filled in with a beautiful mix of Miyuki and seed beads in purple tones :
Two clouds are following, one with green microbeads and the second one has demineralized water and holo purple butterfly glitter.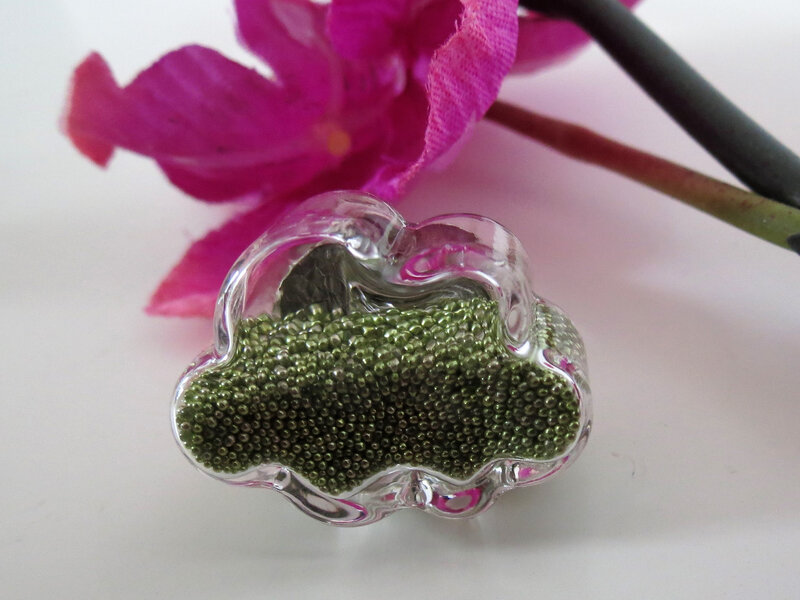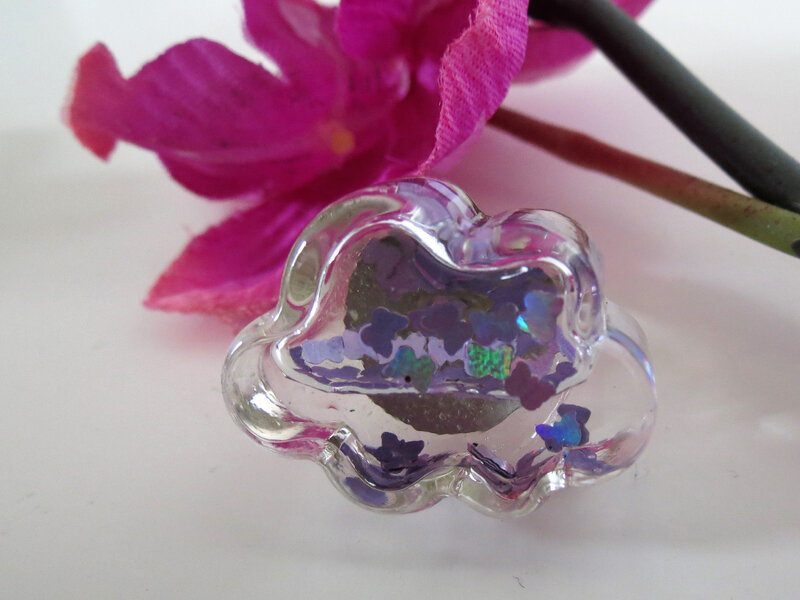 The last one is the tiniest of the bunch, a cute little round filled in with tinted demineralized water :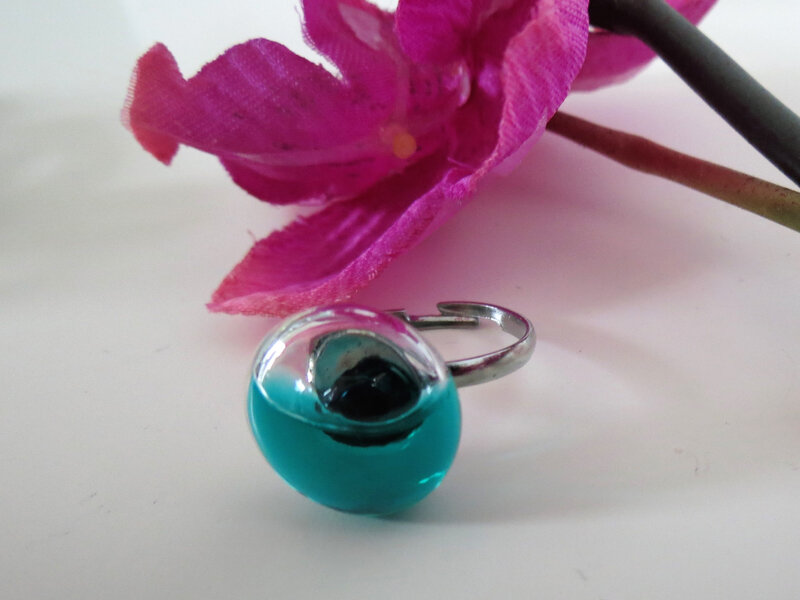 See ? You have many options in shapes and filling elements. And you can believe me when I say that when you start moving those little joyful treasures, you won't be able to stop looking at them. And they are so eye-catching!
For more fun, be sure to hop over to Alicia.

Here's our line up in case you get lost along the way.