Hello crafty friends !
Happy Easter to you all !
Today I am sharing with you my entry to the Daily Art Café challenge of April. The moodboard was all about Burgundy and the theme was Art Masters...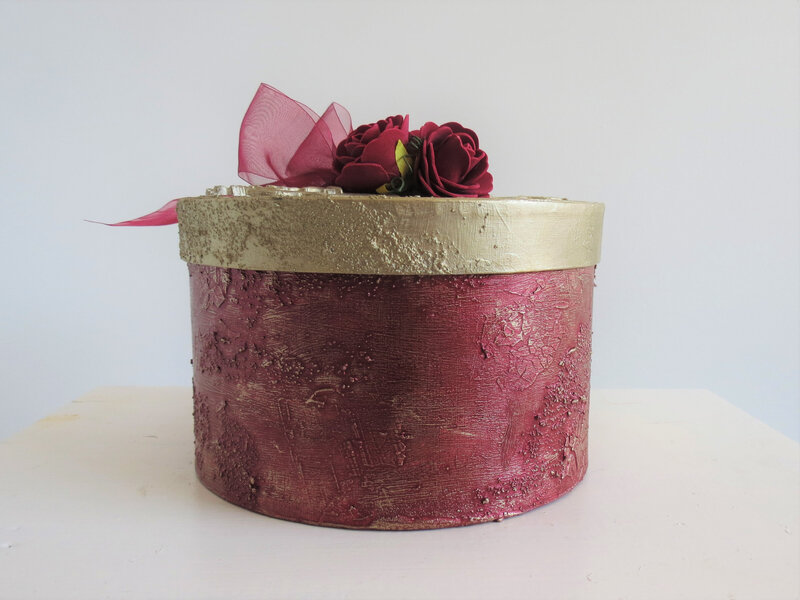 I have been really inspired by the colour and the flowers of the moodboard :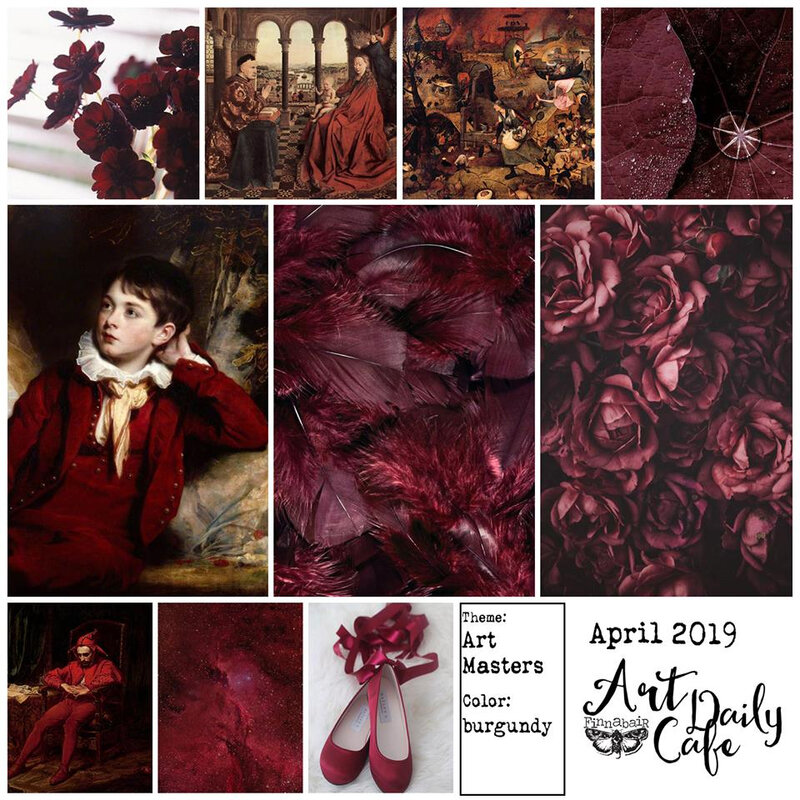 I started to alter this box a while ago, I added some sand paste (Finnabair), some Crackle paste (ranger) and I glued some tiny chipboard butterflies to the lid. I covered everything with white gesso and then I got stuck and didn't know how to continue. So I put the box aside for a few months and got it out again for my challenge. At the beginning, I thought I would use it for some transfer from Prima, but I can't find any of those big flowery ones here in the Netherlands and furthermore, the texture wouldn't help.
Therefore, I decided the Art Daily Café Challenge of this month would be the perfect occasion to finish this box.
I didn't have any burgundy in my Finnabair stash, so I mixed a bit of Art Alchemy Royal Red and a bit of Plum preserves. Isn't this shade of burgundy absolutely gorgeous ?
I covered the box itself with it and covered the lid with my White Gold wax. This one of the most perfect colour combination, isn't it ? I also highlighted a bit of the texture of the box with the same wax. I molded a piece of modelling clay in my Escucheon 1 Prima Mold and covered it with white gold wax. I cut it in half and adhered to the lid with some 3D Gloss gel. Finally, I glued three foam roses and a handmade bow with burgundy organza. See more details below :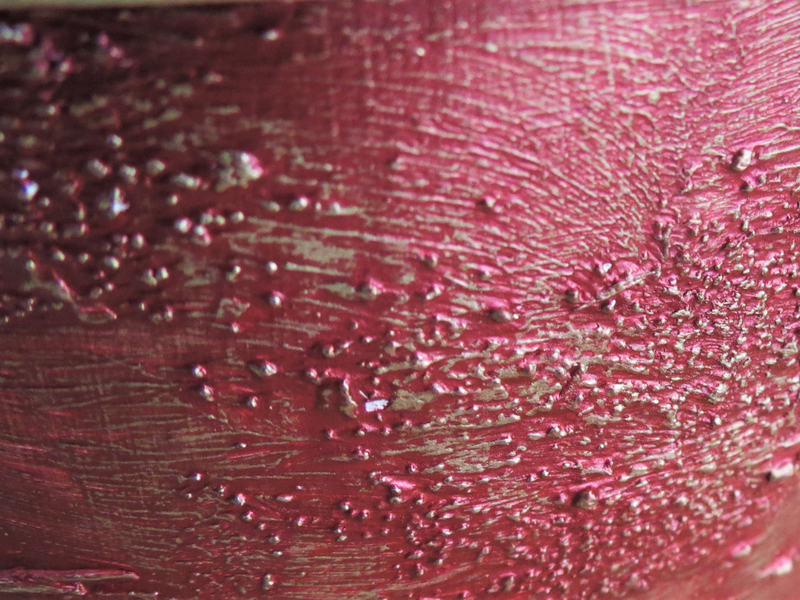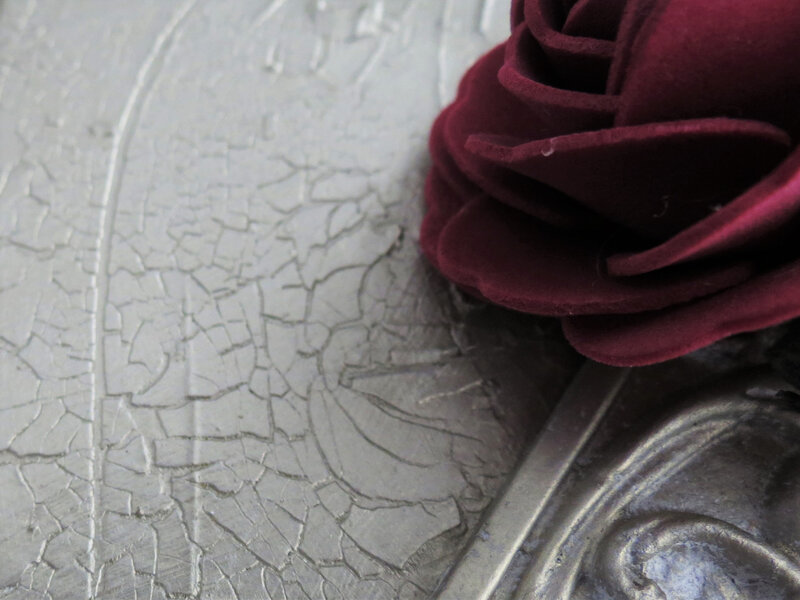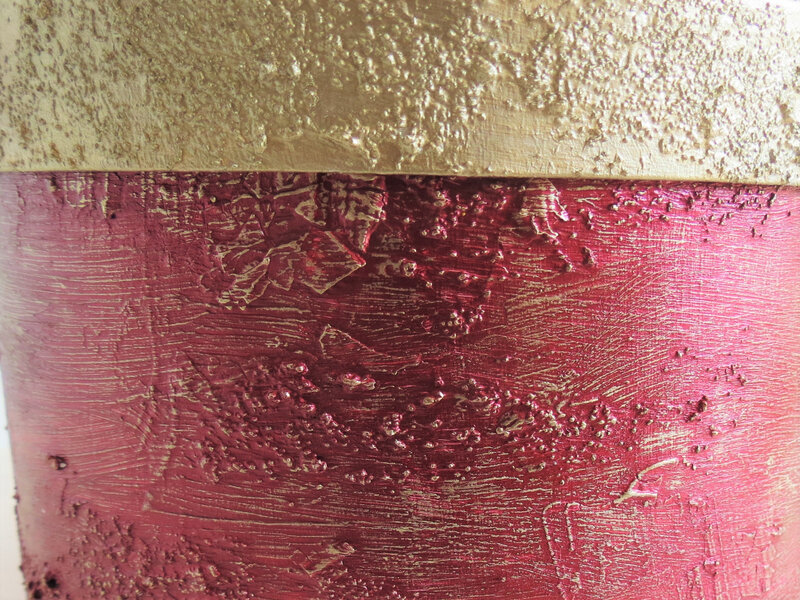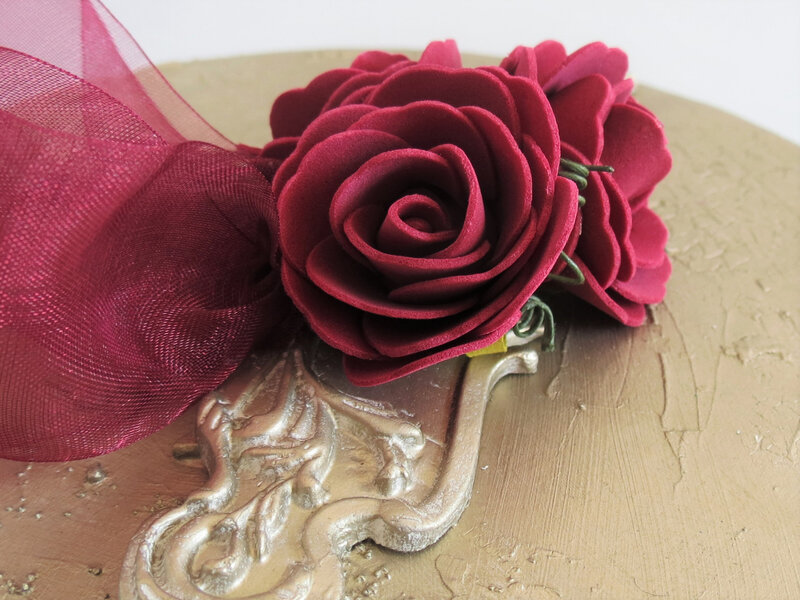 What do you think ? It is a quite simple project, but sometimes less is more...
Hello Mixed Media friends !
After a few weeks of absence, I am coming back with a new altered object: an altered fan.
In my opinion, fans are the most delicate and feminine accessories there can be. They have a very special place in my heart.
One of the very first object I altered was a fan. And I loved it. Last year, inspired by Frank Garcia, I made a shabby chic pink altered fan. I gave it to a friend of mine who basolutely loved it and asked me to make a similar one, in mint/blue.
Therefore, I came up with this one :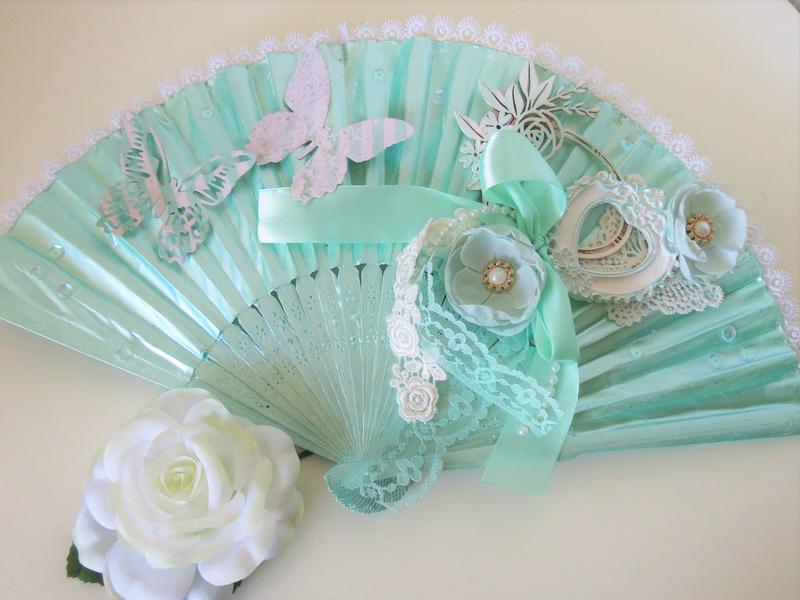 I used white gesso, mint paint, an hand-molded heart frame, a bit of mint gilding paste, Prima flowers, a chipboard piece, butterflies die cuts and lots of ribbons and trims (lace, satin...), and of course, some 3D gel to keep everything in place.
I think it is absolutely adorable. What do you think ? You can see below more details.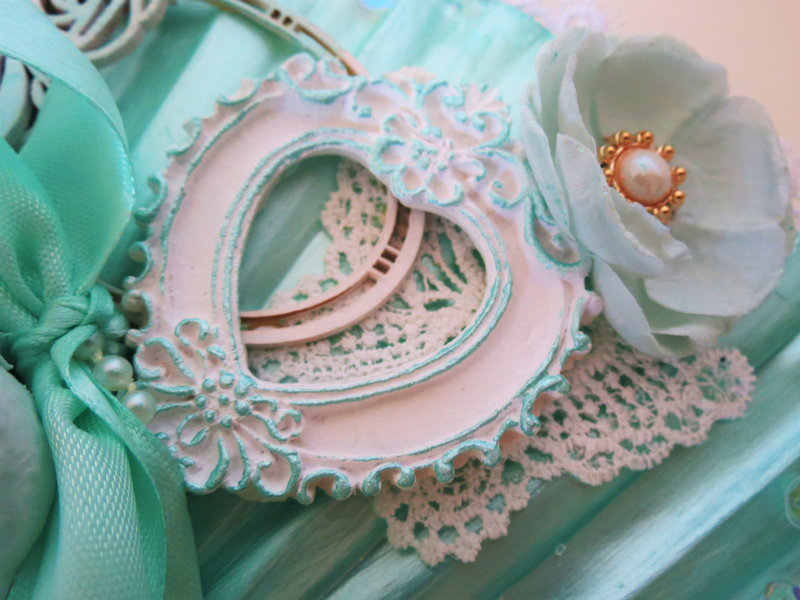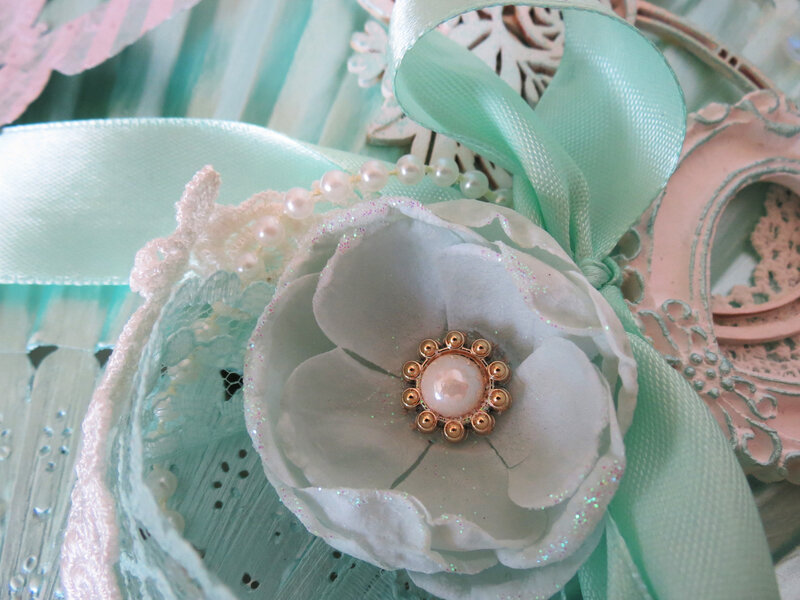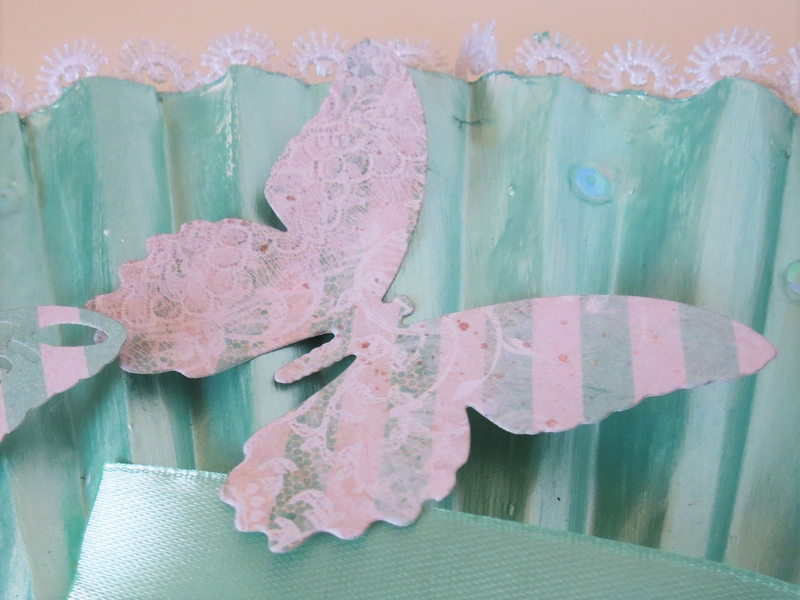 This fan is my entry to the Creative Artiste Mixed Media Challenge 48. Come an play along with us, you still have time (9 days)!
Also, don't hesitate to comment below, I am always happy to hear from you!
Hello Everyone !
Today I am sharing with you my entry to the March Bleeding Art Challenge.
I had an old jewelry holder in my stash for a while, and when I saw Cathy's little fairies, I knew what I had to do...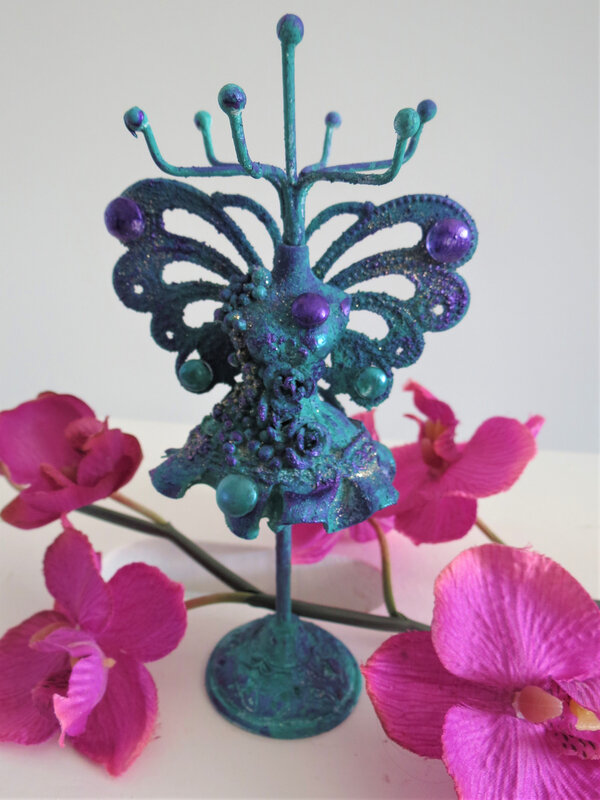 For this project, I added wings to my jewelry holder together with tiny metal roses, glass cabochons and art stones. I also used white gesso, rust effect paste from Finnabair in purple and turquoise, some embossing powder for the glitter and I painted the cabochons with Finnabair's metallic acrylic paint Crocus Field and Mermaid teal.
What do you think ? Here come some details :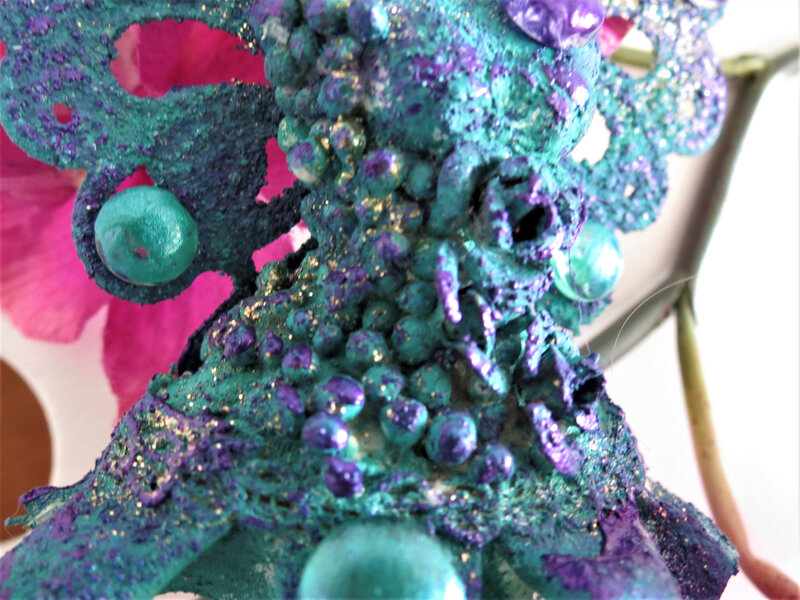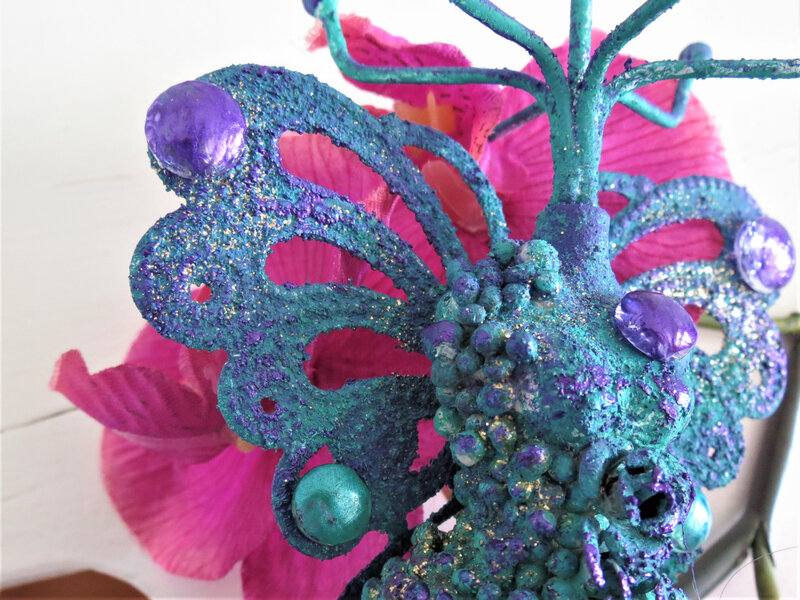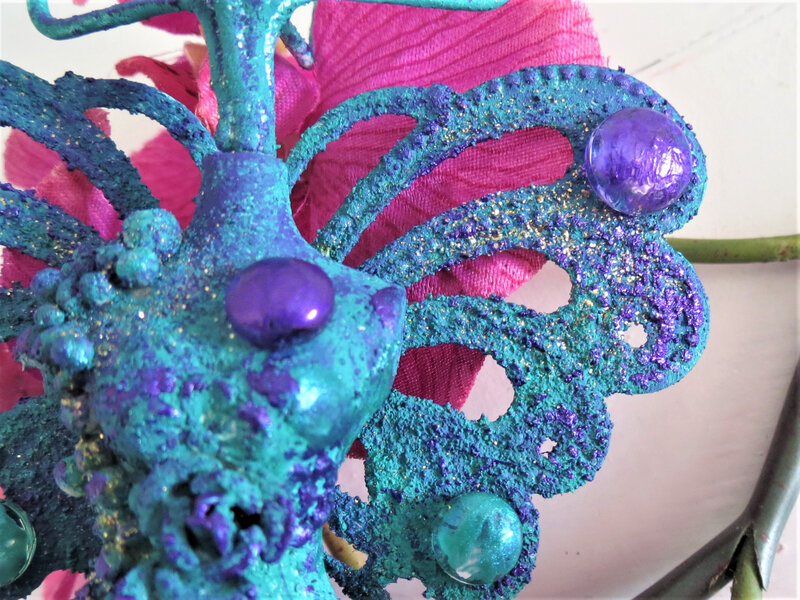 I love to hear from you so don't hesitate to comment !
See you soon with another post !
Hello, Mixed Media lovers !
Today, I am sharing my entry to the Simon Says Stamp Monday challenge "Miniature/Tiny things".
A few months ago, I ordered from a bead shop and received a tiny heart shaped tin box full of peppermint candies...
I decided to keep it and to do something with it...
Originally, this tiny box looks like this :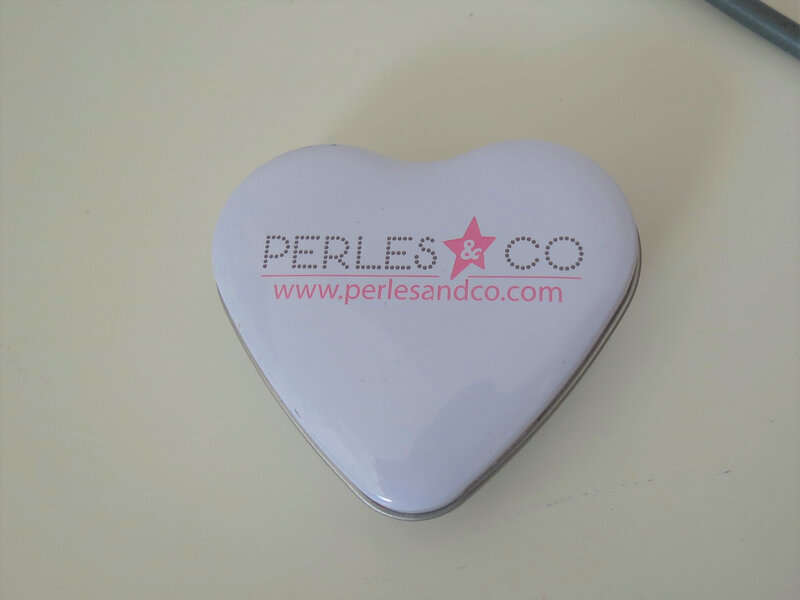 Here is the final result :
To alter this box, I started by sanding it so my mediums would adhere better. I applied one coat of black gesso on the box and on my embellishments (except for the cabochons). Then I glued all my embellishments and covered the whole box with Finnabair's Art Extravagance rust paste in Cool Grey ("Old walls" set) and in Lavender ("Junkyard treasures"set). I added two coats of the rust pastes, trying to get a nice balance between the two shades.
Once everything was dry, I added a bit of Art Alchemy wax in white gold to highlight the tiniest details. And that was it, it was a super quick project, and very easy too.
What do you think ? See more details below and let me know in the comments !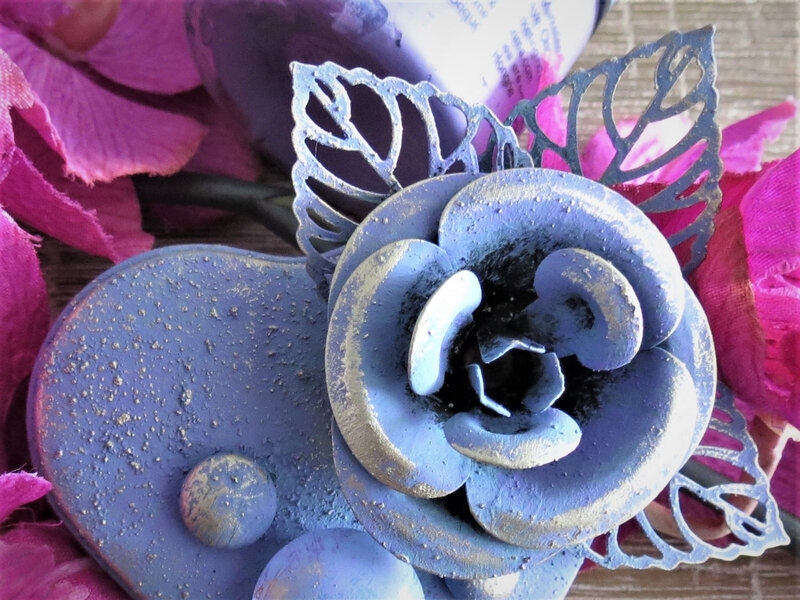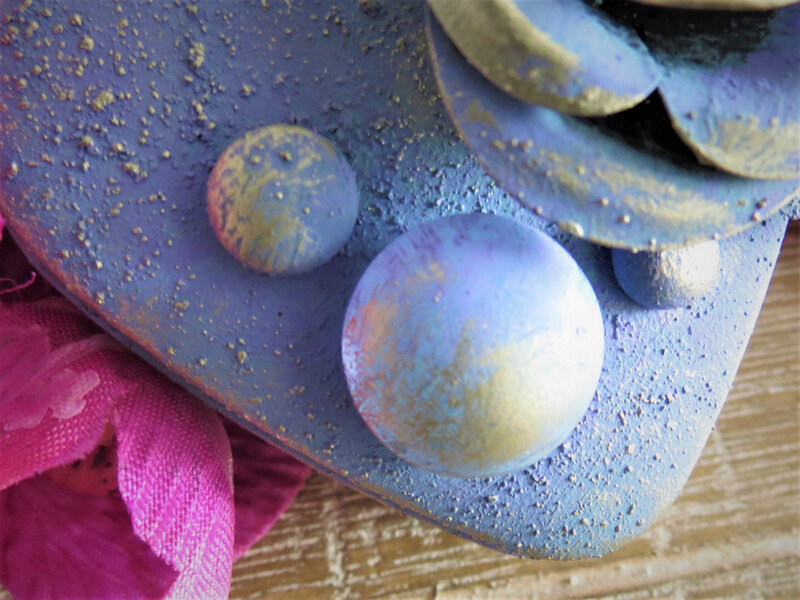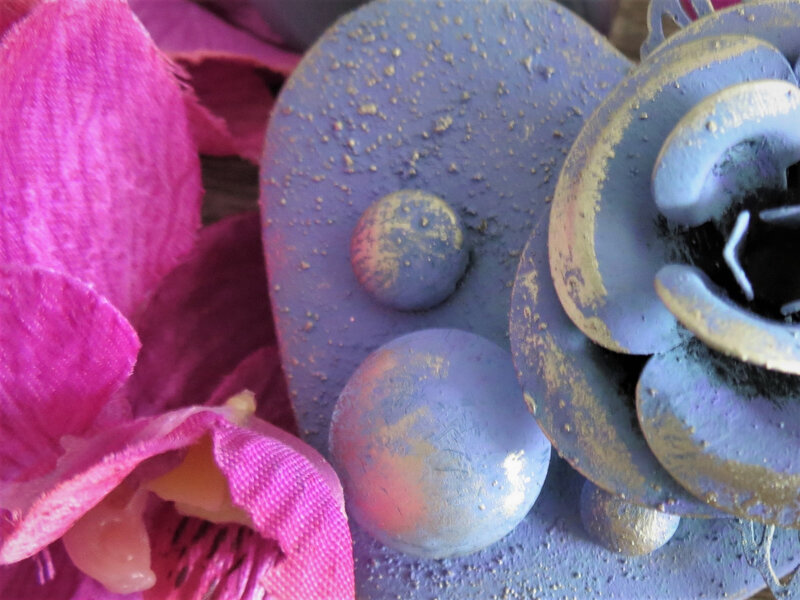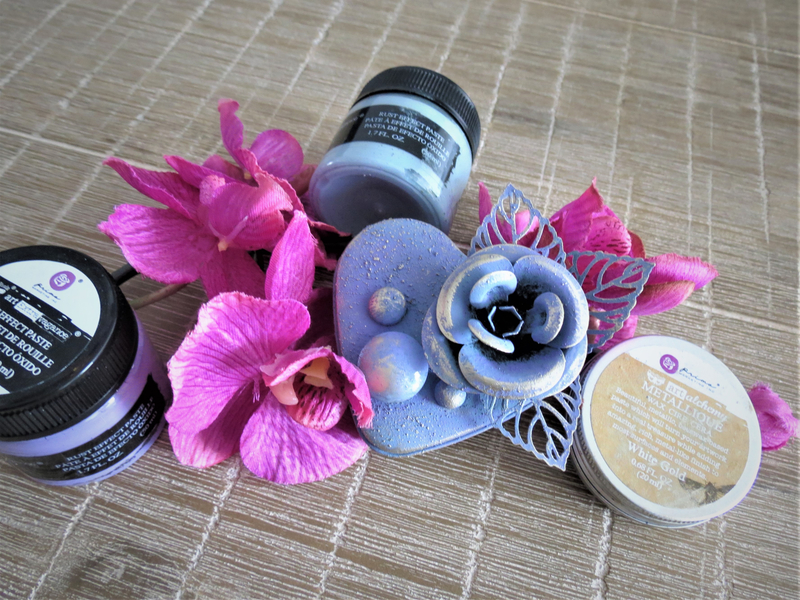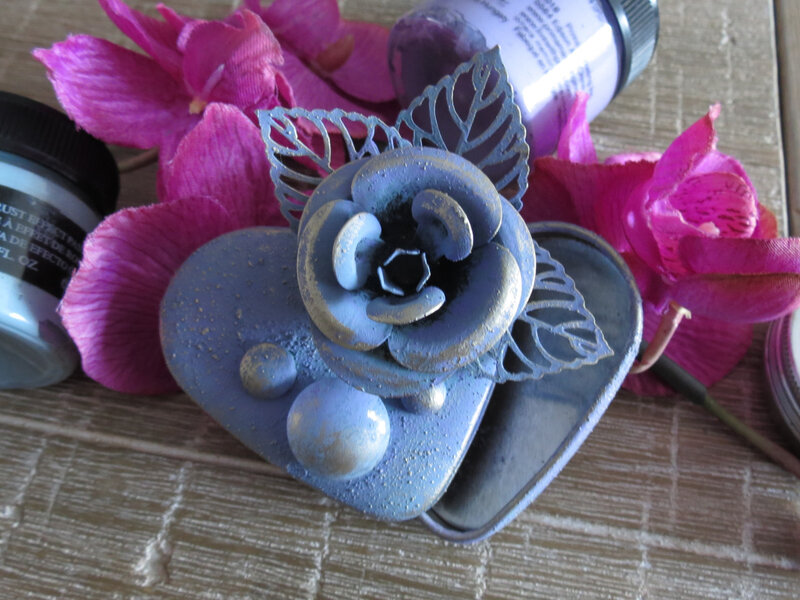 See you soon with another altered object (a jewelry holder this time).
Hi crafty friends !
Today I am sharing with you my entry for the Creative Artiste Mixed Media and Daily Art Cafe challenges. There is fabulous inspirational pictures on the CAMM blog, don't hesitate to go and check ! But what inspired me the most this month has been the moodboard from Art Daily Café and also the jar Ani Blumenthal created a few weeks ago. Everything was so green ! Green is one of my favorite colours, together with blue and purple and I was really happy to use green again. I love Ani's jar, it is gorgeous and I made one similar.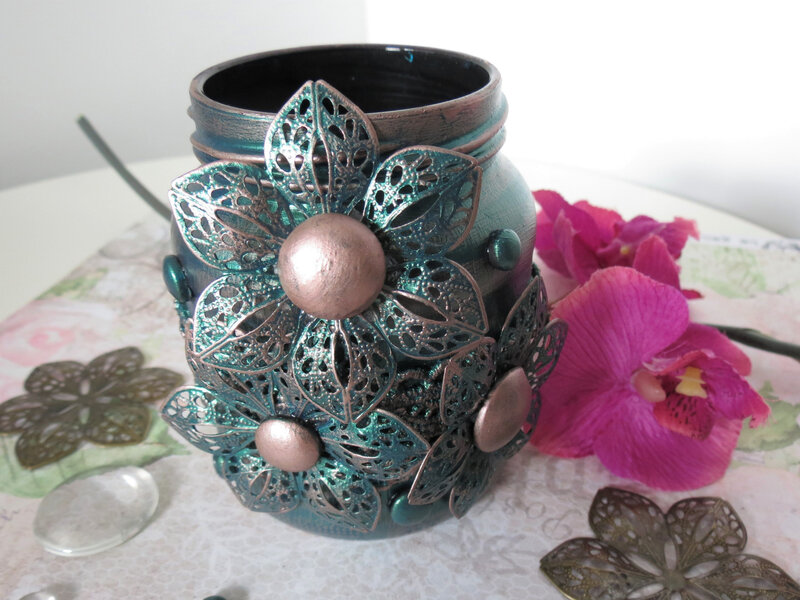 I covered my jar with black gesso, glued a trim of lace and covered everything with black gesso again. I painted my embellishements (metal flowers and glass cabochons) with black gesso.
Once everything was dry, I added two coats of Art Alchemy metallic acrylic paint in Emerald green by Finnabair.
Then I added some rose gold wax (art alchemy, Finnabair forever :)) here and there on the jar and the lace, on the cabochons that constitue the center of the flowers and I glued all my embellishments with glue (for the cabochons) and with 3D gel for the full flowers.
And it was done ! Here come more details :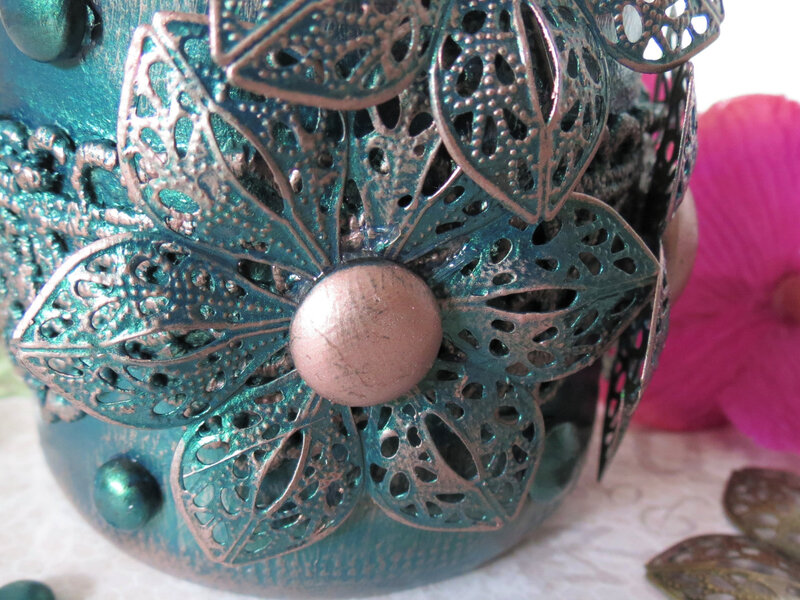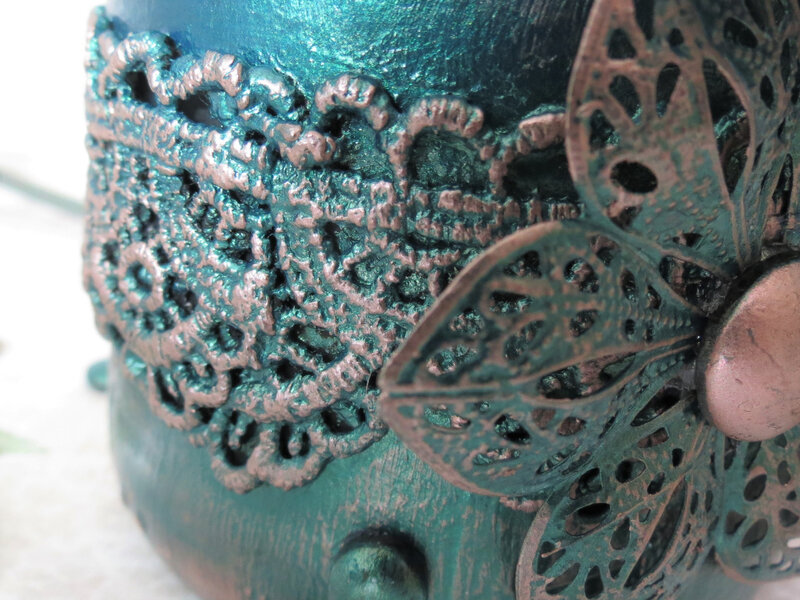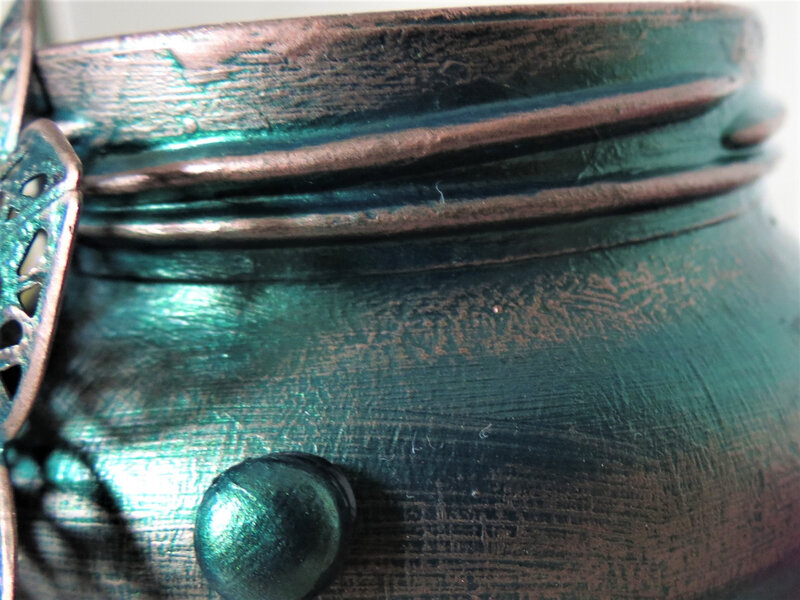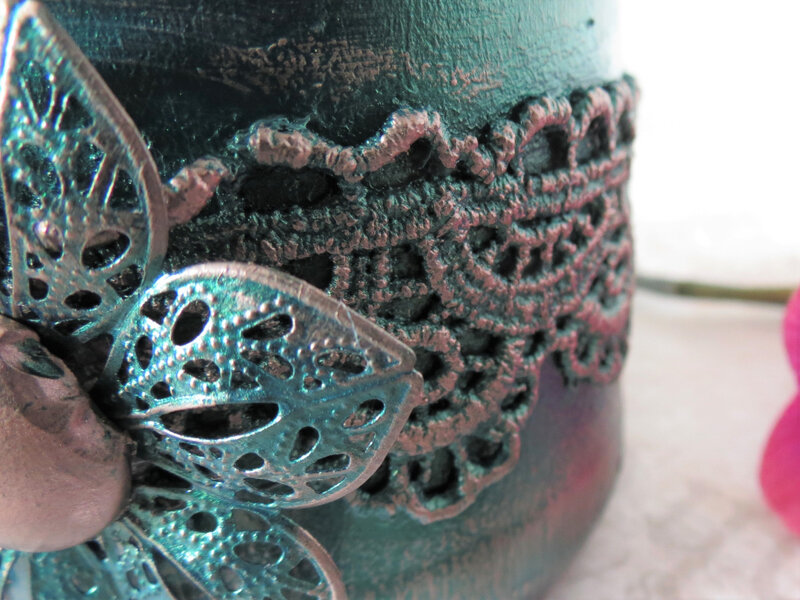 What do you think ? Please let me know in the comments, I would love to hear from you !
See you soon with another post !
Today is the day ! The day of our second blog hop together with Connie can crop !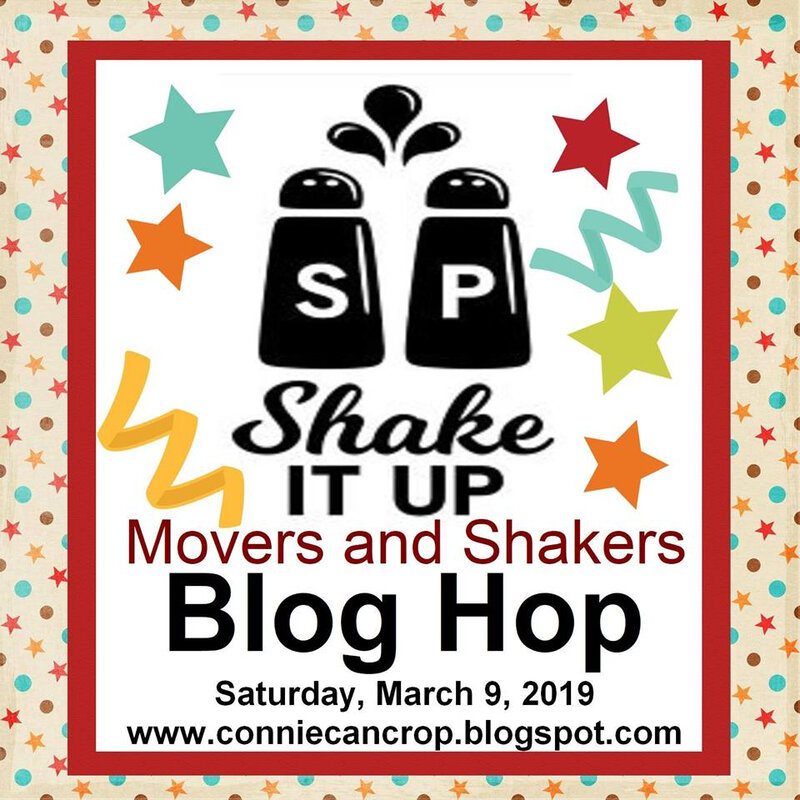 And it's also Connie's birthday, so Happy birthday, girl ! Enjoy it to the fullest !
This is a blog hop featuring projects with parts that either move or shake.
You should have arrived from

Amanda

but if you didn't head over to
This is a one day blog hop, but you have until Sunday at 10pm to finish hopping and leaving your love for all of these talented crafters.
We have three awesome sponsors for this hop!!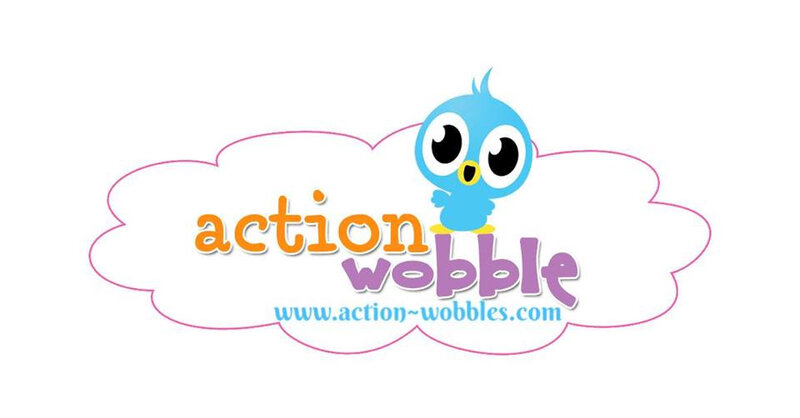 Action Wobbles is giving away a 13 pack of Wobbles!!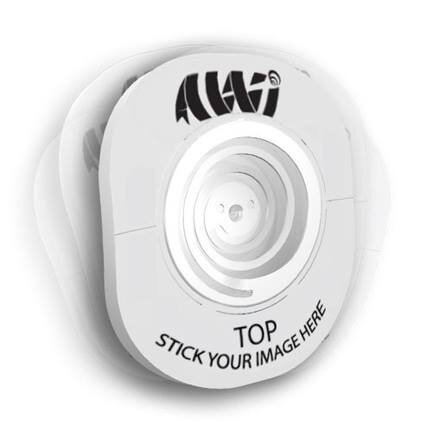 And
Wendy Bellino

is giving away

Two (2) Club Scrap page formulas. Each includes thirteen PAGE FORMULAS with cutting instructions (12x12 scrapbook format). Delivered as printable .pdf files.

What do you need to do to win? Easy... become a follower of each of the fabulous blogs in this hop and leave each of them a comment letting them know what you like best about their projects. Free Shipping to our USA friends but Worldwide will be asked to pay shipping if they win.

You will have until 10 pm Sunday to finish the hop and leave your comments on every blog to be eligible to win.
Be sure to follow everyone and leave a comment along the way!
I didn't have any inspiration to make a card for this blog hop, so I decided to make some fun shaker rings (or bubble rings as I like to call them)! These are colorful and so much fun to make and to wear ! You only need some ring bases, some empty cabochons, and some stuff to fill them in with
.
I made a few examples that you can see below :
The first one is one of my fav, rectangle filled in with a mix of Miyuki and seed beads in green, purple and gold tones :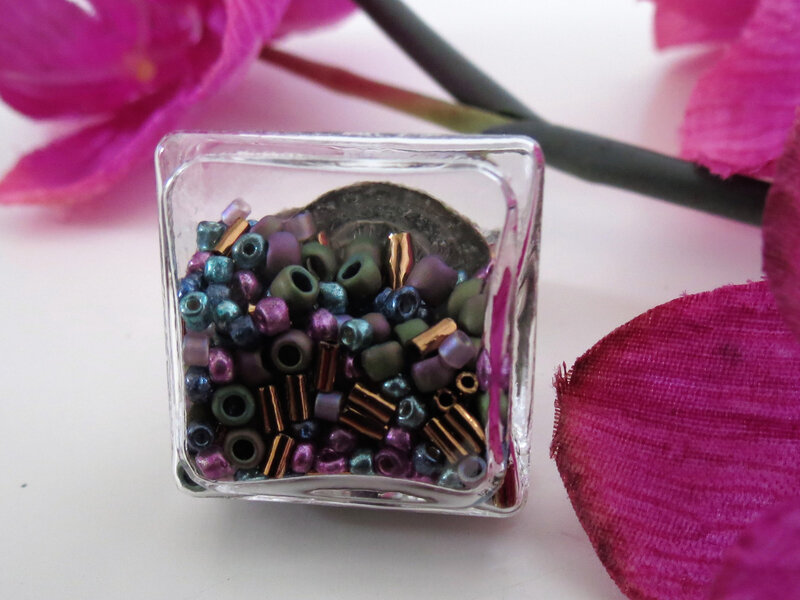 The second one is an adorable cloud with holo star glitter :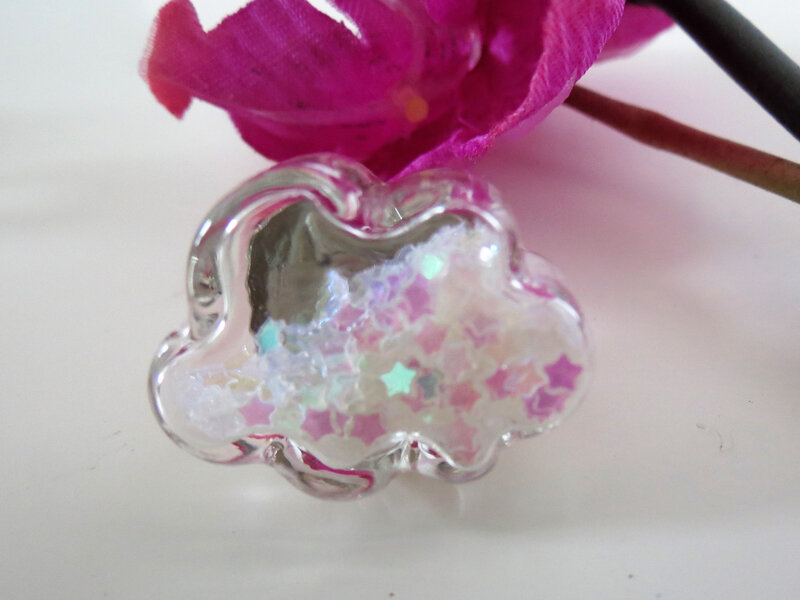 The two following ones are domes, filled in with some lovely polymer clay fruit miniatures a friend gave to me, peaches and oranges. Aren't they super cool ?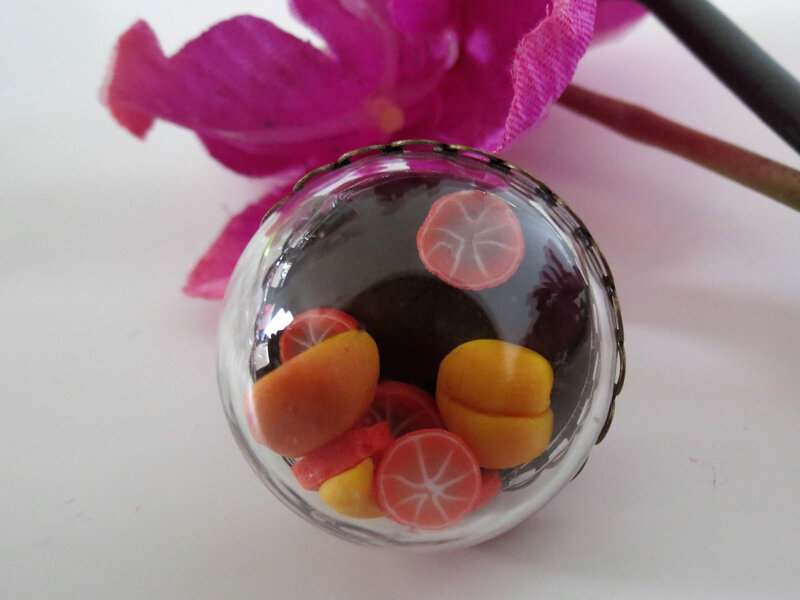 The next one is a round, filled in with a beautiful mix of Miyuki and seed beads in purple tones :
Two clouds are following, one with green microbeads and the second one has demineralized water and holo purple butterfly glitter.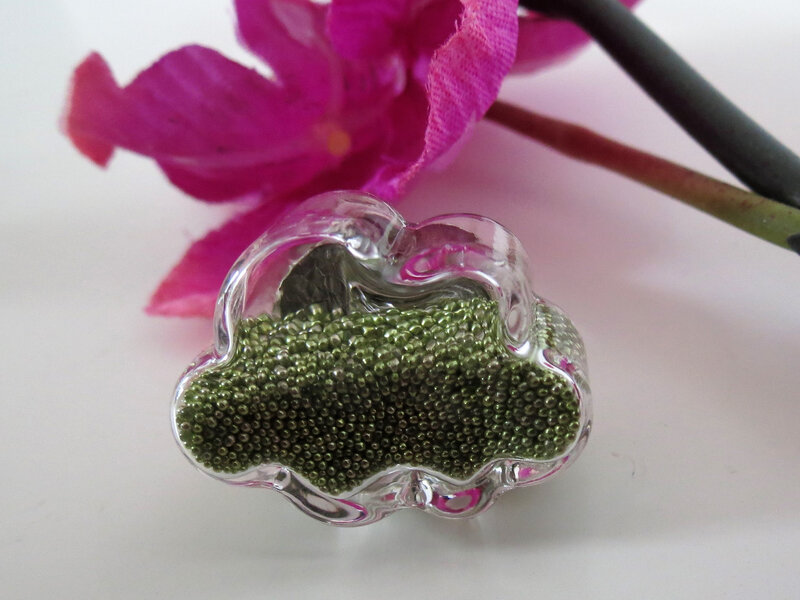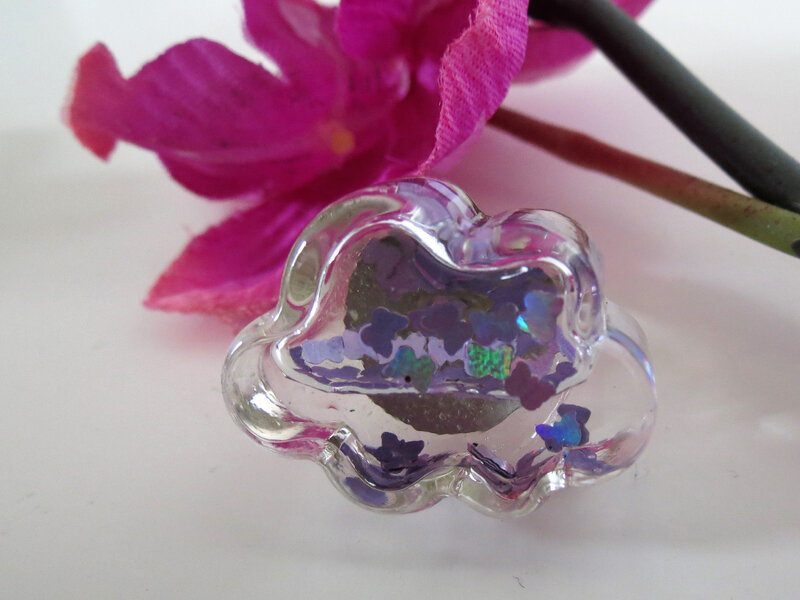 The last one is the tiniest of the bunch, a cute little round filled in with tinted demineralized water :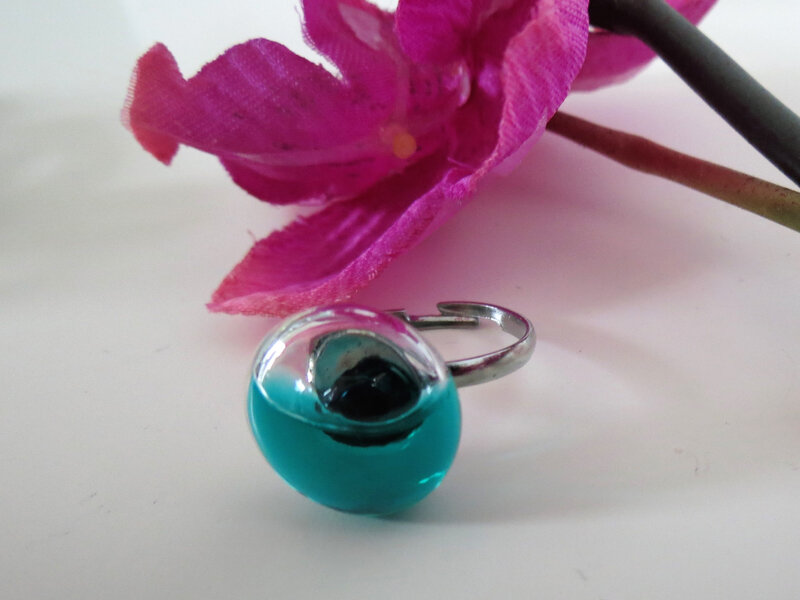 See ? You have many options in shapes and filling elements. And you can believe me when I say that when you start moving those little joyful treasures, you won't be able to stop looking at them. And they are so eye-catching!
For more fun, be sure to hop over to Alicia.

Here's our line up in case you get lost along the way.
Hello crafty friends !
Today is the day the new Simply Create too challenge starts !
This month is aything goes with an optional twist : for a male ! I must confess, I never know what to do for a man... So I decided to do something different, however not quite for a man :). So today is just not a Mixed Media project, just a scrapbooking project I have been inspired by a Facebook post I saw (I think it was on the Create with Prima group): a lady had created an envelop with the Moon child collection. And I decided to do the same !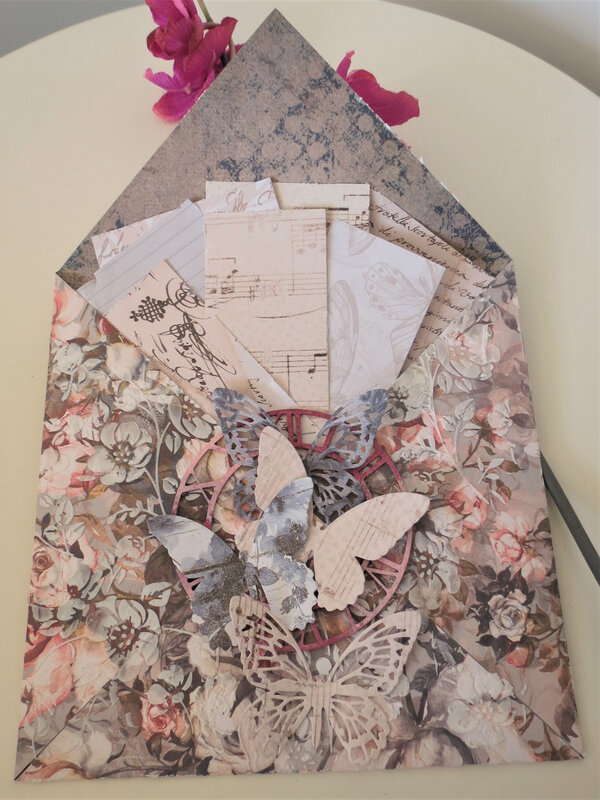 I used some paper from the Cheap store (and also Georgia Blues collection), a chipboard from SnipArt, some Finnabair's paints and I stenciled texture paste through my "Floral" Tim Holtz/Stamper Anonymous stencil (yes again...:D). I just love the effect of the stencil over patter paper !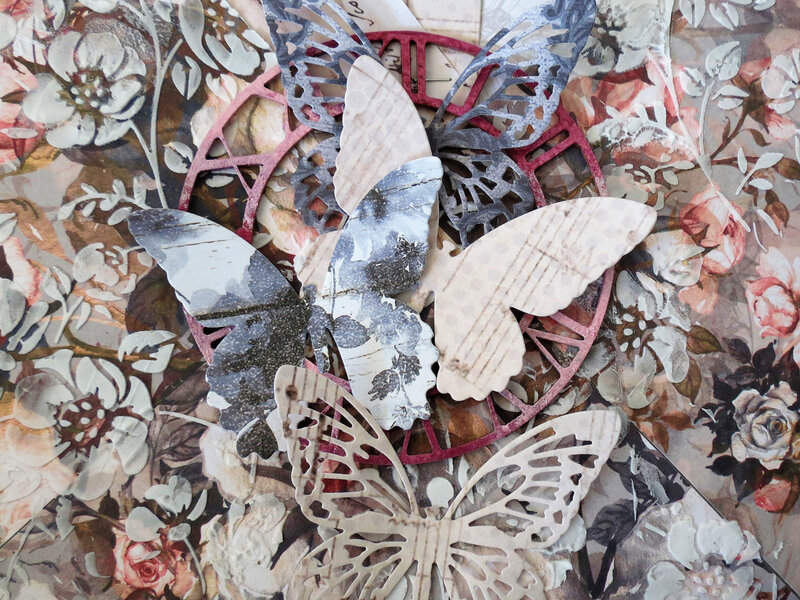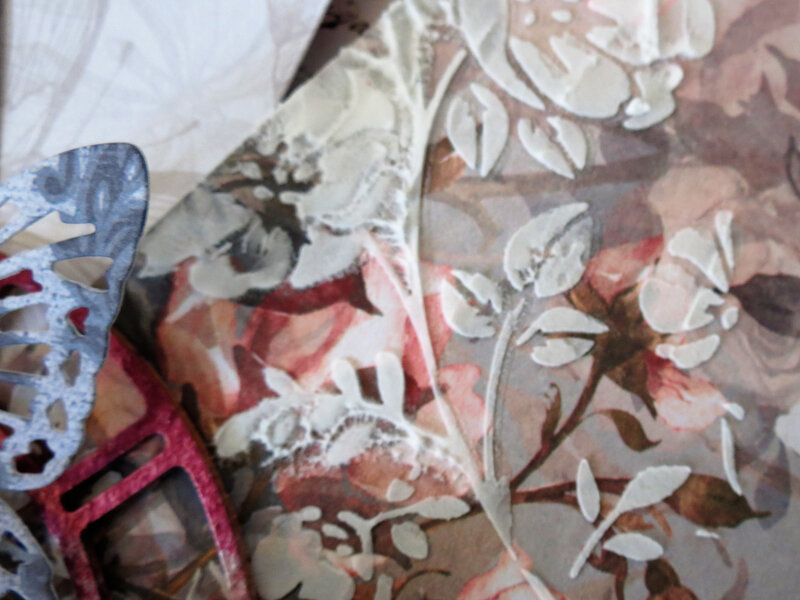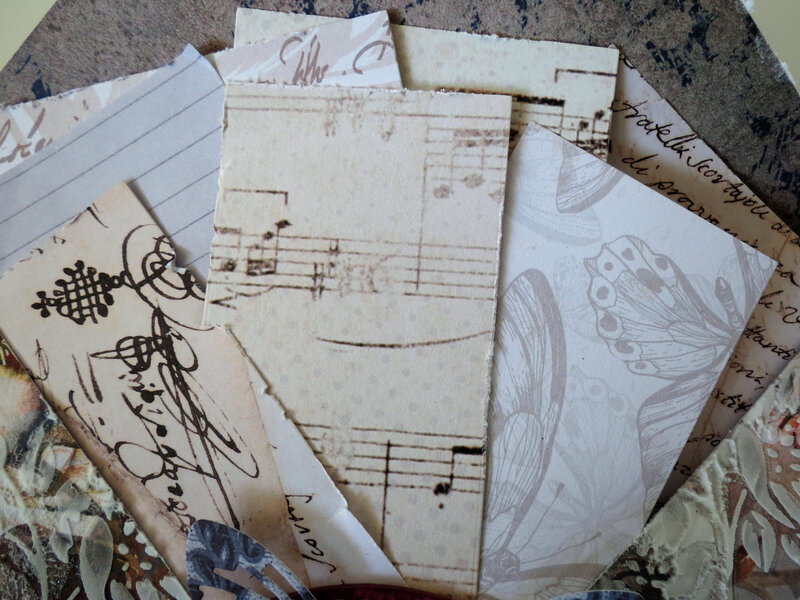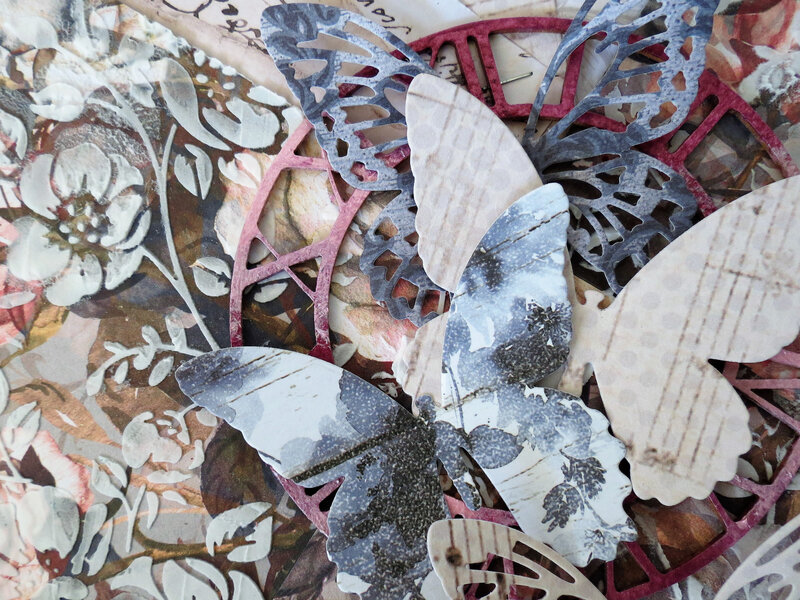 My envelop doesn't turn out as nicely as the one I saw on Facebook, but I still like it.
So I hope I inspired you for this challenge, don't hesitate to join us!
Hi all !
Another post ? It's like three days in a row ! It is because I have been creating quite a lot lately, but not posting my projects... I am justfixing this before next month and next round of challenges start... :)
This is why today I am sharing with you my project for Nomadic Sould Diary, an insta monthly challenge...
Three different rules, different sponsors and different "wandering stars" every month to challenge us ! Go take a look at their Instagram page and join us in this fun challenge!
This month rules are : create a layout, don't use photo, use strings !
This challenge was quite difficult for me in many ways : I usually don't create layouts and I have been using a color palette that is really unusual to me... ocres and browns (together with a tiny bit of pink, because I cannot really forget myself, can I ?).
But a picture tells more than words :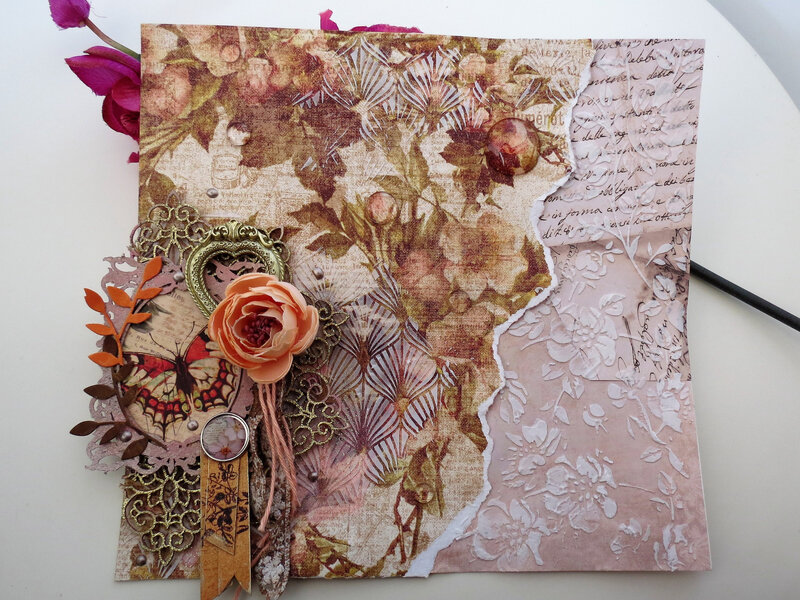 I used a Prima Marketing paper sheet from the Archivist Collection, called "Les Fleurs", in 30.5x30.5 cm. At the beginning, I thought I would use the full sheet, but I didn't like what I was doing, so I ended up tearing it in two and coordinating it with other papers. I glued everything on a piece of cardboard. I stenciled texture paste through my Floral stencil from Tim Holtz/ Stamper Anonymous (on the right) and on the left, I used my Classy Fan stencil from Echo Park. I created some drips with my Impasto boudoir pink and my Soft satin paint and I stared to create my focal point. On the stenciled texture paste, I glued some leftover of my mandala chipboard from SnipArt that I embossed with Wow gold embossing glitter. I added a butterfly tag that I cut out to taylor it to a chipboard frame (I found this one when I was on holidays in Spain last year) that I painted with Boudoir pink and soft satin. I glued some die cuts pieces of paper and glued everything on top of the chipboard.I added a gold resin heart frame, some banners that I cut out the same Prima paper (the back of it) and a brad. I created a tassel with white lace I stained with my Lindy's Van Dyke Sepia shadow moon mist and some peachy whool string.
I added a few glass cabochons in different sizes here and there and it was done !
See more details: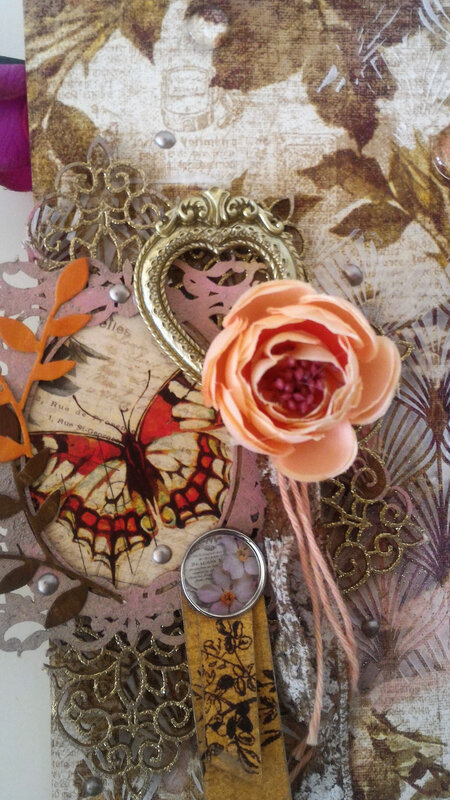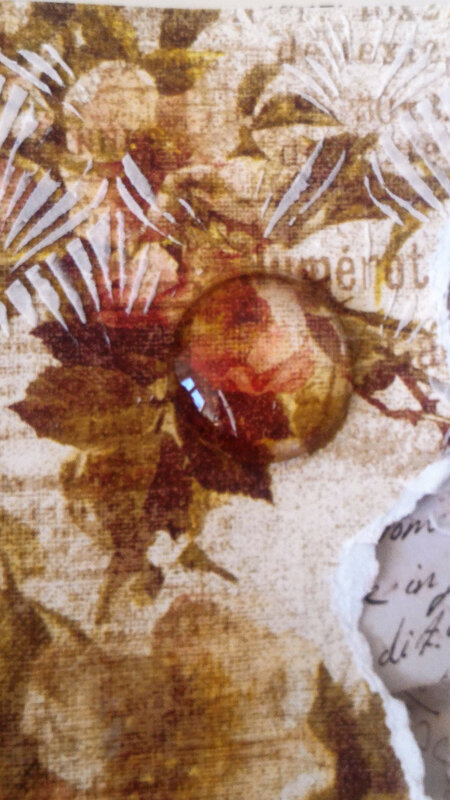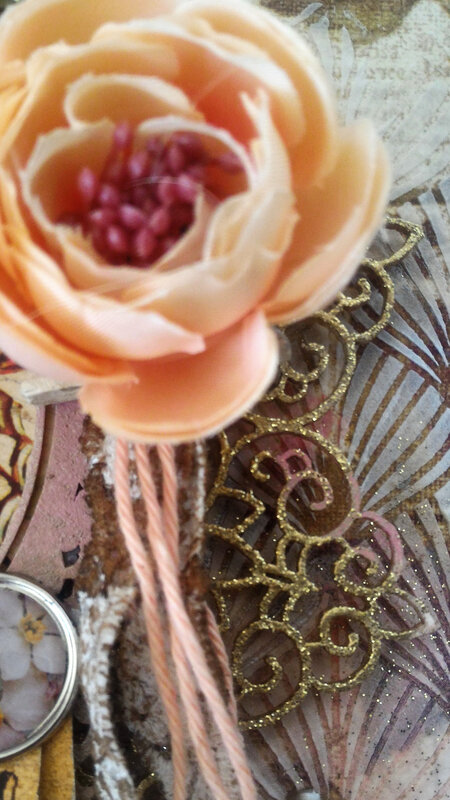 What do you think ? Although I was going out of my comfort zone, I had fun making this layout !
My next post will be my DT post for Simply Create too, on Friday ! So please and come back to visit me, and don't hesitate to tag along on our monthly challenges !
Hi all !
I am glad to be back with you today for another post !
I will be sharing my entry to the February challenge of Bleeding Art, show us the love !
I altered a heart photo frame :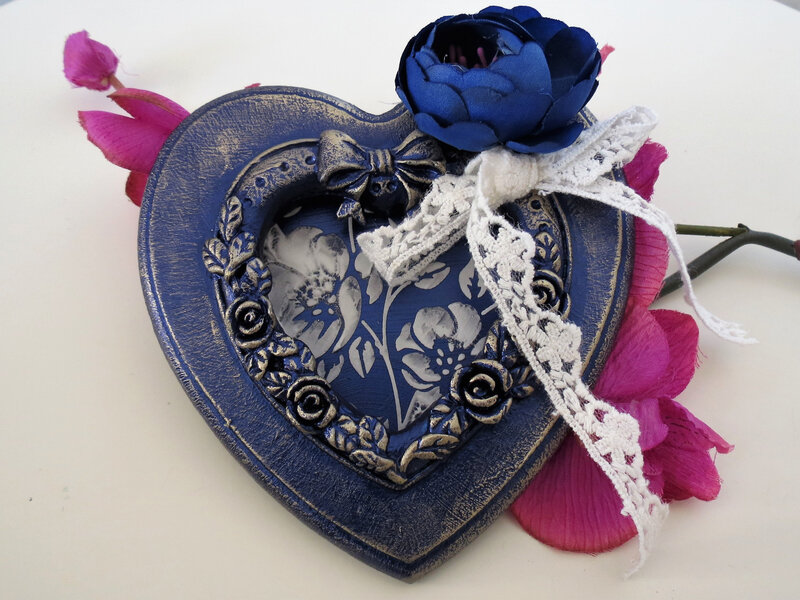 I had this photo frame for a while in my stash, and I actually used it a while ago to try black gesso and my at the time very first Finnabair wax, vintage silk. So it was completely covered with black gesso and the details in the center were highlighted with vintage silk. But I got stuck there and didn't know what to do...
Sometimes, the best way to break off the lack of inspiration is to start from the beginning, isn't it ?
That's why I thought this frame would be perfect for my project.
I started covering it completely with Deep Waters Finnabair acrylic paint, but it didn't match my embellishments. So I added two layers of Midnight sky (I have been using it a lot lately, you are going to see it quite a lot :)).
Inside the photo frame, I have been stenciling some ranger texture paste through my Tim Holtz/Stamper Anonymous "Floral" stencil (I also have been using this onequite a lot... You're gonna see it again in some other posts).
I highlighted some details with white gold, added a blue flower and a lace bow... and my little photo frame was turned into a nice home decor piece !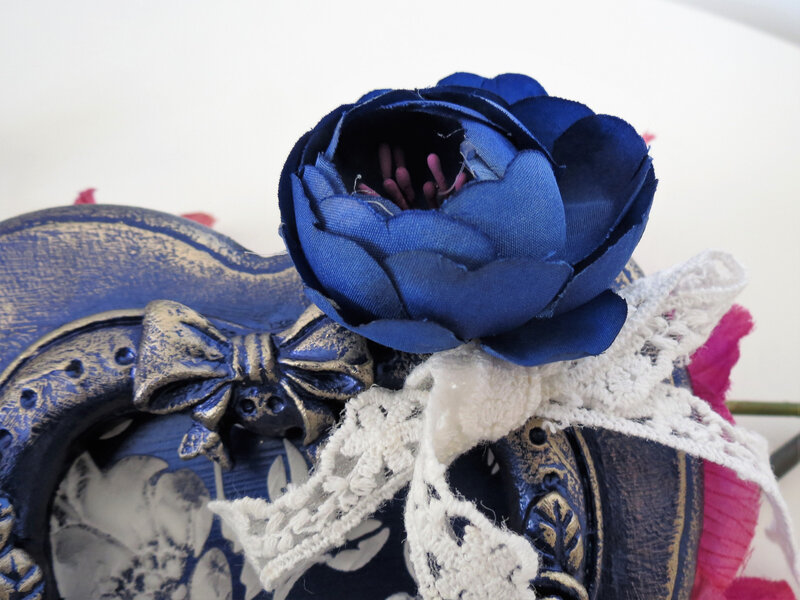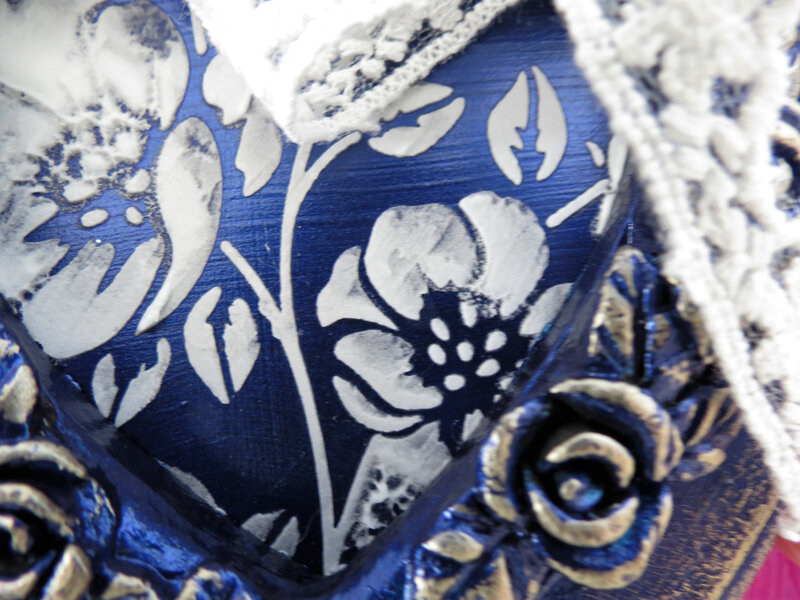 What do you think ?
See you soon in another post !
Hello Mixed Media friends !
Today, I am sharing with you my entry to the Daily Art Cafe challenge... an altered box that I called "Princess Stars". One particular image inspired me... Go to the Art Daily cafe facebook group and try to guess which one !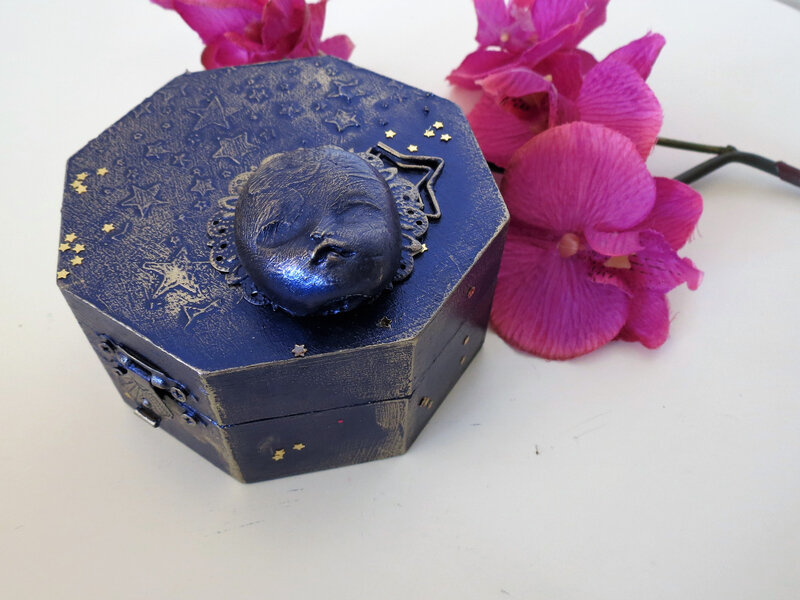 For this project, I used some black gesso, my Finnabair Midnight sky metallic acrylic paint. I stenciled some texture paste through a star stencil and rubbed white gold wax to highlight details a bit everywhere. I added a big paper clip that has a star shape, some gold star glitter. I would have stopped there, but it looked empty, so I added a crowned hand molded head in the same colors as everything else.
And there it was ! My altered box... See more details below.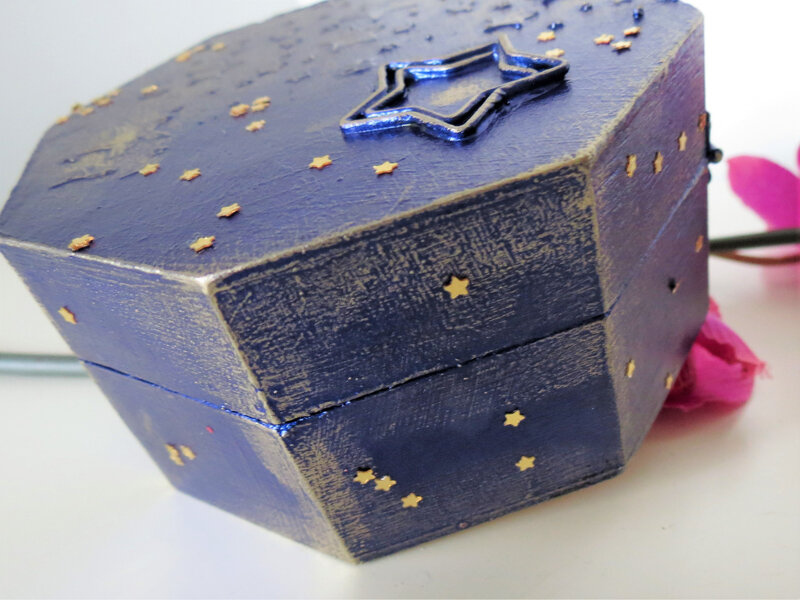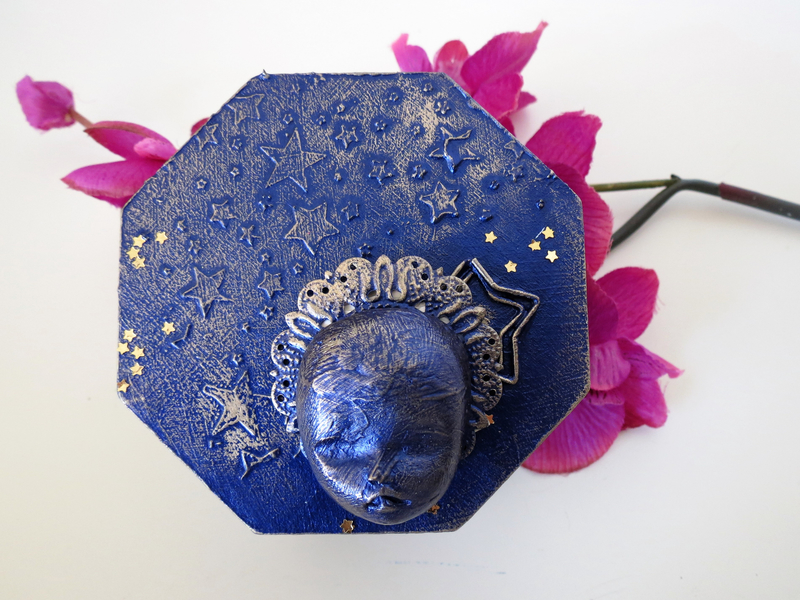 What do you think ? Let me know in the comments !