Hello Crafty friends !
Today I am sharing with you my second entry to Bleeding Art Challenge of this month, Anything goes, and to the Simon Says Stamp Monday Challenge of this week, Midsummer blues. I created a mini canvas (10x10 cm) :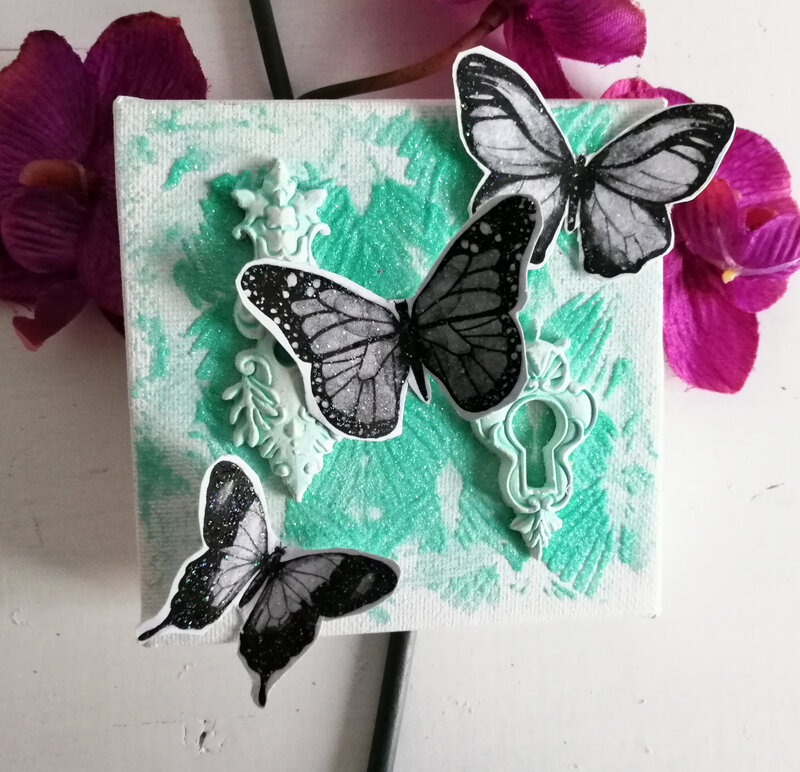 For the background, I mixed some mica powder to some Moonstone Nuvo Glimmer Paste m, and I spread everything on my canvas, through my Echo Park "Classy Fan" stencil. I glued some clay door locks on which I realised a wash with impasto paint and some butterflies fussy cut out of pattern paper.
I really wanted to mix mica powder to the Moonstone glimmer paste and I am quite impressed. I really like how the glitter still shows up.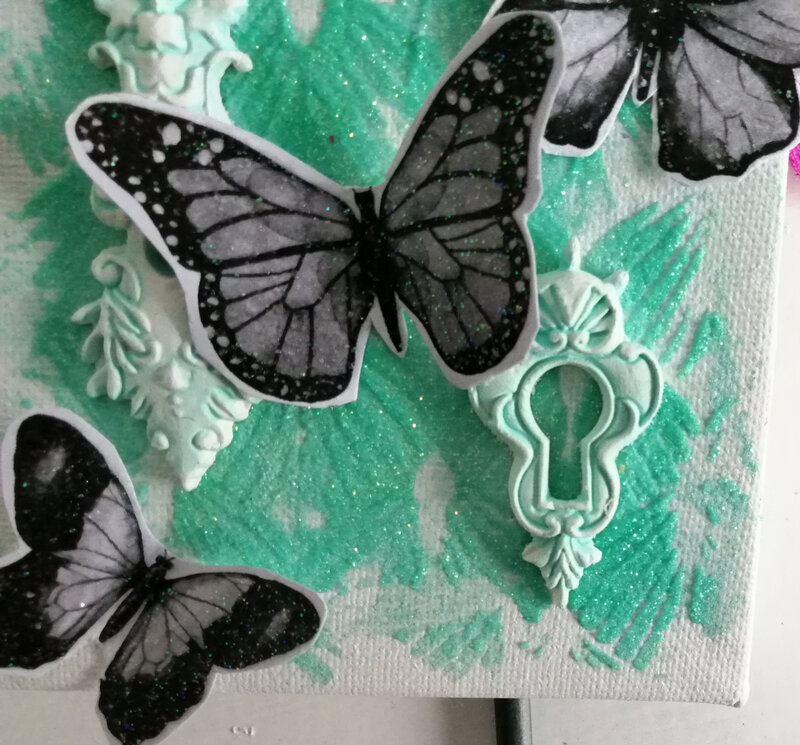 I hope you like it. Don't hesitate to let me know in the comments!
Hello Mixed Media lovers!
Today I am sharing with you a project I am very proud of.
A few weeks ago I passed an order at SnipArt and got, among other things, a lovely MDF shell to alter.
And this is how it looks like now: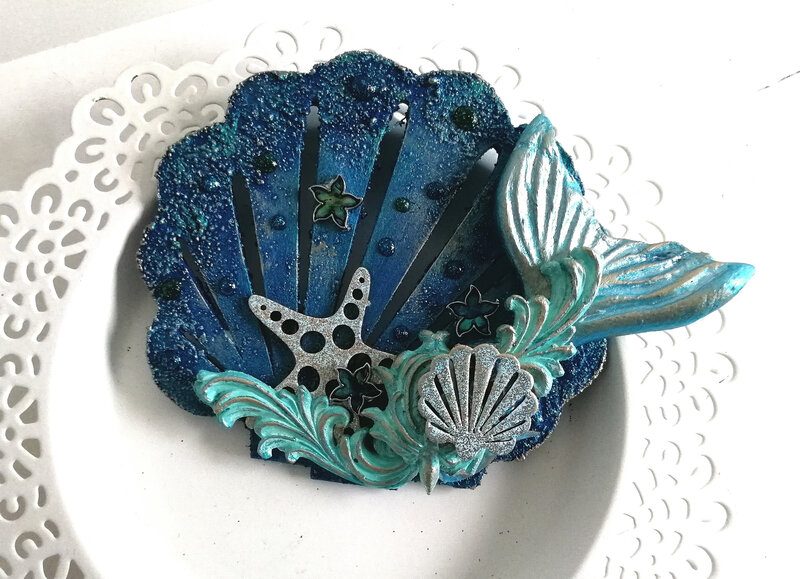 I used many products from Finnabair : black gesso, rust effect paste (royal blue), acrylic paints (light patina, magical pond) and waxes (peacock, white gold and mystic turquoise).
As embellishments, I used shells and starfish chipboard from SnipArt (which I embossed with Wow! embossing powder), molded clay pieces and I cut out a bracelet to use the starfish of it.
Doesn't it look gorgeous? It turns out different than what I was thinking, but I am really happy with the end result. See more details below :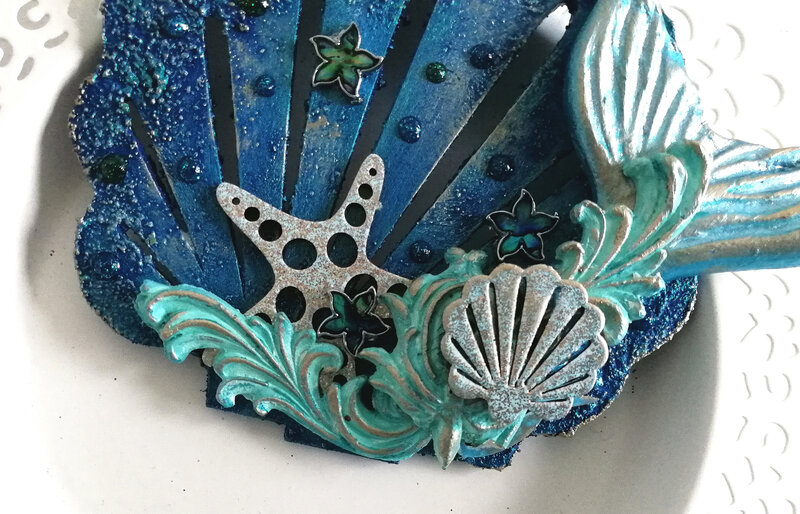 What do you think? This will be my first entry to the Bleeding Art Challenge of this month and the Simon Says Stamp of this week, "Midsummer blues".
See you soon with another post!!
Hi crafty friends!
I am back with another Mixed Media piece! Today, I am coming with a small square canvas, 15 x 15 cm.
This is my second entry to Bleeding Art challenge of this month, Anything goes. It is also my second entry to Simon Says Stamp Monday Challenge, not a card.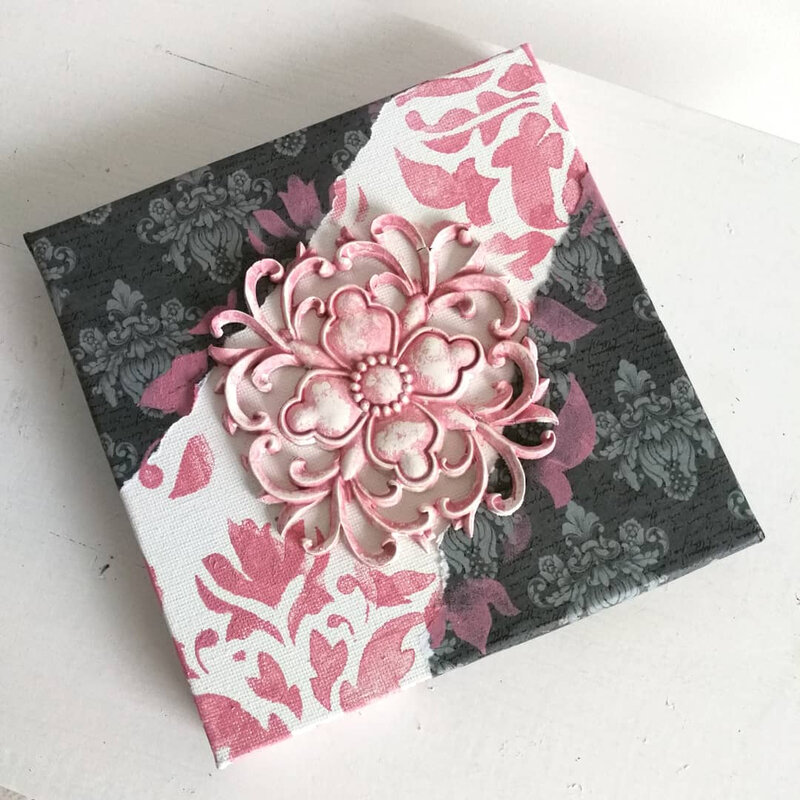 I used some paper, a hand molded piece of clay and my Impasto paint in Boudoir pink.
Nothing complicated, it didn't take me too long to make. I didn't really have any project in mind, I just let myself follow my "creative flow". When I started to make it, I really had no idea about what I was going to make. A canvas, that was the only element I had. I just grabbed some paper from my stash, torn it apart and let my brain turn off, my hands were working on their own😁. I really like this state of mind, when I am not guided by any precise thoughts about what my final piece should look like. I always end up disappointed when I start creating with a clear idea of what I am going to make or if I follow some guidelines and requirements.
What I love the most about my canvas is the center piece. I did a wash on my molded clay with the paint. It was my first time trying this technique and I absolutely LOVE the effect. I think I will do it again.
Would you like to give it a try too? It is super easy!
But no more talking for now, see more pics of my canvas :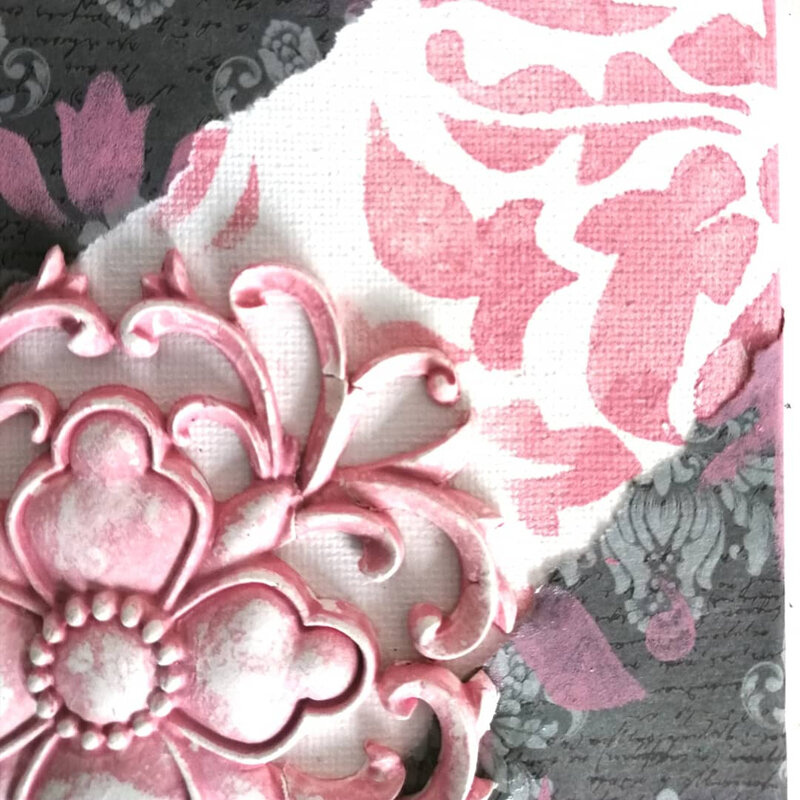 What do you think? Isn't this color combination super nice? Do you like the canvas' Victorian look? Don't hesitate to let me know in the comments!
See you soon with more creations!
Hi friends!
This week has a new challenge at Simon Says Stamp Monday Challenges and I will share my entry with you! This week is the theme is 'Not a card' so I created a canvas: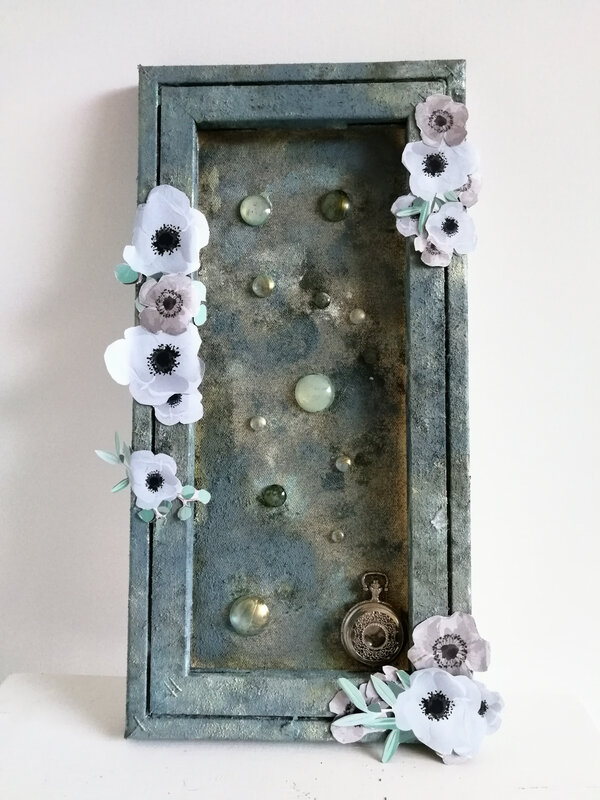 To create this canvas, I used some rust effect paste from Finnabair. The colors I chose are from the Old walls set. I covered the full back of my canvas with the different colors until I was happy with the results. Then I painted some pebbles in different sizes with the Golden Moss and Violet green acrylic paint. After that, I glued some fussy cut flowers (the paper I used is from Kaisercraft 's collection "Mint wishes" and I also added a small shaker I made out of an old pocket watch.
See below more details: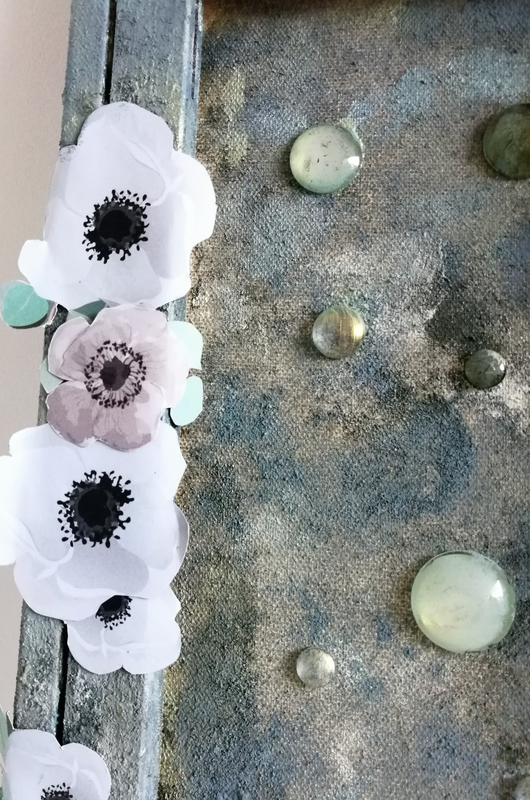 The texture of the rust pastes is absolutely amazing and I really like the Grey and mint green color combination. What do you think?
Hello Crafty friends!
Today I am sharing with you my second entry to the Creative Artist Mixed Media challenge and my first one to Bleeding Art Challenge. Both are Anything goes.
A friend from work is about to leave the company and I wanted to make her a gift. I altered a notebook for her. I was inspired by Nuneka. Without any further ado, let me show you the notebook: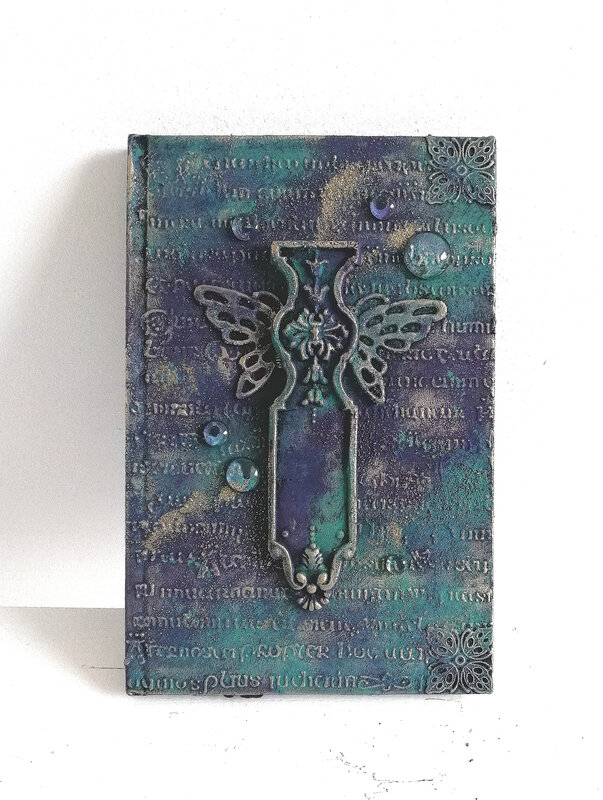 I applied some modeling paste through my Manuscript stencil from Finnabair and glued a metal butterfly cut in two. Once this was dried, I applied two coats of black gesso over everything. I applied two coats of Finnabair's turquoise and purple rust effect paste. I did the same over a hand molded piece of clay covered with black gesso. Then, I sparkled a bit of Wow! gold embossing powder on the notebook, and heatset it. As final touches, I highlighted all the texture with white gold wax and glued a few pebbles.
What do you think?
See below more details: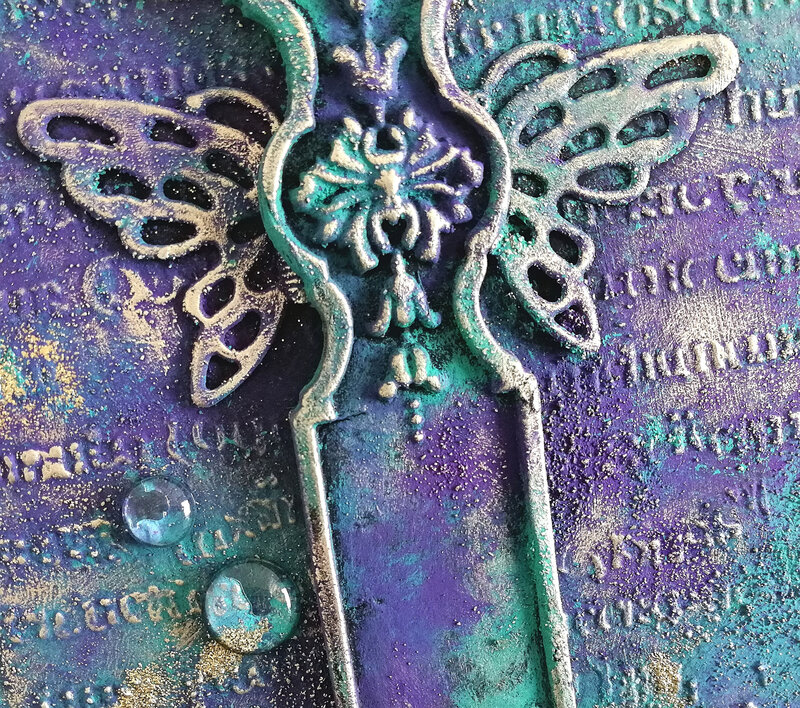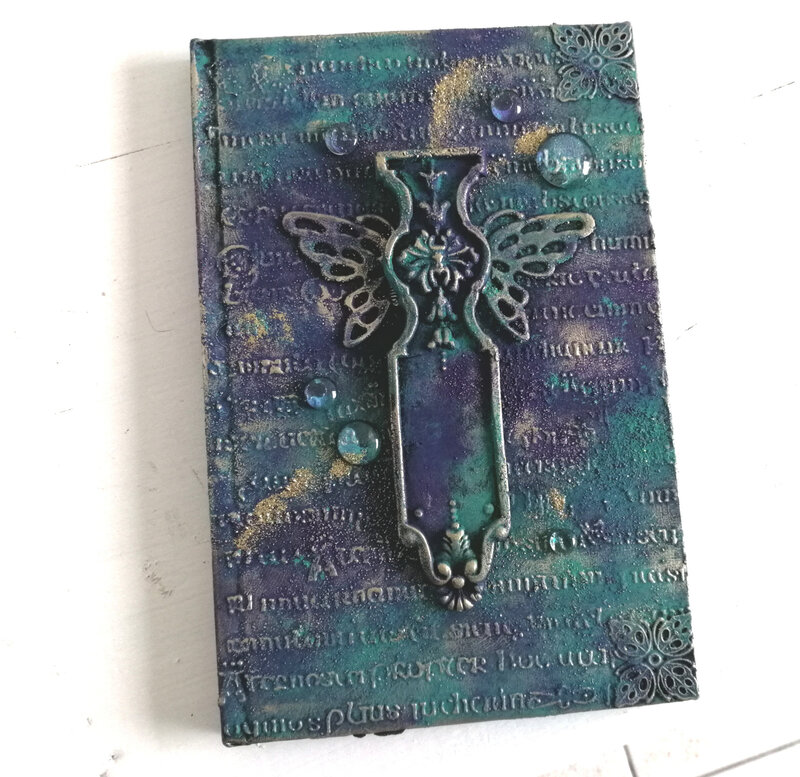 I will be back in a few days with another post!
Hello crafty friends...
Today I am sharing with you my creation for Creative Artist Mixed Media for this month's challenge, 'Anything goes'.
For Valentine's day, I gave my boyfriend a box of chocolate. Once it was empty, he gave it back to me so I can do something with it. It took me a few months, but here it comes:
I used Finnabair's Sparks Iris Lotion acrylic paint, some paper from the 'Be gentle' collection by A. B. Studio, some nuvo embellishment mousse through my 'Swirly florals' stencil and a few embellishments: flowers, glass cabochons, some metal embellishments., trims, my very last purple crystal from the Moon Child collection by Prima and some drops from nuvo in Purple rain that a friend made for me. I also used a hand molded piece of clay and a die cut that I made with my Tim Holtz butterfly die.
That was it! See below. More details: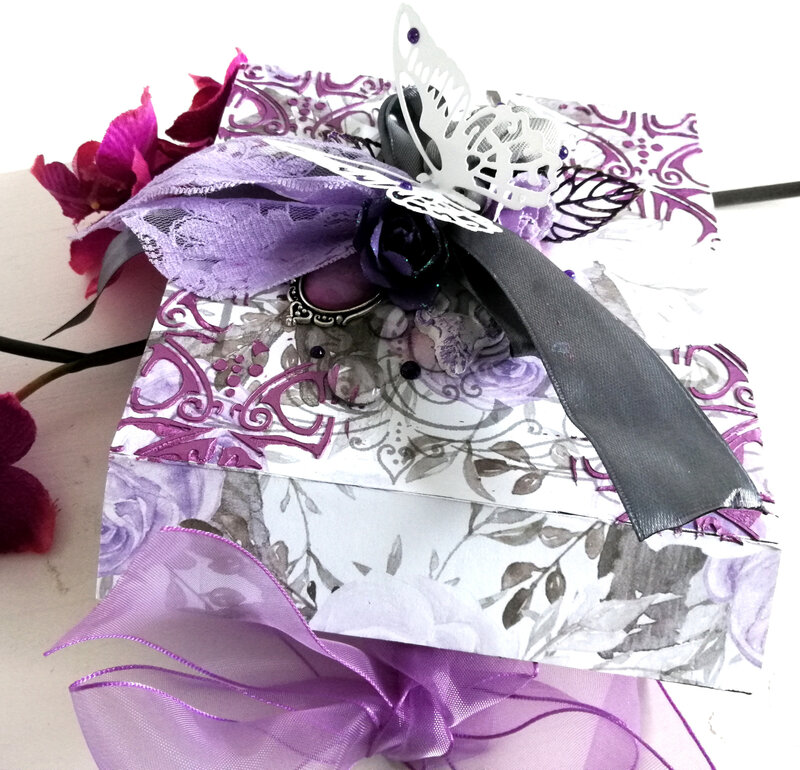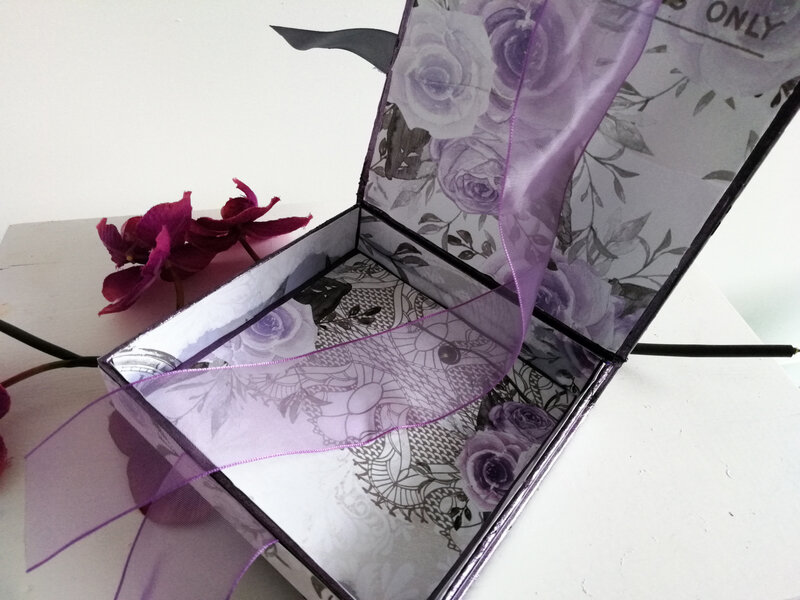 What do you think?
Hello Mixed Media lovers!
Today is the start of new challenge at Simply Create Too!
This month, we have an optional twist: use pattern paper.
Therefore, I got my favorite paper from the AB Studio collection "Be gentle" and created this lovely shaker from the packaging of a Finnabair wax.
I also spread some texture paste through one of my favorite stencil, the bouquet of rose by Simon Says Stamp. For the shaker itself I created a mix of sequins, butterfly filigree (they were from an old earring which I disassembled), buttons, beads and glitter.
I added a bit of lace on top on the shaker.
What do you think? Here are more details: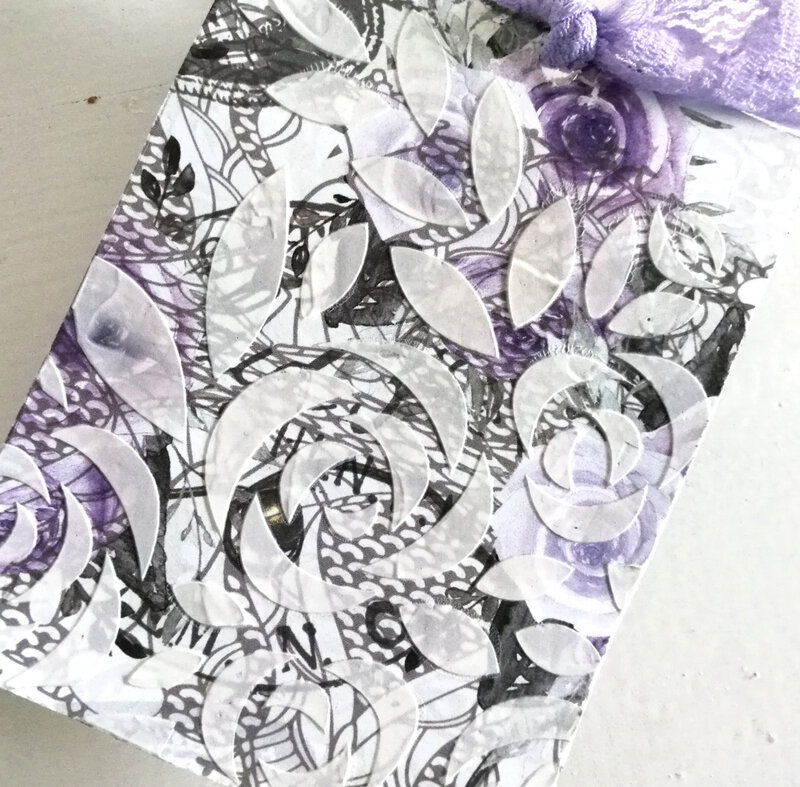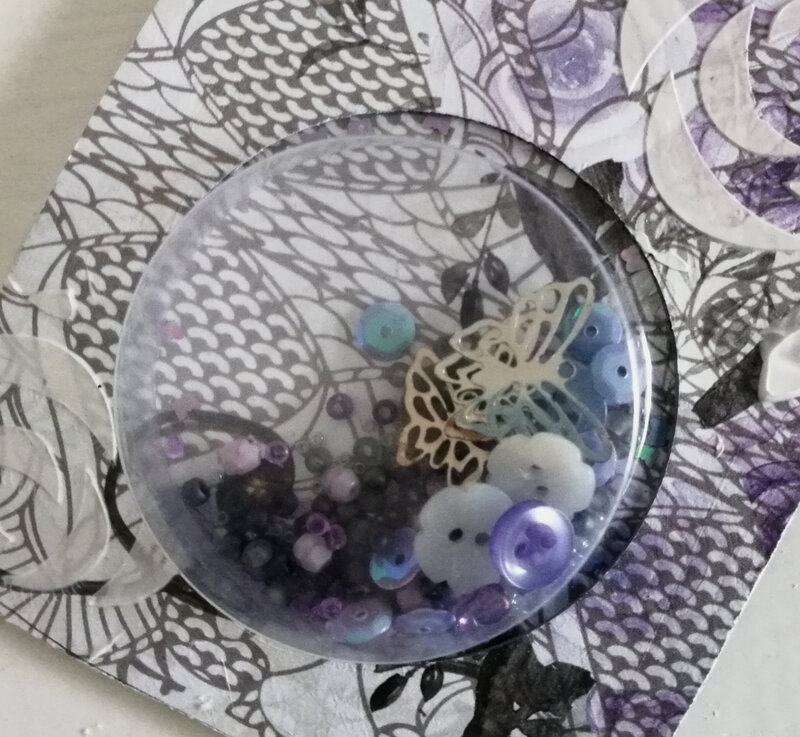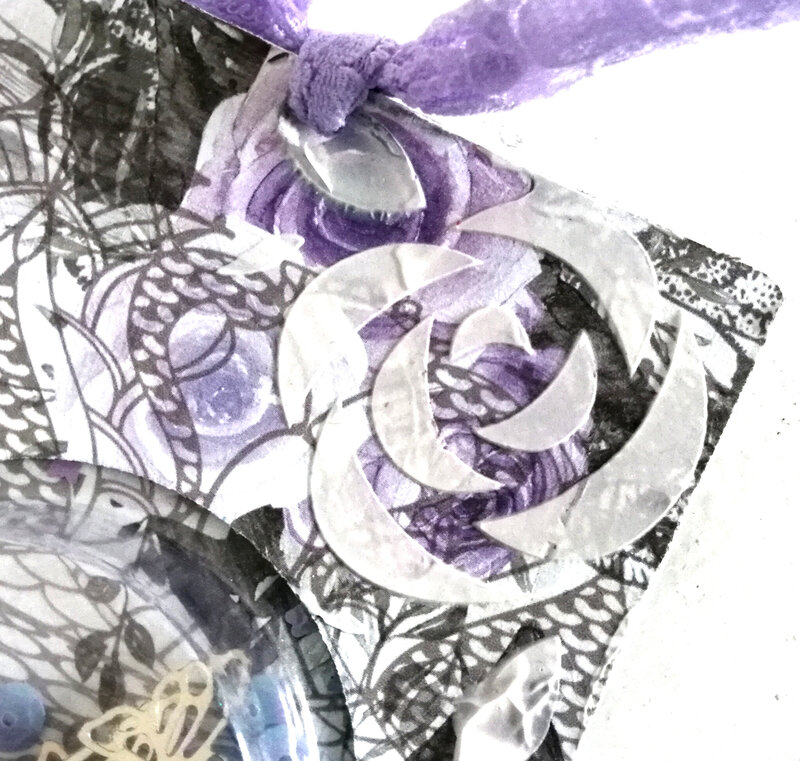 Join us for this month challenge!
Hello crafty friends!
As a child, I loved door decorations... And the theme of this month Art Daily Café challenge is Inner Child, with a gorgeous moodboard. The color we need to use? Soft coral. "
This is why I created this door decoration on a cardboard label which I used as a base: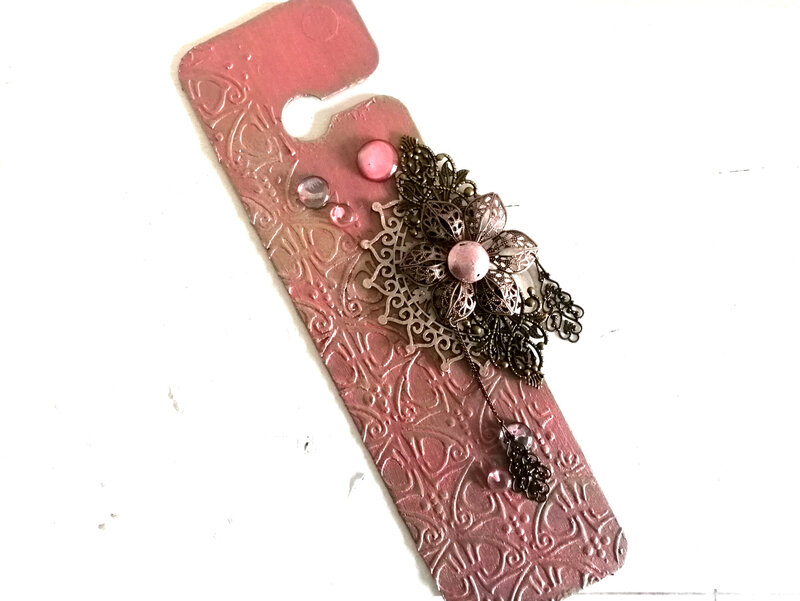 The oriental door of the moodboard really inspired me. I love this type of doors and oriental art is always very intricate and detailed.
So for my background, I used some modeling paste together with my beloved stencil "Swirly Florals" by Finnabair. Then I painted everything with black gesso and a coat of Impasto paint in boudoir pink. It was not coral enough, so I added two coats of Opal Magic Paint Coral- Teal.
AfterthatI glued all my elements: some pebbles - some painted with butterfly spell Sparks paint, some not- and my focal point.
For my focal point, I used a piece of chipboard and glued some filigree son top and on the bottom. I created a jewel out of a metal flower embellishment by adding two pendants and a pebble. I glued the jewel on top of my chipboard rosace, in between the two filigree.
As last touches, I highlighted my background with some white gold art Alchemy wax and some details of my focal point with rose gold wax.
The delicacy of the details really reminds me of the oriental door I was talking about at the beginning of the post.
You see below more details :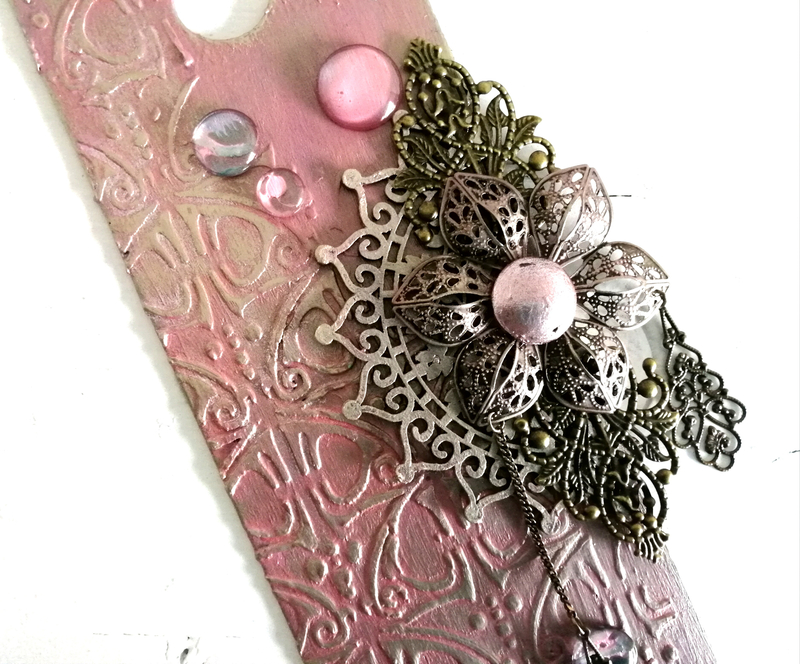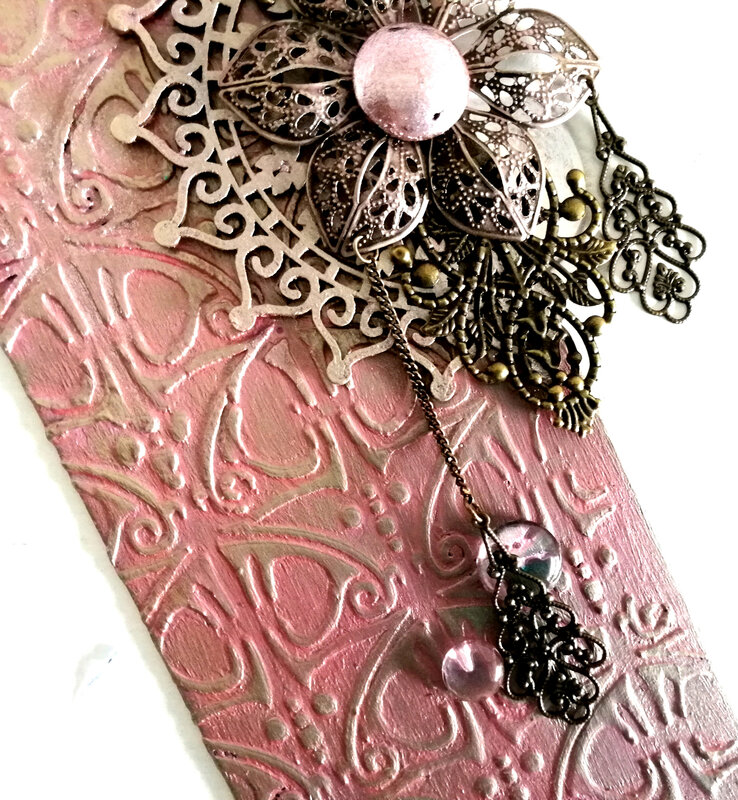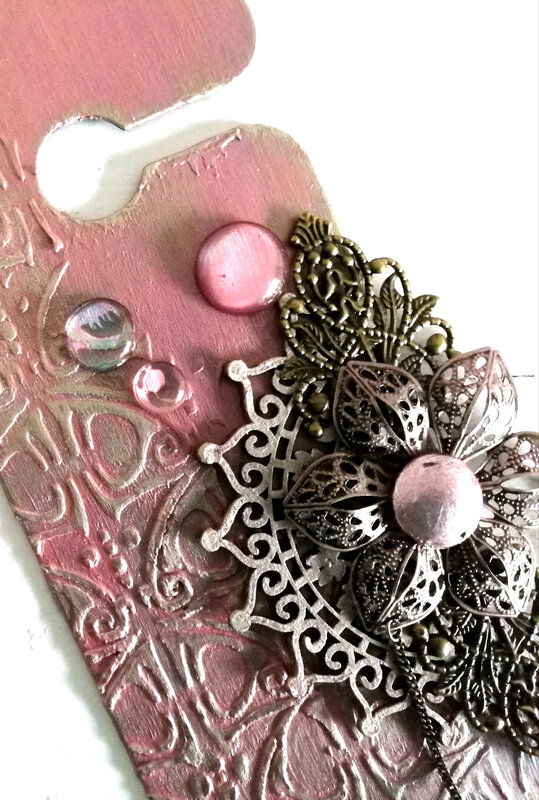 What do you think? This decor is also my entry to the Simon Says Stamp Wednesday challenge "Anything goes" and to this month Bleeding Art Challenge, "add cardboard".
See you soon with another post!
Hi all,
Simon Says Stamp launched a new challenge on IG! This month, the theme is 'summer'.
I created two mini canvases (10x10 cm).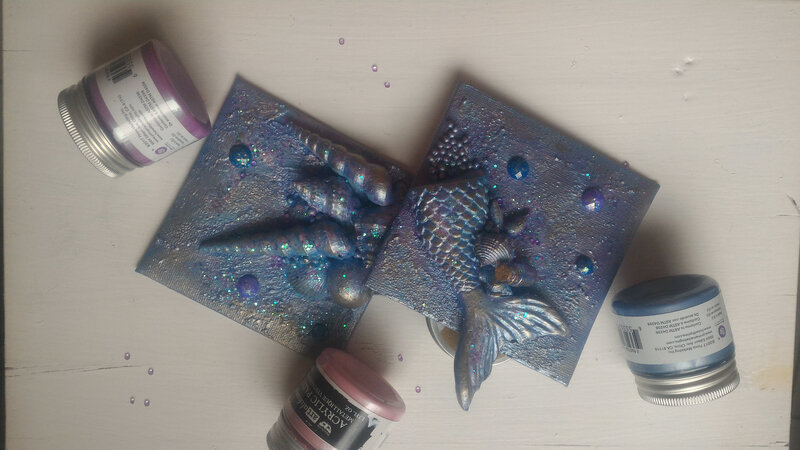 For texture, I used sand paste and pearls, and as embellishments, I used shells of different sizes, and a molded mermaid tail.
I painted everything with white gesso and then a few layers of different Art Alchemy paints from Finnabair (I used Ice Queen, Opal Magic Blue-Violet and Frozen Berries). Then I added a few touches of Metallique Vintage rose and Light Patina.
To finish my canvases, I glued some crystals from the Prima Marketing collection 'Moon Child' and glitter.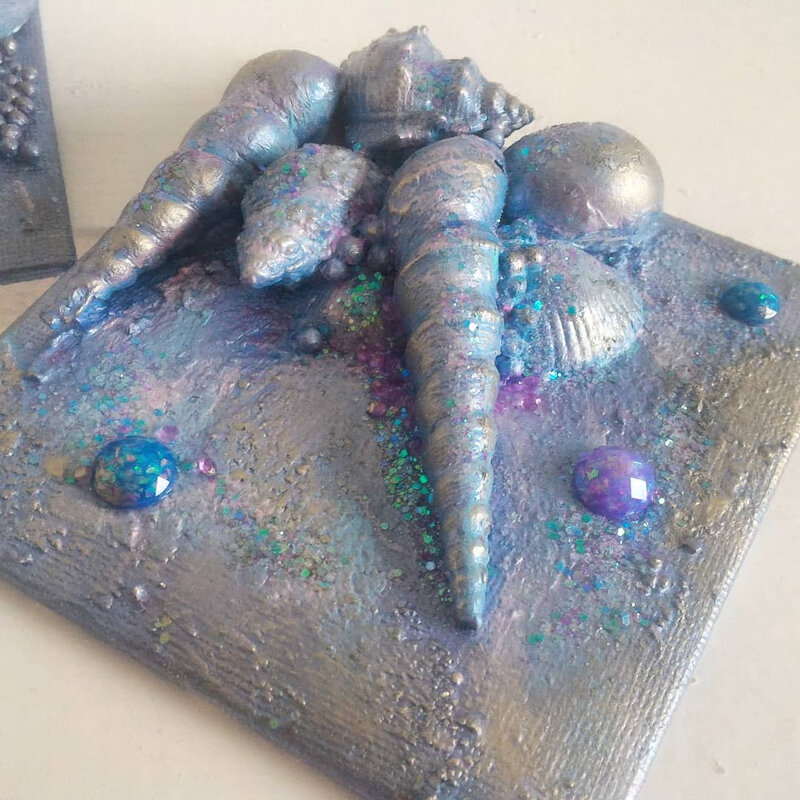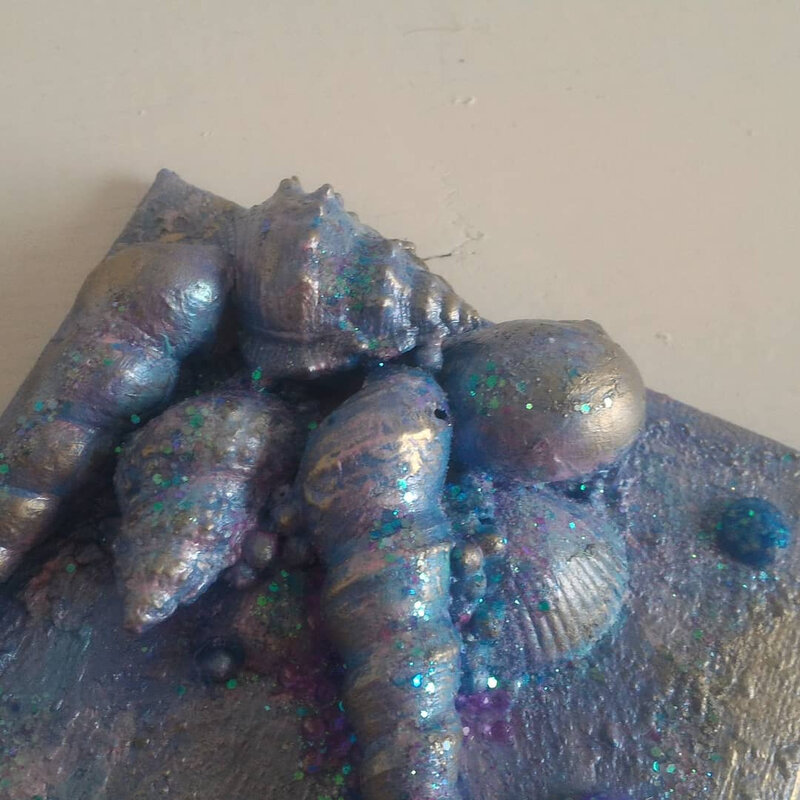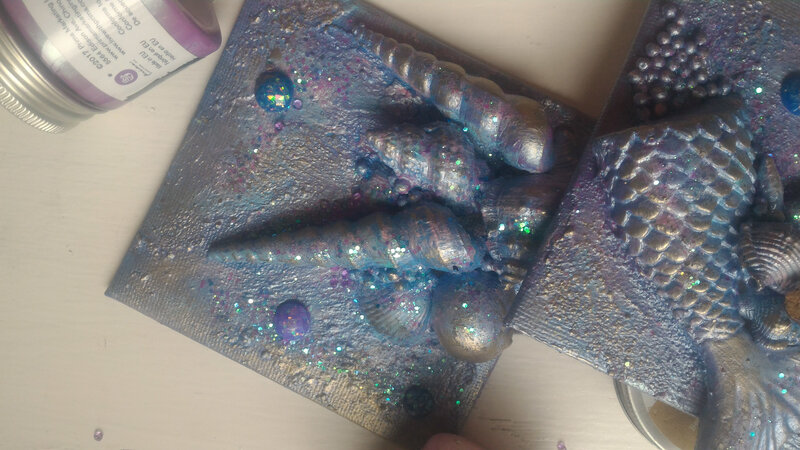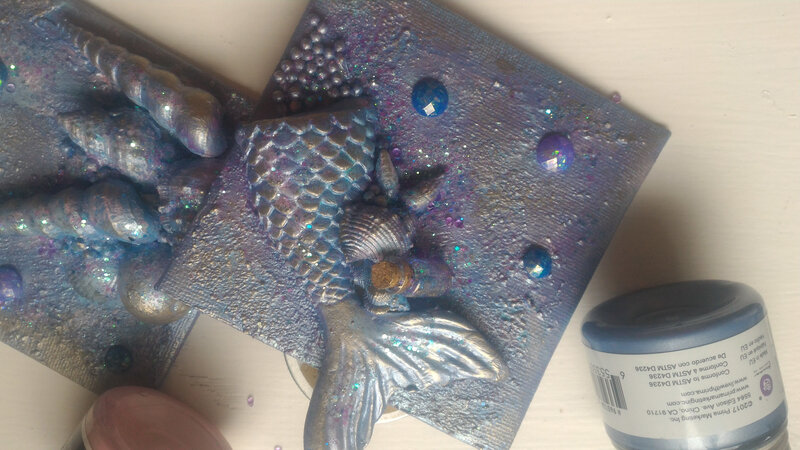 What do you think?
Hello crafty friends...
Today I am sharing with you my entry to the Simon Says Stamp Monday Challenge of this week: Frame it.
I created a small canvas(20x20cm), using a variety of products from Finnabair: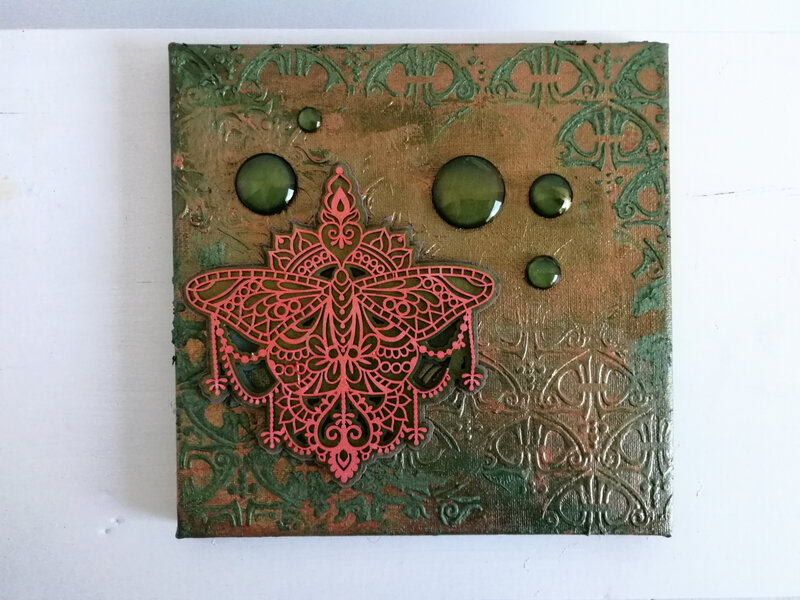 I started by painting my canvas with Black Gesso and then added some plaster paste on the diagonal of the canvas through my Swirly Florals stencil. I love this stencil very much, I can't stop using it! Then, I added a second layer of black gesso.
While this was drying, I prepared the different pieces of my mandala butterfly 3D chipboard. I found this chipboard at SnipArt and it is really gorgeous. I was waiting for the perfect occasion to use it. I added some Rust Paste in Moss (from the Old Walls collection) on the bottom piece, some Golden Moss Art Alchemy Metallique acrylic paint on the middle layer and I covered the actual butterfly with Coral Reef.
Then, I painted my background with some Golden moss paint, some Lucky Emerald Art Alchemy Antique Brilliance wax and added some Coral Reef on top of everything. I took my stencil again and removed some of the coral paint with a baby wipe, but this is barely visible on the picture.
I glued the different layers of the butterfly together. At the beginning , I wanted to glue my chipboard in the middle of the canvas because I had a different idea in mind, but the circumstances decided differently. I wanted to frame partially my chipboard using the lucky emerald wax as texture paste through the same stencil on the top right corner and bottom left corners. And I tried to heat set it... because I forgot it was wax and would melt instead of harden... So I messed up my framing, and to fix the mess (well hide it😁), I had to glue the chipboard on the bottom left corner of the canvas.
The framing is still there though... Kinda metaphorical.
To complete my composition I added some glass cabochons in different sizes painted with Golden Moss at the back.
And my canvas was done. You can see more details below: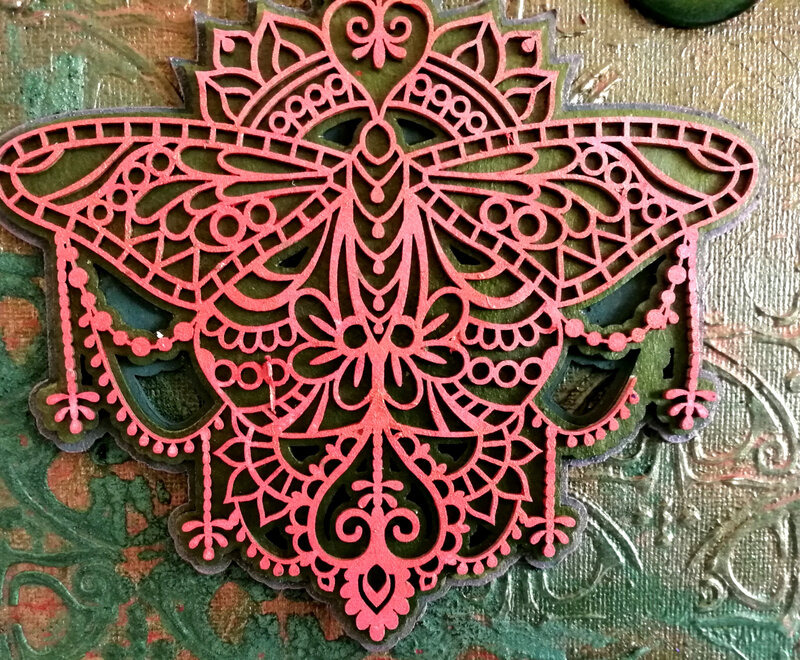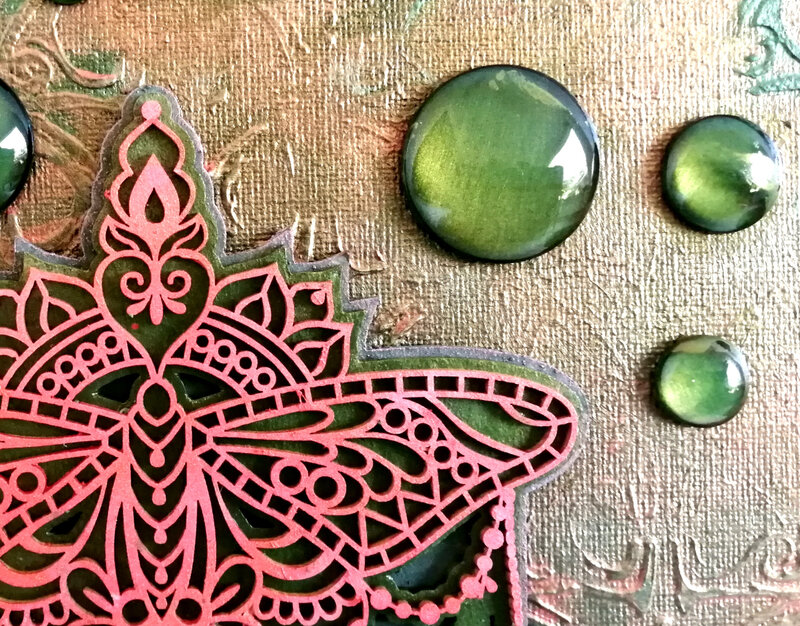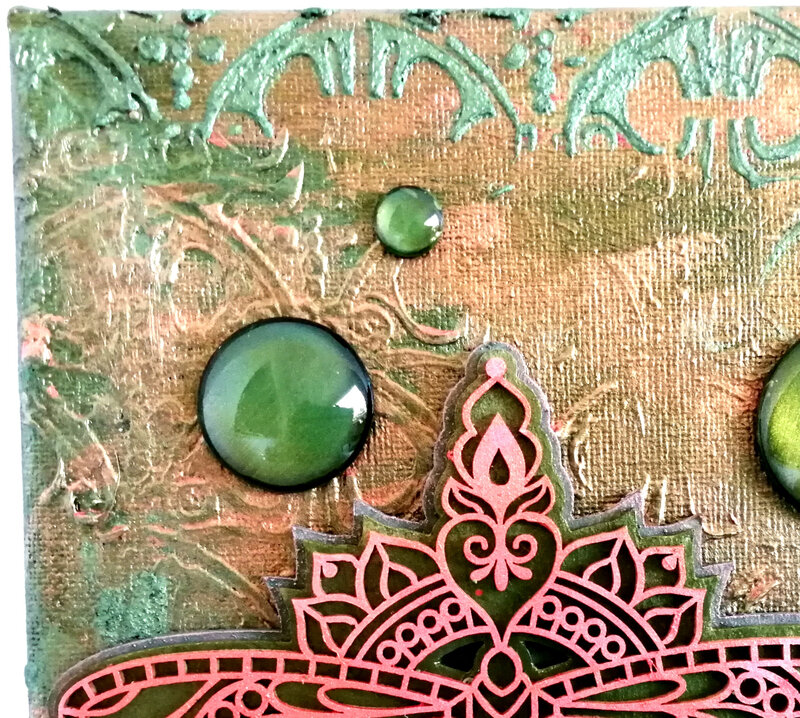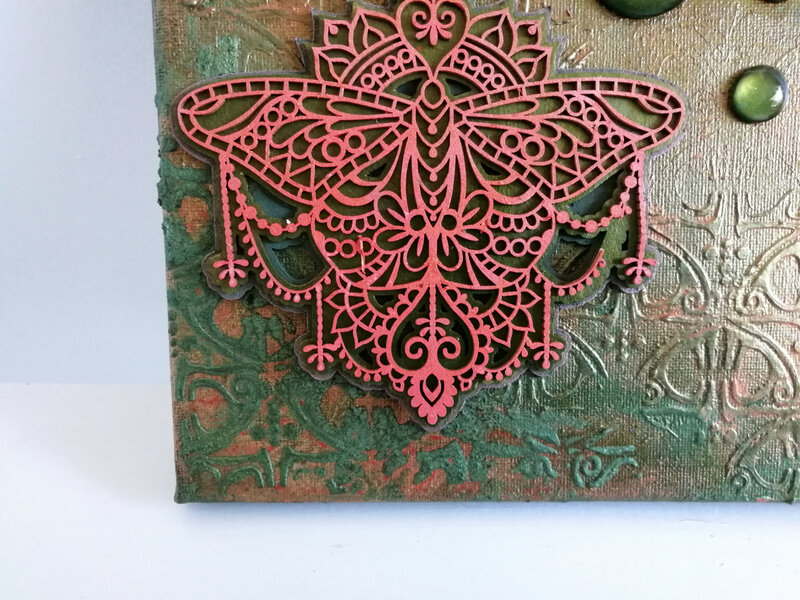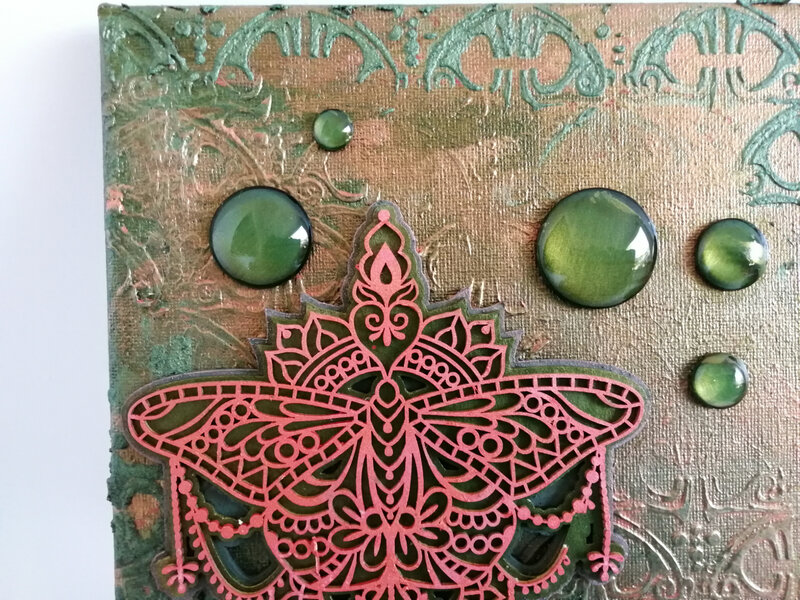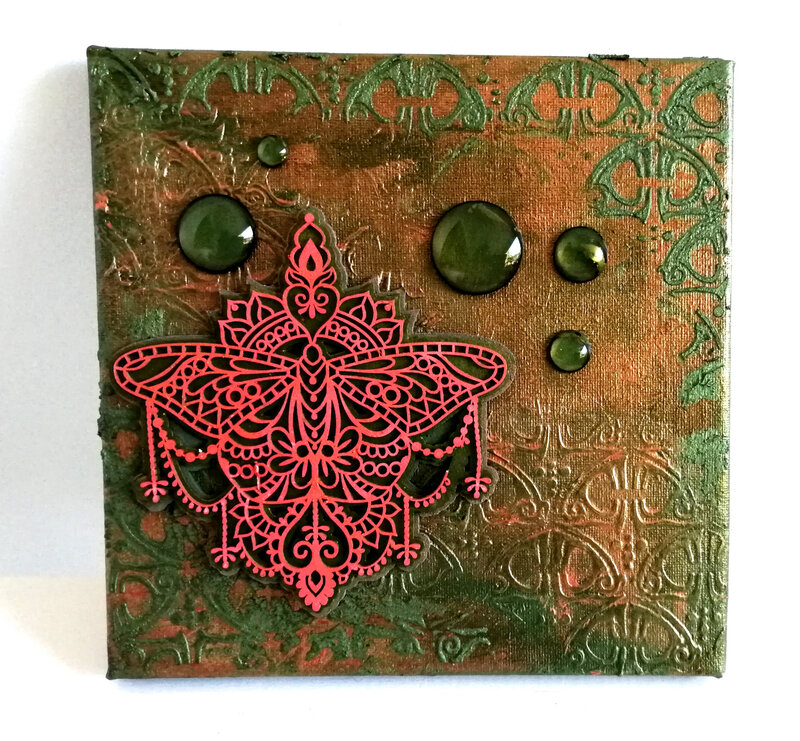 What do you think? Don't hesitate to let me know in the comments!