Hello crafty friends !
Today, I am sharing with you a very quick post about some jars I altered for my friends. These were very cute glass jars that I altered to give them a shabby look. Each of them has a different color combination, and I like each model.
I started by painting each jar with white gesso and then added two layers of the first color.
The first one is rose gold (Finnabair's Art Alchemy Sparks "Butterfly spells"). I added a bit of patina paste by Finnabair in turquoise here and there and tied a ribbon in a close shade of rose gold, to which a heart pendant. I finished by gluing a turquoise flower.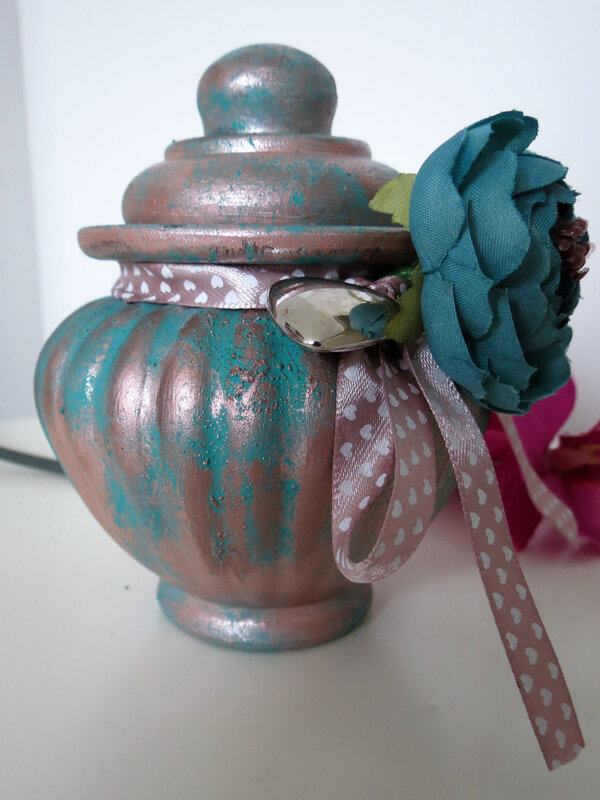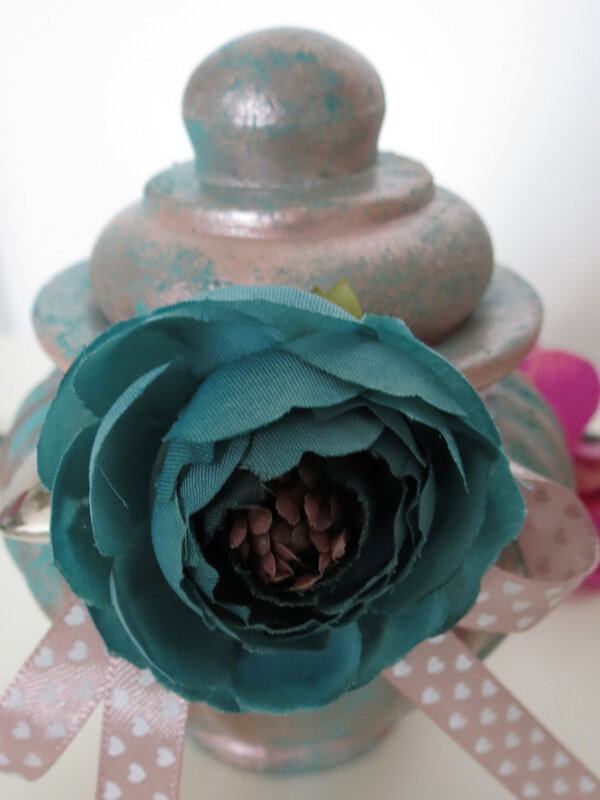 I painted the second one in purple (Art Alchemy Metallique Crocus Fields) and then rubbed Art Alchemy white gold wax from Finnabair with my fingers. I also added a ribbon, a pendant and a flower.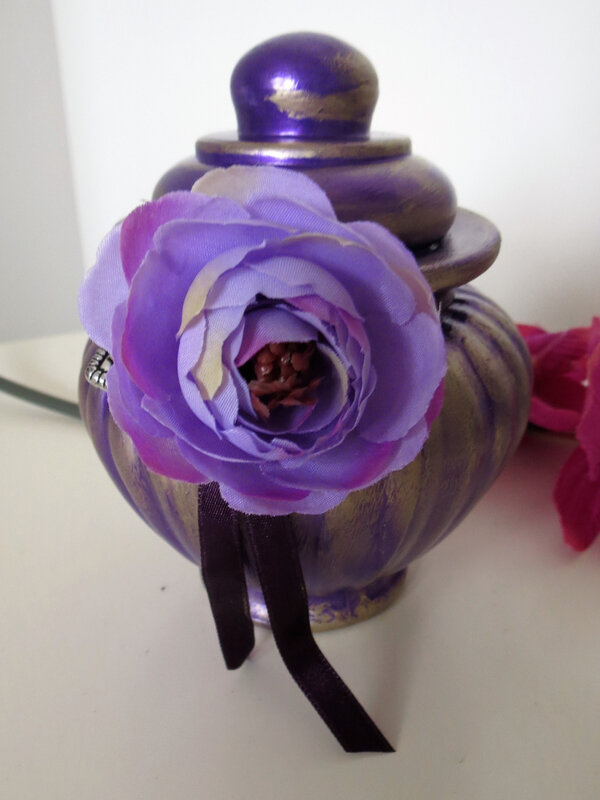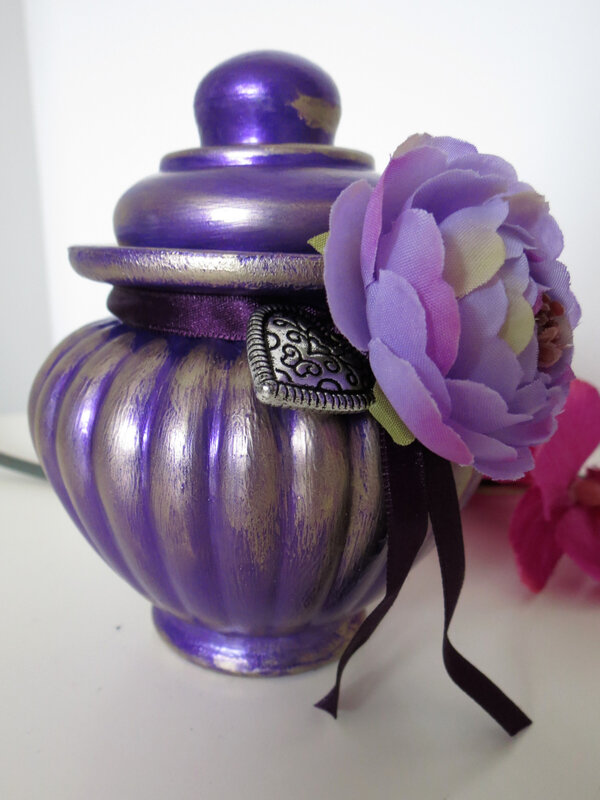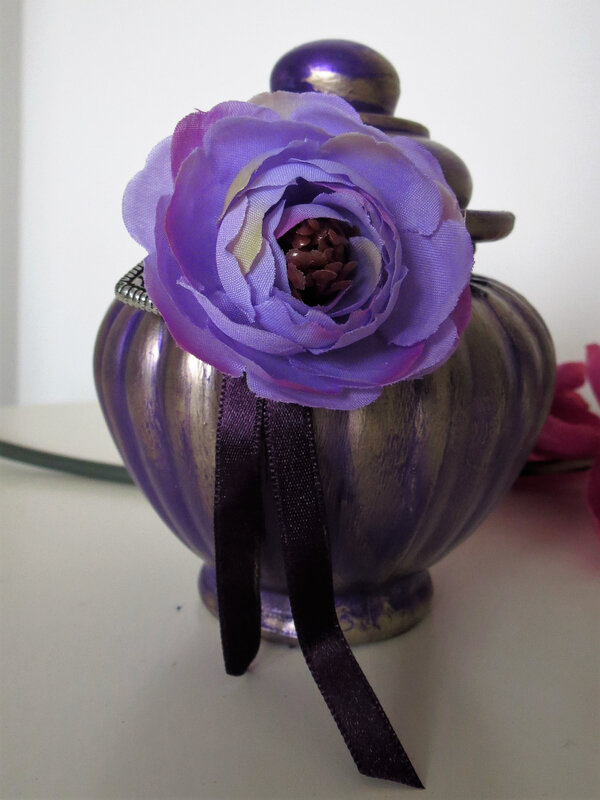 For the third one, I chose Midnight blue acrylic paint by Finnabair and rubbed White gold wax again. I tied a huge bow with a beige satin ribbon. As I didn't have a pendant big enough to go along with the bow, I decided to glue a die cut butterfly out of my "Midnight Blues" sheet of paper, from Georgia Blues collection by Prima Marketing I used a Tim Holtz die for this. I, of course, added a dark blue flower.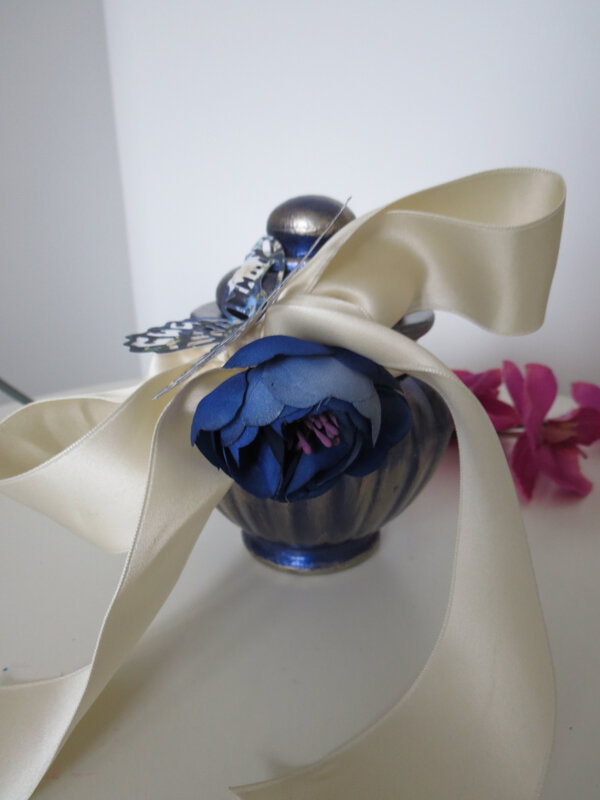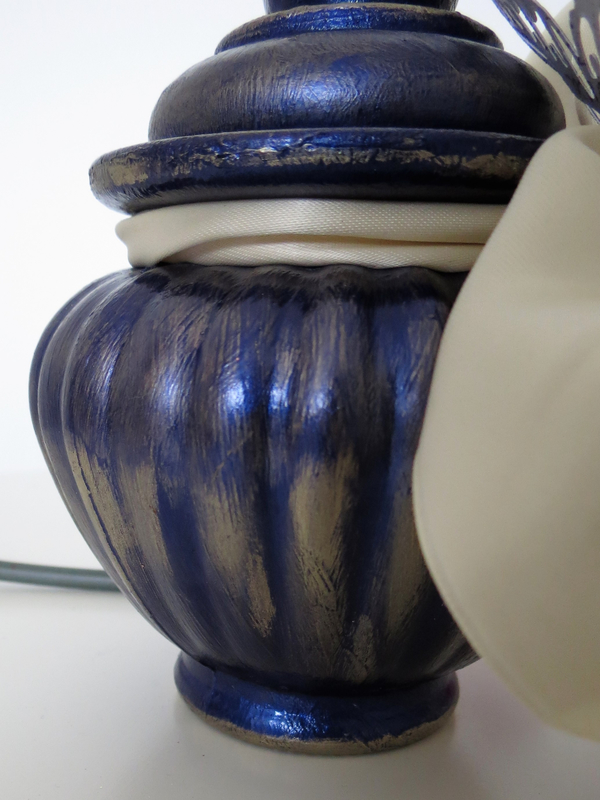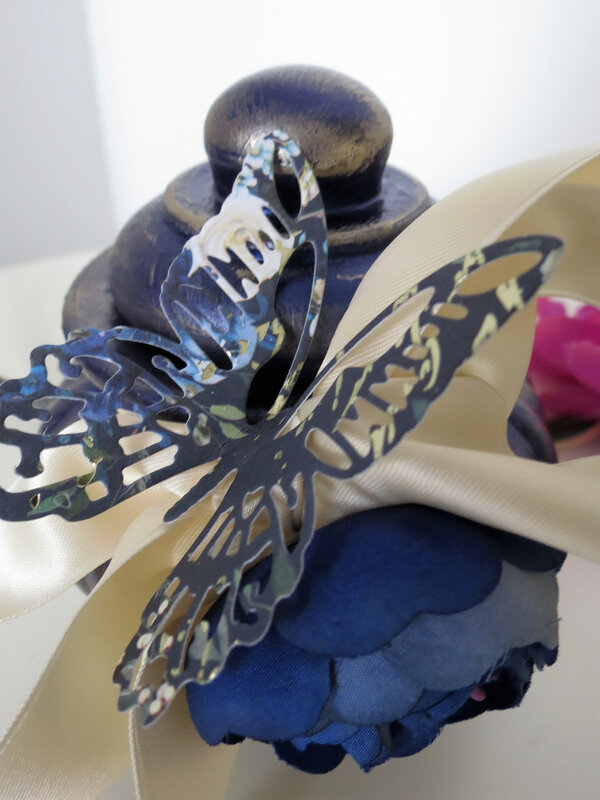 What do you guys think ? I find them absolutely lovely, but don't hesitate to let me know what you think in the comments !
Christmas is coming soon and I probably be busy, so I won't probably be back before the holidays, but let see !
Hello Mixed Media lovers !
Do you remember ? In my last article I told you I used a chipboard background from SnipArt to alter a blackboard. Well today, I am featuring the second part of the background.
I used it to create a tiny canvas, using the chipboard as my base and I painted it with Finnabair's art alchemy acrylic paint Romance pink. This colour is absolutely gorgeous !
I also used die cut pieces of paper (leaves, flowers) that I cut out of some brown packaging and painted with white gesso or with Finnabair's acrylic paint metallique vintage rose or romance pink. I used some unbranded dies from Ali Express but also (and I love this die so so much!) the Couture Creations Orchid Die from the Bohemian Bouquet collection. I also die cut some feathers (unbranded die again) and a butterfly (Tom Holtz die) from Moon Child collection papers by Prima Marketing (it was love at first sight with this collection, I love all the papers, so cosmic, absolutely lovely!).
I used other embelishements : a beaded string and sme strasses here and there.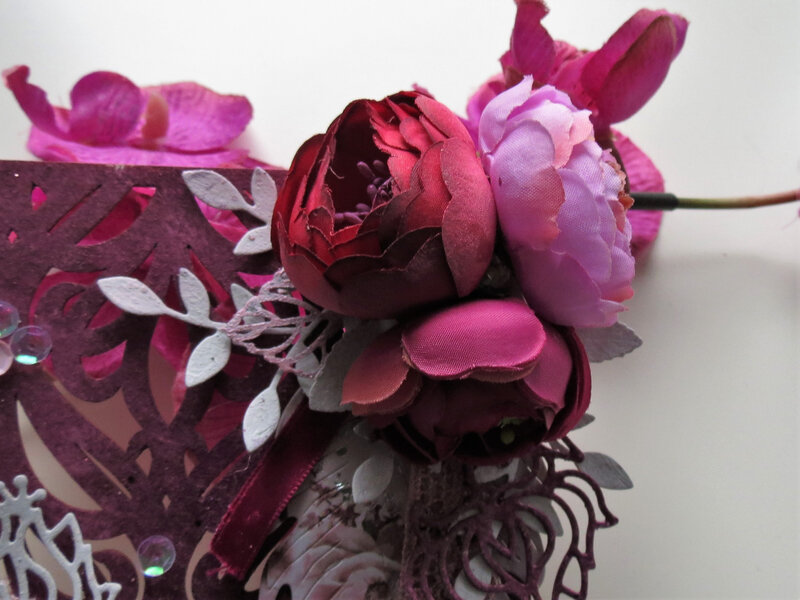 This is actually the first time that I tried layering. Usually my style is a bit more sobber, but I like the effect. And you ? Don't hesitate to let me know in the comments !
See you soon with another post !
Hello Mixed Media lovers !
Today I am sharing something I created for myself, to hang in my craft room.
Two years ago, I received a blackboard for my birthday. It was a goodie from Tim Burton's Alice in Wonderland and I really liked it. There was one thing I disliked, though : the "A" dropcap and its arabesques at the top of the blackboard. I decided to keep it anyways and a few weeks ago, the muse of art just hit me : I would remove the blackboard and just use the frame which is lovely.
And here it comes :
I removed the blackboard and painted the frame with some metallic mint acrylic paint.
I had in my stash this gorgeous chipboard "secesja" from SnipArt. I took the bottom part and set it aside as I wouldn't use it for this project and kept the top background (the thinner) and cut it in two diagonally. I glued one part on the top left corner and the second one on the bottom right corner of the frame.
I love the wrought iron/ broken window effect of it !
I glued some green and white flowers on the others opposite corners and and as a last step, die cut some butterflies out of polka dots patterned paper and glued them on the bottom left corner.
I removed the black ribbon that was originally meant to be used to hang the board and attached to trims of white satin ribbon instead. It is now ready to be hung !
Do you want to see more details ? Here they come :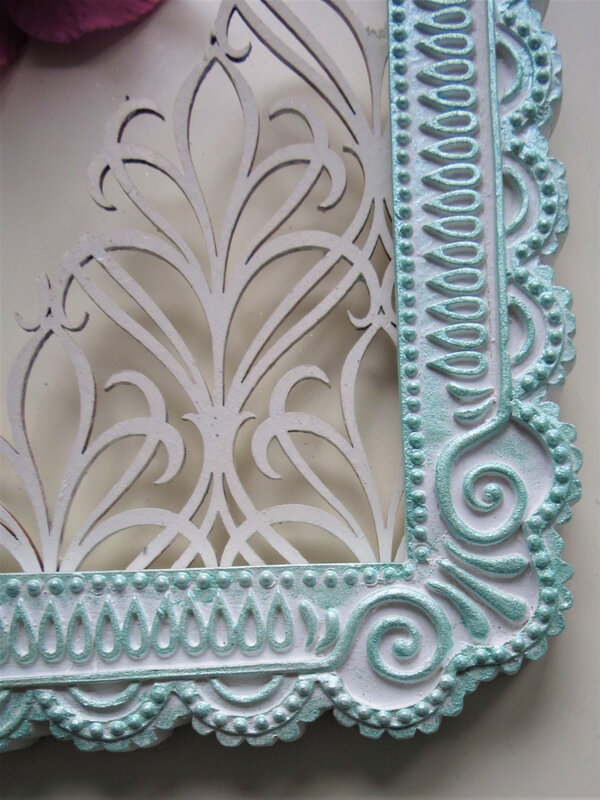 See how gorgeous is the combo background chipboard /intricate frame ?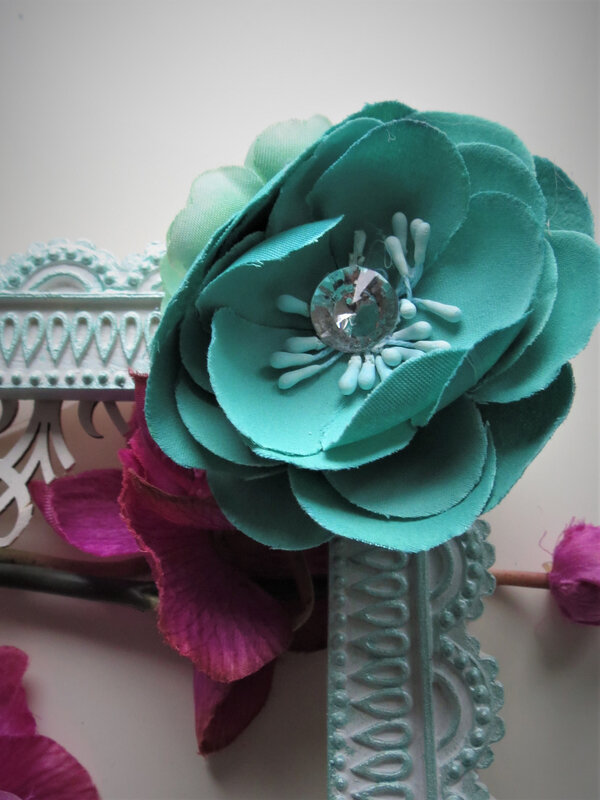 What do you think ? Don't hesitate to let me know in the comments !
Hello crafty friends !
This week I am showing you another entry to not one but two challenges !
This project is going to be my second entry to this month's Bleeding Art challenge "Anything goes" and to the weekly Simon Says Stamp challenge. This week, the theme is "Let it Snow".
Today's post is featuring a small tin box I altered with my two favorite colors : dark blue and white. For this, I used the gorgeous paper collection "Georgia Blues" from Prima Marketing. Boy, how stunning is this collection. It was real love at first sight with the "Midnight Blues" sheet of paper I chose for my tiny little project.
I also chose some chipboard mandala from Dusty attic and it so lookslike a cute snowflake !
But enough words, it's time to show you my box :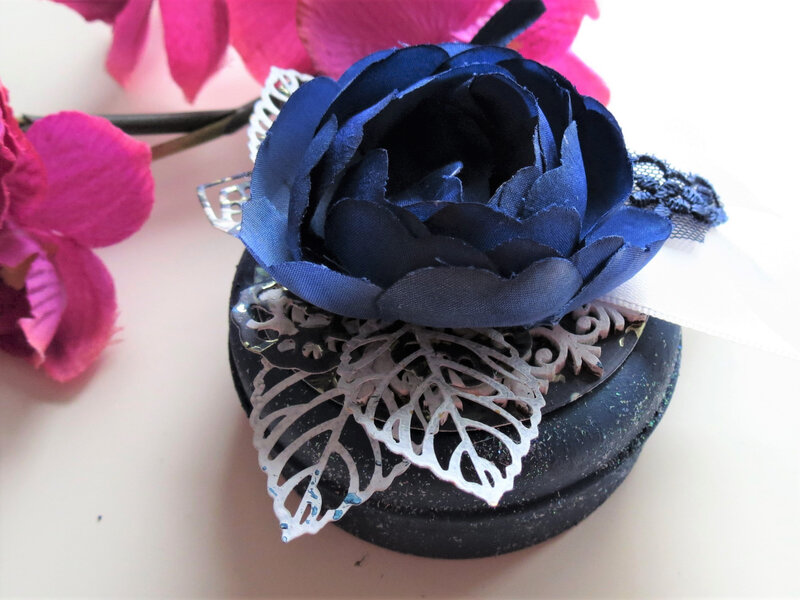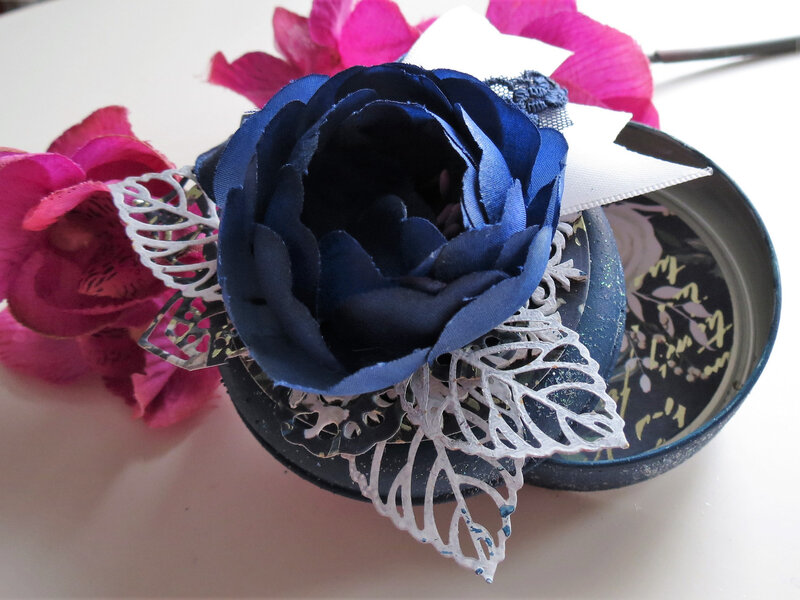 I painted the tin box with some white gesso and then some persian blue acrylic paint. When the paint was dried, I added some glitter pasta from Faber-Castell for a snowy effect. And it worked, didn't it ?
I covered some leaves metal embellishments and the chipboard with white gesso and die-cut two circles, and two mandalas out of my piece of paper. I cut out some parts of the mandalas and glued everything on the box (one circle has been glued in the inside of it).
I glued all the embellishments, adding some trims and lace here and there plus a gorgeous flower on top. And tadaaaa !
That was it !
You can find more details here :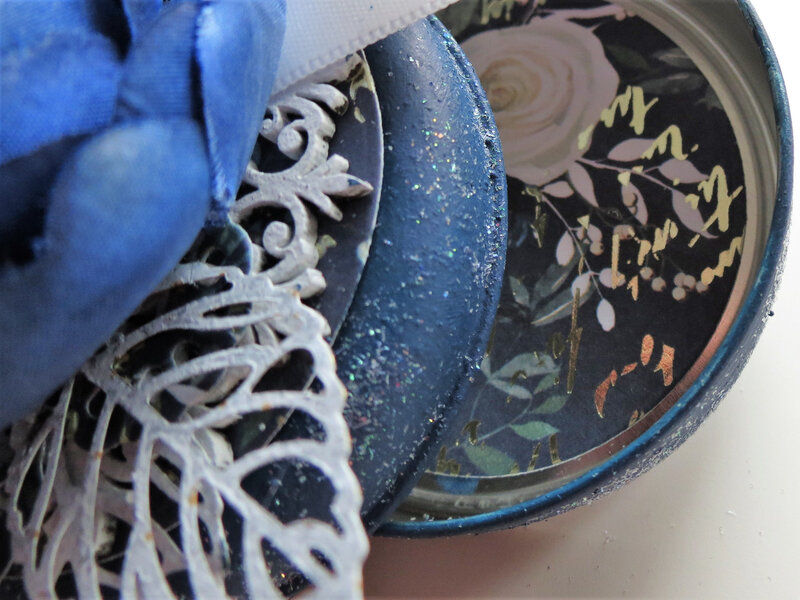 What do you think ? Don't hesitate to let me know in the comments !
Hello Mixed Media lovers
Today, I am sharing with you a cute little project that I really like... I had in my stash a tiny wooden squirrel and decided to do something with it :
I applied one or two layers of Finnabair's rust effect paste in purple and lavender. Then, I used the Stamper Anonymous/Tim Holtz stencil "Floral" to apply some rust effect paste in powder blue.
I glued a fabric flower, some paper butterflies that I punched out a hole-punch, some handmade cabochon (with holo glitter or paint), a handmade bow and a cute little heart button that I also painted with the blue rust effect paste. I highlighted the edges of my squirrel with a little bit of rose gold wax and that was it!
What do you think ? Isn't it super cute ?
Here come some more details: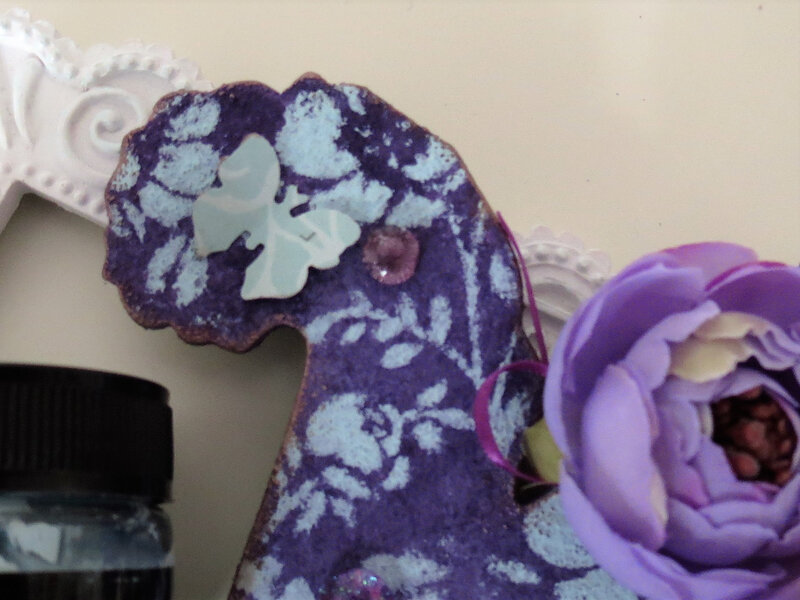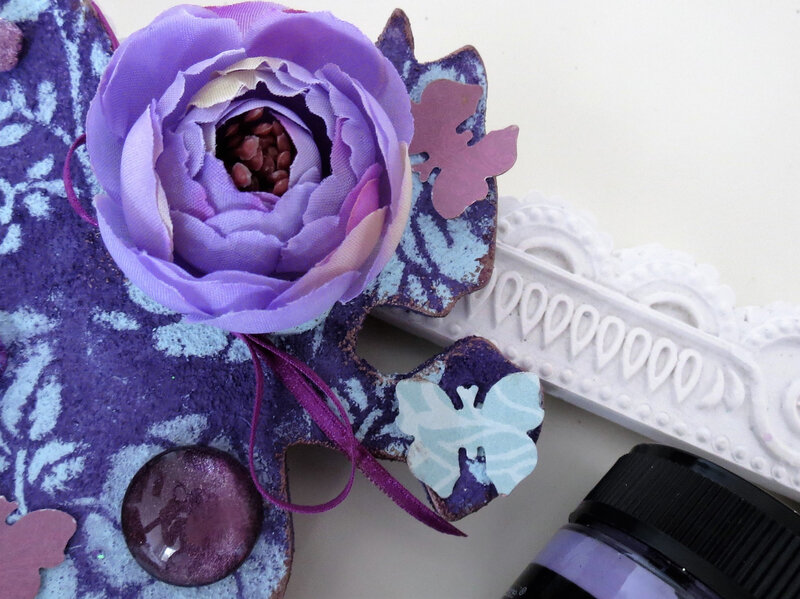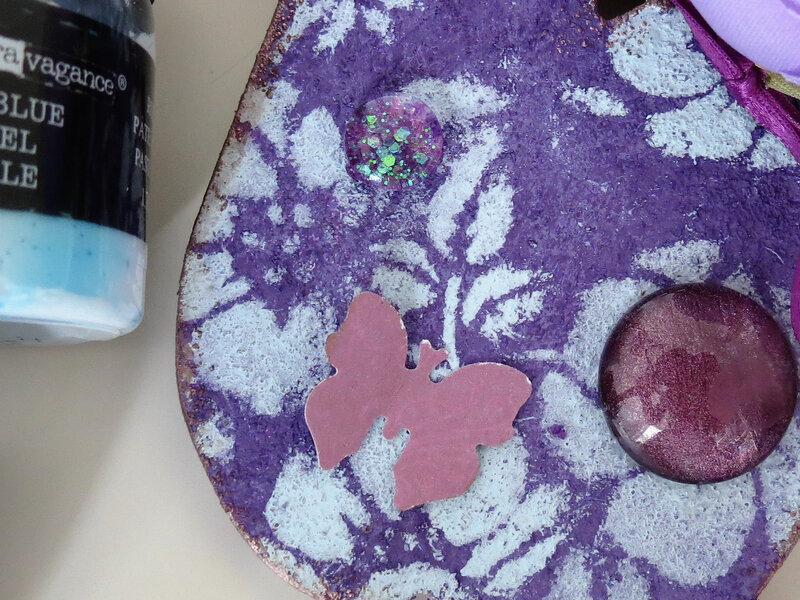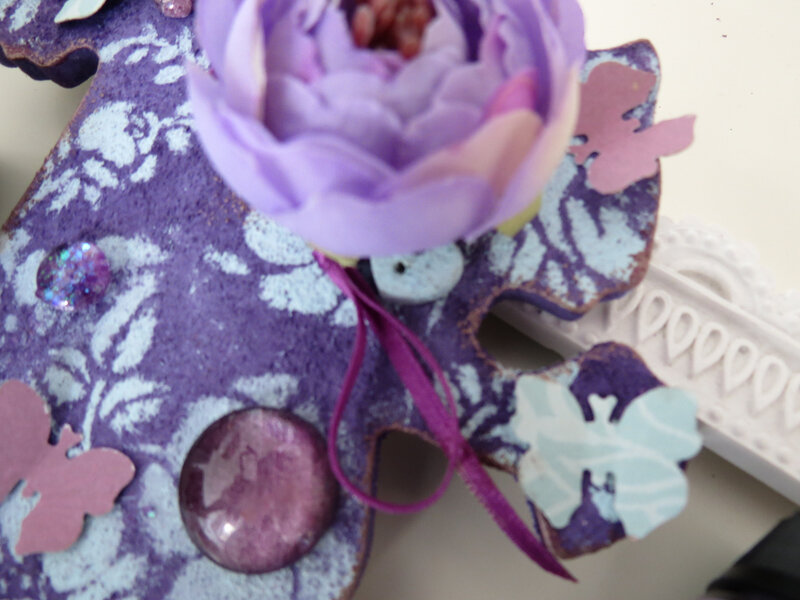 I think it is really cute and I love this project. The squirrel is also my (first) entry to the Bleeding Art challenge of this month, "Anything goes". Follow the link !
No wintery-theme, no automn colors for me, but a fresh breeze with purple and blue shades...
Don't hesitate to let me know what you think in the comments!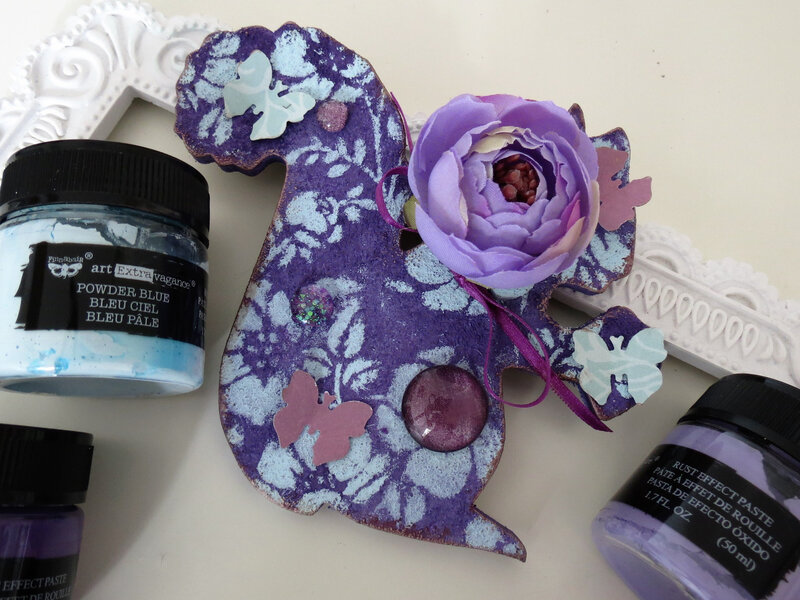 Hello Crafty friends...
It has been a while I haven't posted anything, but here I am, back on track !
Today I am sharing with you something I made for my sister (it's gonna be her Christmas present) and it is also my entry to the October challenge of Mixed media and Art, "Alchemy". You can also click on the image below to find a link to their challenge.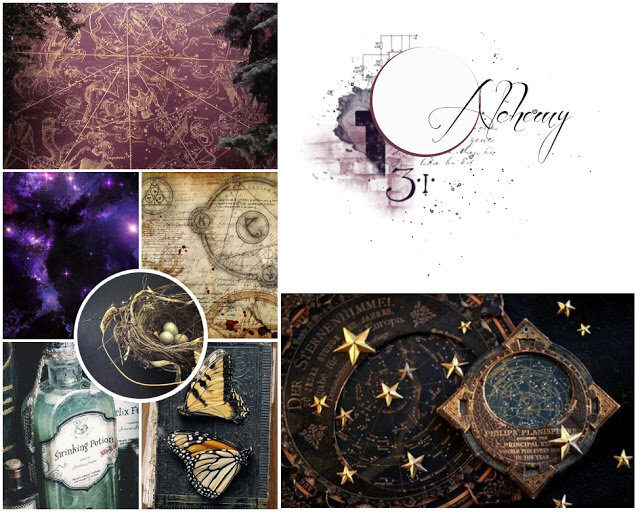 Don't you think it is gorgeous ? The colours and galaxy theme have really been inspiring to me. I thought the "Moon child" new release from Prima Marketing and Frank Garcia would be perfect for this challenge and I ended up buying a bunch of papers that I used in my project, although they are partly invisible.:)
Here is my project :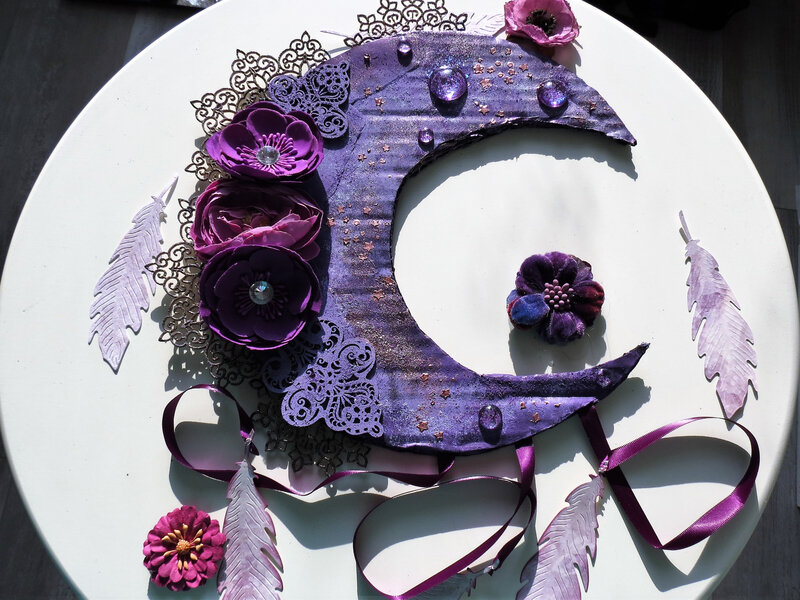 I decided I would make a crescent moon dream catcher from cardboard, which I painted with black gesso. I added a layer of Finnabair's Opal Magic Blue violet acrylic paint, but I covered it with layers of Rust Paste (from Finnabair as well) in lavender, purple and baby blue. I wanted to give a galaxy effect to the moon, so I sprinkled a bit of Wow! embossing glitter in gold and heat it up with my heat gun.
With the lavender rust effect past, I painted a couple of chipboard ornaments from Dusty attic (I really love these particular ones, they are absolutely gorgeous) and glued them on my chipboard moon. On top of the chipboard, I added three purple flowers.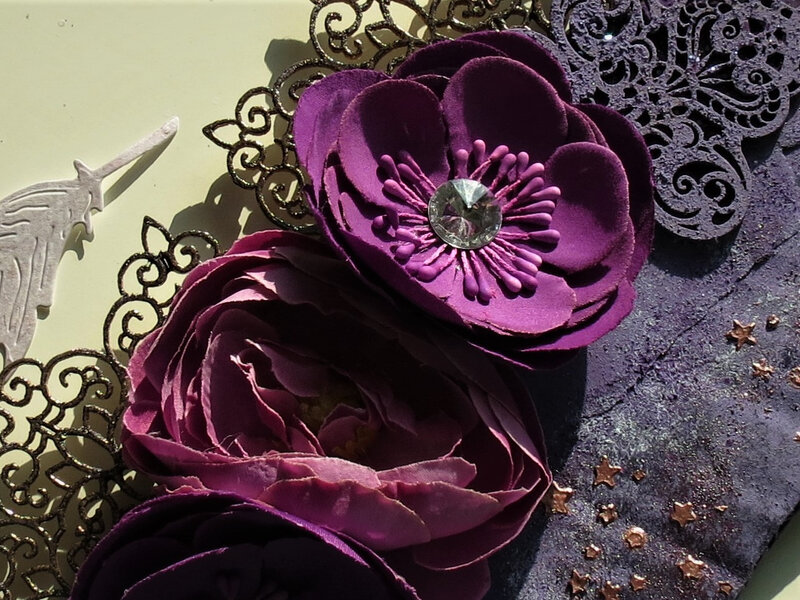 On the side, you can see two chipboard mandalas cut in half, from Scrap box and SnipArt. I embossed them with Wow! embossing powder (mulbery mist : it's a light lilac powder, mixed with gold embossing glitter. The gold gets more visible than the color). I glued them in between the two layers of chipboard I used for the crescent moon shape. I covered the bottom of a few cabochons with glue and purple glitter with blue reflections and added some stars through a stencil with Finnabair's new icing paste in rose gold (rose gold is one of my favorite colours in the world) !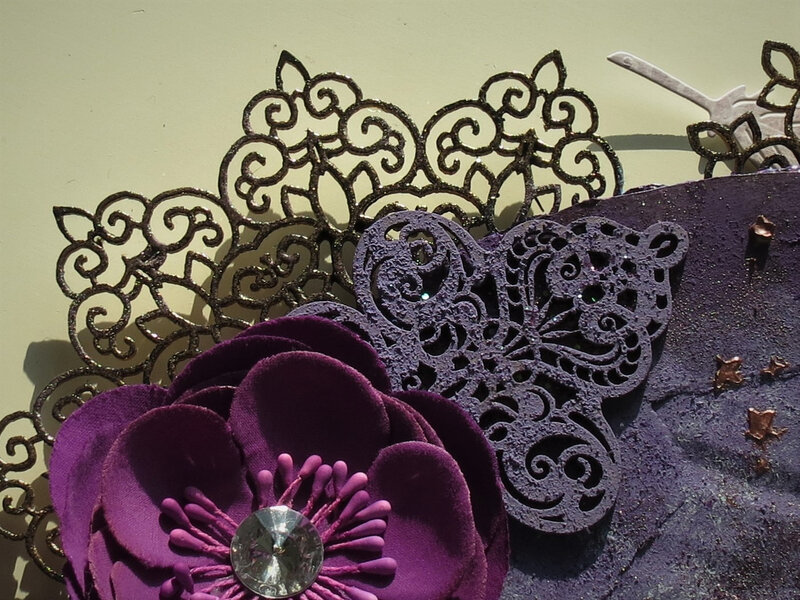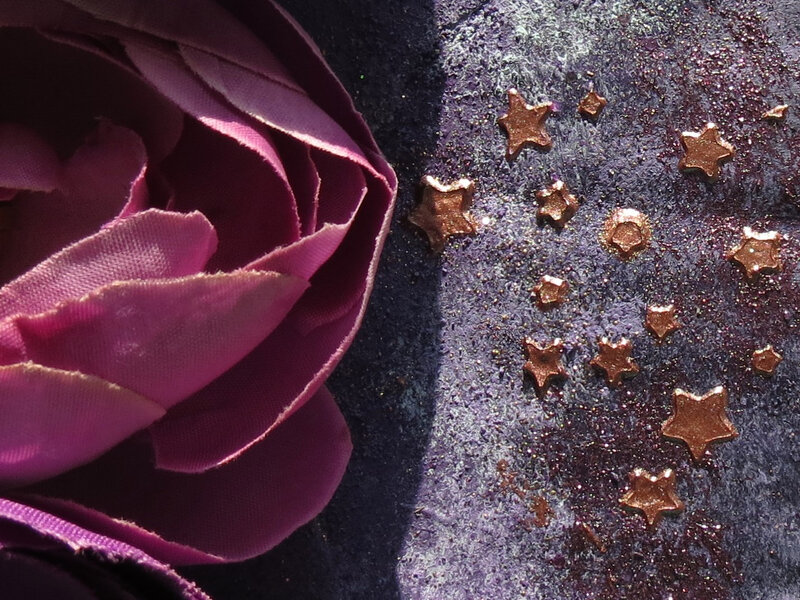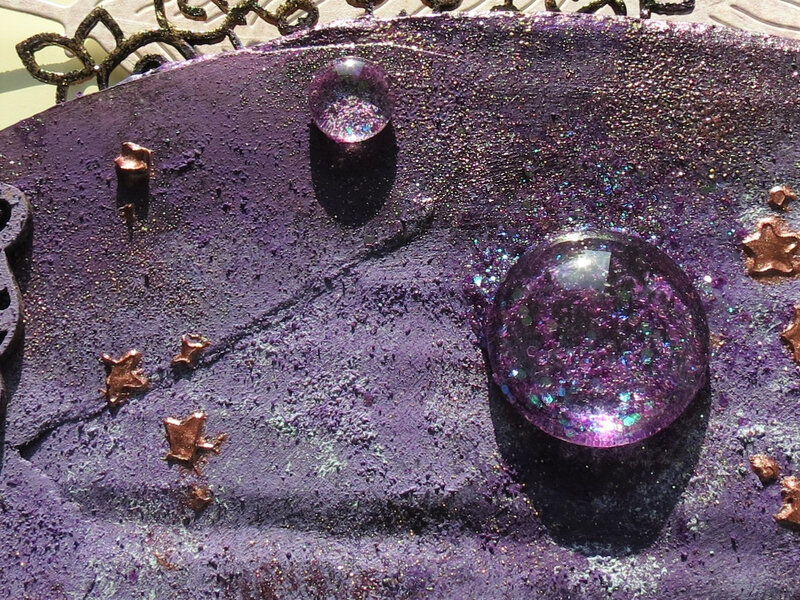 For the bottom, I glued (in between the two layers of chipboard as well) a few purple satin ribbons and I die cut some feathers out my Lunar Peak sheet of paper, from Moon Child collection, and I distressed them with seedless preserves distress ink from ranger.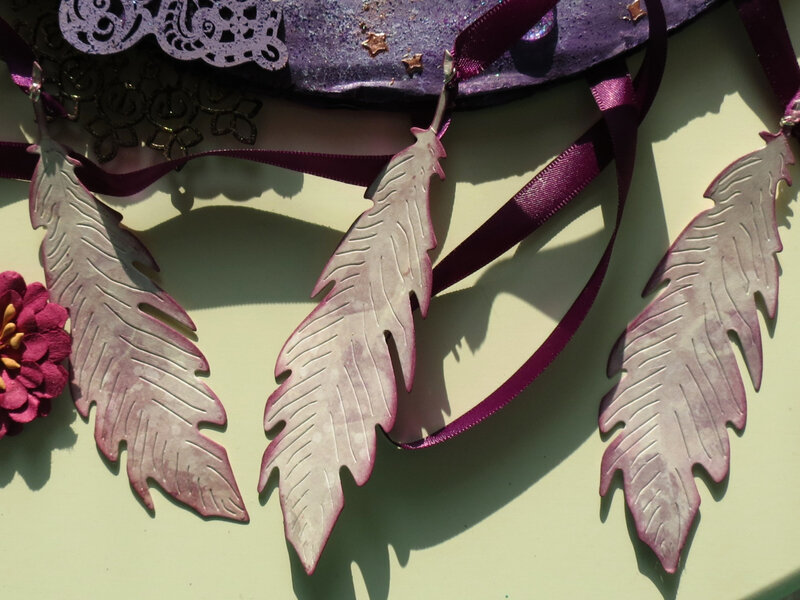 I am quite happy with my project. And you, what fo you think ? Please let me know in the comments !
See you soon !
Dear Mixed Media lovers,
Today is the day to share with you my last creation for this month Simply Create Too challenge : we had to make a shaker card. As you may have noticed by now, cards are not my thing. Although I enjoy making them once in a while, I don't really make them on a regular basis. So I asked If I could make something else instead of a card. And I could. So here it comes !
I have been inspired a lot by the song "Part of your world" from the movie the little mermaid.I wanted to make something mermaidy and that shows all the sunken treasures Ariel has in the movie.
I altered a round picture frame :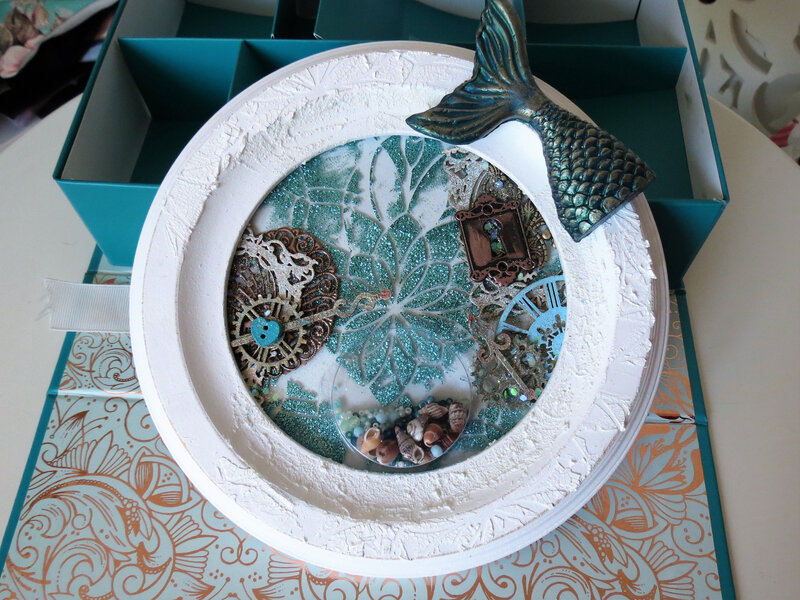 First I molded this gorgeous mermaid tail with paper clay. I painted it with Art Alchemy Metallic Emerald green acrylic paint by Finnabair, and added some touches of White gold wax.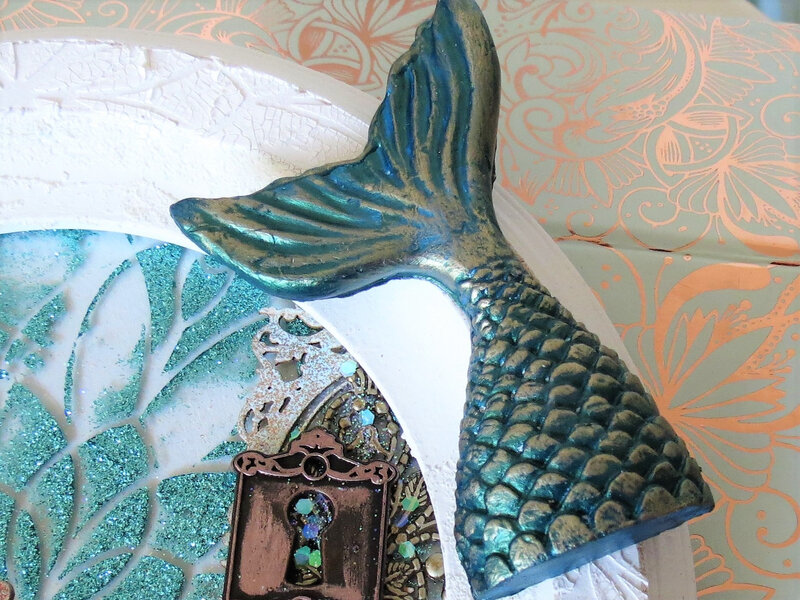 All around the frame itself, I added some crackle paste (Ranger) through my Marilyn stencil, from Simon Says Stamp. I had the stencil since last Christmas, but I was using it for the first time. God, how much do I love it ! Itreally gives a vitrail look to your pattern, it is amazing ! I also added some sand paste on the lower part of the frame :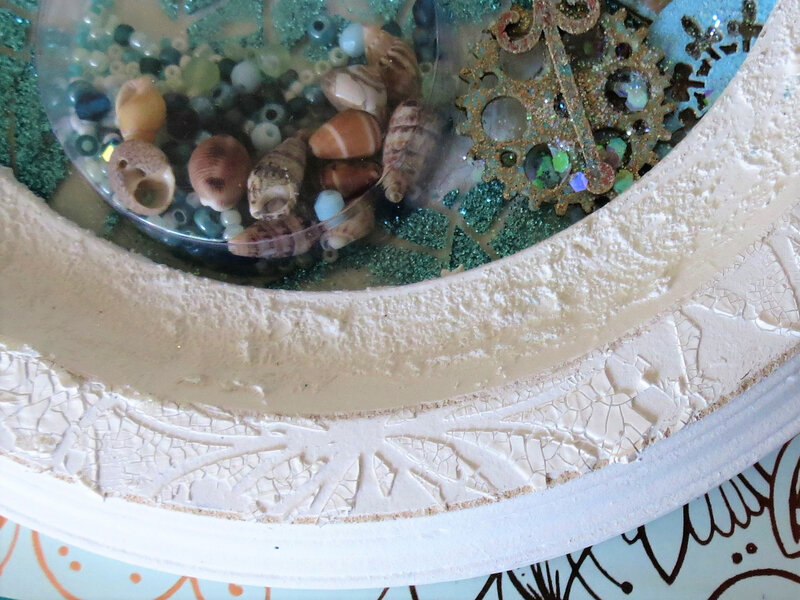 I used some chipboard (some from SnipArt, some that I found during my vacation in Spain), a wooden "heart" button and I embossed them with different "Wow" embossing powders in gold and blue shades... I used some Finnabair patina paste on some of them. I also added metallic embellishment that I coated with some rose gold and white gold wax.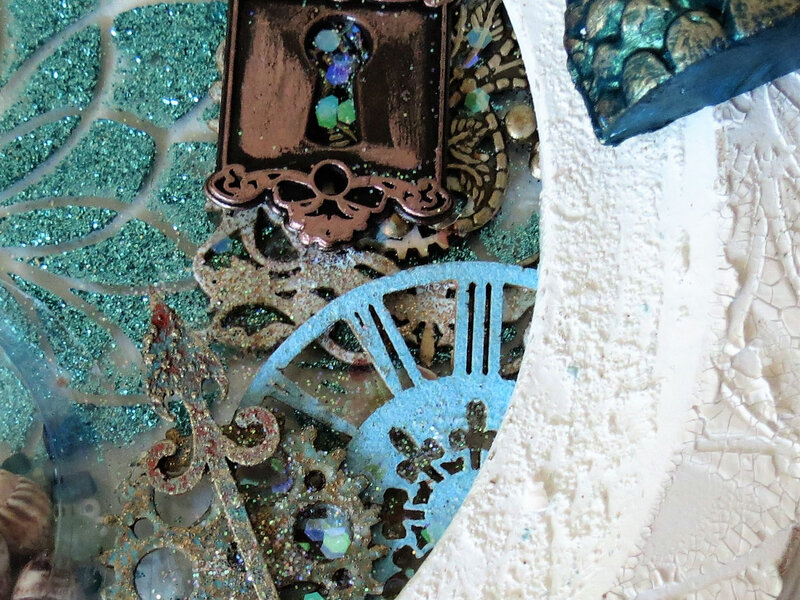 I forgot to say : I applied some sparkle texture paste from cosmic shimmer (in teal) through the Marilyn stencil on the glass of the frame. And the removable wooden part at the back of it has been painted with some white gesso (pebeo) and I sprinkled some thin glitter on it).
Then was the time to add my shaker. For this, I used one of my Finnabair's wax packaging (my last one, *sadness*, I'll have to buy more, right ?) and I put some natural sea shells, green, blue and white beads in it. I glued it on the background.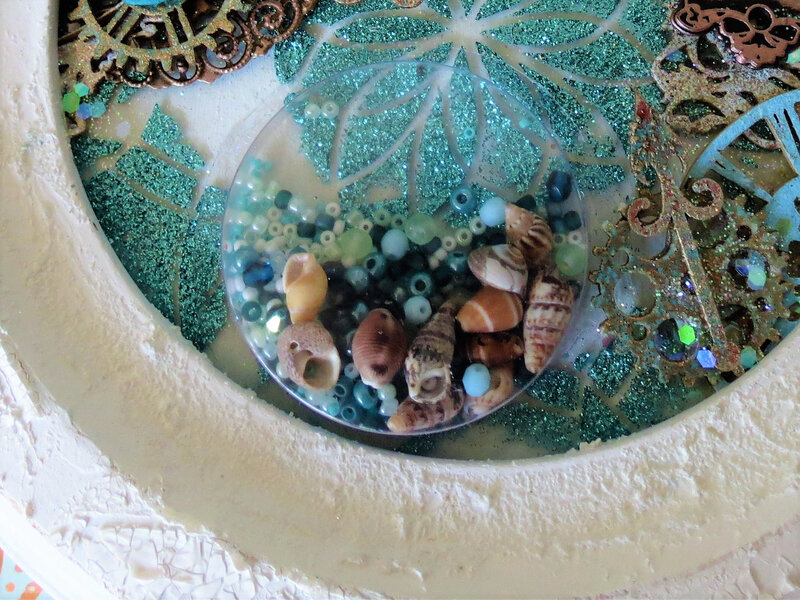 As a last touch, I added big glitter to symbolize the scales of the mermaid tale.
What do you think ? Here comes one more pic !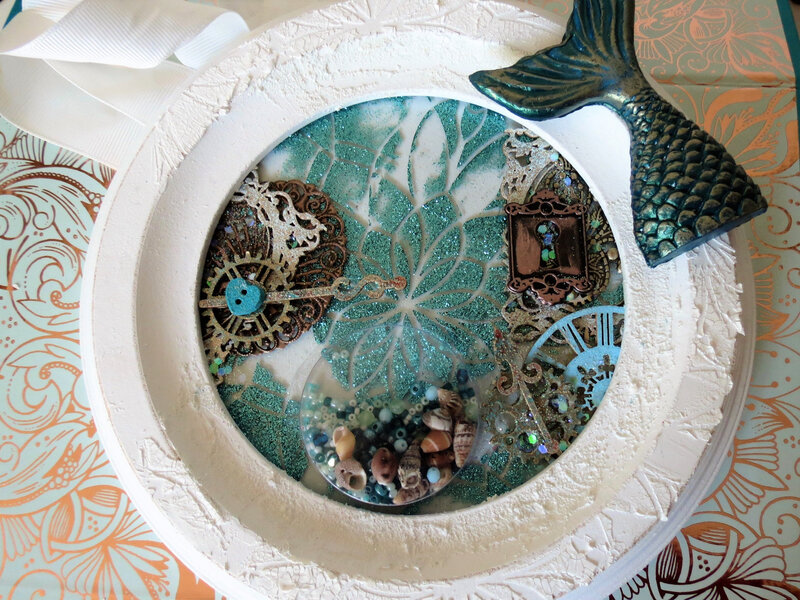 I just realized it has been a while I didn't add a photo tutorial post... I'll have to think about it for my next project !
Please go and visit Simply Create too, go see the amazing inspiration from my team mate, they prepared nice shakers for you! Enter the challenge and play with us !
See you soon !
Hello crafty friends !
Today I am sharing with you my latest entry to MMA challenge : Journey. Have a look at this gorgeous moodboard :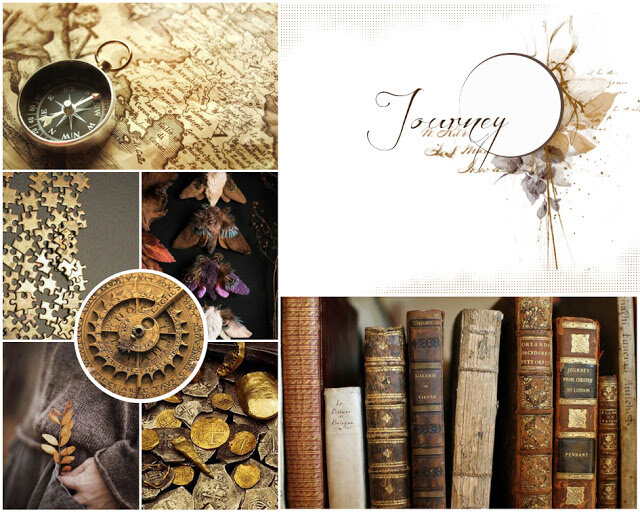 Usually, brown and gold tones are not my colours... But I instantaneously felt in love with this moodboard ! Everything was so inspiring, it was really hard to choose, but I went with a "use your stash". To remind the books of the moodboard, I decided I would alter a notebook. My very first notebook cover alteration !!
This challenge is then really challenging :). But this is really nice, I can get out of my comfort zone and I like that.
This is the finished piece :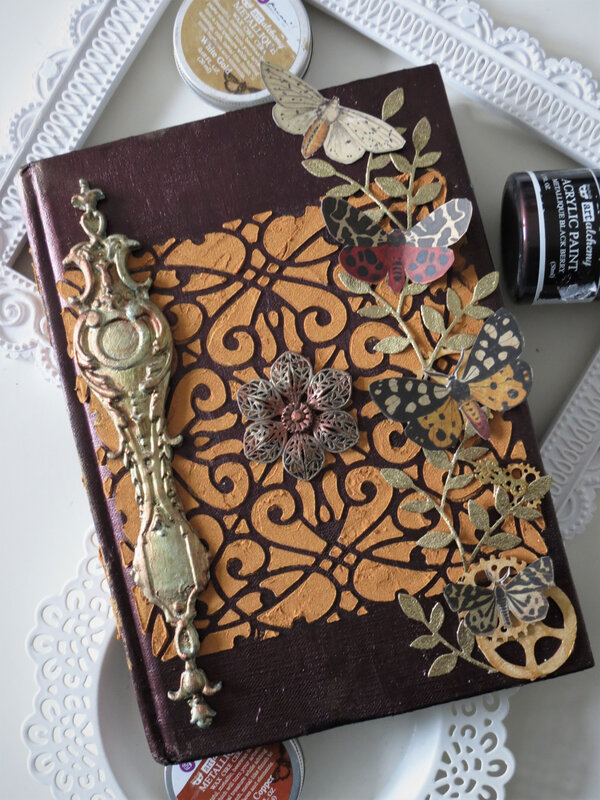 At the beginning, I had in mind to alter a smaller book, which looked like a Spell book. I couldn't find it, so I went with this old notebook instead.
I started to paint the cover with Black Gesso from Finnabair, and once everything was dry, I added a layer of Art Alchemy Metallic Black berry paint. It is a very deep brown, almost chocolate, slightly purple-ish. I like this colour. It would be perfect for a combo with teal too !
Then, I mixed some texture paste from Ranger to a bit of gold Mica powder. It turned ocre, slightly shining, and it is beautiful. I applied it on my cover with a palette knife through my Bohemian Background stencil, from Couture Creations.
I also molded some paperclay piece into a mold from Prima Marketing, which I painted with black gesso and then some Art Alchemy Opal Magic blue gold paint, from Finnabair again. It turned out a bit too blue, so I added so Rich Copper wax (Finnabair again:) )here and there, where the blue colour was too visible.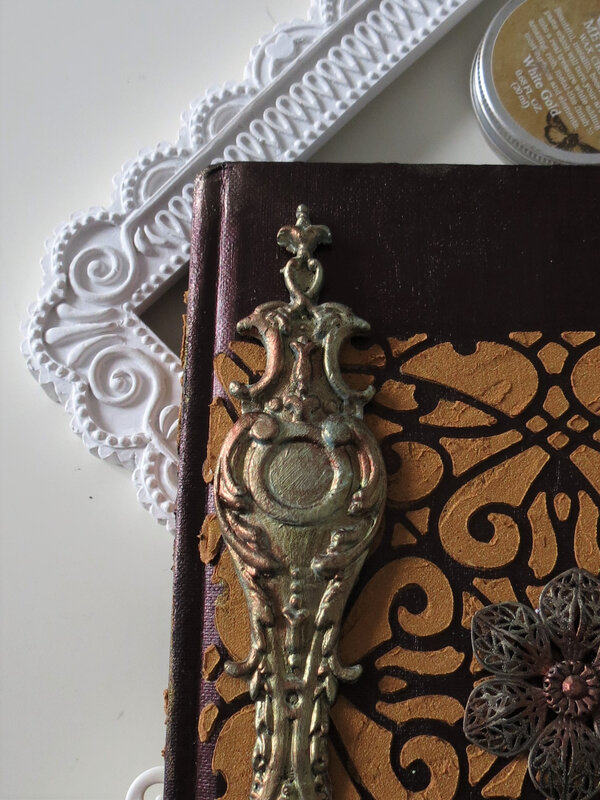 In the center of the cover, I glued some old piece of jewelry I had in my stash for a while. I applied a slight coat of black gesso, then added some white gold and rich copper wax to it.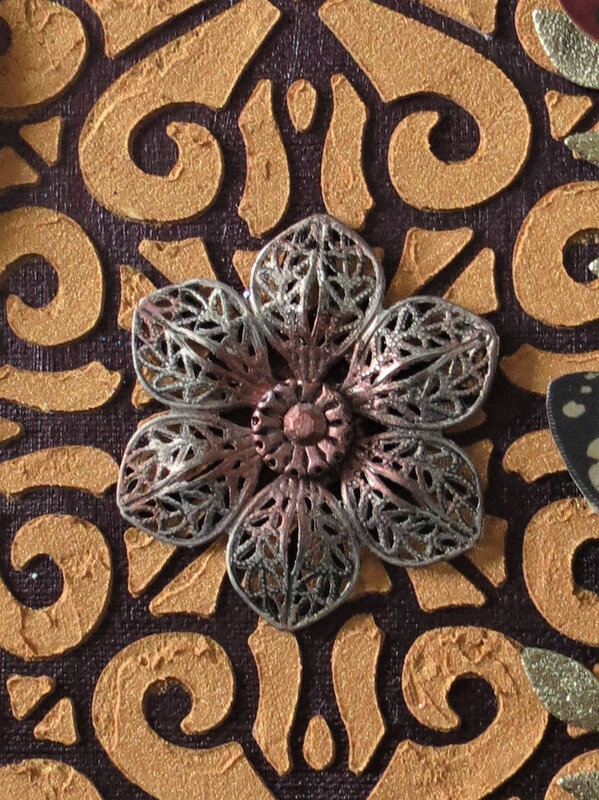 For the right side, I glued some chipboard pieces from SnipArt which I painted with Gold acrylic paint (Liquitex), I die cut some leaves which I heat embossed with Wow gold embossing glitter and I fussy cut some butterflies from my "Entomology" paper, from Kaisercraft Anthropology collection.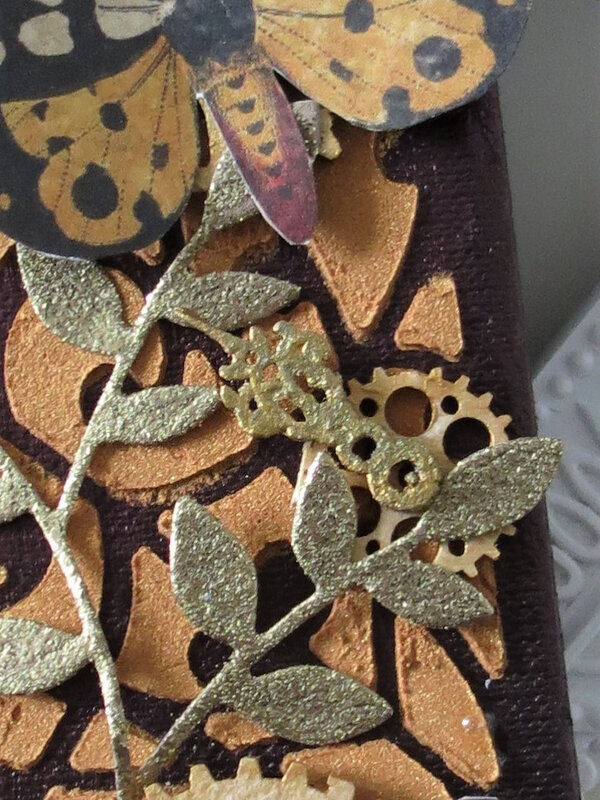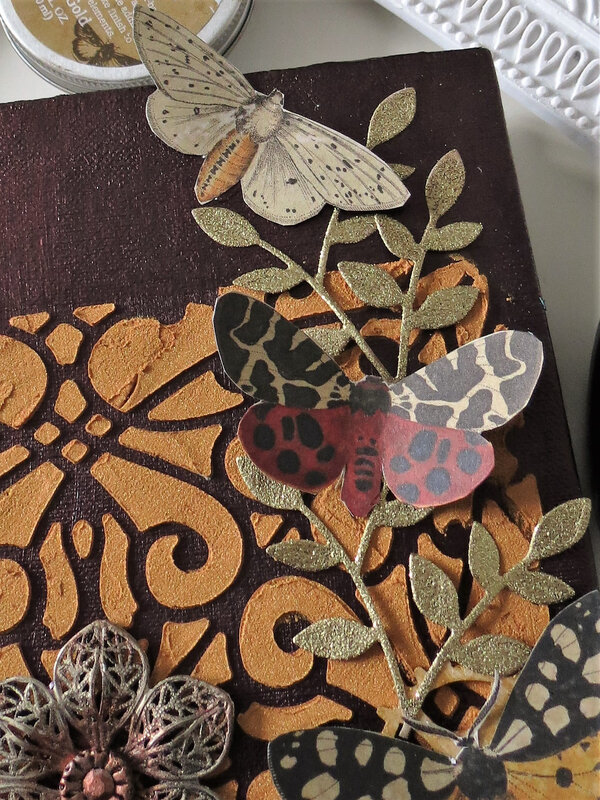 This way, we find in my project the colours of the moodboard and some elements : the steampunk pieces, the book, the leaves and the butterflies (they are moth on the moodboard, but I really wanted to use the butterflies from the Entomology paper:D).
What do you think ? You can find below more details :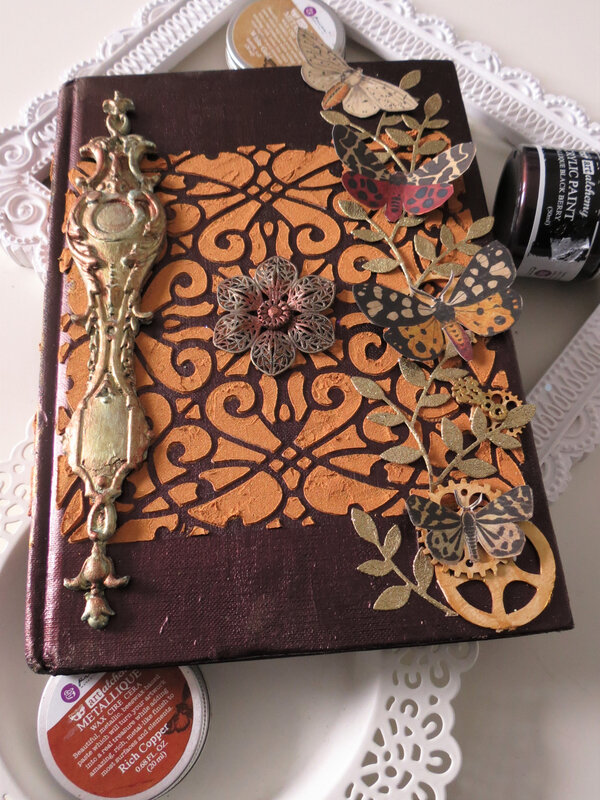 Don't hesitate to let me know what you think in the comments !
I will see you on Friday with my new project for Simply Create too !
Hello all !
I have been crafting a little lately, but not enough to be able to publish another article sooner. But here I am !
I have been making a gift box for my manager, as she leaves on a maternity leave soon. We wanted to make her a gifts basket, so I took the charge of the basket :) :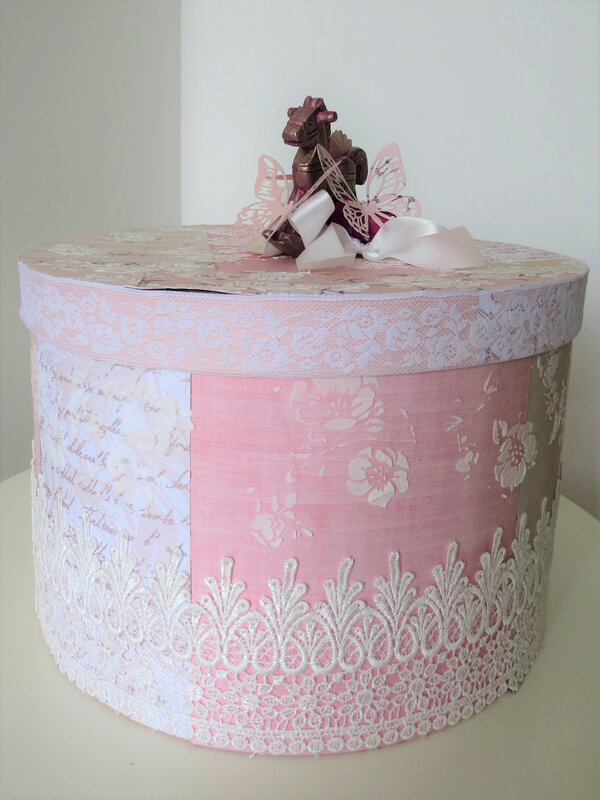 I bought a big round box in a shop and wanted to alter it. It was my first round box and I was very excited at the beginning. Then my feelings changed : I became a bit more reluctant to the idea as I had absolutely no clue on how I would handle it, ah ah. But I didn't give up and started working on it, going through my paper stash, thinking about what papers I already had. I also bought a few new ones.
I wanted ocre tones, but couldn't resist the idea of putting some pink on it. And it ended not being ocre at all :D. I wanted kind of a patchwork effect, so I cut out some wide bands of different kinds of paper and glued it onto the box. I did the same on the lid.
Then, I noticed some parts were a bit clumsy (I didn't glue the paper perfectly straight, for instance. I am so bad at this : cutting straight, putting things straight, measuring etc. Really bad). so I decided to hide them with some lace (on the bottom of the box) and I also wanted to hide the rough edges of the box with another ribbon.
I added some flowers onto the lid and onto the box, using a Stamper Anonymous Stencil within the Tim Holtz collection and some ranger texture paste. I must confess one thing : I have this stencil for 10 months now. It was supposed to be a present for my sister's birthday last year, but I didn't see her for a long time (she lives in France with my parents). I wasn't supposed to use it, but it was exactly what I needed for the box. And I wanted it so BAD. I should probably get my sister another stencil I want less :). But -second confession- : I have ABSOLUTELY NO REGRET. This stencil is amazing, so pretty. I want more of this collection.
Finally, I got busy with the center piece of the lid. After prepping a little rocking horse with white gesso, I painted it with Romance pink metallic acrylic paint by Finnabair and added so white gold withe on it. I glued it on top of the lid with some fabric flowers, an handmade bow. I added some butterflies die cuts (I used the same paper as fo the box plus another one, and Alterations Detailed butterflies thinlits dies by Tim Holtz. I love those, they are so delicate !).
In the end, I am so happy with the box, even though a few details could still be better. But I love it. I think it is pretty delicate and cute. What do you think ? See below more details so you can have a clear idea of the complete box !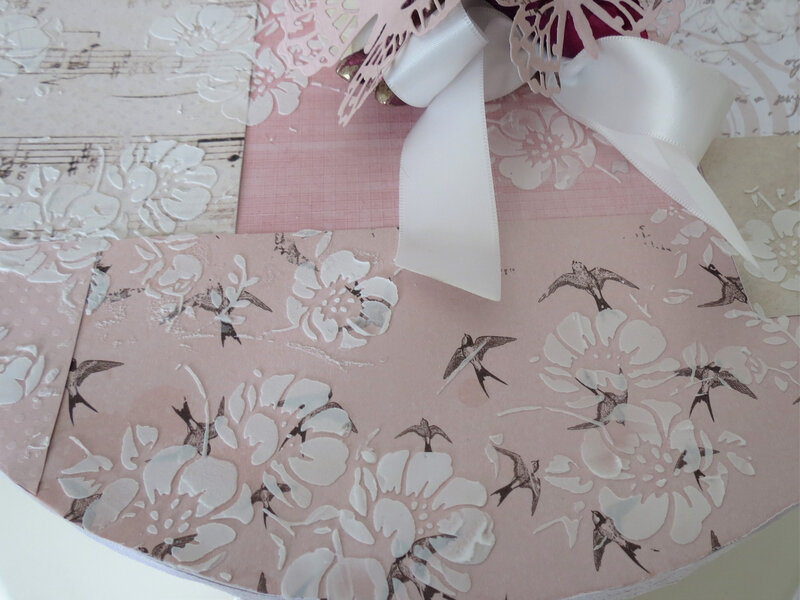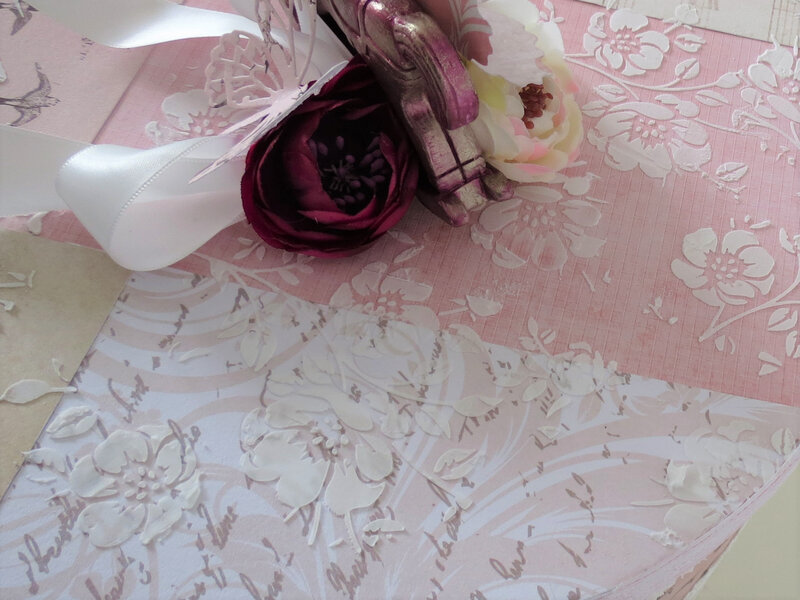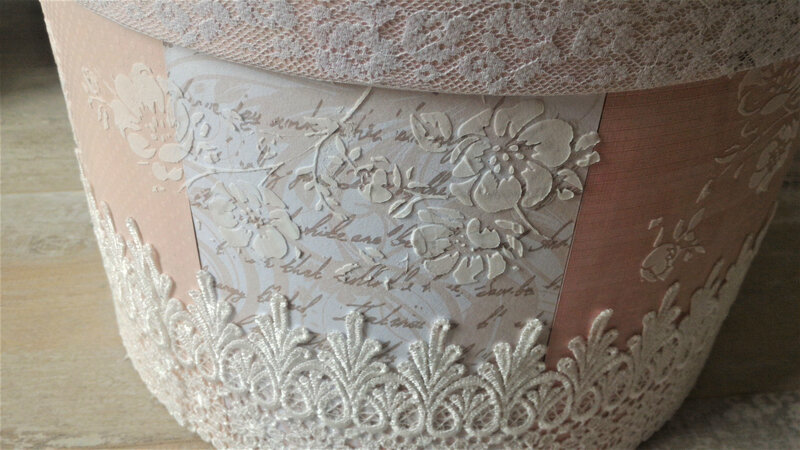 Don't hesitate to let me know what you think in the comments !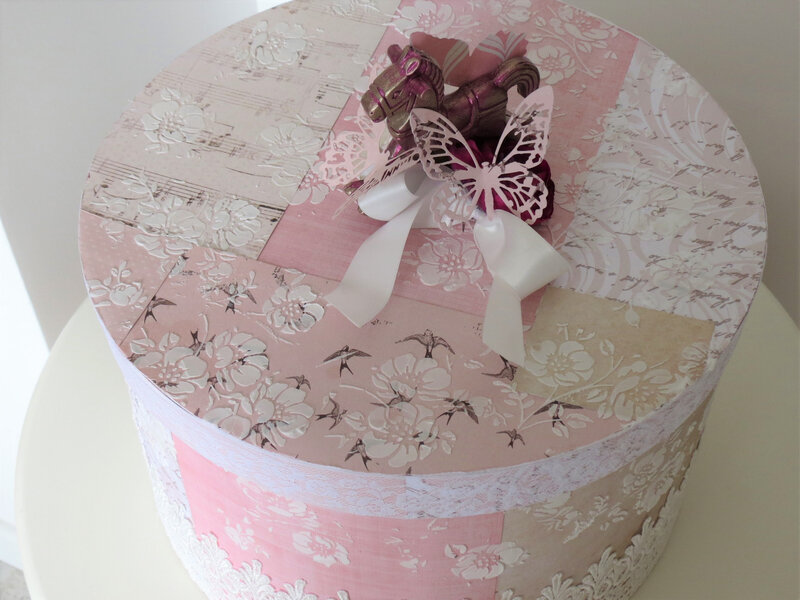 See you with for another creation !
Hello Mixed Media lovers,
Lately, I have been inspired by Frank Garcia (who is himself very inspired by the culture of my country) and I made an altered fan that I presented for Prima DT Call :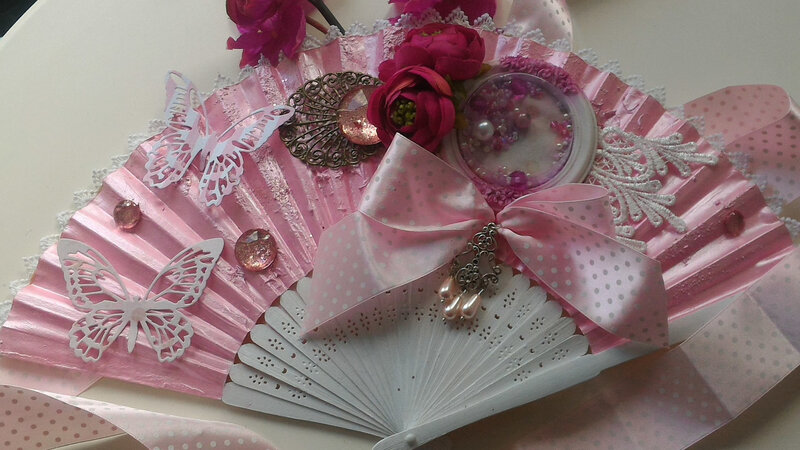 As you can see, it is very girly and pink. I decided to name it "Marie-Antoinette". For the background, I used Finnabair's sand texture paste, some crackle paste and some Finnabair's art stones. But I didn't like it, so after I painted it with Finnabair's Art Alchemy Metallique Vintage Rose acrylic paint, I decided I would cover the textured parts. We still can see some of them now, but it is discreet enough for me to like the fan :). The bottom of the fan has been covered with 2-3 layers of white Gesso.
You can see here more details :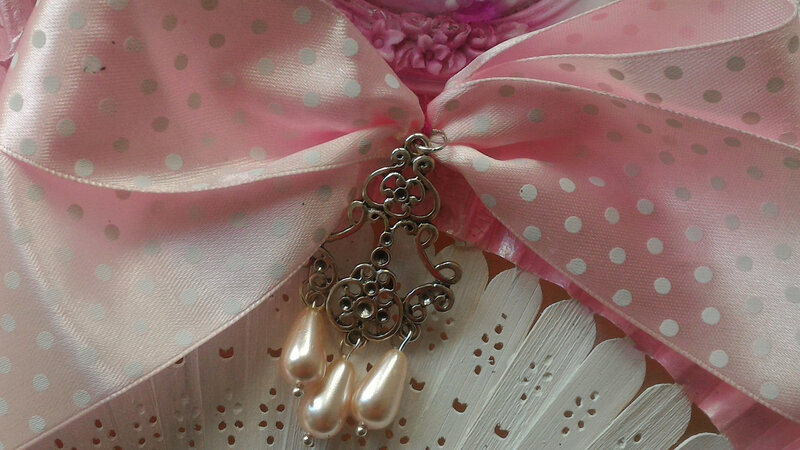 I really like this bow that I made out of pink with white polka dots ribbon. I also made the pendant myself.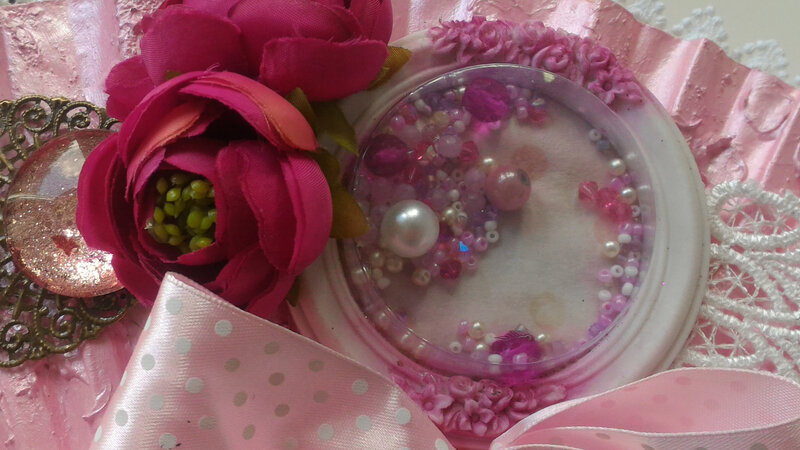 For the shaker, I used a combination of beads I had in my stash, one of Frank Garcia's resin frame by Prima Marketing, Artisan Powder (Mesdames Merlot, this colour is gorgeous !)and I kept my Finnabair's wax packagings. I used one of these, it fits perfectly underneath the little frame !I had lots of fun making this shaker and I love it. What about you ? I also used fabric flowers, bronze filigree and some cabochons with gold rose glitter.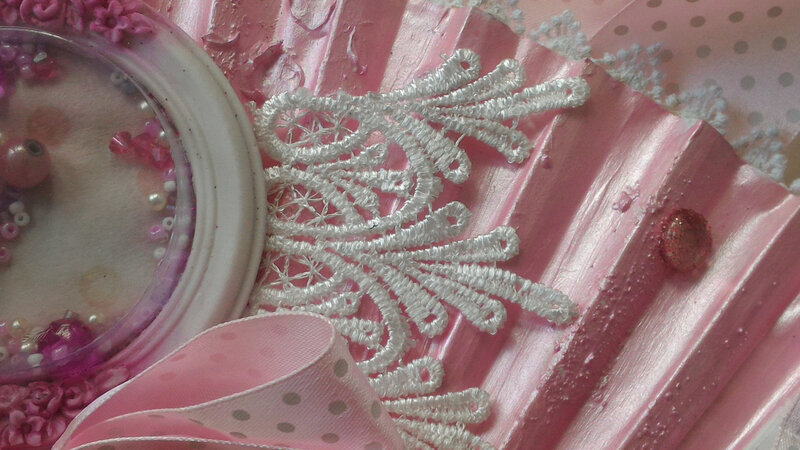 Some pretty lace trim...
I used my Detailed Butterflies thinlits die set by Tim Holtz and Sizzix to make those delicate butterflies out of different kinds of pattern papers. You can also see some cabochons I made : I glued rose gold glitter on their back. Pretty, right ?
What do you think of my fan ?
See you soon for another post !