Dear Mixed Media lovers,
Today is the day to share with you my last creation for this month Simply Create Too challenge : we had to make a shaker card. As you may have noticed by now, cards are not my thing. Although I enjoy making them once in a while, I don't really make them on a regular basis. So I asked If I could make something else instead of a card. And I could. So here it comes !
I have been inspired a lot by the song "Part of your world" from the movie the little mermaid.I wanted to make something mermaidy and that shows all the sunken treasures Ariel has in the movie.
I altered a round picture frame :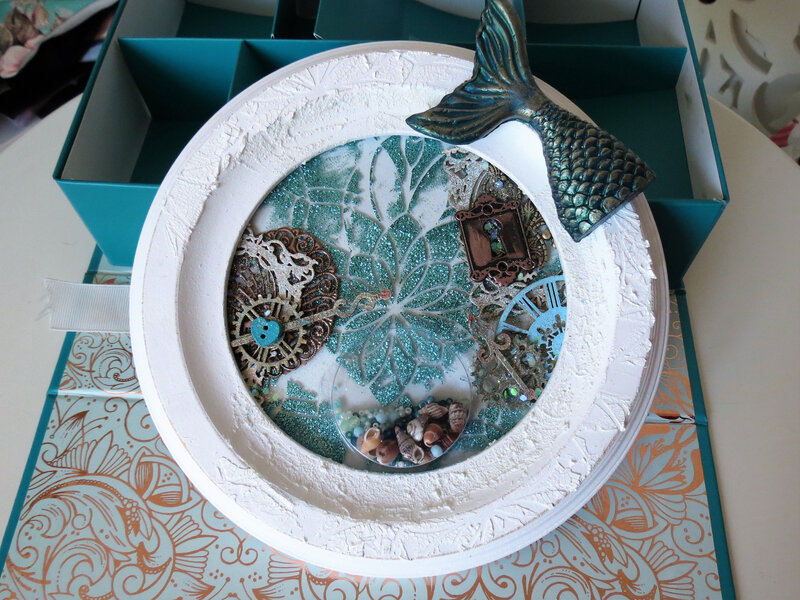 First I molded this gorgeous mermaid tail with paper clay. I painted it with Art Alchemy Metallic Emerald green acrylic paint by Finnabair, and added some touches of White gold wax.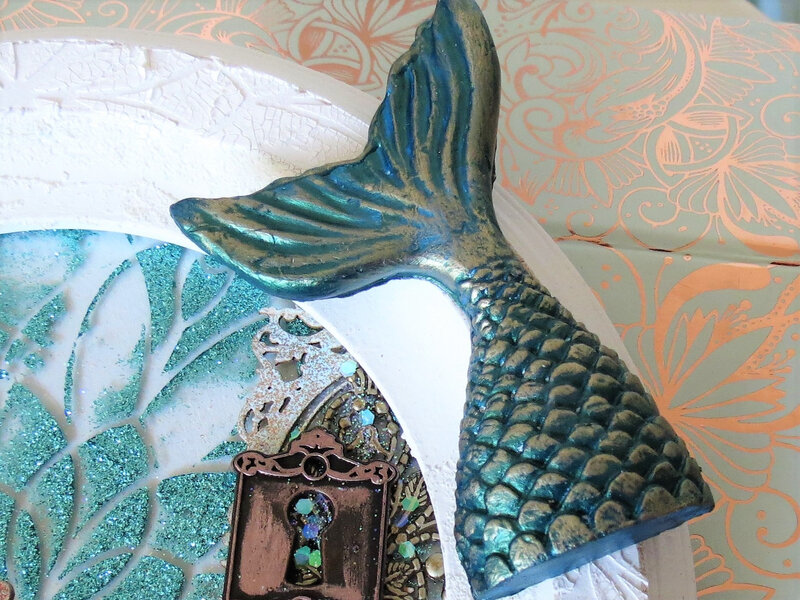 All around the frame itself, I added some crackle paste (Ranger) through my Marilyn stencil, from Simon Says Stamp. I had the stencil since last Christmas, but I was using it for the first time. God, how much do I love it ! Itreally gives a vitrail look to your pattern, it is amazing ! I also added some sand paste on the lower part of the frame :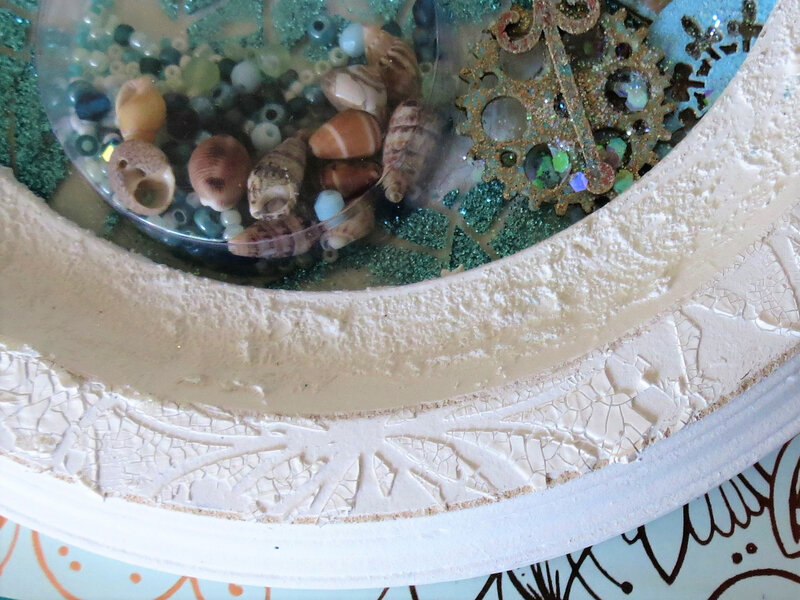 I used some chipboard (some from SnipArt, some that I found during my vacation in Spain), a wooden "heart" button and I embossed them with different "Wow" embossing powders in gold and blue shades... I used some Finnabair patina paste on some of them. I also added metallic embellishment that I coated with some rose gold and white gold wax.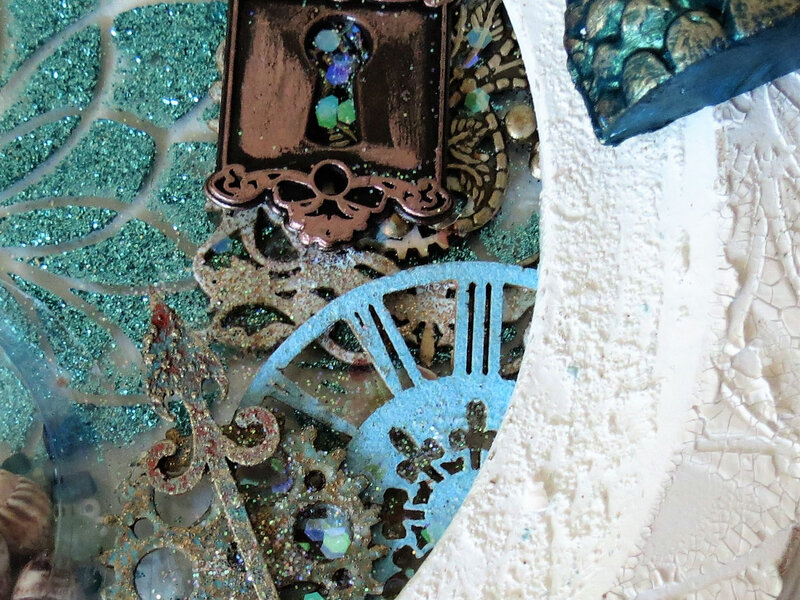 I forgot to say : I applied some sparkle texture paste from cosmic shimmer (in teal) through the Marilyn stencil on the glass of the frame. And the removable wooden part at the back of it has been painted with some white gesso (pebeo) and I sprinkled some thin glitter on it).
Then was the time to add my shaker. For this, I used one of my Finnabair's wax packaging (my last one, *sadness*, I'll have to buy more, right ?) and I put some natural sea shells, green, blue and white beads in it. I glued it on the background.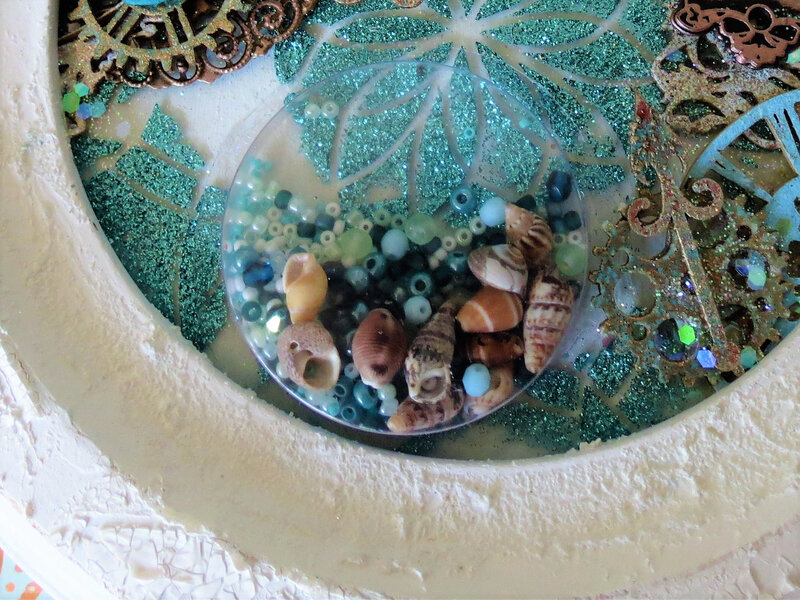 As a last touch, I added big glitter to symbolize the scales of the mermaid tale.
What do you think ? Here comes one more pic !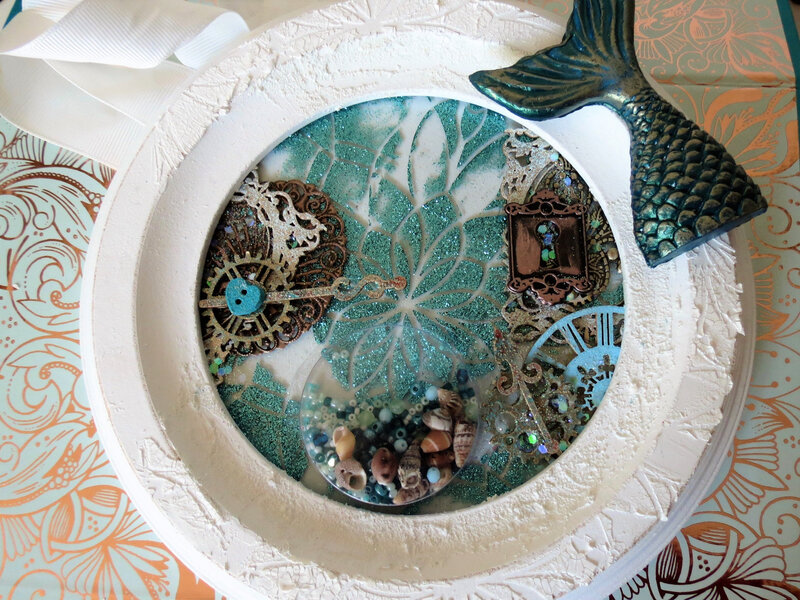 I just realized it has been a while I didn't add a photo tutorial post... I'll have to think about it for my next project !
Please go and visit Simply Create too, go see the amazing inspiration from my team mate, they prepared nice shakers for you! Enter the challenge and play with us !
See you soon !
Hello crafty friends !
Today I am sharing with you my latest entry to MMA challenge : Journey. Have a look at this gorgeous moodboard :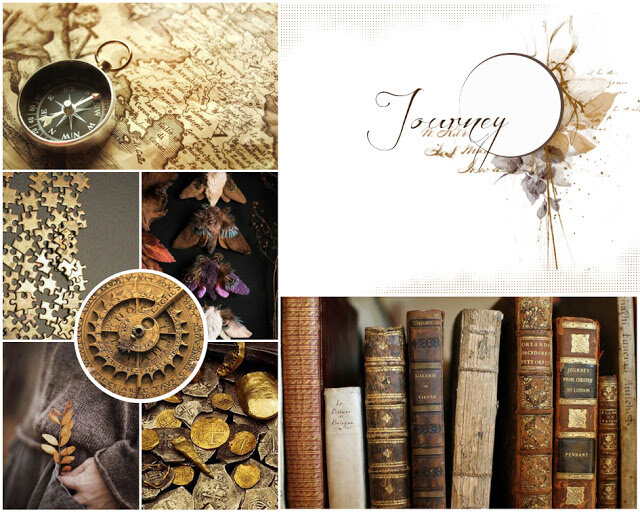 Usually, brown and gold tones are not my colours... But I instantaneously felt in love with this moodboard ! Everything was so inspiring, it was really hard to choose, but I went with a "use your stash". To remind the books of the moodboard, I decided I would alter a notebook. My very first notebook cover alteration !!
This challenge is then really challenging :). But this is really nice, I can get out of my comfort zone and I like that.
This is the finished piece :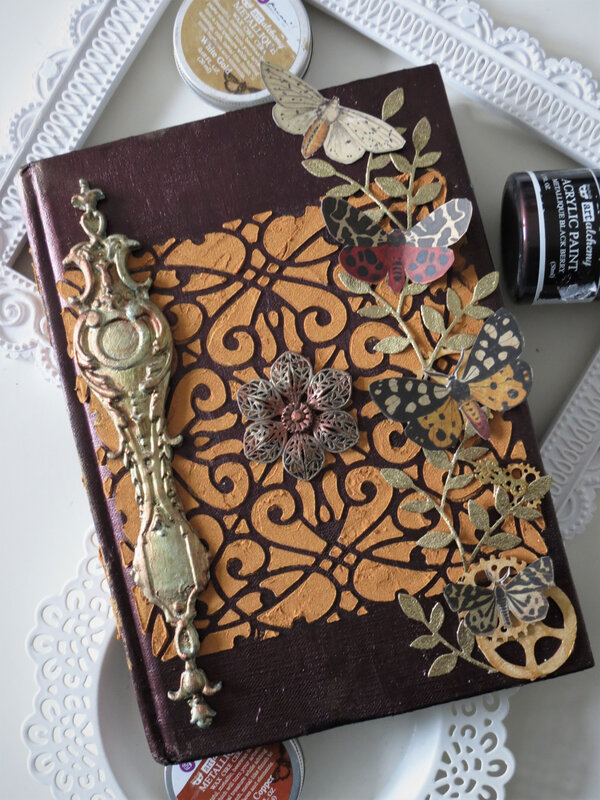 At the beginning, I had in mind to alter a smaller book, which looked like a Spell book. I couldn't find it, so I went with this old notebook instead.
I started to paint the cover with Black Gesso from Finnabair, and once everything was dry, I added a layer of Art Alchemy Metallic Black berry paint. It is a very deep brown, almost chocolate, slightly purple-ish. I like this colour. It would be perfect for a combo with teal too !
Then, I mixed some texture paste from Ranger to a bit of gold Mica powder. It turned ocre, slightly shining, and it is beautiful. I applied it on my cover with a palette knife through my Bohemian Background stencil, from Couture Creations.
I also molded some paperclay piece into a mold from Prima Marketing, which I painted with black gesso and then some Art Alchemy Opal Magic blue gold paint, from Finnabair again. It turned out a bit too blue, so I added so Rich Copper wax (Finnabair again:) )here and there, where the blue colour was too visible.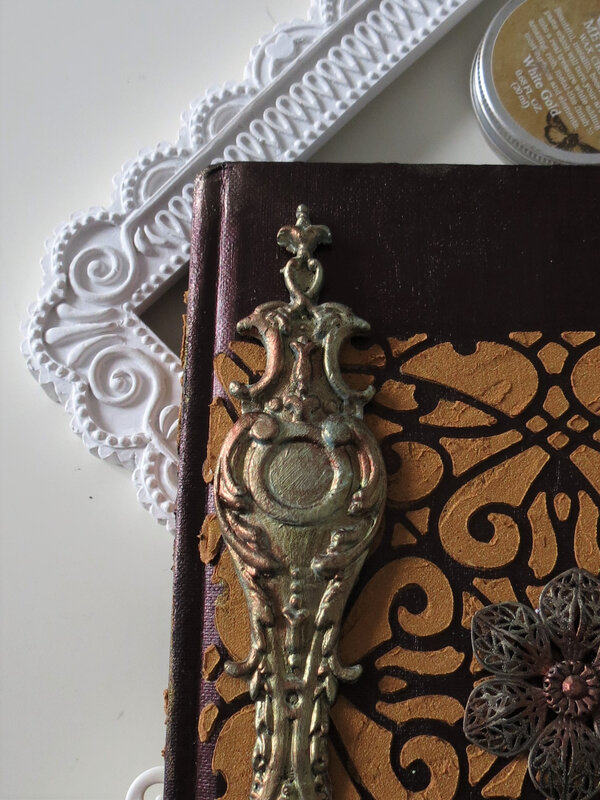 In the center of the cover, I glued some old piece of jewelry I had in my stash for a while. I applied a slight coat of black gesso, then added some white gold and rich copper wax to it.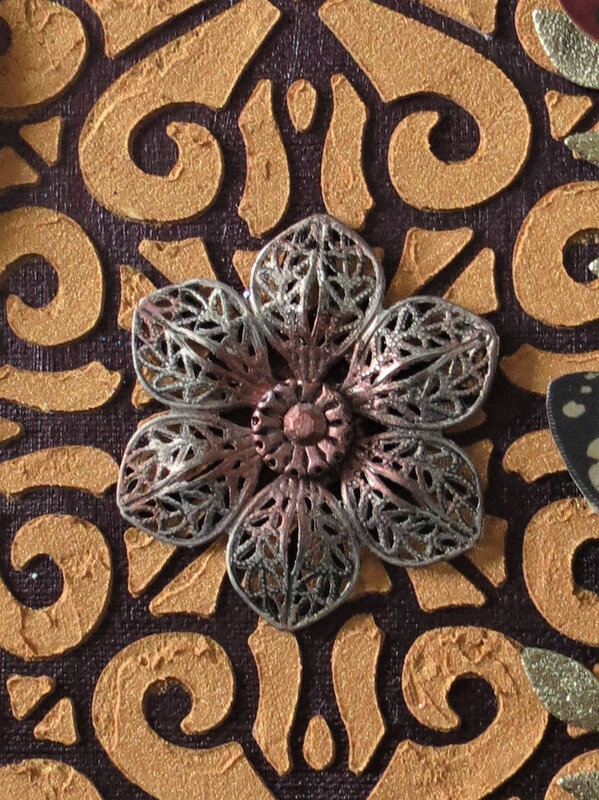 For the right side, I glued some chipboard pieces from SnipArt which I painted with Gold acrylic paint (Liquitex), I die cut some leaves which I heat embossed with Wow gold embossing glitter and I fussy cut some butterflies from my "Entomology" paper, from Kaisercraft Anthropology collection.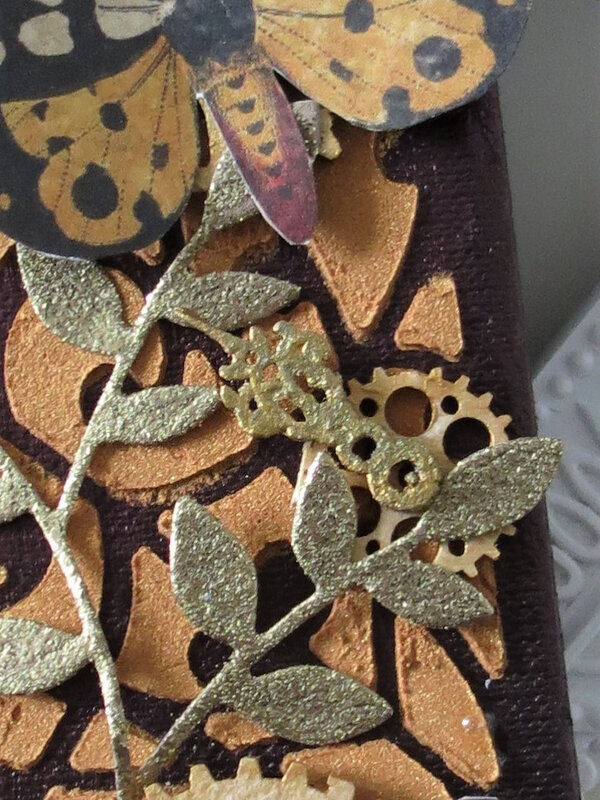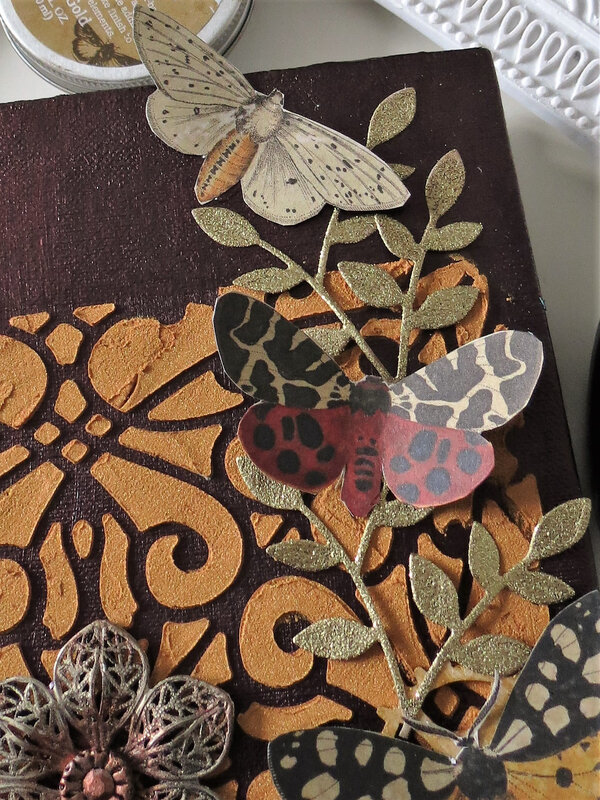 This way, we find in my project the colours of the moodboard and some elements : the steampunk pieces, the book, the leaves and the butterflies (they are moth on the moodboard, but I really wanted to use the butterflies from the Entomology paper:D).
What do you think ? You can find below more details :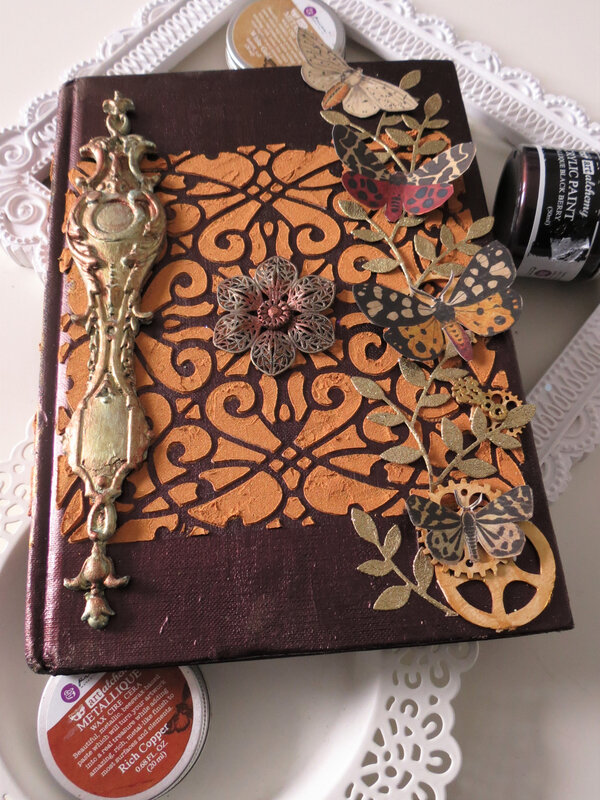 Don't hesitate to let me know what you think in the comments !
I will see you on Friday with my new project for Simply Create too !
Hello all !
I have been crafting a little lately, but not enough to be able to publish another article sooner. But here I am !
I have been making a gift box for my manager, as she leaves on a maternity leave soon. We wanted to make her a gifts basket, so I took the charge of the basket :) :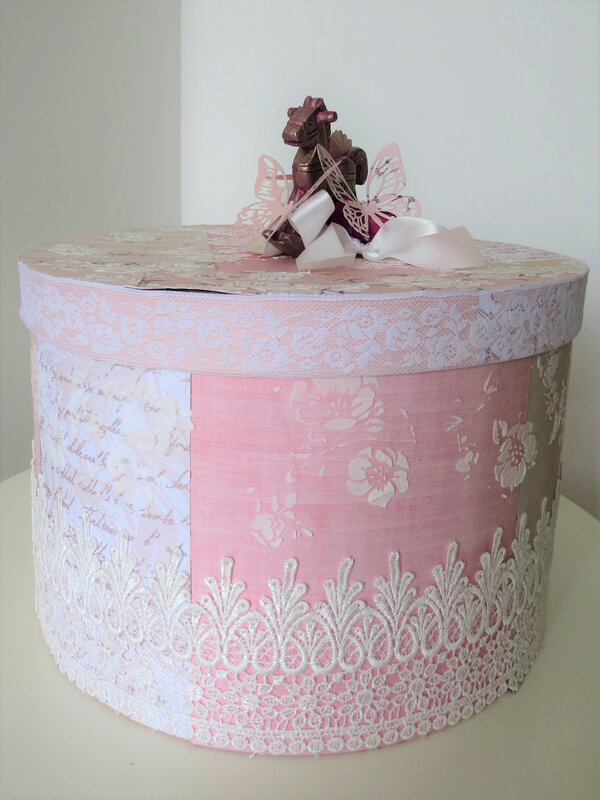 I bought a big round box in a shop and wanted to alter it. It was my first round box and I was very excited at the beginning. Then my feelings changed : I became a bit more reluctant to the idea as I had absolutely no clue on how I would handle it, ah ah. But I didn't give up and started working on it, going through my paper stash, thinking about what papers I already had. I also bought a few new ones.
I wanted ocre tones, but couldn't resist the idea of putting some pink on it. And it ended not being ocre at all :D. I wanted kind of a patchwork effect, so I cut out some wide bands of different kinds of paper and glued it onto the box. I did the same on the lid.
Then, I noticed some parts were a bit clumsy (I didn't glue the paper perfectly straight, for instance. I am so bad at this : cutting straight, putting things straight, measuring etc. Really bad). so I decided to hide them with some lace (on the bottom of the box) and I also wanted to hide the rough edges of the box with another ribbon.
I added some flowers onto the lid and onto the box, using a Stamper Anonymous Stencil within the Tim Holtz collection and some ranger texture paste. I must confess one thing : I have this stencil for 10 months now. It was supposed to be a present for my sister's birthday last year, but I didn't see her for a long time (she lives in France with my parents). I wasn't supposed to use it, but it was exactly what I needed for the box. And I wanted it so BAD. I should probably get my sister another stencil I want less :). But -second confession- : I have ABSOLUTELY NO REGRET. This stencil is amazing, so pretty. I want more of this collection.
Finally, I got busy with the center piece of the lid. After prepping a little rocking horse with white gesso, I painted it with Romance pink metallic acrylic paint by Finnabair and added so white gold withe on it. I glued it on top of the lid with some fabric flowers, an handmade bow. I added some butterflies die cuts (I used the same paper as fo the box plus another one, and Alterations Detailed butterflies thinlits dies by Tim Holtz. I love those, they are so delicate !).
In the end, I am so happy with the box, even though a few details could still be better. But I love it. I think it is pretty delicate and cute. What do you think ? See below more details so you can have a clear idea of the complete box !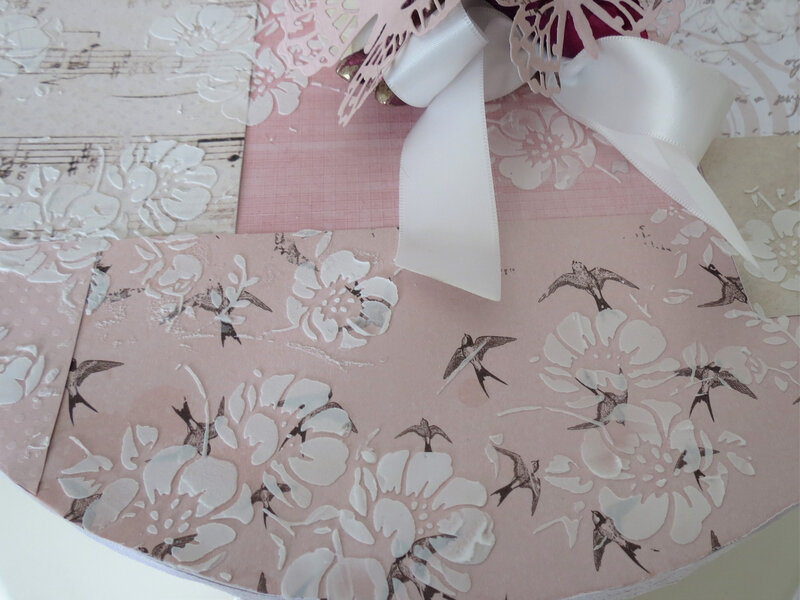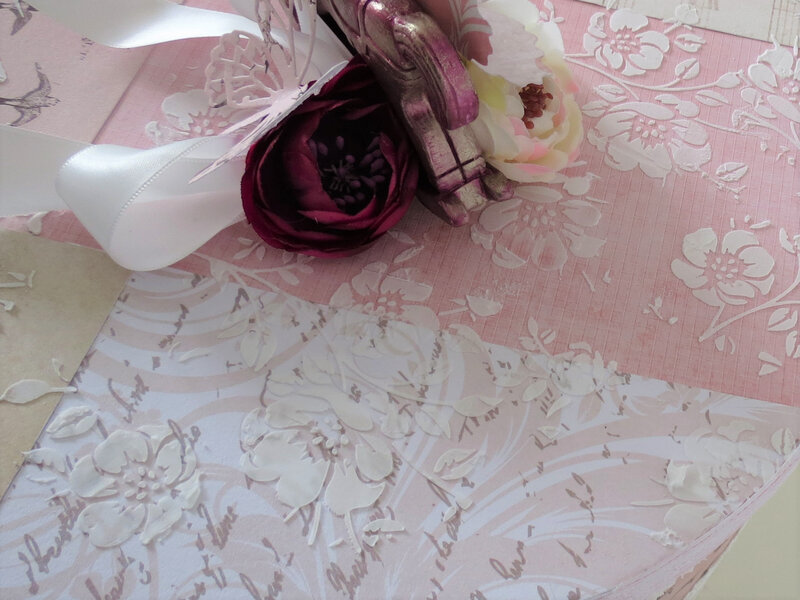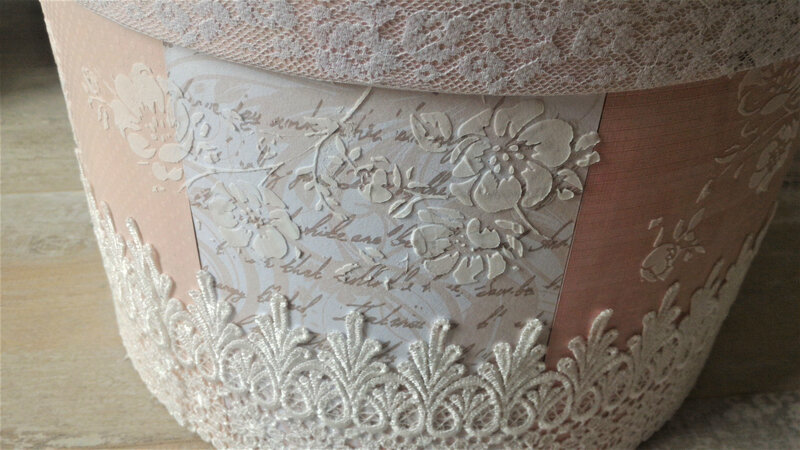 Don't hesitate to let me know what you think in the comments !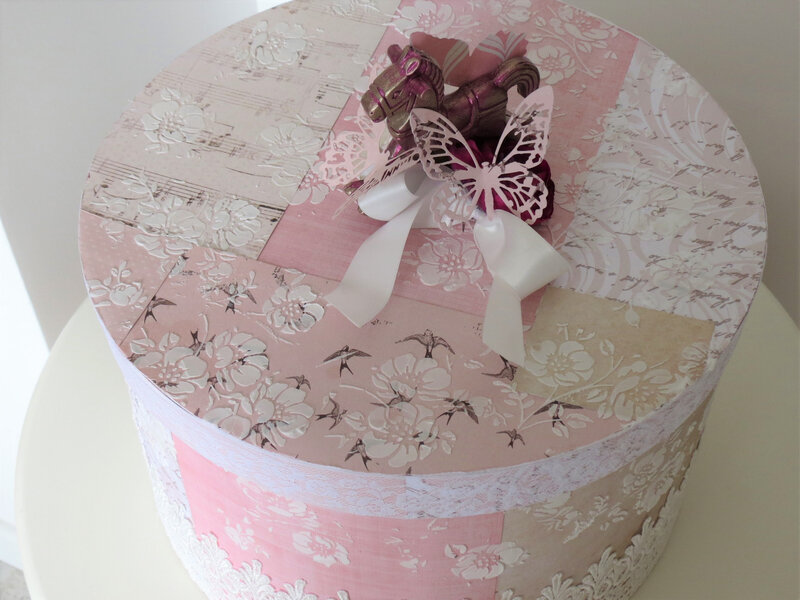 See you with for another creation !
Hello Mixed Media lovers,
Lately, I have been inspired by Frank Garcia (who is himself very inspired by the culture of my country) and I made an altered fan that I presented for Prima DT Call :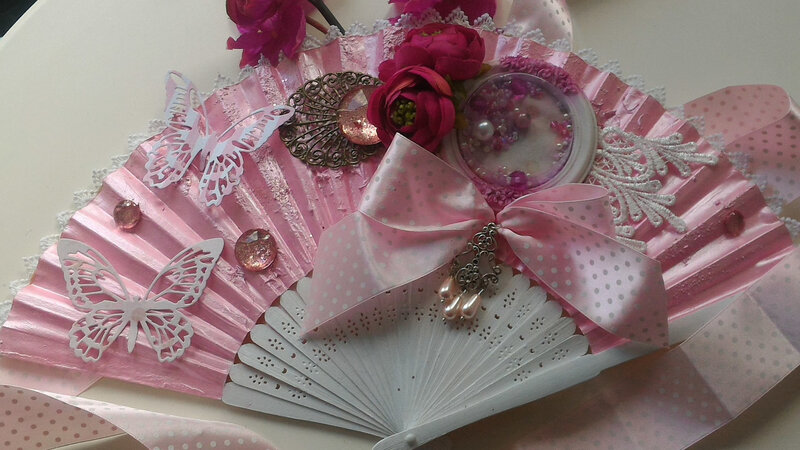 As you can see, it is very girly and pink. I decided to name it "Marie-Antoinette". For the background, I used Finnabair's sand texture paste, some crackle paste and some Finnabair's art stones. But I didn't like it, so after I painted it with Finnabair's Art Alchemy Metallique Vintage Rose acrylic paint, I decided I would cover the textured parts. We still can see some of them now, but it is discreet enough for me to like the fan :). The bottom of the fan has been covered with 2-3 layers of white Gesso.
You can see here more details :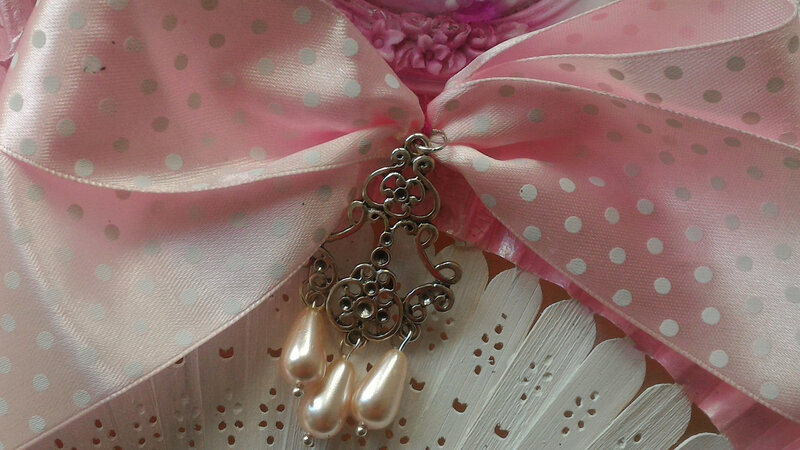 I really like this bow that I made out of pink with white polka dots ribbon. I also made the pendant myself.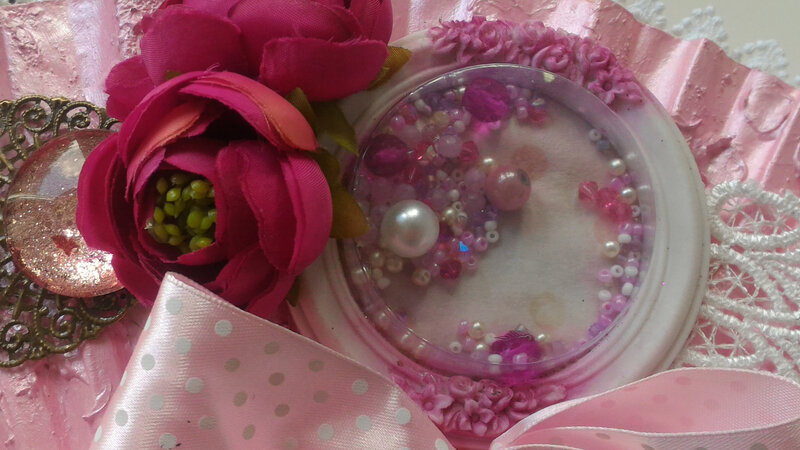 For the shaker, I used a combination of beads I had in my stash, one of Frank Garcia's resin frame by Prima Marketing, Artisan Powder (Mesdames Merlot, this colour is gorgeous !)and I kept my Finnabair's wax packagings. I used one of these, it fits perfectly underneath the little frame !I had lots of fun making this shaker and I love it. What about you ? I also used fabric flowers, bronze filigree and some cabochons with gold rose glitter.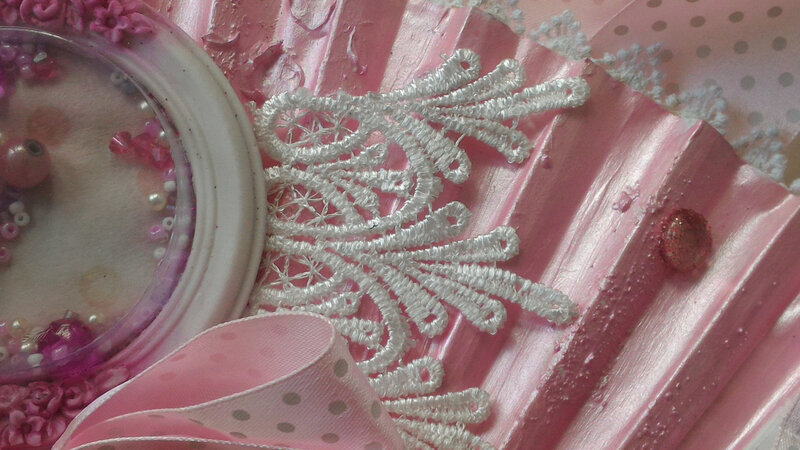 Some pretty lace trim...
I used my Detailed Butterflies thinlits die set by Tim Holtz and Sizzix to make those delicate butterflies out of different kinds of pattern papers. You can also see some cabochons I made : I glued rose gold glitter on their back. Pretty, right ?
What do you think of my fan ?
See you soon for another post !
06 septembre 2018
Dear Crafty friends,
I know, I know... I am publishing my August challenge in September. But this challenge goes until the 14th of Speptember, so I am not late :).
I created this palette for Mixed Media and Art August challenge, Colors of Life.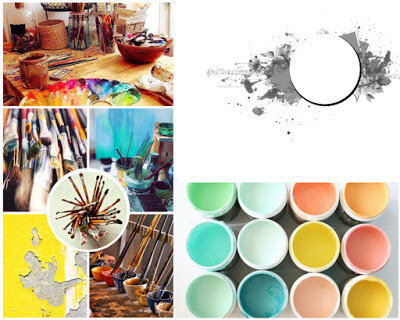 I have been inspired by Inna Bronnikova's gorgeous inspirational artwork and colour combination, but instead of a paintbrush, I altered a paint palette, using Finnabair's Butterfly spell Art Alchemy Sparks paint, Mint patina effect paste and Rose gold wax plus my new Prima stencil. I am so in love with rose gold colour! What about you ?
See below my palette :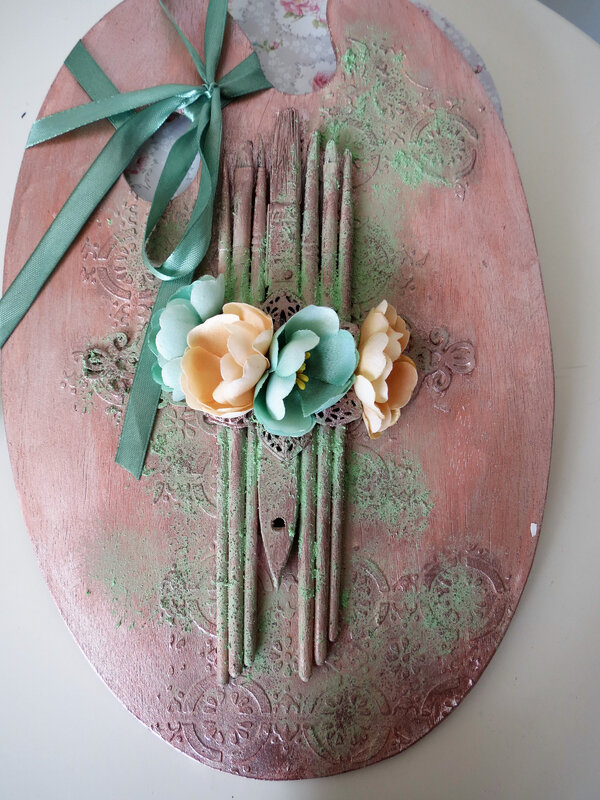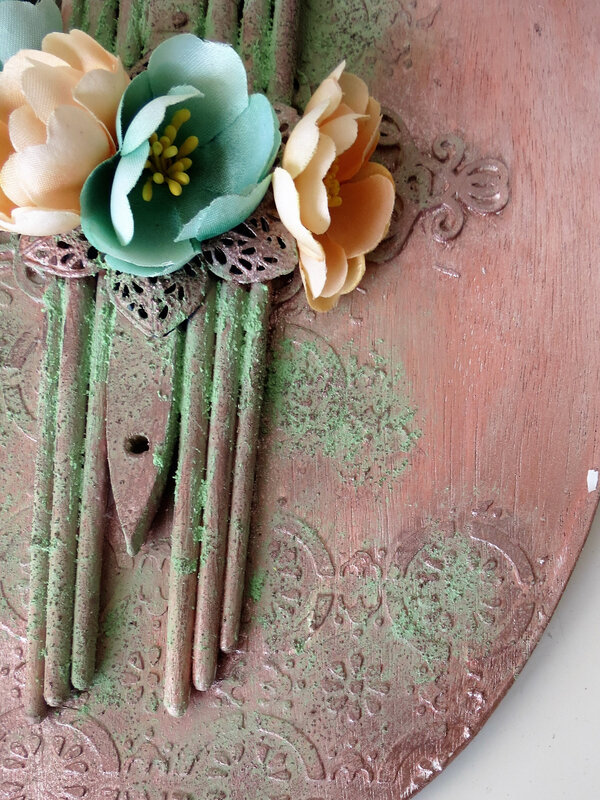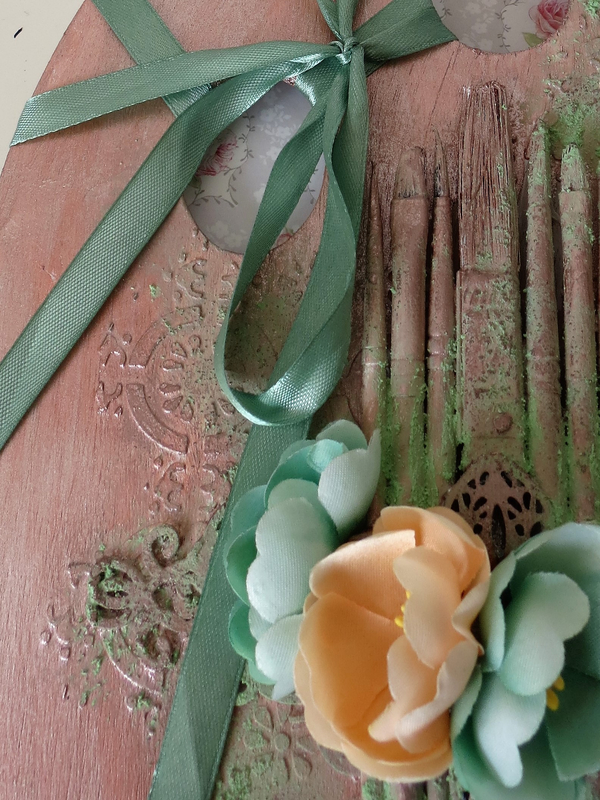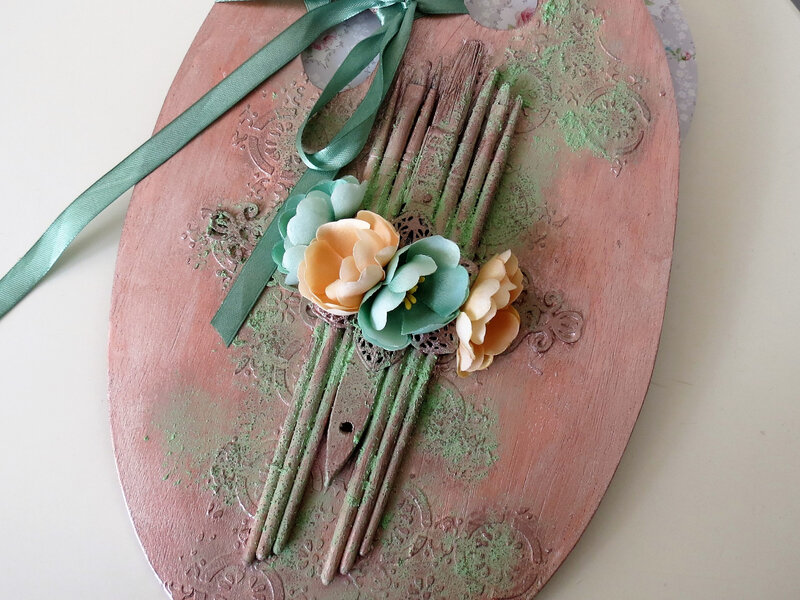 Don't hesitate to let me know what you think in the comments !
Audrey
03 août 2018
Hello everyone !
I am really excite to share with you my first inspirational post as a DT member for Simply create too.
This month challenge is "Make a bookmark" and starts on Friday, the 3rd (I am a bit in advance :)).
I created this piece :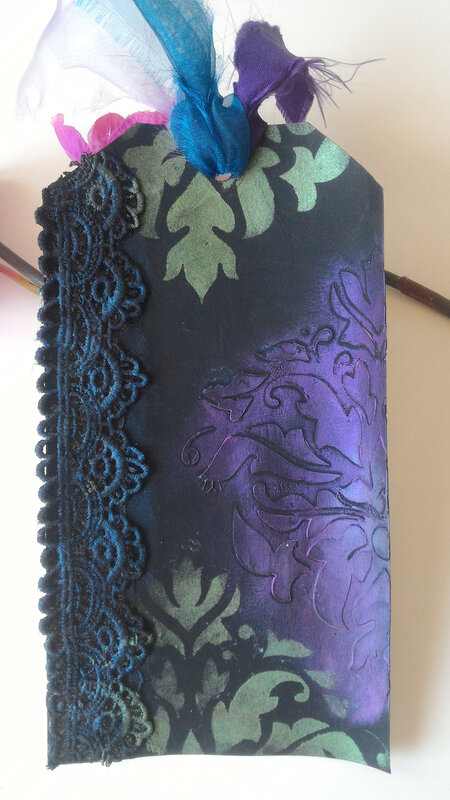 This is a BIG one, for a BIG book.
Not a long ago, I got a few Art Alchemy Antique Brilliance waxes from Finnabair and I wanted to play with them !
What do you need ?
A tag
Modeling or texture paste
Art Alchemy Antique Brilliance waxes (in Lucky Emerald, Mystic Turquoise and Amethyst Magic)
A lace trim
Glue or gel medium
Organza trim in the same colours as the waxes
Black gesso
A brush
A spatula or a silicone brush
The stencil of your choice
The process
I started adding modeling paste through my stencil on the right side of my tag. I glued lace on the left side and let it dry for a while Then, I painted it with black gesso from Finnabair. Two layers were necessary.
While the tag was drying, I cut out some trims out of teal and lilac organza and I tried to give them an antique look tearing them off.
I rubbed Amethyst Magic wax on the modelling paste and added Mystic Turquoise and Lucky Emerald through my stencil.
Once the wax was dry, the tag was ready!
See? That's as simple as that!
You can see here more details :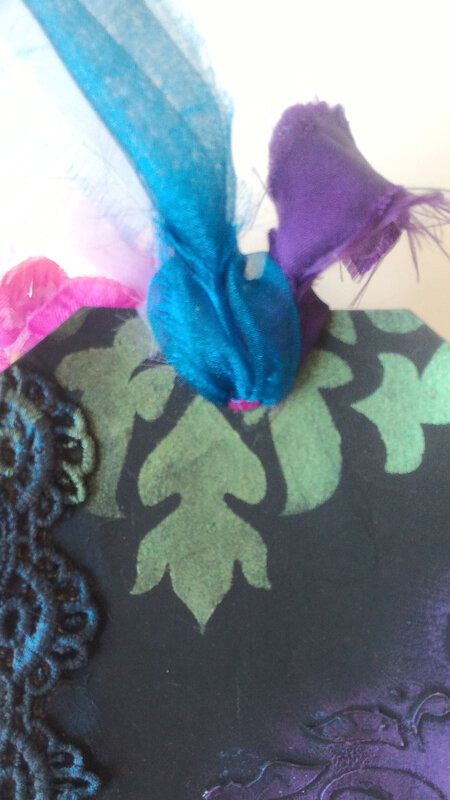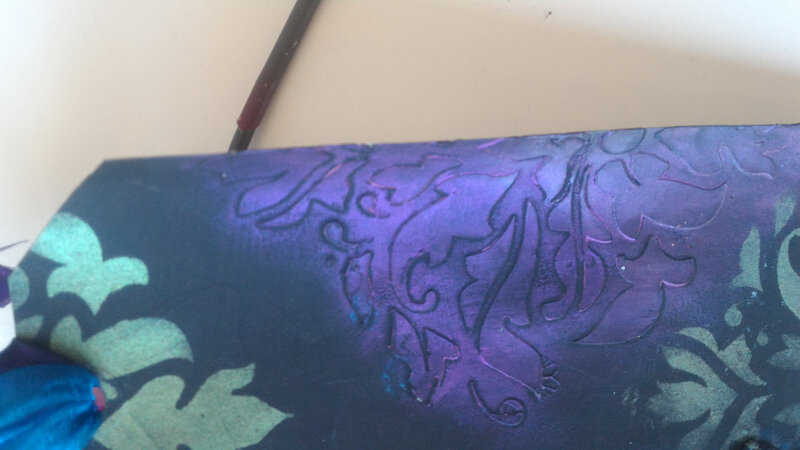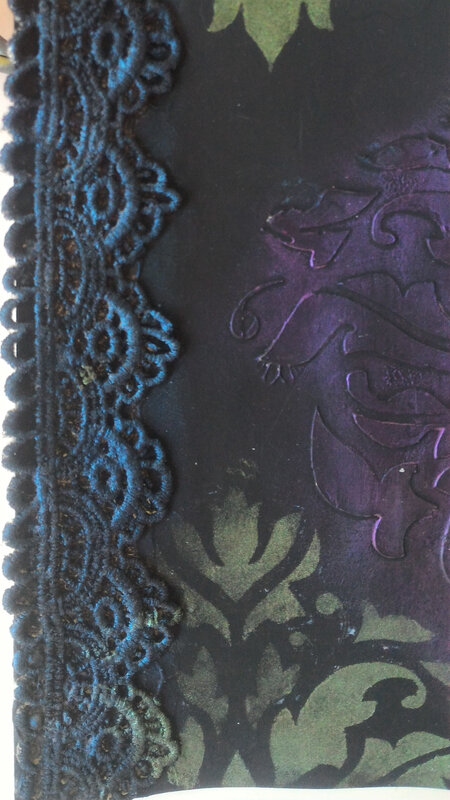 What do you guys think ? Let me know in the comments !
See you soon with another creative post !
25 juillet 2018
Hello crafty friends !
I am sharing today my entry to the Mixed Media and Art July challenge : Sea fantaisies. This is also my entry to Simon Says Stamp wednesday current challenge : Anything goes and my second entry to the Mixed Media world challenge.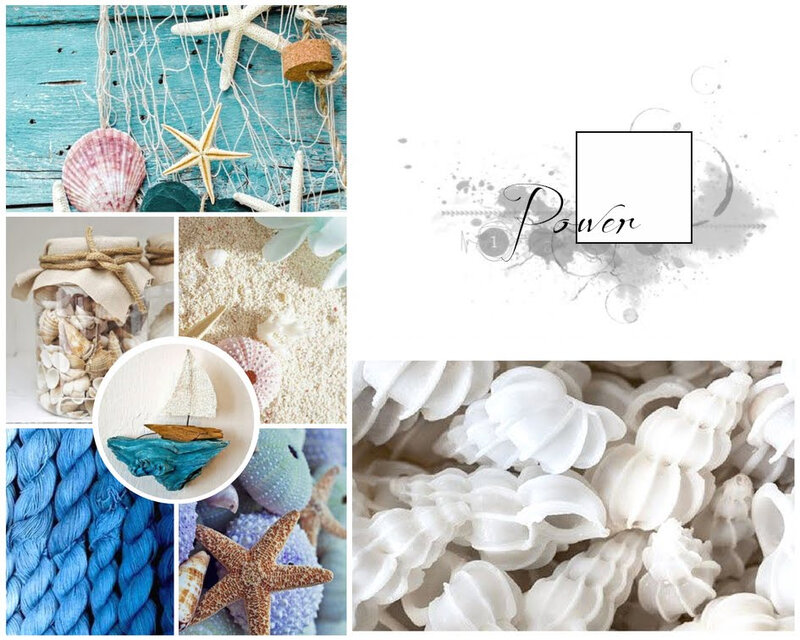 Isn't this moodboard gorgeous ? This month, I have particularly been inspired by Cindy Brown. You have to see her inspirational post, it is gorgeous !
She inspired me to make this embroidery hoop :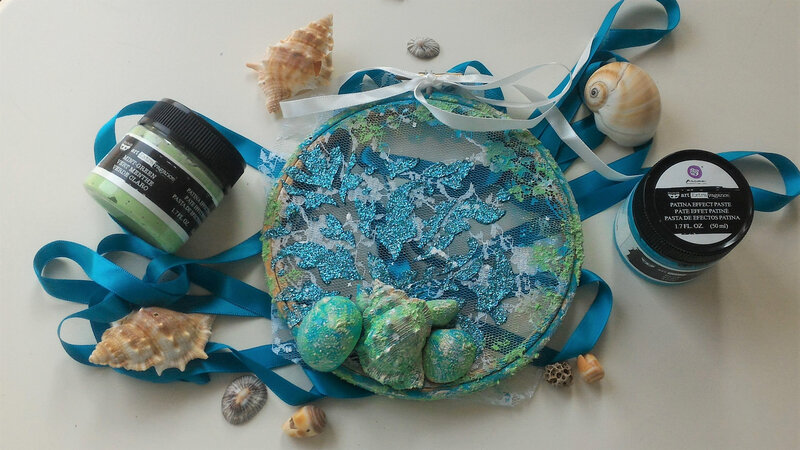 What do you need ?
An embroidery loop, the size you want
A bit of lace, enough to add it to the embroidery hoop
Cosmic Shimmer sparkle texture paste
Finnabair's Art Extravagance patina set
Finnabair's acrylic paint Art Alchemy Light Patina
Finnabair's Metallic wax (I used white gold)
The medium adhesive of your choice
Some sea shells
A bit of white ribbon
White gesso and water
The stencil of your choice
The process
I inserted the lace inside the hoop, as if I would embroider it. In her post, Cindy uses burlap. I wanted something different, so I chose lace.
I used an unbranded stencil I found on the Internet and applied my teal Cosmic Shimmer sparkle texture paste on it. I got it for Christmas and it has been the first time I have been using it. It is AMAZING ! I love it, it is so smooth to apply, there is no gap, really good quality. And the color and the sparkle are so GORGEOUS (yes, I speak in capital letters, I am so entusiastic about this product:)). I definitely recommend it and I want mooooore !
After that, I applied a very thin coat of Light Patina paint by Finnabair on the shells. I wanted a natural look, so I didn't cover them with gesso and I didn't apply the paint all over it.
Once it was dry, I applied my patina paste (Finnabair again). I used only the blue and the mint colours. I love the effect ! It is really vintage and grungy, it looks like my embroidery hoop has spent sometime into the water and some sea weeds got stuck on it !
By the way, have you seen Finnabair just released new rust pastes sets ? I want them so hard, the colours seem absolutely stunning ! I can't wait to get my hands on them and play, I already have projects in mind.
Coming back to the hoop : I glued the shells and applied patina paste on the hoop, adding teal and mint until I was happy with the effect (I didn't need long, I was so happy about it since the beginning, ah ah).
Then, I added a bit of water to a bit of gesso, splashed it randomly over the piece, I highlighted some details with a teeny tiny bit of white gold wax and I was done. I set it to dry for the night and this wonder was ready :
You can see more details here :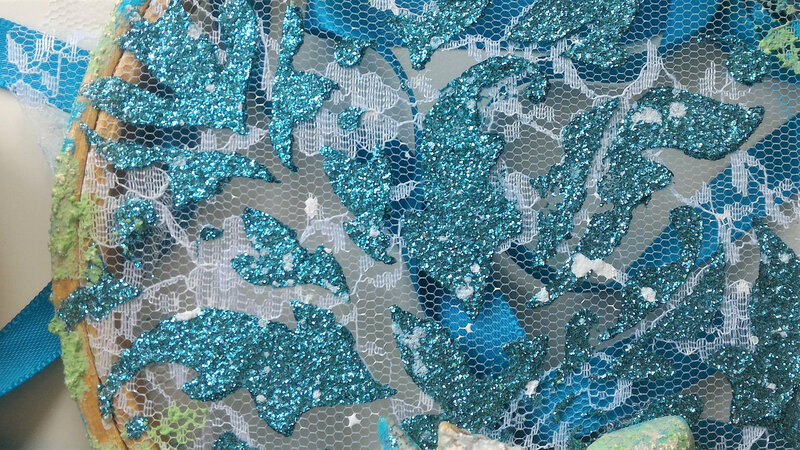 I like this project a lot, it is so nautical ! And you ?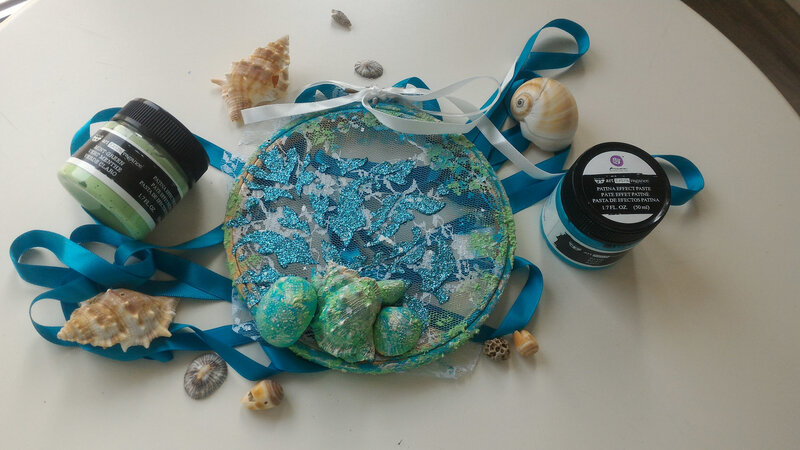 Don't hesitate to let me know in comments ! See you soon, crafty friends !
15 juillet 2018
Hello everyone !
Today I am sharing with you my entry to two challenges. I haven't been really productive this past few weeks due to several reasons (lack of inspiration, non Mixed Media projects going on, messy house because of works going on...), but I hope it will get better :). It should actually.
Anyways, the first challenge I created this tag for is the "Color of the Sky" challenge on SnipArt blog and the second one is Mixed Media World "Summer Vibes" challenge .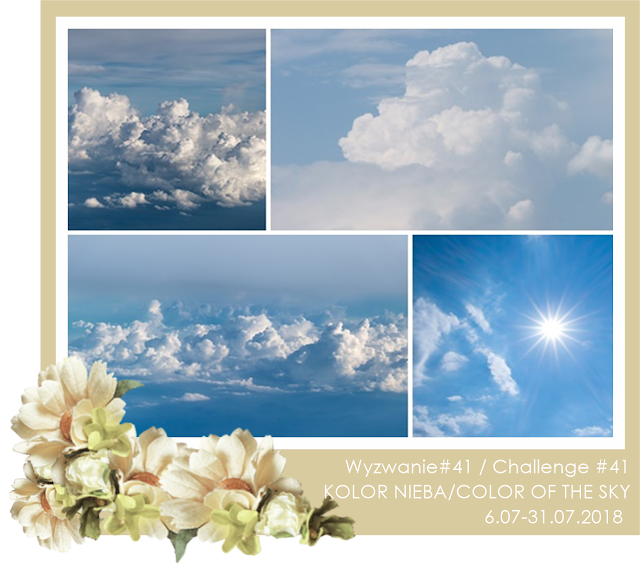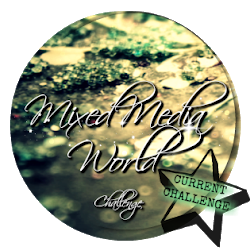 What do you need ?
White Gesso
Finnabair's Art Alchemy sparks Magical Pond
Finnabair's Art Alchemy Ice Queen, Light Patina
Finnabair's Art Alchemy Opal Magic Rose Gold and Violet Green
Viva Decor Inka Gold Apricot
Nuvo embeliishment mousse in Royal Aubergine and English Heather
Glass cabochons in different sizes
Chipboard (I chose two birds from SnipArt)
A trim of lace
Process
I made a tag for this challenge, using a SnipArt packaging as a base and the two love birds chipboard.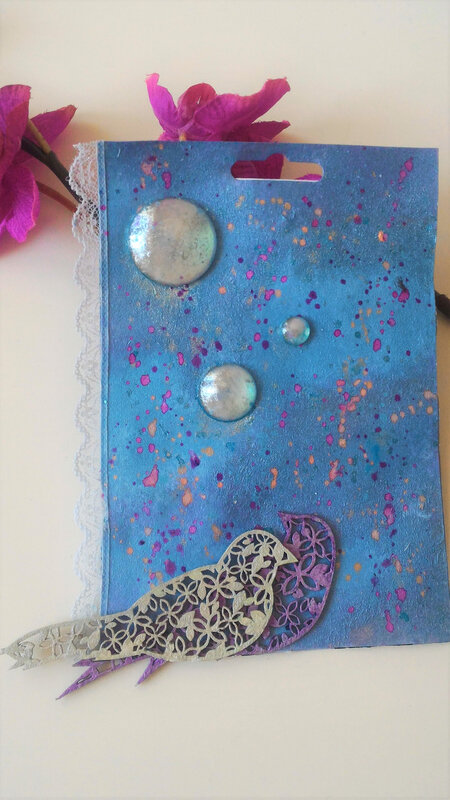 The tag is off the center on the picture above as I wanted to completely show the birds. I painted them with the same paint : the Art Alchemy Opal Magic Violet Green from Finnabair. This paint reacts differently on dark and light backgrounds.
After prepping the tag with White Gesso, I painted the background with Finnabair's Ice Queen acrylic paint, Light Patina and Magical Pond to create kind of clouds. I used the Opal Magic Rose gold for the back of the cabochons and for the top, Magical Pond again. I wipped it off before it was dry so I could keep only the sparks of it.
I added a fine trim of lace on the side. And then, I thought it was too boring. Too blue. I love blue, but it was really too much and I needed something to break the monotony of the tag and give it more character. So I used a little bit of Inka Gold Apricot, Nuvo mousse embellishment Royal Aubergine and English Heather. I sprayed them with a little bit of water and them dripped those colors to create the drops effect.
It is still flat though, but I like it better with the splashes.
You can see here more details :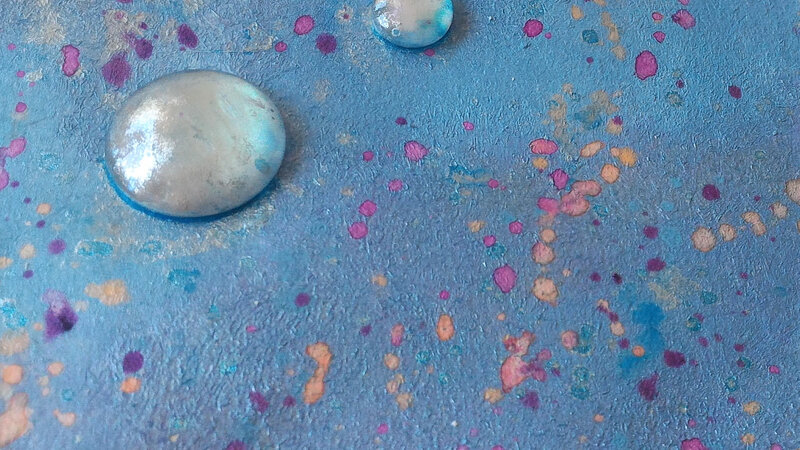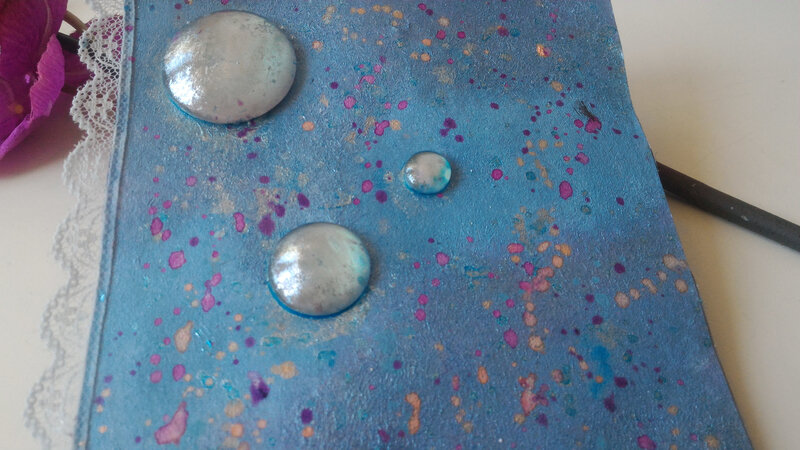 What do you guys think ? Don't hesitate to let me know by commenting !
See you soon for another post !
27 juin 2018
Dear crafty friends,
Not a big post today, but a big news that I am happy to share with you : I am now part of the Design Team for Simply Create Too.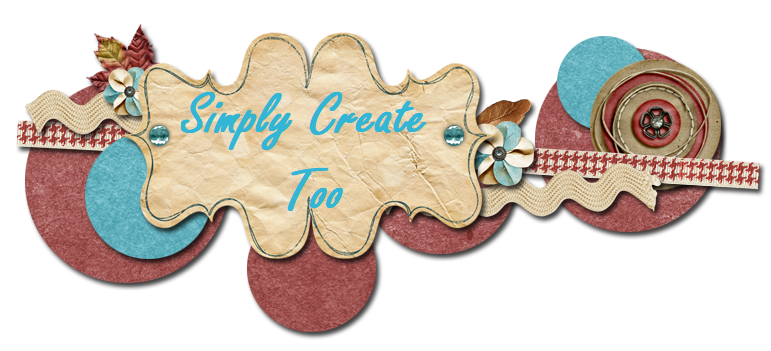 Simply Create Too is a Monthly Challenge blog and every two months, I will be designing some inspirational items (according to the month's theme) for them. I will start in August with a new challenge !
I am really happy and honoured to be part of this team, and I can't wait to get challenged and meet the members of the DT !
Obviously, I will share with you my items along with the challenges. So to be sure not to forget a challenge, suscribe to my blog !
See you soon with another creative post !
24 juin 2018
Dear Crafty friends,
Even though I had some holidays, June has been a super creative month for me -I am so happy about that !- and since my last post, I had the time to create one last project for another challenge, the ArtPlayGround challenge "Go with the flow". This months theme was all about movement and pastel tones.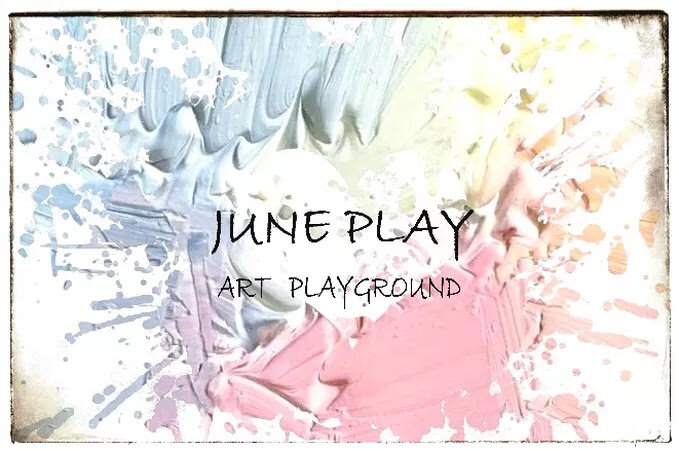 I altered a wooden box for a friend's birthday and made it a Mermaidy treasure box.
For this challenge, we had to choose at least two colors within the palette ArtPlayGround proposed. I chose the pastel blue with Light Patina Art Alchemy paint by Finnabair and the light pink with Vintage rose (also by Finnabair).
ArtPlayGround gave us some really nice tips about movement in your creations and are to place your embellishments to create movement.
I placed mine (two sea shells and some beads) in the middle, which gives kind of a static look to the box, but it highlights the fact that this is a sunken treasure box. However, I did give some flow to my work : it is not symetric at all. I used two different shells and try to apply movement to the beads.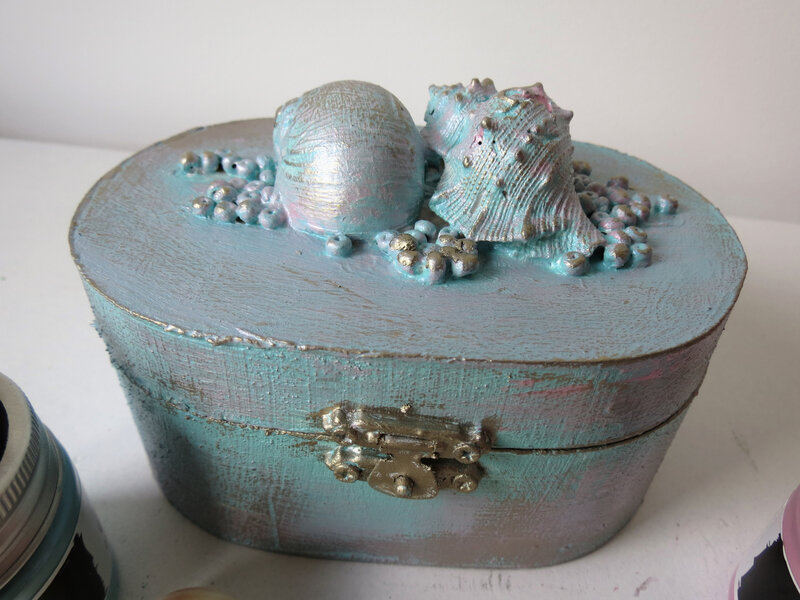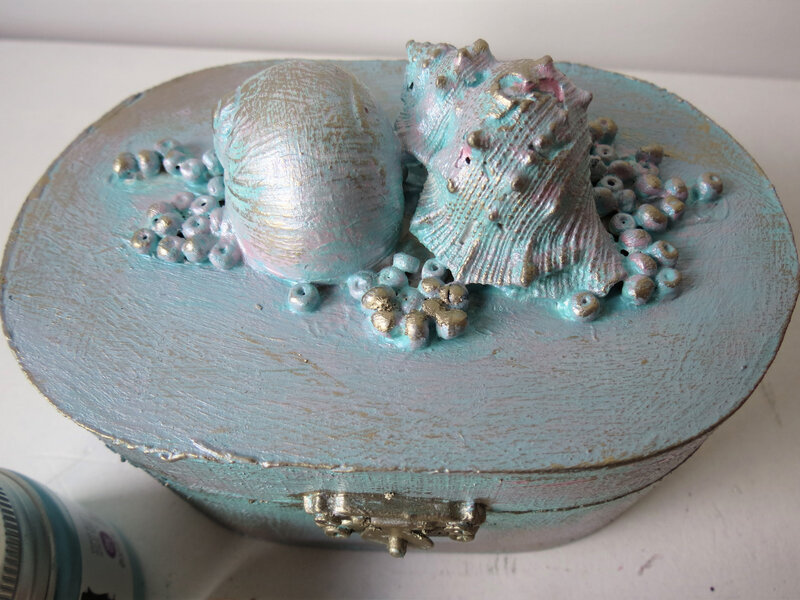 I added my colors and then highlighted some details with Finnabair Metallic Wax "White Gold". My latest acquisition. And if I am not a fan of gold (Gold is way too bling for me), the color of this wax is so soft and light that I couldn't help falling in love with it. I also used this wax to paint the closure elements of the box.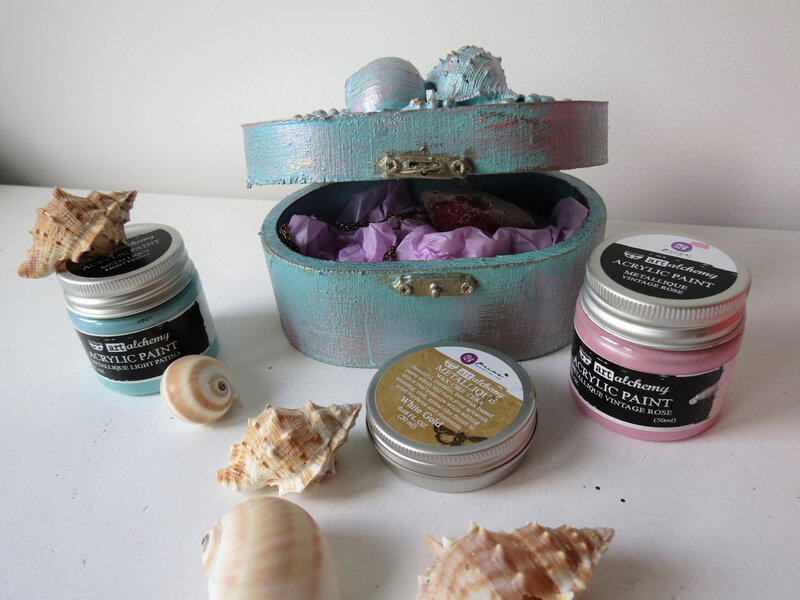 What do you think ? Don't hesitate to let me know in the comments !
See you soon for another Mixed Media time !