Hello everyone,
This post is going to be very long, and I apologize in advance.
Today I am going to share with you my very first review, about the acrylic paint from Finnabair and Prima Marketing. I am sure there are plenty of reviews, but I wanted to do my own.
I don't have (yet :D) every single acrylic paint from Finnabair (I think there are more than 40 colours!) but I am starting to have a nice collection.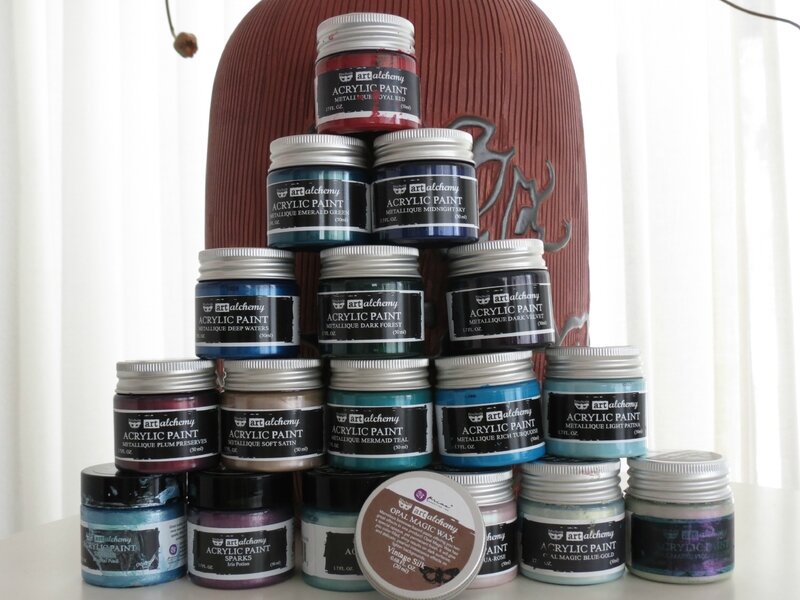 For now, I have 18 of them, from three different collections, plus a wax (which I won't present now, because it's not a paint), and trust me, it's enough for me to say that they are my favorite paints EVER.
I can only see two teeny tiny defects to them : their odour. And the price. They have quite a strong and unpleasant smell, but when you have been using those paints for more than a year, you don't pay attention. And, to be honest, it's a SMALL defect.
The second defect is their price. They are quite expensive for the quantity: about 5 or 6 dollars, depending on the colour and if you order in the US, or 6 euros if you order in the EU, for 50 ml. BUT -and this is a big "but"- the quality is really good. So they are worth it.
Let me explain myself right now.
First of all, they are not toxic. This is important when like me, you use them a lot, and when like me, you are messy and put a lot on your hands.
Then, the format and the packaging are perfect: I love those little jars, with a big lid and opening so you can pour medium brushes in them (I use medium brushes most of the times). The jars fit perfectly into my tea boxes (I am a tea lover, and I suscribed a few times to La Thé Box, and you get every month a different assortment of teas, which come in adorable compartmentalized cardboard boxes, and those boxes are great storage for my craft supplies). See below :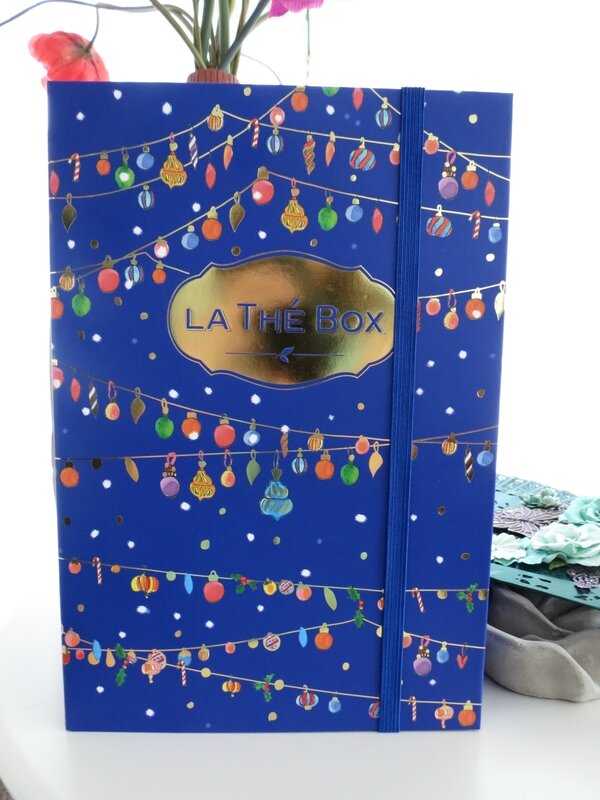 This box is a Christmas edition. Isn't it lovely? You can find more details following this link: http://lathebox.com/ (in French, and they unfortunately don't send any parcel internationally for now, I order mine and send them to a French adress, so I get them when I am back to France).
So, that was quite a digression :). Let's get back to those paints.
Besides their format, their consistency is an ABSOLUTE PLEASURE. Thick and creamy, but not too much, and they really are easy to spread on any piece you want. You don't need a lot of water to use them, and more, if you use to much water, you will alter the colour (an example : the metallic emerald green will turn into a rich blue, not an ugly colour, but it's very strange when you experiment it for the first time:)) and the results won't be great, they can also be kinda disgusting -you can get drips, for example. So I just wet a little bit my brush to use those paints, and sometimes I dry brush them.
Do you see this shine and thickness? This is Plum Preserves, but the same applies to every single one of them (at least the ones I tried).
Why did I choose them in the first place? Their colours. They are GORGEOUS. I have 18, and love every single one of them. Some are my favorite ones, but I love them all.
Let's review the colours, collection by collection.
The metallic tones
As you can see on the picture, I tried every colour on black and white paper. This is because you don't get the same effects if you work on a dark or lighter background (this is especially true for those metallic paints, and the next collection).
The darker ones work best on dark backgrounds, which help them to highlight the metallic effects of those shades-except for the dark velvet, which, according to the picture, is not really visible on black. It is a bit more visibl ein real life, even though it's hard to sse right now. I have plenty of blue and green, as they are my favorite colours in general, but I also love purple and pinks. Unfortunately, I do not think the assortment for those colours is interesting enough. I really love the two that I have right nonw, though : the Metallic Dark Velvet -a deep aubergine shade- and the Metallic Plum Preserves -a purple violet, a bit reddish. This last one is one of their new releases and this wa slove at first sight :D.
I also think the lightest shades are more opaque on light backgrounds.
So when you want to use a colour, choose carefully your gesso.
The Opal Magic Collection
Their main interest is that they are iridescent. They all have two colours in one and they work differently on light or darkbackgrounds. See above.
The three I have are lovely. I particularily love the O.M. Violet and green...
The Sparks Collection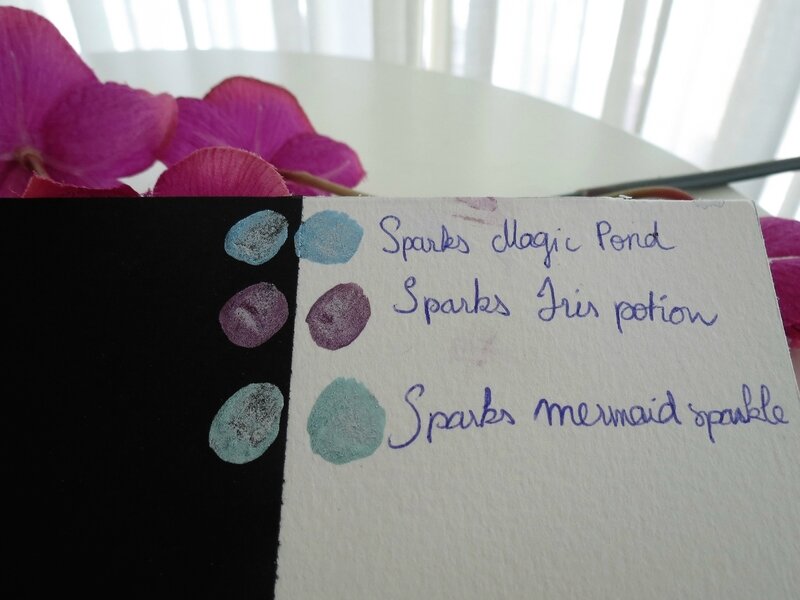 These are absolutely stunning : they have a main colour sparkled with silver glitter. Gorgeous.
And, as you see, they kind of work the same on dark or light backgrounds.
To finish, let me talk about my favorites :
Within the metallic collection, if I did not try all the ones that I have currently, I will go for for now for the emerald green. Did you notice I use it in a lot of projects? It's absolutely gorgeous with its goldy gleams. But I think Dark forest and Mermaind teal will also have their spot in my heart.
Within the Opal Magic and Sparks collections, I don't have a lot (only three of them for each collection) but I really like the O.M. Violet green (I use it as often as Metallic emerald green, usually both in combination as they fit perfectly together) and Mermaid Sparkle.
New colours have been released in the Metallic collection a few weeks ago: Midnight sky, dark forest, Soft Satin, Plum preserves, Mermaid teal, White pearl and Crocus fields (those two last ones might be my next purchase...). What are you waiting for?
Did you know...that you could use those paints to make jewelry? That's what's cool with Mixed Media. Here, I used plum preserves to create those earrings (I highlighted the embossing with a reliefing block from Vintaj) :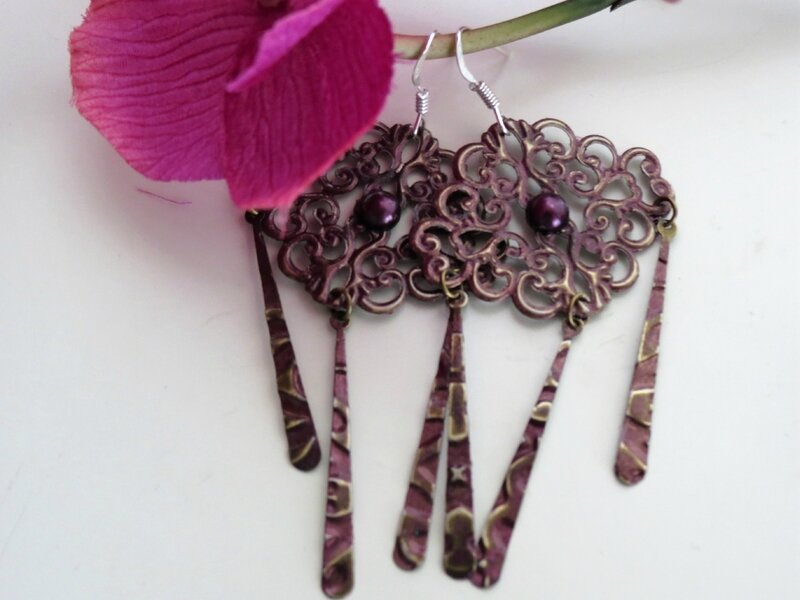 ***************************************************************************************************
Bonjour tout le monde,
Le billet du jour va être assez long, je m'en excuse à l'avance : je vais partager avec vous ma toute première revue, sur les peintures acrylique de Finnabair, par Prima Marketing. Je suis certaine qu'il y en a tout un tas, mais je tenais vraiment à vous faire la mienne.
Je ne possède pas (encore, ah ah) toutes les teintes (je crois qu'il y en a plus de 40 !)mais je commence à bâtir une jolie petite collection. J'en ai 18 en tout (voir plus haut) pour l'instant, appartenant à trois différentes collections. C'est assez pour vous dire que je LES ADORE. Ce sont mes peintures favorites. Elles seront peut-être remplacées dans mon coeur, mais ce jour n'est pas arrivé.
Je ne vois que deux -minuscules- défauts chez ces peintures : l'odeur et le prix.
Elles ont une odeur assez forte et désagréable mais quand vous les avez utilisées pendant plus d'un an, vous y êtes habitué(e). C'est donc un tout petit petit défaut.
Deuxièmement le prix. C'est vrai qu'elles sont assez chères (environ 5 ou 6 dollars en fonction de la teinte si vous commandez aux USA et 6 euros si vous commandez dans l'UE, pour 50 ml). MAIS -et c'est un grand mais- elles valent leur prix car la qualité est vraiment au rendez-vous. Et puis, quand on aime, on ne compte pas, n'est-ce pas?
Laissez-moi vous expliquer:
Tout d'abord, elles ne sont pas toxiques. C'est important, quand, comme moi, vous les utilisez souvent et quand, comme moi, vous vous en mettez partout.
Ensuite, le format et le packaging sont parfaits: j'adore ces petits pots, avec un grand couvercle et une ouverture suffisamment large pour y tremper des pinceaux moyens (j'en utilise des moyens la plupart du temps). Ces pots rentrent parfaitement dans mes "Thé boxes" (je suis une thé addict, et je me suis inscrite pour quelques mois à La thé box : chaque mois, vous allez recevoir un assortiment de thés, dans une adorable boîte en carton colorée, et compartimentée. Elles sont parfaites pour mes fournitures). Voyez plutôt sur les photos, un peu plus haut.
La boîte où je range mes peintures est une édition de Noël : n'est-elle pas trop jolie?
Vous pouvez trouver plus de détails sur ce site: http://lathebox.com/. Malheureusement, ils n'expédient qu'en France. Je commande les miennes et les expédie à une adresse en France, je les ai donc à chaque fois que j'y retourne.
C'était une longue digression, mais revenons à nos moutons.
Après leur format, leur consistence : c'est un vrai plaisir de travailler avec elles. Elles sont épaisses et crémeuses, mais pas trop, et elles sont donc très facile à appliquer et étaler. Vous n'avez pas besoin de beaucoup d'eau pour les utiliser, et plus encore, si vous mettez trop d'eau, vous en gâcherez un peu les effets. La couleur en sera altérée (par exemple, le metallic emerald green deviendra bleu. Pas un horrible bleu, mais c'est un peu étrange la première fois qu'on en fait l'expérience) et vous aurez des résultats parfois un peu dégoûtants, comme des coulures. Je mouille donc très légèrement mon pinceau, ou même, j'utilise mon pinceau sec.
Voyez la consistence de Plum Preserves, dans la partie en anglais? Cette onctuosité et cette brillance? C'est pareil pour toutes les teintes (du moins celles que j'ai essayées).
Pourquoi ai-je choisi cette peinture, la première fois ? Les couleurs. Elles sont SUBLIMES. J'en ai 18, et je les aime toutes. Certaines ont ma préférence, bien sûr, mais je les aime toutes.
Nous allons donc passer en revue les trois collections.
Les métalliques :

Comme vous pouvez le voir sur la photo un peu plus haut, j'ai appliqué chaque couleur sur du papier noir et du papier blanc. Tout simplement parce que vous n'obtenez pas le même effet selon que vous posez votre couleur sur un fond sombre ou clair. C'est aussi et surtout valable pour la deuxième collection, dont nous parlerons juste après.
J'ai remarqué que les fonds les plus sombre mettent bien en plus en relief les reflets métalliques des teintes les foncées-sauf pour le dark velvet, qu'on ne voit presque pas sur le fond noir, selon la photo. Il est peu plus visible en vrai. J'ai dans ma collection beaucoup de bleus et de verts, ce sont deux de mes couleurs favorites, mais j'aime aussi le violet et les teintes de rose foncé. Cependant, je trouve que l'assortiment de Finnabair n'est pas assez riche ni intéressant pour moi dans ces deux couleurs. Mais j'aime beaucoup les deux teintes que j'ai : le Dark Velvet, un aubergine absolument magnifique, et une de leur nouvelles teintes dont je suis tombée amoureuse dès le premier regard : le Plum preserves. Un violet encore plus sombre, pourpre, tirant presque sur le rouge.

Je pense aussi que les teintes plus claires sont plus opaques sur des fonds clairs.
Donc, choisissez soigneusement votre gesso en fonction de votre couleur.
Les Opal Magic
Le principal intérêt des peintures faisant partie de cette collection est qu'elles sont irisées: elles ont deux couleurs dfférentes, en fonction du fond que vous choisissez. Voyez sur la photo comment les couleurs réagissent sur du noir et du blanc...
Les Sparks
Celles-ci aussi sont magnifiques. Elles ont une couleur principale, agrémentée de paillettes argentées. Sublimes, je vous dis.
Elles ont cependant le même rendu sur un fond sombre ou blanc, comme vous pouvez le voir sur la photo, un peu plus haut.
Pour conclure, laissez-moi vous parler de mes teintes préférées :
Dans la collection métallique, même si je n'ai pas encore essayé toutes celles que j'ai, j'adore l'emerald green. Vous aviez remarqué, vous aussi, que je l'utilise dans beaucoup de projets? Je l'adore, ses reflets dorés sont superbes. Cela dit, je pense que Dark forest et Mermaind teal sauront trouver leur place dans mon coeur, et très vite.
Dans les collections Opal Magic et Sparks, (je n'en ai pas beaucoup, seulement trois de chaque) mais j'aime vraiment beaucoup O.M. Violet green (que j'utilise aussi souvent que l'emerald green, le plus souvent en combinaison avec ce dernier, d'ailleurs, car ils s'assortissent parfaitement) et Mermaid Sparkle.
De nouvelles couleurs sont sorties il y a quelques semaines dans la collection métallique : Midnight sky, dark forest, Soft Satin, Plum preserves, Mermaid teal, White pearl and Crocus fields (ces deux-là seront certainement très bientôt en ma possession...). Qu'attendez-vous donc :D?
Et saviez-vous... que vous pouviez utiliser ces peintures pour réaliser des bijoux ? J'ai utilisé Plum preserves pour réaliser les boucles d'oreilles que vous pouvez trouver plus haut (j'ai mi en valeur les reliefs avec un reliefing block, de Vintaj). C'est ça qui est chouette avec le Mixed Media: vous êtes libre d'utiliser ce que vous voulez, pour les projets que vous voulez.
A bientôt!
Enregistrer