Hello!
Today, I am sharing with you my first participation to Mixed Media and Art Creative Art Project. This project is about creating different Mixed Media pieces, respecting some conditions.
The first stage is called "Mechanical Explosion" and your project needs to have one metal element which is not from the scrap store and wings.
So I decided I would use a half metal half plastic jewelry holder as a base. See: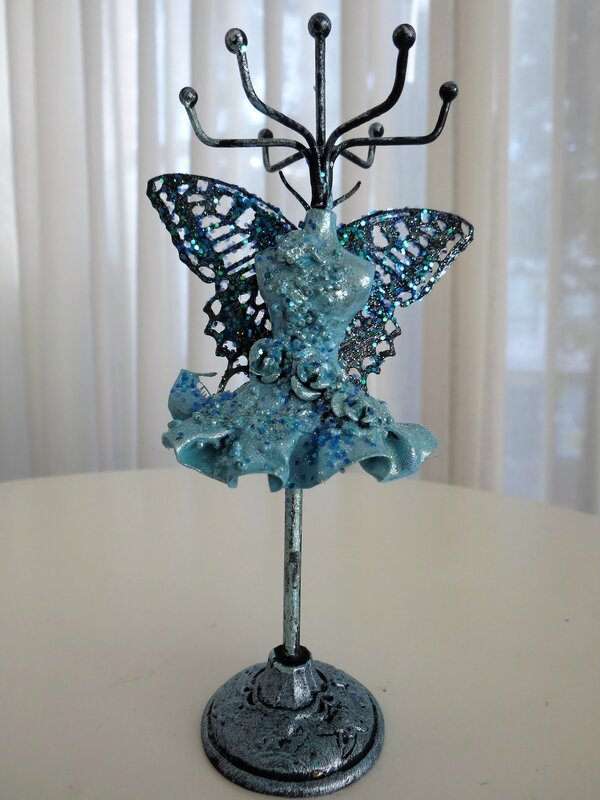 The jewlery holder itself and its leg are metal. The body and the foot are plastic. I painted it with a coat of black gesso from Finnabair and then I glued some embellishments : metal roses, beads, a small glass cabochon.
I covered everything with another layer of black gesso and painted the body of the jewelry holder with Finnabair's Metallique light patina and added some touches with Mermaind Sparkle (Finnabair again). I dropped some glitter on the paint before it dried.
For the wings, I painted a metal butterfly with black gesso on its two faces and added glitter.
What do you think? You can find below more details :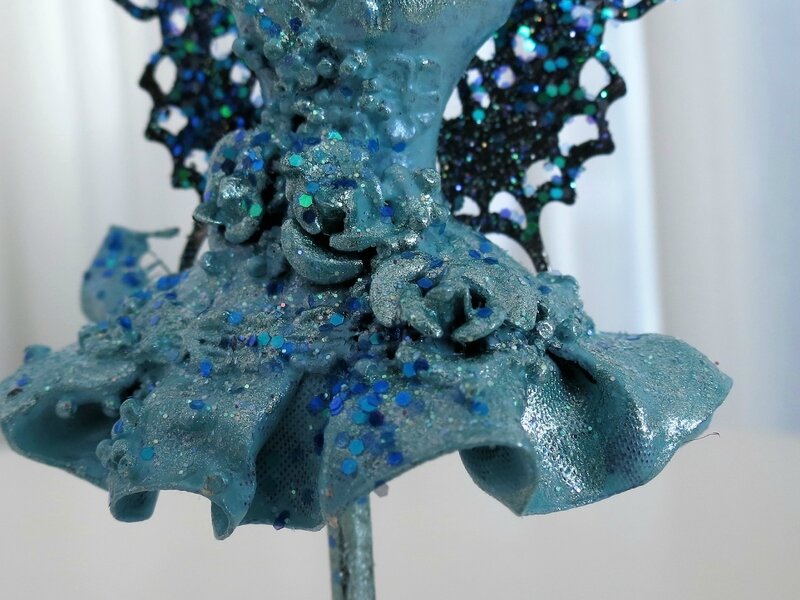 Thank you for stopping by ! I hope you're gonna come back soon !
********************************************************************************************************
Bonjour, bonjour !
Aujourd'hui je partage avec vous ma participation à la première phase du project créatif "Creative Art" de Mixed Media and Art.
Pendant ce projet en plusieurs étapes, nous devons démontrer notre créativité à travers différentes pièces de Mixed Media qui doivent respecter quelques conditions.
La première partie est "Mechanical explosion". Le projet doit comporter un élément métallique qui ne provienne pas d'un magasin de scrap et des ailes.
J'ai donc décidé de me servir d'un porte-bijoux à moitié en métal à moitié en plastique comme base. Voyez ci-dessus.
Les branches du porte-bijoux et la jambe sont en métal, son pied et son corps en plastique.J'ai peint le tout avec du gesso noir de Finnabair puis j'ai collé quelques embellissements : des roses de métal, des perles et un petit cabochon de verre.
J'ai ensuite tout recouvert de gesso noir. Une fois que ça a été sec, j'ai peint le corps du porte-bijoux avec la peinture Metallique Light Patina de Finnabair et j'ai ajouté quelques touches de Mermaid Sparkle (Finnabair forever). J'ai ajouté ici et là des paillettes avant que la peinture ne sèche.
Pour les ailes, j'ai recouvert de gesso noir un papillon en métal, que j'ai ensuite saupoudré de paillettes.
Qu'en pensez-vous?
Merci de m'avoir lue et à bientôt j'espère !