Hello craftiful friends !
Today, I am going to share with you a mini canvas that I made for a friend. I think it really has a vintage look. But no more talking (for now :)), just see :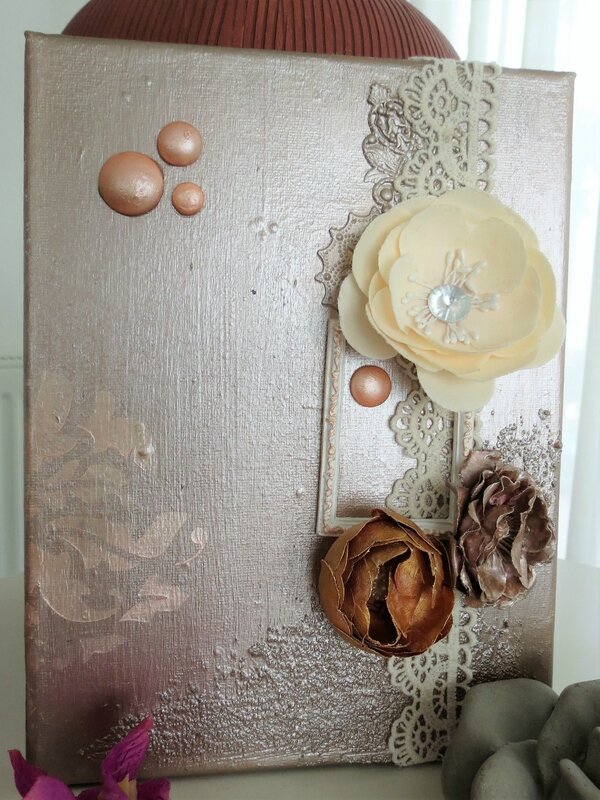 Now, let me explain to you how I made it.
I first glued two metal filigrees and then apllied some gesso all over the canvas. Then, I put a bit of sand texture paste from Finnabair, two coats of Finnabair's acrylic paint, Art Alchemy Soft Satin, over which I built the composition : lace ribbon at the right of the canvas, a resin frame (I highlighted the detail with Viva Decor's patina Inka-Gold in Apricot, I love this color so much!) more or less in the middle of the ribbon, two fabric flowers (I covered those with white gesso and then gold paint and soft satin). I added one fabric flower at the top of the frame (I left this one "natural").
On the left of the canvas, for a baroque/grungy look, I added a damask pattern with a stencil and Viva Decor Inka-Gold Apricot.
After that, last (but not least, these are my favorite embellishments for all kind of canvases I make) details: I covered a few glass cabochons with gesso, patinated them with the Inka-Gold and glue them here and there. I love to group my elements by theree, so fo course, three flowers and there cabochons. On tiny detail was missing somewhere, so I added a cabochon inside the frame.
And there it is ! What do you think ? Personally, I really like it. But the pictures don't show the nice colors that much :(. Still, here come more details pictures :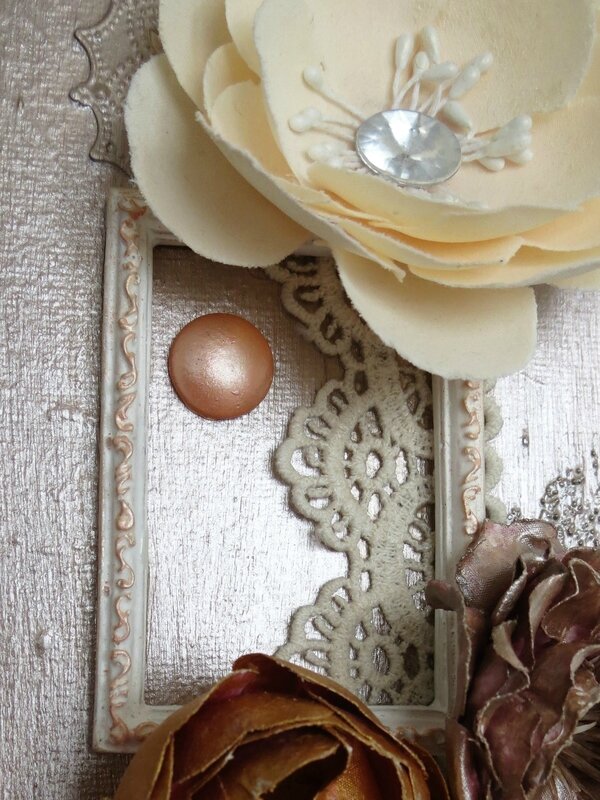 Please, leave your comments if you liked (even if you didn't:)) it !
See you soon!
***********************************************************************************************************
Bonjour, amis et amoureux du Mixed Media,
Aujourd'hui, je vous parle d'une petite toile que j'ai réalisée pour une amie. Voyez plutôt ci-dessus.
Et laissez-moi vous expliquer comment j'ai procédé :
J'ai d'abord collé deux embellissements en métal, puis j'ai appliqué du gesso sur toute la toile puis de la pâte texturée sable de Finnabair. Une fois que tout a été sec, j'ai passé deux couches de peinture acrylique Finnabair Art Alchemy, de la couleur "Soft Satin". J'ai ensuite monté ma composition autour d'un ruban de dentelle que j'ai placé sur toute la hauteur de la toile, vers la drooite. J'ai posé un cadre en résine à peu près au milieu (j'ai mis en valeur les détails avec de la patine Inka-Gold de Viva Decor, couleur abricot. Cette couleur est si jolie !). Deux fleurs (je leur ai appliqué du gesso puis de la peinture dorée et soft satin) en bas à droite du cadre, une (que j'ai laissée telle quelle) en haut.
Pour un côté plus baroque et grungy, j'ai ajouté un motif "damask" avec un pochoir et l'Inka-Gold.
Enfin, les derniers (mais pas les moindres : ce sont mes embellissements préférés, quel que soit le type de toile que je réalise) détails : des cabochons en verre (gesso, puis patine, et hop, ils étaient prêts ! ) que j'ai disposés ici et là.
J'aime grouper mes éléments par trois, donc évidemment, il me fallait 3 fleurs et trois cabochons.
Mais un petit détail manquait, et j'ai ajouté un cabochon à l'intérieur du cadre.
Qu'en pensez-vous (voyez plutôt les photos plus haut) ? Moi, je l'aime beaucoup. Malheureusement, les photos ne rendent pas justice aux couleurs.
N'hésitez pas à commenter !
A bientôt !