Hello everyone,
I am sharing with you today this card I made for a friend who got a baby a few weeks ago. This is also my participation at Simon says Stamp wednesday's challenge, which is "use a patterned paper".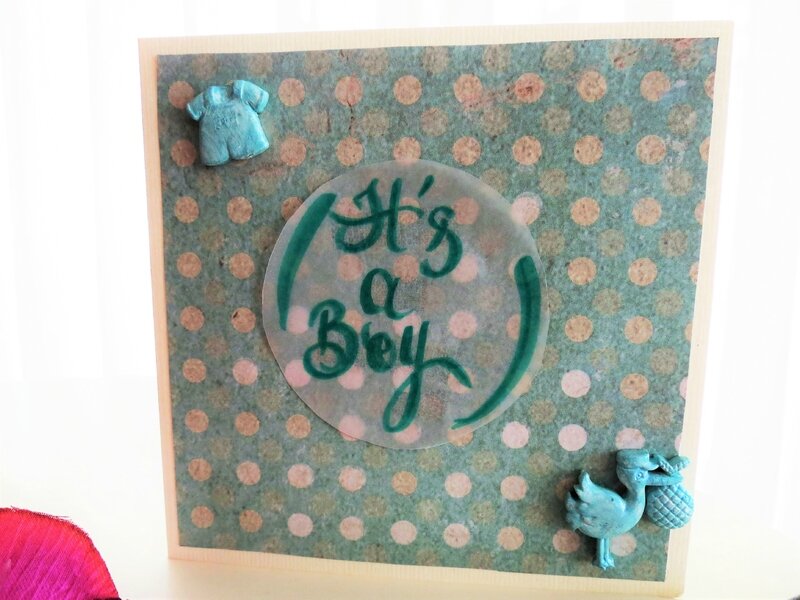 I had quite some difficulties to find a patterned paper which fits the birth of a boy. I chose this one from Studio Light, this is the reference SCRAPSR02. It is masculine enough to my taste and has this vintage look that I love with the Polka dots and the "oldy" colors.
I added to this paper two resin elements that I painted with Finnabair's "Light Patina" and a vellum paper bubble that I painted. I glued the result onto a cardbase.
Here are more details :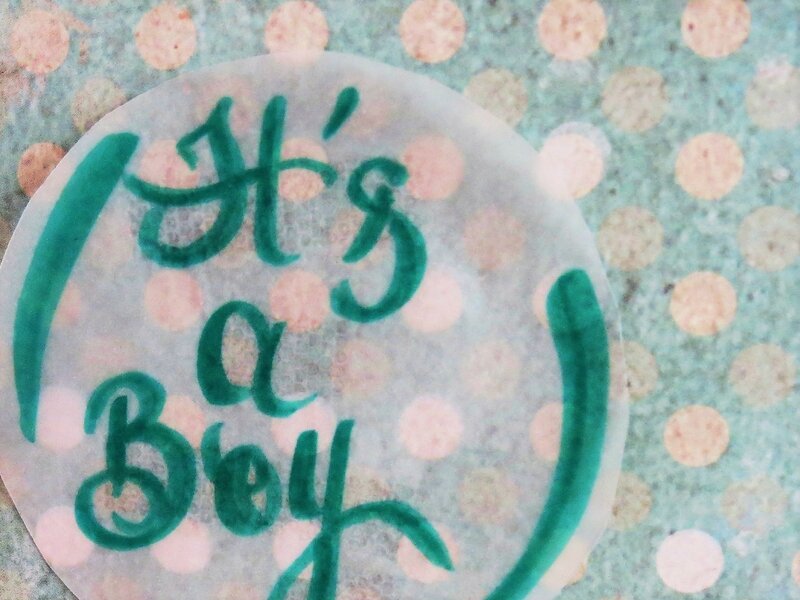 I did the back too...
What do you think?
I have more resin embellishments that are more girly, and another friend of mine is going to have a baby girl in a few weeks... I think I am going to make another card... :)
Thank you for stopping by and reading. Don't hesitate to leave comments!
***************************************************************************************************
Bonjour tout le monde !
Je partage aujourd'hui cette carte que j'ai réalisée pour une amie qui a eu un bébé il y a quelques semaines. Cette carte est aussi ma participation au défi du mercredi du site Simon says Stamp, intitulé "use a patterned paper".
J'ai eu du mal à trouver un papier qui soit suffisamment masculin pour célébrer la naissance d'un petit garçon... J'ai choisi celui-ci, de Studio Light : il s'agit de la référence SCRAPSR02. J'aime sa couleur menthe et son côté vintage avec ses polka dots aux couleurs un peu vieillies.
J'y ai ajouté deux embellissements en résine que j'ai peints avec la "Light Patina" de Finnabair et une "bulle" en papier calque que j'ai réalisée moi-même.
J'ai aussi réalisé le verso (voyez au-dessus).
Qu'en pensez-vous?
J'ai aussi d'autres embellissements qui correspondent plus à la naissance d'une petite fille, ce qui tombe bien, car une autre de mes amies va avoir une petite fille dans quelques semaines !
Merci de venir faire un tour par ici: n'hésitez pas à laisser vos commentaires !
Enregistrer