Hello Mixed Media lovers !
I am sharing with you a project that is really important to me... A friend from work keeps telling me she wants something from me, something that I made. So I thought that once I had a bit of time, I would make her something special.
She is from India and sometimes she feels nostalgia for her land, so I wanted to make her something colorful, contrasting and that reminds her of her country.
And here it comes :
I used some Finnabair's paints for the background, Dark Velvet and Coral Reef, plus a bit of Sparks Iris potion (as you know, I LOVE those paints, they really are my favs).
I mixed some Coral Reef with some Ranger texture paste for the pattern. I got the Mandala design with Simon Says Stamp Circular Lace Cherished stencil. This is one of my favorite stencils, I use it a lot.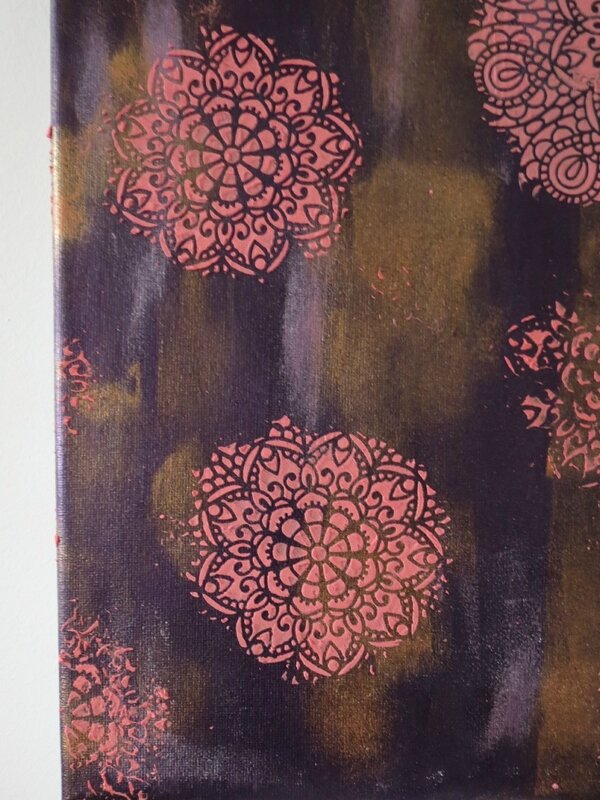 I really hope my friend will like it as much as I do, and I can't wait to put it on her desk so she sees it when she arrives (she always arrives later than me). I won't see her face when she sees it as we are not in the same room, but that's fine. I just hope she will be happy :).
This project is also my participation to Simon Says Stamp Monday challenge of this week : Something new.
The canvas is something new because this is not my usual style. I am more a Vintage/Shabby crafter, but I am looking for some more ethnic influence in my work. And I am starting right now :).
And you, do you like it ?
***********************************************************************************************************
Hello amoureux du Mixed Media,
Aujourd'hui je partage avec vous un projet plutôt important pour moi : une amie et collègue n'arrête pas de me dire qu'elle veut quelque chose que j'ai fait moi-même. J'ai donc décidé -en secret- de lui préparer quelque chose de spécial dès que j'ai une minute. Et c'est arrivé pendant mes vacances de Noël.
Mon amie est originaire d'Inde et est parfois un peu nostalgique de son pays. Je voulais donc créer quelque chose de coloré, contrasté et qui lui rappelle son pays.
Voyez plutôt ci-dessus !
J'ai utilisé de la peinture acrylique Finnabair -vous savez que je suis fan de ces peintures !- pour le fond : Dark Velvet, Coral Reef et un peu de Sparks Iris Potion.
J'ai ensuite mélangé Coral Reef à de la pâte de texture Ranger puis j'ai obtenu le design Mandala -voyez les détails ci-dessus- avec le pochoir Circular Lace Cherished de Simon Says Stamp. C'est un de mes pochoirs préférés, je l'utilise vraiment souvent.
J'espère que mon amie l'aimera autant que moi et j'ai hâte de mettre la toile sur son bureau pour qu'elle la voie quand elle arrive (elle arrive toujours plus tard que moi). Je ne verrai pas sa réaction car on n'est pas dans la même pièce, mais ce n'est pas grave. J'espère juste qu'elle sera contente.
Cette toile est aussi ma participation au challenge du Lundi de Simon Says Stamp : Something New (quelque chose de nouveau). Elle est nouvelle pour moi car elle ne correspond pas à mon style habituel. Je suis plutôt vintage, shabby. Mais cette année, j'ai décidé de mettre en avant l'ethnique dans mon travail. Et je commence avec cette toile.
Et vous, l'aimez-vous ?