Hello crafty friends !
Today, I am going to share with you a tutorial that I did a few months ago for a French magazine. Even though I don't know if they published it.
Let me show you first the final result :
And here come the supplies you will need to realize this card :
The Big Shot by Sizzix, its embossing plateform and plates- 4 sheets of pattern paper (the colour of your choice : I chose pink, with the "Vintage Collage in the Butterfly collection by Prima Marketing, the SCRAPSR01 from Studio Line (Sweet collection), la "Lady Lite", from the Kaisercraft collection Oh so lovely and a squared pink paper that I found in a shop in the Netherlands)- a plain sheet of paper, with a darker shade than the other papers- your favorite flowers stamps ("Fleurs d'Azoline" by Carabelle Studio for me)- an acrylic block if you use cling or clear stamps- an embossing folder (I used a Marianne Design one, but I forgot the name) -Distress ink by Ranger ink ("Tattered rose"), but this is not mandatory - black ink pad (Staz On)- the embellishments of your choice (a plastic frame, paper flowers for me)- and some tools : pencil, ruler, scissors, glue, adhesive tape/foam, fineliners (0.5 and 0.1), a round plier.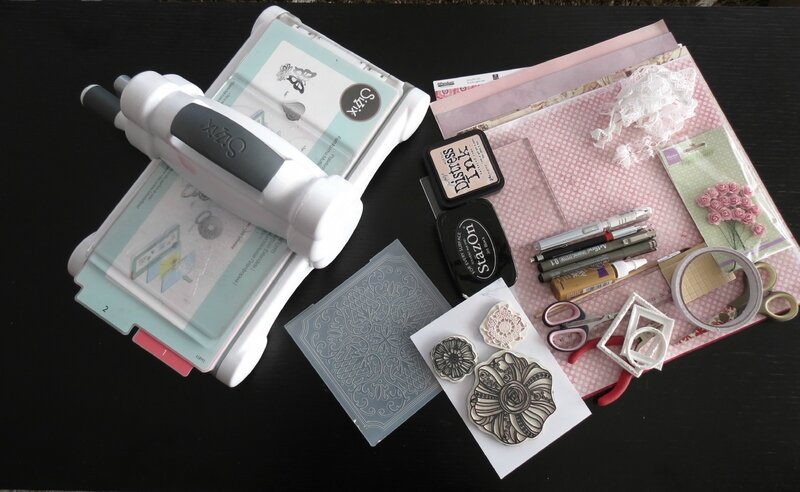 First step : the base of your card.
Choose the paper which will be the base of your card (SCRAPSR01 in my case : the one with the white polka dots - I love polka dots SO MUCH ! Don't you ?) Take your plain paper and trace with your pencils the outline of the embossing folder. Cut this shape.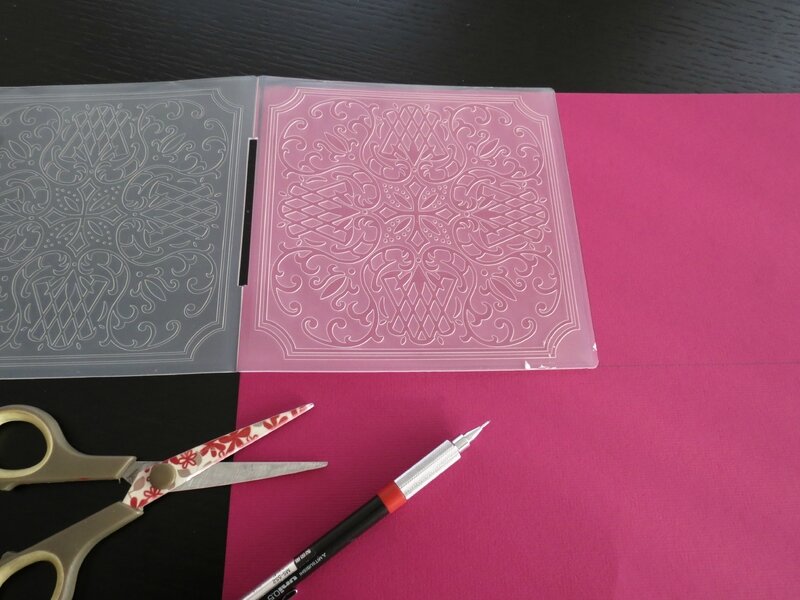 Step 2 :
Place carefully the squared you just got inside the embossing folder, close the embossing folder and place it inside the two plates from Sizzix to emboss it with the Big Shot. Pass the whole set through the Big Shot as many times as you want to get the best embossing details.
Step 3 :
Cut as precisely as possible the embossed paper right at the outline and put some double-sided adhesive tape at the back.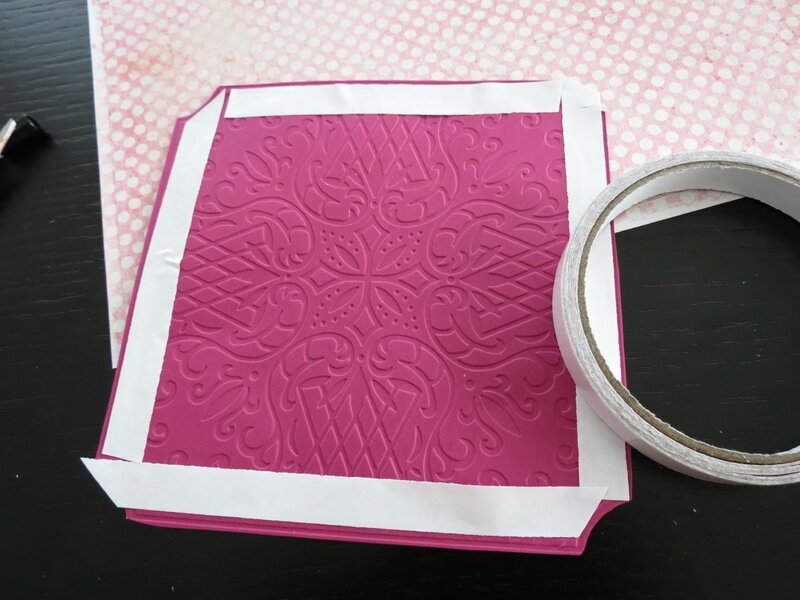 Step 4 : your base gets ready !
Measure the width of your paper and calculate the margin you would like to have all around it. Measure the double of it and cut the rectangle : you are now able to fold your base in two equal parts so you get a "book". Then, you can distress the outline of your card with the ranger ink if you want to. Place your embossed square on the front (don't forget to remove the cover of the adhesive! :)) and secure it.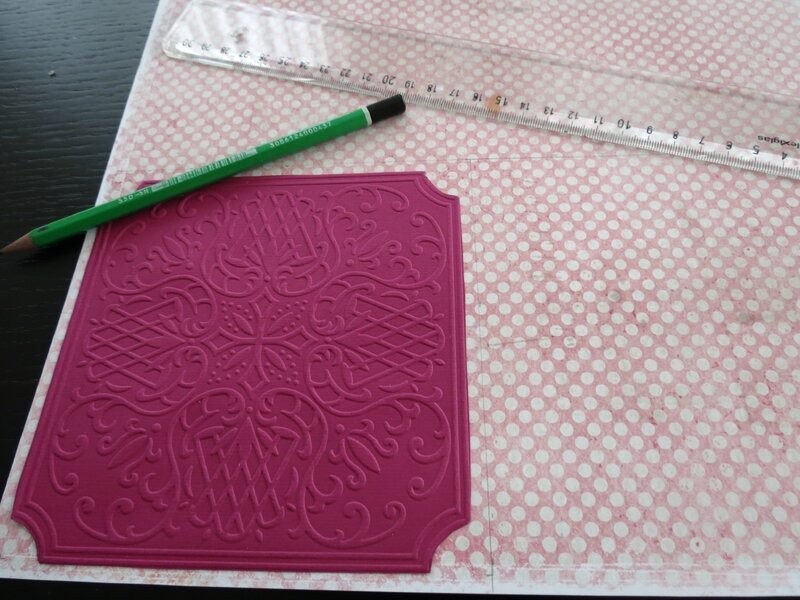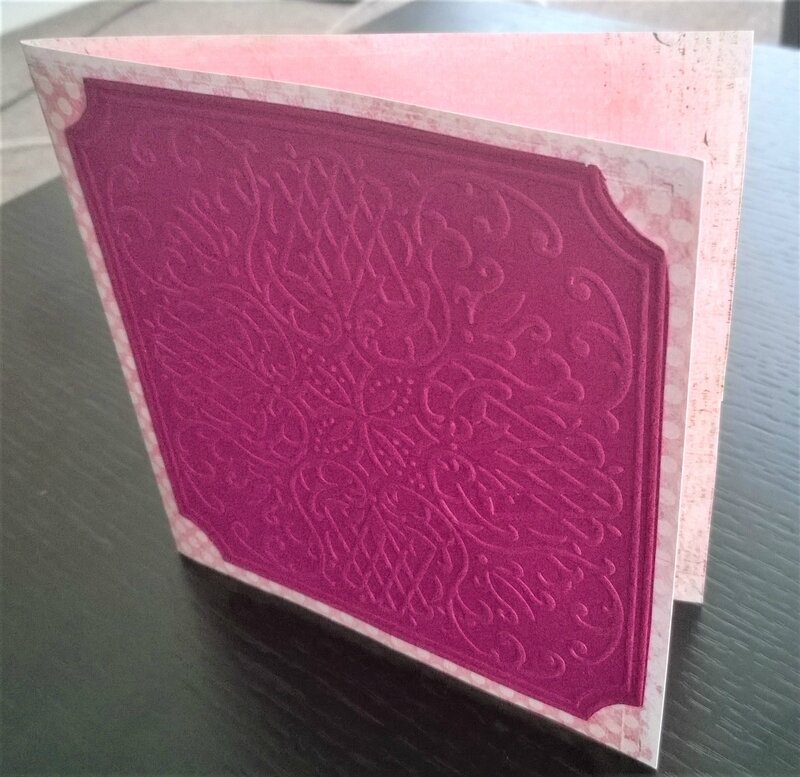 Step 5 : the embellishments
Take the other pattern papers and stamp your flowers with the black ink. You can, if you prefer so, go over the stamping with your fineliners to give more "texture" to your flowers. Cut the shapes out of them, and place them at the left down corner of your card with adhesive foam for a 3D effect.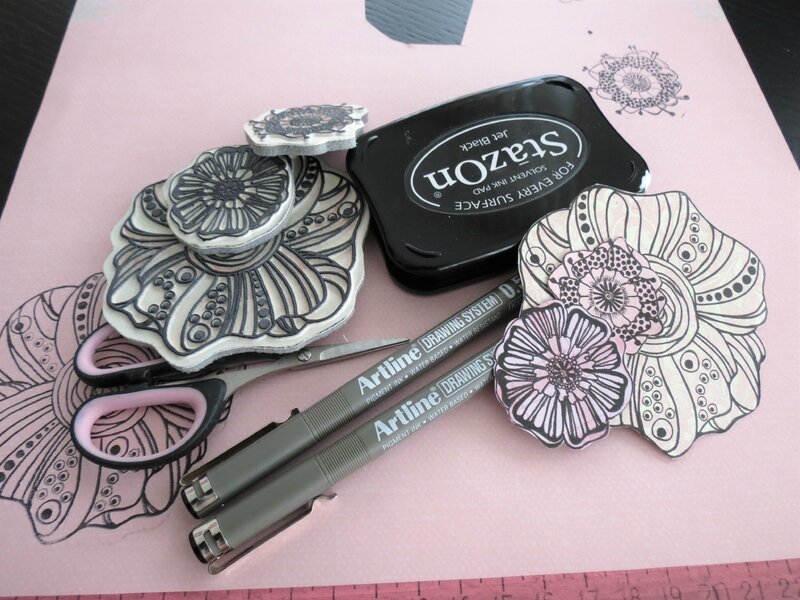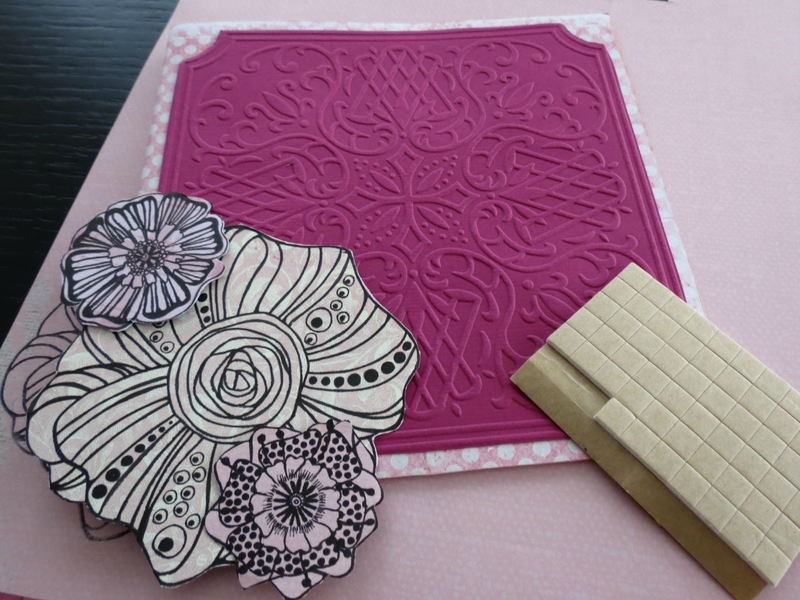 Step 6 : The frame, now.
I chose it round and white, but, of you course, you can choose it squared or rectangular, and in another colour if you want. Arrange the paper flowers all around it and, with a round plier, twist the stem. In the same paper as your base, cut a banner and write "Tea Time" with a fineliner, or, even better, with a calligraphy pen or a brush pen. I also drew little dashes to figure a running sewing. With a brush, apply some glue on it a arrange it under your frame. You can finally glue your embellishment in the corner upright of your card.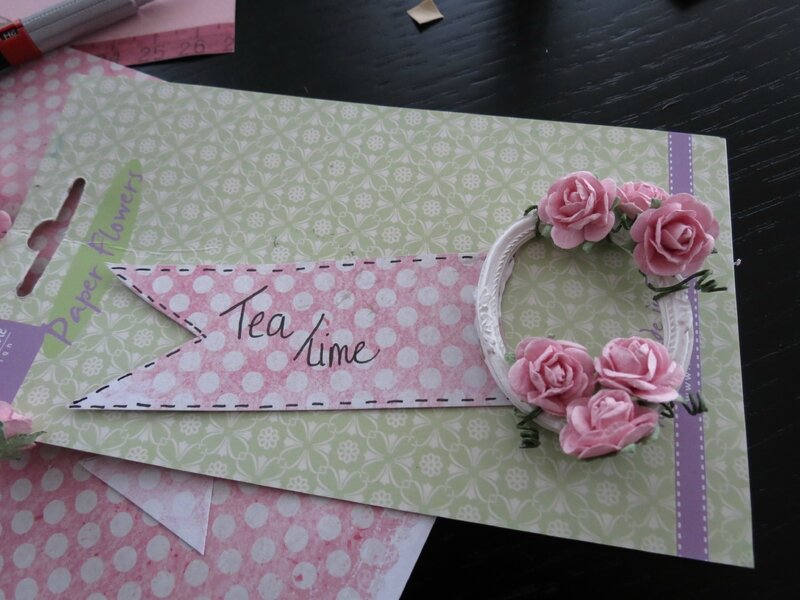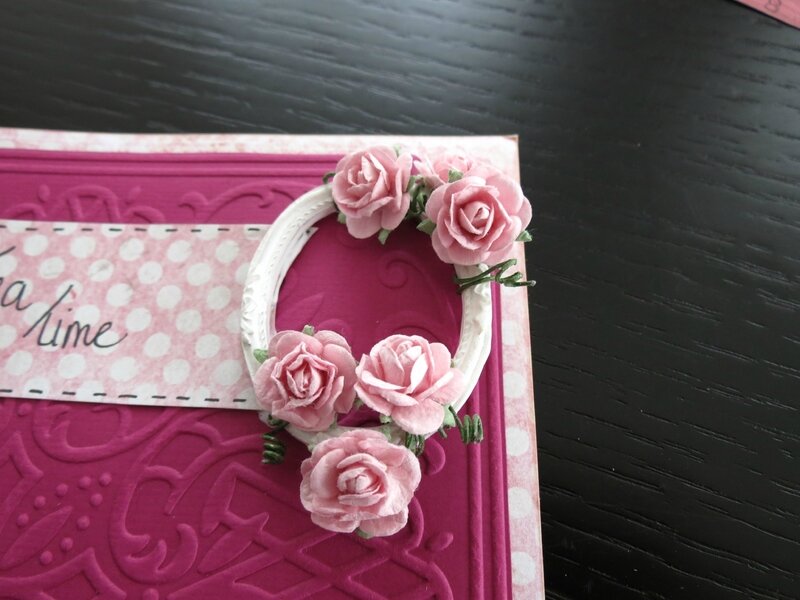 And it's done ! Good job ! You can see below more details of the card I made :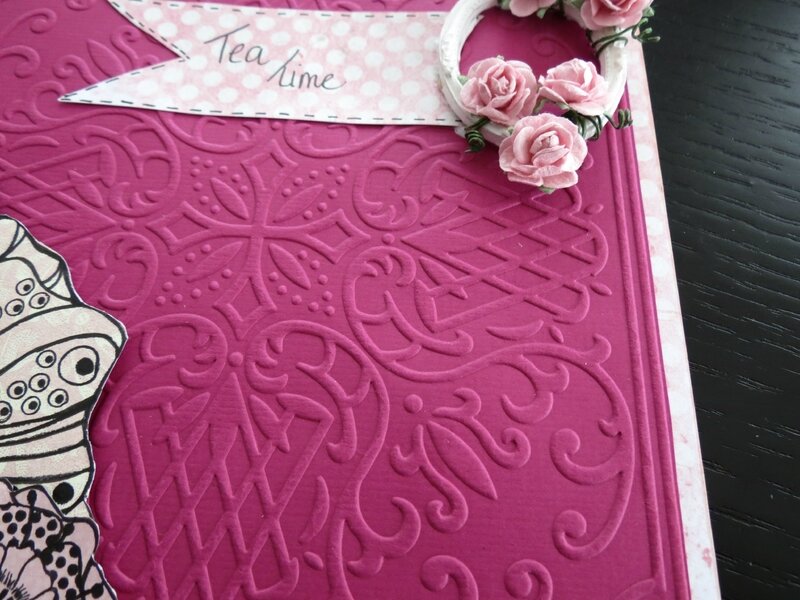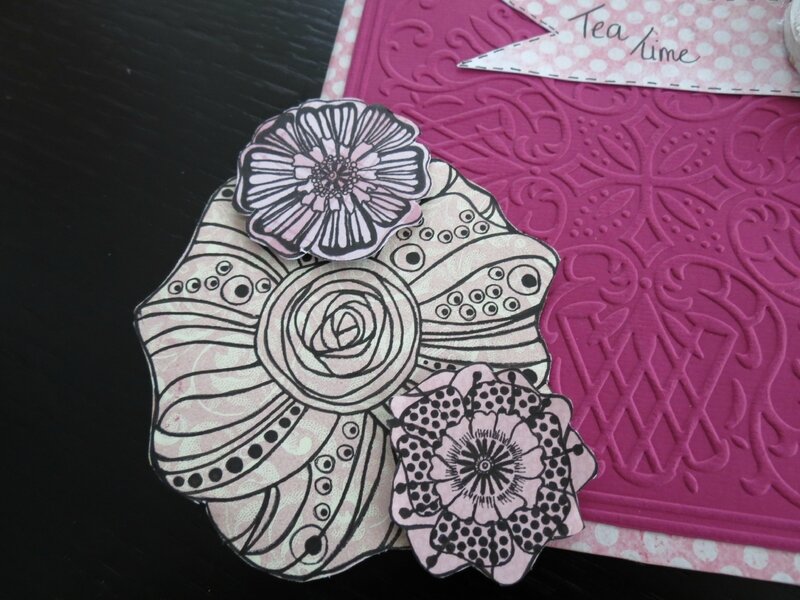 **************************************************************************************************
Bonjour à tous, amis-crafty !
Ajourd'hui, je vais vous présenter un tutoriel que j'ai réalisé il y a quelques mois pour le magazines Idées Magazine - Créas Cartes et Scrap. Je leur ai envoyé au moment de Noël, et je ne sais pas s'ils l'ont publié... Enfin, je le publie ici, du coup :).
Vous pouvez voir toutes les photos dans le descriptif en anglais, juste au-dessus...
Commençons avec le matériel :
la Big Shot de Sizzix, sa plateforme d'embossage et ses plaques- 4 feuilles de papier à motifs de la couleur de votre choix (j'ai choisi rose, avec la "Vintage Collage" de la Butterfly collection de Prima Marketing, la SCRAPSR01 de la collection Sweet Romance par Studio Line, la "Lady Lite" de la collection Oh so lovely par Kaisercraft et un papier à carreaux rose d'un bloc trouvé dans un magasin type la foir'fouille aux Pays-Bas.)- une feuille de papier uni, d'une teinte plus foncée que celle de vos papiers à motifs. Veillez à ce que les couleurs s'assortissent, j'ai choisi de faire un camaïeu de rose- vos tampons floraux préférés (les miens sont les « fleurs d'Azoline », édités par Carabelle Studio)- un bloc acrylique (si vous utilisez des tampons non-montés)- un classeur de gaufrage (Marianne Design ici)- de l'encre Distress en coussin (Tattered Rose », par Ranger)- de l'encre noire en coussin (StazOn)- le cadre de votre choix- de petites fleurs en papier- un crayon à papier/critérium- des ciseaux et des ciseaux de précision- une règle- de la colle- 2 feutres à pointe fine (0.5 et 0.1)- des cubes de mousse adhésive- un pinceau -du ruban adhésif double-face pour loisirs créatifs- une pince ronde
Première étape :
Choisissez le papier qui constituera la base de votre carte (j'ai choisi le 'SCRAPSR01' de Studio Line, pour un fond rose à polka dots blancs). Prenez votre papier uni et tracez les contours de votre classeur de gaufrage. Découpez la forme ainsi obtenue.
Étape 2 :
Placez votre carré de papier à l'intérieur de votre classeur de gaufrage, puis le tout en sandwich entre les deux plaques de la Sizzix. Choisissez la plateforme correspondant à l'embossage, placez l'ensemble plaques + classeur de gaufrage sur la plateforme et faites tourner la manivelle en maintenant bien vos plaques en place pour embosser le papier. J'ai fait 3 passages pour un gaufrage plus marqué.
Étape 3 :
Découpez précisément la forme embossée au ras du contour puis placez du ruban adhésif double-face sur votre papier gaufré.
Étape 4 :
Mesurez la largeur de votre papier et calculez la marge que vous pouvez laisser autour de votre papier gaufré pour obtenir une première et une quatrième de couverture égales, de façon à obtenir une carte à ouvrir comme un livre : dans mon cas, je pouvais laisser une marge de 0.5 cm.
Découpez votre carte, puis, avec le coussin d'encre Distress , encrez délicatement et légèrement les bords de votre carte.
Pliez votre carte bord à bord.
Étape 5 :
Il est maintenant temps de passer aux embellissements : prenez les papiers à motifs qui vous restent et tamponnez vos fleurs avec l'encre noire. Si les motifs n'apparaissent pas très bien, ce n'est pas grave : vous pouvez repasser les contours avec les feutres à pointe fine pour leur donner plus de profondeur.
Découpez-les avec vos ciseaux de précisions.
Puis placez-les selon vos goûts dans le coin inférieur gauche de votre carte et fixez-les à l'aide de cubes de mousse adhésive pour un effet 3D.
Étape 6 :
Passons à présent au cadre. Je l'ai choisi rond et blanc.
Fixez les petites fleurs en papier en enroulant la tige autour du cadre. Pour les finitions, vous pouvez choisir d'enrouler le bout des tiges des fleurs autour des embouts de la pince de façon à créer des tire-bouchons.
Dans la chute du papier qui constitue votre base, dessinez et découpez une bannière. Au feutre fin -ou mieux encore, au stylo à calligraphie ou penbrush-, dessinez de petits tirets imitant des coutures, puis écrivez, au centre "Tea Time".
Appliquez de la colle au pinceau sur votre bannière et collez-la sous votre cadre.
Appliquez de la colle sous le cadre et sous votre bannière, puis placez le tout dans le coin supérieur gauche de la carte.
Attendez que ça sèche.
Votre carte est terminée ! Beau travail !
Qu'attendez-vous pour organiser votre tea-party? (Merci de ne pas copier, même si vous êtes libres de vous inspirer...:)).
Enregistrer
Enregistrer