Hello everyone !
Today I am going to tell you about something that I am really fond of... Concrete jewelry !
I discovered this technique about one year ago and now, I can't stop molding concrete !
I am in love with the industrial aspect of the concrete that I like to combine with gemstones (and I plan to combine it with Swarovski cristals, I think this can work very well too... I can't wait to find out!).
The one on the left is the very first model I created with a stone. This cabochon is made out of jade, and I really love its organic effect. I painted with gold acrylic paint the left side of the pendant. For the pendant on the right, I molded concrete right into a bezel and I added a sodalite cabochon. Simple but efficient, don't you think ?
I simply painted half of this pendant with Finnabair's Plum preserves paint and added a silver filigree on top. I like it a lot too... And you ?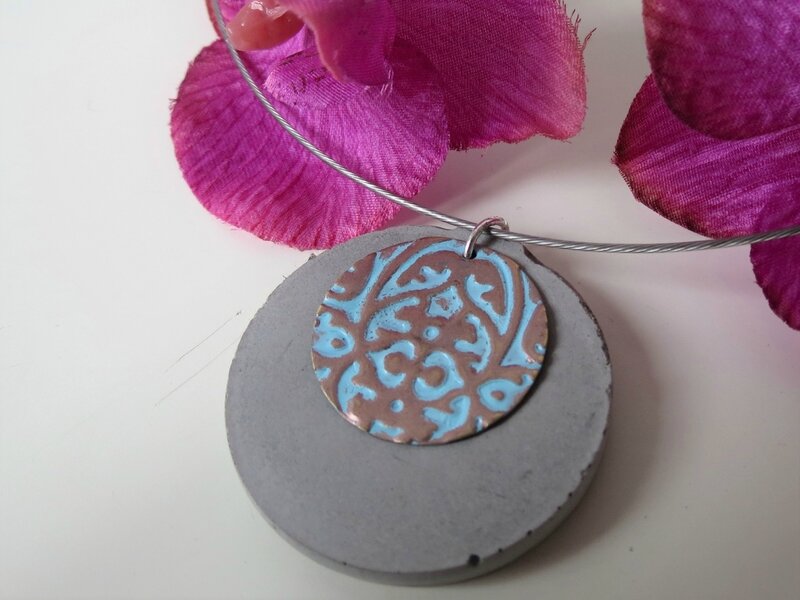 How nice is this one ? I molded the pendant, and embossed a blank pendant from one of my favorite brands, Vintaj. I added some light blue patina (Vintaj) and rose gold wax (Finnabair) to colour the pendant. Do you like it too ? Personally, I love the color combo !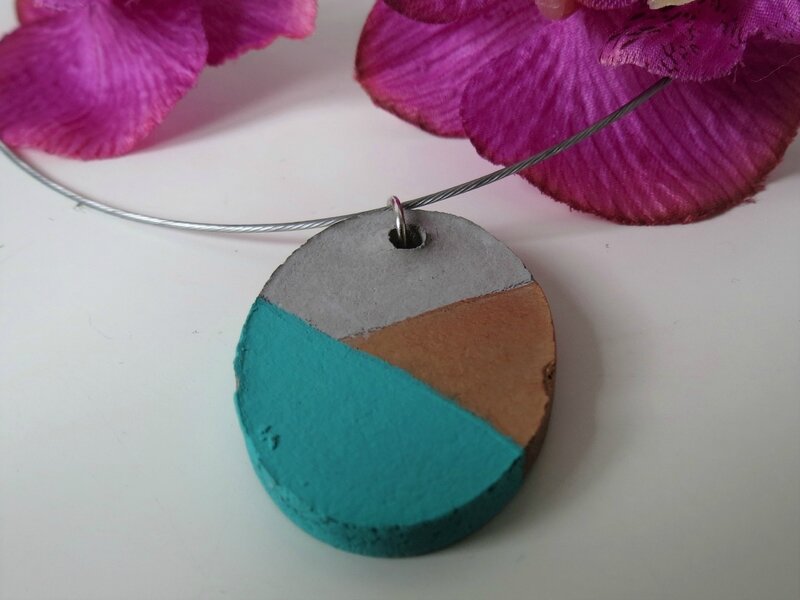 This one is the last necklace, even though I have one more jewel to show you after. I simply painted an oval molded pendant with turquoise and gold paint. I like the geometric aspect of it. What do you think ?
And last but not least :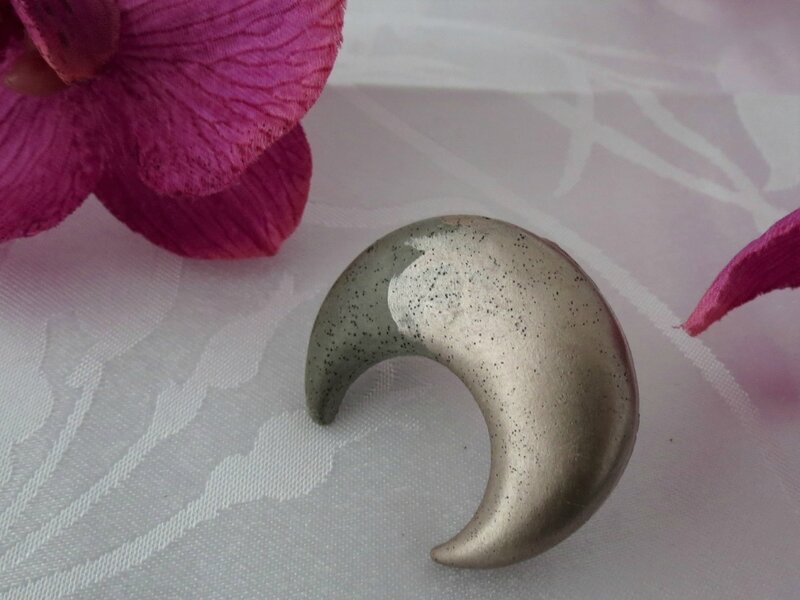 I created this fabulous ring molding concrete into a crecent moon mold and I LOVE IT !!! It is gorgeous, isn't it ? I painted it with Vintaj rose gold patina... More and more in different colours are to come !
Would you like to see more concrete jewelry as well ? I'll show you in another post my next creations then !!
See you soon !!!
PS : the concrete I use is designed especially for jewelry.
**********************************************************************************************************
Bonjour tout le monde,
Je vais partager aujourd'hui quelque chose que j'adore faire... des bijoux en béton.
J'ai découvert cette technique il y a environ un an et maintenant, je ne peux pas m'arrêter de mouler du béton !
Je suis tombée folle amoureuse du côté industriel du béton que j'aime combiner à des pierres semi-précieuses (j'ai aussi dans l'idée que combiner le béton aux cristaux de Swarovski peut fonctionner, j'ai hâte d'essayer ! ).
Sur la première image (voir ci-dessus), le collier sur la gauche est le tout premier modèle que j'ai créé avec une pierre, un cabochon de jade, pour être précise, dont j'adore l'aspect organique (s'opposant au côté industriel du béton. Sympa non ?). J'ai peint avec de la peinture acrylique dorée le côté gauche du pendentif. Pour celui de droite, j'ai moulé le béton directement dans un support à cabochon, puis j'y ai serti un cabochon en sodalite. Encore une pierre à l'aspect organique que j'affectionne particulièrement. Ce pendentif est simple mais efficace, vous ne trouvez pas ?
Deuxième image : j'ai tout simplement peint le pendentif en béton avec de la peinture acrylique de Finnabair (Plum preserves) et j'ai ajouté par-dessus une estampe argentée. Je l'aime bien aussi, celui-ci. Pas vous ?
Et le trosième pendentif, n'est-il pas super joli ? Pour celui-ci, j'ai ajouté au béton une estampe que j'ai gauffrée puis peinte avec de la patine bleu ciel de Vintaj et de la cire or rose de Finnabair. L'aimez-vous aussi ? Moi j'aime beaucoup l'association de couleurs !
Et le dernier collier pour aujourd'hui (j'ai un autre bijou à vous montrer après celui-ci) : j'ai tout simplement peint un pendentif en béton ovale (on change de forme ! ) avec de la peinture turquoise et dorée. J'aime son côté géométrique. Qu'en pensez-vous ?
Et enfin le dernier bijou, mais pas des mondres : sur la dernière photo, vous pouvez voir cette superbe bague réalisée à partir d'un moule en silicone en forme de croissant de lune. JE L'ADORE !!! Elle est magnifique, vous ne trouvez pas ? J'ai ensuite peint le cabochon-lune avec de la patine or rose de Vintaj. J'en ferai encore plus, et dans d'autres couleurs.
Vous voulez plus de bijoux en béton ? Je vous montrerai mes prochaines créations alors !
à bientôt !
PS : le béton que j'utilise est spécialement conçu pour la bijouterie !