Hello !
Today I am going to share with you another type of jewelry that I really enjoy to make and to wear... I think they are really vintage and elegant... fabric flowers, made out of organza and/or satin... This is going to be a short post, mainly pictures...
They are really easy to make : just cut out circles of different sizes out of satin and organza, burn the edges with a tea light candle, sew them all together. Add a brooch pin onto a piece of flet at the back, done ! The longest step is to cut out the circles. I prepared myself patterns in light cardboard that I pin onto one or two pieces of fabric. And I cut, and I cut, and I cut...
But I stop talking (I said it would be short), and I show you my flowers now.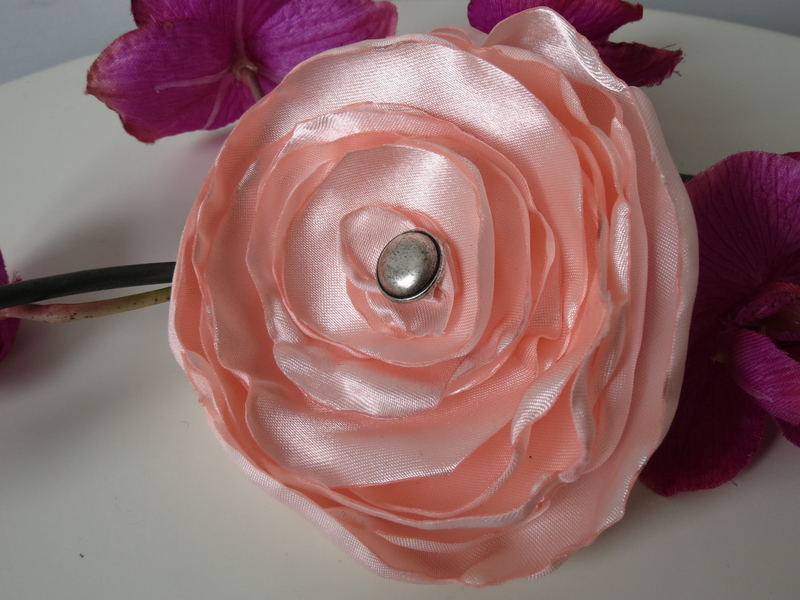 I really like the colour of this one, made out of peach satin. I think this is a smooth and elegant colour.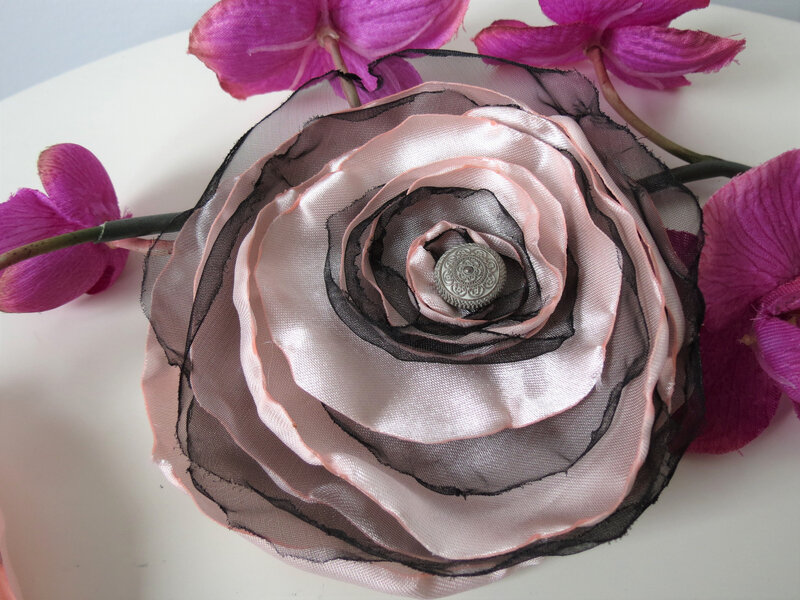 I combined peach satin to black organza for this one.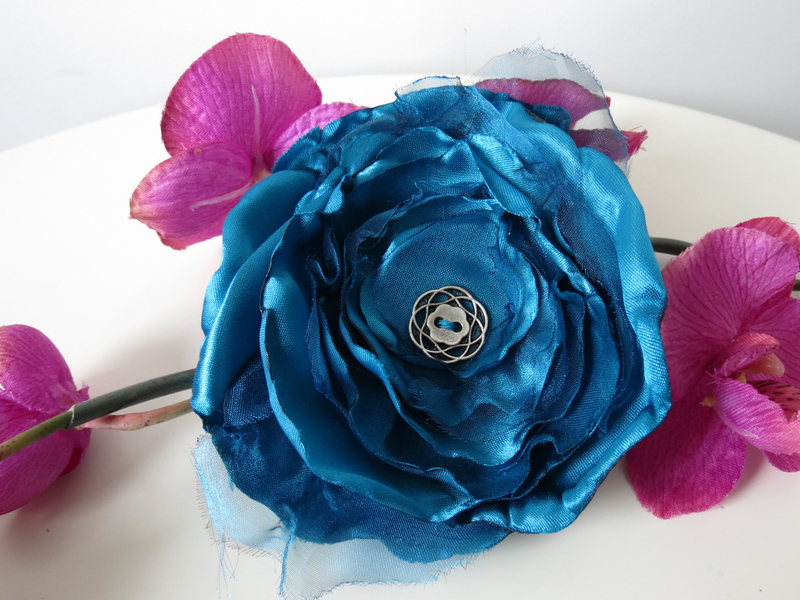 This ones combines teal satin and teal organza. One of my favorite colours.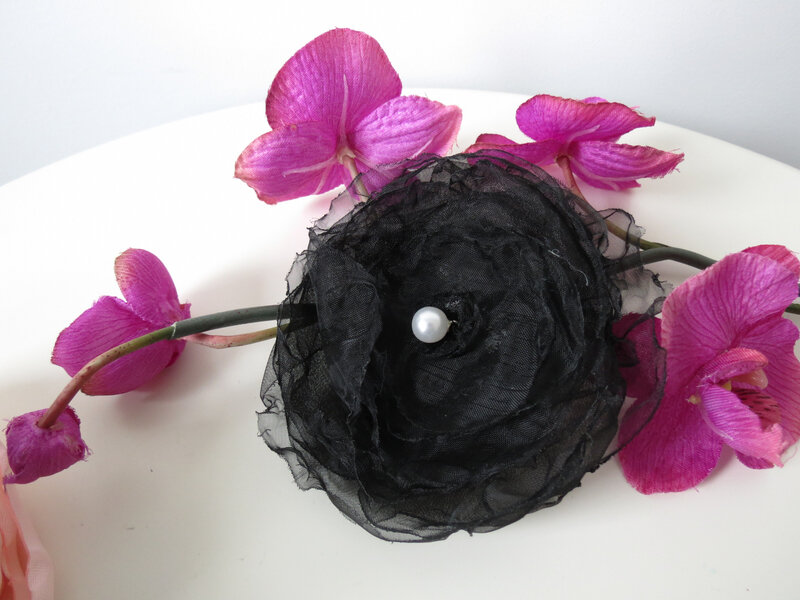 Only black organza for this one. With the white button in the center, very elegant and sober !
My favorite : fuschsia and light blue satin. I love it because of the colour combo and also because of the number of layers !
My second favorite so far : teal and lilac organza with tiny purple buttons.
What do you think ?
I have other brooches in progress, with satin in other colours (orange, dark purple, lilac and ...green ? Blue ? I don't even know what this colour is. All I know is that I LOVE IT ):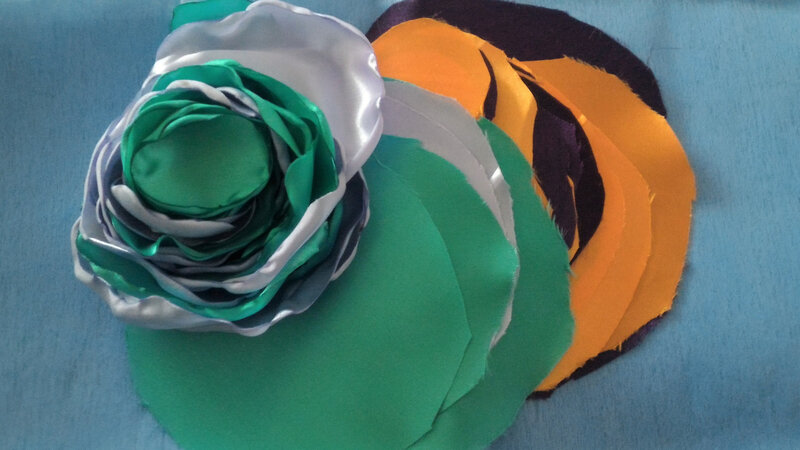 I will show them to you when they're completely finished. But as you can see, you don't even need to be super precise when you cut out the circles. Mine barely are circles. I am left-handed, and my scissors aren't for lefties (sometimes being leftie sucks). That plus the fact that I am SUPER BAD at cutting, even with nice scissors. So no worries. When you burn the edges of the circles, the small flaws will disappear, and the irregular shape of the circles will give more interest to your flowers.
Don't hesitate to tell me which one is your fav in the comments. Thank you for passing by and see you soon !
***********************************************************************************************************
Hello !
Aujourd'hui je vais partager avec vous un autre de mes projets préférés... J'aime les faire et les porter, car je les trouve très élégantes et très vintage : les broches fleurs en satin et/ou en organza. Ce sera un post court, principalement des photos.
Ces fleurs sont très simples à réaliser : il suffit de couper des cercles de différentes tailles dans du satin et de l'organza, d'en brûler les bords avec une bougie chauffe-plat. On coud ensuite le tout, on ajoute une épingle de broche sur une pièce de feutre. Tadaa ! C'est aussi simple que ça. Pour mes cercles, je me suis fabriqué des patrons dans du carton léger. Je les épingle sur des pièces de tissu et je coupe, je coupe, je coupe...
Mais les images ne valent-elles mieux que des mots ? J'arrête donc de parler et je vous montre mes broches, maintenant (j'ai dit que ce serait court, non ?).
Voyez plutôt les photos plus haut.
J'aime beaucoup la couleur de la première, réalisée à partir de satin pêche. Je pense que c'est une couleur très douce et très élégante.
Pour la deuxième, j'ai associé le même satin pêche à de l'organza noir.
La troisième est constituée de satin et d'organza teal, une de mes couleurs préférées.
La quatrième n'est constituée que d'organza noir. Avec le bouton blanc au milieu, je la trouve très sobre et très élégante !
La cinquième est ma pièce chouchou : ses pétales sont de satin fuchsia et bleu ciel. Je l'adore, j'adore l'association de couleurs et l'épaisseur !
La dernière, constituée d'organza teal et lilas est ma deuxième préférée. Son coeur a été réalisé à partir de petits boutons violets.
Que pensez-vous de ces broches ?
D'autres sont en cours de réalisation(voir dernière image ci-dessus), dans d'autres couleurs (orange, violet foncé, lilas et... vert ? Bleu ? Je ne suis même pas sûre de cette couleur, mais JE L'ADORE !).
Je vais vous les montrer quand je les aurai terminées. Mais comme vous pouvez le voir, vous n'avez même pas besoin d'être très précis-e quand vous coupez les cercles. Les miens sont d'ailleurs à peine des cercles. Je suis gauchère, et mes ciseaux ne sont pas conçus pour les gauchers (parfois, être gaucher, c'est de la m****). Cela, plus le fait que suis NULLE, ARCHINULLE, UN ZÉRO quand il s'agit de couper, même avec des ciseaux pour gauchers. Donc pas de soucis. Quand vous brûlerez les bords de vos cercles, le petites imperfections disparaîtront et l'irrégularité de vos cercles rendra les pétales encore plus intéressants.
N'hésitez pas à me faire savoir laquelle à votre préférence dans les commentaires. Merci de me lire et à bientôt !