Hello Crafty friends !
Today I will share with you the card I made for Mother's day... A simple card, but very elegant and feminine, I think.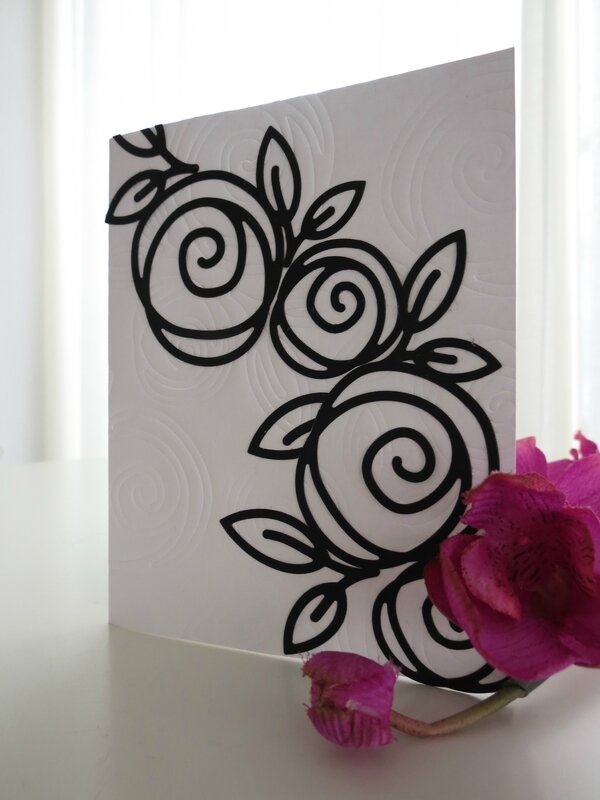 I started with an A4 sheet of Neenah Classic Crest 80 LB Smooth Solar White which I cut in half and folded in half to obtain one rectangle of 14 cm (height) over 21 (width). Then I folded this piece in two and obtained another rectangle of 14 (height) x 10.5 cm.(width).
I embossed the first side of the card with the wafer die "Single roses" by Simon Says Stamps (my favorite die so far) using my Sizzix Big Shot and a wizard tan embossign mat by Spellbinders.
I don't recommend to use this paper for embossing, though : it crackled a bit arount the pattern and at the beginning, I thought I would put the flowers on the upleft corner of the card, not all over the diagonal, but I had to hide the cracks...
Then, I cut three pieces with the same die over a black paper and glue two of them on this embossed first side (in the diagonal) and the last one in the inside (which is embossed as well).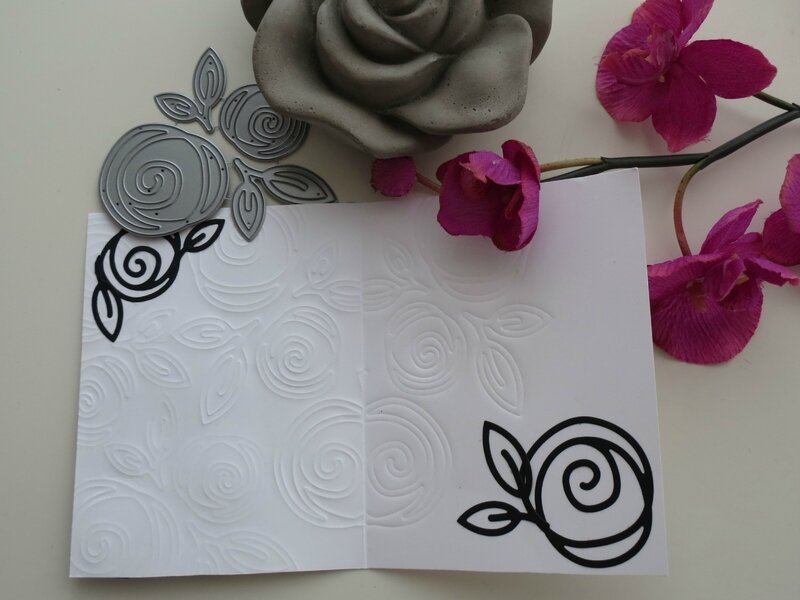 You can see below more details :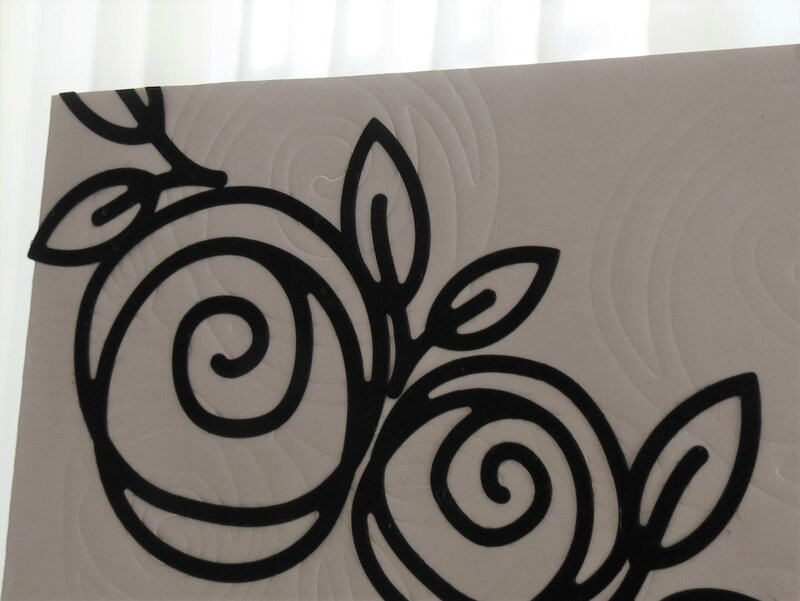 The back is also embossed in a very nice way, but I could take any nice picture, as the light is not great today...
What do you think?
I think it is a nice card, really easy to make, but very elegant and fancy... Perfect for Mother's day!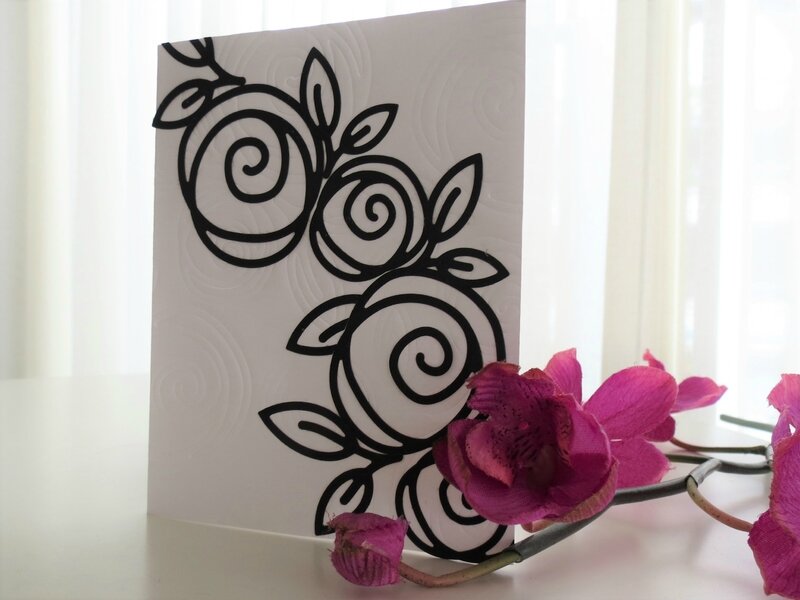 ***************************************************************************************************
Bonjour amis-crafty!
Je vais partager avec vous ma carte du jour : celle que l'ai réalisé pour la Fête des Mères : une carte simple et plutôt classique, mais parfaite pour l'occasion, je pense...
J'ai commencé par couper en deux dans le sens de la longueur une feuille A4 de papier Neenah Classic Crest 80 LB Smooth Solar White puis j'ai plié le rectangle obtenu en deux dans la largeur pour obtenir une carte-livret de 14 cm de haut sur 10.5 de large.
Je ne recommande d'ailleurs pas l'utilisation de ce papier pour la technique qui va suivre, vous allez bientôt savoir pourquoi...
J'ai embossé la première de couverture de cette carte avec mon die préféré : le single roses de Simon says Stamp, en utilisant ma Sizzix Big Shot et un tapis d'embossage Wizard par SpellBinders.
Avec le même die, j'ai réalisé trois découpes à partir de papier cartonné noir, que j'ai collé dans la diagonale de la carte (pour cela j'en ai utilisé deux). Au départ, je pensais placer ces découpes dans le coin supérieur gauche de la carte, mais mon papier a craquélé par endroits, autour du motif que j'ai gaufré, et j'ai dû cacher ces craquelures.
J'ai utilisé la troisième découpe pour coller dans les coins opposés (supérieur gauche et inférieur droit) de l'intérieur, qui est aussi embossé. L'arrière aussi, d'ailleurs, mais je n'ai pas pu prendre de photo car la lumière est mauvaise...
Vous pouvez voir le résultat (et des détails) un peu plus haut.
Qu'en pensez-vous?