Today is the day where I share with you something which made me go waaayyy out of my comfort zone. Something rusty, something grungy... You got it, something really unusual for me. Something steampunk.
I would like to thank Cathy for inviting me to this Steampunk blog hop. We have amazing inspiration and sponsors and I'll share all the information you need below. But without further ado, let me show you my creation.
I am not really equipped for steampunk projects as it is not my usual style. I had to steal screws and nuts from my boyfriend but I also had to use supplies I bought at least two years ago and didn't use. Which is good, obviously. And I had fun.
For the base, I chose a MDF banner à friend gave me some time ago. I already had started working on it with sand paste and chipboard, but it was not turning out as I wanted so I put it aside for a (very long) while.
I also chose some elements for my composition: chipboard from Dusty attic (the roses) and SnipArt (gears I cut out from a clock), some filigrees and spacer beads I had in my stash, Brad's, nuts, screws. I filled in a small bottle with orange microbeads.
Once I had decided my composition, I painted everything with black gesso and glued everything as I wanted onto the banner.
I covered everything with Rust effect paint from Finnabair in red and brown, and added some touches of oxide paint by Fabrika Decoru. I painted some elements with Finnabair metallic wax in copper but I didn't get as much contrast as I wished, so I changed my mind and went to White gold.
I added nuvo drops onto the edges of the banner which remained visible and covered them with white gold wax.
See more details below.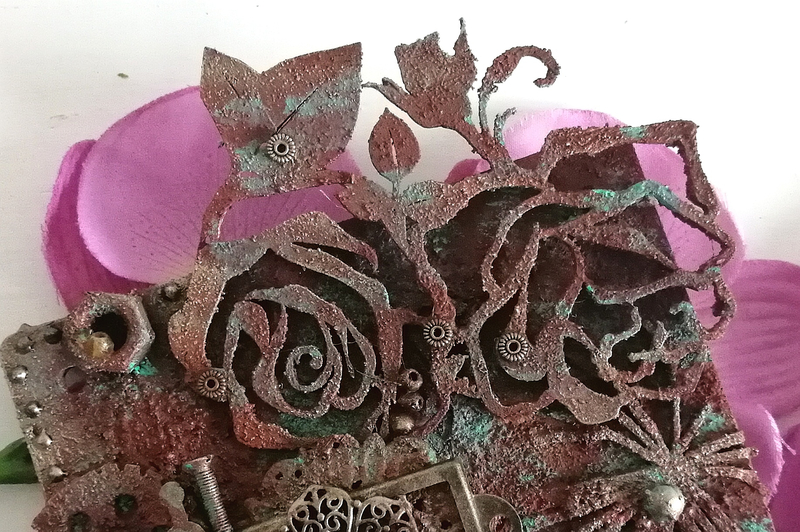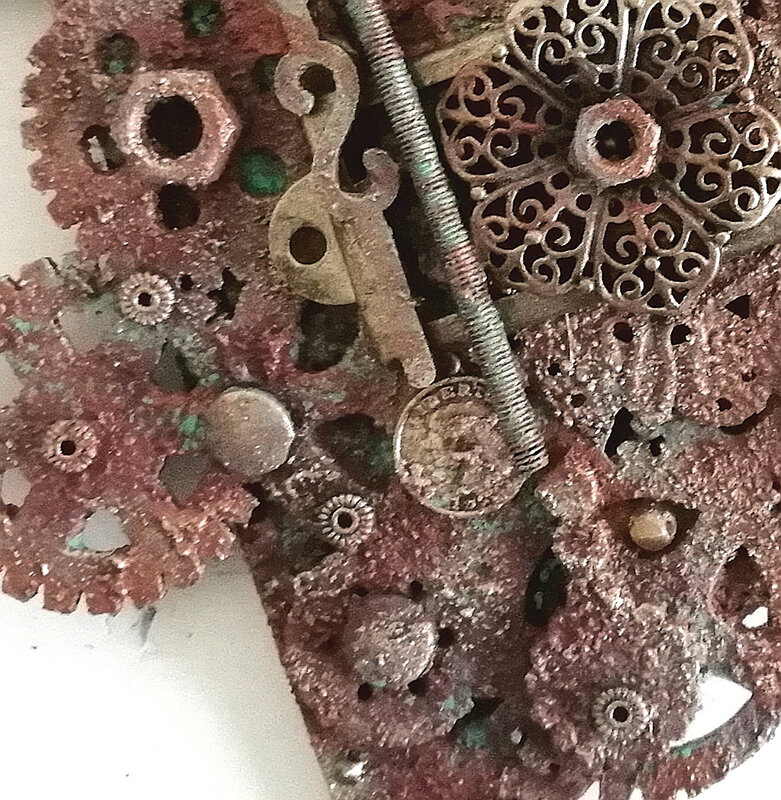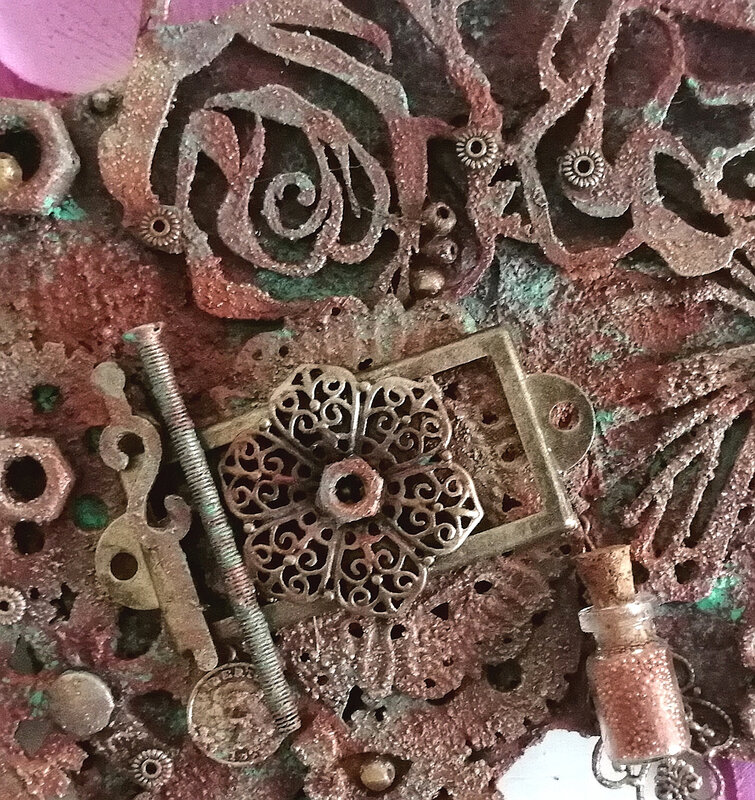 I really like the texture of the rust paste.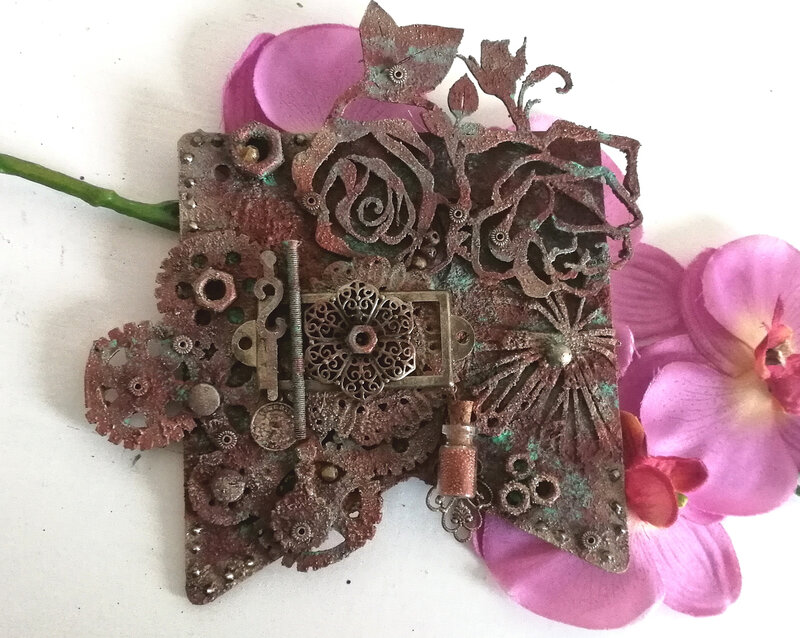 Read below for all the information about the blog hop and our sponsors.
We have 13 prize sponsors for our Steampunk Hop - we're proud to say these are small businesses run by artists. Let's show them some love!
1) A Vintage Girl - $20 prize package
2) Angel Dream Crafts - $20 gift certificate (shipping not included)
3) Linda Israel Art - $50 gift certificate (shipping not included)
4) A Matter of Crafts - $20 gift certificate (shipping not included)
5) Expressions Craft - $25 gift certificate (shipping not included)
6) Nellys Artistic Creations - original artwork (see link for examples of her work)
7) Gecko Galz - $25 in digital products
8) Creative Embellishments - $50 (shipping not included)
9) Emerald Creek - $25 gift certificate
10) Electric Pandemonium - choose a $45 original artwork piece (shipping not included)
11) Thompson's Craft Supplies - £20 (approx $25) (shipping not included)
12) It's Oddly Appealing - original artwork (see link for examples of her work)
13) The Funkie Junkie Boutique - $25 gift certificate
14) Hobbilicious - £25 (approximately $19) (UK shipping free)
15) ITD - Price package worth £25
16) Stamperia - A pizza box prize pack
To have a chance of winning one of the 13 coveted prizes, leave a comment on this post, along with your email address or social media contact (IG, FB, etc...) and what country you're from, from now through Monday, 22 June. Sixteen winners will be picked randomly from all comments left from all of the artist's participating! The winners will be contacted via email/social media contact so it's important you leave your address/social media contact! Good luck and enjoy the hop!
See below the next stop :
Cassandra - Scrap Savvy Creations
Monica Longard - MonDo Creations
Orquide'art >> You are here!!!
A vintage girl - https://www.candyscrap.typepad.com/scraps/2020/05/steampunk-blog-hop.html