Hello Mixed Media friends...
It has been a long time I haven't published a full photo tutorial... So today, I will show you how to create this mini canvas "Peach Bloom":
But before I show you all the steps, I would like to tell you a bit more about the story of this canvas. I suscribed to many Mixed Media artists accounts on Instagram, and one of the is Stacey Young Designs. One or two weeks ago, she published this canvas. And I fell in love with her gorgeous pink tones... It reminded me I had some Prima flowers in my stash I could use to create a similar canvas... And the idea for "Peach Bloom" was born.
Here are the supplies you will need :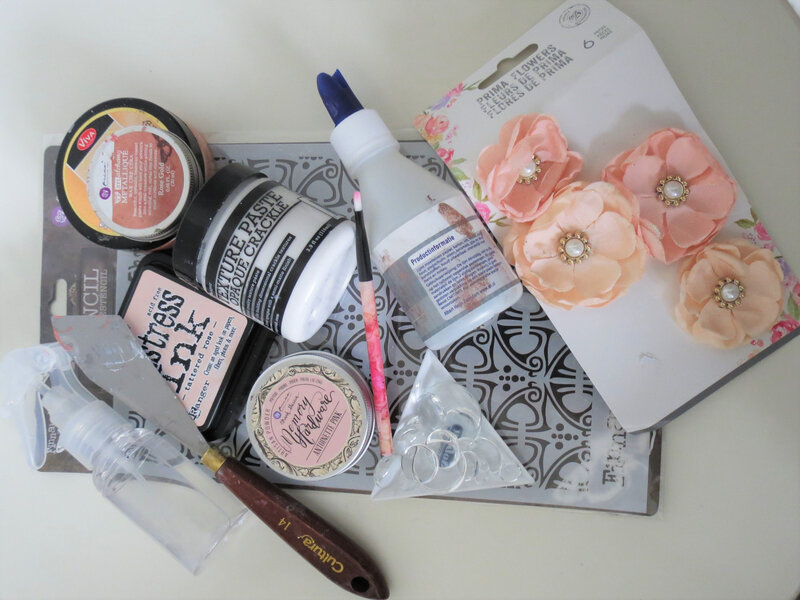 -a small canvas. Mine measures 20x20 cm (you can't see it on the above picture, but this is my base :))
-a stencil (I used Finnabair's swirly florals),
-crackle paste (ranger for me),
-Viva decor inka gold patina (I chose apricot),
-Prima Marketing artisan powder (my color : Antoinette Pink)
-faux flowers (Mine are from Prima, "Aubree" flowers from the Love story collection)
-glass cabochons in different sizes,
- a piece of wide lace, slightly longer than your canvas
-a distress ink pad (I chose tattered rose - this item is totally not mandatory)
-a small brush (I used a make-up one),
-a spray (I got mine from Prima Marketing, they are very handy and totally inexpensive),
-some glue (I used liquid glue for everything, but you can choose some medium gel for the heavier elements, such as the cabochons)
-a palette knife
-a heat gun (not mandatory)
They are not on the picture, but I also used white gesso from Pebeo and a hand molded frame.
I chose light pinks, peach and apricot tones for my canvas, but you can choose any other color depending on your tastes.
You gathered all the supplies you need, it is now time to start !
Step 1: Apply the crackle paste
Use your palette knif to apply the crackle paste through your stencil. I love Finnabair's Swirly florals, because of the design but also because this is a full background pattern that you can choose to apply only here and there. If you want to, you can use your palette knife to "spread" the paste here and there, "breaking" the stencil pattern which gives a grungy effect to the design.
After you applied the paste, you can remove the stencil, cleane it up (it is important to do it right away, otherwise the paste will dry on your stencil and damage the design) and set the canvas to dry. I like to let my artwork dry naturally but you can speed up the process with a heat gun. You know the paste is dry when the crackled effect is fully visible.
Step 2: Glue the lace
Glue the lace at the bottom of the canvas and set it to dry.
Step 3: Add some color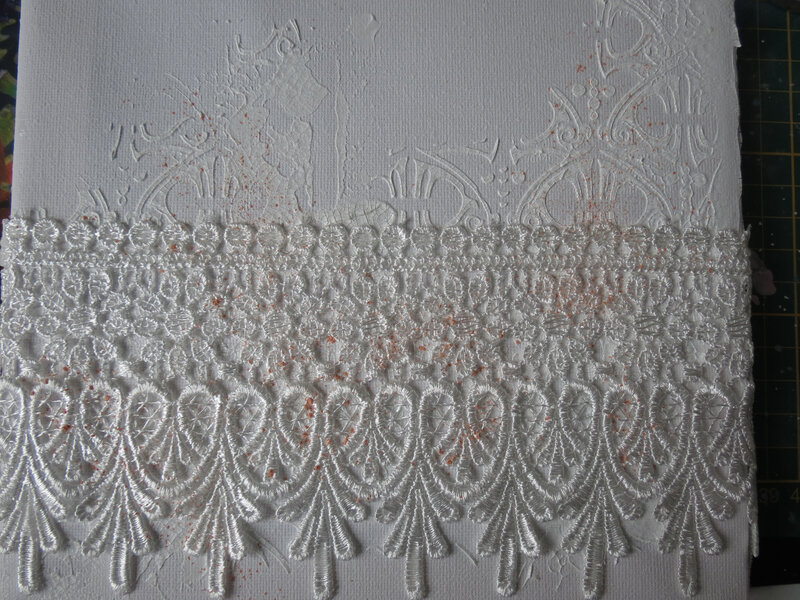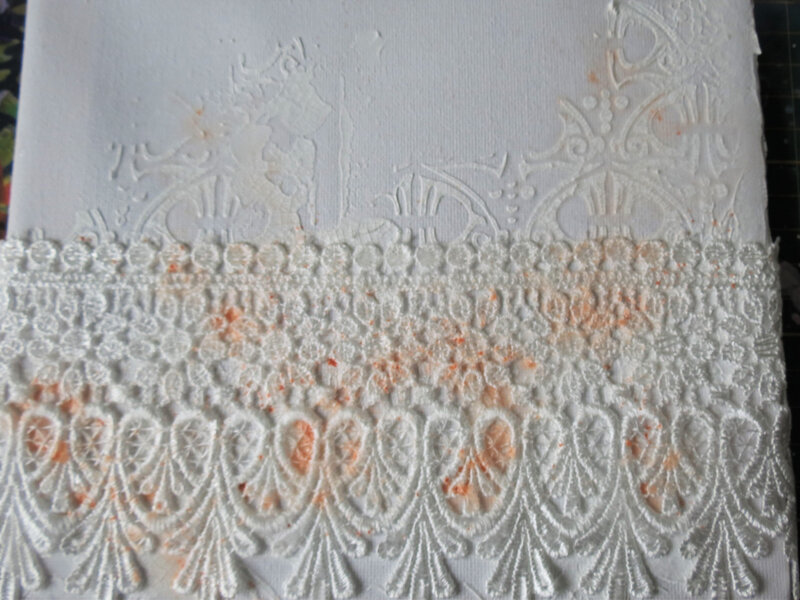 Use your brush to sprinkle some Artisan Powder. I recommend you use a mask to protect your lungs as the powder is extremely volatile. You can then spray it generously with water and let it run through on the canvas. Add powder until you are happy.
Step 4: Build up the composition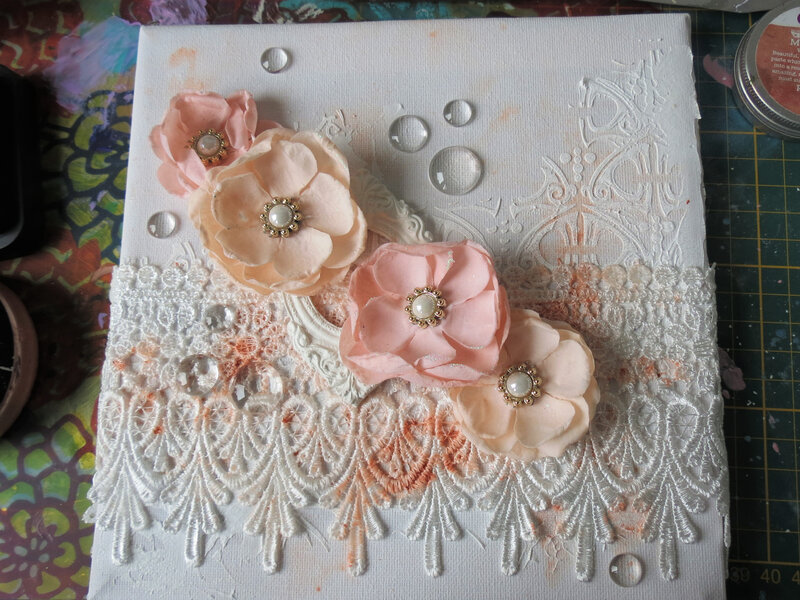 Start to build your composition adding all your embellishments onto the canvas, take a picture if needed to remember where you placed them.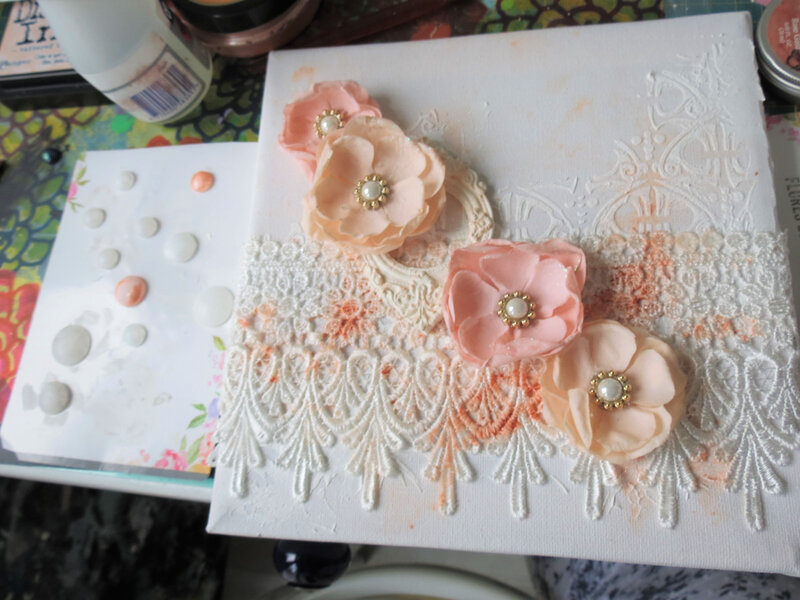 Paint the cabochons with some gesso and, while the gesso is drying, glue the other embellishments (in my case : the frame and the flowers).
Once the gesso is dry, paint the cabochons with the patina. My patina was really dry, so I had to spray it with water to be able to use it. I also added a bit of patina here and there onto the canvas, around the cabochons and I made some splatters.
Last step, if you want it : slightly distress the edges rubbing your distress ink pad all around the canvas.
See below more details :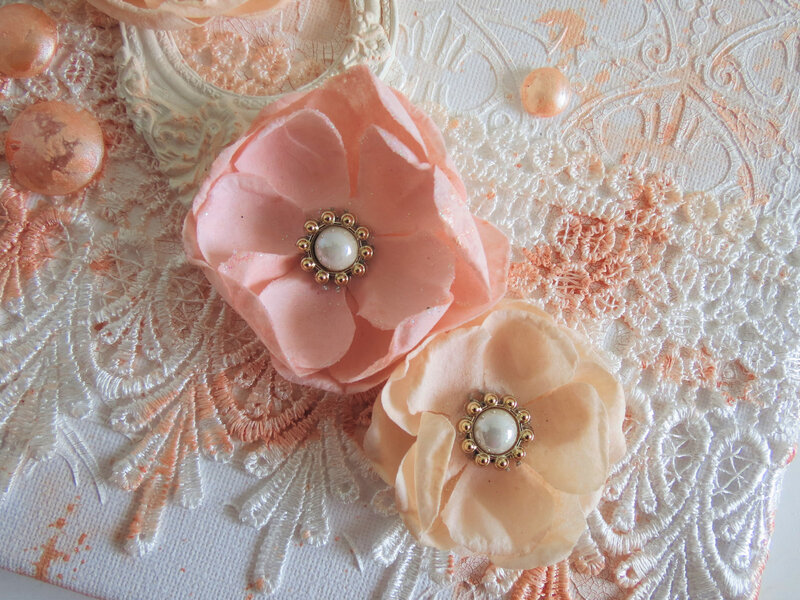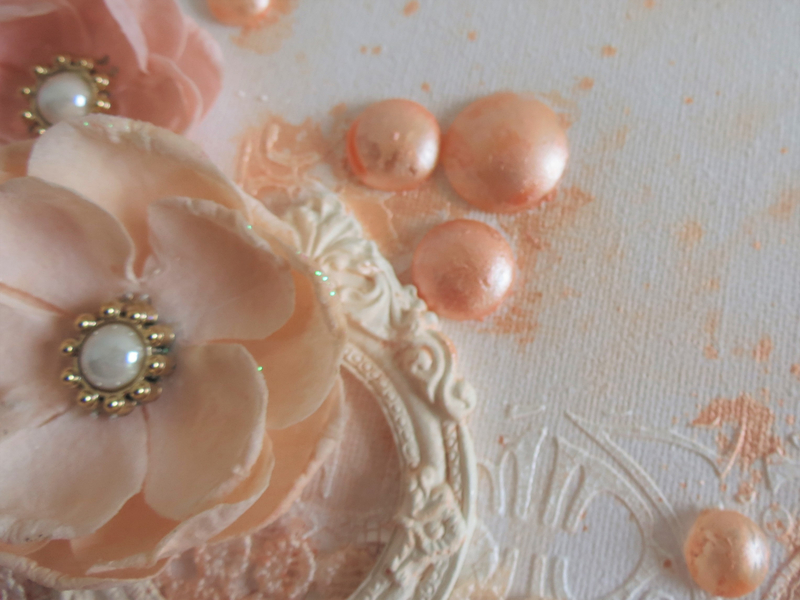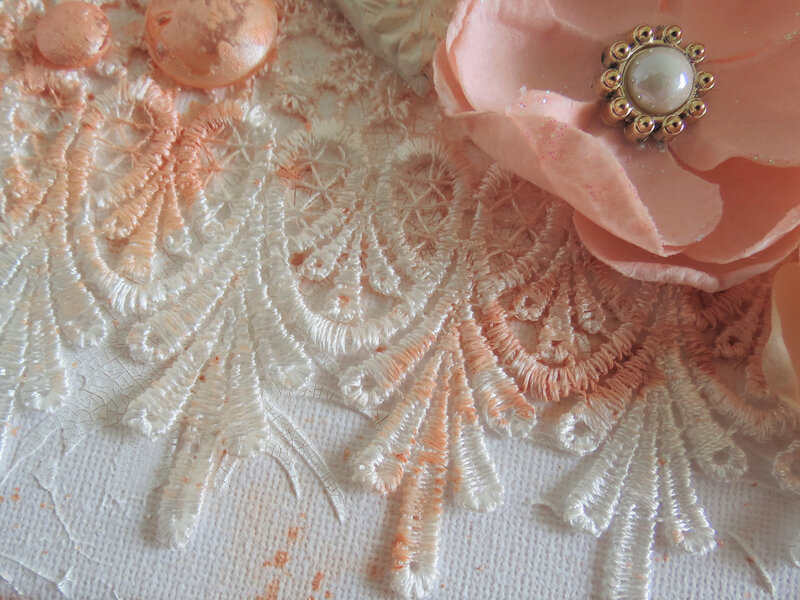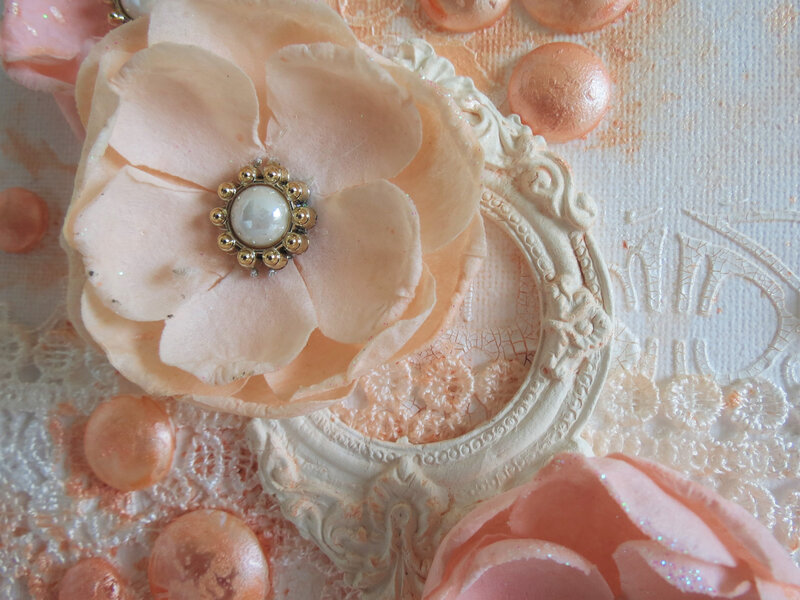 This canvas is also my entry to the Anything goes challenges for Bleeding Art Challenge, Creative Ariste Mixed Media Challenge and Simon Says Stamp weekly challenge.
Don't forget to check them out.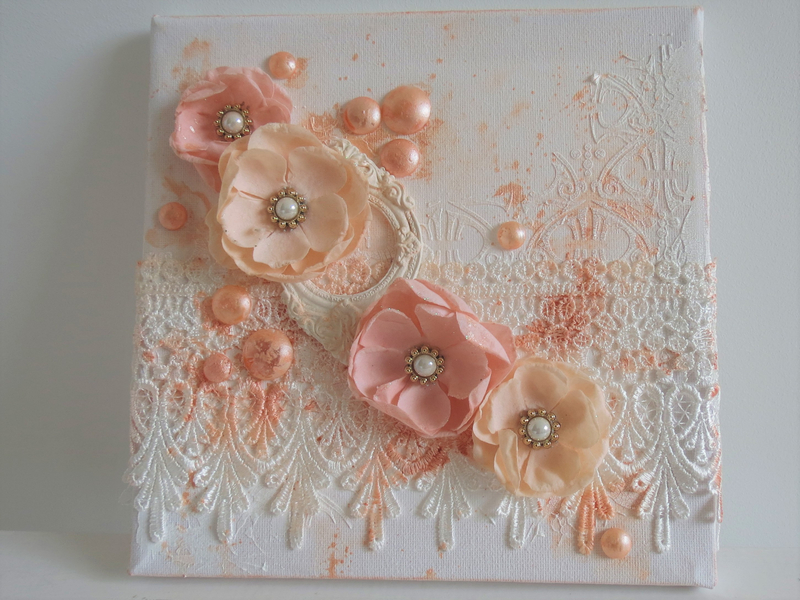 What do you think of this canvas ? And this tutorial ? Shall I write more photo tutorials ? What do you guys would like to read about ? Let me know in the comment, they are really much appreciated !