Hello Mixed Media friends,
Today I am sharing with you my first project for February. This is a project I have been working on for a few weeks, but I was a bit lacking of inspiration...
Before Christmas, one of my coworkers brought two huge mason jars full of candies at work. Once they were empty, I asked him if I could take them home to create something with it. These jars are going to be chocolate jars. A chocolate jar ? What's that ?
These will be jars where people can put some money in order to buy chocolate for the whole company (my company is still a quite small one, so it is possible). I made two, because the working floor is divided in two, both with their own coffee corner/cantine. One will go for Customer service, the other one to Marketing and Technology.
I created a blue one and a purple one, and I used different mediums and embellishments for both.
Let's start with the purple one !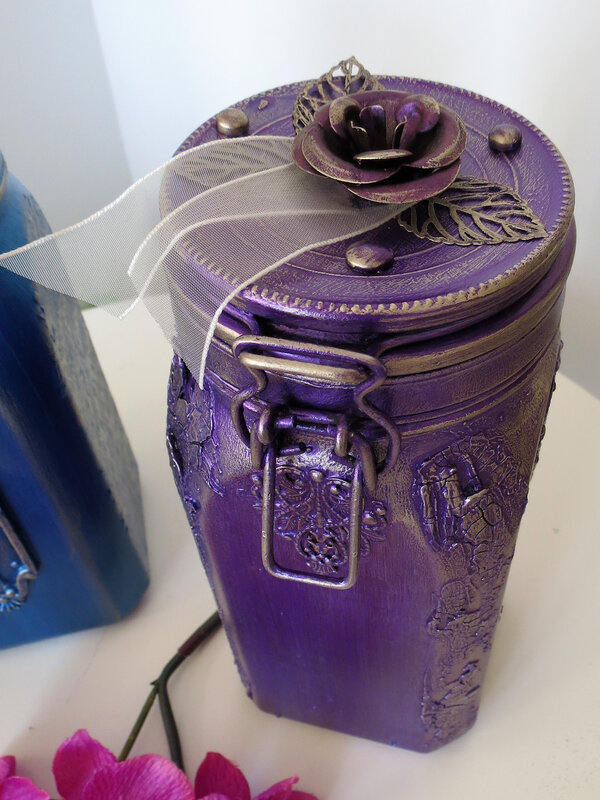 I covered the full jar with black gesso. Then, I glued four metal embellishments ("flourishing" filigrees) on each side of the jar. At every corner, I added some crackle paste on the full height of the jar.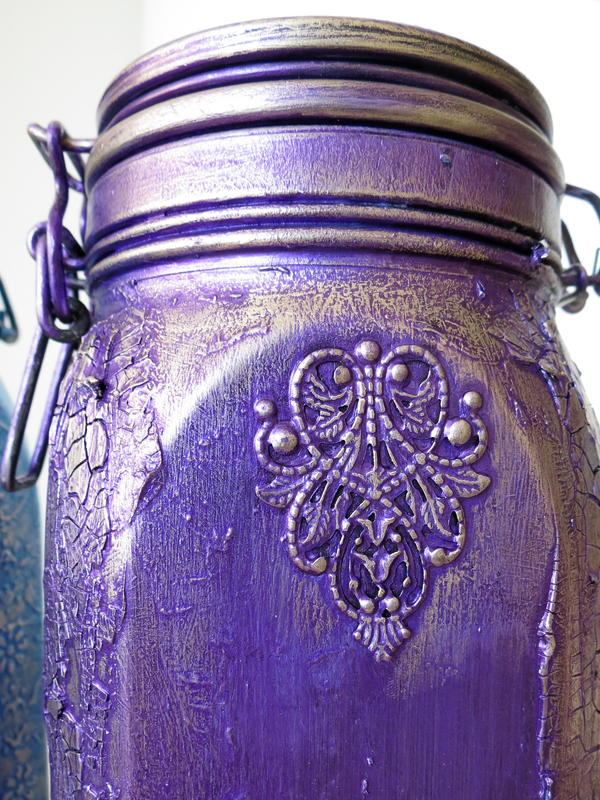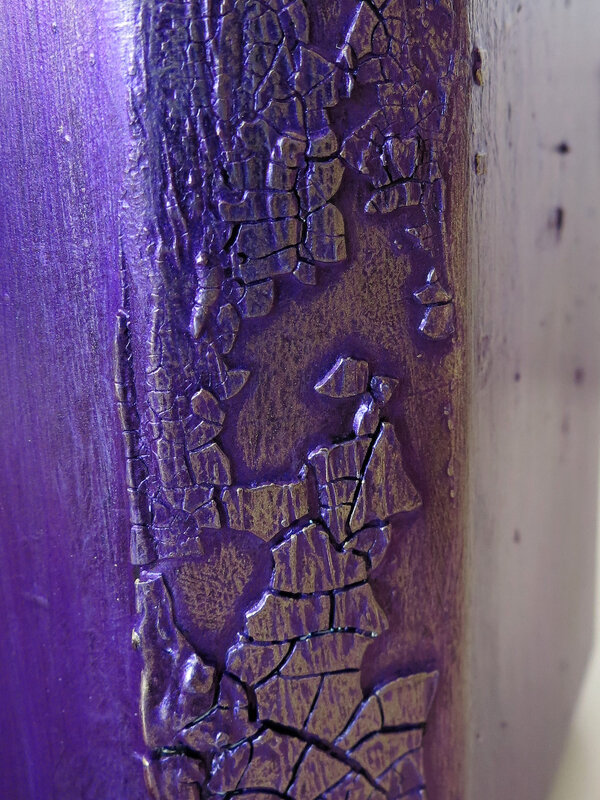 Once everything was dry, I covered everything with black gesso again (except the lid, as nothing has been added there). After this, I added two coats of Finnabair's Crocus fields (such a beautiful colour). I applied a bit of Finnabair's wax in white gold to highlight the details and all was left to do was take care of the lid.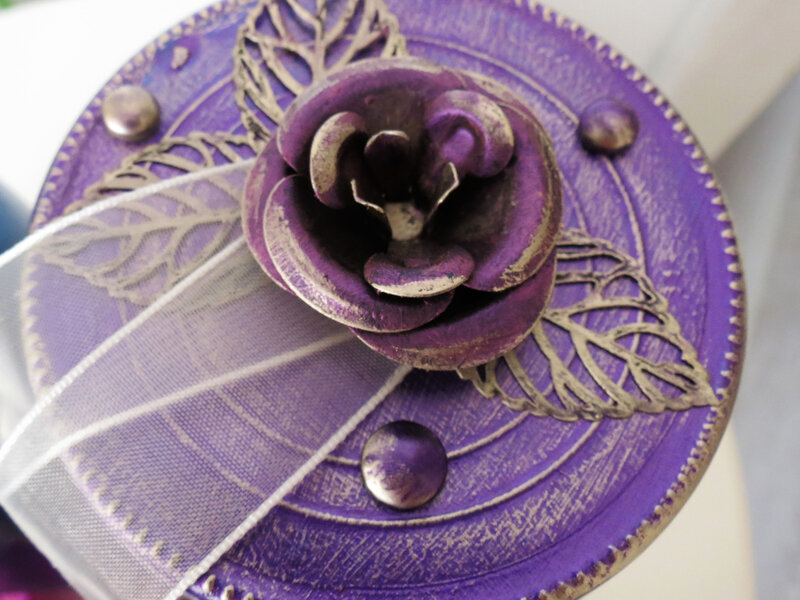 I covered with black gesso three metal leaves and one rose. Then, I covered them with Amethyst magic wax and after this, with white gold wax. I glued everything together in the center of the lid, adding two trims of delicate organza, which colour was close to the white gold. I found it was still a bit empty, so I added three tiny cabochons (I think 2 of 6 mm and one of 8 mm), coloured the exact same way as the other embellishments, except I didn't use amethyst magic but crocus fields again.
I followod basically the same principle for the blue one, but with different colors and embelishments :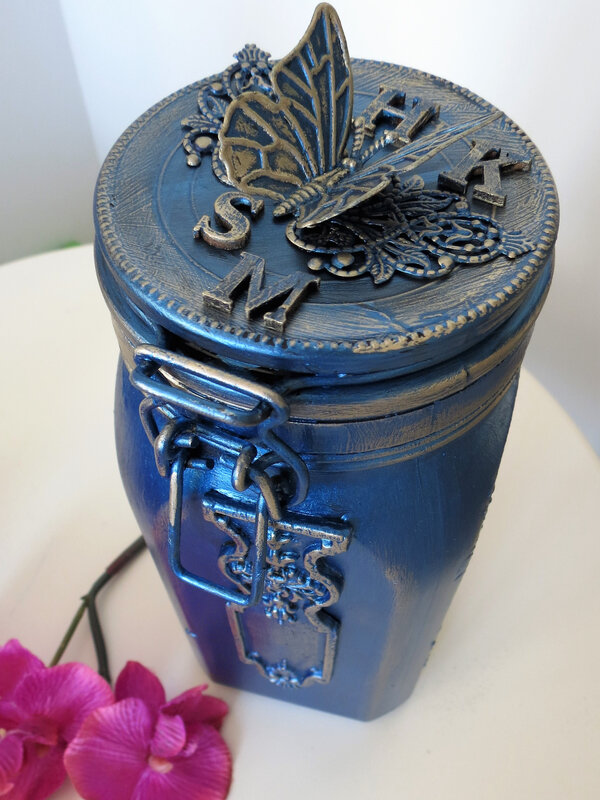 Once the black gesso was dry, I added some plaster paste by Finnabair through my Prima Marketing's Tile stencil on three sides of the jar and on the front one, I glued a piece of paper clay that I molded in my Escucheons 1 mold by Iron Orchid Designs (I love to add molded pieces to my artwork! It gives such a nice textured look!). Again, I covered everything with black gesso. Then, I added two layers of Finnabair's deep waters. After a short drying period, I highlighted some details with my white gold wax (so far, this is one of my favorite wax, with the rose gold one, but I can't wait to try the now release!).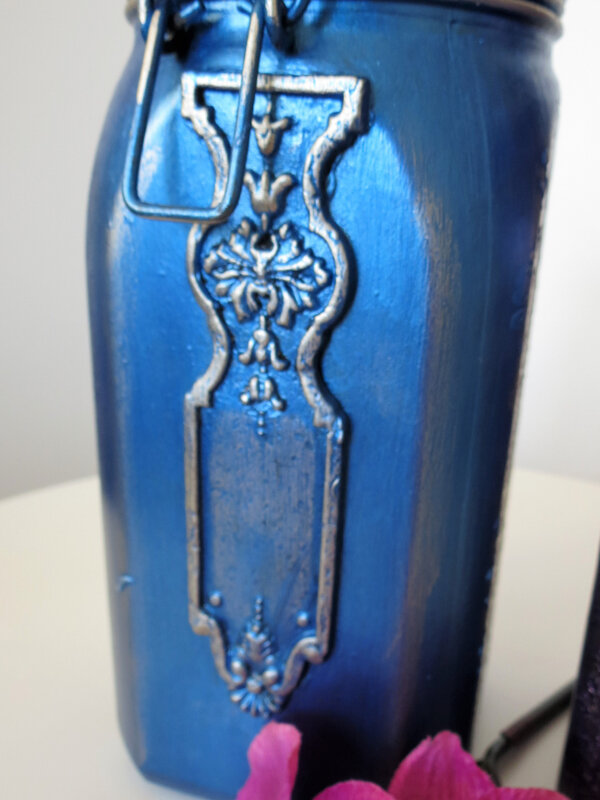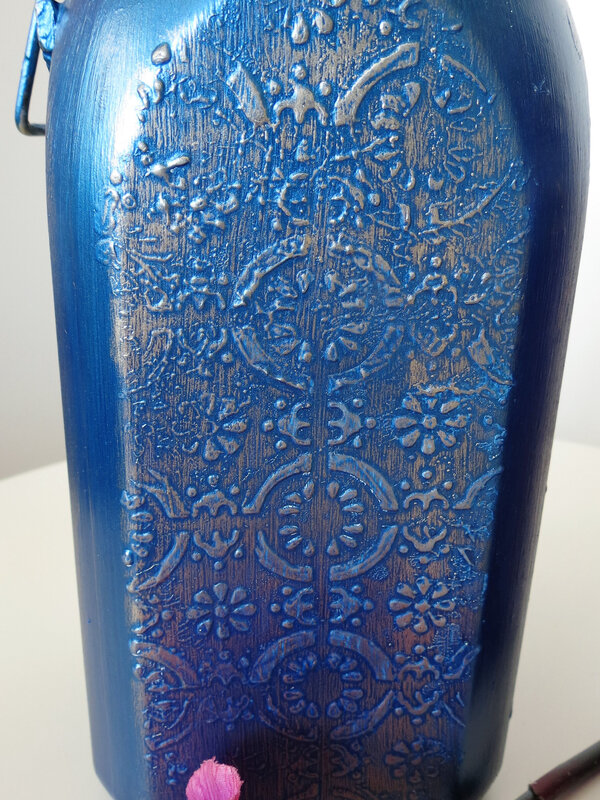 For the lid, I used a butterfly, some wooden letters and the same metal filigrees I used for the purple jar. I covered everything with black gesso, added one layer of Deep waters and some wax.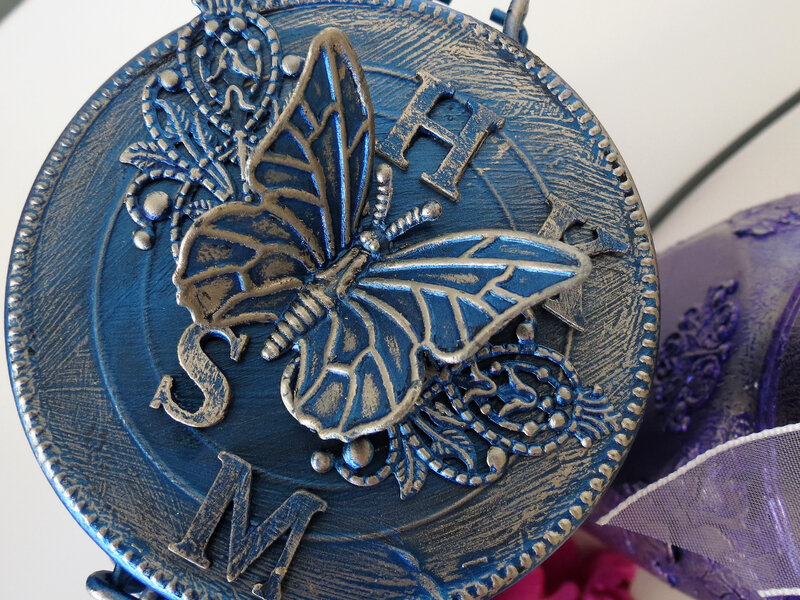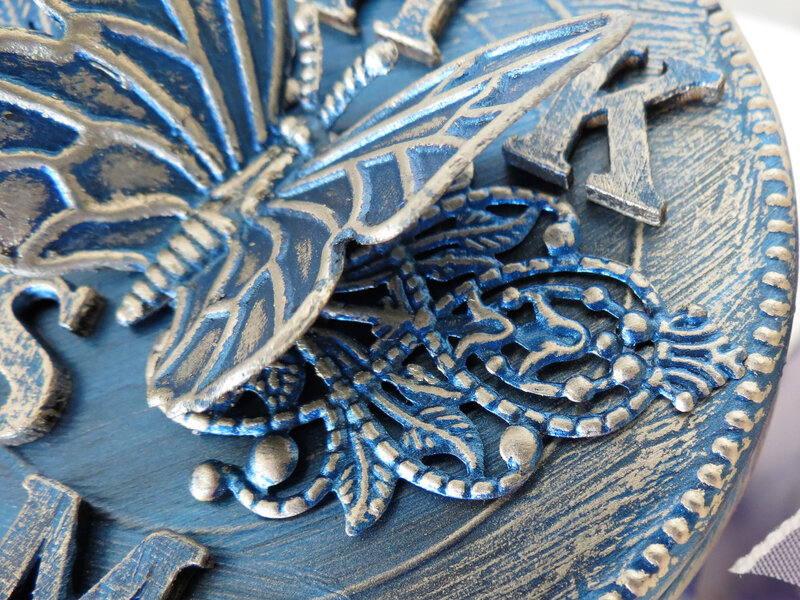 My project was then done !
Do you like these jars ? I do, and I hope my corworkers will like them too !
These jars are my entry to this month Creative Artiste Mixed Media Challenge and of this week's Wednesday Challenge at Simon Says Stamp. Both are "Anything goes" (you have a few more rules, though, go and check them!).
See you soon with another project !