Hello Mixed Media lovers !
Do you remember ? In my last article I told you I used a chipboard background from SnipArt to alter a blackboard. Well today, I am featuring the second part of the background.
I used it to create a tiny canvas, using the chipboard as my base and I painted it with Finnabair's art alchemy acrylic paint Romance pink. This colour is absolutely gorgeous !
I also used die cut pieces of paper (leaves, flowers) that I cut out of some brown packaging and painted with white gesso or with Finnabair's acrylic paint metallique vintage rose or romance pink. I used some unbranded dies from Ali Express but also (and I love this die so so much!) the Couture Creations Orchid Die from the Bohemian Bouquet collection. I also die cut some feathers (unbranded die again) and a butterfly (Tom Holtz die) from Moon Child collection papers by Prima Marketing (it was love at first sight with this collection, I love all the papers, so cosmic, absolutely lovely!).
I used other embelishements : a beaded string and sme strasses here and there.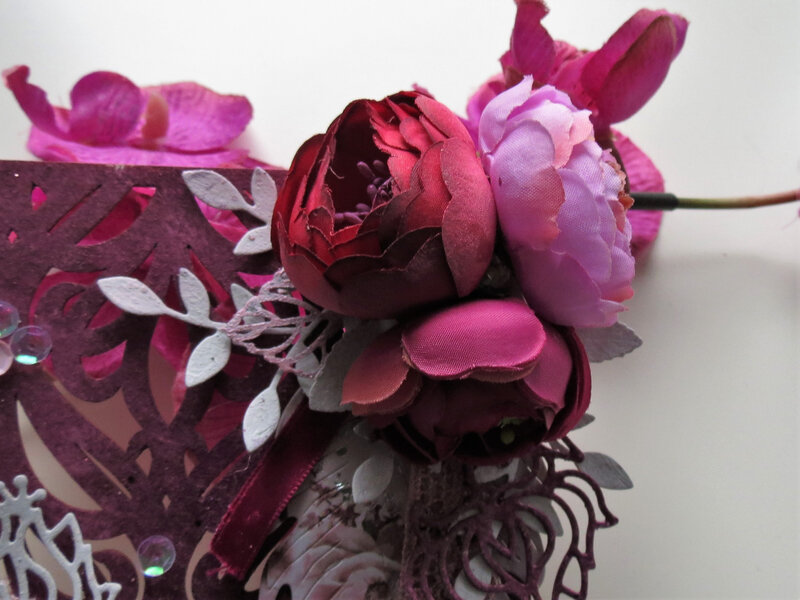 This is actually the first time that I tried layering. Usually my style is a bit more sobber, but I like the effect. And you ? Don't hesitate to let me know in the comments !
See you soon with another post !