Dear Mixed Media lovers,
Today is the day to share with you my last creation for this month Simply Create Too challenge : we had to make a shaker card. As you may have noticed by now, cards are not my thing. Although I enjoy making them once in a while, I don't really make them on a regular basis. So I asked If I could make something else instead of a card. And I could. So here it comes !
I have been inspired a lot by the song "Part of your world" from the movie the little mermaid.I wanted to make something mermaidy and that shows all the sunken treasures Ariel has in the movie.
I altered a round picture frame :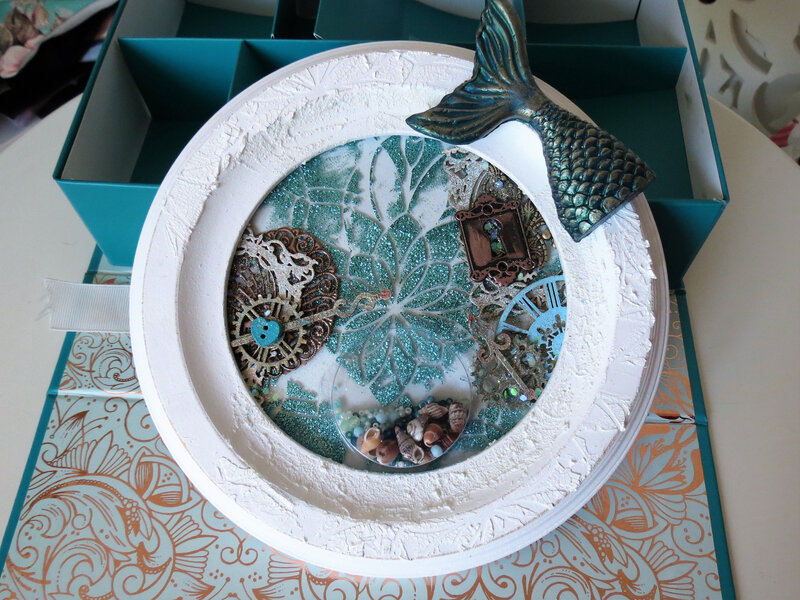 First I molded this gorgeous mermaid tail with paper clay. I painted it with Art Alchemy Metallic Emerald green acrylic paint by Finnabair, and added some touches of White gold wax.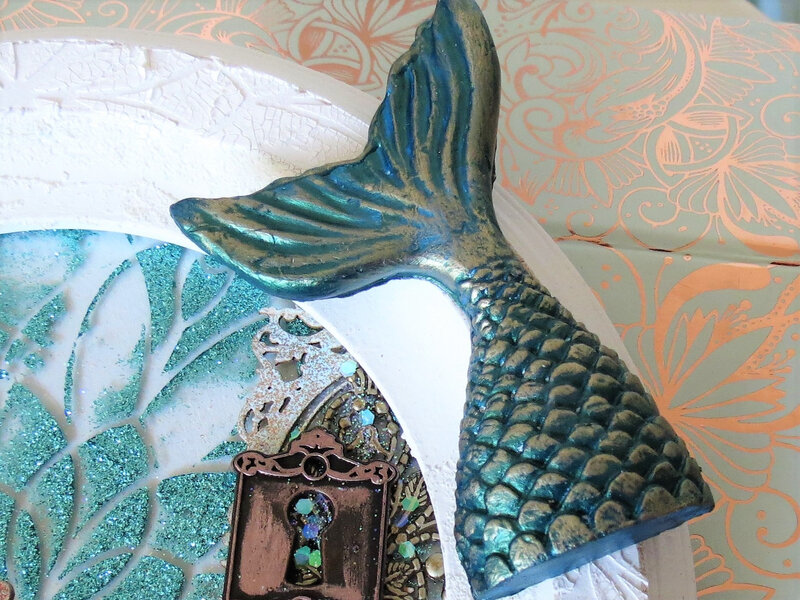 All around the frame itself, I added some crackle paste (Ranger) through my Marilyn stencil, from Simon Says Stamp. I had the stencil since last Christmas, but I was using it for the first time. God, how much do I love it ! Itreally gives a vitrail look to your pattern, it is amazing ! I also added some sand paste on the lower part of the frame :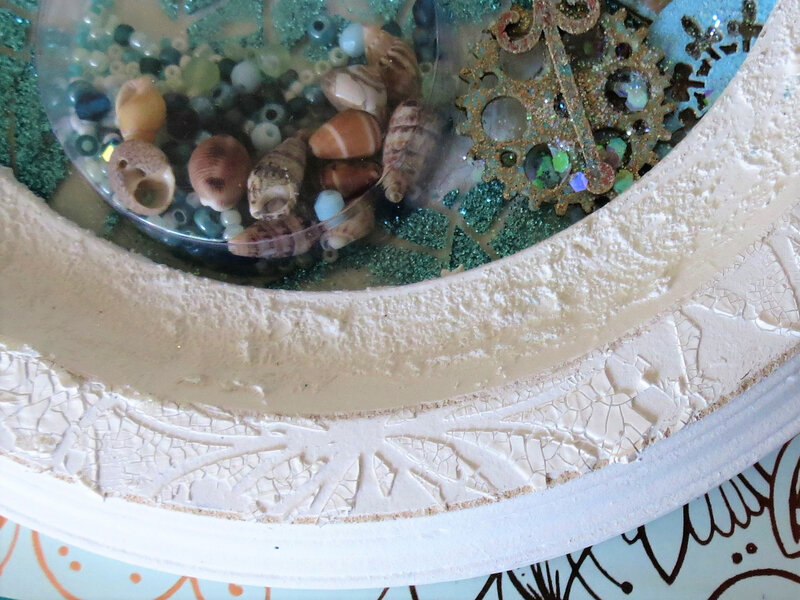 I used some chipboard (some from SnipArt, some that I found during my vacation in Spain), a wooden "heart" button and I embossed them with different "Wow" embossing powders in gold and blue shades... I used some Finnabair patina paste on some of them. I also added metallic embellishment that I coated with some rose gold and white gold wax.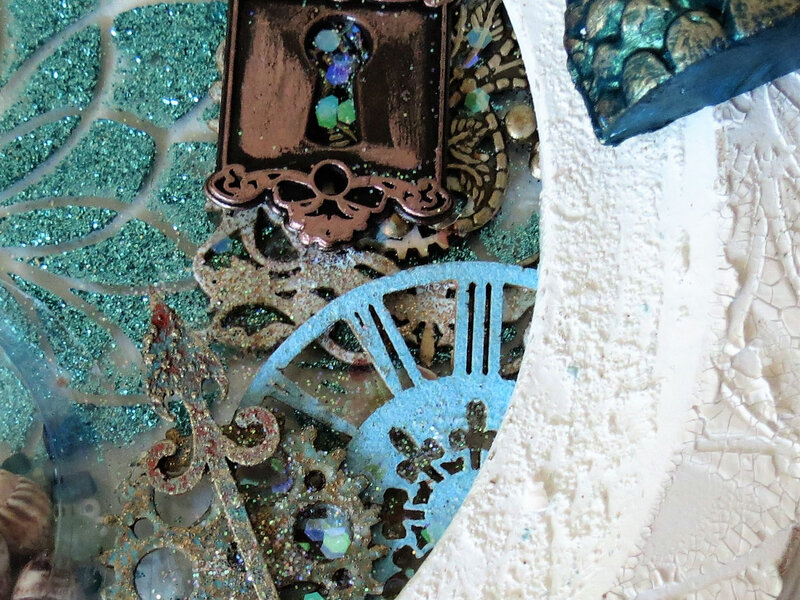 I forgot to say : I applied some sparkle texture paste from cosmic shimmer (in teal) through the Marilyn stencil on the glass of the frame. And the removable wooden part at the back of it has been painted with some white gesso (pebeo) and I sprinkled some thin glitter on it).
Then was the time to add my shaker. For this, I used one of my Finnabair's wax packaging (my last one, *sadness*, I'll have to buy more, right ?) and I put some natural sea shells, green, blue and white beads in it. I glued it on the background.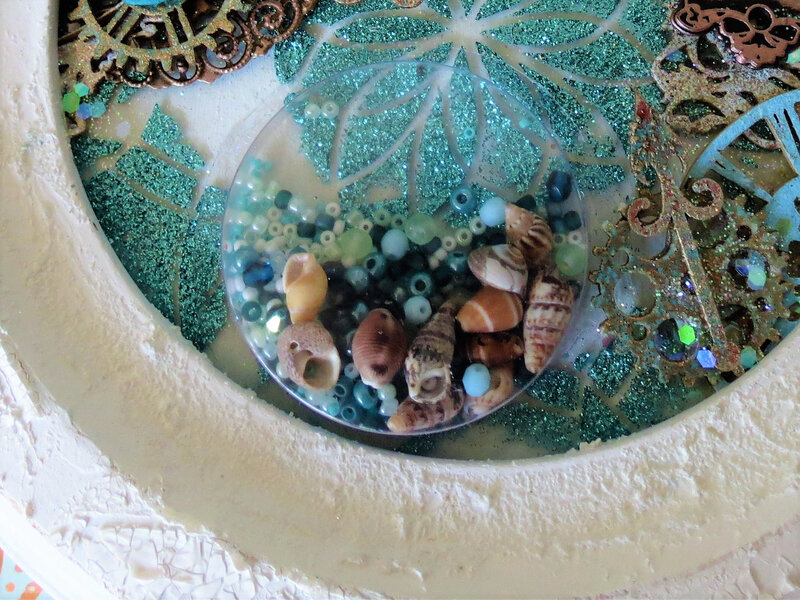 As a last touch, I added big glitter to symbolize the scales of the mermaid tale.
What do you think ? Here comes one more pic !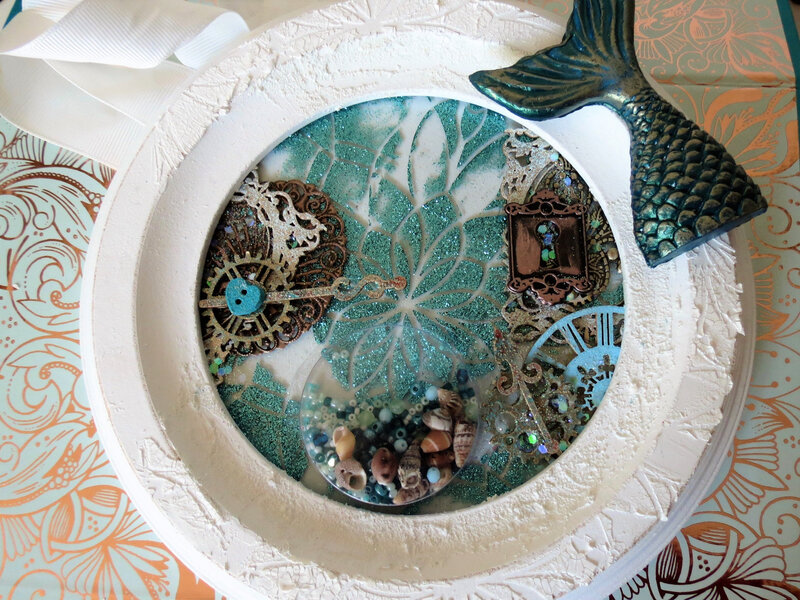 I just realized it has been a while I didn't add a photo tutorial post... I'll have to think about it for my next project !
Please go and visit Simply Create too, go see the amazing inspiration from my team mate, they prepared nice shakers for you! Enter the challenge and play with us !
See you soon !