Hello crafty friends !
Today I am sharing with you my latest entry to MMA challenge : Journey. Have a look at this gorgeous moodboard :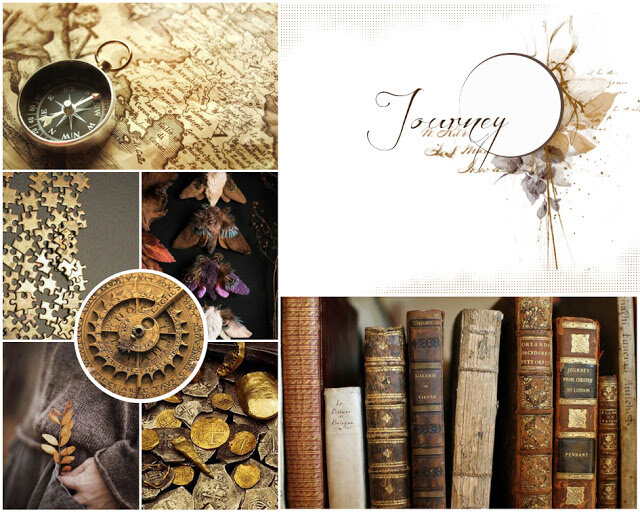 Usually, brown and gold tones are not my colours... But I instantaneously felt in love with this moodboard ! Everything was so inspiring, it was really hard to choose, but I went with a "use your stash". To remind the books of the moodboard, I decided I would alter a notebook. My very first notebook cover alteration !!
This challenge is then really challenging :). But this is really nice, I can get out of my comfort zone and I like that.
This is the finished piece :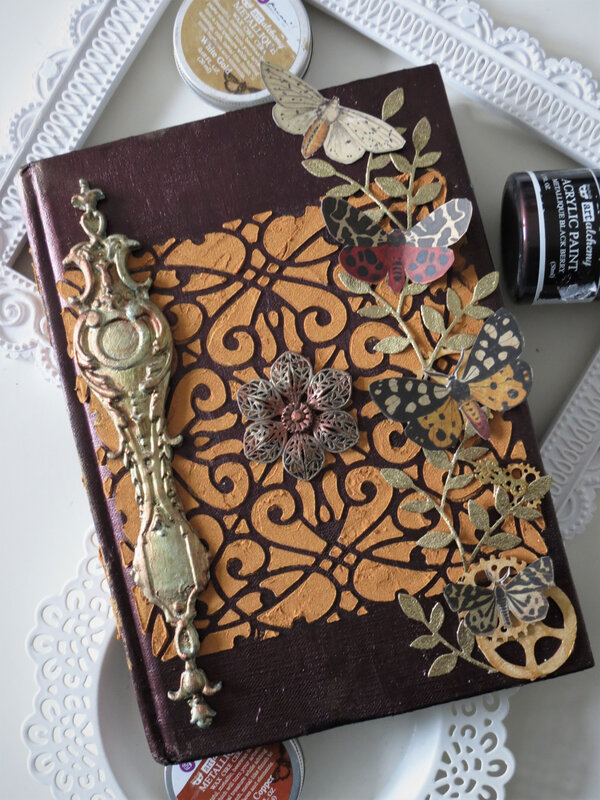 At the beginning, I had in mind to alter a smaller book, which looked like a Spell book. I couldn't find it, so I went with this old notebook instead.
I started to paint the cover with Black Gesso from Finnabair, and once everything was dry, I added a layer of Art Alchemy Metallic Black berry paint. It is a very deep brown, almost chocolate, slightly purple-ish. I like this colour. It would be perfect for a combo with teal too !
Then, I mixed some texture paste from Ranger to a bit of gold Mica powder. It turned ocre, slightly shining, and it is beautiful. I applied it on my cover with a palette knife through my Bohemian Background stencil, from Couture Creations.
I also molded some paperclay piece into a mold from Prima Marketing, which I painted with black gesso and then some Art Alchemy Opal Magic blue gold paint, from Finnabair again. It turned out a bit too blue, so I added so Rich Copper wax (Finnabair again:) )here and there, where the blue colour was too visible.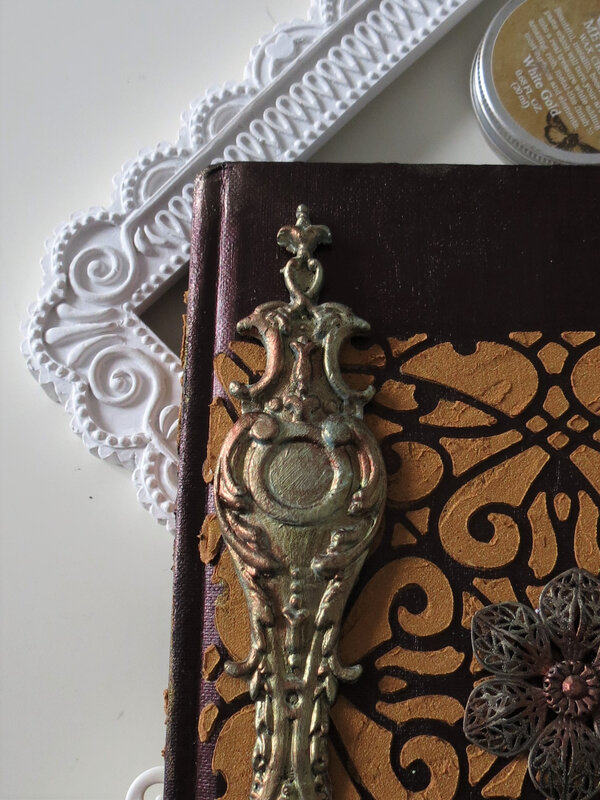 In the center of the cover, I glued some old piece of jewelry I had in my stash for a while. I applied a slight coat of black gesso, then added some white gold and rich copper wax to it.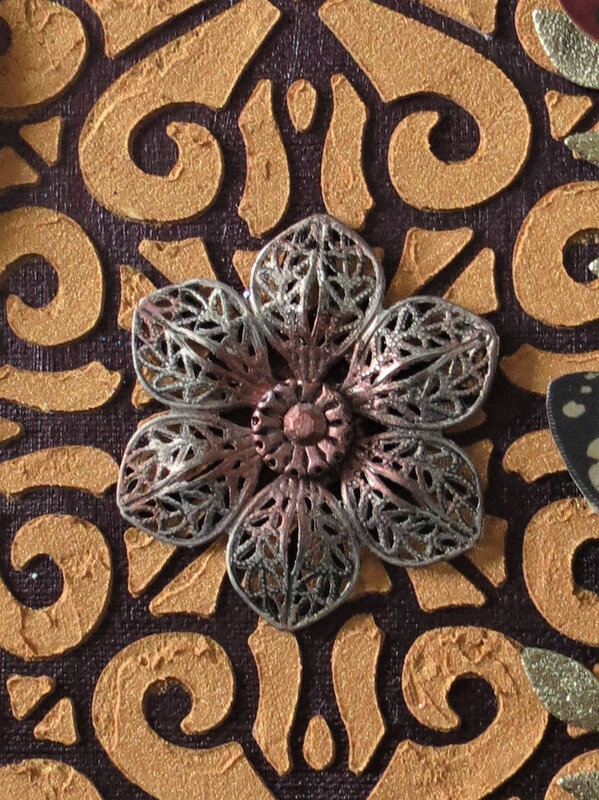 For the right side, I glued some chipboard pieces from SnipArt which I painted with Gold acrylic paint (Liquitex), I die cut some leaves which I heat embossed with Wow gold embossing glitter and I fussy cut some butterflies from my "Entomology" paper, from Kaisercraft Anthropology collection.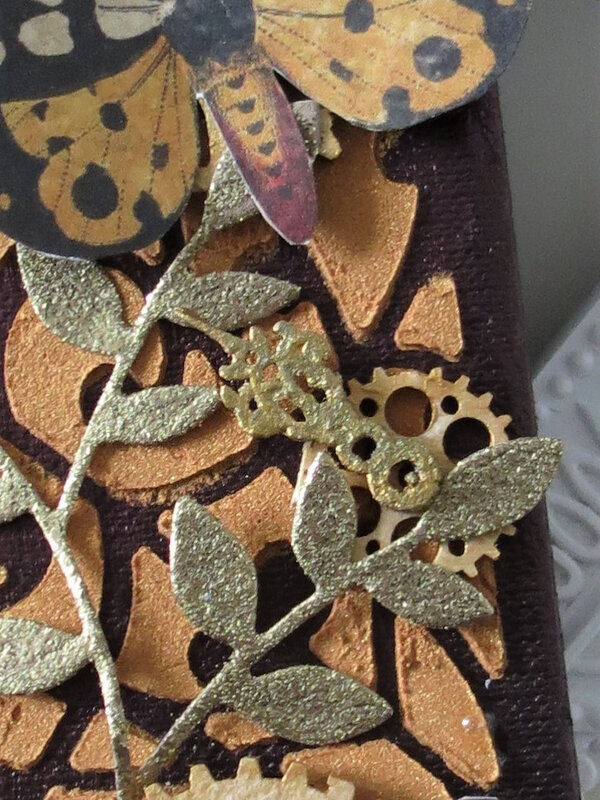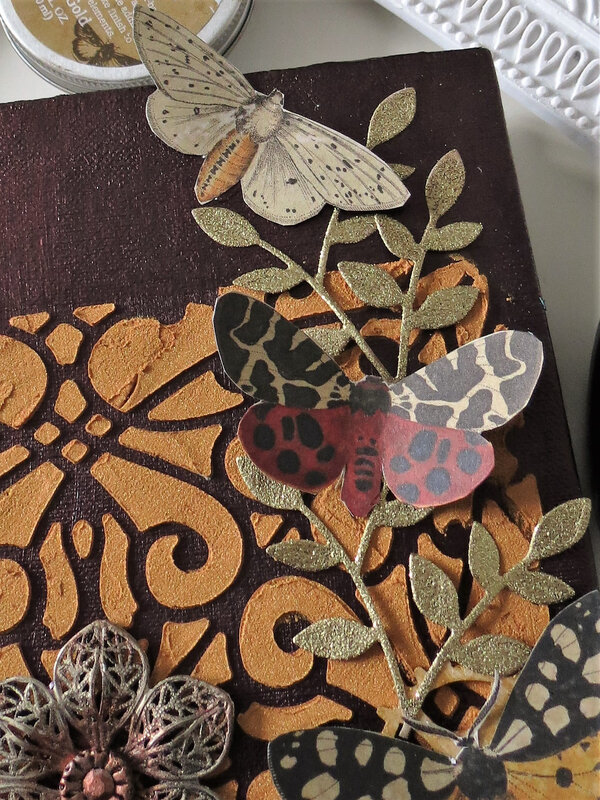 This way, we find in my project the colours of the moodboard and some elements : the steampunk pieces, the book, the leaves and the butterflies (they are moth on the moodboard, but I really wanted to use the butterflies from the Entomology paper:D).
What do you think ? You can find below more details :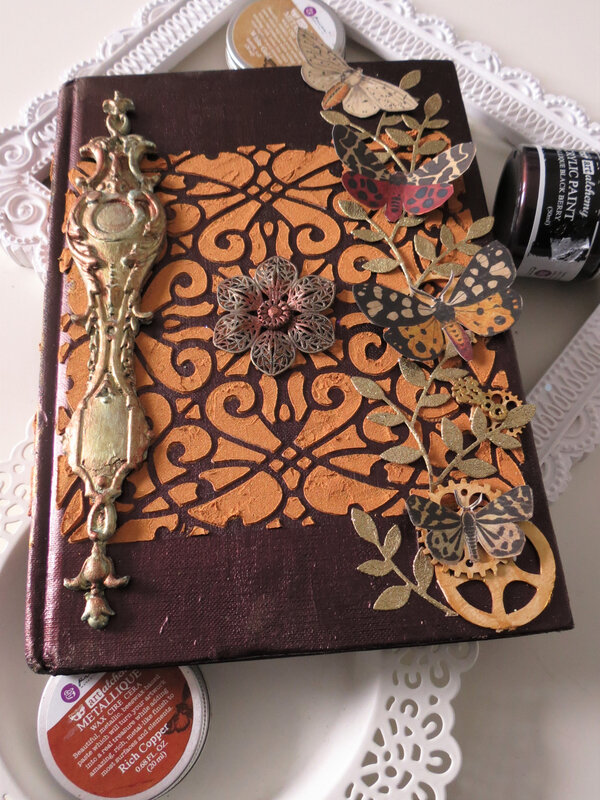 Don't hesitate to let me know what you think in the comments !
I will see you on Friday with my new project for Simply Create too !