Hello crafty friends !
I am sharing today my entry to the Mixed Media and Art July challenge : Sea fantaisies. This is also my entry to Simon Says Stamp wednesday current challenge : Anything goes and my second entry to the Mixed Media world challenge.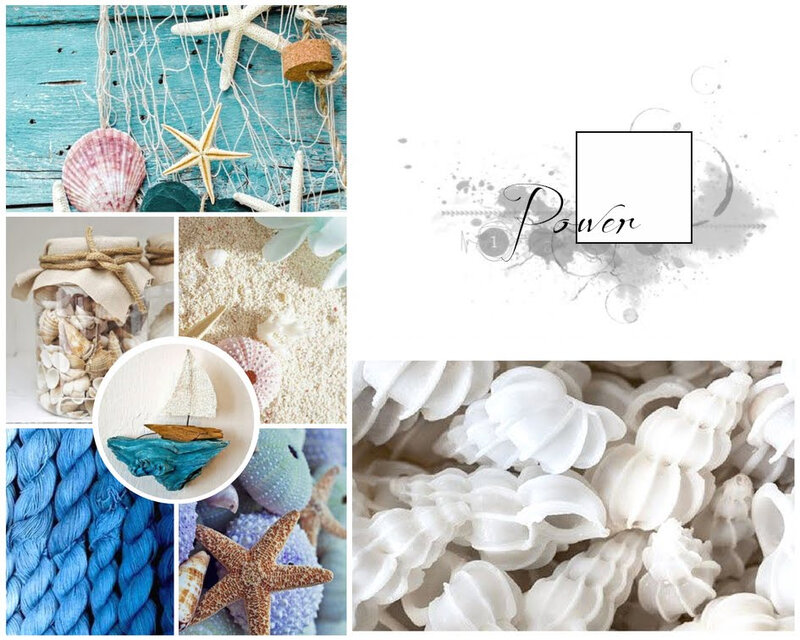 Isn't this moodboard gorgeous ? This month, I have particularly been inspired by Cindy Brown. You have to see her inspirational post, it is gorgeous !
She inspired me to make this embroidery hoop :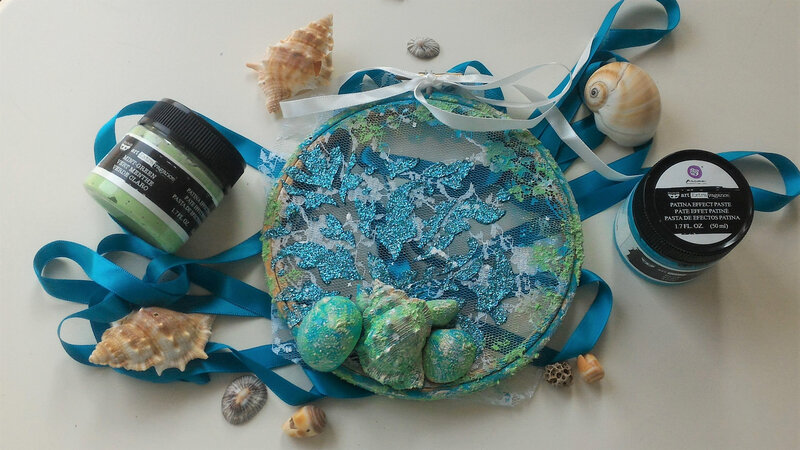 What do you need ?
An embroidery loop, the size you want
A bit of lace, enough to add it to the embroidery hoop
Cosmic Shimmer sparkle texture paste
Finnabair's Art Extravagance patina set
Finnabair's acrylic paint Art Alchemy Light Patina
Finnabair's Metallic wax (I used white gold)
The medium adhesive of your choice
Some sea shells
A bit of white ribbon
White gesso and water
The stencil of your choice
The process
I inserted the lace inside the hoop, as if I would embroider it. In her post, Cindy uses burlap. I wanted something different, so I chose lace.
I used an unbranded stencil I found on the Internet and applied my teal Cosmic Shimmer sparkle texture paste on it. I got it for Christmas and it has been the first time I have been using it. It is AMAZING ! I love it, it is so smooth to apply, there is no gap, really good quality. And the color and the sparkle are so GORGEOUS (yes, I speak in capital letters, I am so entusiastic about this product:)). I definitely recommend it and I want mooooore !
After that, I applied a very thin coat of Light Patina paint by Finnabair on the shells. I wanted a natural look, so I didn't cover them with gesso and I didn't apply the paint all over it.
Once it was dry, I applied my patina paste (Finnabair again). I used only the blue and the mint colours. I love the effect ! It is really vintage and grungy, it looks like my embroidery hoop has spent sometime into the water and some sea weeds got stuck on it !
By the way, have you seen Finnabair just released new rust pastes sets ? I want them so hard, the colours seem absolutely stunning ! I can't wait to get my hands on them and play, I already have projects in mind.
Coming back to the hoop : I glued the shells and applied patina paste on the hoop, adding teal and mint until I was happy with the effect (I didn't need long, I was so happy about it since the beginning, ah ah).
Then, I added a bit of water to a bit of gesso, splashed it randomly over the piece, I highlighted some details with a teeny tiny bit of white gold wax and I was done. I set it to dry for the night and this wonder was ready :
You can see more details here :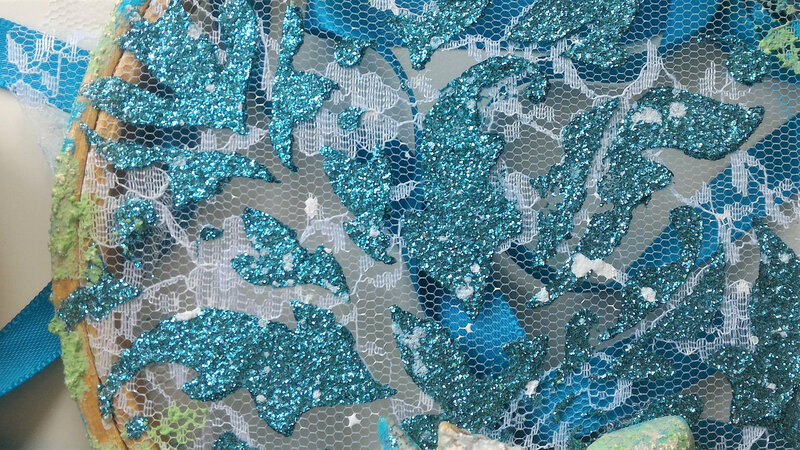 I like this project a lot, it is so nautical ! And you ?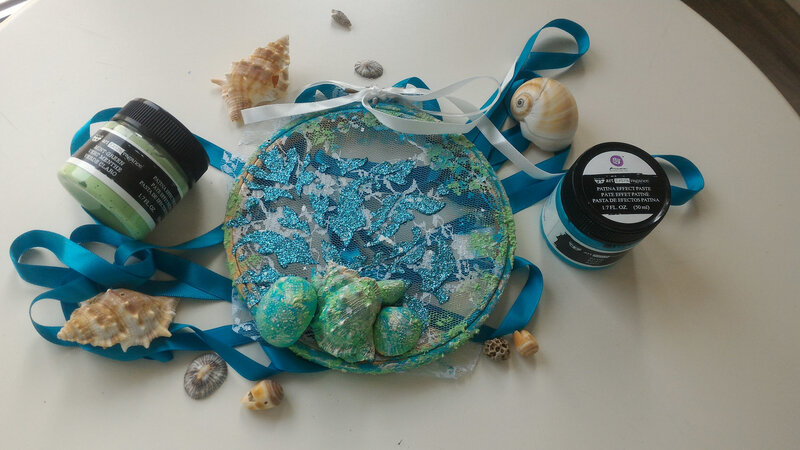 Don't hesitate to let me know in comments ! See you soon, crafty friends !