Hello everyone !
The trend in the Mixed Media world at the moment is to alter paintprushes. So I decided I would a) follow the trend, b) try new things and c) get out of my comfort zone.
I created this paintbrush for the challenge on the blog "Mixed Media World". The challenge of this month has a very nice moodboard with pretty colours in pinks and blue tones for inspiration. Follow the link !
This has been a while I didn't participate to a challenge, and this is my first one with them, I am pretty excited ! I got inspired by the gate of the moodboard, the stones and the colours, obviously.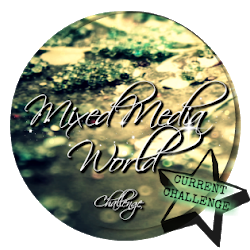 So I am gonna share with you today a very short pictures tutorial (this has been a while, right ?). Here it comes :
First step :
I assembled all my elements together and took a picture on how it was gonna look in order to glue everything in place.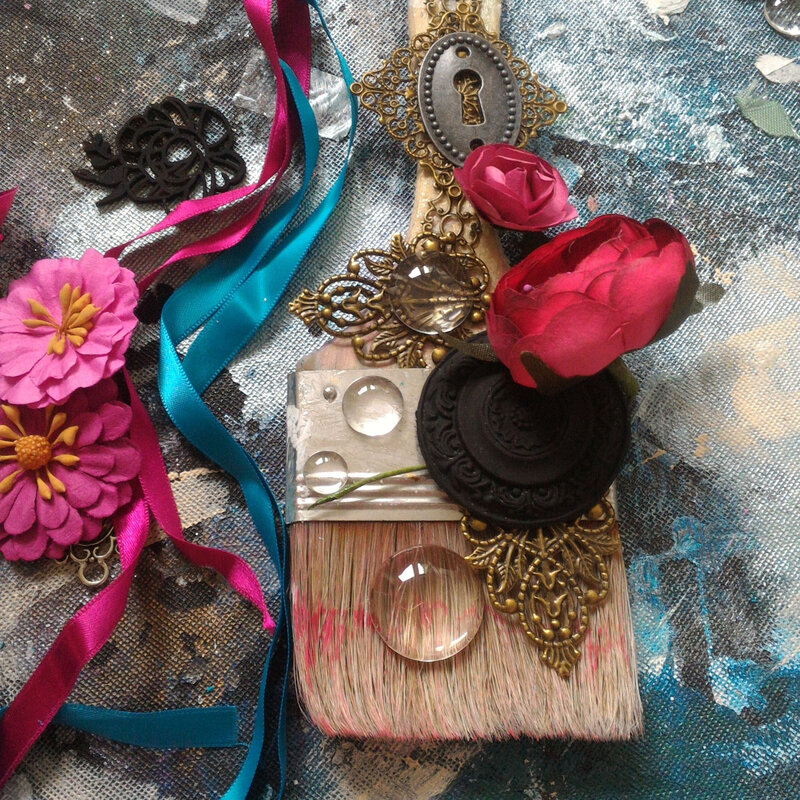 You will see that some elements are gonna disappear in the end. Which ones, in your opinion ?
Second step :
I added some sand texture paste (Finnabair), glued everything (except the cabochons, because I needed to paint them) and painted everything with heavy black gesso from Finnabair. A few coats where necessary.
Thirds step :
I added some colour with Finnabair's wax Opal Magic in Turquoise satin. It was my first try with it, this is such a wonderful colour !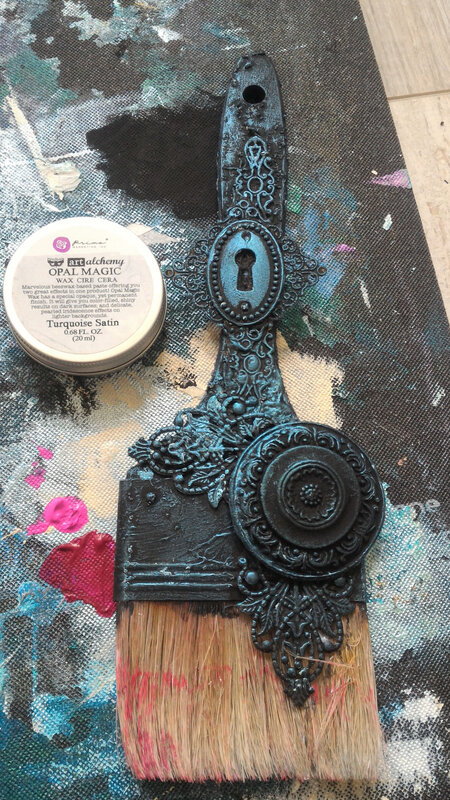 Fourth step :
I glued the painted cabochons.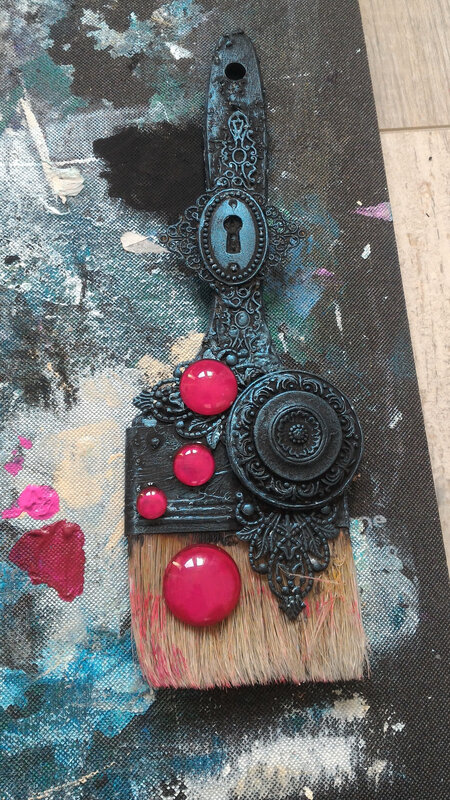 I painted them on top as well, with some "Ice Queen" acrylic paint by Finnabair (I added some on the brushes too) :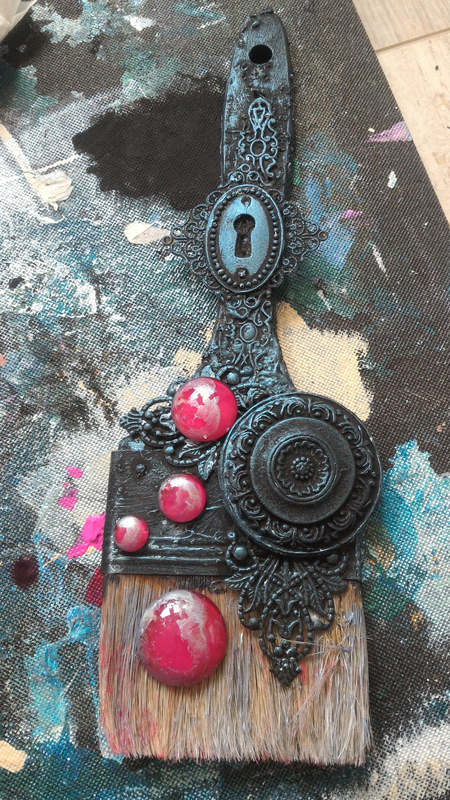 Fifth step, the extra-step that wasn't needed :
I decided I would add glitter, so I first dipped my brush in Heavy gloss gel, then in glitter (pink and blue) and I added the glitter where I wanted. Wrong. It was waaaayyyyy too much.
What do you think ?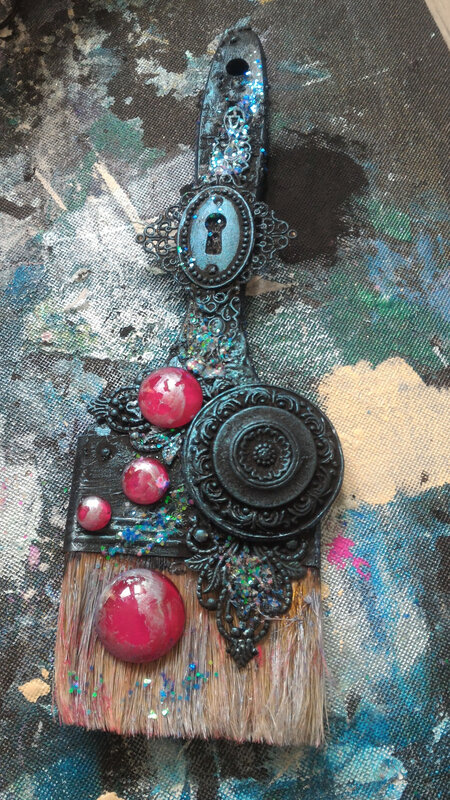 Sixth step, the step to fix everything back :
Because I thought the glitter was too much, I added (and this was my very first time with this product too, that's a lot of first times for a single project, right ?) some Prima Artisan Powder in Mesdames Merlot colour. I felt in love with this products. It adheres perfectly with the surface, and added kinda a rusty look to my embellishments...
Soooo...verdict time ? What do you guys think ? Don't hesitate to leave a comment !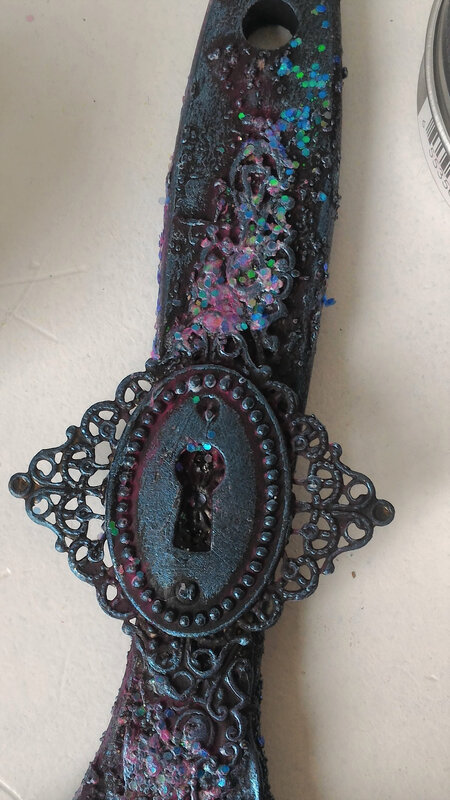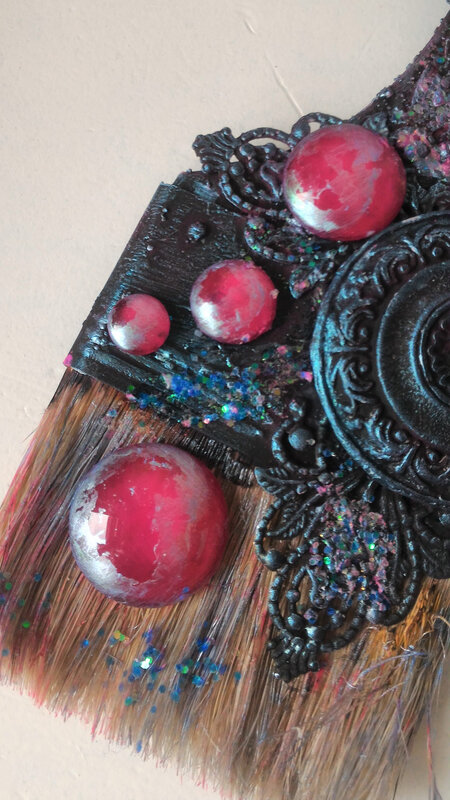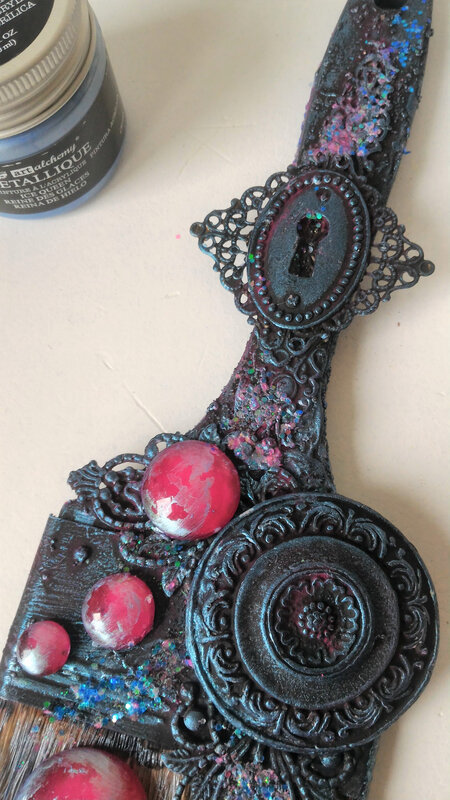 See you soon with another project !
Audrey