Hello Mixed Media lovers !
I will share with you my last project. In my stash, I had a round canvas that I started last year but didn't like : I painted the canvas with some violet-green opal magic paint by Finnabair, added a big flower through a Donna Downey stencil with modelling paste and paintend this one in lilac. After that, I got stuck, didn't really like the result and didn't know where I was going. So I left it aside and didn't touch it for almost a year. Until I saw an Insta post from Lemoncraft, sharing a very nice paper project by Ewa Szynczak. This project had very nice papers, lace and trims with flowers. I also saw a video from Keren Tamir on her youtube chanel. She was also creating a round canvas using a paper towel for texture. I got inspired by both projects and decided I would (finally) finish my round canvas. It was over within 6 days. Sometimes, you just got to let the inspiration flow.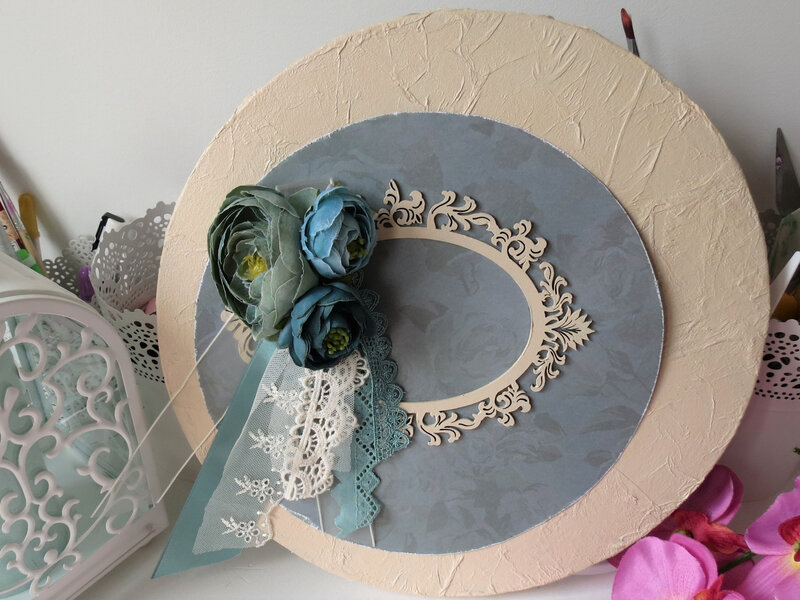 My project doesn't look like I had in mind (I thought about another paper first, and also I was thinking about adding more paper layers), but I really like the way it turns out.
I used the same technique as Keren Tamir in her video for the texture (the flower with modelling paste is still there, but you cannot see it as it is hidden by the paper), I painted the background in beige. I added a paper circle (I distressed the edges with my scissors), a chipboard frame from Dusty attic (painted in the same shade of beige than the background) and then I created my focal point : three fabric peonies in the same tones as the paper that I used, with trims of lace, organza, satin and different kinds of ribbons.
See here for more details :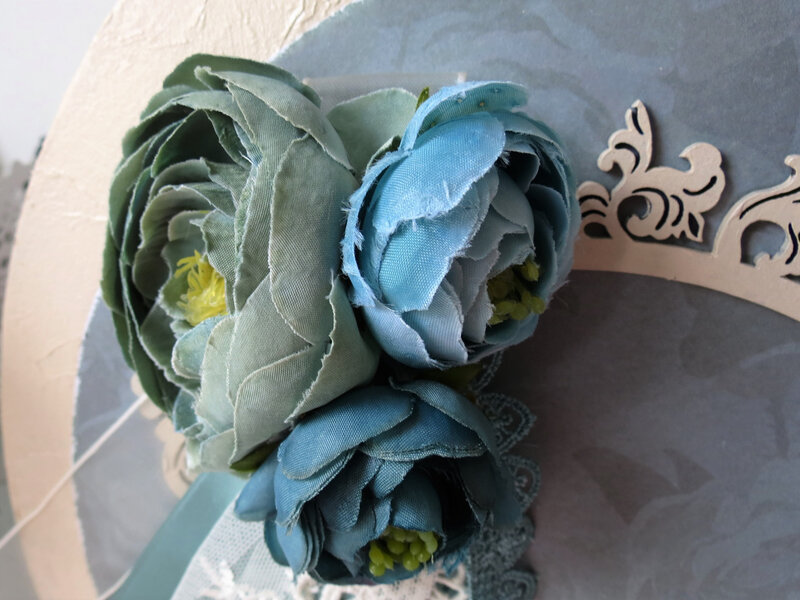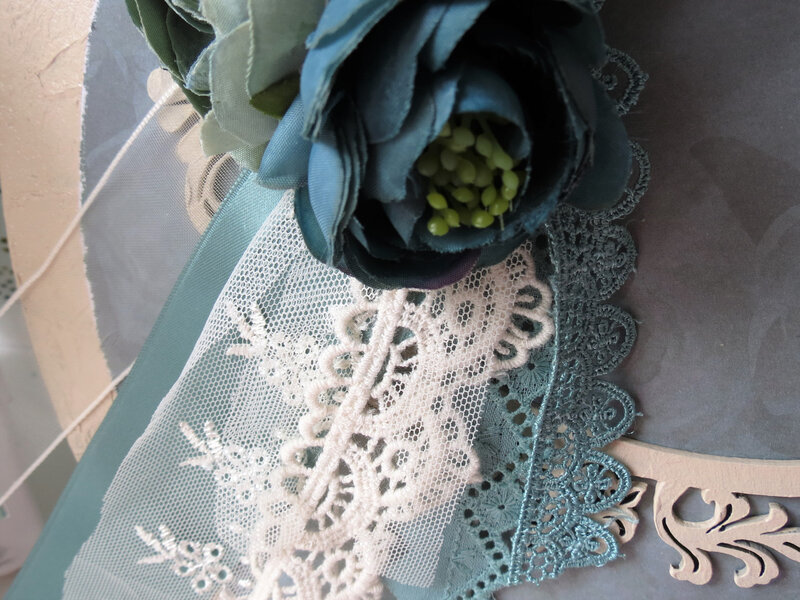 I like those vintage colours and the paper has very discret roses. So shabby !
I think this canvas will go in my craft room, as the shabby look and the colours match perfectly !
And you, do you like it ? Do not hesitate to leave your comments below !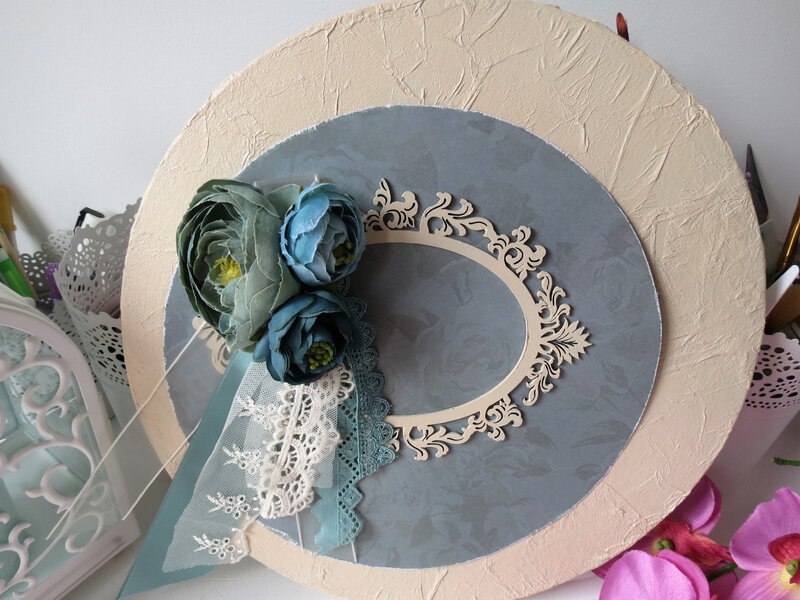 I am really inspired right now, so I hope I can share other projects with you very soon !
Thanks for stopping by !
***********************************************************************************************************
Bonjour, amoureux du Mixed Media,
Hello Mixed Media lovers !
Aujourd'hui, je partage avec vous mon tout dernier project. J'avais mis de côté une toile ronde que j'avais commencée il y a un an mais que je n'avais pas aimée. Je l'avais peinte en vert irisé (peinture acrylique violet green opal magic de Finnabair), j'avais ajouté une énorme fleur avec de la modelling paste et un pochoir Donna Downey, que j'avais peinte en violet. Mais là, j'étais coincée : je n'aimais pas le résultat, je ne savais pas où aller. Je l'ai donc laissée de côté et je n'y ai plus touché pendant un an à peu près, jusqu'à ce que je voie un post Instagram de Lemoncraft. C'était un joli projet papier de Ewa Szynczak, comportant différentes couches et sortes de papiers, de la dentelle, des rubans et des fleurs. J'ai aussi regardé une vidéo de Keren Tamir sur sa chaîne Youtube. Elle créait une toile ronde aussi, utilisant une serviette en papier pour donner de la texture à l'arrière-plan. J'ai été inspirée par ces deux projets et j'ai (enfin) fini ma toile. Elle était terminée en 6 jours. Comme quoi, il faut parfois laisser l'inspiration venir.
Voyez l'image ci-dessus.
Mon projet ne ressemble pas à ce que j'avais en tête (je pensais ajouter plusieurs couches de papier, et j'avais d'autres teintes de bleu en tête) mais j'aime beaucoup le résultat définitif.
J'ai utilisé la même technique que Keren Tamir dans sa vidéo pour la texture (la fleur en modelling paste est toujours là mais on ne peut pas la voir car elle est cachée par le papier), j'ai peint l'arrière-plan en beige, ajouté un cercle de papier à roses dont j'ai "vieilli" les bords aux ciseaux, un cadre en chipboard de chez Dusty attic (j'ai utilisé le même beige que pour le fond) et j'ai ensuite créé mon "point de mire" : trois fleurs de pivoine en tissu -dans les mêmes tons que le papier- auxquelles j'ai ajouté des rubans de satin, d'organza, de dentelles, bref, de différentes sortes.
Voyez ci-dessus les détails.
J'aime beaucoup les couleurs un peu passées et vintage de cette toile, ainsi que les roses du papier. C'est tellement shabby !
Je pense qu'elle ira dans ma pièce à patouille, les couleurs et le style se marient parfaitement avec mon idée de déco pour cette pièce !
Et vous, aimez-vous cette toile ? N'hésitez pas à partager votre avis en commentaires ci-dessous !
Je suis très inspirée en ce moment. J'espère donc partager avec vous de nouveaux projets très vite.
A très bientôt !