Hi everyone,
I am back after a long moment of silence...
Lately I haven't been making Mixed Media. I made jewelry. I started to make bubble rings :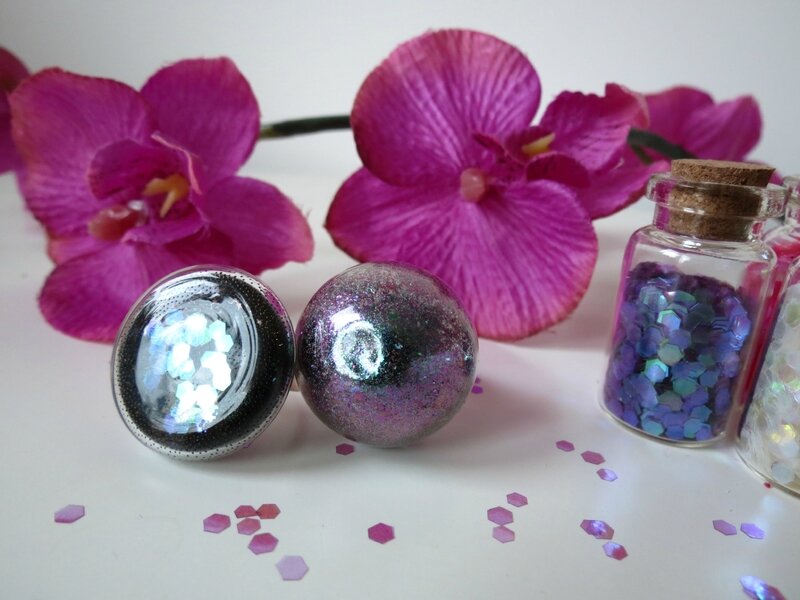 For the first one on the left, I used black microbeads ans white glitter (which turns out blue) into a circle of glass.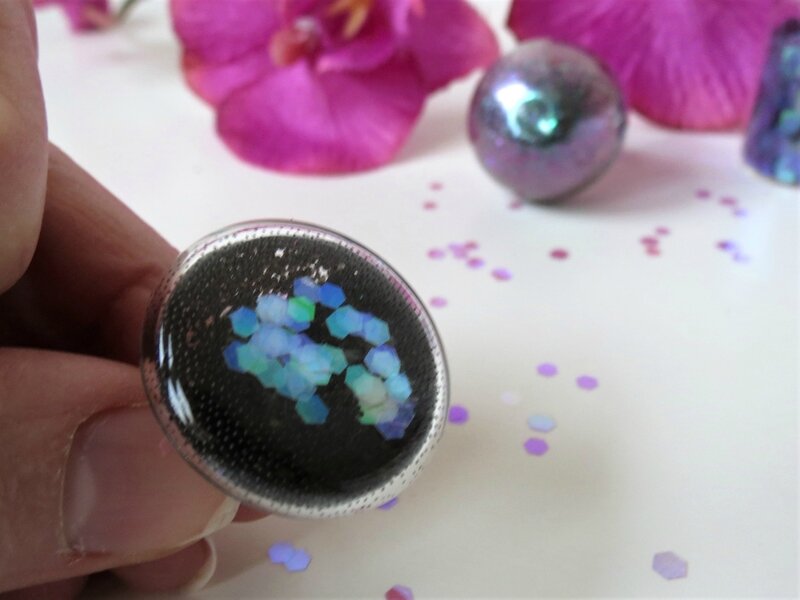 For the second one, I used only nail glitter. I don't know if this is because of that, or because of the Chrome effect of the glitter, but it got stuck onto the glass, inside the dome. It is really pretty, but we cannot really see the movement of the glitter inside.
The glitter is purple and green, the picture does'nt show the colours properly but I can assure you the ring is really pretty.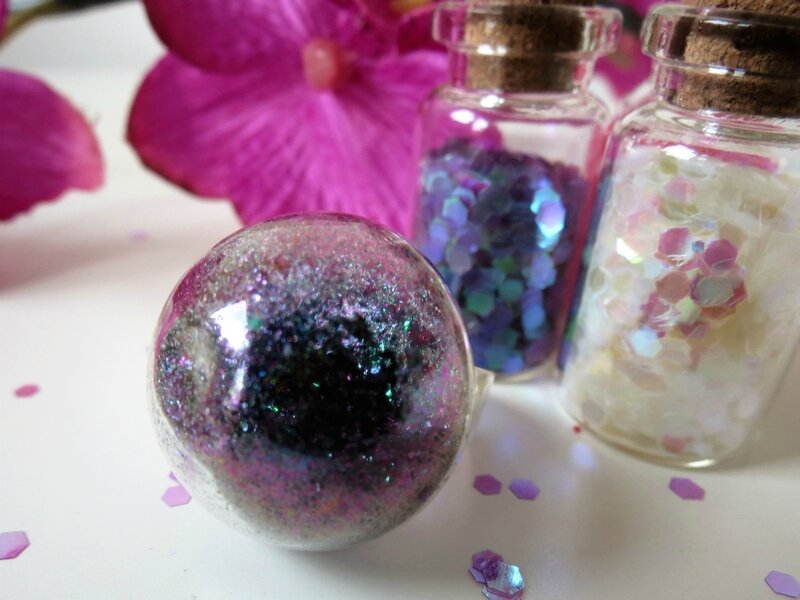 I also made this one, with turquoise Miyuki beads :
This one is mine. I wore it for one day and I was maltreating it in order to test the glue. Well I shouldn't have. At the end of the day, one last shock has been fatal to the ring, the cube with the beads felt down and broke.
Those three rings didn't work out. I sent the two first ones to my sister and they arrived broken. The domes were gone. She can glue them back, but that's a bummer.
However, I don't want to call it a try : I made another bunch yesterday with another glue. I am now trying epoxy glue. It's really really chemical but I hope it works. I will wait for it to be dry and try one of the rings. I'll let you know !
What do you think of those bubble rings ?
I ordered some globes on AliExpress, they are cloud-shaped and I CANNOT WAIT to receive them.
See you soon with another post !
***********************************************************************************************************
Bonjour tout le monde !
Je reviens après un long moment de silence...
Dernièrement, je n'ai pas fait beaucoup de Mixed Media, mais plutôt de nouvelles expériences bijoux.
Je me suis en effet essayée aux bagues à dômes remplies de perles etc... Des bagues bubulles.
J'en ai fait deux que j'ai envoyées à ma soeur : l'une avec des microbilles noires et des paillettes hexagonales blanches -devenues bleues au milieu des microbilles- dans un palet plat et l'autre avec des paillettes pour nail art violettes et vertes dans un dôme.
Je ne sais pas si c'est parce que les paillettes pour nail art sont très très légères ou si c'est dû à leur effet chromé, mais certaines d'entre elles sont restées collées sur l'intérieur du dôme et on ne voit pas le mouvement des autres paillettes qui, elles, ne sont pas collées. Les photos ne mettent d'ailleurs pas en valeur les couleurs, mais je peux vous assurer que les reflets des paillettes sont superbes !
J'ai aussi fait une troisième bague, carrée cette fois, avec des perles Miyuki turquoise. Je l'ai portée une fois, je l'ai maltraitée toute la journée pour tester la colle et je n'aurais pas dû. A la fin de la journée, un dernier choc a eu raison de cube qui s'est décroché et s'est cassé. Tristesse et calamité...
Les deux autres bagues n'ont pas non plus supporté le voyage Pays-Bas/France. Quand ma soeur a reçu le petit colis, les dômes s'étaient décrochés. Elle pourra les recoller, mais c'est dommage.
Je ne veux cependant pas m'avouer vaincue. Hier, j'ai fait trois autres bagues avec de la colle epoxy cette fois, et j'attends maintenant qu'elle sèche pour essayer l'une d'entre elles. Je vous tiendrais au courant !
Que pensez-vous de ces bagues ?
J'ai aussi commandé des dômes en forme de nuage sur AliExpress et j'ai VRAIMENT HÂTE de les recevoir :)...
A bientôt !!!!