Hello!
It's my second article in two days. Am I not really prolific ?
Today I am sharing with you a canvas that I made for a friend's baby. This young lady is now one month old and I finally met her yesterday. As a birth present, I thought about a Mixed Media canvas of course. And obviously, because the baby is a girl, the canvas has to be pink and heart shaped. I wanted to create something she can have right now to put in her room but which she can also keep when she's older. If she likes it, of course.
The shape was quite a challenge for me as I usually work on rectangular canvases. But I did it and I liked to make it. Enough words, let's share some pictures :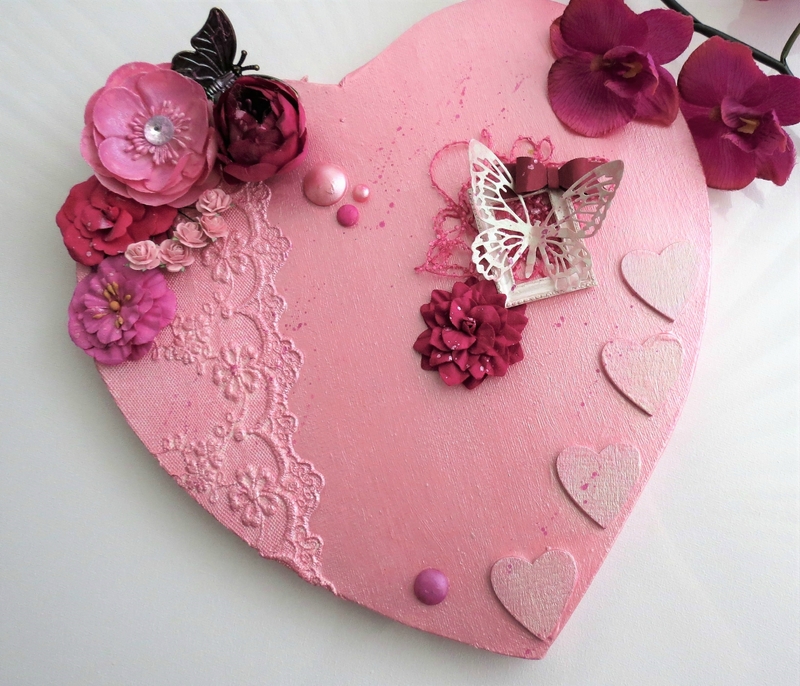 I didn't use paint for this one (except for some of the cabochons). I used Daler-Rowney Pearlescent ink, the Platinum pink. i love those inks, the colours are so gorgeous.
But I will be completely honest with you. I don't even like the result that much. I am not super proud of the canvas. Especially because of some details that I voluntarily added. At the moment I thought: "Oh this will be great" but unfortunately my brush has been stronger than me. Do you understand which detail I am talking about ?
The splashes, of course. Couldn't control them.
This was the mistake I made. Fortunately, on the other hand, I like this detail:
I do love the flowers and lace combo.
And you, what do you think ?
***********************************************************************************************************
Bonjour !
Pour mon deuxième article en deux jours (je suis vraiment prolifique!), je partage avec vous une toile que j'ai réalisée pour la naissance de la fille d'une amie. Cette jeune fille a maintenant un mois, et je l'ai rencontrée hier. Il était temps !
Comme cadeau de naissance, j'ai évidemment pensé à une toile. Et comme c'est pour la naissance d'une fille, la toile se devait d'avoir une forme de coeur, et d'être rose. J'avais en tête quelque chose que la demoiselle puisse avoir maintenant dans sa chambre et qu'elle puisse garder plus tard, quand elle sera plus grande. Si elle aime la toile, bien entendu.
La forme a été un défi pour moi, je travaille d'habitude sur des formats rectangulaires. Mais j'ai trouvé le coeur très sympa à travailler.
Mais voyez plus haut plutôt.
Je n'ai pas utilisé de peinture pour cette toile (sauf pour les cabochons), j'ai utilisé l'encre Pearlescent de Daler Rowney (la couleur est Rose platinium). Ces encres sont magiques, les couleurs sont superbes.
Ceci dit, je vais être complétement honnête avec voous. Je n'aime pas trop le résultat final. Je ne suis pas ultra-fière de cette toile. En particulier à cause d'un détail que j'ajouté volontairement (stupidité, quand tu nous tiens), car sur le coup, je pensais que ce serait super chouette. Grossière erreur. Mon pinceau a été plus fort que moi.
Voyez-vous de quels détails je parle ?
Les éclaboussures, bien sûr. J'ai perdu le contrôle.
Heureusement, d'un autre côté, j'aime vraiment le côté gauche (en haut) du coeur. J'aime l'association fleurs/dentelles.
Et vous, qu'en pensez-vous ?