Hello everybody !
I have a short but special post today... I am very honoured and proud to tell you that I am a guest on A StencilGirl Talk blog ! A few months ago, I applied to be a member of their Design Team.
If I am not part of the team, they contacted me back to be one of their guest. And here am I !
I created a tutorial for them and made this canvas, called Ch'aska, Goddess of Stars: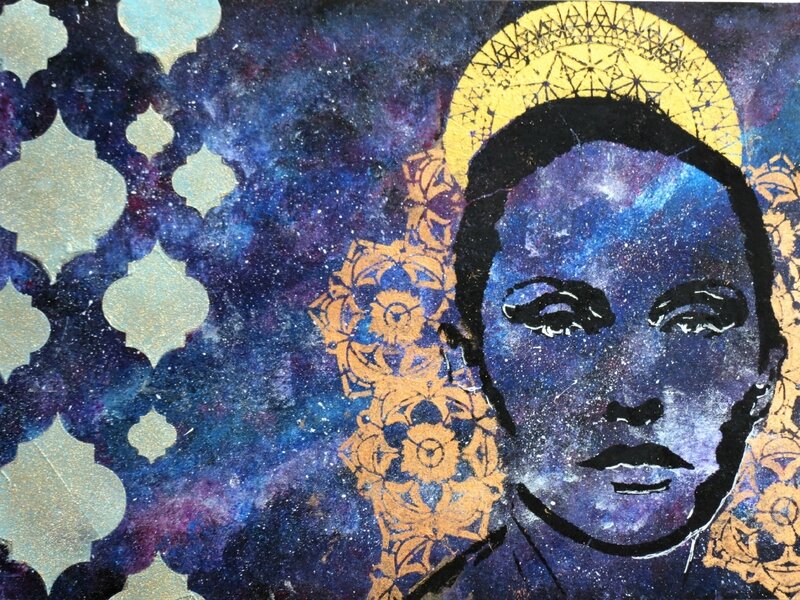 I mainly used acrylic paint, with a bit of modelling paste and a white gel pen. That's it! To find out more, have a look at a StencilGirl talk today's post:
http://www.stencilgirltalk.com/
You will find on this blog a lot of fun ideas, tutorials and inspiration!
Have a look at their shop too: http://www.stencilgirlproducts.com/
They have many amazing stencils !
I am so glad to see my turorial on their blog!
See you soon!
***********************************************************************************************************
Bonjour tout le monde !
Pour aujourd'hui, un post court, mais spécial: je suis très heureuse et honorée d'être l'invitée du jour sur A StencilGirl Talk! Il y a quelques mois, j'ai postulé pour faire partie de leur Design Team.
Si je n'en fais pas partie, il m'ont néanmoins recontactée pour écrire un post en tant qu'invitée, ce que je me suis empressée de faire. J'ai réalisé un tutoriel à propose de cette toile, Ch'aska, Goddess of Stars (voir plus haut).
J'ai surtout utilisé de la peinture acrylique, avec un peu de modelling paste et un stylo à encre gel blanc. C'est tout! Pour plus d'informations, vous pouvez aller voir mon tutoriel sur le blog:
http://www.stencilgirltalk.com/
Vous trouverez plein d'idées, de tutos, bref, l'inspiration!
Allez jeter un oeil sur leur boutique: http://www.stencilgirlproducts.com/. Ils proposent beaucoup de superbes pochoirs!
A bientôt!