Hello everyone!
Today I am going to share with you a project I realized with Prima Marketing products, and more particularly Finnabair Art Basics pastes and Art Alchemy paints.
I wanted to give a second life to a nice cylindrical tea box that I finished.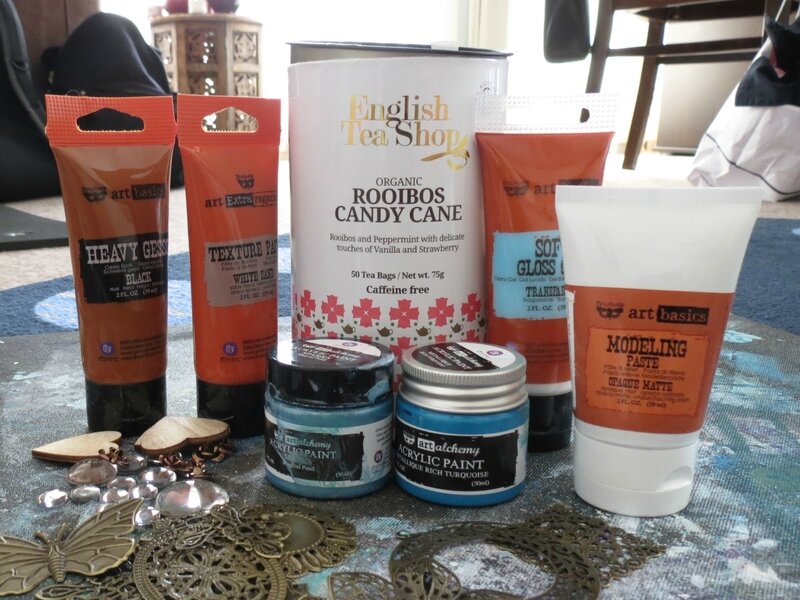 I did not use all the products on the picture, but almost (I changed my mind on the way: creation is a flexible process).
First, I covered my box with black gesso and glued almost all my metal elements and pebbles with soft gloss gel or glue. I added some texture with Finnabair's sand paste.
Then I covered everything with two layers of Rich Turquoise (what a lovely color!). I glued some metal butterfly.
As some contrast was missing, I dry-brushed some Magical Pond over my elements and the texture paste, and added some small metal roses, pebbles (for which I painted the back, for a 'bubble' effect) and a flower paper.
After that, it was time to prepare the lid of the box : I painted it with Magical pond and added some elements (metal embellishments-butterfly, filigree-, pebble, paper flower).
And this beauty was ready :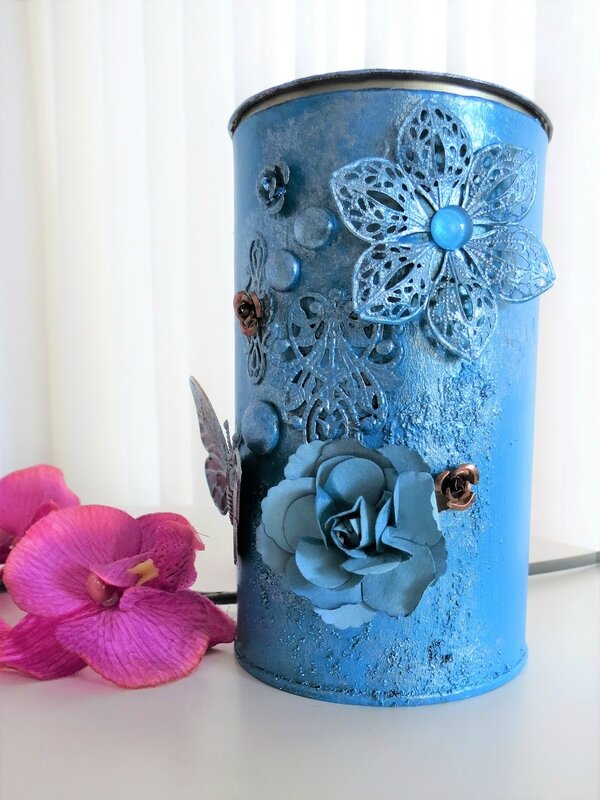 It was the first time I used black gesso and texture paste. What do you think?
Here come some more details :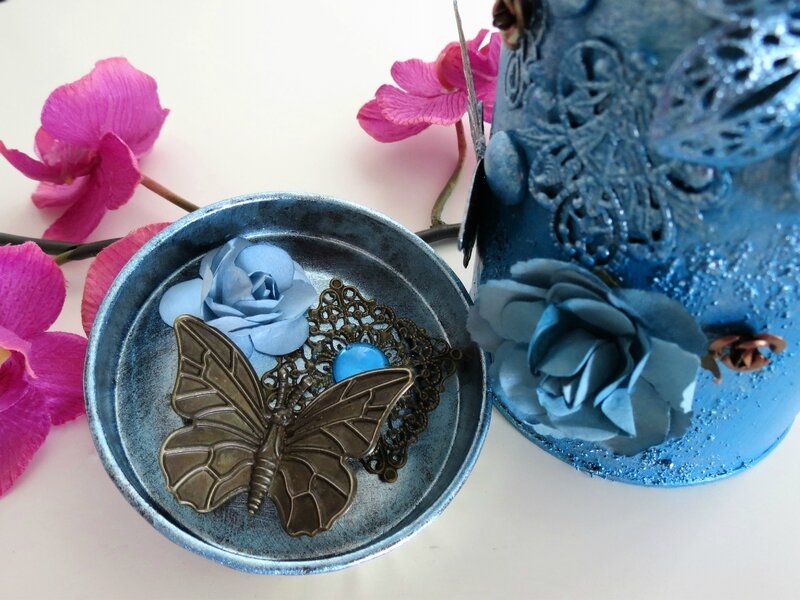 Isn't it pretty? It is perfect as a pencil box ! Don't you think?
By the way, and as a conclusion to this article, Prima and Finnabair are releasing some new metallic colours in the Art Alchemy serie.
I cannot wait to purchase and try them. I think I am going to present them in an article as soon as they arrive in my mailbox...
See you soon!
***************************************************************************************************
Bonjour tout le monde !
Voici un projet que j'ai réalisé avec beaucoup de produits Prima Marketing, surtout ceux de Finnabair. (les Art Basic Pastes et peintures acryliques Art Alchemy).
J'ai voulu donner une deuxième vie à une boîte de thé cylindrique que j'ai finie (voir première image plus haut). Je n'ai pas utilisé tous les produits sur la photo mais presque (j'ai changé d'avis en cours de route: créer est un processus flexible).
J'ai d'abord appliqué deux couches de gesso noir puis j'ai collé la plupart de mes embellissements avec du soft gloss gel ou de la colle et ensuite appliqué de la texture paste à effet sable un peu partout, puis deux couches de peinture Rich Turquoise (une couleur riche et belle que j'aime beaucoup).
J'ai ajouté un papillon en métal, mais l'ensemble manquait de contraste. J'ai donc appliqué par petites touches un peu de peinture Magical Pond sur mes éléments et la texture paste. Puis j'ai ajouté, de petites roses en métal, une fleur en papier et des pebbles dont j'avais au préalable peint le dos (pour un effet "bulle").
Après cela, il était temps de préparer le couvercle de ma boîte : deux couches de Magical Pond, quelques éléments en métal (papillon, estampe), une fleur en papier, un pebble... Le tour était joué! La boîte était terminée.
Elle est bien jolie, et parfaite pour faire un pot à crayon, vous ne croyez pas?
D'ailleurs-un petit apparté pour conclure-, Prima et Finnabair ajoutent de nouvelles couleurs métalliques à la série des Art Alchemy! J'ai hâte de pouvoir les commander et de les essayer, elles ont toutes l'air plus belles les unes que les autres. Je vous les présenterai dès qu'elles seront en ma possession!
A bientôt !
Enregistrer