Welcome to my blog and thank you first for stopping by and reading...
For my first post, I will share my first Mixed Media challenge (that's a lot of "firsts", isn't it?).
This challenge, created by Simon Says Stamp, is organized every Monday (and there is a second one each Wednesday). The subject of this week was "Based on Book".
From Pride and Prejudice to Lord of the Rings, I had plenty of choice, as I love to read... But I got inspired by Alice in Wonderland.
I chose a paperbase : I really like the Vintage, shabby look of this one, which was, according to me, really fitting the subject and the book of my choice.
Then I drew some silhouettes (Alice, the Cheshire Cat, the Mad Hatter's hat, the White rabbit...the main elements of the story :)).
I gave a grunge look to a Queen of Hearts playing card (of course : what would be Alice in Wonderland without her Queen?), and I cut out some spades, hearts, diamonds and clubs to figure her soldiers... I also added a chipboard key (I painted it with the Royal Red Art Alchemy paint by Finnabair), all in 3D with foam adhesives and the most famous quote of the book...
I couldn't resist the temptation to paint a few red roses with the same paint as the key...
Do you like it?
*************************************************************************************************
Bonjour et bienvenue sur mon blog !
Merci de passer par là et de lire cet article. N'hésitez pas à me laisser votre avis. C'est mon premier post, soyez indulgent :).
Je poste aujourd'hui une carte réalisée pour le défi du lundi (Monday Challenge) du site Simon Says Stamp. Ce défi s'intitule "Based on a Book" et nous devions nou inspirer d'un livre pour réaliser notre carte...
J'ai choisi le livre Alice au Pays des Merveilles (même si j'aurais pu choisir Orgueil et Préjugés, ou Le Seigneur des Anneaux... J'aime lire, alors le choix a été difficile).
J'ai réalisé ma carte sur une base que j'ai laissée telle quelle, car j'aime beaucoup son style Vintage et Shabby très anglais.
J'y ai dessiné des silhouettes d'Alice, du Chat du Cheshire, du chapeau du Chapelier fou, du Loir dans la tasse pour figurer la chute dans le trou et les principaux éléments de l'histoire...
Mais que serait Alice sans sa Reine de Coeur? J'ai donc ajouté une carte à jouer "Reine de Coeur" et de petites cartes carreaux, trèfles, piques et coeurs pour ses soldats, ainsi qu'une clé en chipboard peinte en rouge avec la peinture acrylique "Art Alchemy Royal Red" par Finnabair.
J'ai écrit la citation la plus célèbre de ce livre et je n'ai pas résisté à la tentation de peindre de petites roses du même rouge que la clé...
Qu'en pensez-vous, cette carte vous plaît ?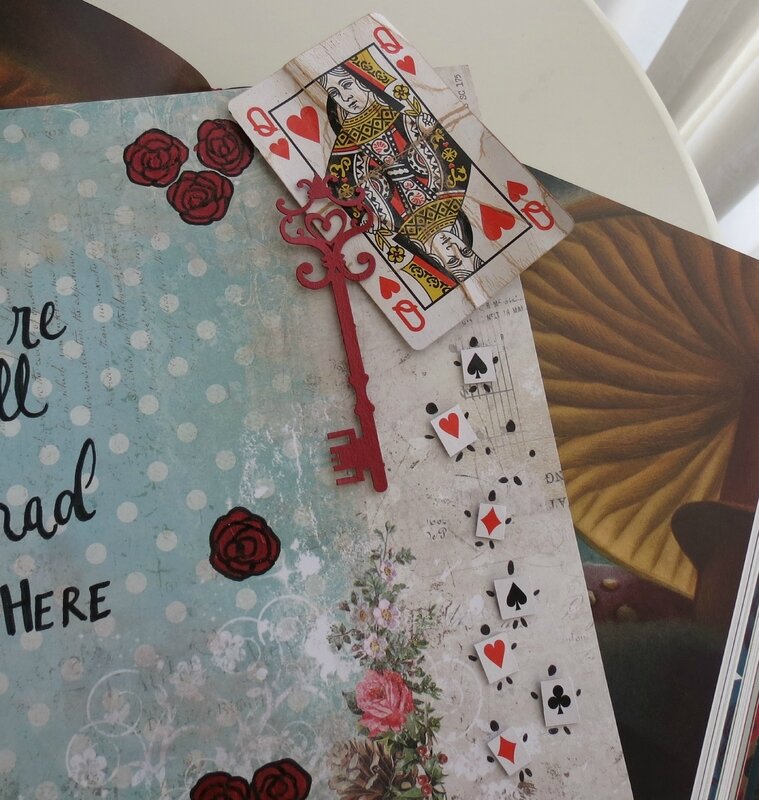 A bientôt, see you soon !